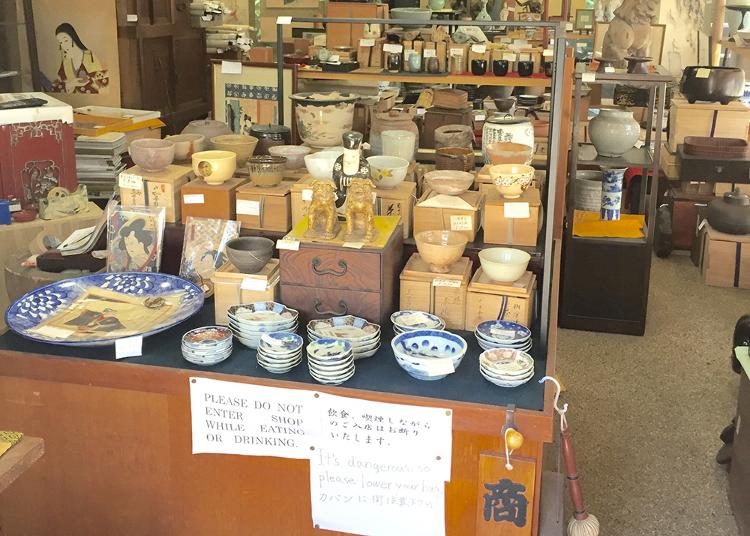 Here are the most popular Antique Stores in Tokyo and Surroundings, according to leading travel website Live Japan! Our ranking is based on the most popular pages viewed by foreign visitors in the past month. Be sure to add them to your Japan travel plan when you visit Tokyo and Surroundings!
1.The Beniya Antique Shop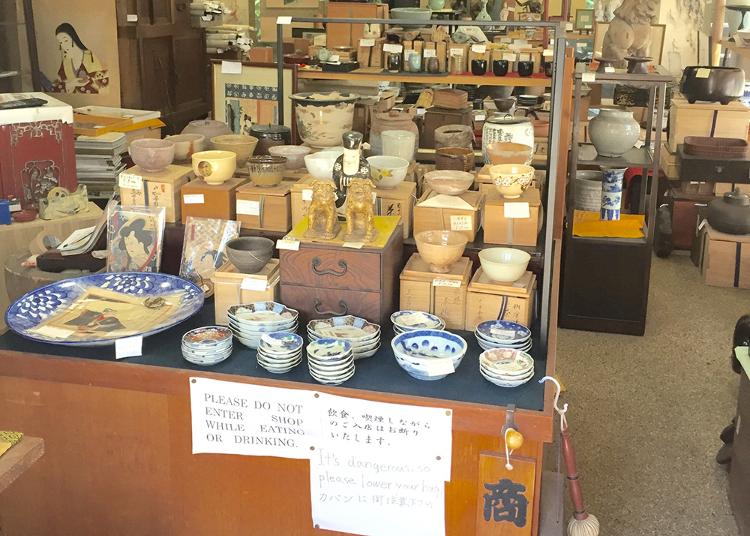 The historical Beniya Antique Shop is more than 150 years old, and is located near popular tour spots in Kamakura such as Hasedera Temple and Kotokuin Temple. We have a large inventory of products available, including Ukiyo-e Kakejiku, ceramics, lacquer ware, iron kettles, Chinese art, and more.
Whether they are used for ornamental or practical purposes, antiques bring us one step closer to a country's customs and culture. And although you may think such treasures would be a little over budget, our shop offers items at reasonable prices that would make excellent souvenirs. Of course, we also offer fine works of art for those interested in high-end products.
When touring Kamakura, I hope you'll drop by our historical shop, which is actually the oldest in town. I'm sure you'll find that special product to serve as a great memory of your trip. We are confident you'll be satisfied.
株式会社紅家美術店

Address

3-10-30 Hase, Kamakura City, Kanagawa Prefecture, 248-0016


Nearest Station

Hase Station (Enoshima Electric Railway Line)
1 minute on foot


Phone Number

0467-22-0644
2.Antique Nishikawa Tokyo Shop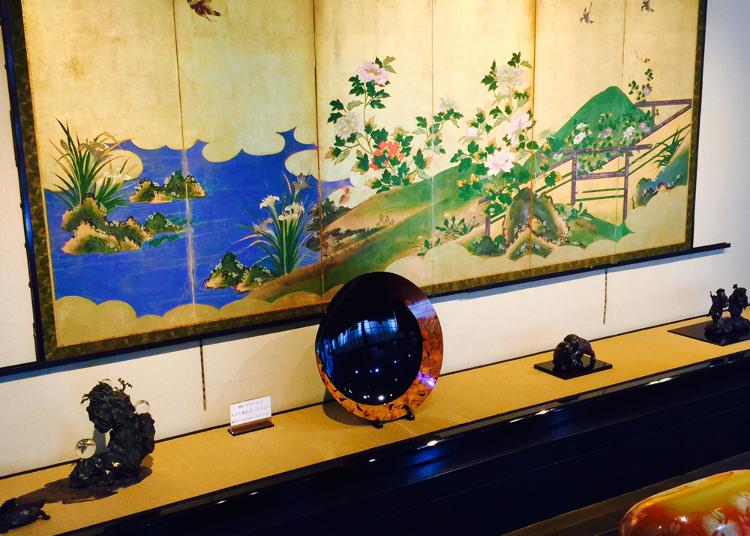 Antiques that have been treasured and handed down by their owners since times long past. Together with our parent store in Shiga Prefecture, we stock a wealth of items including antique pottery (particularly Imari ware), lacquerware, folding screens, netsuke sculptures that are like their own little galaxies, inro cases, bamboo baskets, furniture, metalwork, cloisonné ware, incense burners, tea paraphernalia, Buddhist art, and old folk craftwork. We can also search for various items requested by customers. Our antiques showcase Japan's unique customs, traditions, and sense of beauty. We believe that through these items that have enthralled generations, you can come to know the real Japan and its people, and gain a firsthand experience of Japanese beauty. Orders can be made through our website, and we ship overseas. Please stop by and learn about a world of antiques you will not find anywhere else.
Antique Nishikawa Tokyo Shop

古美術西川 東京店

Address

2-20-14 Azabujuban, Minato-ku, Tokyo Azabujuban House 1F, 106-0045


Nearest Station

Azabu-Juban Station (Tokyo Metro Namboku Line / Toei Oedo Line)
1 minute on foot


Phone Number

03-3456-1023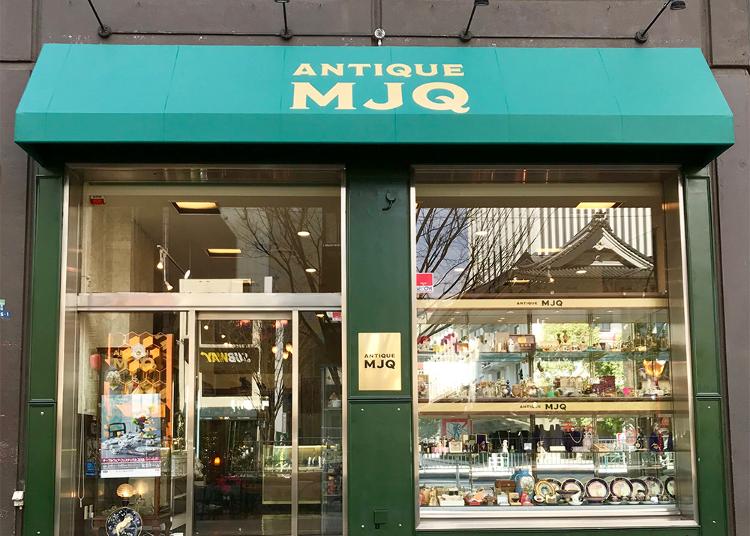 With a focus on Western antique jewelry and watches, ANTIQUE MJQ deals with glass, ceramics and porcelain, designer items, as well as other products. We also offer costume jewelry at a reasonable price.

The furniture, carpet and lamps in the store are all antique items, enabling customers to peruse the items leisurely in a quiet atmosphere.

ANTIQUE MJQ is located on the first floor of the Nankai Tokyo Building, along Harumi-dori and in front of the Kabukiza Theatre in Ginza. The green tent is the landmark.

We are looking forward to your visit.
ANTIQUE MJQ

Address

Nankai Tokyo Building 1F, 5-15-1 Ginza, Chuo-ku, Tokyo, 104-0061


Nearest Station

Higashi-Ginza Station (Tokyo Metro Hibiya Line / Toei Asakusa Line)


Phone Number

03-6264-7189
4.JAPANESE GALLERY Ginza Seiyodo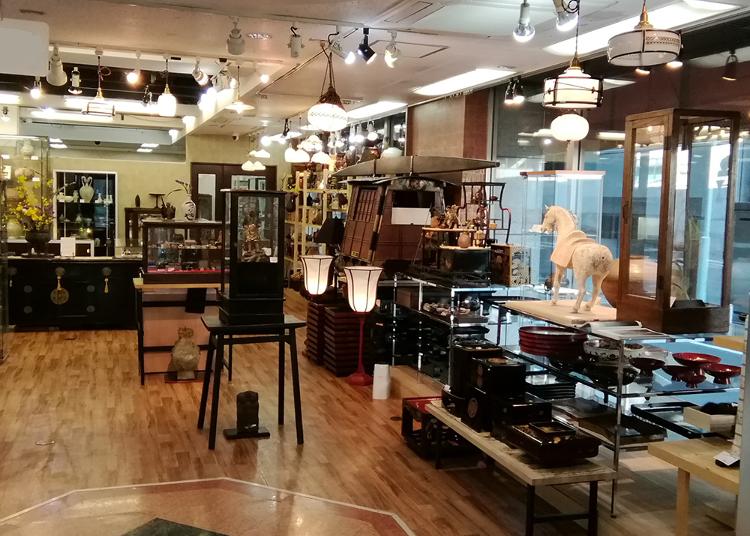 Located on the 1st floor of Antique Mall Ginza with about 3,000 pieces for sale in our 200 sqm shop! We focus mainly on Japanese antiques, and also display and sell other Asian antiques such as those from China and Korea.
Items from Japan include those from the Edo period when Japan was heavily influenced by European culture, and works from the Meiji period when Japanese began traveling the world more. (Main works include ukiyo-e woodblock prints; lacquerware with maki-e decorations; sword guards and other sword accouterments; ceramics from Satsuma, Imari, Kutani and elsewhere; hanging objects for kimono sashes including miniature netsuke sculptures, traditional inro cases, and tobacco pouches; tea ceremony utensils; incense items, and more.) Shop visitors can also experience a 4,000-year trip in Chinese history, from the prosperous Qing dynasty to romanticized ancient China. (Main works include: clay artifacts and colored pottery unearthed by Johan Gunnar Andersson; Han dynasty bronze works and burial figures; Tang dynasty Sancai pottery, colored burial figures, and ancient ceramics; Song celadon wares, white porcelain, and Jian ware; and blue and white pottery and Wucai (five color) pottery from the Ming and Qing dynasties.)
JAPANESE GALLERY Ginza Seiyodo

JAPANESE GALLERY Ginza Seiyodo

Address

Hulic Ginza 1-chome Building 1F, 1-13-1 Ginza, Chuo-ku, Tokyo, 104-0061


Nearest Station

Ginza-Itchome Station (Tokyo Metro Yurakucho Line)
1 minute on foot


Phone Number

03-3535-2115
In addition to being beautiful, antiquities also provide a mysterious appeal in that they 'capture a time'. Holding them in your hands, gazing at them, and even using them for a practical purpose creates a connection to people and moments stretching over a long time. That joy is almost tangible.
We collect the pieces we like not to sell, but to have them close by, even for just a little while.
However, these pieces end up leaving our stores very quickly.
When this happens, we think about how being used by somebody they like must make the object feel happy too.
We spend our days trying to share this happiness with as many customers as possible.
Kobijutsu Sasaki engages in a variety of additional activities, including tea ceremony classes and culture classes run by the owners.
We also buy calligraphy, curios, art objects, and items from estate sales and storage, so please feel free to enquire.
We can also make appraisement calls on Sundays and holidays on request.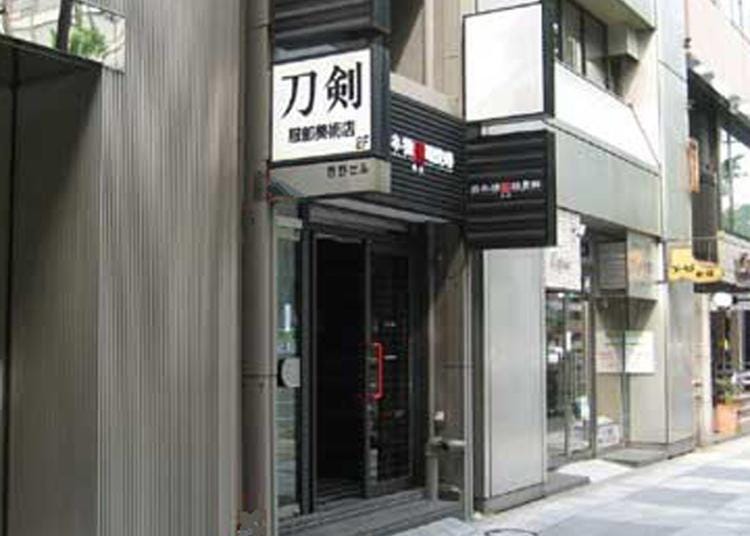 Our sword shop is located in Nihonbashi, close to Tokyo Station's Yaesu Exit.
We started dealing in swords and related merchandise some 150 years ago.
Although these swords were originally used by samurai warriors in ancient Japan, today they are recognized for their artistic value, spiritual significance, and various historical elements. Although many are nearly 1,000 years old, they still maintain their luster.
Our sword-related equipment also offers a great deal of artistic merit and intricate detail packed into limited space. These works of art are a testament to the skill of ancient Japanese artisans, and are often referred to as the basis of Japan's emergence as a technology-driven nation.
From works of art with hundreds of years of history, to items made in modern times with the same techniques used long ago, we carry a diverse range of sword-related products you may want to handle.
We also offer sword polishing, crafting, selling, appraisal, and care services.
Feel free to ask any question you may have.
We are a small shop, but we hope you'll drop in sometime.
*This information is from the time of this article's publication.
*Prices and options mentioned are subject to change.
*Unless stated otherwise, all prices include tax.