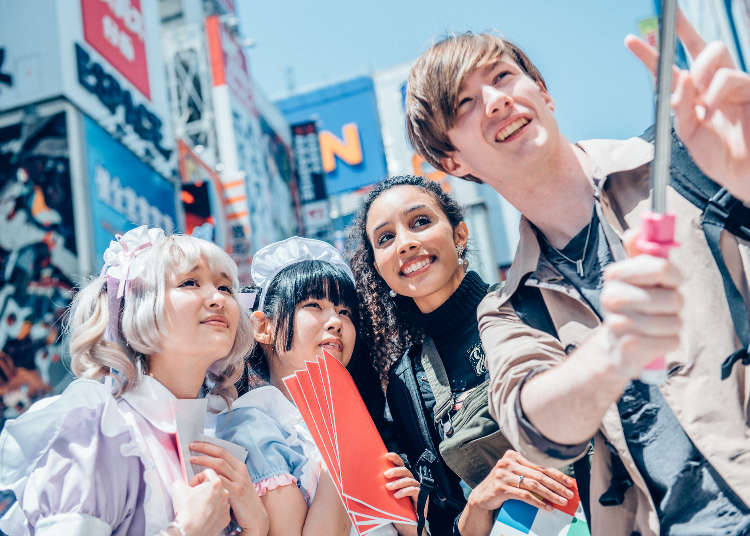 As the world gradually moves towards a post-pandemic mode, Japan will also shift to a new phase from April 29, 2023.

Japan has downgraded Covid-19 to "Class 5," which is equivalent to seasonal influenza, and as a result, the border measures in place against the virus will come to an end.

This article will provide the latest information on entry requirements and procedures for Japan, as well as the "Visit Japan Web" online service, which allows visitors to complete the necessary procedures in advance. We will also discuss the current status of mask-wearing in Japan, based on official announcements and government sources.

*Information is accurate as of April 27, 2023.
Main Image: PIXTA
What is the current entry situation for Japan? Who is allowed to enter, and what are the entry requirements?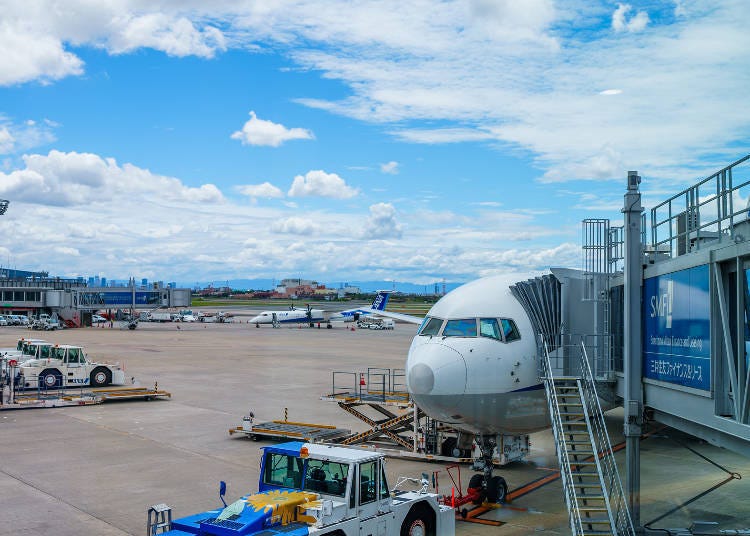 Image: PIXTA
In response to the spread of Covid-19, Japan had strengthened its entry restrictions and quarantine system for those wishing to enter the country.

However, from April 29, 2023, Covid-19 will be reclassified from "Class 2 equivalent," the same as SARS and tuberculosis, to "Class 5," the same as seasonal influenza. Consequently, the Border Control Measures will be terminated.

From April 29, those entering or returning to Japan will no longer need to provide proof of vaccination with three or more doses or a negative PCR test taken within 72 hours of departure from Japan.

Nevertheless, starting April 29, Japan will implement a new system called "Infectious Disease Genome Surveillance (tentative name)" to monitor the influx of new infectious diseases in the future.

At five major airports, including Haneda and Narita Airports, voluntary genome analysis will be conducted for travelers with symptoms such as fever and cough.

Moreover, since April 5, travelers entering mainland China via direct flights are no longer required to present a negative test result taken within 72 hours of departure as long as they can provide proof of vaccination with three doses, aligning with the measures for all other countries.
Current quarantine measures at entry (until April 28, 2023)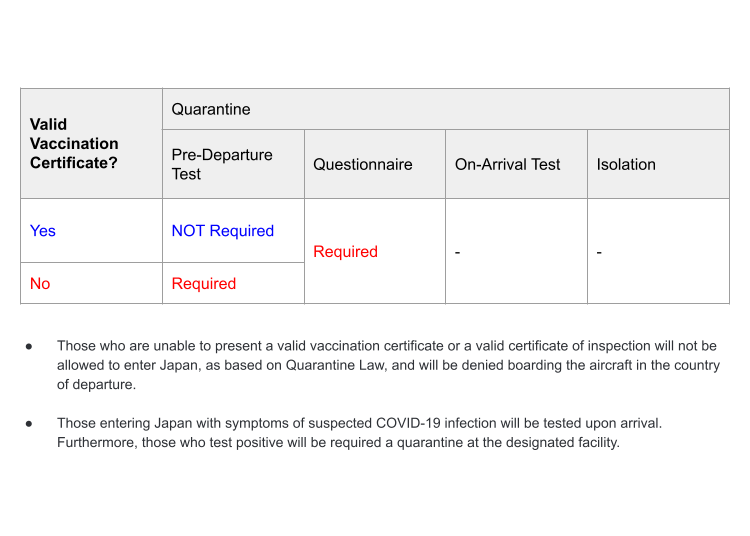 *From the Ministry of Health, Labour and Welfare's official website.
What is the 'Visit Japan Web' online service?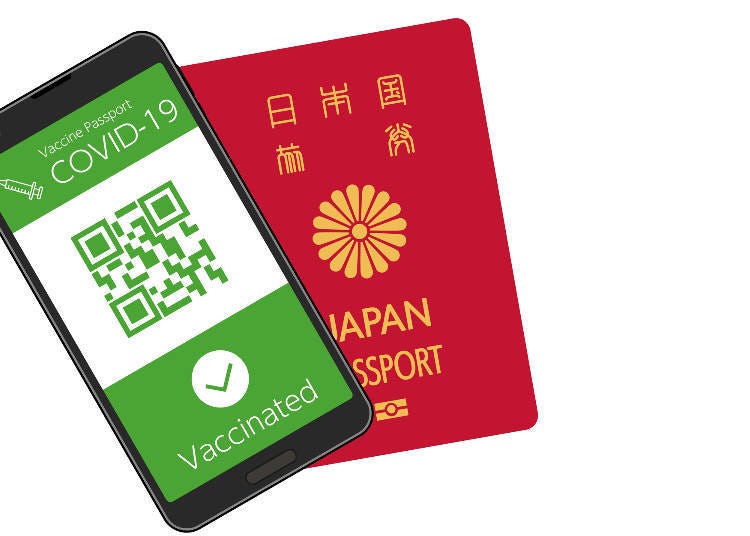 Image: PIXTA
"Visit Japan Web" was launched on November 1st, 2022. This online service enables travelers to complete immigration procedures such as fast-track quarantine procedures, immigration inspection, and customs declaration in a single step.

After April 29, the Fast Track service, which requires prior registration and screening, will no longer be necessary due to the easing of border control measures.

While it will be possible to enter and exit Japan without using "Visit Japan Web" after April 29, registering in advance with the service will enable travelers to complete the process quickly upon arrival. This is because they only need to show their screen instead of their passport at the quarantine and immigration checkpoints.
What you need for registration
PC, smartphone, tablet, etc. with access to the Internet
Passport
Vaccination certificate or negative test certificate approved by the Japanese government (not required after April 29, 2023)
Currently, a valid vaccination certificate issued by a government or public institution is required. The certificate must include the individual's name, date of birth, vaccine or manufacturer name, vaccine dates, and the number of doses administered in Japanese or English.

Additionally, the individual must have received three doses of any vaccine listed in the World Health Organization's (WHO) Emergency Use Listing (EUL) for Covid-19 vaccines.

If an individual does not have a valid vaccination certificate, they must provide a negative test certificate issued by a medical institution within 72 hours of departure at the quarantine office.

However, from April 29, 2023, this will no longer be necessary.
Application Process for Registration
(1) Account creation and login. Create an account by entering your e-mail address, password, etc.
Languages supported: Japanese, English, Simplified Chinese, Traditional Chinese, Korean
(2) User Information Registration: Input your first name, last name, date of birth, nationality, passport number, etc.

(3) Entry and Return Schedule Registration: Input the scheduled date of entry and return, airline name, etc.

(4) Registration for Various Procedures:
・Quarantine (Fast Track): Follow the on-screen instructions to upload your passport and enter information about your entry, stay in Japan, and stay in endemic areas.

Until April 28, register for "Questionnaire Web" to report your physical condition and other information, and register your vaccination certificate or inspection certificate within 72 hours prior to departure from Japan.
After the registration details are confirmed, the application screen will turn from red to blue. The application deadline is 6 hours before the scheduled arrival time for flights (24 hours prior to departure for ships).
・Registration of Foreigner's Immigration Record: Your pre-entered data such as first name, last name, and date of birth will be automatically displayed. Additionally, input your current address, country, and purpose of travel.
・Customs Declaration: After registering necessary information on the application form for portable and unaccompanied baggage, proceed to the customs inspection electronic declaration gate by completing procedures at the electronic declaration terminal at the airport. You may also input information about your overseas travel insurance coverage (recommended, not obligatory).

(5) After Arrival in Japan: Present the QR code generated in step 4 at the quarantine station or immigration office.
If you registered your vaccination certificate and inspection certificate within 72 hours prior to departure as "none," the screen will be yellow. In this case, present a negative PCR certificate done within 72 hours prior to departure on paper or other means at the time of entry (not required after April 29).
If you don't have a smartphone, present a paper printout of the QR code screen.
Visit Japan Web is now available for use even when making tax-free purchases
Starting April 1, 2023, Visit Japan Web has a new feature called "Tax-Free Purchase."
When you shop at a tax-free store in Japan, you can show a QR code that has been captured in advance with your passport information (name, nationality, date of birth, status of residence, date of landing, passport type and number, etc.), and the store will read it, making the process smoother.
However, note that not all tax-free services can use this method as it's only available at stores that can read the QR code.
Does Japan have domestic travel incentives?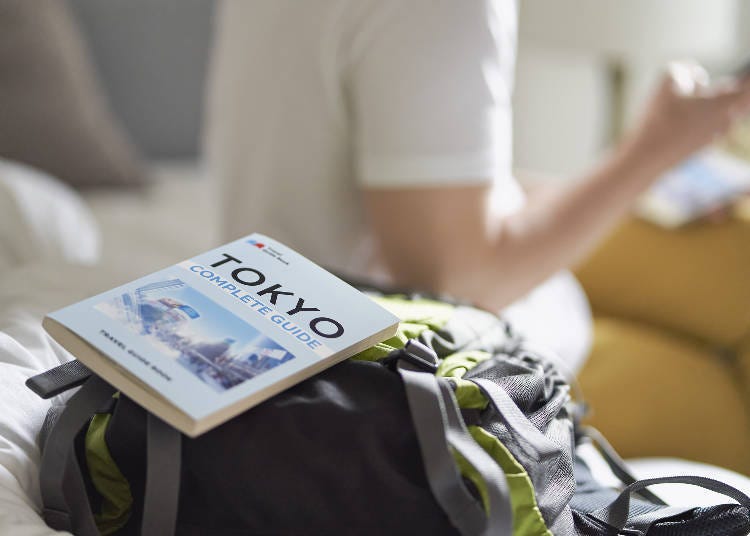 Image: PIXTA
The "National Travel Assistance" program was launched on October 11, 2022 to provide support for the tourism industry that has been severely impacted by the pandemic. The program offers discounts of up to 20% on travel expenses and coupons (2,000 yen on weekdays and 1,000 yen on holidays) that can be used locally.

Please note that the program is not available during Golden Week (April 29-May 7, 2023), and the program's availability, period, details, and conditions of use vary from prefecture to prefecture, so please check with your local government.

Although the program was initially set to end in March 2023, it has been announced that it will be extended beyond April 2023. However, it is only available to travelers residing in Japan and is not applicable to travelers from overseas.
What is the current number of Covid cases and vaccination status in Japan?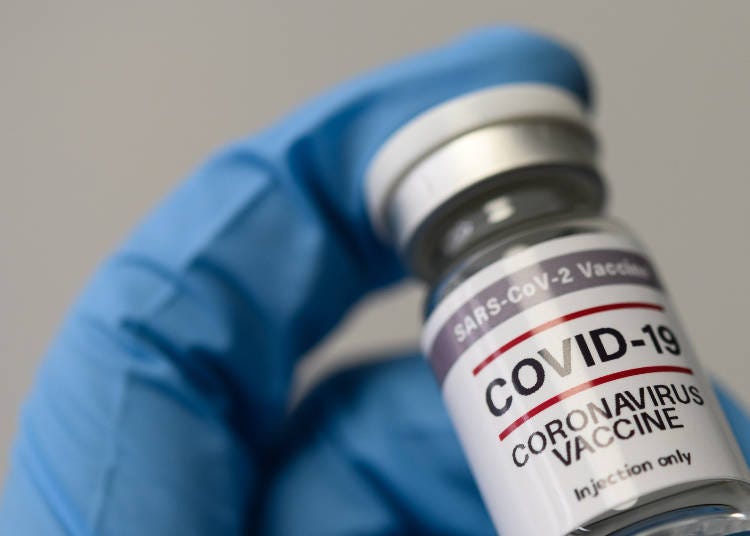 Image: PIXTA
As of April 12, 2023, the total number of confirmed cases is 33,537,375 and the number of deaths is 74,132.

Regarding vaccination status, the percentage of people who have received the first dose among the total population is 77.96% (98,164,964 doses), the percentage of people who have received the second dose is 77.52% (97,607,711 doses), the percentage of people who have received the third dose is 68.64% (86,429,740 doses), and the number of people who have completed four doses is 58,438,038.

For children aged 6 months to 11 years, a "duty to make efforts" to receive the vaccine has been introduced, as scientific evidence has been obtained on the Omicron strain under the epidemic.

However, as with routine vaccines such as rubella, vaccination is not mandatory and it is up to the individual or their guardian to decide whether to receive it.

In the fiscal year 2023, vaccination will continue to be available to everyone at no cost. From spring 2023, additional vaccines for the Omicron strain will be available for elderly people (aged 65 and over), people with underlying illnesses (aged 12-64), and healthcare workers who have completed their initial doses (first and second doses). Vaccination for all other people aged 5 and over is planned to start in autumn.

Also, from April 29, 2023, with the change in the status of Covid-19, the government will stop announcing the "total number of infected people" they have been compiling daily and switch to "designated monitoring," which requires specified medical institutions to report once a week. Requests for self-restraint for infected people will also be lifted.
Is wearing a mask necessary in Japan?
Image: PIXTA
In Japan, wearing masks was generally recommended indoors and in outdoor situations where social distancing was difficult and conversations were likely, with the exception of outdoor settings where people were able to maintain distance and not engage in conversations.

However, since March 13, 2023, wearing masks has become a personal choice based on individual judgment and respect for personal autonomy.

As of April 2023, after the easing of restrictions, there is an impression that more people, especially young people and children, are not wearing masks outdoors, such as in parks.

However, even in indoor settings such as libraries or art galleries where conversations are minimal, the majority of people in Japan still wear masks.

Similarly, most people wear masks on public transportation such as trains and buses. Mask-wearing is still common as many people wear masks not only for infection prevention but also for allergy prevention.

The government recommends wearing masks in situations where it is effective in preventing the spread of infection, such as when visiting medical institutions, nursing homes for the elderly, and during rush hour on crowded trains or buses.
How have restaurants and other facilities changed?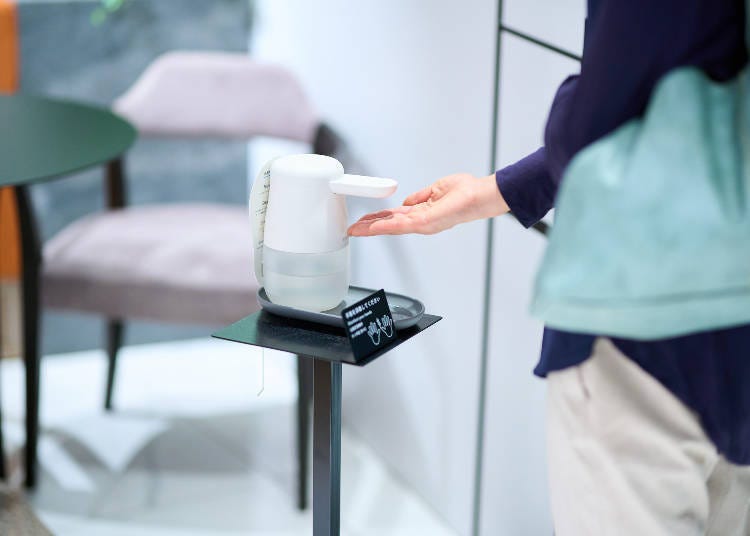 Image: PIXTA
When the government declared priority measures for preventing the spread of Covid-19, restaurants and facilities were required to reduce their operating hours.

However, since the lifting of such measures on March 21, 2022, there has been no request for shortened operating hours, and places such as entertainment districts have regained their liveliness.

During the pandemic, it was common to enter a restaurant after using the hand sanitizer spray at the entrance, order from the menu upon seating, and remove masks to eat and drink when the food and beverages arrived at the table.

As of April 2023, while many restaurants still have hand sanitizer sprays at the entrance, customers are often not asked to use them, and it is up to the individual's judgment whether to use them or not.

Additionally, while many restaurants previously installed clear dividers on each table to prevent droplet infection, many have removed them at their discretion.

Furthermore, while it was recommended to eat in silence and in small groups to prevent droplet transmission, nowadays, it seems that many people are enjoying their meals while conversing with their masks off.
What is the current situation of domestic travel in Japan among Japanese people? Is it becoming difficult to make reservations?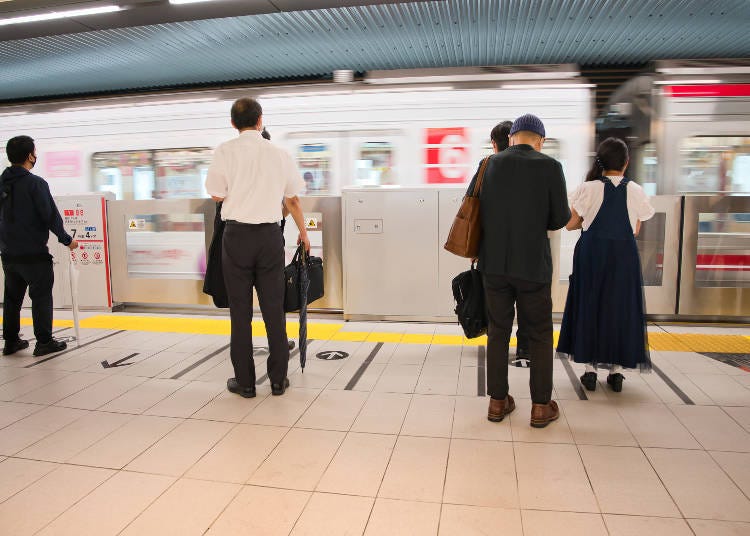 Image: PIXTA
As restrictions on activities and border controls related to the Covid-19 pandemic are gradually lifted, an increasing number of foreign tourists are being seen at tourist destinations in Japan.

According to estimates by JNTO, the number of visitors to Japan in January 2023 was 1,497,300 people, an increase of 8,327.9% from the same month the previous year, and exceeded one million people for two consecutive months.

In terms of domestic travel, major travel company JTB has announced that the number of people traveling domestically during the period is expected to recover to pre-pandemic levels of 24.5 million people, or 153.1% compared to the previous year.

The number of people who answered "will go" or "probably will go" has increased by 9.3 points from the previous year to 26.5% at the time of the survey.

This indicates that travel interest has recovered to pre-pandemic levels seen in 2019, which was 26.3%.

In the future, as border control measures for entry into Japan are lifted and the yen weakens, it is expected that the number of foreign visitors will continue to increase.

In addition, due to the nationwide travel support system, it has become difficult to make reservations for accommodations and transportation, such as hotels and flights, near popular tourist destinations during holidays and vacation seasons.

Those who are considering traveling to Japan should make their reservations early.

As of April 2023, the price of airline tickets is high due to a significant increase in fuel surcharges caused by the sharp depreciation of the yen and the global rise in crude oil prices.
Are events and festivals being held?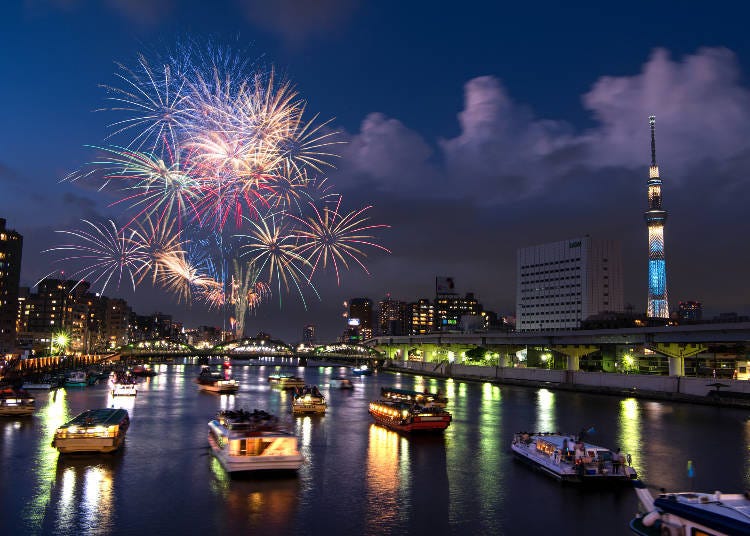 Image: PIXTA
Until last year, many events and festivals had to be canceled or downsized due to the spread of Covid-19.

However, in 2023, various events and festivals are expected to be held throughout Japan, including traditional events, flower festivals, and large outdoor festivals, while taking measures to prevent the spread of infection.
Major events and festivals to be held
(Hokkaido) YOSAKOI Soran Festival
June 7-11, 2023
This event is held every early summer in various locations throughout Sapporo city, including Odori Park. Participants wear colorful costumes and dance to the beat of the traditional folk song of Hokkaido, Soran Bushi, combined with the dancing style of the Yosakoi Festival of Kochi Prefecture.

(Kyoto) Gion Festival
July 1-31, 2023
This is a month-long festival held during the annual festival of Yasaka Shrine in Kyoto. Various events are held during the festival, but the highlight is the lavish and ornate floats known as yamaboko, which are called "moving museums." On the eve of the festival on July 17th, 23 yamaboko floats parade through the city, followed by 11 on the main day of the festival on July 24th.

(Niigata) Fuji Rock Festival
July 28-30, 2023
This is Japan's largest outdoor music festival held at Naeba Ski Resort in Yuzawa town, Niigata Prefecture. In 2023, over 200 musicians from Japan and abroad will perform under the theme of "Super Feel-Good! FUJI ROCK."

(Tokyo) Sumida River Fireworks Festival
July 29, 2023
This event is Japan's most ancient fireworks festival, which had to be canceled for four years due to Covid-19. About 20,000 fireworks are launched, and attendees can enjoy them from two viewing areas: downstream of Sakura Bridge to upstream of Kototoibashi Bridge, and downstream of Komagatabashi Bridge to upstream of Umaya Bridge. Furthermore, a fireworks competition will take place among ten companies that have excelled in fireworks-related businesses and events throughout Japan.

(Tohoku) Tohoku San-Dai Matsuri (Three Great Festivals of Tohoku) - "Aomori Nebuta Festival," "Akita Kanto Festival," and "Sendai Tanabata Festival"
Aomori Nebuta Festival: August 2-7, 2023; Akita Kanto Festival: August 3-6, 2023; Sendai Tanabata Festival: August 6-8, 2023
These three festivals, known as the "Three Great Festivals of Tohoku," are held in the first and second week of August 2023 in various locations throughout the Tohoku region.
The Aomori Nebuta Festival features enormous illuminated paper floats in the shape of mythological creatures parading through the city, while the Akita Kanto Festival showcases long bamboo poles decorated with lanterns that are balanced on the foreheads, palms, and shoulders of festival participants.
Lastly, the Sendai Tanabata Festival features beautiful hand-made bamboo decorations hanging from bamboo poles throughout the city.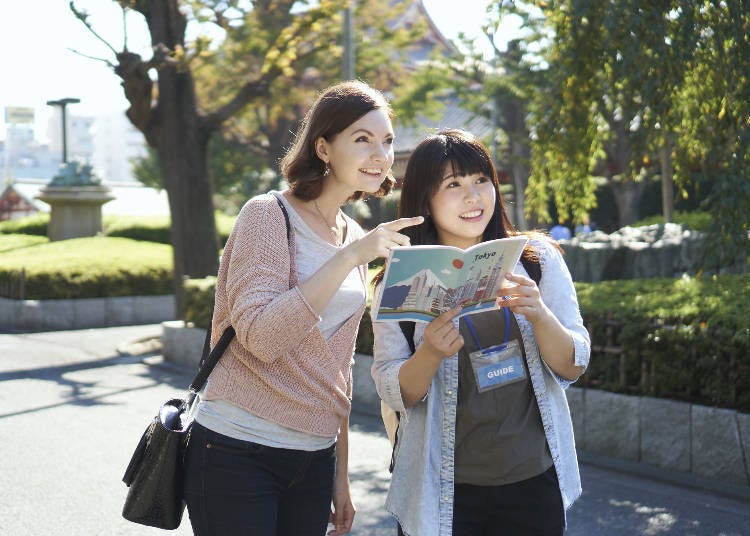 Image: PIXTA
The Covid-19 pandemic has shaken the world greatly. With the easing of border controls and the individual responsibility for wearing masks, there has been an acceleration in the movement towards a post-pandemic era, with an increase in the number of overseas travelers.

Tourist destinations throughout Japan have regained their liveliness, and Japan has begun to move towards accepting inbound tourists. Please plan your visit to Japan while continuing to be mindful of infection prevention.

*Information is current as of April 27, 2023.
*This information is from the time of this article's publication.
*Prices and options mentioned are subject to change.
*Unless stated otherwise, all prices include tax.
Limited time offer: 10% discount coupons available now!