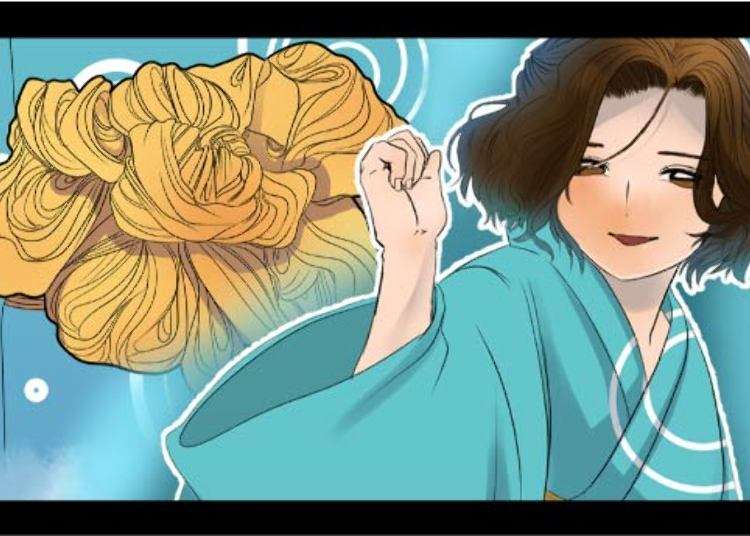 Summer in Japan means yukata season!

But buying, or even renting, a yukata can seem like a daunting task!

So many designs, colors, patterns, not to mention picking the right hairdo, shoes and accessories... where do you even begin?
After giving you a rundown of the yukata basics, I'll also show you how to co-ordinate your look!
Q: Just what is a yukata? How is it different from a kimono?

A: A yukata is actually a kind of kimono, in the broad sense of the word.

It is made from thinner material than a usual kimono and is only worn during the summer.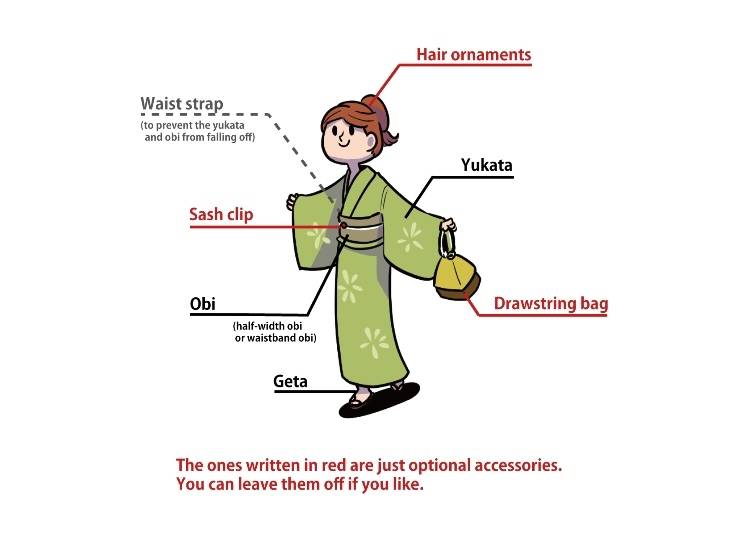 What do you need to wear a yukata?
Q: There are so many kinds of obi sashes and knots! How do you choose?

A: The obi used for yukata are; the relatively narrow half-width obi and more casual heko obi that is very easy to tie.
As for the knots, the 3 main genres are: taiko knot, bunko knot and
tachiya knot.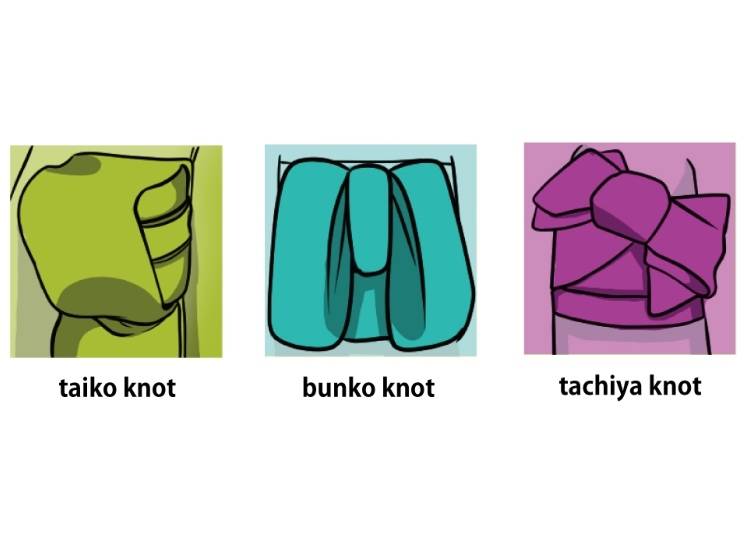 For a casual garment like the yukata it's most common to use an arrangement like the bunko knot.
So those are the basics to yukata!

Now let's look at some outfit co-ordinations! Here are 9 recommended styles and what to do with them.
First of all, please find your favorite style from a quick look at the colors of the patterns and bands.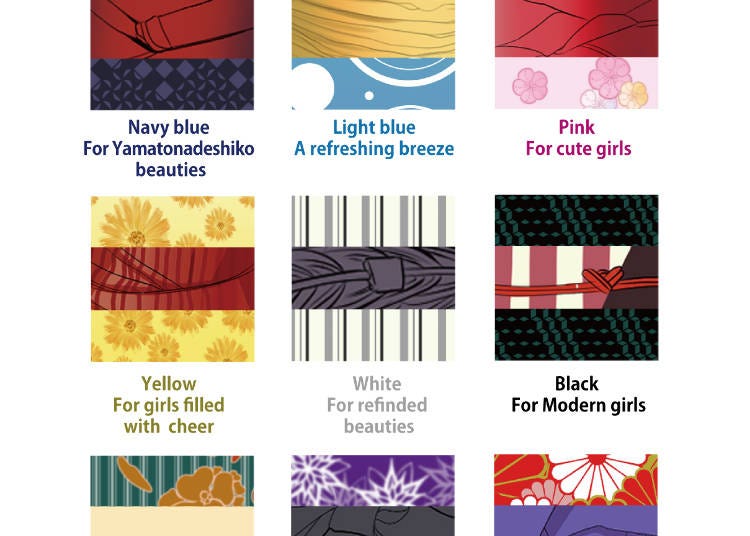 Did you find a combination you like?
Next, we will introduce the whole body coordination that combines the hairstyle and tie of the band.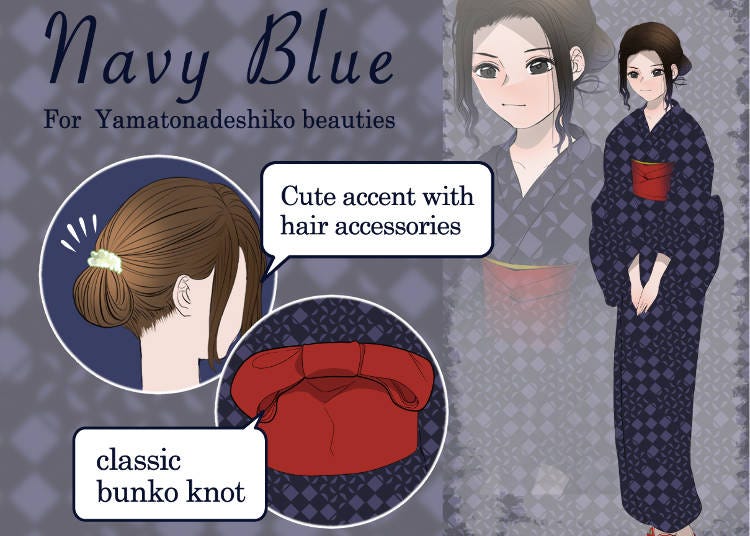 Navy blue, a truly classic yukata color.
It brings across the calm and collected 'yamato nadeshiko' (traditional Japanese femininity) atmosphere, no matter who wears it.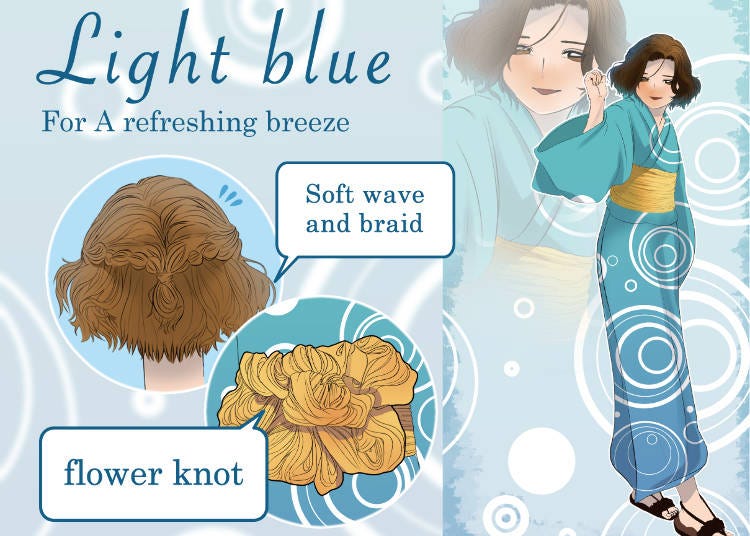 Perfect for summer! A light blue in a refreshing breeze!
Here we used a heko obi with a flower knot.
The light blue is refreshingly cool and perfect for summer!
This color is recommended if you want to show your cute side, even as an adult.
Get cute in pink!
Half-width obi with chōchō (butterfly) knot.
If you want to channel the cuteness of youth, how about a light and cheery pink?
Yellow, the color for girls filled with energy!
Here we used a half-width obi with bunko knot.
The bright yellow lets you shine all day long, and pairs perfectly with a bright smile!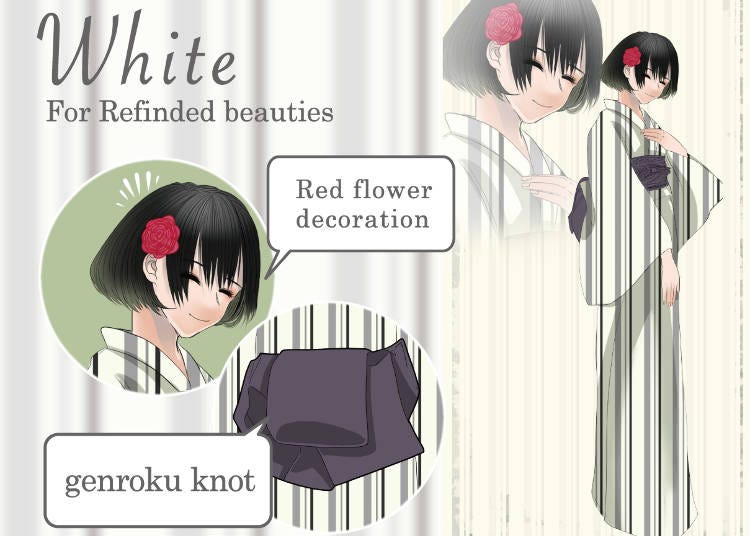 White, the color of refined beauty.
This goes well with a half-width obi with genroku knot.
The main appeal of a white yukata is that you can choose a pattern that highlights your personality. For example, the arrangement I chose here can only be pulled off by a white yukata. And using the genroku knot it creates an atmosphere of classic elegance.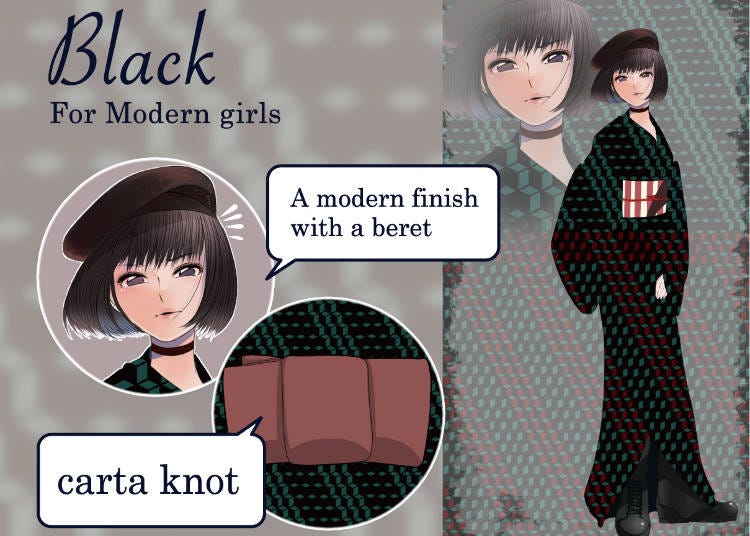 For the modern girl; black.
Here we have a half-width obi with carta knot.
For cool modern girls looking for a combination of old and new, I would highly recommend this style.
Modern style yukatas come in many colors, but black is still as cool as it gets!
To stand out even more, how about trying the uncommon carta knot?
Normal hair ornaments and geta work fine, but try swapping them out for a fashionable hat and high heels for an even more modern look!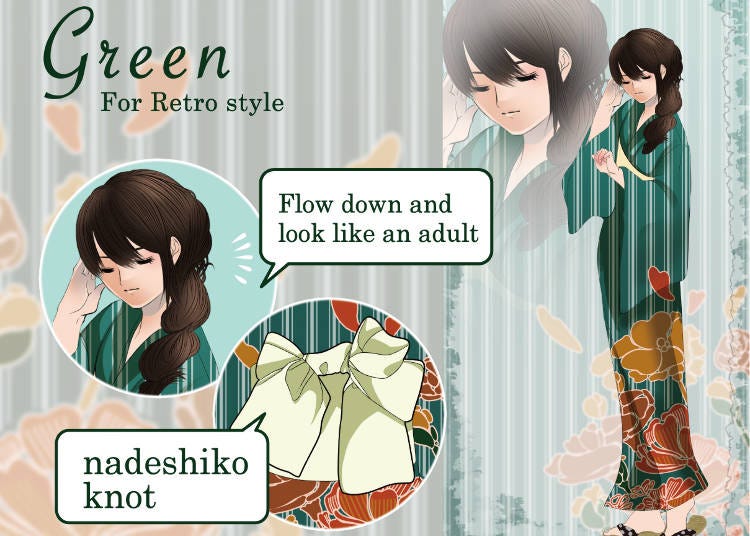 Going retro with green.
This one has a half-width obi with a nadeshiko knot.
A retro style yukata featuring orange flowers against a green background. Wearing your hair down works great with this color.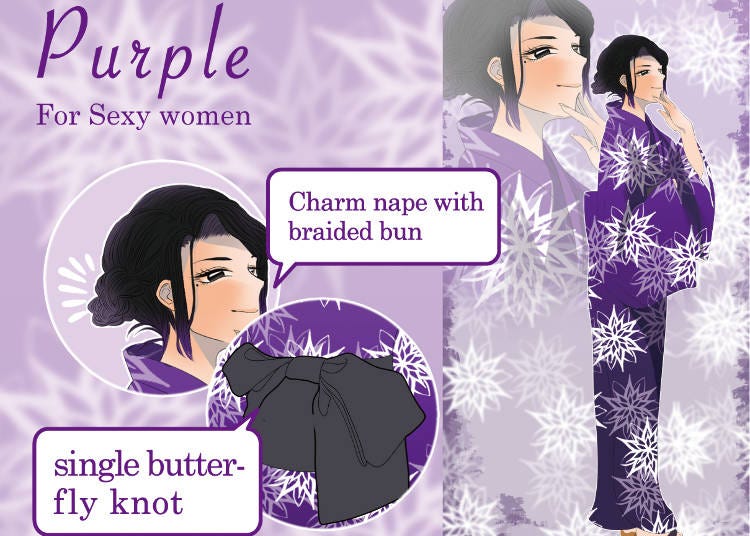 Sexy in purple.
Half-width obi with single chōchō (butterfly) knot.
For bringing out a more mature beauty this purple yukata with floral pattern works best! Some flowery decoration on the obi is the prefect finishing touch!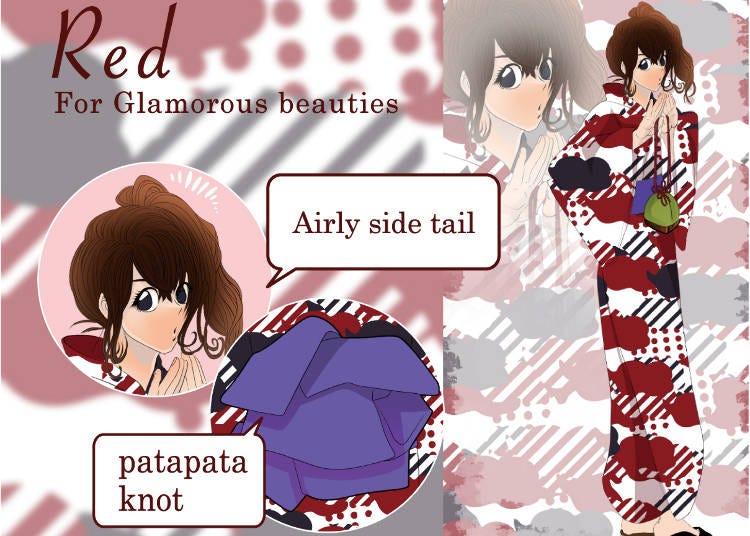 The red Taisho Roman style.
Half-width obi with patapata knot.
Traditional red floral pattern yukata have always been considered gorgeous, but these days this Taisho Roman style is especially popular with young people. This retro style yukata's eye catching pop is sure to make heads turn!

Hairstyles, obi colors, and everything in between are notoriously difficult to combine so I thoroughly researched combinations that work well. Why don't you try some of these out for yourself? In summer you too can be the center of everyone's attention by trying out one of these looks!

Illustrations courtesy of: Manga de Japan
*This information is from the time of this article's publication.
*Prices and options mentioned are subject to change.
*Unless stated otherwise, all prices include tax.
Limited time offer: 10% discount coupons available now!