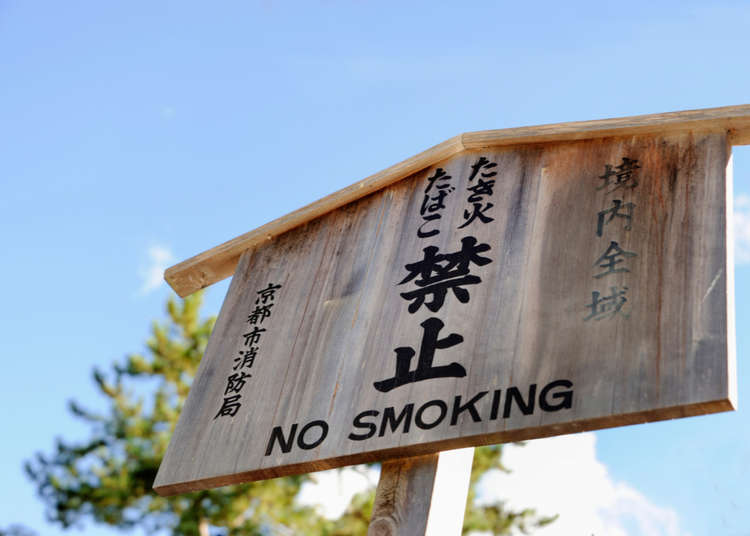 The Tokyo Metropolitan Government Bureau of Social Welfare and Public Health will enact the Revised Health Promotion Act and Tokyo Metropolitan Ordinance to Prevent Exposure to Second-Hand Smoke as of April 1, 2020. This measure is aimed to eliminate smoking indoors as much as possible and keep non-smokers safe from inhaling second-hand smoke from smokers. This comes as good news for those who don't smoke and are concerned for themselves, friends and family being exposed to cigarette smoke.

These revisions to the smoking regulations come as a way to protect the citizens of Tokyo as well as the crowds of tourists that will arrive to see the 2020 Tokyo Olympics, which was set to be held in July and August. Because of the COVID-19 outbreak around the world, the IOC has decided to postpone the Olympics, but the smoking provisions are still set to go ahead as of April 1, 2020.

Main image: robert paul van beets / Shutterstock.com
No Smoking in Tokyo? About the Revised Health Promotion Act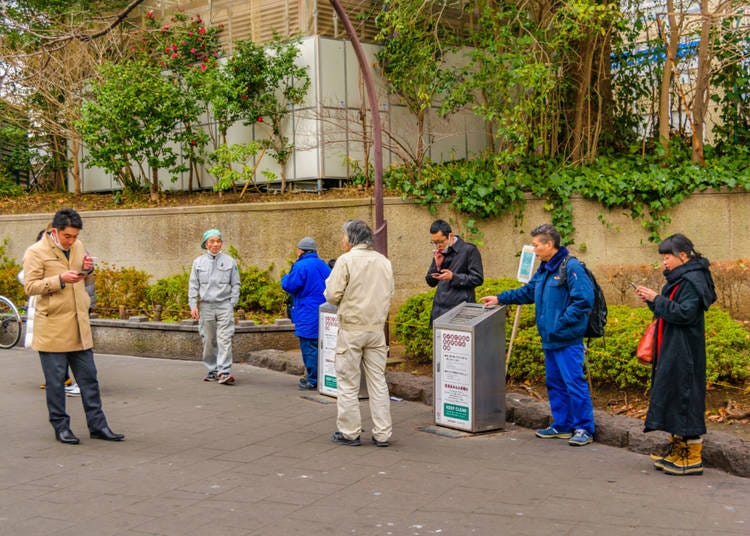 DFLC Prints / Shutterstock.com
Japan, and specifically Tokyo, which was initially slow to enact smoking laws and regulations, has ramped up its attempts to create non-smoking zones as Olympic cities have been advised to aim for a complete smoking ban by the IOC since 1988. Previously, smoking laws and regulations were comparatively lax, allowing many spots to make their own smoking area rules. But with added pressure from the World Health Organization that rated Japan low among countries that prevent second-hand smoking, Tokyo has been slowly but surely improving its actions.
Tokyo Metropolitan Ordinance to Prevent Exposure to Second-hand Smoke
Tokyo enacted the Revised Health Promotion Act in 2018 and has continued to work toward a tobacco-free Tokyo with the new measures with the Ordinance to Prevent Exposure to Second-hand Smoke. These measures focus on limiting areas indoors where people can smoke to ensure the safety and health of citizens from second-hand smoke, which the Health Bureau estimates kills 15,000 Japanese people every year. The aim is to build upon the Revised Health Promotion Act and make it more efficient as tourists from many countries will be in Tokyo for the Olympics and expect their visit to be smoke-free.
Where Can and Can't You Smoke in Tokyo?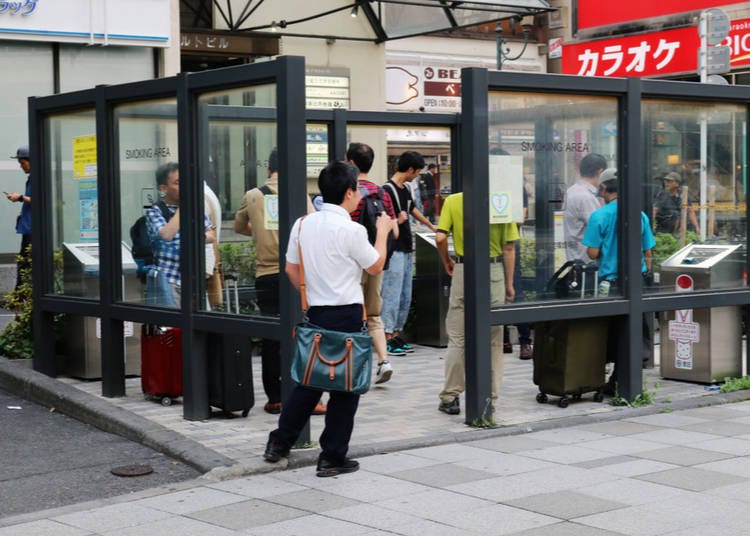 Ned Snowman / Shutterstock.com
As of April 1, indoor smoking will be prohibited across Tokyo, except specific smoking areas that must meet the criteria and comply with all regulations. All hospitals, schools, child welfare areas, public transportation, taxis, and government office buildings will have no smoking on-premises. They will require smokers to smoke outside the property in designated smoking areas.
Banning all smoking in these areas ensures a clean and healthy smoke-free environment that is needed to protect families, children, tourists, the elderly, and the sick.

The biggest and possibly most considerable change will affect restaurants, bars, and cafes, which will now ban indoor smoking in all establishments that have employees, comprising around 84% of all establishments in Tokyo. Places with no employees will have the freedom to decide what if any smoking rules they have in their establishments.

Smoking will be limited to designated smoking rooms where food and drink are not allowed, which will force eating establishments that want to cater to smokers to build isolated smoking rooms.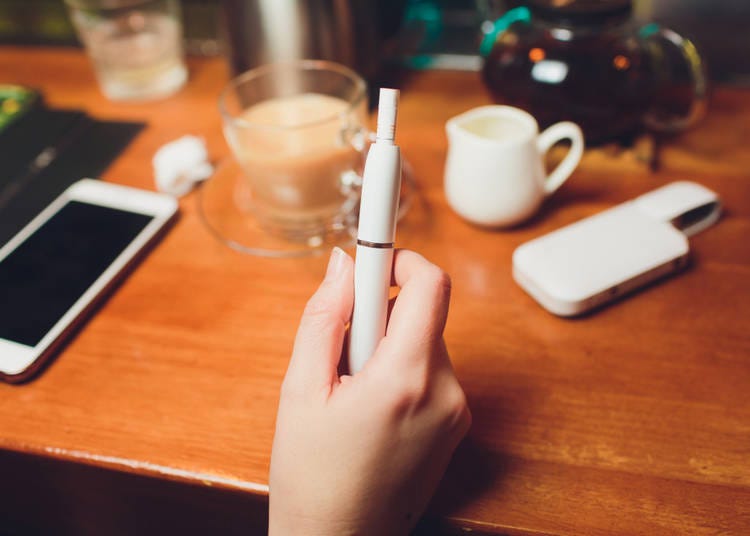 Another addition, which could be considered by some to be a loophole, will be to allow smoking rooms that can also have food and drink, provided that smoking is via heated tobacco products like e-cigarettes. As well, facilities like bars and snack bars where smoking is the primary purpose will allow smoking in smoking rooms.

The new Act also encompasses private companies, offices, recreational facilities and communal areas such as hotel lobbies and shopping areas, which will require all smoking to be done in specific smoking rooms that are exclusively for tobacco and no food or drink are served. The exception once again being heated tobacco products as long as the place is separate from common dining areas.
New No-Smoking Signs in Tokyo
For those who will be in Tokyo and not sure where you can and can't smoke, you will be able to find signs with pictures located at the entrances of establishments as well as on smoking room entrances.

There are a variety of different signs with instructions on what is and isn't permitted. Signs will range from "No Smoking," "Designated Smoking Room," "Designated Heated Tobacco Smoking Room," and "Smoking Area" making it relatively easy to determine where and whether you can smoke as well as what type of tobacco products are allowed.
Penalties and Fines for Smoking in Tokyo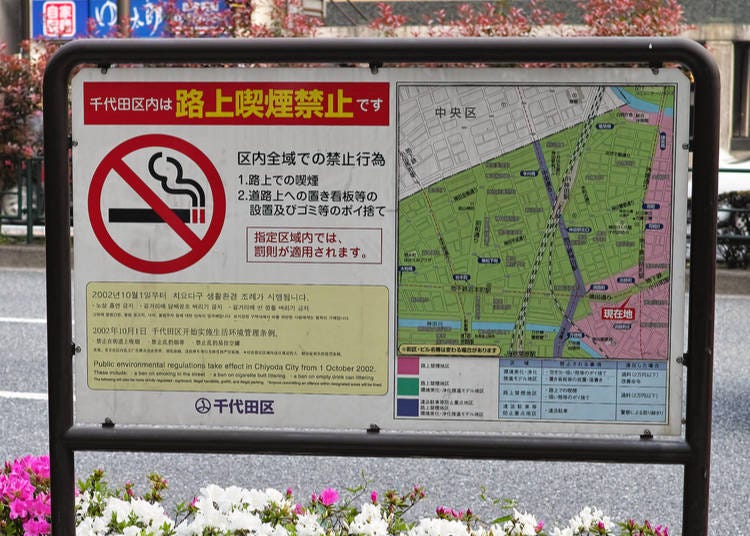 Takamex / Shutterstock.com
It's important to be aware of the signs and follow the rules of the establishment you are in, as disobeying the rules and being caught may lead to fines of up to 50,000 yen for not only the establishment that allowed the smoking, but to the smoker as well. (Reference here.)
So if you smoke despite the signs and get caught, the establishment will have to pay for your infraction as well.
Smoking Outdoors in Tokyo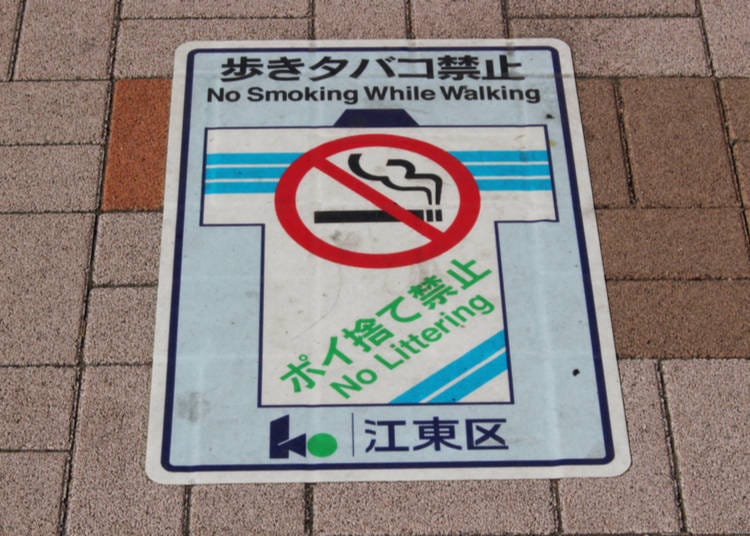 Ned Snowman / Shutterstock.com
In terms of smoking outdoors, it depends on the area of Japan and the municipality but you will notice while you are out and about in Tokyo that there are usually no smoking signs near the station, and most places don't encourage smoking on the streets. Most train stations have an outdoor smokers corner where many people congregate. An excellent way to know where you can smoke outdoors is to look for signs indicating a designated smoking area, such as glassed-in areas with a smoking symbol.

If you are a smoker about visiting Japan, you won't have to quit cold turkey, but you will have to be aware of your surroundings more, plan your cigarette breaks and sometimes be patient and control your nicotine cravings. Making sure you follow the rules of a country you're visiting is essential, and ensuring you set a good example as a foreigner visiting Japan will go a long way in having a good relationship with Japanese people.

Always try to follow the rules and respect the laws of the country. And although there will be many signs and pictures available for those who don't speak or read Japanese, if you are unclear of particular rules, you can always ask. If there are no signs and no ashtrays and you are not sure what to do, maybe hold off on smoking until you can find an approved smoking area.
Written by: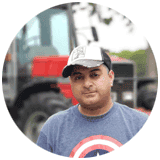 *This information is from the time of this article's publication.
*Prices and options mentioned are subject to change.
*Unless stated otherwise, all prices include tax.