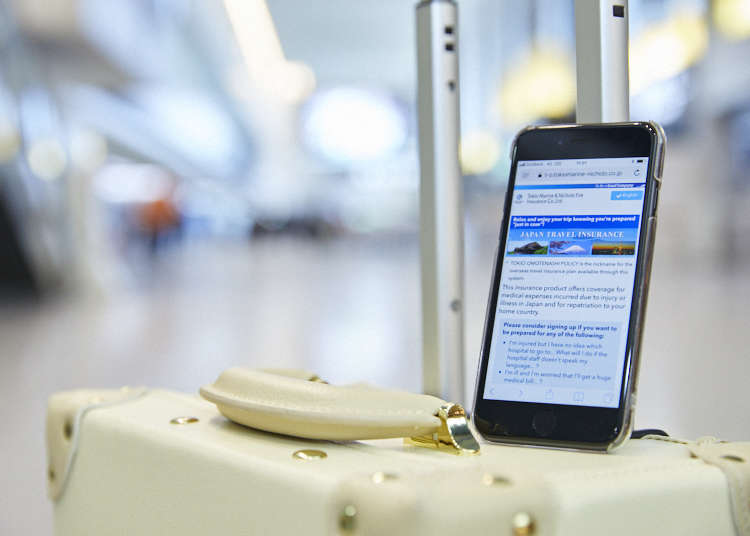 Japan has it all: fascinating history, incredible architecture, intriguing traditions, and mesmerizing pop culture. And judging by the numbers—thirty million-plus visits by overseas residents in each of 2018 and 2019—the world has taken note!

The country's major sights—and increasingly, its off-the-beaten-track gems—bustle with tourists. From the modern metropolis of Tokyo and the well-preserved culture capital of Kyoto to the natural wonders and secret hot-spring areas beyond city limits, travelers from abroad are pounding the pavement and padding along ancient paths and across open landscapes to soak up everything the Land of the Rising Sun has to offer.

With so much to see and do, even a minute of travel trouble is a waste of precious sightseeing time. Avoid hitches, and cruise your way to a perfect trip with the following tips, which you can act on the second you clear customs.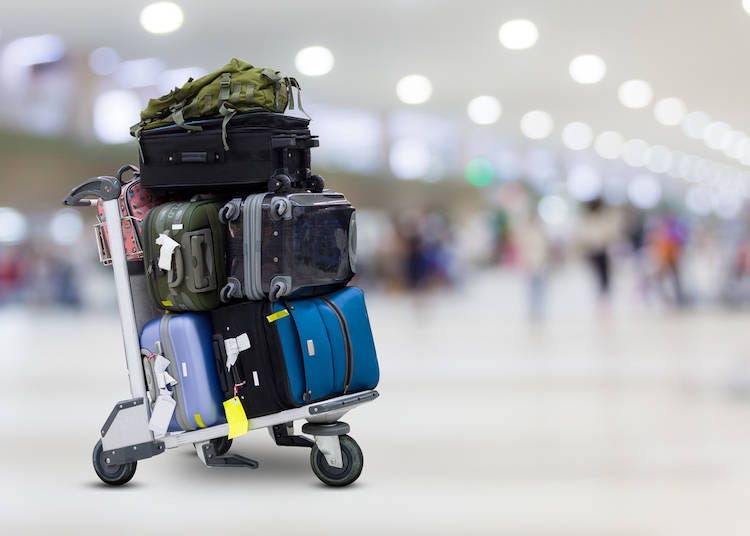 Lighten your load by taking advantage of baggage-delivery services at the airport.
1 - Liberate Yourself from Your Luggage
Nothing sucks the joy out of discovering a new city faster than lugging heavy bags around as you sightsee. But there's no need to struggle up stairways and through crowded train stations, luggage in hand. Start off your trip light as a feather by taking advantage of the baggage-delivery services offered at most Japanese airports.

Once you've located one of these service counters, which can generally be found in the arrivals lobby, registering your luggage for delivery is simple. Depending on the airport, you may have several options for delivery companies, but rest assured that all are safe and reliable.

Simply choose a company, complete the paperwork, and take care of payment. In as little as a day or two, your bags will be safely delivered to your hotel, by which time you'll have acquainted yourself with the city free of cumbersome suitcases. Don't lose a day of discovery by hauling your bags around the city—choose delivery!
Ensure internet access for easy navigation and communication.
2 - Get Internet Connected
Whereas we once counted on printed guidebooks to connect with our destinations, now we rely on electronic connections. From finding your hotel and figuring out your train to looking up restaurants, attractions, and everything in between, access to the web while you are out and about is a modern-day must. But the availability of free Wi-Fi, though increasingly common, is still patchy at best, and without proper planning, you might very well find yourself off-line and out of luck.

Even travelers who prefer to navigate using paper guides and minimal social media would be wise to arrange Wi-Fi. A connection can help you easily locate emergency services if you become sick or injured, as well as keep you up to date and safe in case of a natural disaster.

Avoid inconvenience and uncertainty by acquiring a SIM card or portable Wi-Fi router (known as "pocket Wi-Fi" in Japan) before leaving the airport. You can buy SIM cards, with a variety of data plans, at vending machines and some convenience stores or rent them at specific service counters—but be sure to confirm that the card is compatible with your device before acquiring it.

Routers, which can provide Wi-Fi for multiple devices, are available for rental from service counters. Both router and SIM-card rentals can be arranged in advance for pickup at the airport, which is a good idea for those planning to travel during peak season.

Alternatively, if you apply for the following JAPAN TRAVEL INSURANCE~TOKIO OMOTENASHI POLICY~, you can also get access to WiFi services.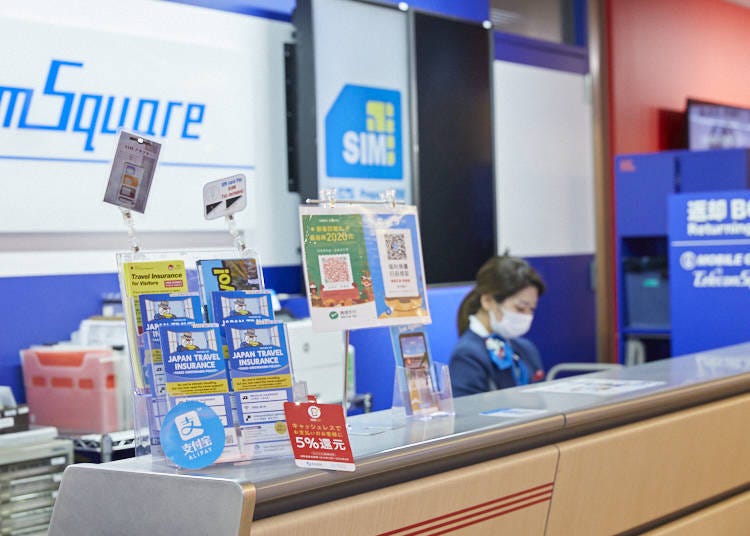 Take Responsibility for Your Health
Nobody who travels abroad expects to get sick or hurt, but unfortunately the unexpected can happen. Yet according to data, approximately one-third of visitors to Japan don't have travel insurance. Combine that with the fact that hospitals in Japan don't always accept credit cards, and you've got a recipe for physical and financial disaster.

Don't gamble with your well-being—or your bank balance—by skipping health-insurance coverage. The sense of security alone is worth the cost, and there are policies that will take good care of you without breaking the bank.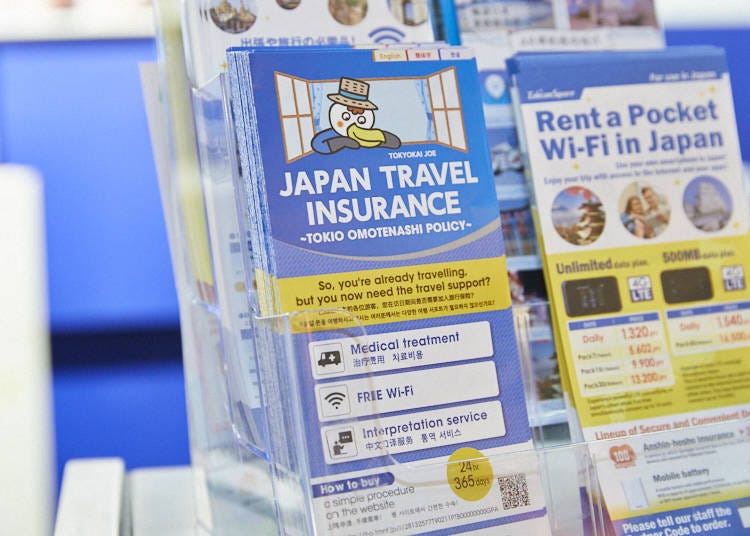 Travel-insurance companies also provide support services for coping with the unexpected. Depending on the policy and provider, they can locate the nearest hospital or clinic, provide multilingual assistance, provide cashless payment services and more. In some cases, they even provide disaster information should an earthquake, typhoon, or other catastrophe throw a wrench into your travel plans.

In a best-case scenario, you never have to contact your insurance provider, but even then, the peace of mind that coverage gives is priceless. With travel insurance available at service counters and easy independent application possible at most airports, there's no reason to go without. Be safe rather than sorry and arrange your coverage before leaving the terminal and set out on your travels with peace of mind.
3 - Safeguard Your Well-Being the Simple Way
If you decide to get insurance but are overwhelmed by all the options, rest assured that there is a simpler way, and it's called the JAPAN TRAVEL INSURANCE~TOKIO OMOTENASHI POLICY~.
This policy, offered by Japanese insurance company Tokio Marine & Nichido Fire Insurance Co., Ltd., is a new kind of travel insurance. Since it mainly covers sudden medical expenses, it doesn't have a lot of complicated options. Thus, it's an easy-to-understand and reasonably priced insurance that's also simple to apply for. Just pick up the pamphlet, scan the QR code or key in the URL to get the ball rolling.

Should you need medical attention, the company will assist in finding a suitable medical institution, with such facility offering cashless medical services. Telephone interpreters will facilitate discussion with doctors, and the company can arrange repatriation if necessary.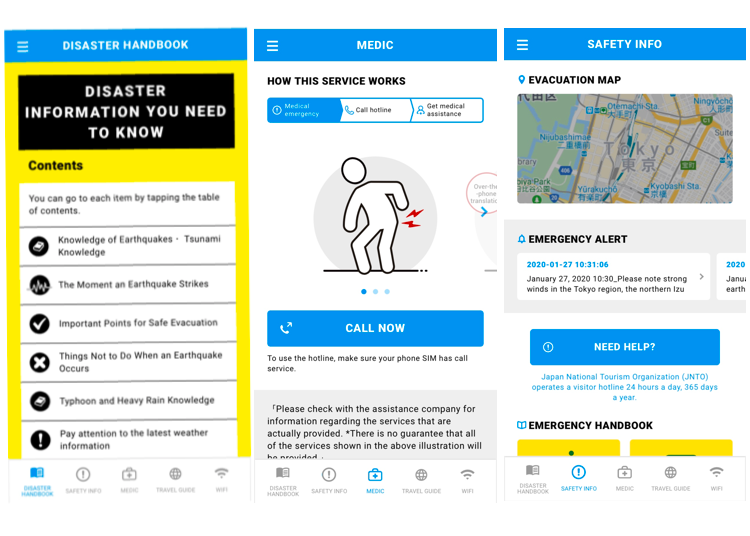 Not Just Medical Services, But Disaster Assistance, Too!
Beyond coverage for medical services, a host of other benefits make the policy a winner. For instance, the Tokio MARINE Safety Information app, in addition to its travel guide, has everything you need to help keep you safe should calamity strike, with everything from evacuation information to a disaster handbook. In a country as prone to natural disasters as Japan, this sort of support can be lifesaving.

The policy can also assist with other travel protection, including support in the event of lost or stolen passports or credit cards (the details of this service are subject to change without notice. The service may take time to access or may be unavailable).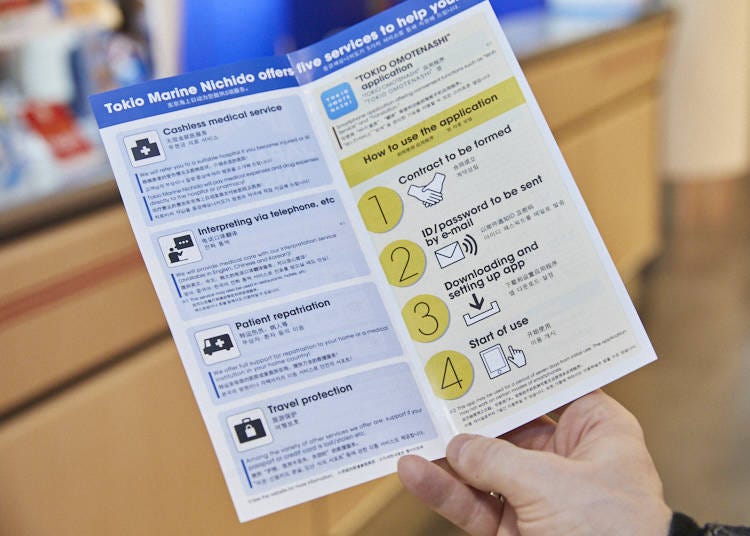 Low Cost and Flexible Coverage Period
The JAPAN TRAVEL INSURANCE~TOKIO OMOTENASHI POLICY~ has only one policy type and can cover any period between one and thirty-one days. Starting at premiums of only 800 yen per day, you'll be covered for medical treatment costs including repatriation for the patient to their home country for illness or injury incurred while in Japan for up to 10 million yen.

For longer periods of coverage, the price drops. For example, seven days of coverage costs just 2,960 yen, or just over 400 yen per day. For thirty-one days of coverage, the per-day cost drops to less than 300 yen per day, for a total of 9,420 yen.

An estimated 4 percent of travelers to Japan become ill, and approximately 30 percent of them (or 1.5 percent of all travelers) need to visit a medical facility. It might seem like your odds of falling into that group are low, but with reasonable rates for insurance, why take the risk of going without it? Insure yourself, and travel safe in the knowledge that your well-being—as well as your pocketbook—is protected.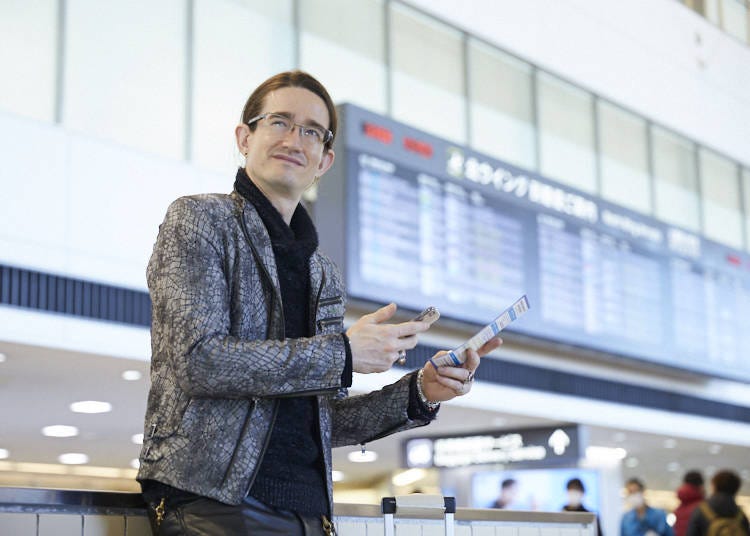 Proper Preparations, Pleasant Trip
Whether you're a regular visitor or on the trip of a lifetime, your visit to Japan represents months of planning, saving, and anticipation. With the right preparations, many of which can be taken care of in the arrivals lobby, you can ensure that your trip will be one to remember for all the right reasons.

So, ship your luggage, get connected, and most importantly, arrange insurance. Then get down to what you came for—exploring the incredible archipelago of Japan.

Be prepared by reading more about the JAPAN TRAVEL INSURANCE~TOKIO OMOTENASHI POLICY~ below:

"TOKIO OMOTENASHI POLICY" is the nickname for an overseas travel insurance plan for foreign nationals visiting Japan. Please carefully read the "Description of Important Matters" when purchasing this policy and e-mail the Tokio Marine Nichido Customer Center via the contact information below if you have any questions.

Policy Provider: Tokio Marine & Nichido Fire Insurance Co., Ltd.
Contact: web-admin735@tmnf.jp
Hours: 09:00–17:00 (except Saturdays, Sundays, Holidays, and the New Year period)

Policy Code: 23T-001151 (Created August 2023)
*This information is from the time of this article's publication.
*Prices and options mentioned are subject to change.
*Unless stated otherwise, all prices include tax.
Limited time offer: 10% discount coupons available now!