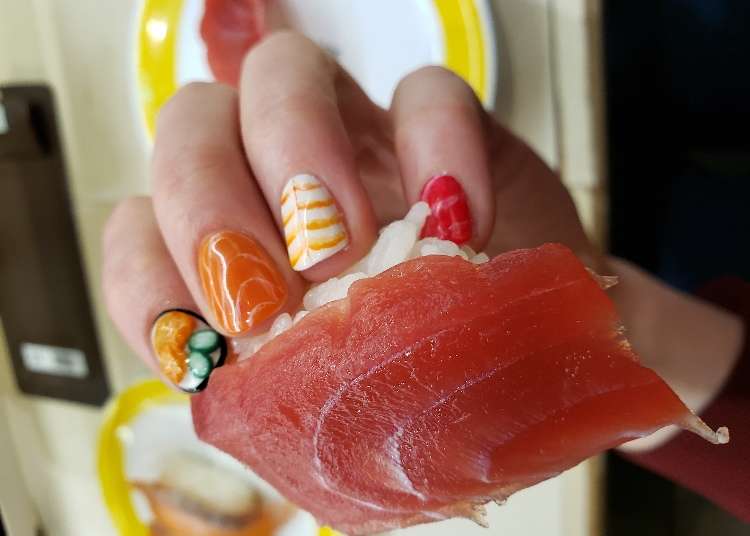 Ever heard of interesting nail salons in Japan offering manicure art that's not quite standard fare? Anything can be painted onto your nails these days - characters, food, animals - you name it! Take a quick look around any social media and you'll find plenty of these adorable Japanese nail art designs prominently featured because of the great attention they tend to attract.

We thought to ourselves, what better way to showcase this artistic side of Japan than to try it out ourselves and furnish a full report? Here's the Live Japan experiment with some fun nail designs and our thoughts on the whole process!
Welcome to esNAIL Shibuya, house of some of the most novel Japanese nail art you'll find in Tokyo!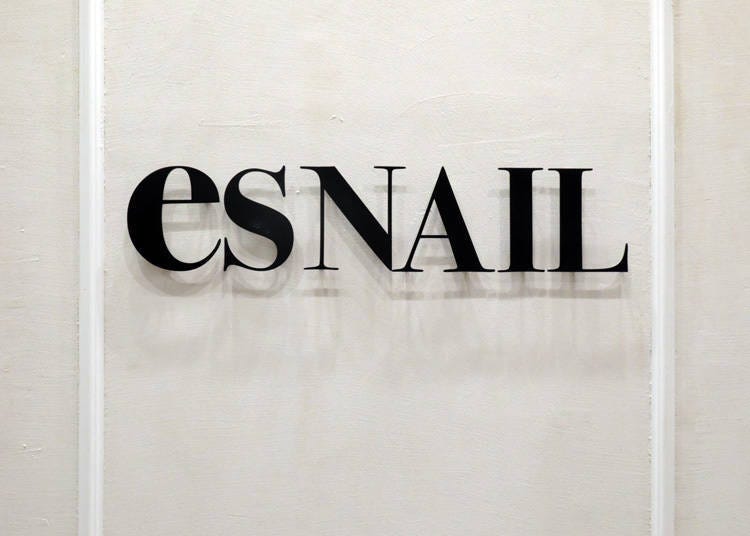 Representing Live Japan for today's nail art challenge is Cassie from the editorial desk. "I usually do my own nails," Cassie explains, "and have only been to a nail salon maybe three times in my life. I'm kind of excited to see what sort of nail art they have here!"

Cassie's order? Nail art designed after one of Japan's most recognizable food item: Sushi! How will it turn out? Let's see!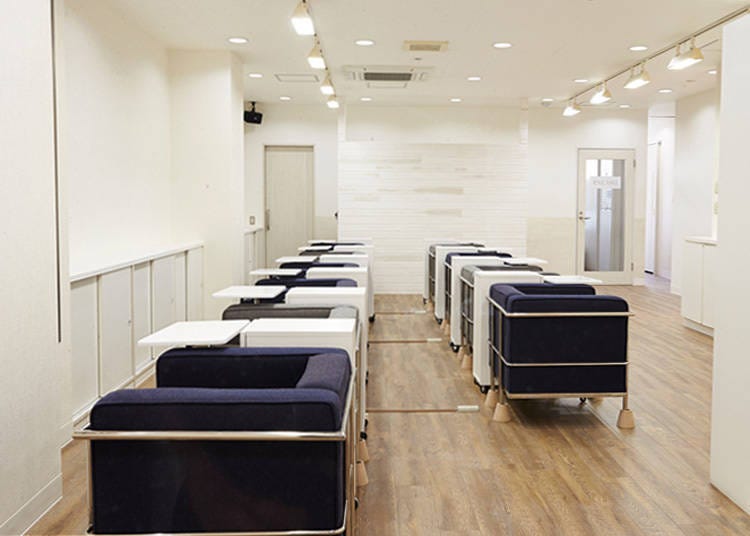 Nail salon esNAIL Shibuya, conveniently located just 4 minutes on foot from Shibuya Station has kindly partnered with us for this experience. The shop is a professional nail art salon that is patronized by celebrities and models as well. Countless women's magazines have featured the nail art of esNAIL in their articles. It's fairly safe to assume the shop is a trendsetter for the latest designs on the market!

esNAIL is so popular, in fact, that it has a Beverly Hills branch! Their homepage has an English language option as well, making it easier for tourists from overseas to visit the shop for its services.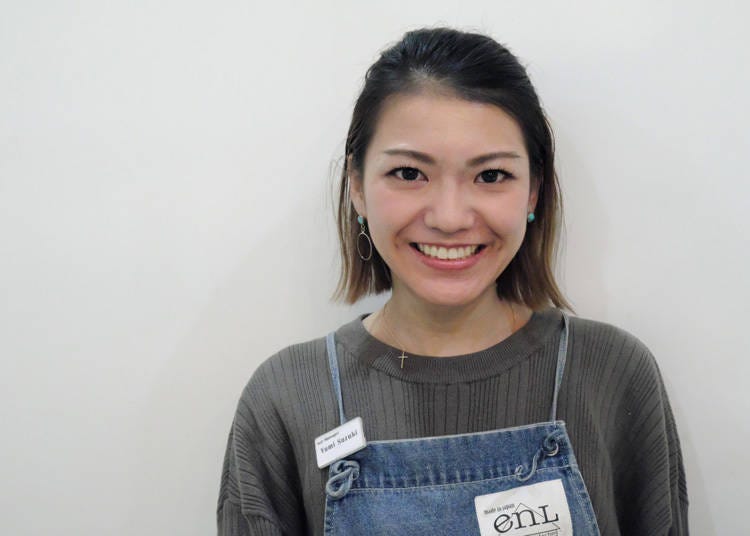 Ms. Yumi Suzuki
The manicurist who helped us with the design this time was Ms. Yumi Suzuki, a nail artist with 10 years of experience in the profession!

As an experienced manicurist who excels in creating art on fingertips, Ms. Suzuki also professes an avid interest in drawing. Her favorite subjects are characters from the Star Wars franchise, so don't be shy to ask for a Star Wars nail art from her if that's what you want!

We discussed with Ms. Suzuki about the kind of nail art we had in mind and showed her some pictures of sushi nails for reference.

"Some customers have asked for designs like these before, and I was able to meet their expectations, so consider it done!" Ms. Suzuki's bold announcement reassured us that the day was about to become a very good one indeed!
Time to give ourselves some novelty nails!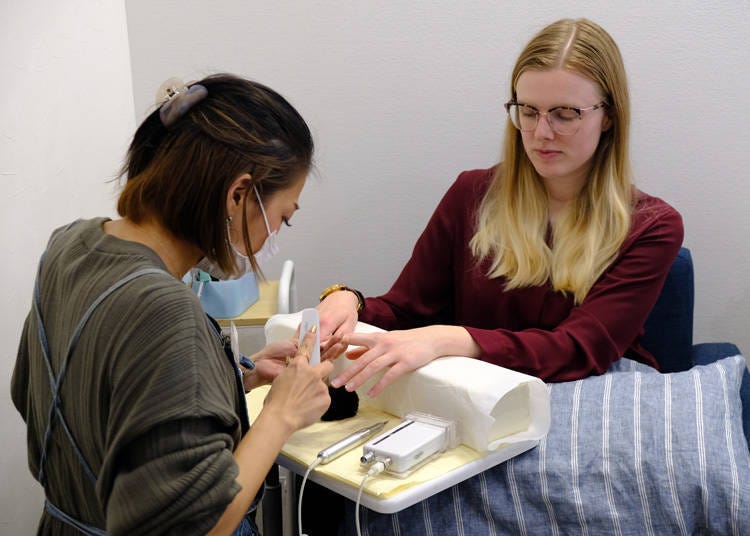 Cassie was understandably a little nervous as this was her first time to a nail salon in quite a while. As for Ms. Suzuki, she carried out her work with quick and professional precision.

Ms. Suzuki first prepared the nails by shaping and cleaning them while removing any cuticles. Customers with cracked nails will be asked if they want to strengthen the nails first before doing the manicure. This is entirely optional, of course. Color is applied after this first step.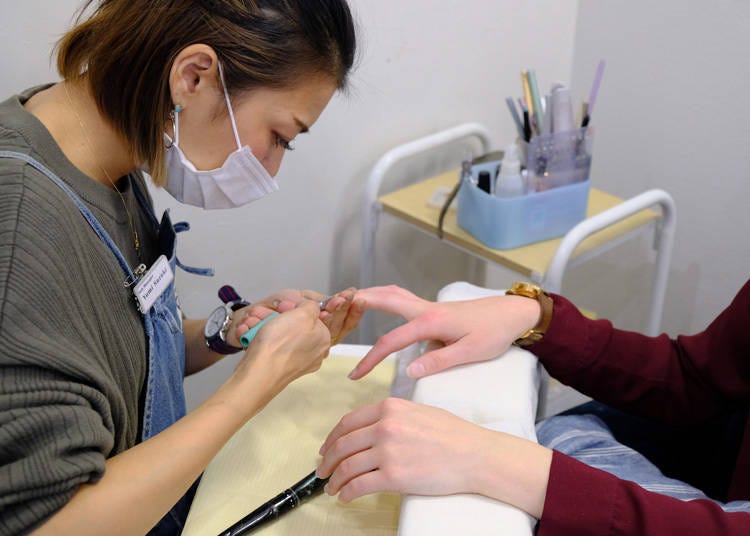 The manicurist will file and trim the nails carefully to prepare them for what's next.

We asked Ms. Suzuki if first time visitors needed to do anything before coming to the salon in preparation for the experience, and she answered, "You don't have to do anything at all! Just come!"

Apparently, trying to prepare the nail yourself usually doesn't produce the ideal shape and nail conditions for nice-looking, long-lasting nail art, so most experienced nail artists like Ms. Suzuki would recommend coming down to the salon to let the professionals handle the entire process for best results!

Before we even realized it, Ms. Suzuki had already finished shaping Cassie's nails.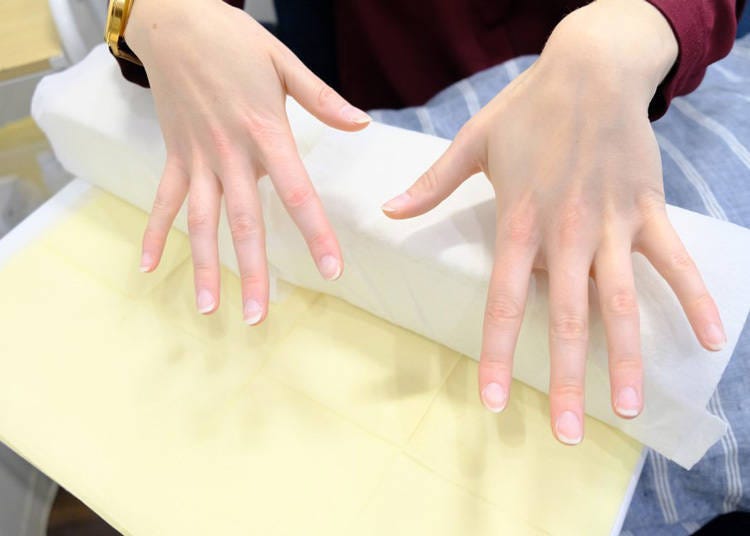 Perfectly done!

"She was very careful with her work, so it was comfortable from start to finish!" said Cassie. Experienced manicurists like Ms. Suzuki are conscientious and will keep asking if the customer is feeling any pain and adjust their methods from there. First-timers to nail salons can rest assured that pain is never part of the package!

Color is applied after the nail has been thus prepared.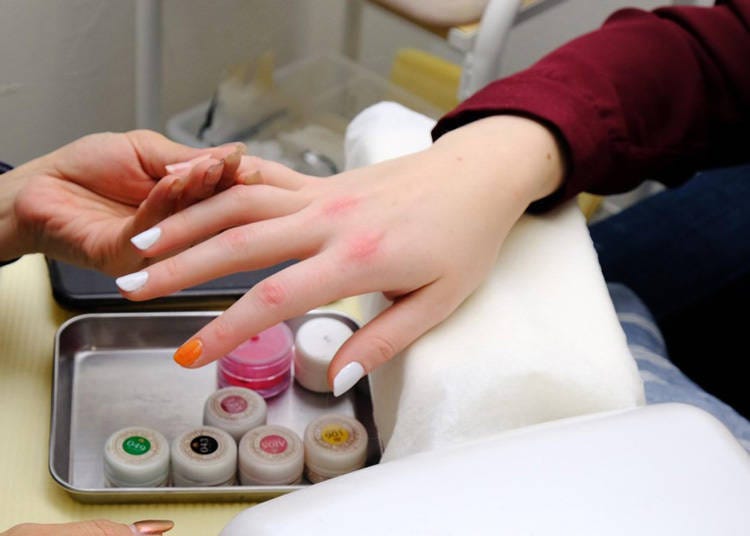 The base color goes on first. For Cassie's sushi order, each nail was painted with plain colors like white or orange, depending on the design. At this stage, you have no idea what the nail art will end up looking like yet.

One layer of base color is applied, then the nail polish is allowed to dry. After that, the nail artist will start adding details with a fine brush to make the designs in their minds come to life.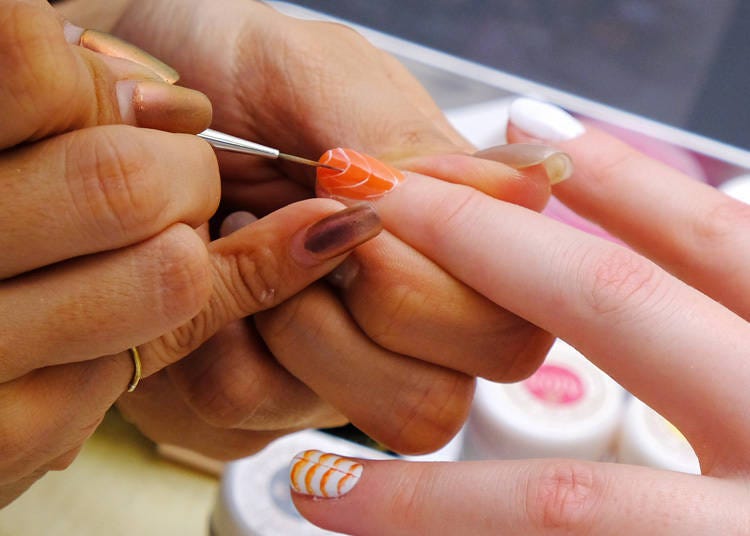 Slowly but surely, the white and orange nails started transforming into lifelike sushi ingredients!

Cassie: "They already look more realistic than I'd imagined! I can't wait for the final results!"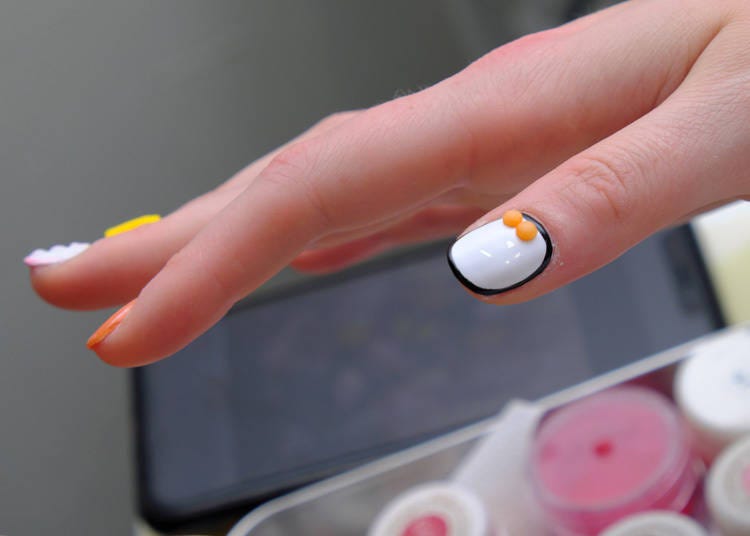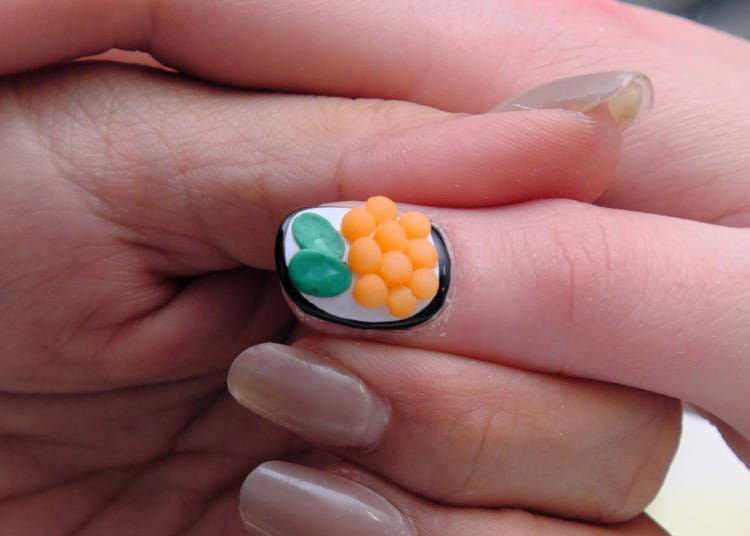 Some thick and tasty-looking ikura (salmon roe) look-alikes on the thumb! Cassie's order of sushi came with a spot of 3D art as well.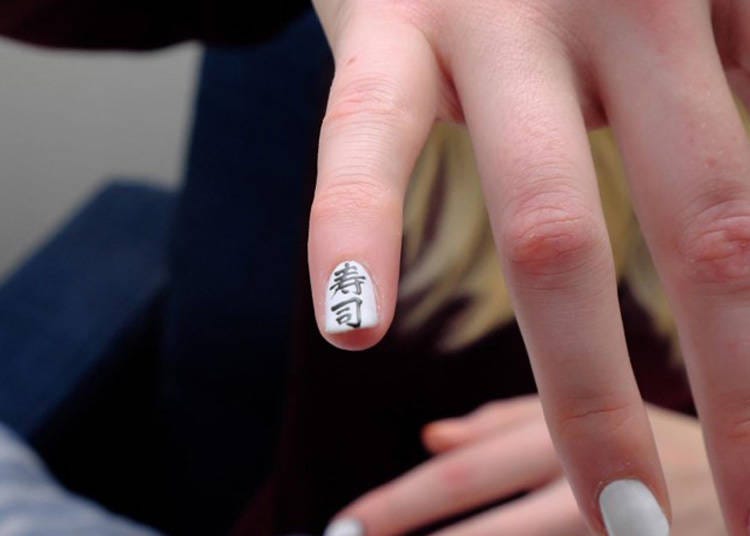 Halfway through the painting, Ms. Suzuki asked if it was okay for her to add some Japanese words as well, and we agreed on the kanji characters for "sushi"!

Cassie: "That was such a creative idea that I said yes immediately! I'm really glad she's so involved in her work that she's throwing out her own suggestions to make the designs look better."
And now, for the final Japanese nail art results!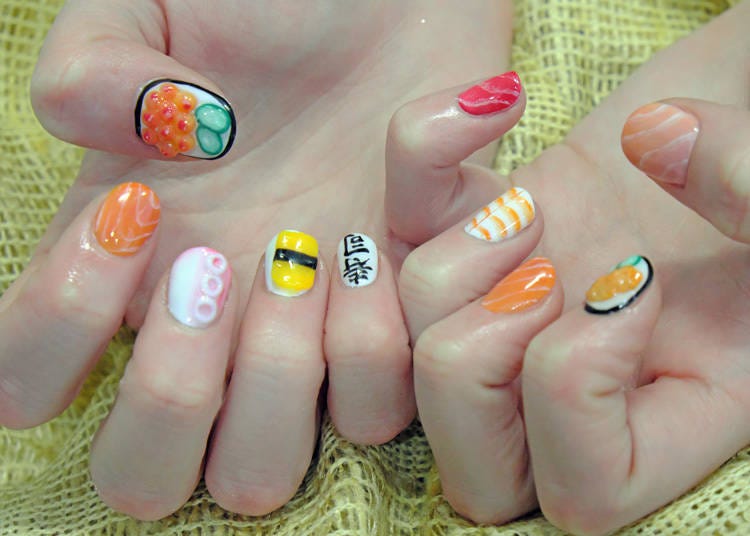 Salmon, salmon roe, egg, shrimps, octopus, tuna...an impressive array of premium sushi ingredients realistic enough to bite into! Ms. Suzuki definitely added her own artistic touch to the designs that were handed to her as a reference and made the nail art much better than originally imagined.

Cassie: "I have to say, my favorite part is the nail with the 'sushi' kanji and the octopus! The 3D effect on the octopus design makes it look so real, I could almost eat it! The kanji for 'sushi' had to be written in a tiny size, and yet it's so neat and readable."
Someone's happy!

Cassie: "I can't believe how well the designs turned out from a vague request with some random photo references. I'm definitely going to go eat some sushi with my new sushi nails!"

We gave the manicurist a general idea of what we wanted and left the rest up to her, but if you have a particular sushi dish that you really, really love, make things interesting by insisting on them and seeing how they turn out!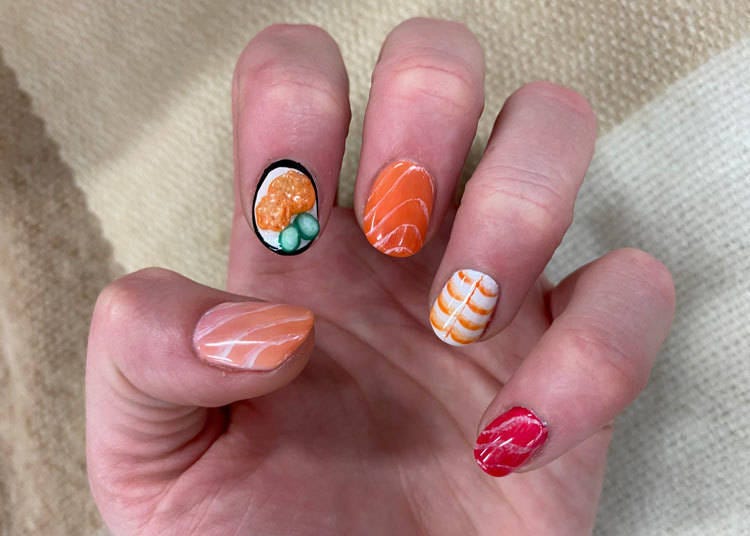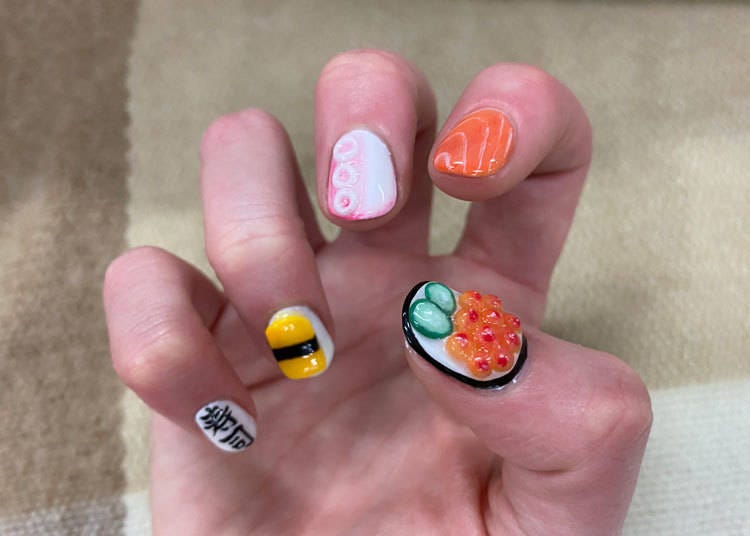 Cassie: "The manicurist said she loved to draw, and I think that's what motivated her to want to try drawing things she's never done before! I think you can absolutely feel free to ask her for a specific design you have in mind too."
We wanted something with a sakura and torii design too
Nothing says spring in Japan quite like sakura (cherry blossoms) and a torii (traditional Japanese temple gate), so we decided to ask for something like that as well.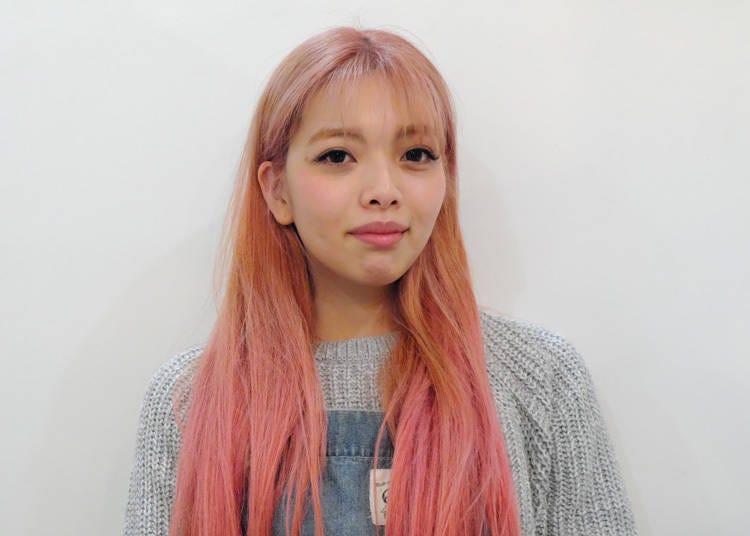 Ms. Eri Nakatani
Whipping up this particular order for us was Ms. Eri Nakatani, a manicurist with seven years of nail art experience.

Ms. Nakatani's personal favorites are French manicures or simple designs, but in terms of skills, she's also good with cute and sparkly nails. We roughly told her we wanted something that represented Japan's spring, like sakura and torii, and this led to a discussion about the specifics, like our preferred colors, whether we would allow her to use rhinestones and other details.

Here's what finally emerged!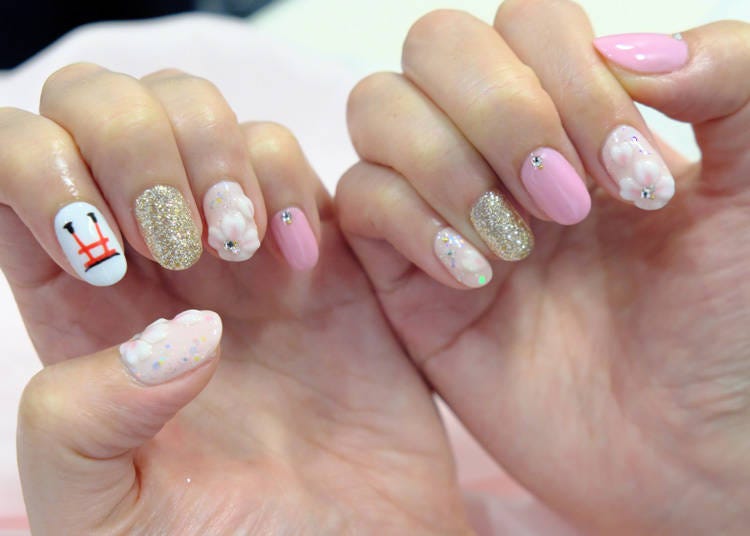 The nails were mostly given a pastel pink base, then gilded with glitter or studded with rhinestones to make them look like adorable 3D sakura petals. The painted torii is also an eye-catching piece of art that looked just like the real thing!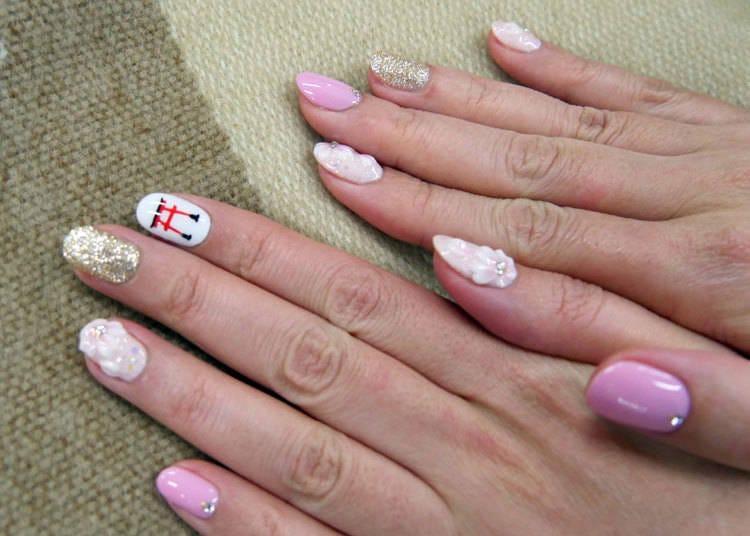 The manicurists here are ready to respond to request of all kinds, so show them photos of what you have in mind or discuss your ideas with them. They'll convert all of that information into a unique piece of nail art that can't be found anywhere else.
Now it's your turn! What Japanese nail art design can't you wait to get?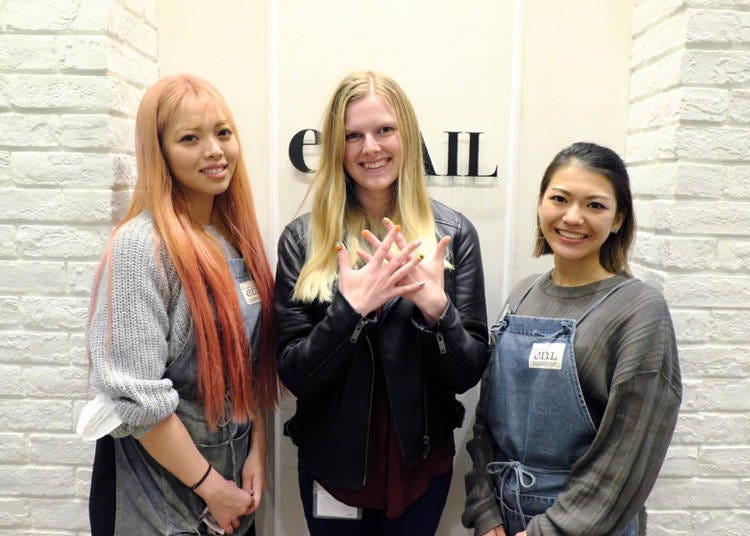 As you can see, Japan has novelty nail fashion down to a fine art. Realistic and yet fun, the artwork that have undergone the meticulous nail art treatment here is exciting to look at! If you're not sure you can describe what you want properly, just bring along a photograph of the closest match and the manicurist will take care of the rest. If you have even a passing interest in nail art or how it's done in Japan, this is an activity you should definitely find room in your itinerary to squeeze into!

The art plan for esNAIL, our partner for this article starts from 8,000 yen, and the special art plan starts from 11,000 yen. Because we went for design consultation as well, the plans cost 12,000 yen per person for us this time.

(*Prices are exclusive of tax)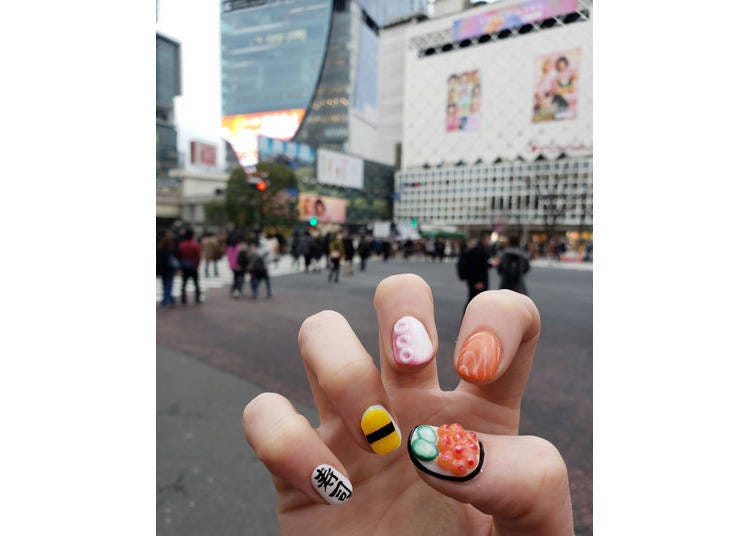 Taking a commemorative shot of the delicious-looking nails on our way back with Shibuya Scramble Crossing in the background!
esNEIL渋谷本店

Address

6F A2 Building, 28-3 Udagawa-cho, Shibuya-ku, Tokyo-to

Nearest Station

5-minutes walk from Shibuya Station


Phone Number

080-3028-5155

Hours: 10:00 a.m. – 10:00 p.m.
Closed: Open daily
Written by China Nanakusa. English translation by: Huimin Pan.
*This information is from the time of this article's publication.
*Prices and options mentioned are subject to change.
*Unless stated otherwise, all prices include tax.