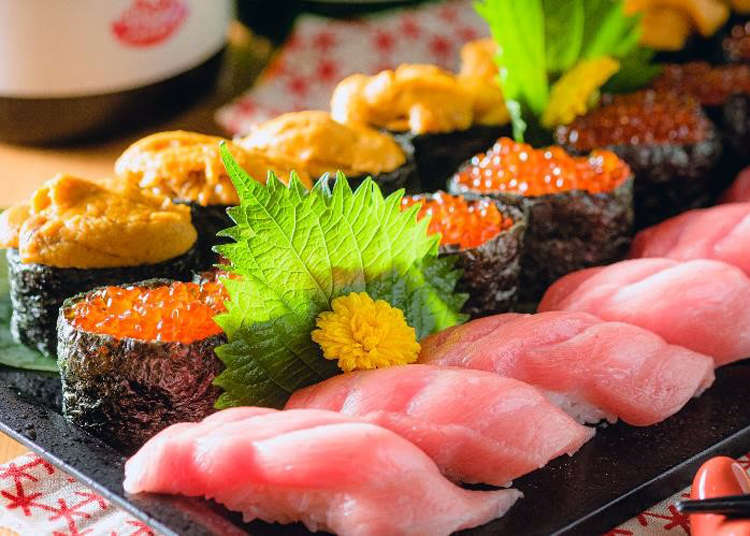 2020 is a leap year, which means there will be an additional day in February, the 29th. Since '29' can be pronounced as 'niku,' which means meat in Japanese, there are some restaurants that are planning to offer all-you-can-eat options to celebrate this special day that only occurs once every four years.
Here we will introduce three shops with amazing cost performance for all-you-can-eat lamb meat, sushi and shabu-shabu, a Japanese hotpot dish!
1. Carnism: Have Your Fill of Charcoal-Grilled Lamb Meat Bursting with Umami!
From Azabu-Jūban Station on the Toei Ōedo Line, a 1-minute walk will take you to Carnism.

This is a store specializing in charcoal-grilled chunks of meat cooked in stone ovens and locally produced craft beer. For the whole of February, at just 2,902 yen, Carnism is offering "Lamb Matsuri Course Zenjuppin", an all-you-can-eat meal course with ten items, including four lamb dishes.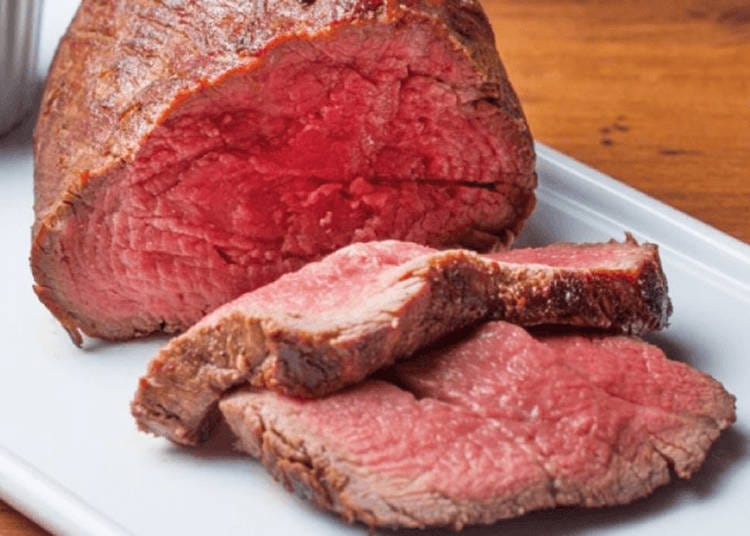 The four lamb dishes available under the all-you-can-eat option are lamb thigh meat, lamb arm, frankfurters made from minced lamb and winter-limited lamb hotpot. The lamb meat is grilled over charcoal in a clay tandoor oven till they are crispy on the outside and juicy on the inside. Filled with umami, the lamb meat is cut and served to order.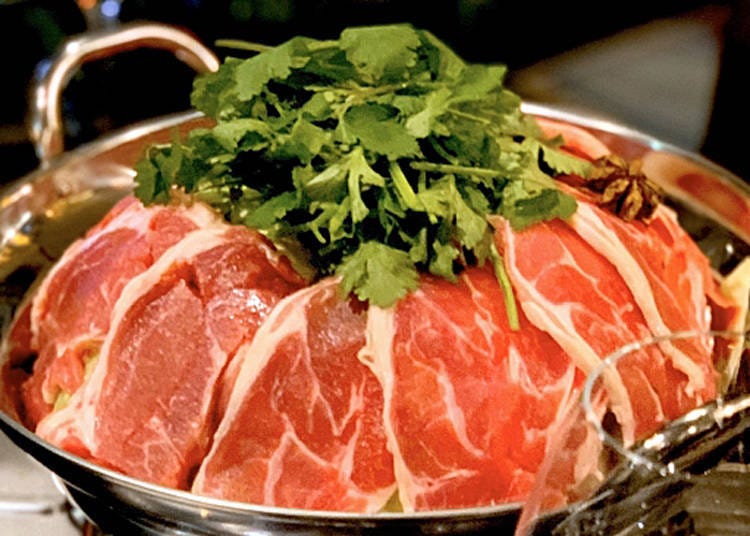 Other items in the meal course include sheep cheese Caesar salad, lamb carpaccio cooked at a low temperature, homemade lamb gyoza, salt-boiled lamb meat on the bone, noodles, and dessert, totaling 10 items.

All these for under 3,000 yen is a real steal! Plus, the craft beers are locally brewed, and the in-store lineup includes over 30 selections. With the wide range of flavors available, you will be able to find one to create the perfect combination with your meal.
carnism(カーニズム)

Address

Crane Azabu 101, 1-3-5, Azabu-Jūban, Minato-ku, Tōkyō-to

Nearest Station

1-minute walk from exit 5a of Toei Ōedo Line "Azabu-Jūban" Station, cross the pedestrian crossing and walk beyond FamilyMart


Phone Number

03-5545-5944

Opening Hours: 6:00 p.m. – midnight
2. Fujiyama: All-You-Can-Eat Sushi - 50 Kinds for 2,999 Yen
Since its opening, the Akihabara branch of "Sushi Sakaba Fujiyama" has been offering "Sushi Yonjūgoshū Tabehōdai -Fujiyama Plan-", where you can gobble up your choice from among 45 varieties under the all-you-can-eat plan for 2,999 yen (tax-exclusive).

Now, they have announced that not only will they be continuing to offer this option past February, this meal course will be upgraded to 50 types of sushi. "Sushi Gojūshū Tabehōdai -Fujiyama Plan-" will now include luxurious options including medium fatty tuna, uni sea urchin and ikura salmon roe at the same price!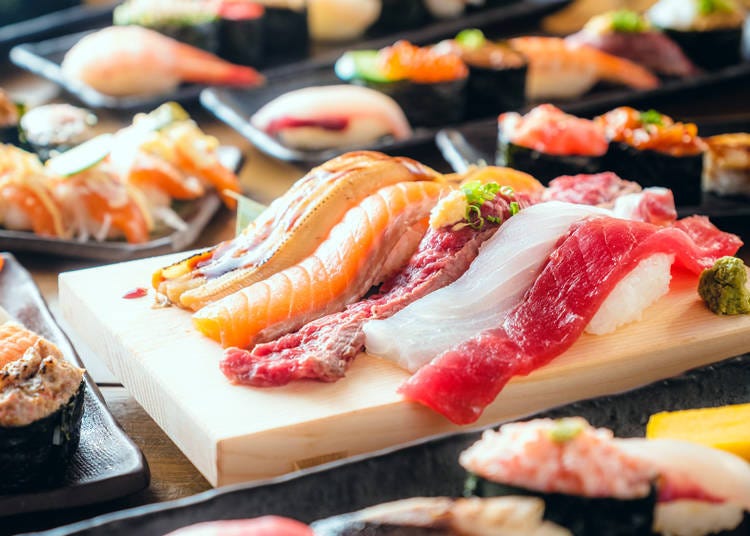 The rumored Instagram-worthy "Dai Neta Sushi", topped with ingredients longer than 20cm, is also an all-you-can-eat option
Also, those who wish to indulge in more lavish sushi can try the "Sushi Rokujūshū Tabehōdai -Fujiyama Goku Plan-" for 3,776 yen (tax-exclusive), which includes chutoro tuna, lean tuna (Akami), snow crab, and even a special sea urchin dish with meat.

At the shop's opening there was only an offering of 50 kinds of sushi, but the meal course has since been upgraded to 60 different options!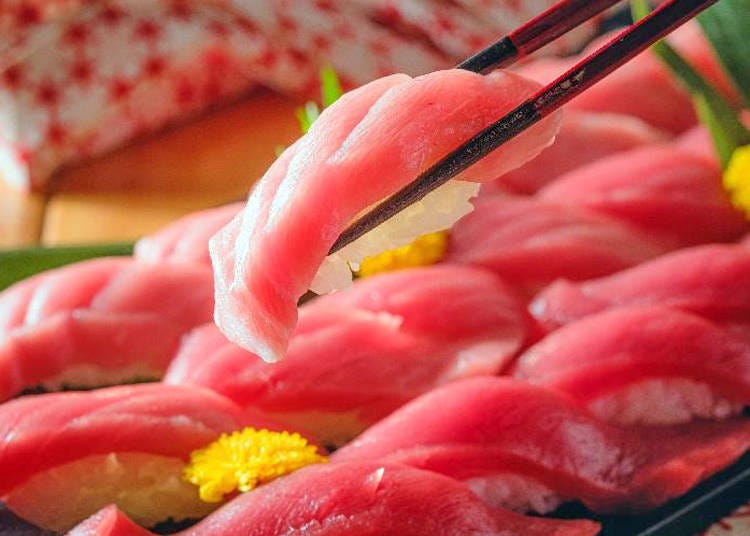 If you like sushi, you should definitely try the "Niku Uni Sushi", meat sushi topped with richly flavored sea urchin, and the snow crab to your heart's content!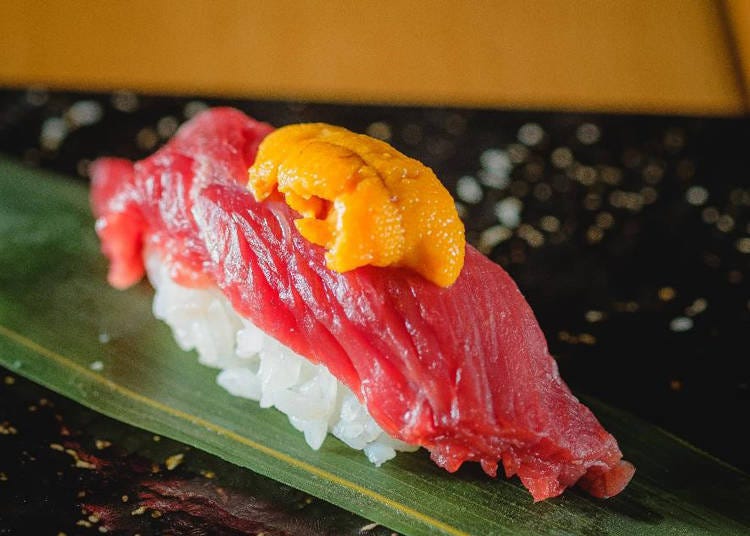 In addition, free-flow drinks are currently available at 999 yen (tax-exclusive) instead of the usual price of 1,500 yen (tax-exclusive). Now you can enjoy your fill of food with some alcohol, at a cheaper price!
Sushi Sakaba Fujiyama Akihabara-ten

すし酒場 フジヤマ 秋葉原店

Address

1-20 Sakuma-chō, Kanda, Chiyoda-ku, Tōkyō-to

Phone Number

03-4446-9886

Opening Hours: 4:00 p.m. – 11:00 p.m.
3. Washoku Sato: Over 75 Dishes Including Shabu-Shabu or Sukiyaki for Just 2,590 Yen!
At Japanese cuisine restaurant Washoku Sato, the extremely luxurious all-you-can-eat "Premium Course", which includes shabu-shabu or sukiyaki and more than 75 dishes, will be heavily discounted. From January 16 (Wednesday) to February 28 (Friday), the price for one adult will be reduced from 2,790 to 2,590 yen (both tax-exclusive).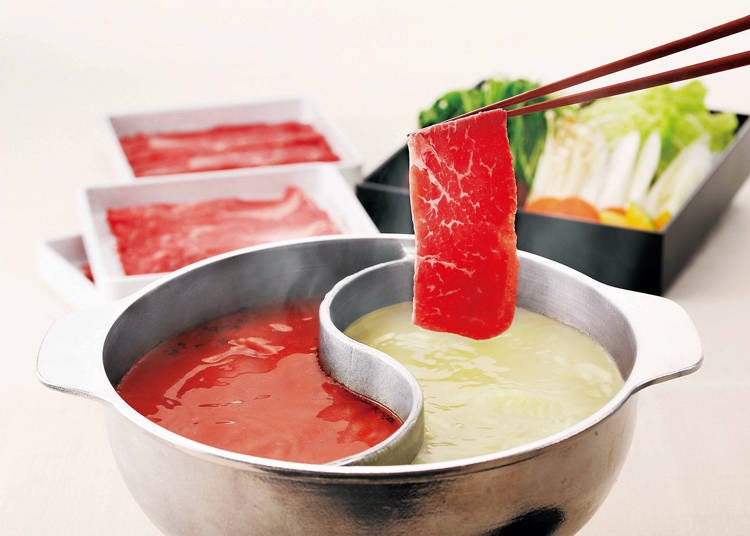 With the premium course, you can choose between shabu-shabu, which includes two soup bases of your choice, and sukiyaki that comes with a specially made stock. The all-you-can-eat a la carte dishes total 75, including 13 kinds of sushi, roast beef steak, fried chicken and tempura freshly fried to order.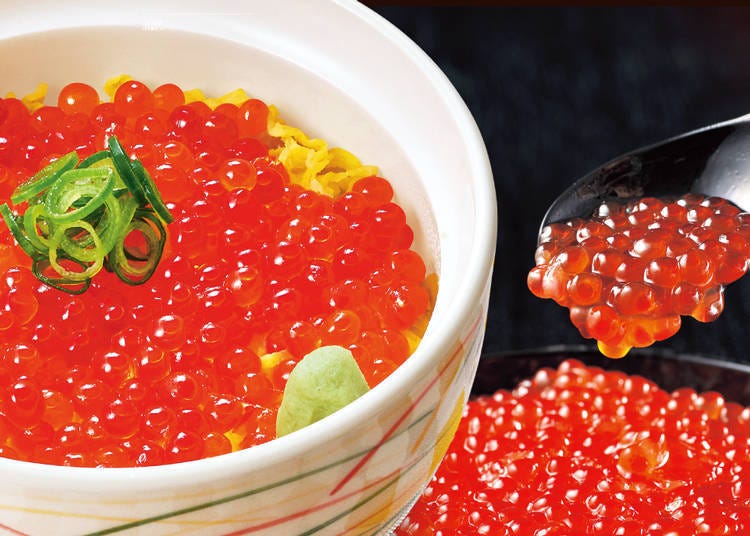 Plus, for an extra 500 yen, you can have your fill of salmon roe rice bowls, known as ikura-don, and salmon roe meat sushi which are included in the "Premium DX Course". Apparently, this restaurant is known to offer the most luxurious Japanese cuisine all-you-can-eat meal courses that are incredibly valued for money, perhaps even at the expense of the restaurant itself!

*Some stores have different operating hours, menu items and prices.
和食さと 羽田店

Address

2-24-8 Nishikōjiya, Ōta-ku, Tōkyō-to

Phone Number

03-3744-7263
*This information is from the time of this article's publication.
*Prices and options mentioned are subject to change.
*Unless stated otherwise, all prices include tax.
Limited time offer: 10% discount coupons available now!