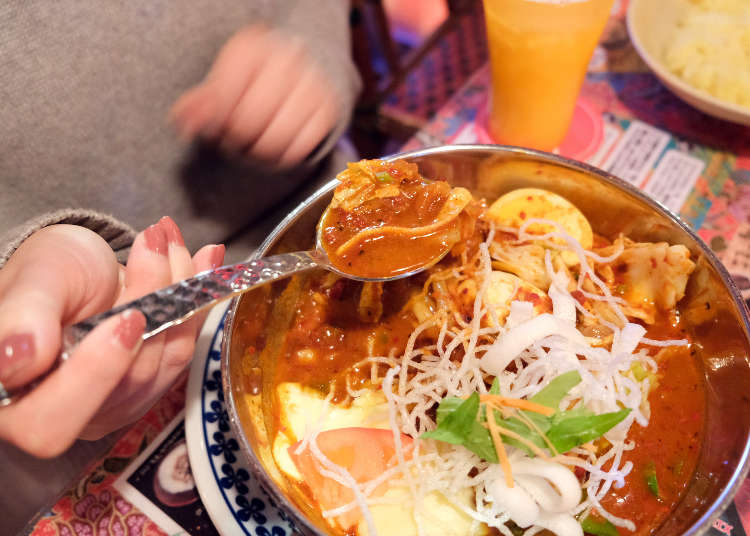 Koreans are world-renowned for serving up some incredibly spicy food. But how does the crazy spice at one of Tokyo's leading curry soup restaurants stack up?

Today we went to Magic Spice, a shop specialized in curry soup. We visited with Ms. Park, a Korean working on Live Japan's editorial team, together with with a Japanese writer, and a Japanese staff member. We tried the spiciest curry soup, called "Aquarius."

We also ordered a bunch of other items to compare. Let's see how Korean and Japanese tastes for spiciness compare!
A very popular shop founded in 1993!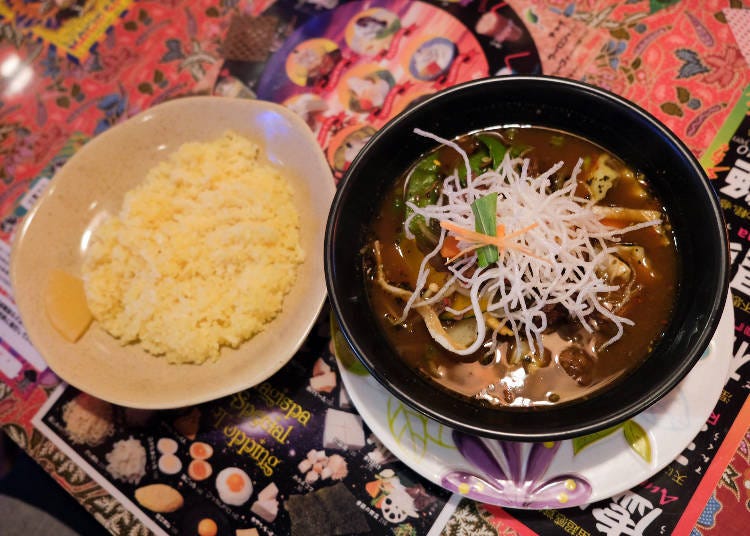 The history of Magic Spice (also known as Majispa) dates back to 1993. At that time, there was no name for curry soup, Mr. Yasushi Shimomura sold it simply as curry soup at his Majispa Sapporo main store.

Majispa's curry soup was drawn from Indonesian cuisine and its "Soto Ayam." After Magic Spa, there was an increase in restaurants that started selling the same product, making Magic Spice known as the "source of curry soup."

Although this is a curry soup from Sapporo, there are many branches in Tokyo as well, now. Each store has its own uniqueness, so that even the same dishes may be different from the ones you try in other branches.
With a bright red entrance, we are introduced to a very exotic store!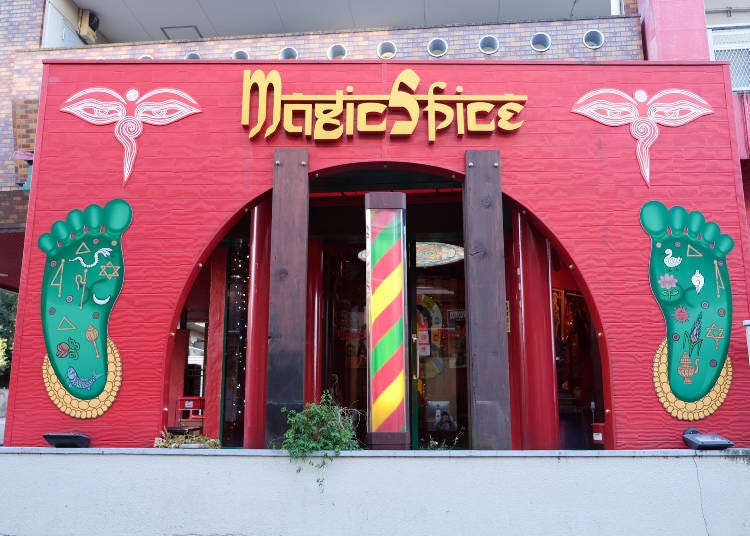 When it comes to Magic Spice, its trademark is its flashy and unforgettable appearance.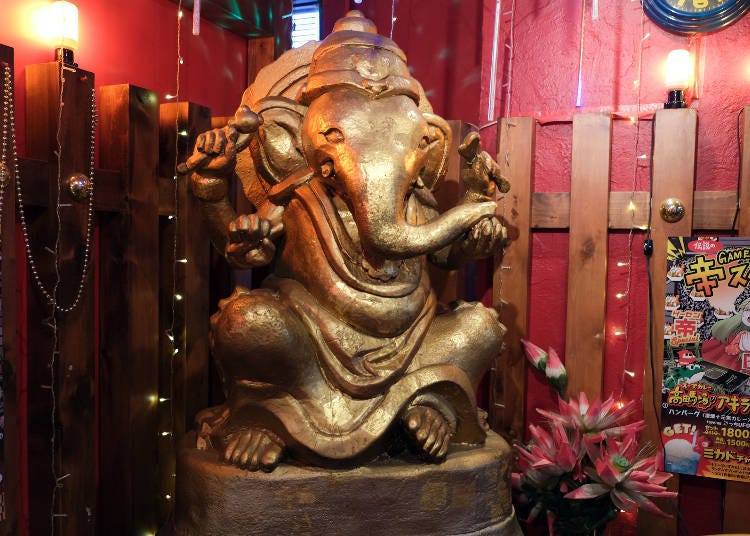 As you step in, you are greeted by a big and powerful-looking golden elephant.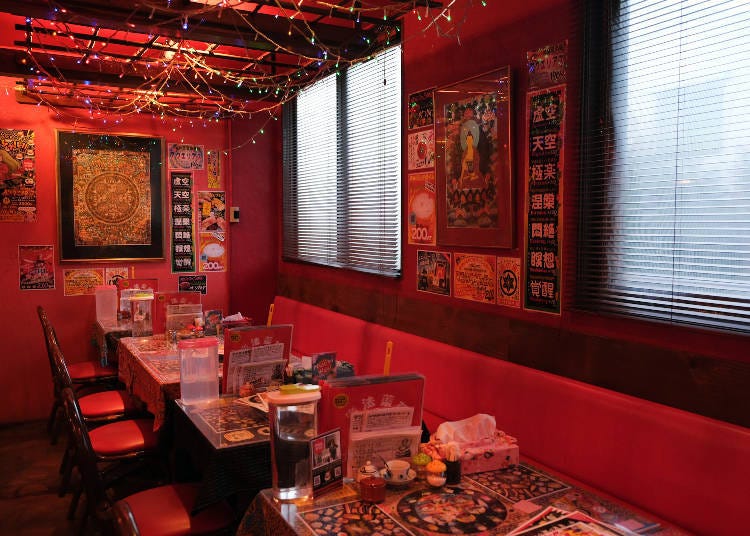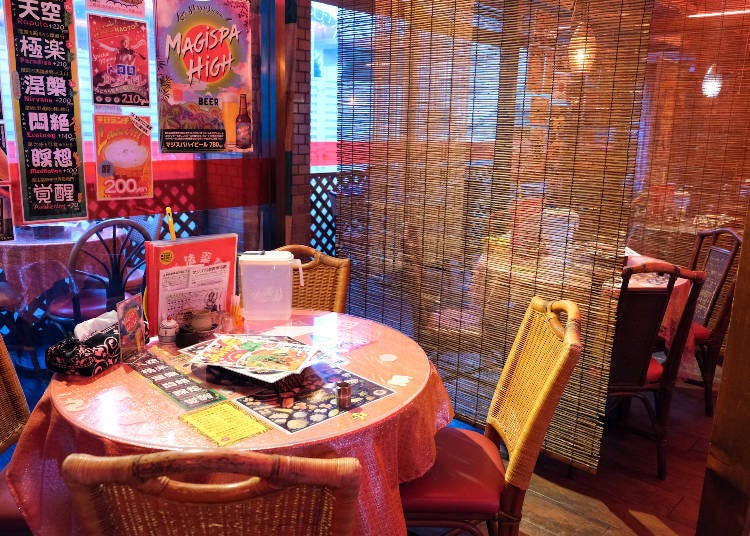 From the red walls to the chairs, everything speaks for the spirit of Majispa. The interior decorations are so exotic and unique that you may even forget where you are for a moment.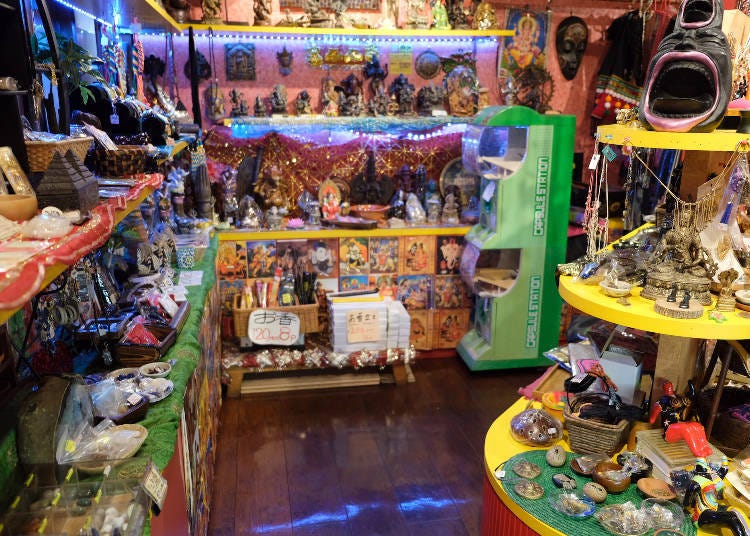 In the shop, you can buy a lot of souvenirs from overseas, like elephant figurines.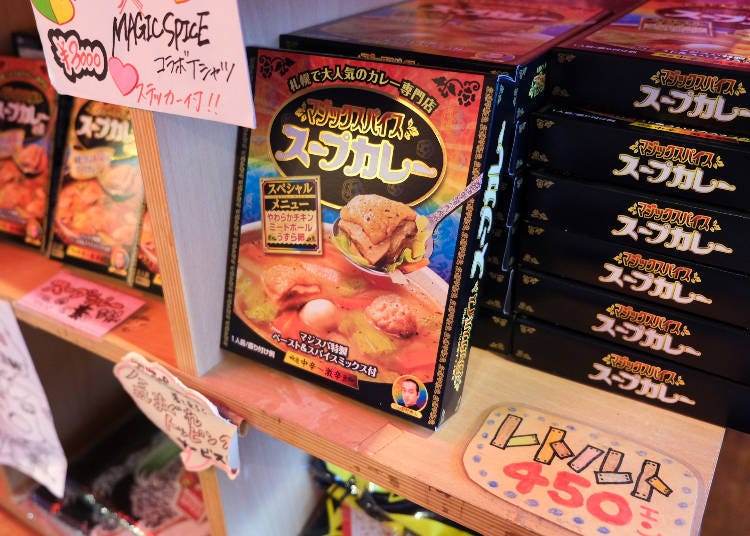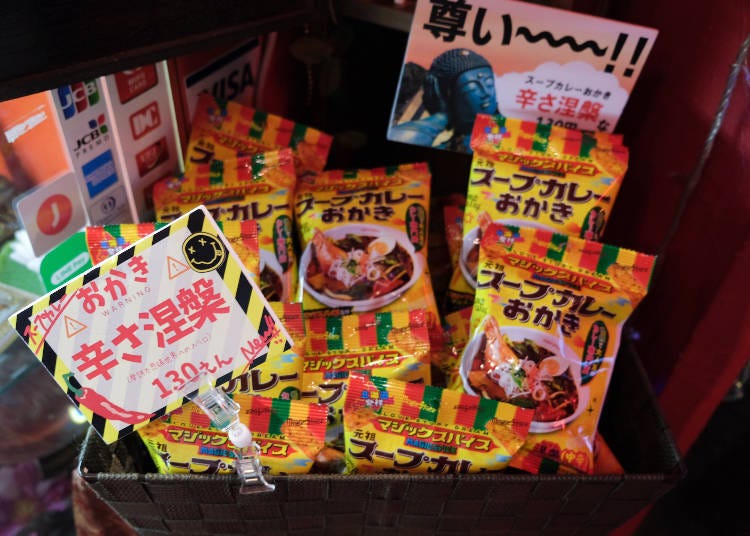 They also sell Magic Spice retort curry and curry-flavored oysters.
Endless combinations! How to order curry soup
There are many combinations of Magic Spice curry, allowing you to choose your favorite flavors. Let's look at how to order curry soup.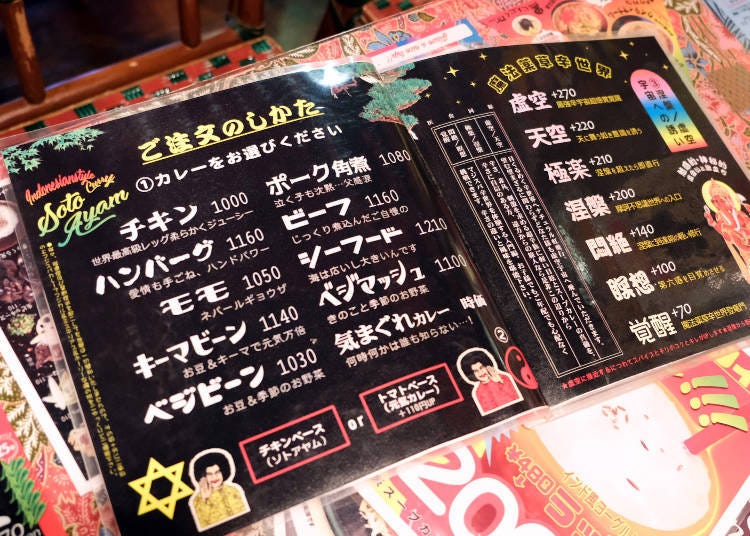 1. Choose the curry
Chicken (100 yen), hamburger (1160 yen), peach (1050 yen), keema bean (1140 yen), veggie bean (1030 yen), simmered pork (1080 yen), beef (1160 yen), seafood (1210 yen).
Choose your favorite from 10 kinds of veggie mash (1100 yen) (tax not included).

2. Choose a base
Choose a chicken base (soto ayam), or a tomato base (genki curry/extra 110 yen).
3. Choose the spiciness
Awakening (+70 yen), Meditation (+100 yen), Extasy (+140 yen), Nirvana (+200 yen), Paradise (+210 yen), Raputa (+220 yen), Aumgir (+270 yen).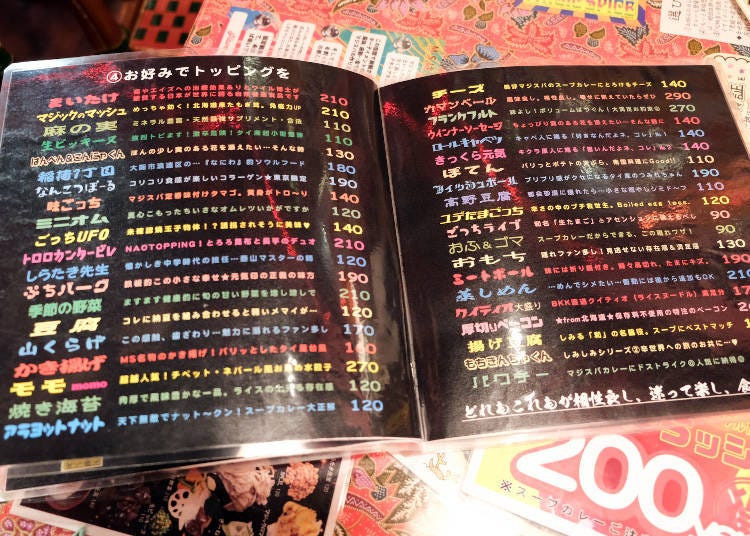 4. Choose your toppings
You don't have to, but you can add toppings, if you want to. In addition to popular ingredients like cheese (140 yen), and seasonal vegetables (210 yen), there are also items like Koya tofu (110 yen), and mochikinchan (100 yen), so choose depending on what you prefer.
What is this "Aquarius" which is limited to 5 orders per day?
There is a hot spicy curry soup at Majispa that is limited to 5 orders per day. Its name is Aquarius (1660 yen)

While people describe it as so spicy that it feels like liquid fire, and few can actually finish it, those who like spicy flavors find it delicious. Yet it's hard to tell if you don't try it. So, today, Ms. Park, a Live Japan editor and her Japanese coworkers will report their experience.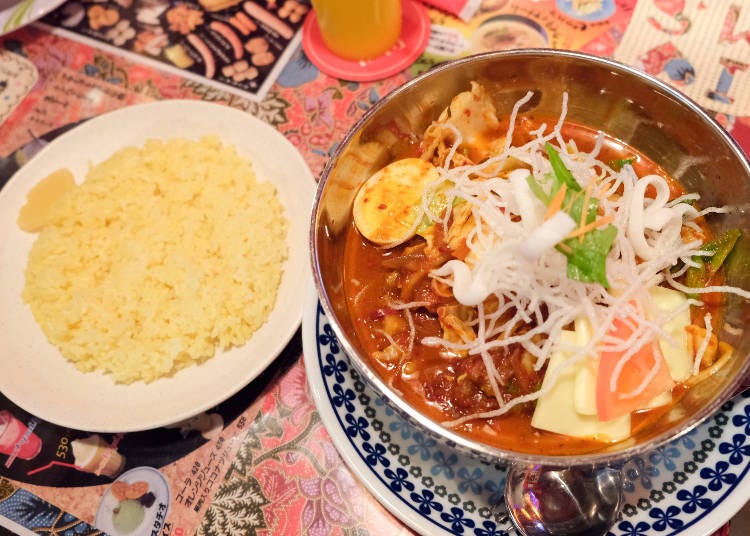 At first, let's look carefully at the presentation of Aquarius. It presents like a red soup resembling a kimchi pot, with plenty of ingredients.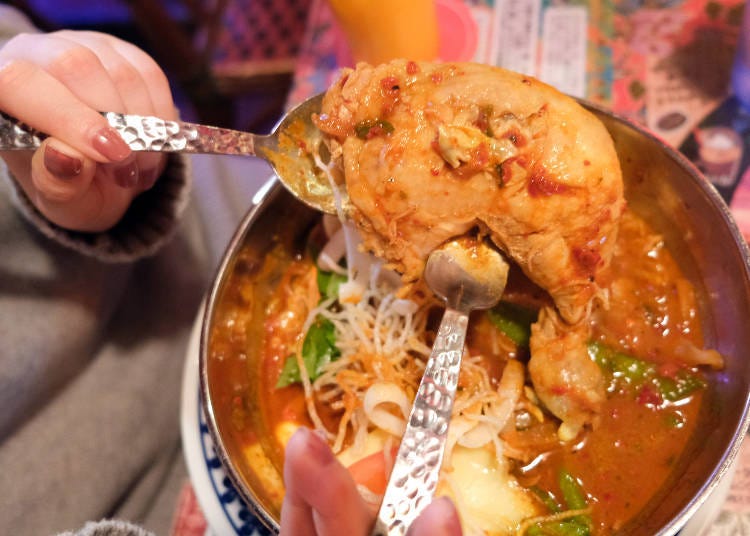 Today we tried the chicken version of Aquarius.

Ms. Park: "It looks spicy. Compared to other of my Korean friends, I'm kind of .. weak for spiciness. I'm a little worried but I'm going to be brave and try it!"
Tasting the classic "Nirvana," and the highest grade "Aumgir" with standard hotness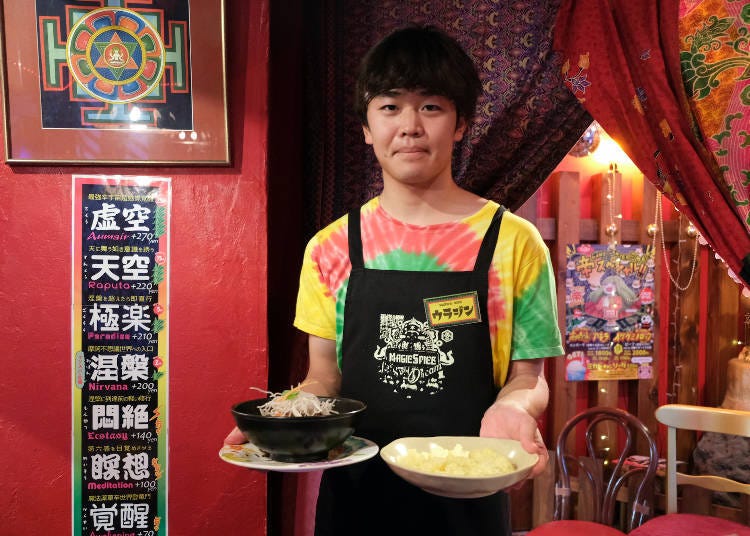 The Japanese members opted for the spicy "Nirvana" and "Aumgir," the spiciest item on the standard menu.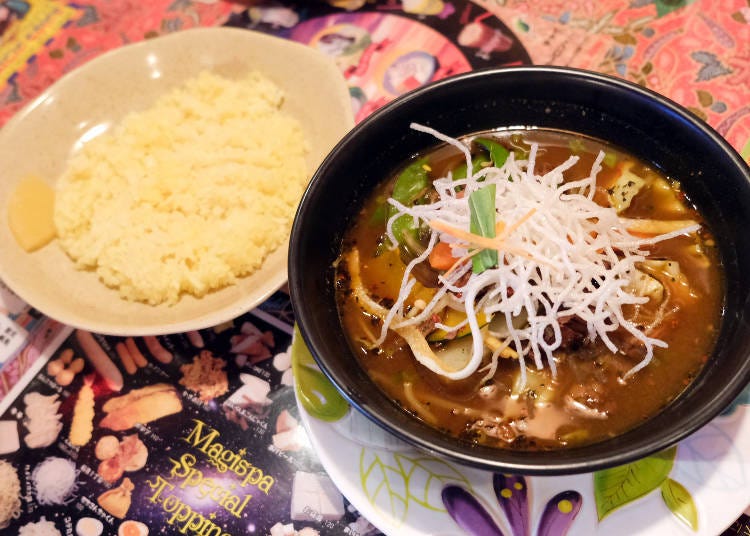 This is beef "Nirvana," appetizing in its original curry color. Also, it has a lot of toppings!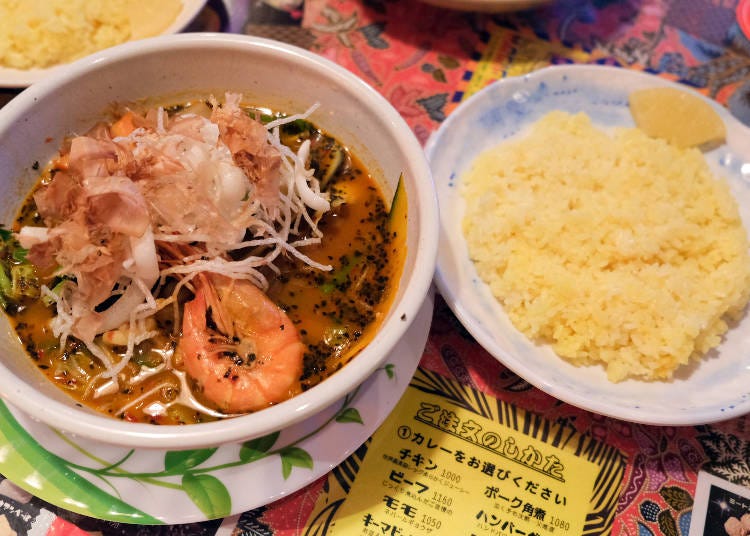 Aumgir, instead, is a seafood soup with oysters and shrimp, with a slightly reddish hue, although it's not as red as the Aquarius. I'm a little anxious as I look at it.
First up! Can our Korean editor finish Aquarius?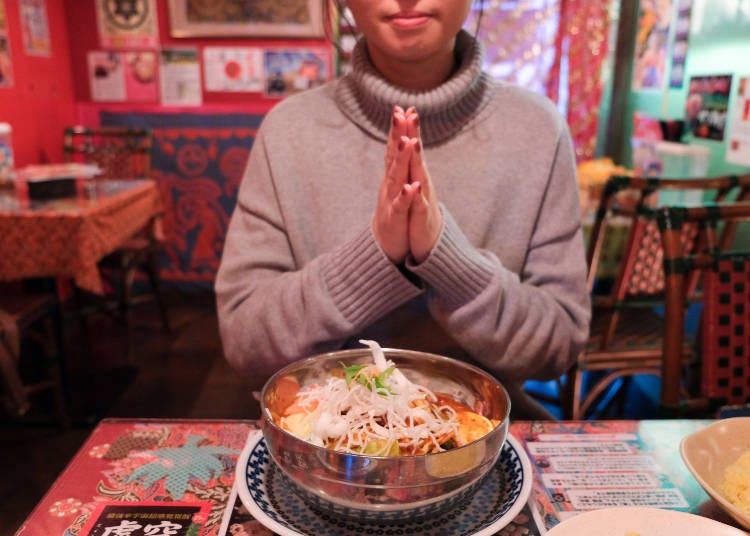 Let's eat Aquarius!

"Bon appetit! I'll do my best," says Ms. Park with joined hands.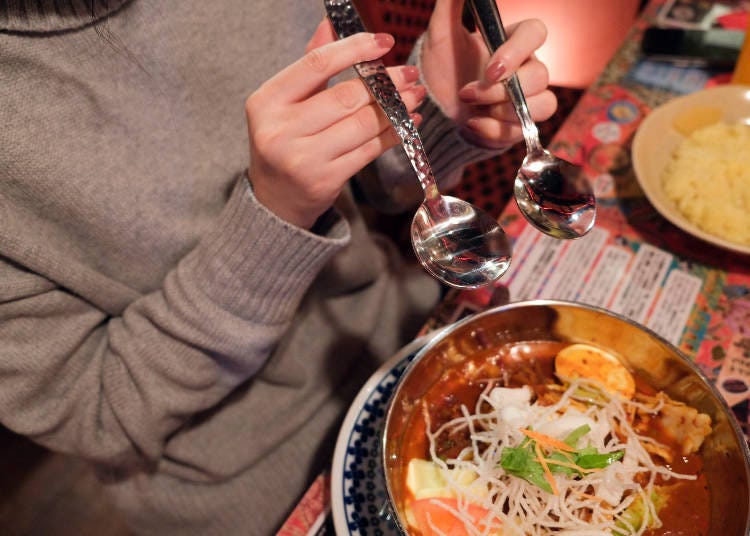 The spoon for Aquarius is slightly larger and heavier than the other spoons. At first, as you taste the first small spoonful...

"That's not as spicy as I thought! It's delicious!"

But Park did not know that Aquarius' spiciness hits a little later...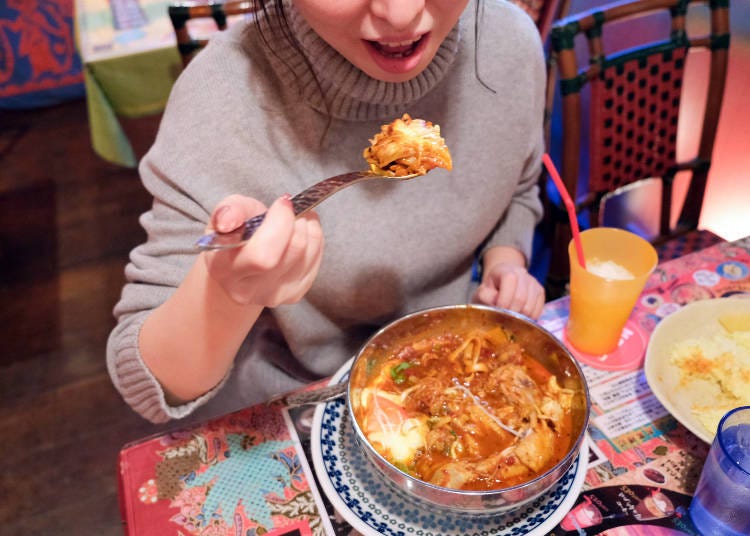 "It's surprisingly light," said Ms. Park as she enjoyed the second bite, but then, all of a sudden...

"Jeez - That's spicy!"

"I don't think I can take it!"

Ms. Park said she felt a strong spiciness with her second bite.

"It's really spicy, but it tastes good."

Ms. Park continues to eat commenting on how spicy the dish is and eventually she starts to sweat.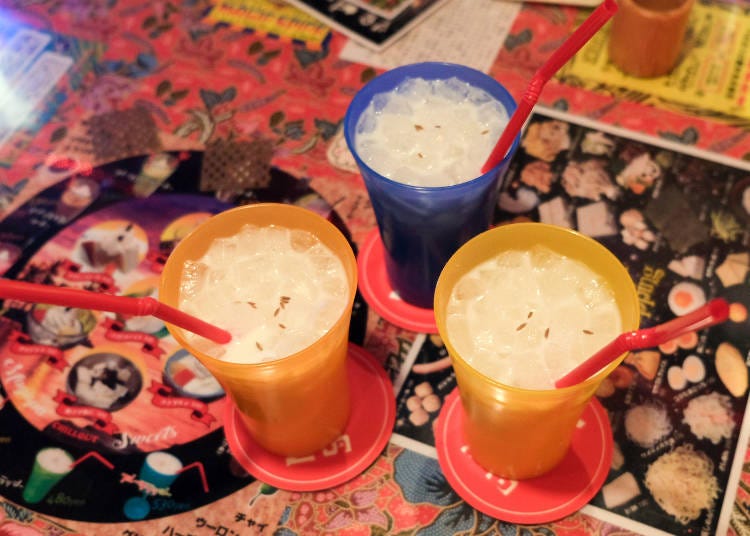 We accompanied our meal with sweet lassi, to compensate for the heavy spiciness. Eating curry with lassi, can help easing the strong spices.

However, after finishing about one third of the dish, Ms. Park started eating slower.

"It's very good, but it's soooo spicy and it doesn't get any easier!"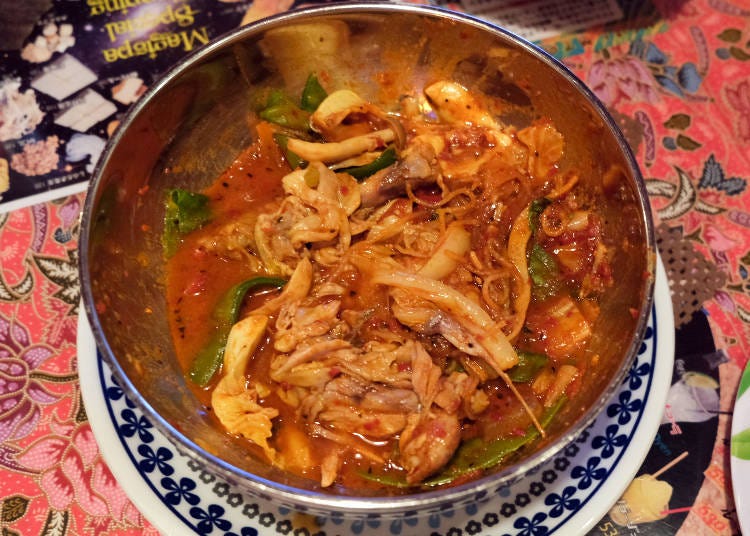 Eventually she had to give up about half-way through the dish.

"I'm not very good when it comes to spicy food, but I think it's at the level of spiciness typical Koreans are used to. Aquarius is not only spicy, but you can also taste the spices. Actually I think a lot of my Korean friends should give it a go. They'd probably love it."

Ms. Park's Japanese coworkers also tried Aquarius, and while they, too, like she felt like the first bite was not too spicy, the second one felt like fire.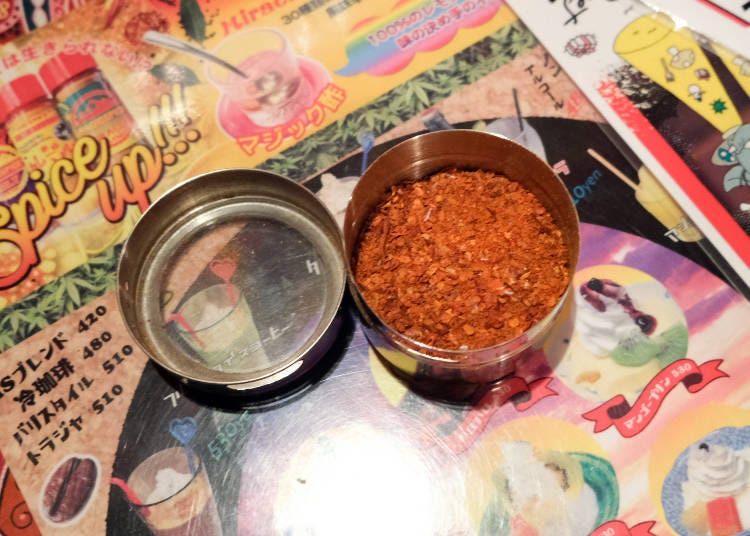 By the way, the entertainer Ami Suzuki, known for liking very spicy food, has eaten Aquarius with extra pepper and finished it. She's on such a different level, it's scary...
How were "Nirvana" and "Aumgir?"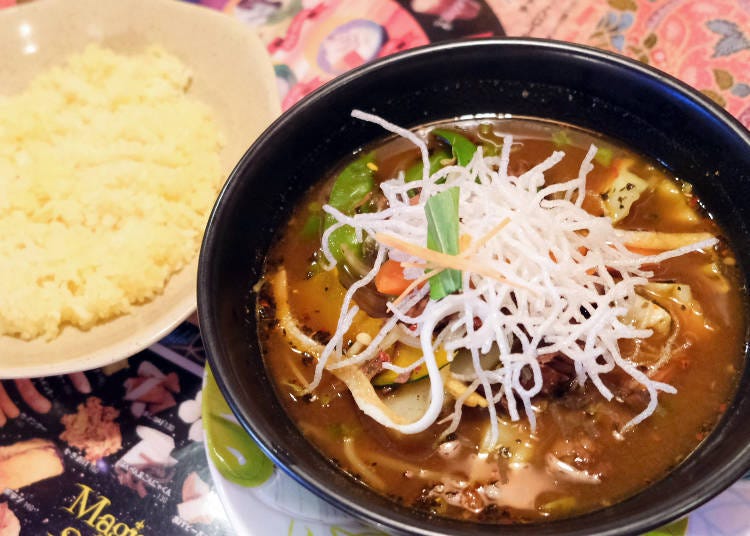 Nirvana, the dish that the Japanese staff member tried, is very popular at Magic Spice. The dish is introduced as "entrance to the mysterious world" and is characterized by moderate spiciness, and it has a "dry" flavor.

We turned to our Japanese staff member, who was also wiping the sweat from her brow. "After eating Aquarius, it feels very mild," she said before giving a laugh. "Well that's at first. Then the heat comes. But I actually think the level of spiciness is just right somehow. And it's filled with flavor. 'Nirvana' may be the perfect choice for when I want to eat spicy curry."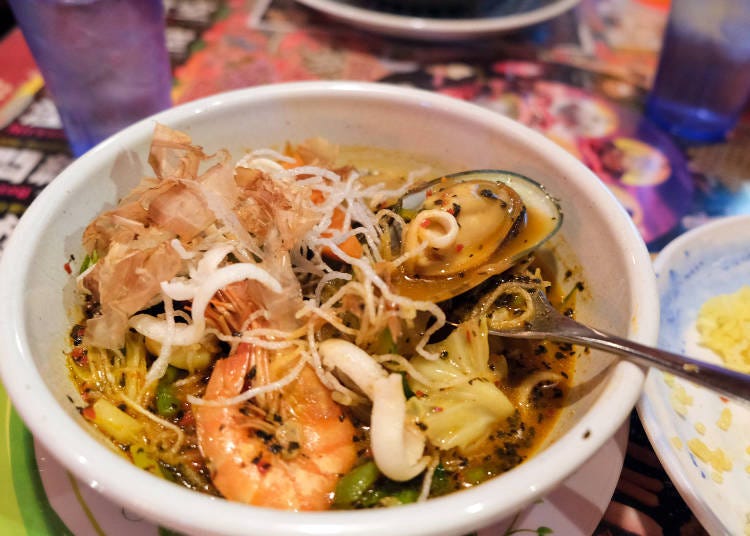 When the Japanese writer saw "Augmir," it appeared quite red, but the balance of spiciness and flavors was just right and it made it delicious! From the writer's point of view, it was a very good, rich curry, with seafood flavor. If you find "Nirvana" to be too mild, try "Augmir" instead.

According to the staff, Magic Spice is very careful about the selection of spices. That's why we felt the flavor of the spices, within the pungent taste, making us understand why it's so popular. When you come to Japan, be sure to try Magic Spice's original curry soup, and if you want to try Aquarius, make sure to come to the shop early!

In a somewhat anticlimactic ending, it seems that neither of them came out as the true champion of spice, and couldn't finish their dishes in the end! But they said it tasted pretty good so... do you think you can handle it?
Magic Spice Tokyo Shimokitazawa

マジックスパイス 東京下北沢店

Address

1-40-15 Kitazawa, Kitazawa, Setagaya-ku, Tokyo Kitazawa Golf Mansion 1F

Nearest Station

Odakyu line, 6 minutes walking from Shimokitazawa Station


Phone Number

03-5454-8801

Open: (Mon-Fri) 11:30am-3pm and 5:30pm-11pm
(Sat, Sun, holidays) 11:30am-11pm (Last order 10:30pm)
Closed: Tuesday and Wednesday
Written by Kaori Kobayashi. You can follow her at her Website: https://love-trip-kaori.com/
Facebook , Instagram , Twitter
*This information is from the time of this article's publication.
*Prices and options mentioned are subject to change.
*Unless stated otherwise, all prices include tax.