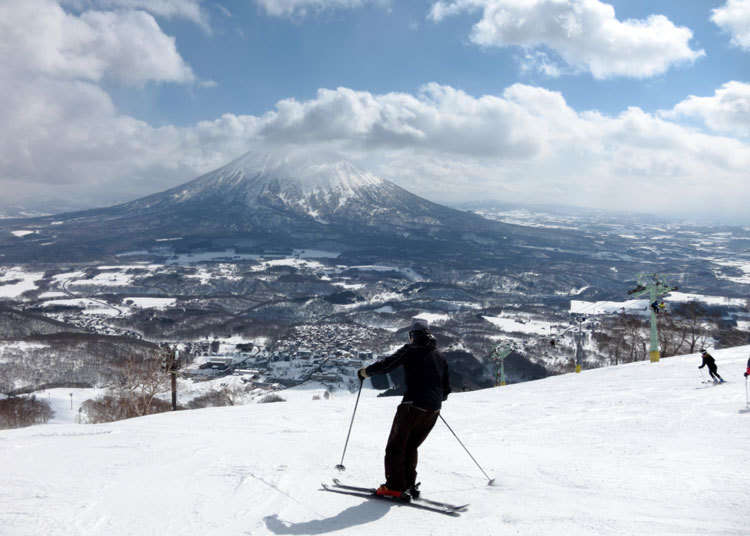 If you like winter sports, you'll be spoiled for choice in Japan with plenty of ski resorts of all kinds from Hokkaido to Tokyo. In fact, many foreigners are attracted by what they hear about the excellent quality of Japan's powder snow and come in droves to see how true those stories are. Many leave satisfied. Not convinced? Make your own plans to visit a snow resort in Japan during winter season now and judge for yourself!

Snowy Hokkaido instantly comes to the minds of many when they think about skiing in Japan, but this prefecture isn't the only place in Japan where winter sports can be enjoyed. There are plenty of popular resorts in Nagano, Gunma, Tochigi, Niigata, and Yamanashi as well, places located much nearer to Tokyo than Hokkaido in the far north. Their close proximity to the city means day trips are very much doable, and many bus tour services are available to that end, besides regular transportation options like rental cars and railway trains.

But is there anything you should take note of before embarking on a fun-filled day of snow activities? Here are five things - from the ski season itself to appropriate clothing - that we've compiled for newcomers to the sport to help them slide through every and any snow ground like a champ!
1) When does ski season start in the areas around Tokyo?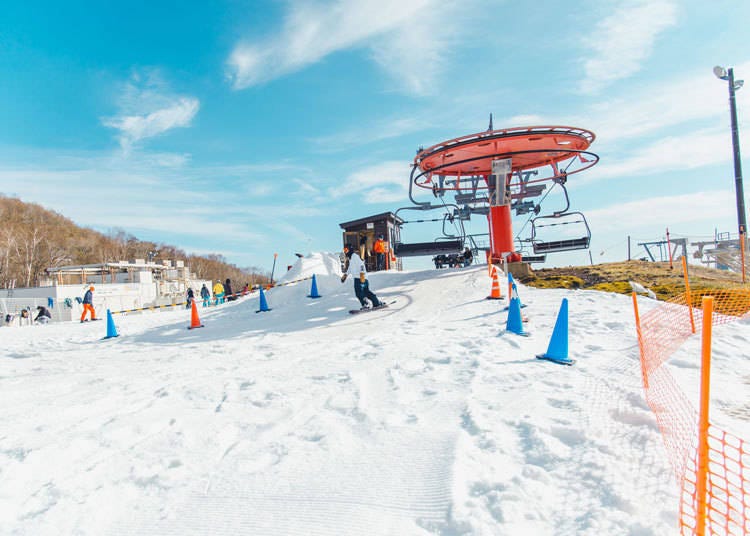 Fpresso / Shutterstock.com
The short answer to that question is: It depends. This is because snowfall starts accumulating at different times in different regions. Nevertheless, ski resorts in the vicinity of Tokyo are usually open for business by mid-November. If you're determined to go during peak season when snowfall is at its highest, aim for the cold and snowy period between mid-January to February. The increased amount of powder snow guarantees a stable quality and better skiing experience for all.

Since the weather starts getting warmer in March, most ski resorts will only open until about the end of March. This overlaps with school spring vacation so you can expect to see plenty of students or families having a good time at ski resorts end-March. Some resorts supplement natural snowfall with artificial snow made by a machine, like Shizuoka's Snow Resort Yeti, allowing it to open for business earlier, between mid to end-October.
2) Getting into gear: What's rentable and what should be brought along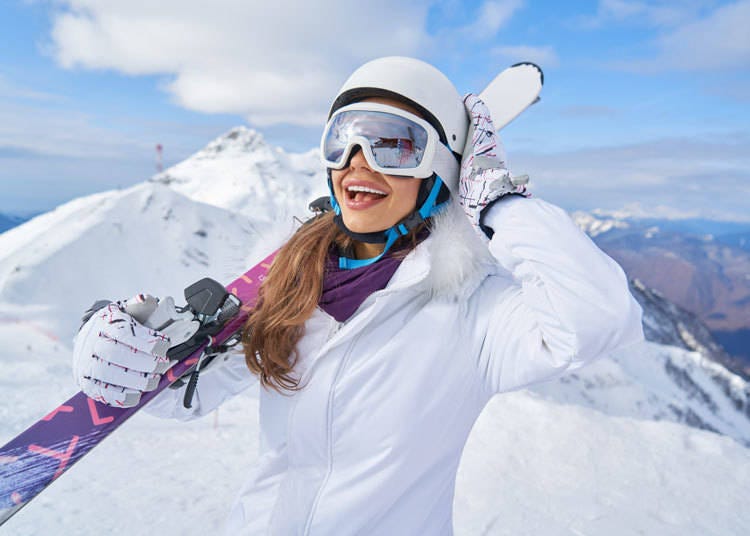 It's not unusual for temperatures to drop below freezing point at ski resorts, so proper ski gear is a must. These clothing are made specifically for snow-bound activities and will often have better waterproofing, heat retention, and water-repellent properties than regular winter wear designed for daily use. Of course, since you're going out to ski, don't forget ski boards, poles, and boots as well!

●Rentable gear
Ski clothing, ski boards, poles, and boots can be rented from most ski resorts. Clothing is divided into men, women, and children sections, each with a wide range of sizes and designs. Some ski resorts even have systems in place for visitors to select their favorite jackets, pants, and other outerwear!

As for the ski boards, poles, and boots, they're usually rentable in a set of three, though you would be able to rent them individually if so desired. Unsure about what size would suit you best? Talk to the friendly staff and they'll get you sorted in a jiffy. Some resorts offer set discounts that bundle the admission fee together with gear rental, so don't forget to look around for such offers before making your plans!

You'll be asked to provide proof of identification before being allowed to rent gear, so be sure to bring along your passport or driver's license to the resort as well.

●What to bring along yourself
Although you can rent ski clothing, boards, poles, and boots from the resort, you're expected to bring along personal accessories such as ski goggles, a hat, and gloves. These three items are must-haves for ski sessions.

・Goggles
Since skiers are usually exposed to strong UV light on the slopes, our recommendation is to bring a pair of UV protection goggles designed specifically for ski use, as they will hold themselves in place even when you're vigorously skiing away.

・Hat
This is another personal accessory you'll need to protect your head from the freezing snow and stinging winds. Our ears are especially vulnerable to frostbite, so get one that covers the ears adequately too!

・Gloves
Don't just settle for normal gloves - get a pair of gloves designed specifically for skiing, because if you ski with thin gloves or barehanded, it may lead to frostbite! Also, to prevent your hands from getting wet from the snow, make sure that the gloves have good waterproofing properties.

To ensure maximum comfort while conducting your ski activities, you might want to add some layers beneath your outerwear that will keep you warm and toasty in the cold weather. Here's a list of recommendations from us!

・Base layer
The base layer is the article of clothing in direct contact with your skin, also known as underclothes. When you ski, the perspiration that results may lower your body temperature, so you'll want to have a base layer made of a material that is sweat-absorbent and quick-drying.

・Middle layer
To regulate your body temperature, you'll want to add a middle layer that rests between the base layer and ski wear. Some good options to consider are sweatshirts, fleece jackets, or nylon clothing.

・Long tights
Don't forget about keeping your lower body warm too! Wear a pair of long tights or support tights with taping capabilities under your ski pants for extra warmth and support.

・Socks
This goes without saying, but snow is cold! So you'll need a pair of thick and heavy socks to prevent your toes from getting chilled. Don't forget the rest of your feet as well!
3) Tips to picking the best resort and course for ski beginners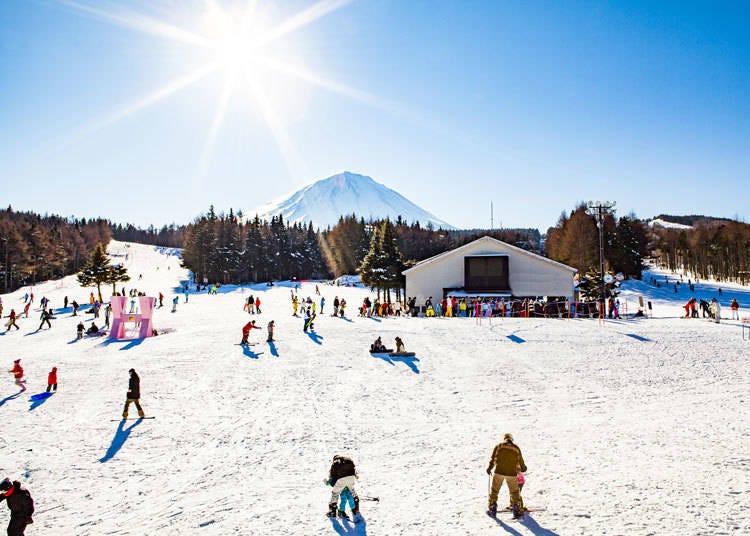 Each ski resort will have a variety of slopes for you to choose, ranging from gentle to steep, bumpy to smooth. There are also areas with non-compacted snow for the au naturel winter experience! However, take care to only pick ski courses that are suitable for your level of experience, especially if you're a beginner. All slopes are indicated on a map that's color-coded according to the different levels available - beginner, intermediate, and advanced, so be sure to check beforehand.

For complete beginners who have never skied before, hopping onto the chair lift to immediately try out the more complicated courses is not advisable. Start by getting used to the gentler slopes in the beginner's training area before moving to the beginner-friendly courses.
4) Tips beginners should keep in mind at a ski resort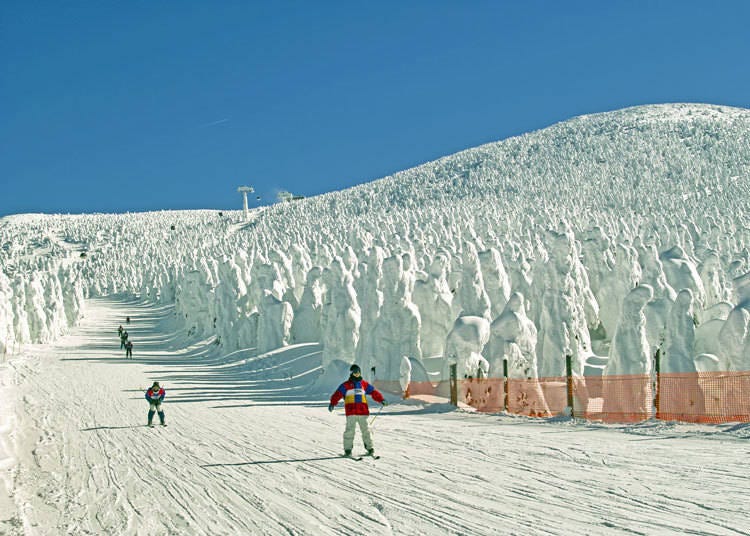 Until you get used to skiing, stay on the groomed slopes. The non-compacted snow or powder snow areas are kept in their natural state of snow accumulation, and while skiing here definitely has a different charm than the more well-maintained slopes, it goes without saying that some level of skill is necessary to fully enjoy these courses. Please only try out the more advanced courses after mastering how to stop, turn, decelerate, and other basic maneuvers.

Courses that run between tree lines require the skier to have enough skill to navigate themselves on deep snow while avoiding the tree trunks along the way. Once you're confident enough with your ability to move around freely, practice on the non-compacted snow area until you're absolutely sure you're ready to take on the tree line courses.

Always be careful not to go too near to the trees while on courses with them. It may be difficult to see based on the naked eye alone, but the area around each tree trunk is usually hollowed out like a pit. During periods of heavy snow, this pit can get quite deep, and accidents where people fall into one and aren't able to get out by themselves have happened before, so always be on the lookout for yourself and those around you!
5) Don't forget to get insurance for peace of mind!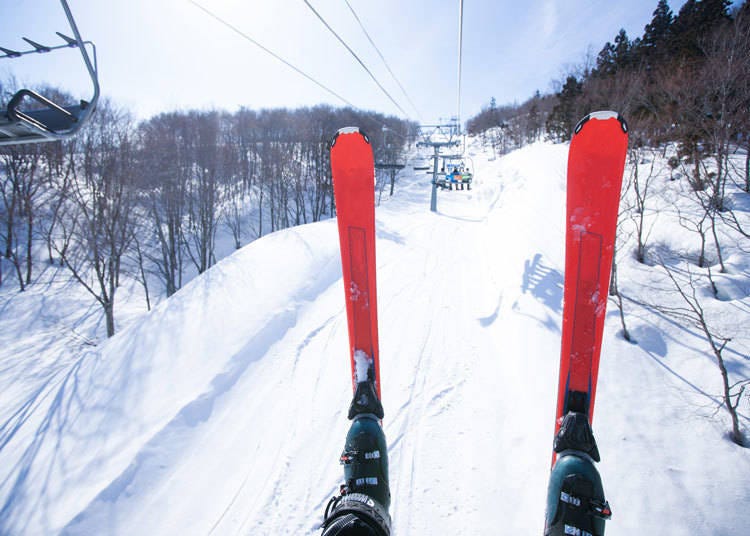 Skiing is an exhilarating sport because of its potential for high speeds. While nobody wants to get injured, it may be best to prepare for unfortunate events that may happen despite our best efforts, especially if you're a newcomer to the activity. One way to do so is to ensure that your travel insurance covers snow sports like skiing.

As an example, Tokio Marine's tourist medical insurance plan for foreign nationals visiting Japan includes coverage for injuries sustained during ski activities. This alleviates any additional stress that may occur trying to find a hospital that can speak your language if you accidentally injure yourself while skiing. You also don't have to worry about not being able to afford the treatment. If you get this plan, or any other plan with similar coverage, you'll always be referred to the appropriate hospital for treatment.

The insurance plan provides English, Mandarin, and Korean interpretation services as well, so that means chances of miscommunication with the medical staff is low. The insurance company will also foot the bill for the hospital fee directly. Any treatment or medication costs incurred by personal injuries or illnesses in Japan will be insured and covered until you return to your home country, which leaves you with the peace of mind to fully focus on getting better! The plan also covers loss of passport and credit cards.

Consider getting insurance coverage so that unforeseen circumstances won't put a damper on your Japan trip or ski adventure!
*This information is from the time of this article's publication.
*Prices and options mentioned are subject to change.
*Unless stated otherwise, all prices include tax.