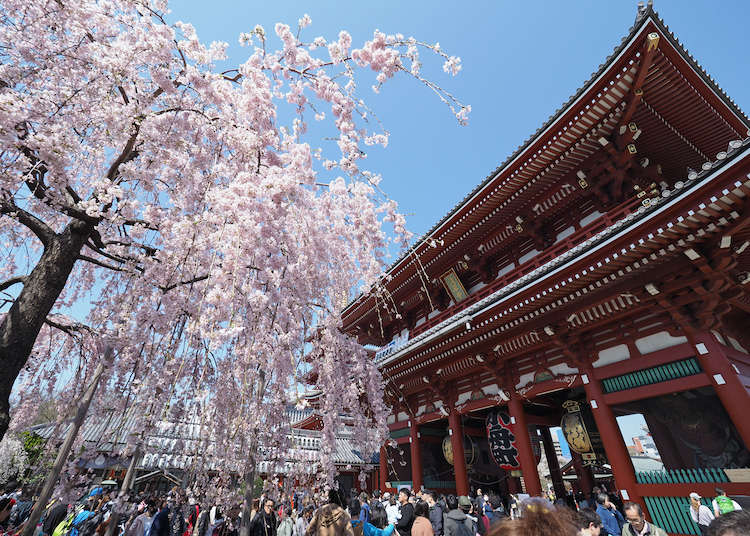 When it comes to sakura (cherry blossom) season in Tokyo, pretty much all the hottest spots are located in Taito to the east of the metropolis. One of the capital's 23 special wards, Taito is a city within a city that is a home to a unique culture honed from the Edo era (1603-1867) that many consider the signature Tokyo experience. From the sprawling parks that frame the museum district of Ueno to the banks of the broad Sumida River, which cuts from the Bay of Tokyo through to the east of the traditional culture hub of Asakusa, the area bursts into bloom come spring.

For the veteran team at Live Japan, Taito is also one of our favorite places to while away the season. We asked local event organizers at the Tokimeki Taito Festa Promotions Committee for their frontline recommendations for the best new ways to spend a complete day in vibrant Taito. Our complete 1-day guide takes you through the popular areas as well as off the beaten path so first-time visitors as well as serious repeaters will be satisfied.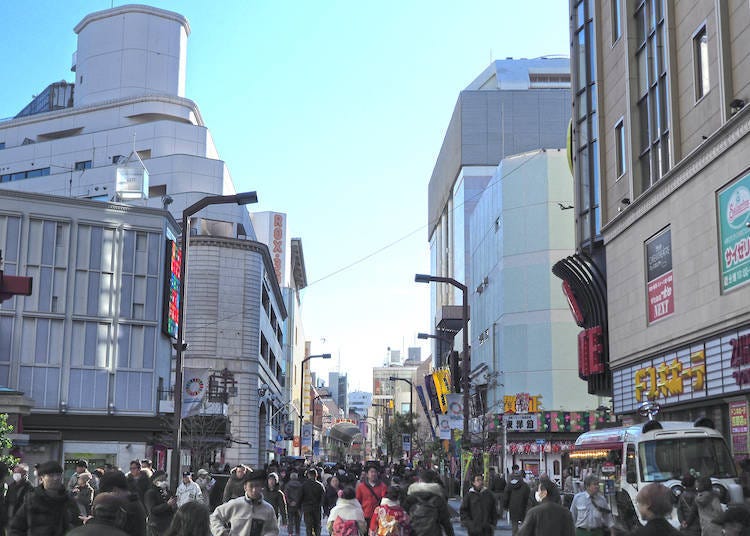 Your first challenge is choosing where to go. It is amazing that so many of Tokyo's iconic areas are all contained within a single ward. Taito really is the enduring cultural heart of the city, packed with temples, traditional theaters, and artisanal craft stores that are still popular with Tokyoites—just as they were in centuries past. But which area of Taito is best for a whole day of spring sightseeing? It could only be Asakusa!

Asakusa has an image of being a bit of a tourist mainstay. And while that is true, if you think you have seen it all then you are probably mistaken. If you haven't spent the time to really appreciate the grandeur of Kaminarimon Gate and its bold statues of Raijin and Fujin—the Japanese gods of weather—explored the backstreets, or dined under the cherry blossom overlooking the Sumida River, well, you haven't "done" Asakusa.
1 – Start with Sakura! Asakusa in Bloom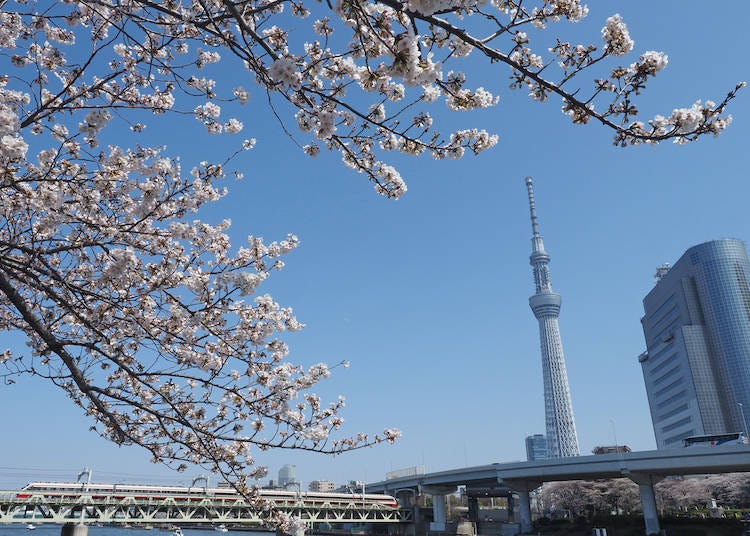 Let's make sure you start your day by seeing the best of the blossoms. Actually, this is no challenge at all. If you head east from the Asakusa subway station—accessible via the Asakusa, Ginza, and Tobu Skytree Lines—you will end up at the Sumidagawa River. More than a kilometer of sakura stretch alongside the river, arranged in neat rows and densely clustered in parks. You really can't go wrong, and it is easy to go on a circuit from Asakusa along the river, cross one of the many bridges, and then head back. Of course, the peak season changes with the weather, but, by and large, you want to aim for the end of March to the start of April.

You have the eighth shogun of the Tokugawa shogunate, Tokugawa Yoshimune (1684–1751) to thank for popularizing the sakura trees in the area, and they have grown over the centuries along with the metropolis around them.
Bonus – Don't Miss Festival Season!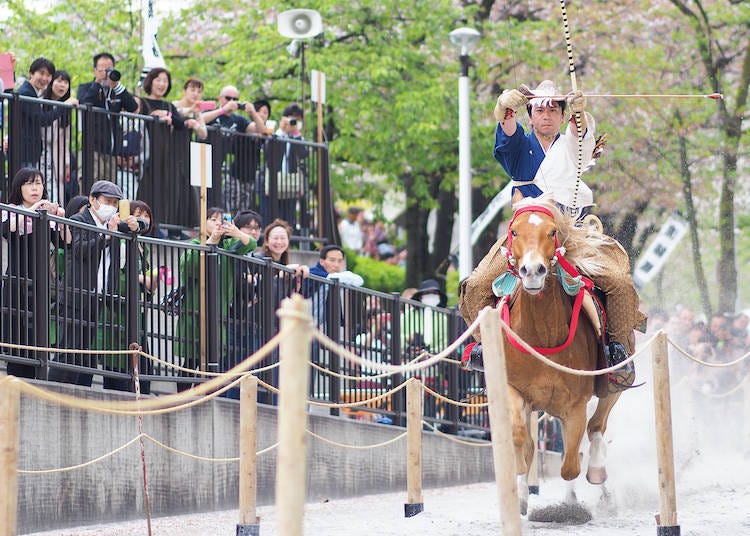 Another samurai-era custom that has endured through the centuries is the Asakusa Yabusame, or horseback archery exhibition. Originally a display of military prowess, the custom quickly took on a more parade-like feel, full of colorful armor and time-honored ceremony. It is also one of the most dynamic festivals in Japan—the rider galloping past a tiny target only to slice it in two with his arrow, if his aim is true. It is usually held on the third Saturday of April in Sumida Park. Paid seating is available, but you will need to pick up a ticket in advance.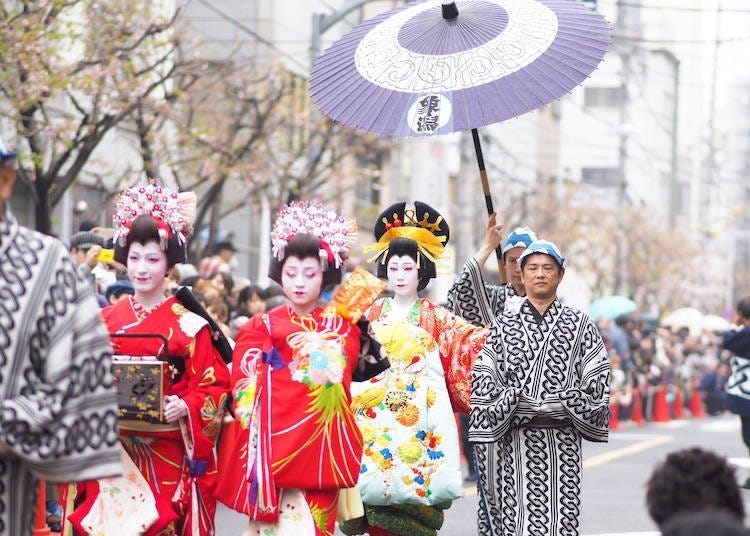 Alternatively, just north of Senso-ji Temple is the popular Ichiyo Sakura Festival, which takes place on the second Saturday of April along the Ichiyouzakura Komatsubashidori parade route known for its stunning yaezakura (double blossom) sakura trees. The intensely dense flowers are a perfect match for the fabulous traditional garb the parade participants wear, including the oiran (courtesan) procession fashion that brings to life the excess of old feudal-era Tokyo. There are also stage shows and numerous events to enjoy.
2 – Follow Hanami with the Kogei Craft Story at the Edo Taito Traditional Craft Center
While historically accurate, the elaborate garments of both the Yabusame riders and Ichiyo Sakura Festival parade are most likely modern creations. This is another important side to the Taito area in general, and Asakusa in particular. The area's traditional crafts, inspired by sakura, have endured through the centuries and are yours to buy!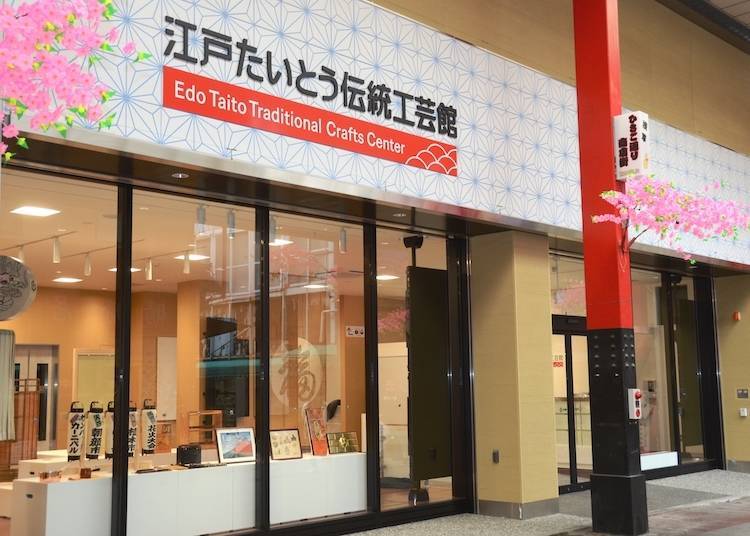 As a visitor, or even a craft veteran, knowing the best place to make a purchase can be a challenge—especially if you want to be sure you pick up something made by artisans not just in Japan, but in Taito itself. The Edo Taito Traditional Craft Center, conveniently located close to the Ichiyo Sakura Festival parade route, is, without a doubt, the best place not just to see the scope of the artisanal crafts of the area and beyond, but get information to guide you to the local ateliers. You will even often find artists in residence at the weekends, so you can drop in and see a master working before your eyes.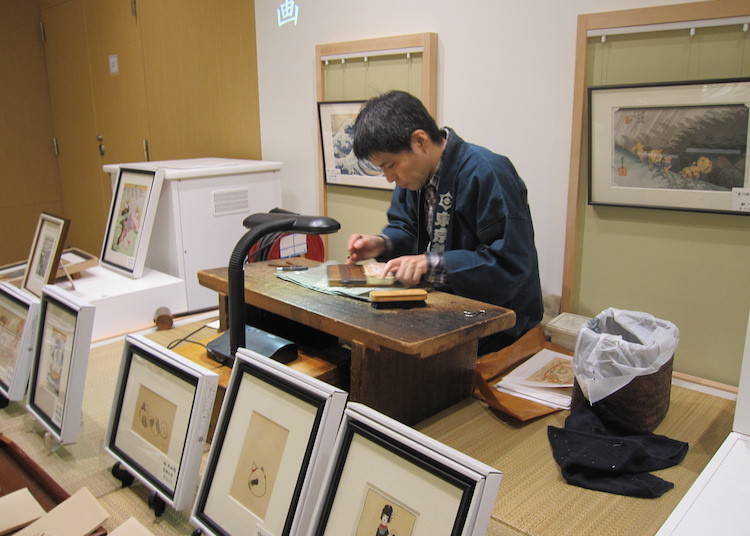 Address

2-22-13, Asakusa, Taitou-ku, Tokyo, 111-0032
View Map

Nearest Station

Asakusa Station (Tokyo Metro Ginza Line / Toei Asakusa Line / Tobu Isesaki Line (Tobu Sky Tree Line) / Tsukuba Express)
5 minutes on foot


Phone Number

03-3842-1990
3 – Head off the Beaten Path and Build Connections at Local Specialty Shop Taito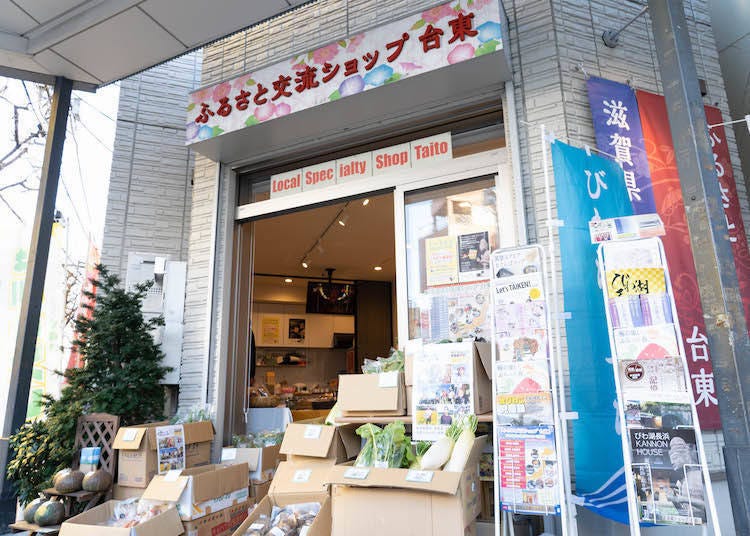 Also close by is the Local Specialty Shop Taito, on the Asakusa Senzoku-dori Shopping Street. Here, local produce from Tokyo takes center stage—and you might be surprised how much fresh local food is produced right in the heart of the metropolis. This is a great way to find fruits and other produce before it hits the shops as well as limited edition products you can't find anywhere else. The friendly staff are Taito locals armed with information, so if you need anything ask away!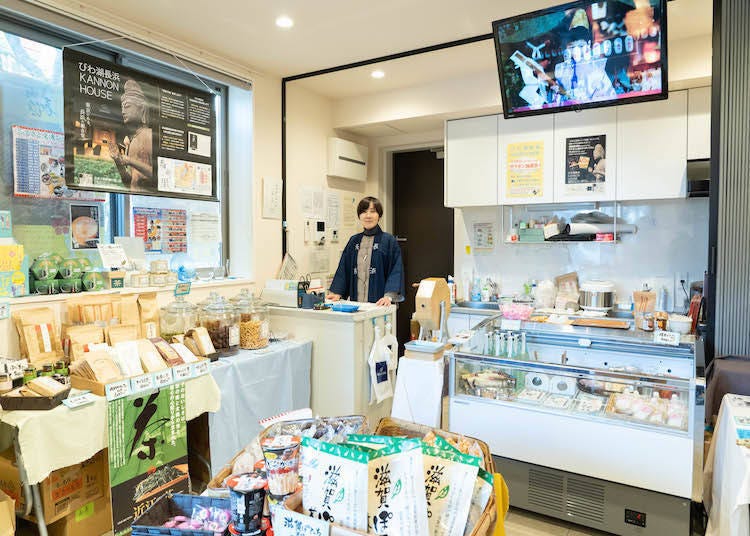 There are also regular weekly exchange programs with other local governments from around Japan, which puts you int touch with the whole country without leaving the city. This is a popular haunt for Tokyoites—and not many international visitors know about it—so stay ahead of the crowds and swing by on your visit.
Local Specialty Shop Taito

ふるさと交流ショップ 台東

Address

Asakusa 4-36-5, Taito-ku, Tokyo

Opening Hours: 10:00-19:00
Closed: Wednesday and New Year Holidays
4 – Chill with Artisanal Coffee Asakusa Style at Café Halekura
Time to relax! With tradition on the itinerary, it always seems a shame to punctuate a day out with coffee and cake from chains and fast food shops that you can find anywhere in the world. Luckily, Asakusa has developed a vibrant slow-living scene with plenty of small artisanal coffee shops that reveal a bit of local character as you refuel.
Our pick is Café Halekura, a blink-and-you-miss-it doorway located on the backstreets close to the Local Specialty Shop Taito. The converted traditional Japanese building was once a restaurant. Before that, built as housing for geisha according to the current owner. Always catering for the Asakusa beyond, the café is now the latest part of that story, and the Japanese attention to detail is immediately apparent in the hand-dripped coffee or lovingly prepared fluffy toast. Live Japan's tip: the coffee that's included with the toast set is good, but make sure to order the siphon coffee if you are a serious connoisseur.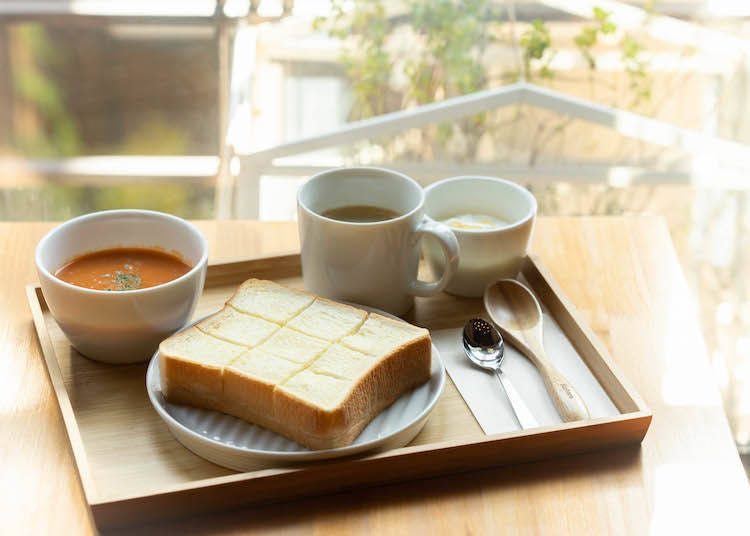 Café 晴蔵 -Halekura-(カフェハレクラ)

Address

Asakusa 3-34-2, Taito-ku, Tokyo

Opening Hours: 7:00-16:00 (Last Orders 15:30)
Morning Menu: 7:00-10:30
Regular Menu: From 10:00
Closed: Thursdays
5 – Make Lunch Accessible with Vegen and Vegetarian Friendly Food at The Farm Cafe
Beyond coffee, another top priority for an increasing number of travelers is to never be too far away from vegetarian and vegan food. The traditional Japanese diet doesn't make this easy—even if there is an extensive history of traditional Buddhist cuisine that you can still find at specialist restaurants.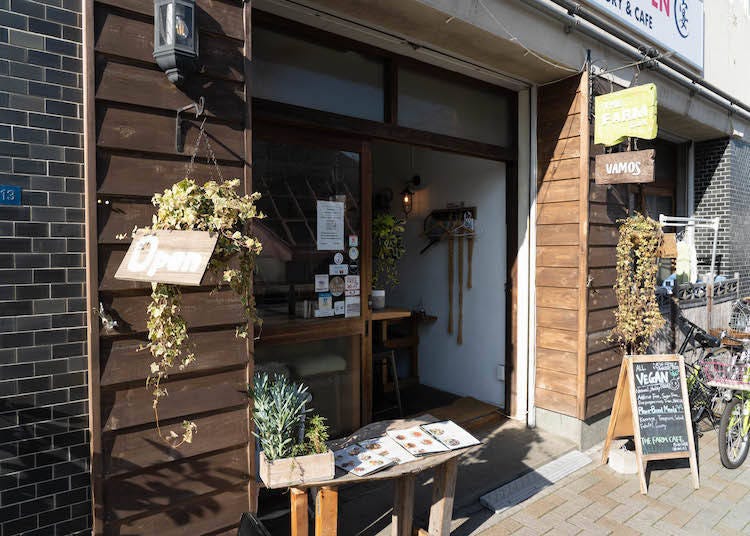 If you're looking for somewhere to just drop in and eat, don't worry; Asakusa is one of the few places in Tokyo that has got you covered. The Farm Café is located right outside the Asakusa subway station and has a diverse vegan-orientated menu that vegans and non-vegans can enjoy together.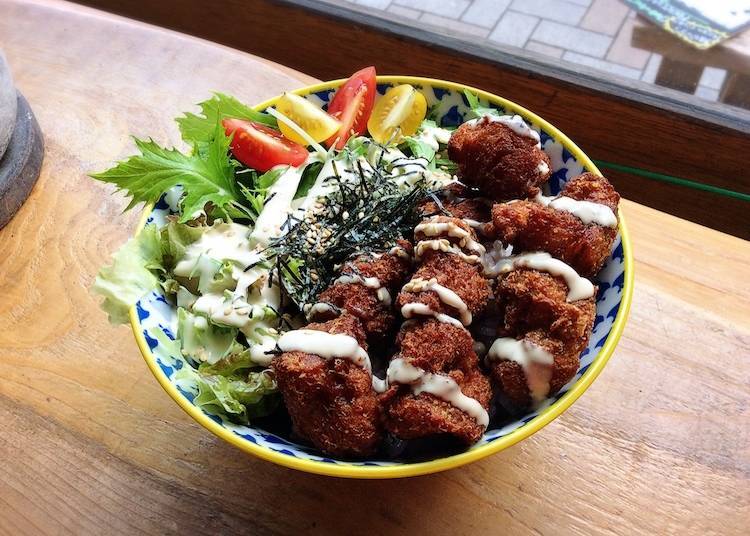 You can eat as traditional as you like with vegan-safe versions of washoku (traditional Japanese) cuisine such as tempura, or you can just hit up a vegan burger. The chilled interior and central location make this a go-to location for us. So, if you are vegan, vegetarian, or in need of gluten-free or halal dining options, make sure to check out this place.
THE FARM CAFE(ザ・ファームカフェ)

Address

Hanakawado 1-3-3, Taito-ku, Tokyo

Opening Hours: Tuesday-Friday 11:30-15:00 (Last Orders 14:00), Weekends and National Holidays 10:00-15:00 (Last Orders 14:00), From May 1, 2020 open until 22:00 daily (Last Orders 21:000
Closed: Mondays (The following day if Monday is a national holiday)
6 – After Lunch Get Creative with Woodblock Printing at Mokuhankan
Full of energy post-lunch, it is time to get to grips with Asakusa culture–literally! While we have touched on the artisanal crafts of Asakusa, there is also a lot of creative culture that is more down to earth and practical, but still an important part of the area's identity. A good representative of this difference is the world of woodblock prints. These iconic images of Japan's past are frequently thought of as art. And while it is fine to think of them as such, to the people who consumed woodblock prints centuries ago, they were a form of pop-culture similar to the manga comics of the present day.
The entrance to Mokuhankan
Accordingly, centrally located Mokuhankan, which offers complete start-to-finish woodblock printing experiences, is keen to emphasize that they are printmakers, not artists. There, you can take a blank sheet of paper through to masterpiece under the expert tutelage of a woodblock print pro, entirely in English. While the finished result is something you will want to show off, it is the gradual addition of layers of ink that is the most engaging part of the experience. Seeing the image take shape before your eyes will give you a new appreciation for the medium.
Print Party at Mokuhankan, a Tokyo institution since 1989.
Layering on the pigment and glue…
and start to see your masterpiece take form.
The finished result!
木版館/Mokuhankan

Address

Asakusa 1-41-8, Taito-ku, Tokyo

Opening Hours: 10:00-17:30

Print Parties (Printing Experiences)
Available Daily: 10:00/13:00/14:30
Closed: Tuesdays
Pricing:2,200 yen (Including Tax)
7 – Try your Hand at Tasty Taiyaki at Guraku!
If you want to create something delicious as well as beautiful, Guraku lets you make Asakusa's iconic fish-shaped cake, known as taiyaki. Best enjoyed as a cooking party with friends, you can go full-on traditional and make sweet versions with red bean paste or break the mold and go with whatever takes your fancy from their menu.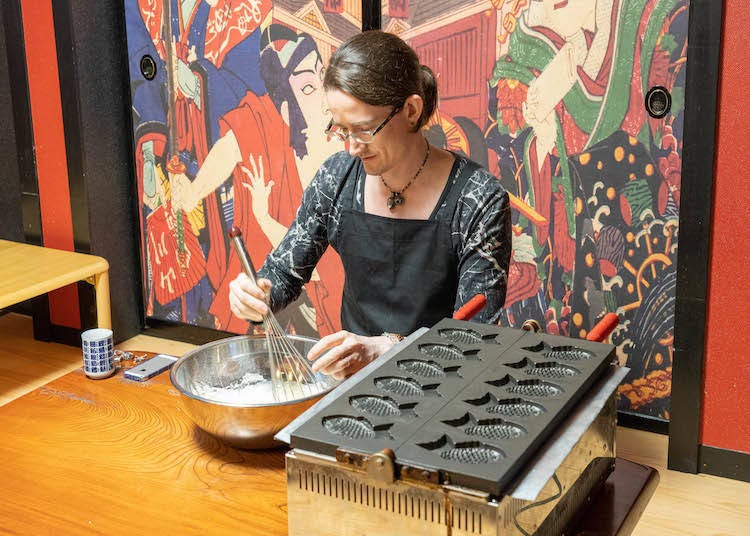 Being a good student!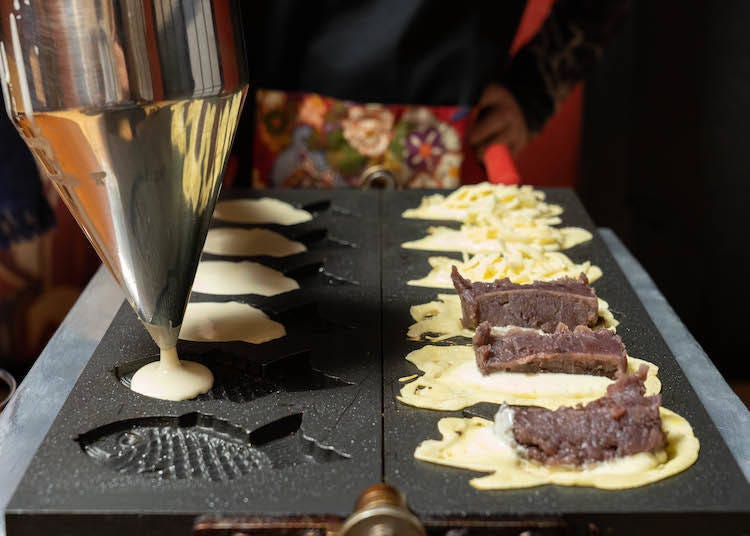 The process is pretty easy and seeing the cute fish-shaped molds take shape is definitely a great pay-off. Of course, you get to eat the fruits of your labor, too, either fresh from the hot plate or on the go as you explore!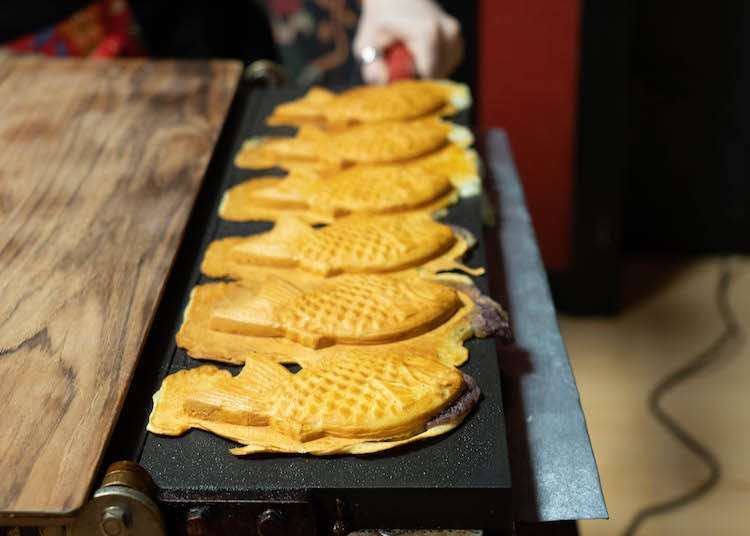 浅草たい焼き工房 求楽(ぐらく)/Asakusa Guraku

Address

Nishi-Asakusa 2-3-2, Taito-ku, Tokyo

Opening Hours: Takeout 11:00-18:00, Café 11:00-18:00 (Last Orders: 17:30), Workshop 9:00-22:00 (Appointment required)
Closed: Please check in advance
Pricing: Taiyaki Workshop 3,500 yen (excluding tax), Under 17s 2,500 yen (excluding tax)
8 – Head to Dinner and Discover the Art of Chicken at Toribien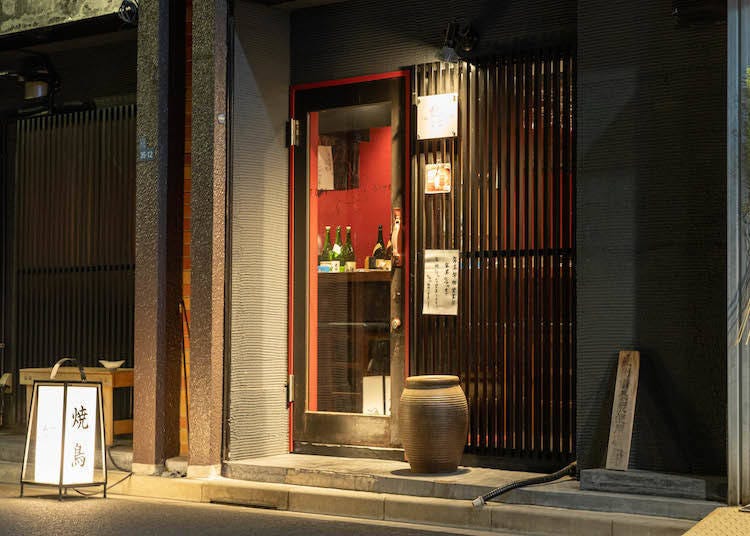 Yakitori Toribien
Heading towards the evening, Asakusa has a bewildering number of restaurants to choose from. Again, in keeping with this guide, we need somewhere with plenty of local character that you can only find here. Yakitori Toribien is one such place and has been recognized by the Michelin Guide among other publications for its exemplary skewered-chicken cuisine.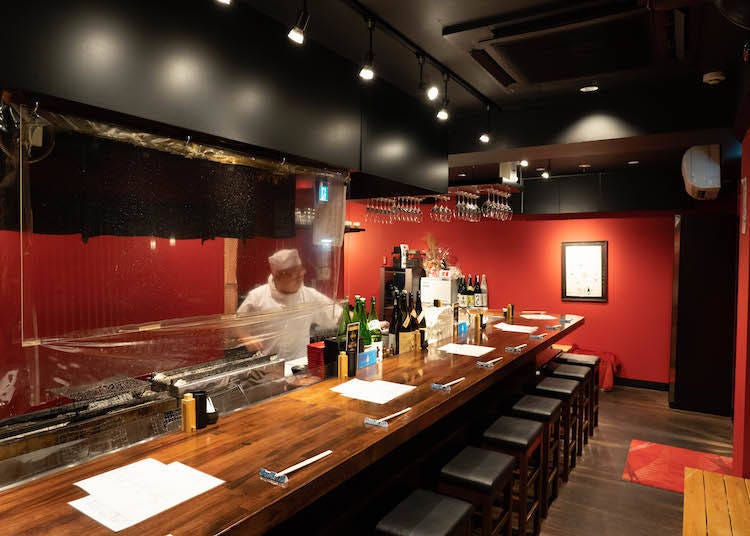 Everything about the restaurant is an artisanal process—right from the selection of the chicken (roosters only) to every skewer passing under the watchful eye of the chef over the smoking grill. Every mouthful is sure to be savored, as is the lively counter-focused atmosphere. Our recommendation is to ditch the menu and leave it to the chef's omakase course for a journey that would be hard to pick out for yourself.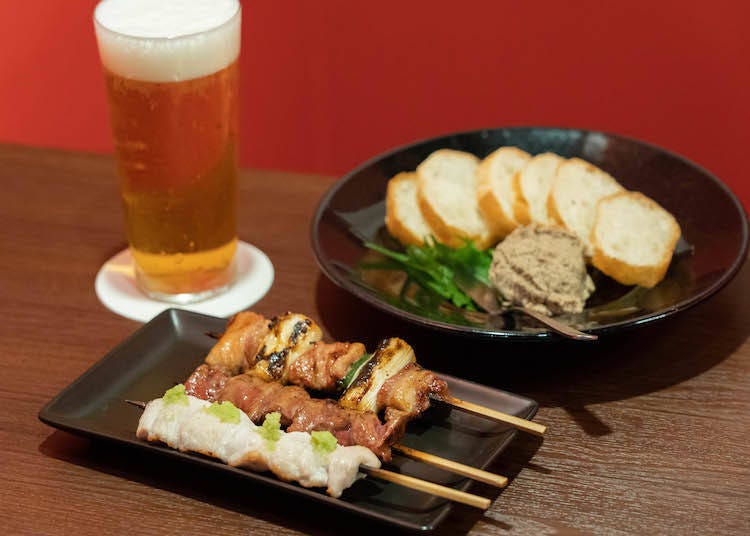 焼鳥トリビアン

Address

Asakusa 3-35-12, Taito-ku, Tokyo

Opening Hours: Monday-Wednesday and Fridays 17:30-23:00 (Last Orders: 22:15), Weekends and National Holidays 17:00-22:00 (Last Orders 21:15)
Closed: Thursdays
9 – Don't Settle for a Hotel, Stay at a Contemporary Japanese Inn with Real Local Character at Cyashitsu Ryokan Asakusa
After all that, it would be a shame to stay in a generic hotel, so why not complete the experience with a contemporary take on the ryokan—the traditional Japanese inn? Even though you are in the heart of the city, there are a good number of boutique hotels and ryokan if you want somewhere with a bit of character.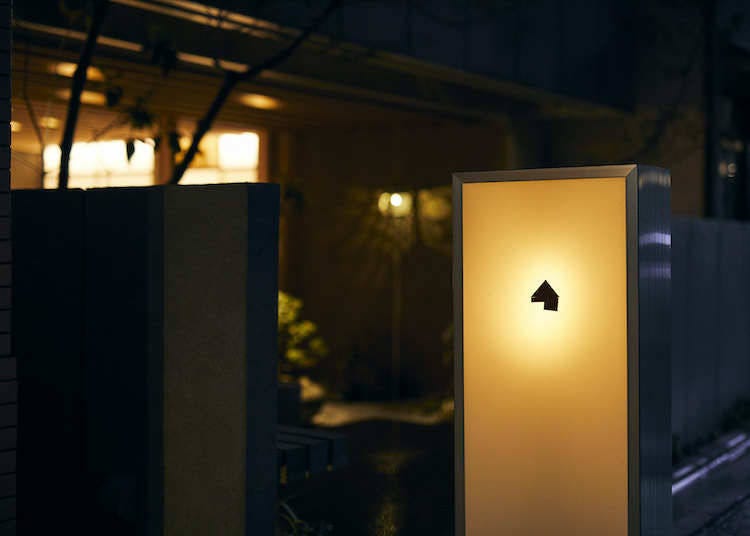 Themed around a Japanese teahouse, Cyashitsu Ryokan Asakusa is anything but pedestrian. The clean minimalist design is actually the product of time-honored tradition—Japanese design really was always ahead of the game! Each meditative guestroom is entered through a low door, just like entering a teahouse during a tea ceremony, and there are no distractions in the room. You'll find absolutely everything you need, but the lack of anything unnecessary focuses the mind on the beauty of Japanese design.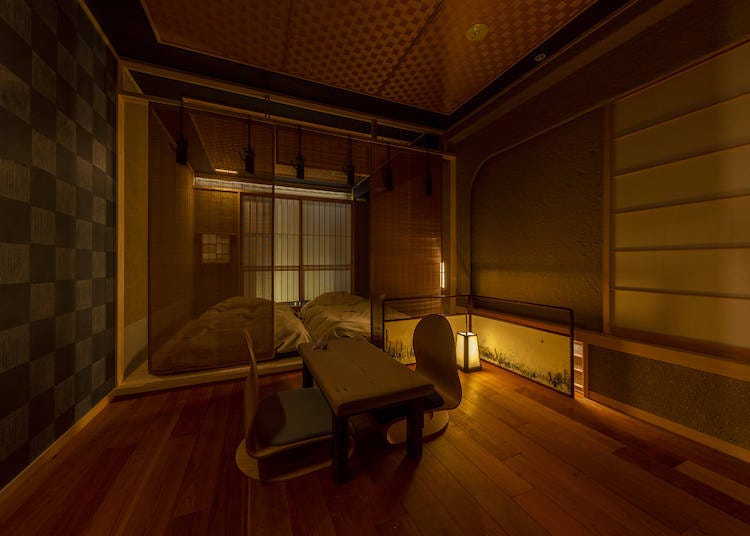 Teahouse-themed guest rooms.
The private open-air bath on the top floor can be reserved for a luxurious experience in the glittering lights of the Asakusa night, and—for the quintessential Asakusa experience—you can even view the stunning sight of the illuminated Tokyo Skytree from the comfort of the steaming bath.

Cyashitsu Ryokan Asakusa is perfect for single travelers as well as small families, meaning everyone is invited.
茶室 ryokan asakusa

Address

Asakusa 3-32-12, Taito-ku, Tokyo

Rates:
Cyashitsu Suite (20-23m²)Price: From 33,000 yen
Cyashitsu Asakusa (11m²)Price: From 20,000 yen
Cyashitsu (9-10m²)Price: From 18,000 yen
Ofuro Suite (10m²)Price: From 28,000 yen
So, there you have it, lights out after a full day in the heart of Taito! If you want to craft your own route or read more about Taito, please visit the links below:
*This information is from the time of this article's publication.
*Prices and options mentioned are subject to change.
*Unless stated otherwise, all prices include tax.