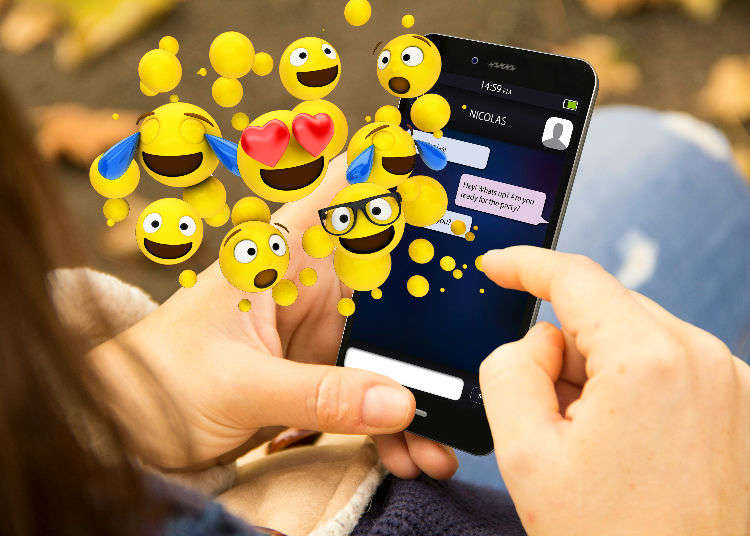 Japan's manufacturing is world-class and "Made in Japan" products are known around the globe for their high quality. With an eye for detail and a commitment to reliability, the sincere dexterity of the Japanese people has brought forth countless products so far. However, few people know that many of the innovative goods that make our daily lives more convenient were invented in Japan. Are you able to tell how many of the things you use daily are "Made in Japan?"
This time, we'll show you 15 things that were invented in Japan and we promise that some of them will be real surprises! Let's dive right in.
Mobile Phone Camera: Taking Pictures on the Go is Becoming Ever More Sophisticated!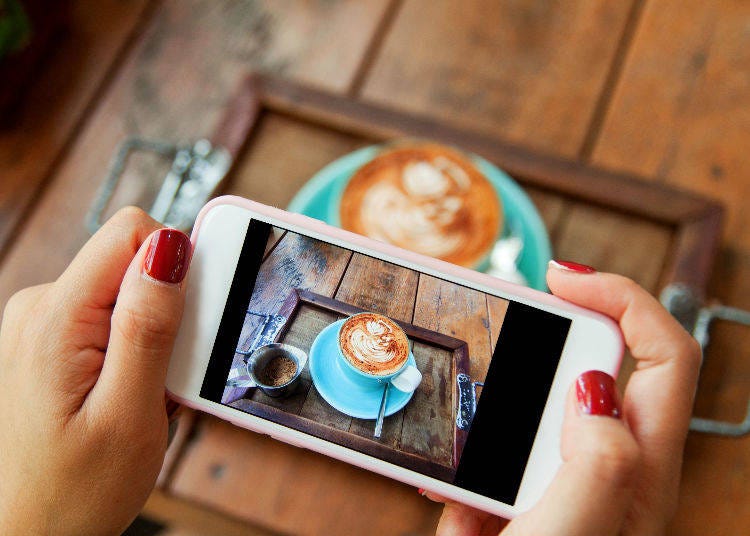 Mobile phones with a built-in digital camera let you take photos just like an actual digital camera while being able to share them on the spot. Nowadays, these cameras have become the standard.
How many people are aware that it was a Japanese phone hat first came with a camera? It was the KYOCERA VP-210 Visual Phone, released in 1999. However, the model back then was created as a video mobile phone, meaning that the camera was in the front and made to show the user's face. Only being able to take frontal pictures wasn't enough to become a success.
The phone that did kick off the built-in camera boom was J-Phone's (today's Softbank) Sharp J-SH04, released in 2000. Back then, the inspiration for the built-in camera was combining mobile phones with disposable cameras, both two things that were immensely popular with Japanese school girls at the time. Today, these built-in cameras are just as good as actual digital cameras and have become the global standard for new smartphone models.
"Dispen Pak:" Fold-and-Squeeze Sauce Containers to Keep Your Hands Clean!
© Dispen Pak Japan
While this curious invention sadly hasn't conquered the world yet, the "Dispen Pak" is an incredibly convenient condiment packaging. It consists of two separate packs that are folded and pressed together, causing the sauce to be squeezed out evenly and cleanly. This can be done with one hand only, keeping your fingers free from sauce!
This Dispen Pak was invented in the United States in 1983 but only for a single type of sauce or condiment. In 1989, the twin-type Dispen Pak was jointly created by the Mitsubishi Corporation, the Mitsubishi Corporation Packaging, and Kewpie, based on the idea by Dispen Pak Japan. This new type was able to squeeze two different sauces with a single gesture.
Today, you'll always get such a fold-and-squeeze pack with ketchup and mustard whenever you buy a hot dog at a convenience store in Japan. Butter and jam is a popular Dispen Pak combination for hotel breakfasts and school lunches served alongside bread. This is especially handy for food on the go or picnics outdoors and it would be great to see this convenient sauce packs spread all over the world!
Emoji: Changing Global Communication with Emotional Expressions!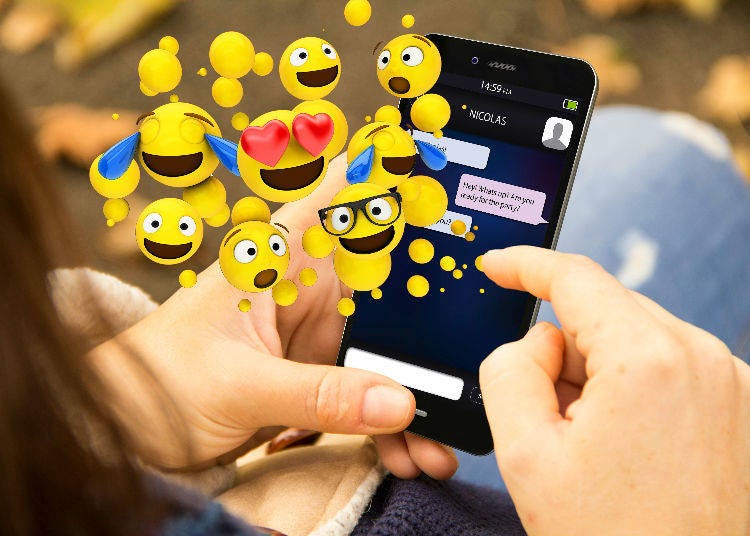 Emoji, nowadays used in texts and emails pretty much everywhere, also come from Japan originally. Innovative pictograms that allowed the expression of subtle emotions that otherwise couldn't be put into words easily were created by Shigetaka Kurita in 1999, an employee of NTT DoCoMo. For the most part, planning and developing of the first 176 emoji was done by Mr. Kurita alone.
Following that, Google Japan's Gmail team launched an emoji project to enable the exchange of emoji between Gmail and Japanese mobile mail. In 2008, Japanese emoji were added to Unicode and spread all around the world. That was about 7 to 8 years after the entirety of Japan had already welcomed emoji to their texting routine and in 2015, President Obama named emoji as one of the things "we love from Japan." Furthermore, the MoMA (Museum of Modern Art, New York) has an exhibition all about emoji in 2016. Even many Japanese people are surprised at just how popular emoji have become!
DVD and Blu-Ray Discs: Large Amounts of Data, Indispensable for Entertainment!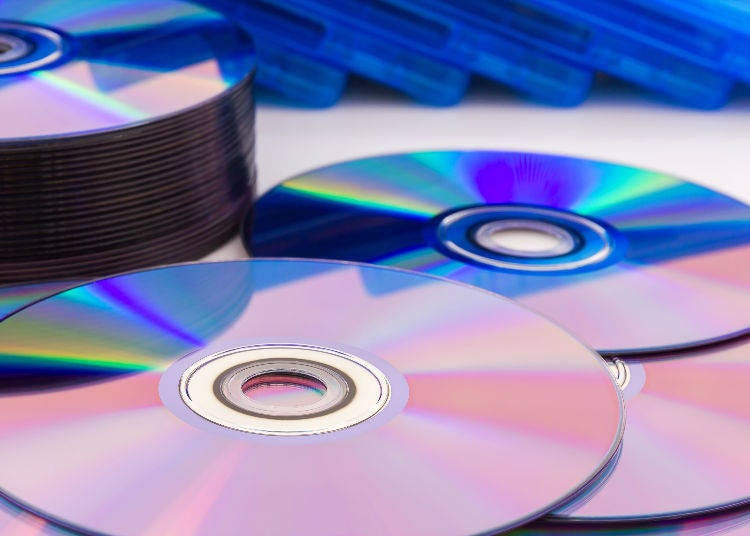 Japanese companies also contributed greatly to the development of DVDs and Blu-Ray discs, both indispensable for data recording. Even though a DVD looks almost the same as a CD, its recording capacity is about six times as high. Furthermore, Blu-rays and their multiple storage layers boast a recording capacity that is more than five times higher than DVDs!
Following a demand from the Hollywood movie industry at the beginning of the 1990s, companies around the world worked to create a new optical disk data storage format with a higher density than CDs. The data volume of movies was enormous – 50 times that of music. Amidst this, Toshiba developed and released the DVD in 1996, making full use of methods to improve data compression and recording density. This development also included copyright protection to prevent illegal copying. After that, the next big development came with Sony's Blu-ray and the first Blu-ray recorder in 2003.
DVDs and Blu-ray discs both had a massive impact on the entertainment industry and the way we enjoy movies and media with high definition and the possibility to store large amounts of data.
The Selfie Stick: Seen at Tourist Destinations all around the World!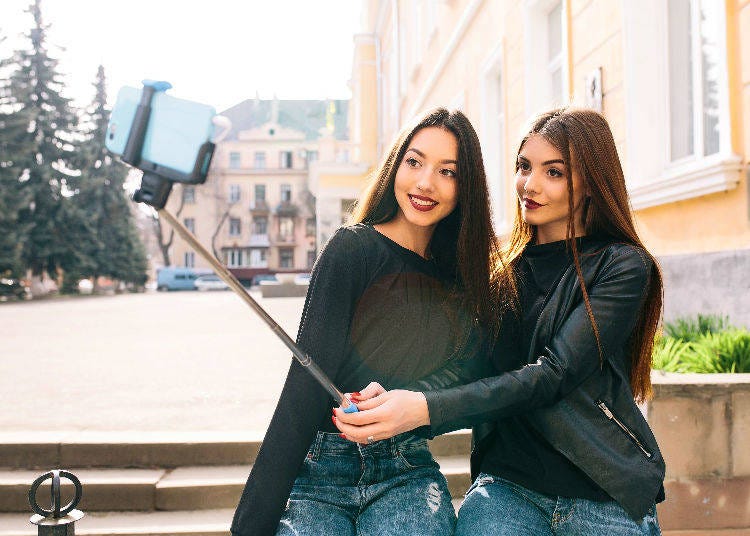 Everyone knows the selfie stick. The little gadget that's as long as 1m has made it so much easier to take pictures of yourself with your smartphone. Even group photos are not a problem if you have a selfie stick and a lot of them come with timers and remote control.
The selfie stick was invented in Japan in 1983 for the first time, long ago when the first mobile phones started to appear around the globe. It was called "extender" and released as an accessory to the latest mini camera of that time, the Minolta Disc-7. It was even patented as "telescopic extender" for cameras but the model back then was heavy and quite inconvenient to use, so it was merely a niche product.
Selfie sticks again attracted attention in 2014 with the massive popularity of smartphones all over the world. Time Magazine listed the selfie stick among the "25 Best Inventions of 2014," making its status as a hit item official. It's interesting to know that the prototype of this modern gadget was invented in Japan!
Car Navigation System: A New Standard for Cars Leads to Smooth Route Guidance!
Car navigation systems are standard equipment for modern cars, pinpointing your position and guiding you to your destination with GPS and a gyroscope. Next to displaying your current position on a liquid crystal panel, it also tells you where to go by audio.
The first time that such a car navigation system was used commercially was in 1981 as the "Electro Gyro-Cator" in the Honda Accord. Back then, the car's location couldn't be tracked by GPS, so a precise sensor detected the direction and distance of travel of the car and puts it on an electronic map. If you put a transparent map on the display, you had something of a route guidance system. You had to manage those map sheets by hand, but at the time, it was a real break-through for car technology.
Nowadays, navigation systems are becoming the standard not only in Japanese cars but worldwide. With the help of the internet, they also offer a variety of other features and are becoming more convenient with every year.
Karaoke: Sing Your Heart Out and Feel Like a Pro!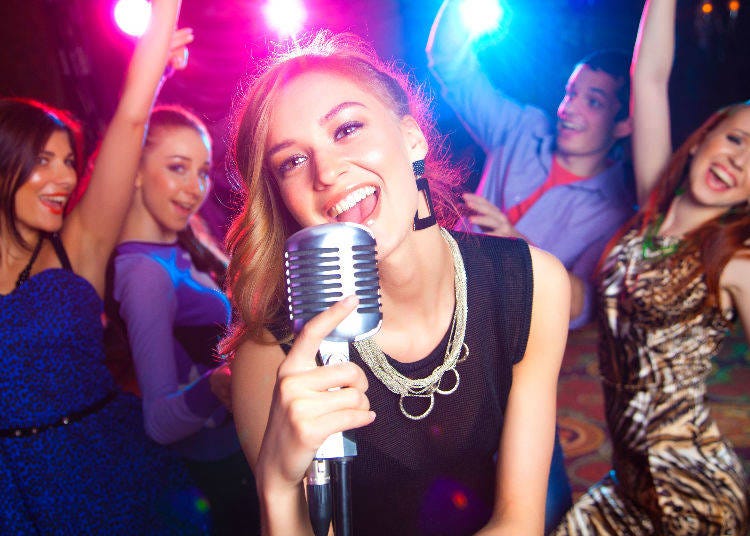 Karaoke – pretty much everyone knows that the singing system originated in Japan but probably fewer people know that it was also a Japanese person who came up with it. Several people are credited with the invention of karaoke and a former band member called Daisuke Inoue is one of them. He was excellent in adjusting the tempo and pitch of songs he was requested to play for people who weren't great singers. This being his second nature, he devised an amplifier with a tape and it is said that selling them with lyrics cards was the beginning of karaoke. Following that, he invented the world's first karaoke machine called Juke 8 in 1971, made up of an amplifier and a microphone.
Karaoke was an instant success in Japan and quickly spread to China, Korea, the United States, and Europe after the 80s. It's especially interesting that each country has its own characteristics when it comes to Karaoke. A lot of people know it as a private room for one person or small groups like it is done in Japan, but Europe and the United States also has parlors where people sing in front of a large audience, sometimes like a choir. Karaoke is popular all around the world, but especially Finland boasts a lot of "karaoke bars." They're seemingly everywhere and famous karaoke world events are held there as well.
Mechanical Pencil: No Sharpening Needed!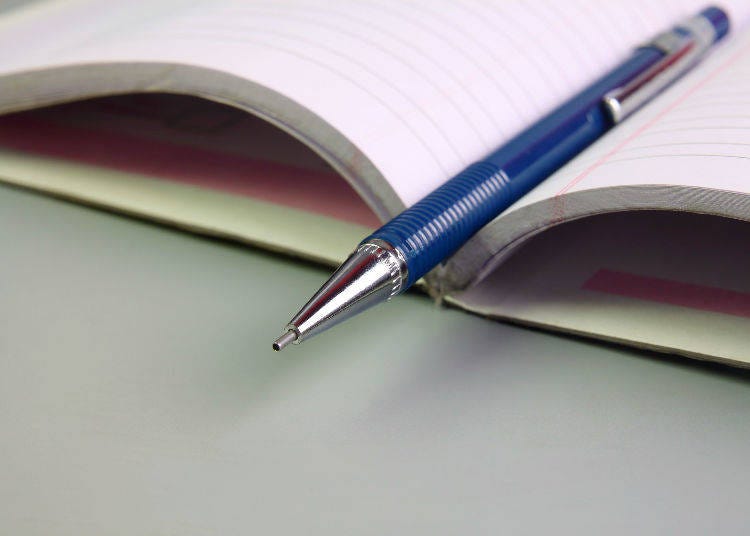 Mechanical pencils, the best friend of students and professionals everywhere that never has to be sharpened, are also a Japanese invention. The very first prototype resembling modern mechanical pencils was patented by Sampson Mordan and John Isaac Hawkins in 1822. Shortly after in 1837, a pencil called the "Ever-Sharp Pencil" was released in the United States and it came to Japan in 1877 as the "Propelling Pencil." That name refers to the lead being propelled out mechanically, but this model was awkward to use, fragile, and not very practical. Sharp's founder Tokuji Hayakawa took it upon himself to make various improvements to the model and created a practical mechanical pencil for the first time. Its lead was automatically propelled forward by turning a screw and Hayakawa created the mechanism to make the lead fall out naturally when pushed out to the maximum. He obtained a patent for his pencil calling it the "Ever-Ready Sharp Pencil in 1915, leading to the modern models we know today. In modern times, sharp pencils come in all price classes and designs, from luxurious to sturdy and for daily use. However, stationery fans around the world value the particular ingenuity and design of Japanese mechanical pencils and they're a popular souvenir for many a traveler.
Dry Cell Battery: Indispensable for Small Electric Appliances!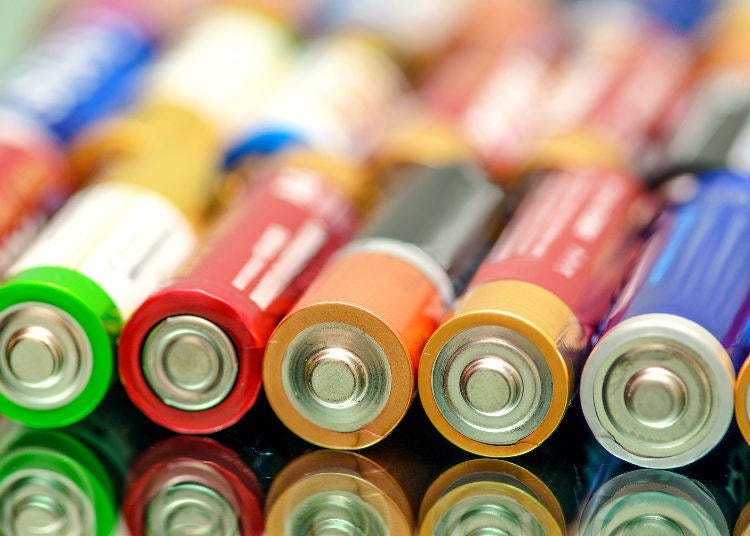 Dry cell batteries are used in all sorts of electric appliances, from radios to calculators. Those, too, have been invented in Japan! A kind of liquid-type batteries was created by a British professor called John Frederic Daniell in 1836, but it was heavy, inconvenient to transport, spilled easily, and froze in cold weather.
Then, the Japanese clockmaker Yai Sakizō started to develop a dry cell battery that could be used easily in daily life. He worked his watches during the day and spent the nights devoted to his battery, sleeping as little as three hours on certain days. In 1887, his project was finally completed! However, his shop's business did not provide him with enough money to file a patent, so he was unable to make his mark as the inventor of dry cell batteries. Later in 1923, the dry cell developed by Konosuke Matsushita was massively successful.
Dry cells are the same all around the world, characterized by a global combability. While brands differ by country, the shape is exactly the same, so if your batteries run out, you'll be able to replace them no matter where you are. The next time that happens, think about the Japanese inventor's struggle!
Instant Coffee: Fresh Coffee with Hot Water Only!
A lot of people closely associate coffee with Western culture. However, the instant coffee that we know, a powder or granulate that only requires some hot water, is based on a Japanese invention. Patents for instant coffee appeared in the United States and the United Kingdom, but they were never put to practical use due to insufficient preservation.
In the middle of this, the Japanese-American chemist Satori Kato, living in Boston at that time, invented and acquired a US patent for instant coffee in 1901. It is said that American contractors have requested powdered coffee from Sato who was doing research on making green tea powder soluble in water. Cooperating with American chemists, he invented instant coffee via a vacuum drying method. The taste of it was apparently praised in the American magazine "Galileo."
However, instant coffee wasn't an immediate success as it was too innovative at the time. It was the year of 1938 that marked the year when it was enjoyed more commonly. That's because American soldiers drank instant coffee by the Swiss Nescafé brand on the battlefield. Based on the idea of a Japanese chemist, Nestlé commercialized instant coffee and turned it into the indispensable part of our daily lives that it is today.
Heat-and-eat Curry: a Delicious Instant Meal for Everyone!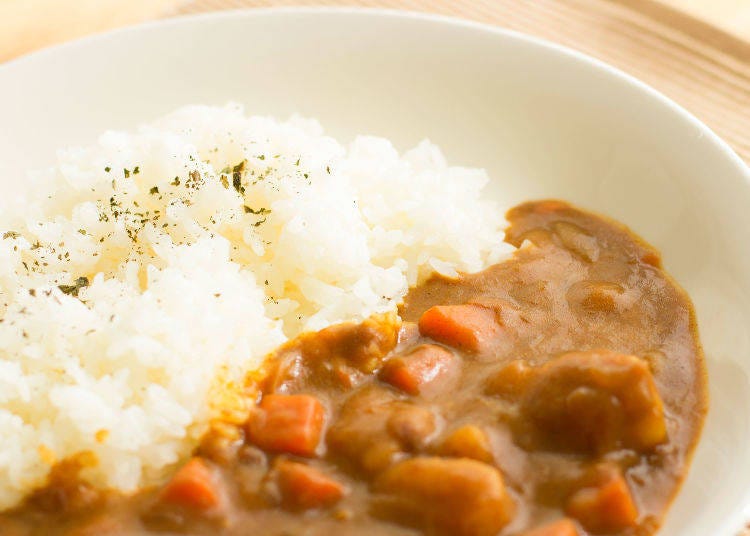 Curry rice is loved by people of all ages and regarded as a national dish in Japan! Generally speaking, Japan has a reputation for adapting dishes and cuisines from abroad to its own palate and turning them into something unique, such as ramen, pasta, and, of course, curry.
In Japanese supermarkets, you'll find a rich choice of different flavors of "retort-pouch curry," which is heat-and-eat curry that features meat and vegetables, made for long-term preservation with heating and pressure sterilization. Simply warm it with hot water or in a microwave and enjoy the taste!
The world's first heat-and-eat curry was "Bon Curry," a brand by Otsuka Foods released in 1968, born from the idea that medical instillation techniques could be applied to curry. It was also the time when Japanese women started to enter the workforce as opposed to staying at home as housewives, so the approach to the heat-and-eat curry was "mom's homemade curry," readily available for everyone just by warming it up with hot water. Even nowadays, the retort-pack curry is popular with people from all walks of life: dual-income households, singles, in both cities and rural areas, among both men and women. Japanese-style heat-and-eat curry is also popular in Taiwan, Malaysia, Singapore, and other Asian countries. It is even rumored that this curry creation is even popular in India, the birthplace of curry, as the base for Japanese-style curry rice. Indian curry needs a lot of spices and time, but ready-to-eat curry is all done in just a few minutes. Especially busy people seem to love it, no matter where they're from.
Instant Ramen: Quickly Made and Super Delicious!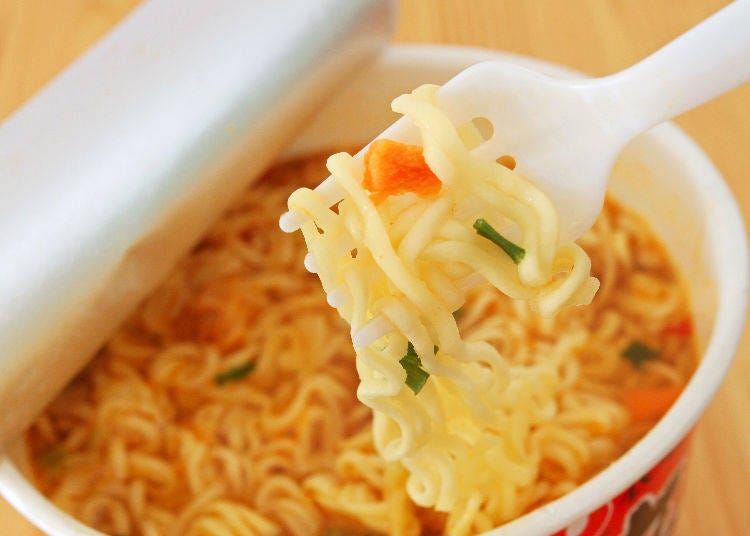 Instant ramen, made with just some boiling water and a few minutes of waiting, were born in Japan as well. It's an incredibly popular snack that contains noodles and seasoning all in one cup, ready to be enjoyed pretty much on the spot. The very first instant ramen was "chicken ramen" created by Taiwanese-Japanese inventor Momofuku Ando in 1958. He built a little hut in his backyard and studied how to make "ramen that can be instantly eaten at home just with hot water." And indeed, he managed to create "magic ramen," all ready and done by adding boiling water and waiting 2 minutes. This was the pioneer that paved the way for the massive variety of instant ramen that we know today. The modern lineup also includes yakisoba (fried noodles), udon (thick noodles), spaghetti, and more, while the instant noodle industry keeps us excited with new flavors and creations appearing regularly. The instant noodle culture also keeps evolving as brands and manufacturers team up with popular ramen shops throughout the country.
Instant ramen are a fantastic snack for in between or a light dinner, so there are plenty of Japanese households that always have a few varieties in the cupboard. They're eaten in pretty much every part of the world while being especially popular in Asia. China and Hong Kong eat the most amount of instant ramen out of all countries! The next time you're traveling abroad, make sure to keep your eyes open for unique instant noodle flavors that are only available in that area!
Oil Pastels: Vivid Colors Loved by Kids and Artists Alike!
Oil pastels are a mix between pastels and wax crayons, taking the good points of both and merging them into a unique drawing medium. They're often seen in Japanese elementary schools.
Crayons were created in France at the end of the 19th century as sticks of colored wax or other materials, great for drawing lines. However, the crayons back then were rather hard, and you could only express so much with them. Because of these limitations, the company Sakura Cray-Pas (today's Sakura Color Products Corporation) started to refine basic crayons. The goal was to adapt to the needs of children who wanted softer crayons to draw more freely. Pastels, used in Europe since long ago, let you mix colors more freely, but without using a fixer for the powdery colors, they wouldn't properly stick. Therefore, the company created the entirely new oil pastel in 1925, called "Cray-Pas" in Japanese. This new medium had all the benefits of both crayons and pastels, and because it uses oils and fats, it is soft and easy to stretch, making it also suitable for drawing on skin. Cray-Pas became a registered trademark of the company and spread throughout the world as the first Western-style drawing medium created abroad. It has since not only become a favorite of children but also of artists around the globe.
Washlet: Positively Addicting and a Squeaky-Clean Bottom!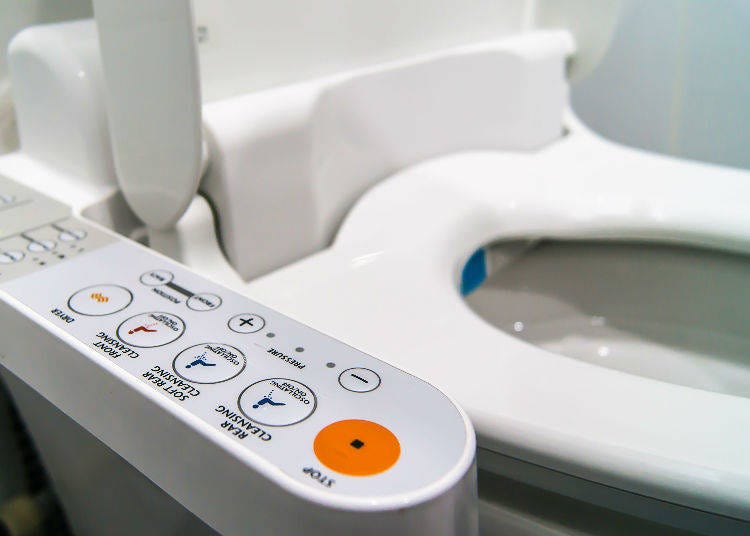 The "Washlet" is a fantastic toilet seat with plenty of functions, such as washing your bum with warm water. It's also a registered trademark of TOTO and the general name for such a gadget is "warm-water cleansing toilet seat." With the push of a button, a little nozzle extends from inside the seat and acts as a warm-water bidet, spraying either your anal or genital area. The temperature and pressure can be adjusted for maximum comfort!
Japanese people who travel abroad tend to dearly miss their high-tech toilet seats and even tourists to Japan say that Japanese toilets have redefined their expectations. There's even an anecdote that the famous musician Madonna fell in love with the cleansing toilet seats after trying them in Japan and promptly bought one for herself.
Europe has a custom of bidets and British company has once released a toilet seat that is said to be the origin of TOTO's Washlet. There was also the "Wash Air Seat" in the US for people who suffer from hemorrhoids or constipation. In the beginning, TOTO imported and sold these Wash Air Seats in Japan, but the temperature control was unreliable, among other quality concerns, causing the company to begin their own product development. There were no compromises regarding the reliability and quality of temperature control, water pressure, water volume, speed, angle, and so on. In 1980, TOTO finally released the "Washlet."
You'll find such high-tech toilets seats pretty much everywhere in Japan, not only at airports, hotels, and department stores but also in Japanese homes. Dare to use it at least once – we promise that you'll get addicted to it!
Mosquito Coil: Getting Rid of Flying Nuisances!
Mosquito coils are spiral-shaped incenses that are used to combat mosquitoes. They're made with the insect-repelling component pyrethrin found in the Dalmatian pellitory, as well as a similar component called pyrethroid. The smoke of this incense attacks the nervous system of mosquitoes and other insects. The inventor of the mosquito coil is called Eiichiro Ueyama who is also the founder of the company Dainihon Jochugiku. His prototype was an incense stick of about 20cm in length, similar to the ones burned at Buddhist altars. However, it burned out too quickly, lasting for merely 40 minutes. It was his wife Yuki who had an amazing idea: "Why not make them spiral-shaped and thicker to have them burn through the night?" This piece of advice gave birth to the modern spiral-shaped mosquito repellant which burns for up to seven hours, first released in 1902 and made possible through the cooperation of the couple.
Since then, mosquito coils have become an inherent part of Japanese summer. A lot of people connect the aroma of the coils with the summers of their childhood, but the coils have also been a success in other parts of the world, such as Southeast Asia, Australia, South America, the United States, Europe, the African continent, and so on.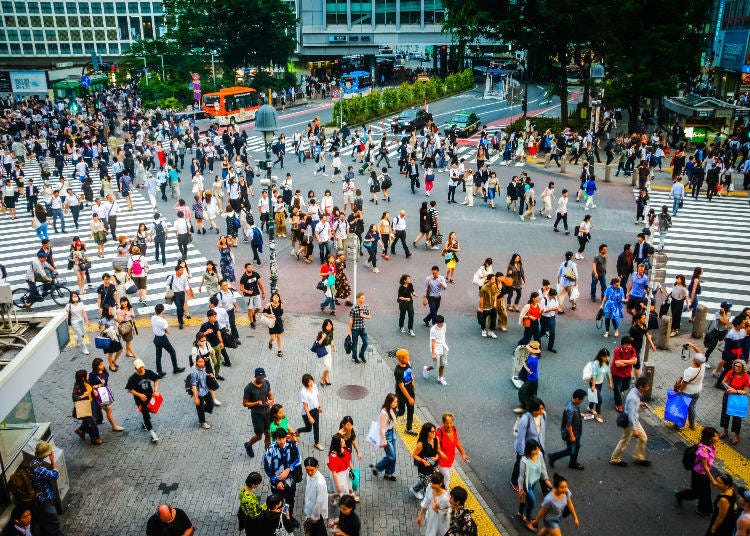 It's surprising to see just how many of the things we use every day have their roots in Japan. A lot of people usually think robots and cars first when it comes to inventions from Japan, but there's so much more to discover! We're especially looking forward to what other fun and useful things will make their way out of Japan and onto a global stage in the future!

written by yoko
*This information is from the time of this article's publication.
*Prices and options mentioned are subject to change.
*Unless stated otherwise, all prices include tax.
Limited time offer: 10% discount coupons available now!