In Japan, rice crackers are a beloved snack that dates back centuries and come in all sorts of variations such as arare or senbei. From salty to sweet, from light and airy to hard and crunchy – the tasty delights can be found in convenience stores and supermarkets all over the country.

Kameda Seika is one of Japan's most prominent and famous rice cracker makers, dominating both the market and gourmets' hearts with delectable rice cracker creations. The company, its headquarters in Niigata Prefecture right on the Sea of Japan, celebrated its 60th anniversary in 2016, still delighting people all around the country with both traditional and creative, new cracker varieties.

With their wonderfully authentic taste and "only in Japan" uniqueness, they also make great souvenirs to take home and share with friends and family.

But which ones to buy? Let's take a look at Kameda Seika's top 10 long-time best-sellers that have been loved and popular for decades!
Brief History of Rice Crackers
The history of rice crackers as they're made by Kameda Seika is closely linked to Japan's cultivation of rice and the culture around it. It's safe to say that not one person in Japan has not eaten Kameda Seika's rice crackers at least once, and their nostalgic taste is loved by both old and young. Indispensable as a quick snack on the go or a little treat to savor alongside a glass of beer, rice crackers are an inherent part of daily life in Japan.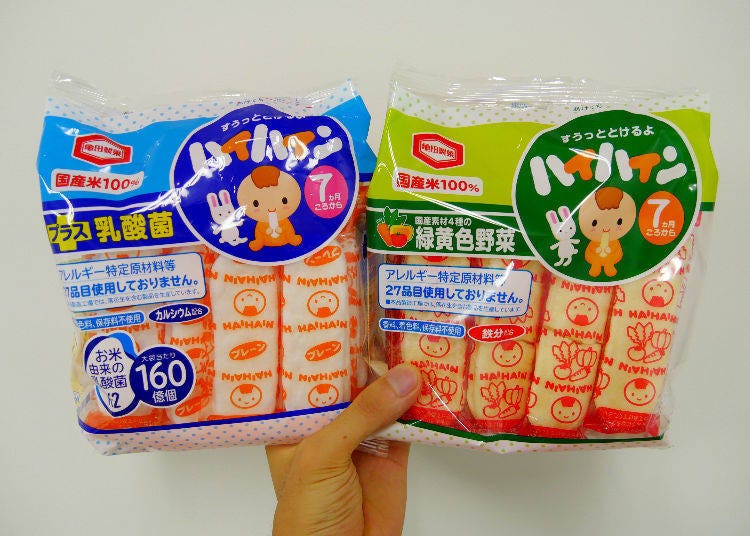 Hai Hain (53g in total, 168 yen tax included)
Hai Hain is a staple rice cracker variety that is also a standard snack for babies and toddlers, made to be savored from the age of 7 months. There's no artificial fragrance, coloring, or preservatives to be found, and the crackers also don't contain 27 ingredients that are known to possibly cause allergic reactions. The classic Hai Hain is infused with rice-derived lactic acid bacteria K-2 and calcium, while the Vegetable Hai Hain version featu8res pumpkin, spinach, tomato, and carrot, four kinds of vegetables of domestic production. With their gentle taste, their nutrition, and their ability to melt in the mouth even without teeth, Hai Hain really are the perfect snack for the littlest ones.
Since its release in 1972, it has been a high-ranking favorite for Japanese parents and for a lot of people, Hai Hain is a nostalgic reminder of their own childhood. It can be said that these rice crackers are the first experience that the younglings have with Japan's rich rice culture!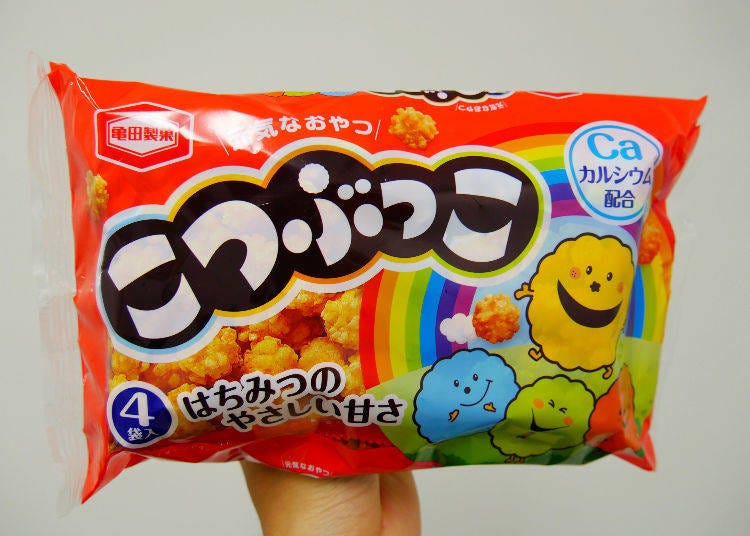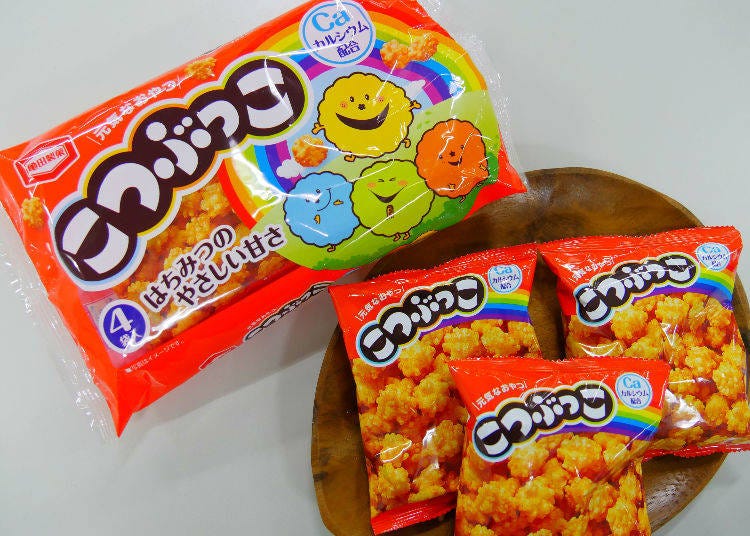 Kotsubukko (4 bags, 110g in total, 168 yen tax included)
This is a deep-fried arare rice cracker snack with a sweet-and-salty taste. The Japanese word kotsubu means "small grains," and the bite-sized bits aren't just tasty but wonderfully easy to eat. Share them with your friends on the go as a light snack to recharge your energies! Extra calcium is added, and the fried rice crackers have the gentle sweetness of honey. Generally speaking, Japanese people enjoy the combination of sweet and salty in particular, which makes Kotsubukko a popular snack to accompany beer!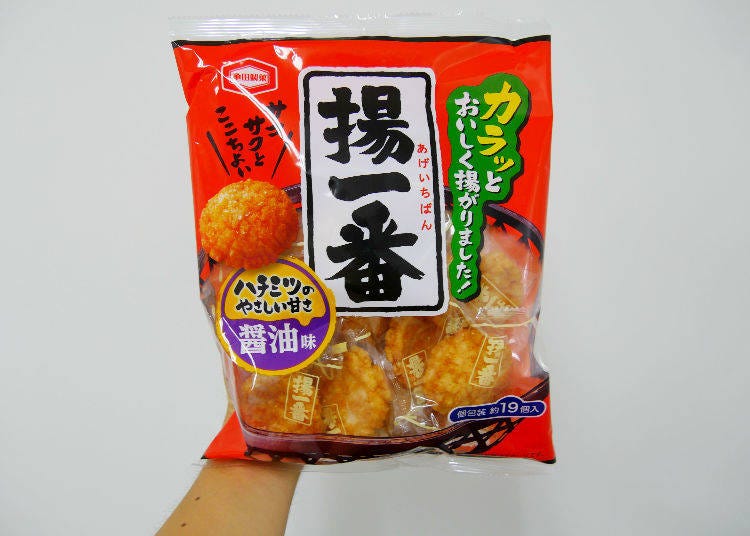 Age-Ichiban (138g in total, 198 yen tax included)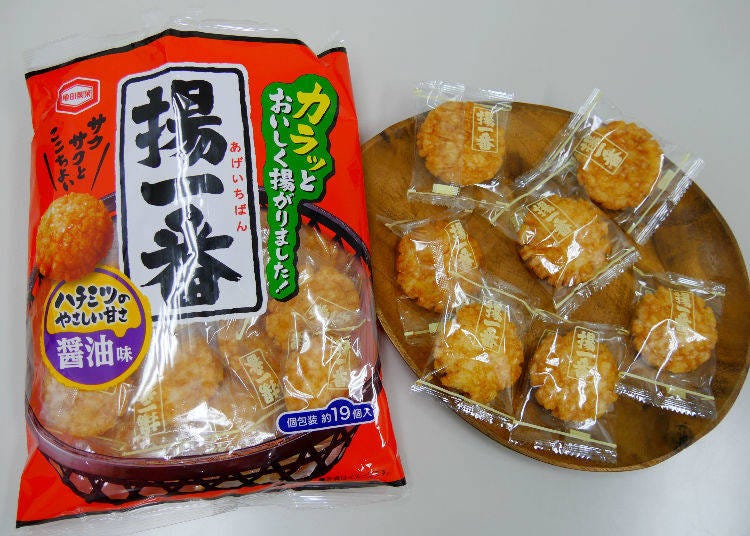 Age-Ichiban will make you fall in love with their outstanding crunch and crispy texture! These senbei type rice crackers are coated with a mix of honey and soy sauce, boasting a rich, multilayered flavor.
Their crispy texture matches the sweet-and-salty coating and the frying process brings out the flavor and aroma even better. The ichiban in the name means "No. 1" and this rice cracker variety was indeed designed to be a versatile favorite of the entire family, from young to old.
They were first released in 1985 and were a Japan exclusive, but since 2014, you can also find them under the name ICHI in Vietnam. Fried rice crackers are rare in Vietnam, but the two countries share a rich culture of rice cuisine. Their addictive honey and soy sauce taste has made this product popular abroad, to the point where plenty of people are familiar with it.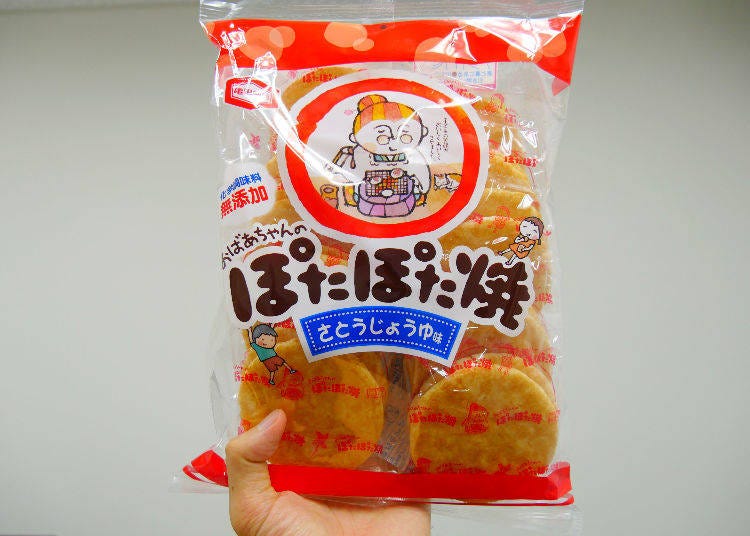 Pota Pota-Yaki (20 in a bag, 188 yen tax included)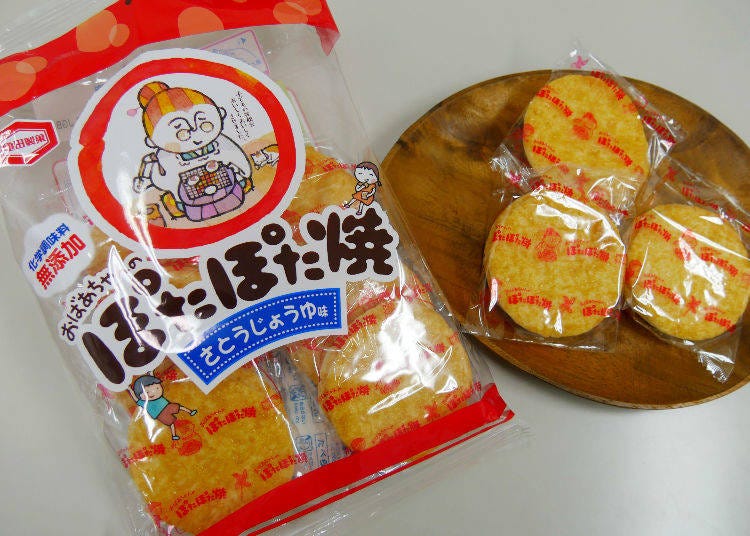 Everyone knows Pota Pota-Yaki, the rice crackers with the adorable Grandma on the package. They're baked with plenty of sweet soy sauce and are loved for their crispy texture. There's no chemical seasoning involved, so this snack is all-natural tasting. The sweet and gentle taste is inspired by the nostalgic aroma of Grandma making rice crackers at home, carefully and with a lot of love.
Indeed, Pota Pota-Yaki has been a nationwide favorite and an ever-popular bestseller since its release in 1986. The sugary sweetness is inspired by midarashi dango, grilled rice cakes coated with a soy sauce-based sauce. A lot of people think of this rice cracker variety first when it comes to "sweet and salty."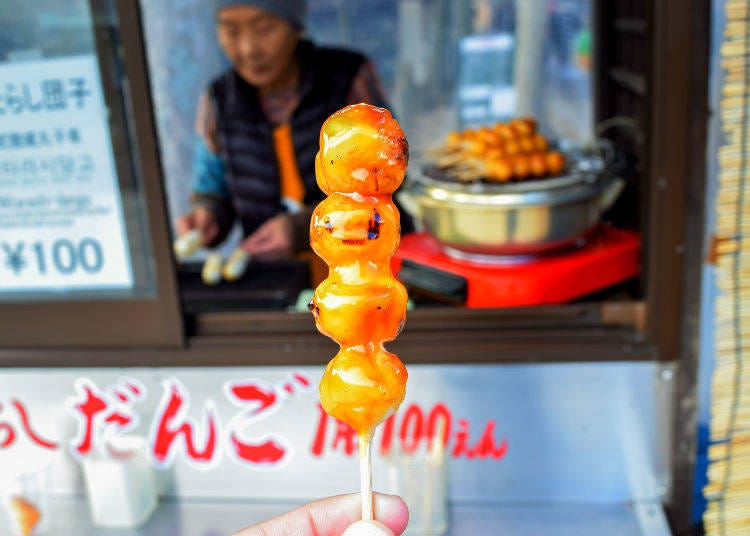 Midarashi dango, the snack that inspired Pota Pota-Yaki.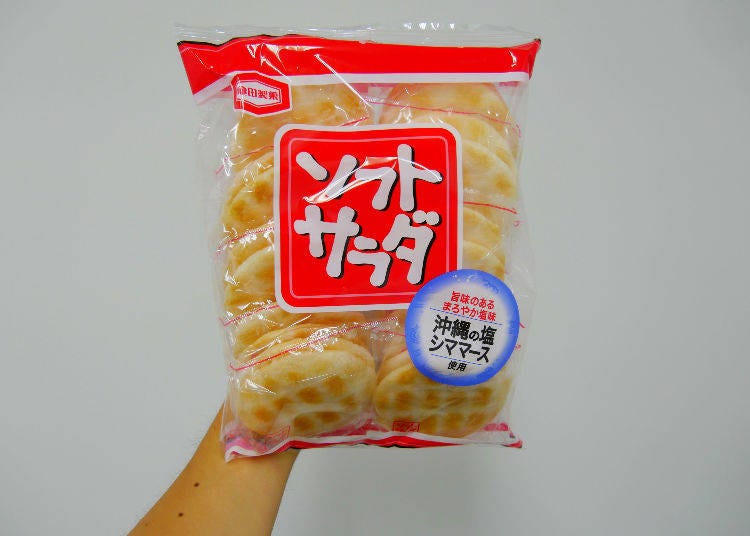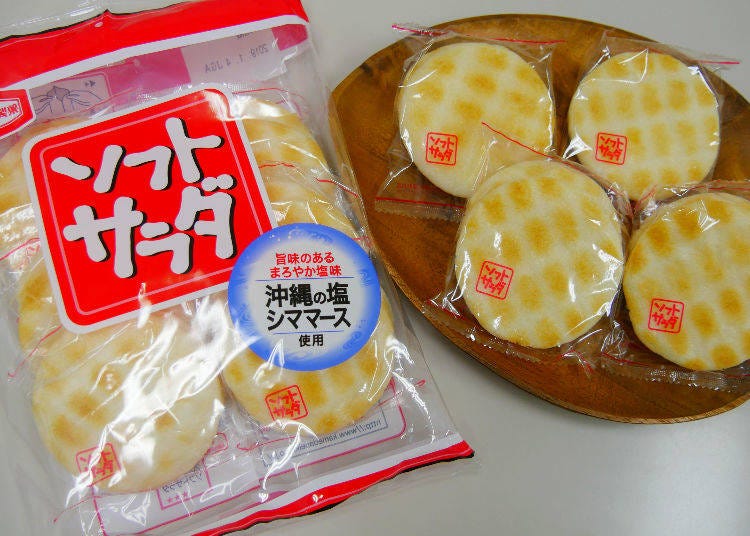 Soft Salad (20 in a bag, 178 yen tax included)
Soft Salad is a rice cracker variety named after their crispy but soft texture.
"Salad" refers to a salty flavor. Around 1960, the snack industry used the term "salad flavor" for snacks covered in salad oil and salt. Back then, it is said that the word "salad" had a more trendy and sophisticated nuance than just saying "salt flavor."
Ranks 9 to 7 are taken by sweet-and-salty treats, but there's hardly anything more satisfying than a crunchy, umami-filled bite off a Soft Salad cracker! The secret to their unique deliciousness is the Shimamasu salt from Okinawa. If you're having a nice cup of Japanese tea, be sure to try nibbling on one of these crackers – it's a match made in heaven.
Soft Salad was released in 1970 and has been a staple snack for day trips and excursions ever since. A lot of people grew up with this treat and it's no surprise that it's especially popular among people in their 40s and 50s.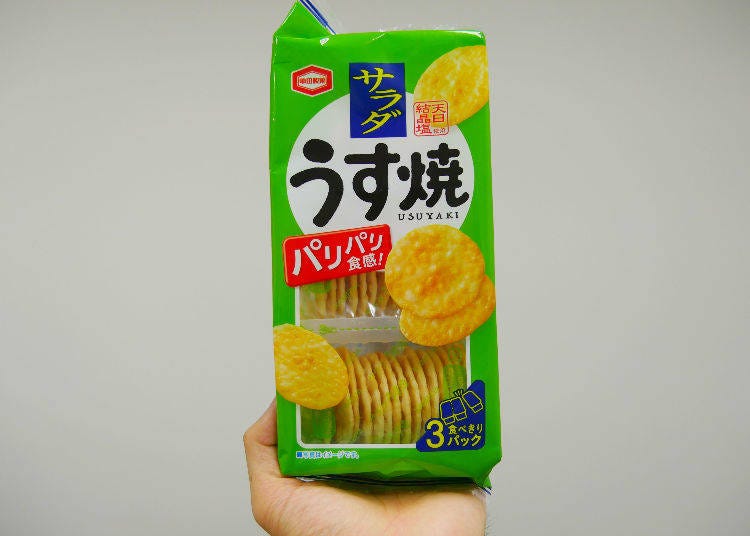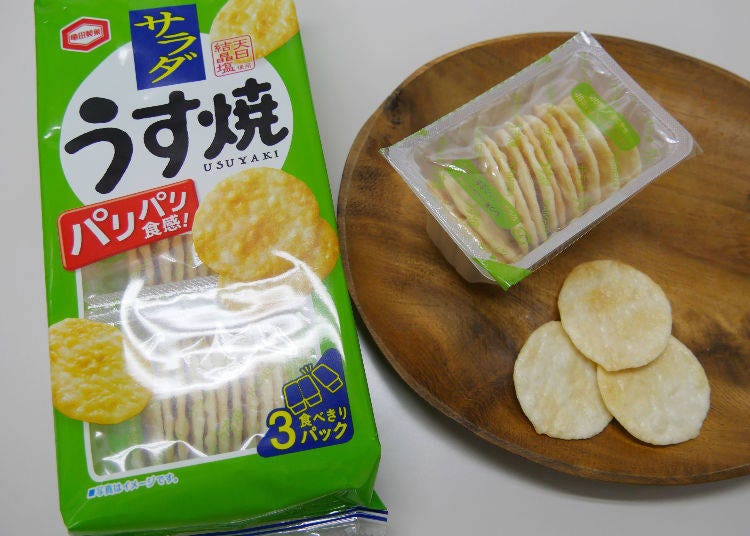 Salad Usu-Yaki (3 bags, 85g total, 138 yen tax included)
These rice crackers are particularly thin and come in the size of a single bite. The coarsely ground rice dough creates an astoundingly crispy texture and the flavor is the same "salad" as discussed above – moderately salty, fragrant, and light. It's positively addictive! The three individual packages are just the perfect size for one or two cups of tea, or for a quick energy burst while working or studying. They're also great to be shared on the go and, of course, go great with beer. Their simple deliciousness matches all sorts of occasions and moods while never getting boring!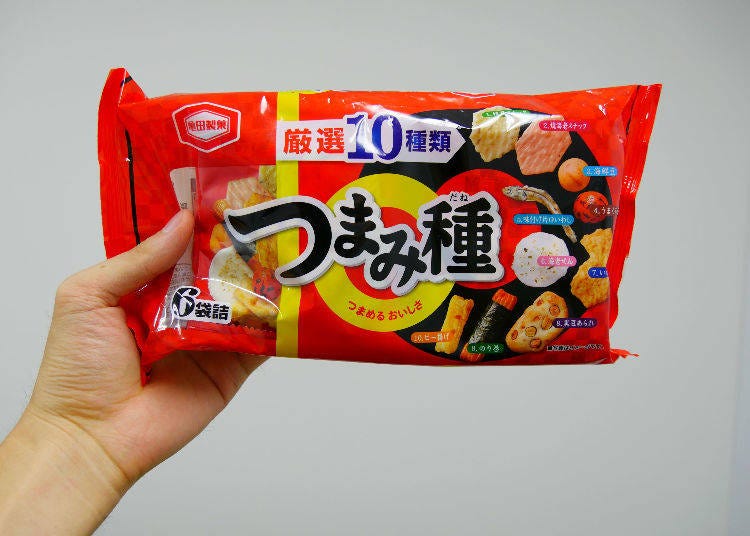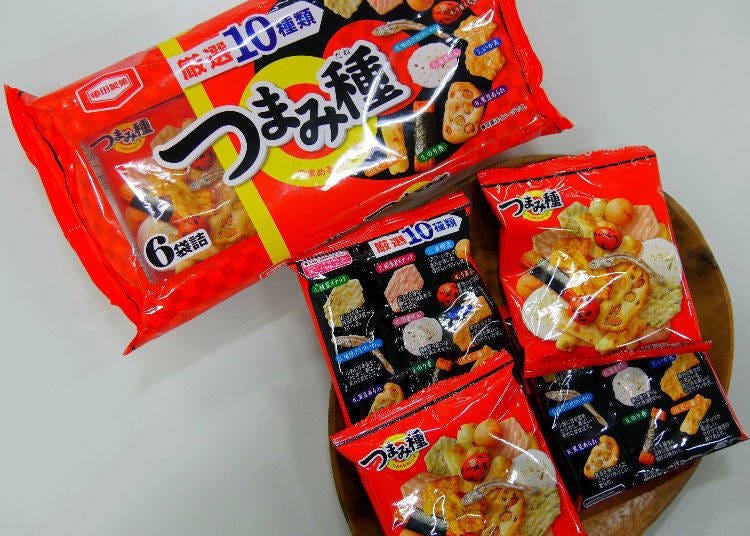 Tsumami-Rui (6 bags, 130g total, 258 yen tax included)
Otsumami is a Japanese word for snacks that go well with drinks. This assortment features 10 of such snacks, packaged into little bags that can be shared or savored all by yourself while also making it easy to just throw in your bag and enjoy on the go.
One bag includes rice crackers flavored with edamame, grilled shrimp, seafood-flavored beans, umakuchi mame balls, flavored sardine, shrimp crackers, squid flavor, black bean arare, dry seaweed-rolled, and roasted peanuts. These 10 iconic flavors take your taste buds on a wild ride through the world of rice crackers!
#3 Kameda no Magari Senbei, Umami Shoyu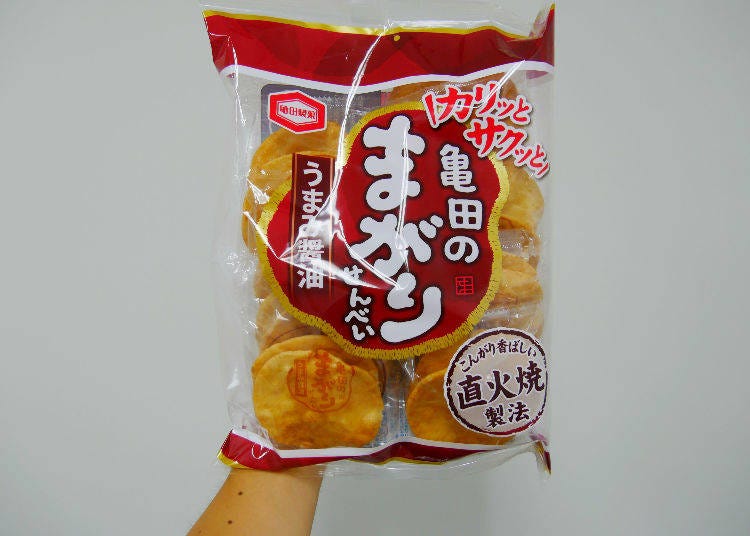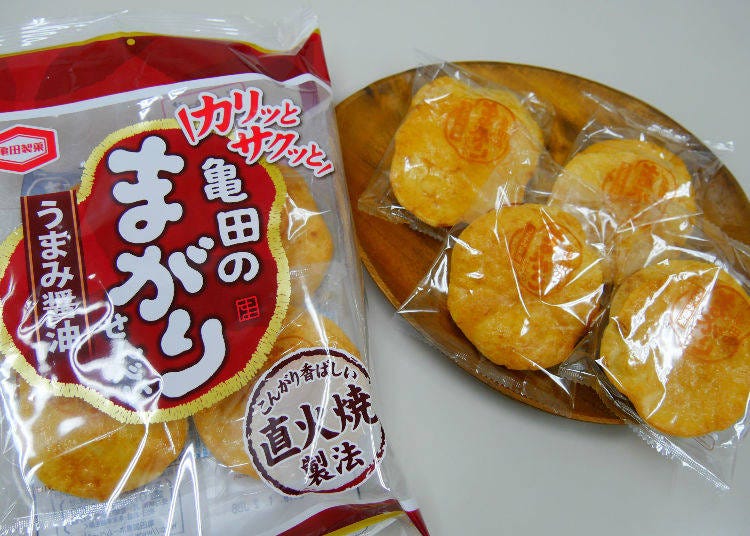 Kameda no Magari Senbei, Umami Shoyu (18 in a bag, 188 yen tax included)
Both sides of these rice crackers are baked thoroughly, causing them to bend into a fun wavy shape. The name "Magari Senbei" also means essentially that – bent rice crackers. However, this characteristic bending is usually only achieved when the crackers are made by hand, so Kameda Seika seems to have come up with a special process to give each cracker a unique shape. They're grilled over a direct flame, giving them a crispy, crunchy finish. The soy sauce flavor and its rich taste is a particular favorite of many Japanese people.
When Magari Senbei was released in 1986, it was only sold in certain areas. However, they became a massive nationwide success and quickly rose to the status of a classic rice cracker specialty that's always high in demand.
If you prefer a sweet kick alongside the saltiness, go for the Magari Senbei "Zarame." They are topped with granulated sugar alongside the soy sauce and are pleasantly sweet.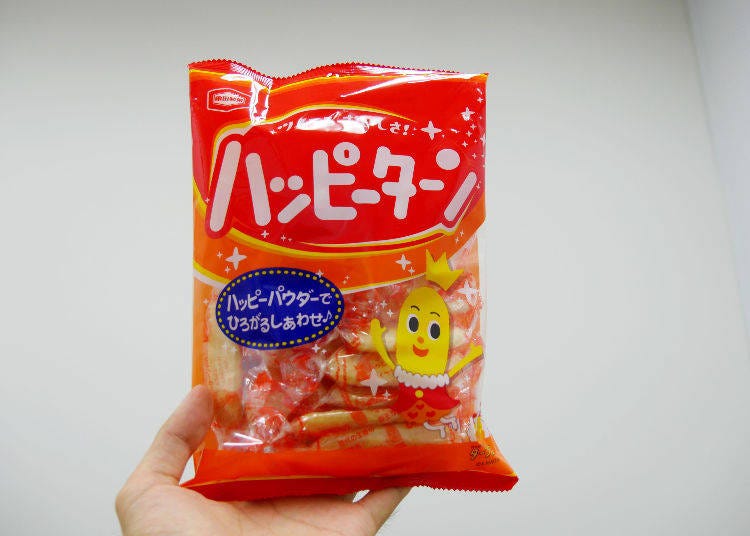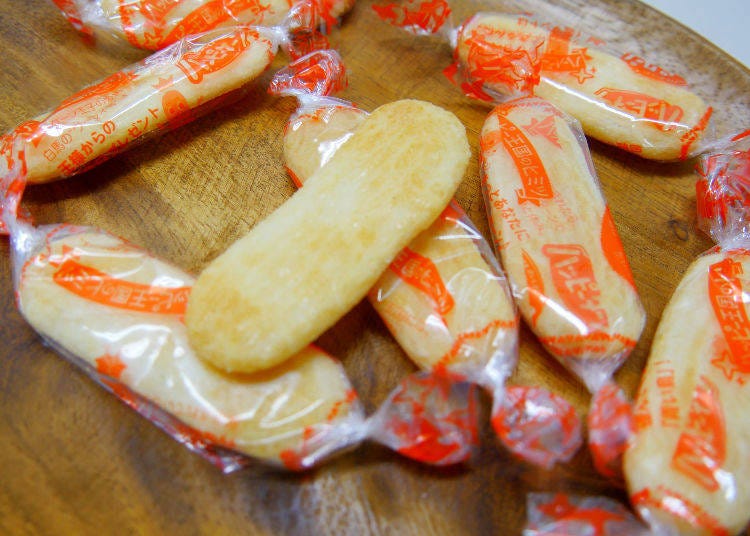 Happy Turn (108g in total, 198 yen tax included)
Kameda Seika's most famous product might be Happy Turn! There's literally no one in Japan who doesn't know these flavorful rice crackers and they enjoy everlasting popularity. From parties at home to family gatherings and downtown trips, Happy Turn is the number one choice for any kind of social gathering.
Happy Turn was first released in 1976, right in the middle of a recession due to the First Oil Crisis. The company created Happy Turn with the wish "may happiness return to you," which is exactly where the name comes from. Their main characteristic is that they're coated with an original powder often called the "magic powder," developed to create an entirely new kind of rice cracker sensation. The sweet-and-salty powder is spread over the entire surface of the cracker, sticking to it firmly so that little of it gets on your fingers. The cute candy-like wrapping was created to make eating Happy Turn quick, convenient, and enjoyable.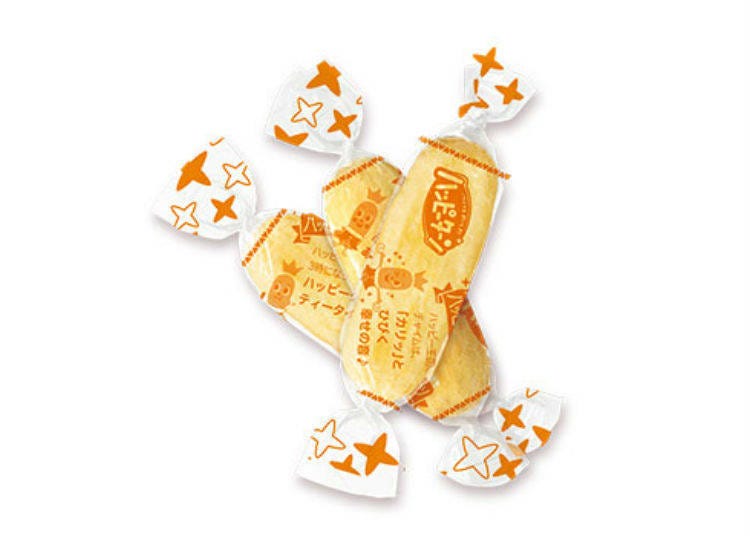 The Happy Turn variety with 250% of the "magic powder!"

Happy Turn is also fun to snack. The regular crackers have a long shape but from time to time, you'll come across a heart-shaped one! That's the Heart Happy and whenever a bag of Happy Turn is opened, someone is looking forward to discovering the little tasty heart inside.
This is Turn Prince, the mascot of Happy Turn.

These are the bags in which Heart Happy are hidden:
Powder 250% Happy Turn (50g), Happy Turn (67g), and Happy Turn Mini 4 Bags
#1. Kameda no Kaki no Tane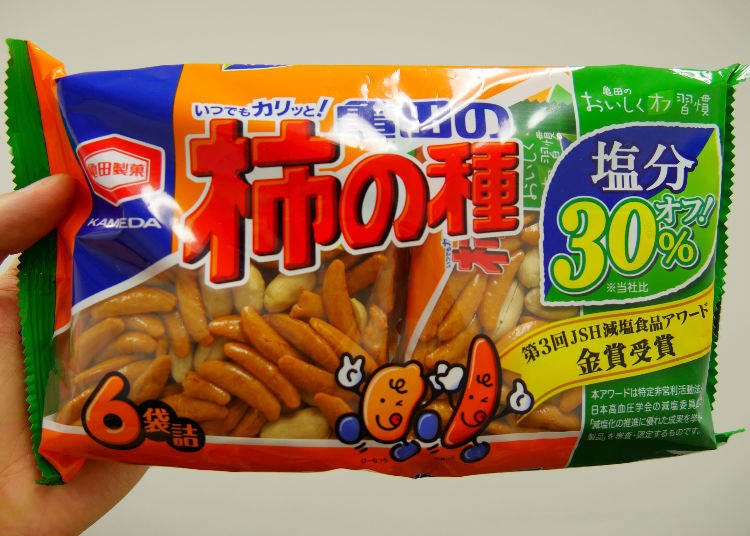 Kameda Seika's undisputed long-selling Number One is Kaki no Tane!
Since ancient times, Japanese people have enjoyed persimmon fruits. This tasty mix of small rice crackers and peanuts is named after the seeds of sweet persimmon varieties such as the Okozu persimmon from Niigata because the crackers are as long and thin as the seeds.

The spicy soy sauce rice crackers are balanced by the mellow peanuts, a true match made in heaven. A perfect snack to go with a drink or for between meals.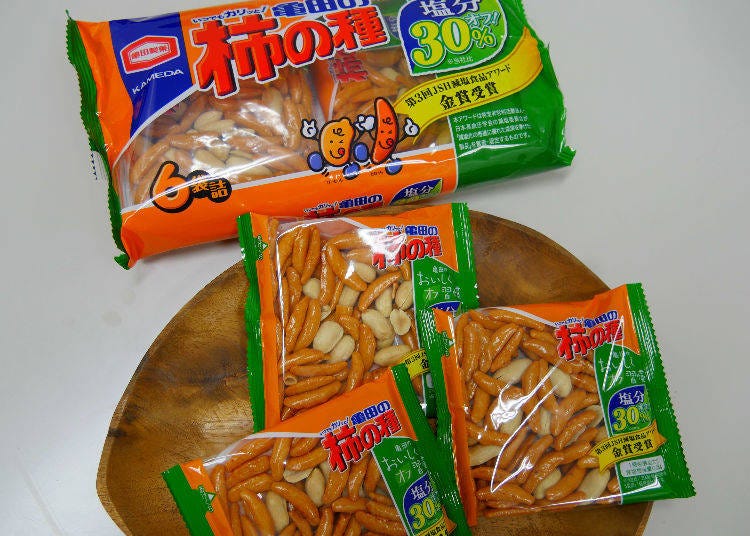 Japanese people like to debate the ratio between peanuts and rice crackers in one bag. How many arare rice crackers, how many peanuts make Kaki no Tane the tastiest? Everyone eats this snack slightly different, further showing just how much of a staple it is – a true Japanese national snack!
Kameda Seika was wondering about the ratio as well and asked the people of Japan about their thoughts. Here's the result from 2013!

National survey about the ratio of peanuts and rice crackers in Kaki no Tane:
1. 7:3 28.5% (Rice crackers:peanuts, ratio)
2. 5:5 23.9% (Rice crackers:peanuts, ratio)
3. 6:4 20.0% (Rice crackers:peanuts, ratio)
Source: Kameda Seika "Kameka no Kaki no Tane Ratio National Survey" (2013, total of 105,484 votes)

The classic Kameda no Kaki no Tane is blended at a cracker to peanut ratio of 6:4. Why don't you find out how you like them best?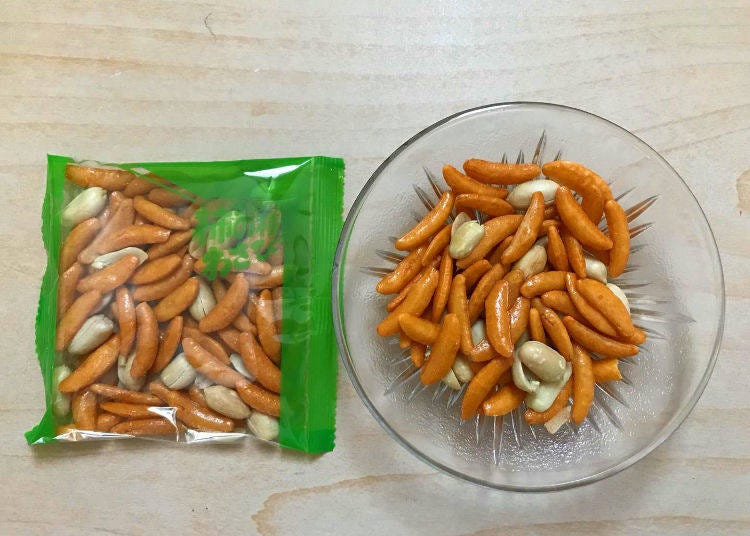 Besides that, Kameda Seika's Kaki no Tane comes in various flavors. Next to the standard soy sauce, look forward to trying your way through wasabi, ume-perilla, chocolate-coated, and various limited and regional varieties. They're also sold in countries such as the United States and China, adapted to the local palate. In the States, for example, they come in black pepper and chili flavors, while China has its own tomato flavor. There's a lot of uniqueness in each bag! If you ever come across a local Kaki no Tane flavor, don't hesitate to get a bag!

Here's an example of regional flavors sold in different corners of Japan (as of November 2017):
- Hokkaido: cheese, caramel
- Yohoku: Takko garlic, beef tongue
- Niigata: Koshi no Kanbai, Tare-katsu bowl
- Tokyo: Tokyo Curry, Tokyo Cheese
- Kansai: takoyaki sauce, Kyoto Matcha
- Kyushu: mentaiko, yuzu pepper
...and many more! Take your taste buds on a trip to Japan!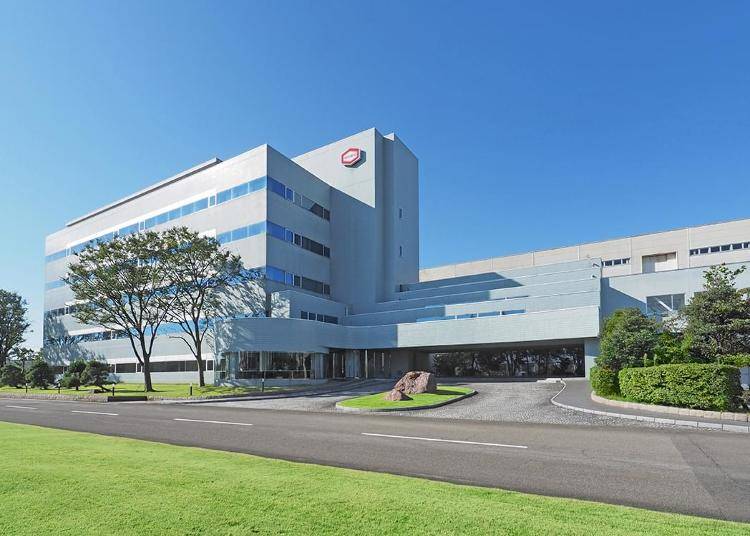 Celebrating more than 60 years of company history, Kameda Seika supplies Japan with delicious rice cracker snacks, both the traditional kind and new creative kind. You'll find a bag of these rice crackers in pretty much all households throughout Japan, stowed away for a quick snack between meals or for a day outside. Rice crackers offer an authentic and casual taste of Japan's rice culture and make great souvenirs if you want to share that taste with friends and family! Now, what to try first?
*This information is from the time of this article's publication.
*Prices and options mentioned are subject to change.
*Unless stated otherwise, all prices include tax.