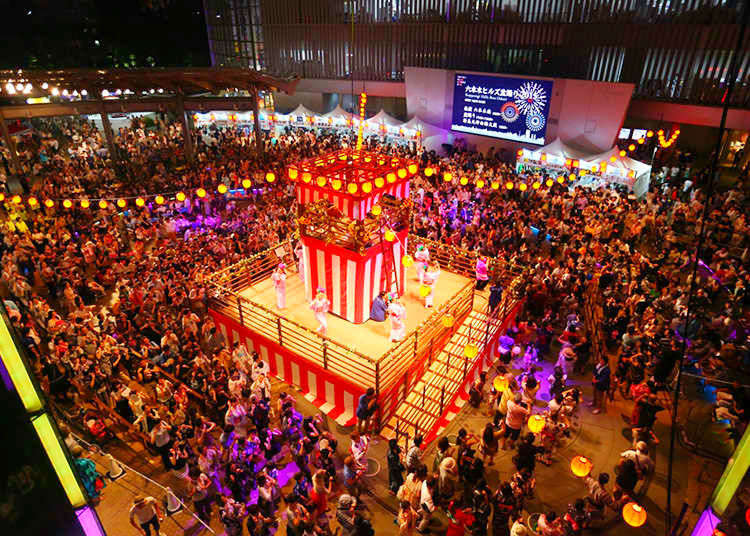 In Japan, summer means festival season! Dive deep into Japanese tradition with dances, music, and portable shrine parades filling the hot summer months with excitement and joy. Beat the heat with happiness as you savor local culture dating back hundreds of years, alive and well in Tokyo's modern age!

Many events are likely to be canceled due to Covid-19; be sure to check the official websites before attending.
Kagurazaka Festival (7/24 – 7/27)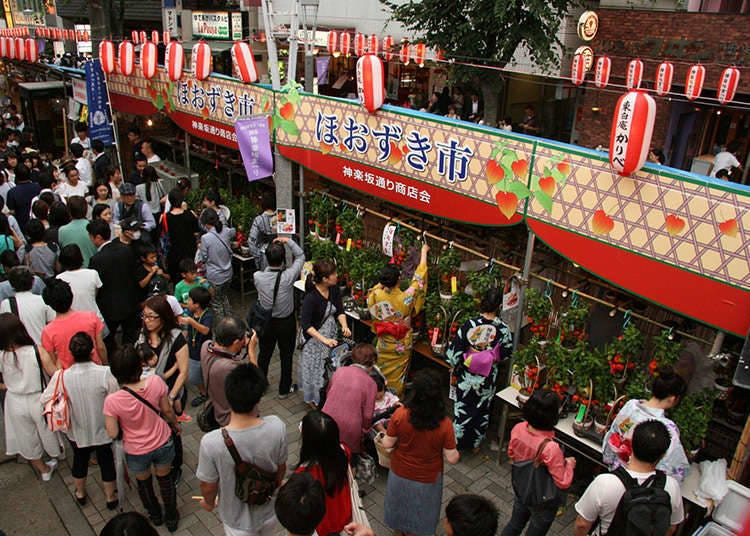 July 24 - 27
While the Hozuki Market takes place on the 25th and 26th, displaying beautiful Chinese lantern plants, performances of Tokushima Prefecture's traditional Awa Odori take place on the 26th and 27th of July.

The main venue of the Hozuki Market is the grounds of the Bishamonten Zenkoku Temple and apart from selling beautiful potted lantern plants, local eateries sell their delicacies at various food stalls.

Awa Odori, following the market, is an old Buddhist tradition and is performed by about 20 participating groups each day. The nimble dancers parade along Kagurazaka Street, an event that is not to be missed!

Access
2 minute walk from JR Itabashi Station, West Exit
Shinjuku Eisa Festival (7/27)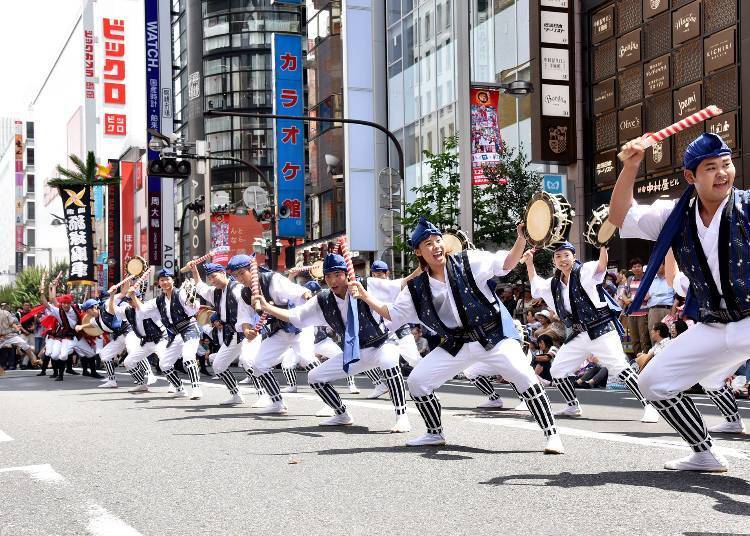 July 27
Eisa is Okinawa Prefecture's traditional Bon Odori - the dance performed during the Buddhist festival of Obon, a festival that honors ancestor spirits. Twenty-six organizations take part in the Shinjuku Eisa Festival, showcasing Okinawa's traditional eisa performances in colorful costumes, accompanied by powerful Taiko drums and energetic cheering. The buoyant festival is being held around both Shinjuku Station East and West Exit. Head over for an authentic breeze of Okinawan culture and celebrate the Japanese summer!

Access
Around the Shinjuku Station area
Address

3-24-3, Shinjuku, Shinjuku-ku, Tokyo, 160-0022
View Map

Nearest Station

Shinjuku Station (JR Shonan Shinjuku Line / JR Yamanote Line / JR Chuo Main Line / JR Saikyo Line / Tokyo Metro Marunouchi Line / Toei Shinjuku Line / Toei Oedo Line / Keio Line / Keio New Line / Odakyu Odawara Line)
1 minute on foot


Phone Number

03-3350-5500
Nogi Shrine Summer Festival (8/3)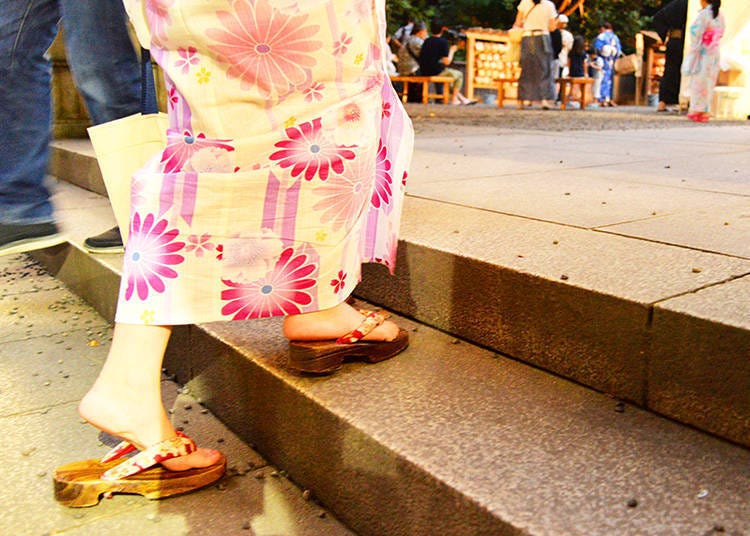 August 3, 11:00 a.m. – 7:30 p.m.
The Nogi Shrine Summer Festival is an exciting community event that's not only about food and fun but also about learning. It's a great place for families to experience a Japanese summer festival while exploring culture and history at both Nogi Shrine and Nogi Kaikan.
Look forward to savoring kakigōri (shaved ice) and cotton candy while trying your hands at balloon fishing, a classic game of Japanese summer festivals! Besides that, events such as picture story shows and performances by a mixed chorus are held to entertain the visitors. And don't miss out on browsing the festival's antique market to find a one-of-a-kind souvenir!

Access
Around the Nogizaka Station/Aoyama Ichome Station area
Tomioka/Fukagawa Hachiman Festival (8/11 - 8/15)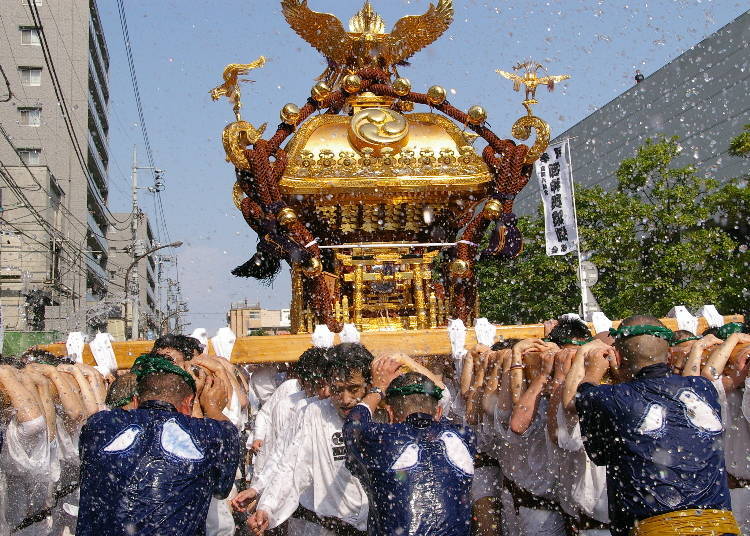 August 11 – 15
This massive event is one of the Three Great Festivals of Edo, along with the Sanja and Sanno Festivals. On August 12, the large portable shrine called "Nonomiya Mikoshi" that weighs 2 tons is paraded around the streets in a spectacular fashion – that only happens once every three years! The parade is accompanied by the traditional shouts "Wasshoi, wasshoi!" as purifying water is poured on both participants and visitors alike.

Access
Around the Monzennakacho Station area
Address

1-2-3, Tomioka, Koutou-ku, Tokyo, 135-0047
View Map

Nearest Station

Monzen-Nakacho Station (Tokyo Metro Tozai Line / Toei Oedo Line)
3 minutes on foot


Phone Number

03-3642-1315
Toro Nagashi: The Asakusa Summer Night Festival (8/10)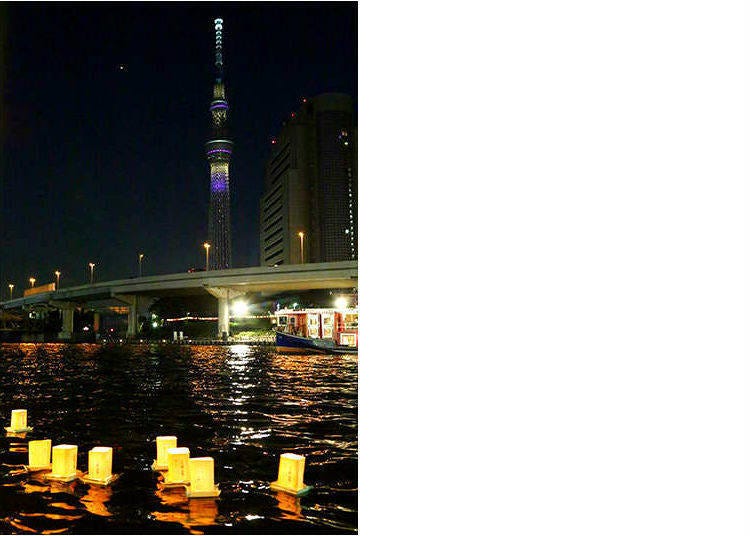 August 10
This beautiful festival dates back to the year 1946, when hundreds of paper lanterns were set down on the Sumida River as a memorial to the victims of the Second World War. After that, the Toro Nagashi festival didn't take place for a while during shore protection work on Sumida River but it was revived in 2005. The lanterns travel down the river from the Sumida Park River Terrace, each carrying a thought of the person who set it down. The soft light of the lanterns that glitter on the water's surface creates a warm, almost mysterious atmosphere. Tourists are welcome to take part in the festival and you can register for a lantern yourself on the same day that the festival is held on.

Access
Along the Sumida River Terrace area - 2 minute walk from Asakusa Station
Asakusa Samba Carnival (8/31)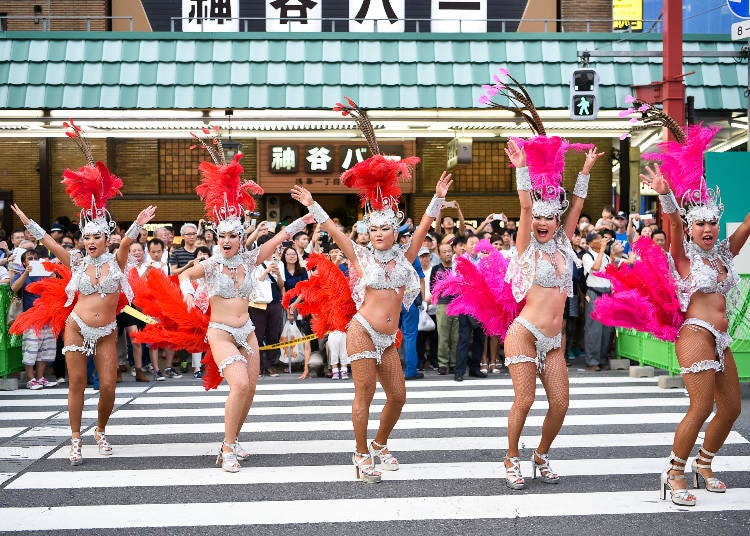 Photo Credit: Asakusa Samba Carnival
August 29
Japan's largest samba parade takes place in Asakusa's summer heat. Ever since its beginnings in 1980, the festival has grown in size and scale every year, leading up to half a million visitors in 2017. On this day, samba teams from all over Japan come together, each one of them showing off their costumes and skills under a theme that the teams chose for themselves. The parade starts at 1:30 p.m.

Access
Around the Asakusa Station area
Roppongi Hills Bon-Odori (8/23 - 8/25)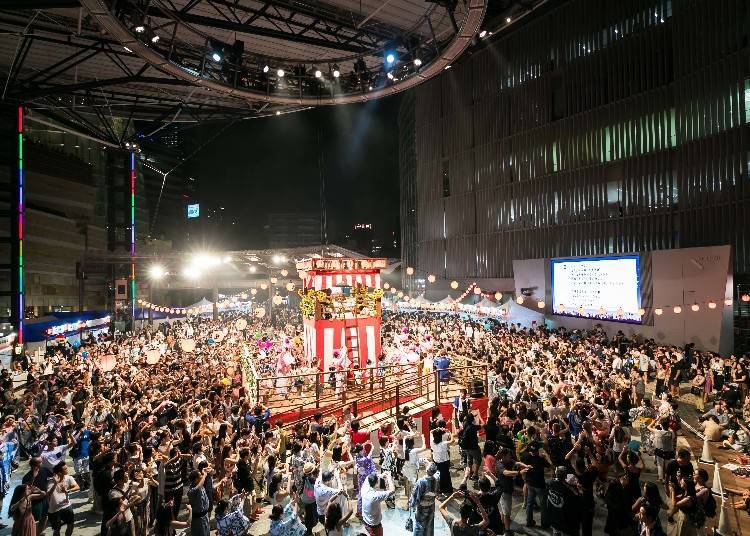 August 23 – 25
This is a true Roppongi summer tradition: over 60,000 people visited the three-day long festival in 2017. The dance itself is held on the 25th and 26th in the Roppongi Hills Arena and traditionally begins with Roppongi's original song "Ropponjin Ondo", which translates to "the dance of the people of Roppongi". When the people dance around the traditional wooden scaffold to the song's tunes, Roppongi's Obon has officially begun!
During the festival, the shops and restaurants inside Roppongi Hills are also opened, so why not enjoy a delicious gourmet snack in between the dances? There are even special food items to be savored that are available only during Obon.

Access
Around the Roppongi Hills area (closest station: Roppongi Station)
Harajuku Omotesando Genki Matsuri: Super Yosakoi (8/24 - 8/25)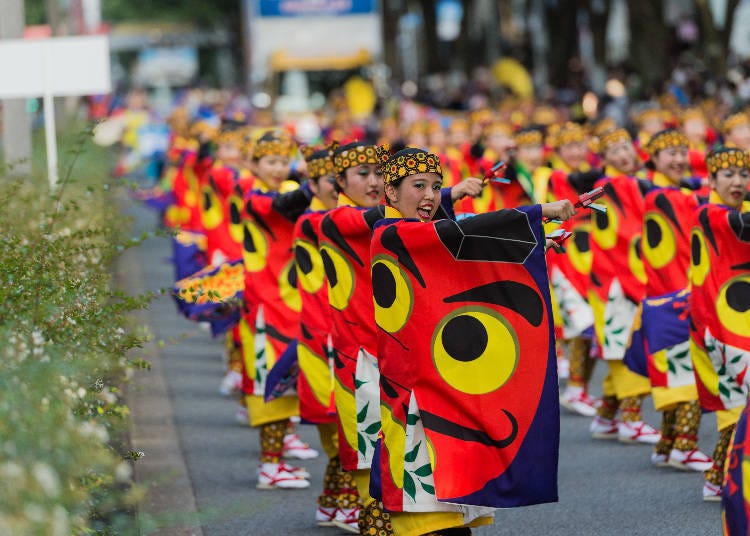 August 24 – 25
The yosakoi festival was born in Kochi Prefecture in the year of 1954 in the context of projects to revitalize and develop the local economy. Yosakoi makes use of little instruments called naruko that bring sound to the energetic dance of people in colorful outfits. This custom took Japan by storm and today, yosakoi festivals can be enjoyed throughout the entire country. The Harajuku Omotesando Genki Matsuri: Super Yosakoi was first held in 2001 as a shrine festival dedicated to Meiji Shrine. In 2017, 106 teams took part and drew a crowd of about 840,000 spectators.

Access
Around the Harajuku Station and Omotesando Station area
Azabu-juban Summer Night Festival (8/24 - 8/25)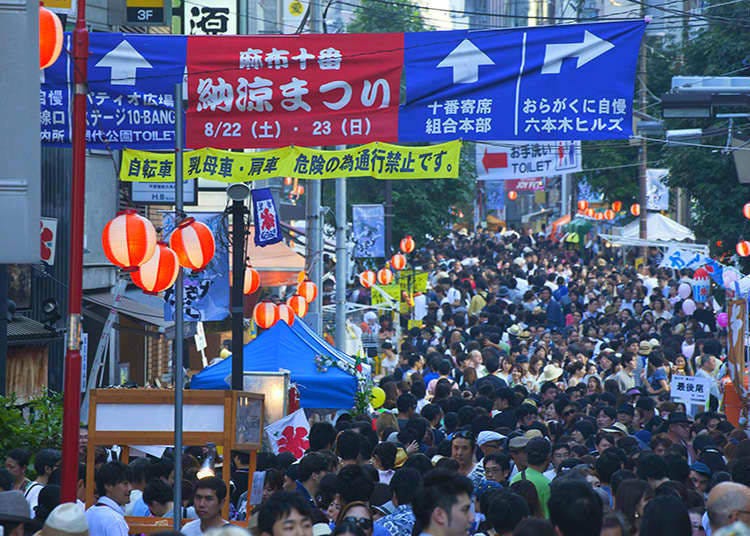 August 24 – 25
As one of Tokyo's most popular festivals, Azabu-juban Summer Night Festival attracts around 300,000 visitors every year who enjoy strolling down the street and snacking their way through the night. Azabu-juban is well known as a shopping street of famous luxury and brand stores close to the many embassies. There's also an area called oragakuni jiman which features over 50 cities, towns, and regions from all over Japan offering regional produce and specialties. Taste your way through local dishes, sake, and beer! At a place called Patio Juban is a stage on which dance and music performances are held to entertain the visitors.

Access
Around the Azabu-juban Station area
Akasaka Hikawa Matsuri (9/13- 9/15)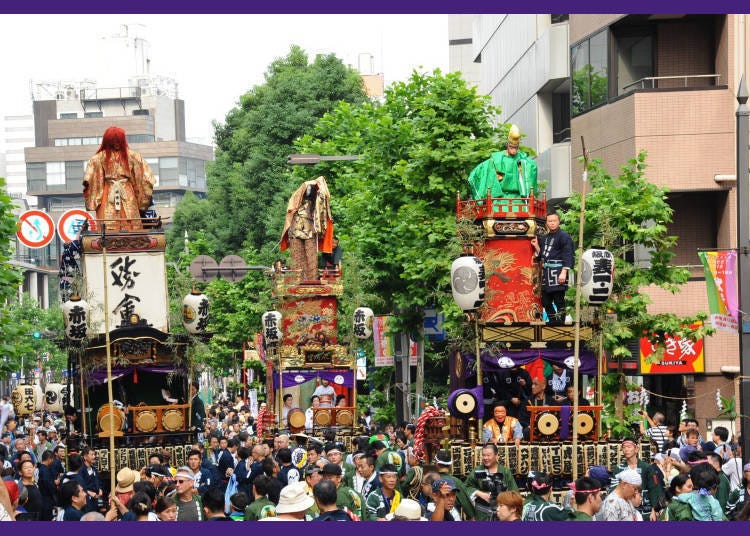 September 13 – 15
This stunning event exhibits old floats from the Edo period as it is held, with the main shrine festival taking place on the Sunday. Look forward to a beautiful parade of those historic floats and 15 portable shrines! Especially noteworthy are Asakusa's own geisha joining the procession, making the Akasaka Hikawa Matsuri a real summer must-see! Plenty of events are held on the shrine precincts during the weekend, including a Bon-Odori dance and the Akasaka Meitengai, gathering famous shops of the area that entice with local products!

Access
Around the Akasaka Station area
Daradara Festival (9/11 - 9/21)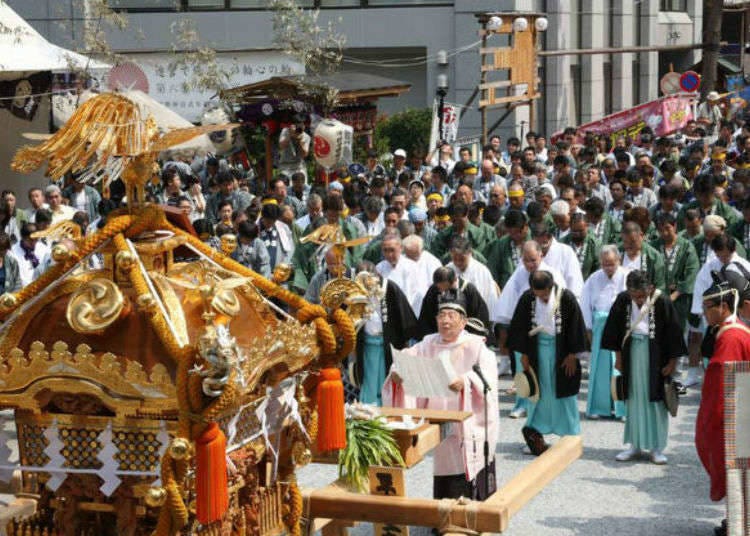 September 11 – 21
The Daradara Festival is one of Japan's longest shrine festivals, lasting from the 11th to the 21st of September, offering a large variety of traditional performances and dances. The highlight of these celebrations takes place on the 16th, a day that is entirely dedicated to Japanese court music and dances. In ancient times, the festival was also known as the "ginger market," as ginger was sold extensively on the shrine grounds and its vicinity. This is because, the shrine used to be surrounded by a vast ginger field and thus, many people offered ginger roots to the Shinto deity enshrined within. Even today, fresh ginger roots are being sold every day. Make sure to get your hands on some - a person who regularly consumes some ginger is said to never ever catch a cold!

Access
1-minute walk from Daimon Station; 5-minute walk from Hamamatsucho Station
Shinagawa Shukuba Festival (9/28 - 9/29)
September 28 – 29
The 29th of September marks the day of the procession of oiran, an enigmatic procession of courtesans of old, that celebrates Shinagawa's history as a bustling rest stop on the way between Edo and Kyoto. Besides the parade, there's a lot more to see and do, such as stalls offering food, drinks, and various goods in Seiseki Park, and a children's stage that definitely shouldn't be missed.
On the 29th, there's the Old Edo parade, a traditional procession of Honsen-ji firefighters, stalls from Shinagawa's hotel restaurants offering their delicacies, street rakugo, and a mini steam locomotive occupying the Tokaido Street. To make this Old Edo experience complete, there's also a vegetable all-you-can-grab offer and a workshop on the traditional art of creating stuffed animals – spend an entire day in Old Edo, there's so much to see and do!

Access
Within short walking distance of Kita-Shinagawa Station, Shimbamba Station, or Aomono-yokocho Station.
Fukuro Festival (9/28 - 9/29; 10/12 - 10/13)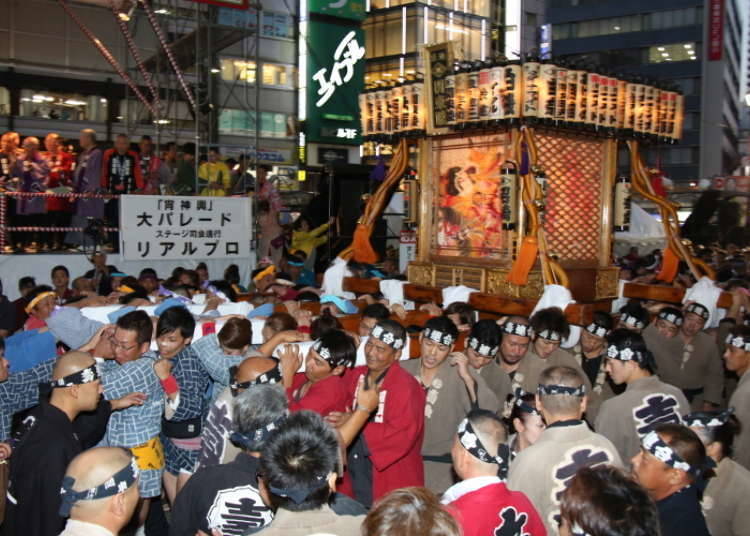 September 28 – 29, October 12 – 13
This year, the famous Fukuro festival begins on the evening of September 28, while the mikoshi parade takes place on Sunday 29. Fourteen local groups gather in Ikebukuro, filling Ikebukuro with both shrine parades and eager spectators. October 12 marks the day of the dance festival, featuring intriguing performances such as hula, Kyokushin Karate shows, Edo-gei Kappore (a traditional comic dance), the Sado Okesa dance, the Ikebukuro Yassa, Eisa from Okinawa, and of course the Tokyo Ondo – this lineup promises a colorful dance festival!

Access
Within a 5-minute walk from Ikebukuro Station, West Exit
*This information is from the time of this article's publication.
*Prices and options mentioned are subject to change.
*Unless stated otherwise, all prices include tax.