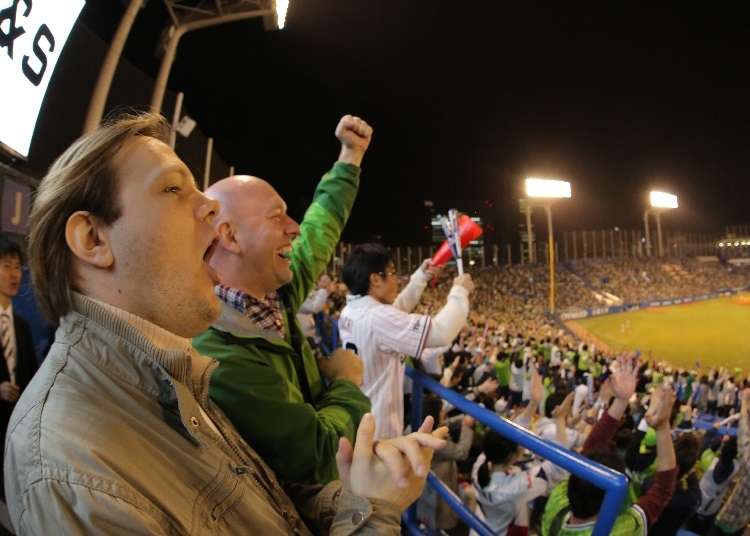 The professional baseball season really heats up during the early summer. But in Japanese pro baseball, games are not merely watched—they're a real sensation to experience! Spectators really rally around their teams and show their support, but the way in which they do it is quite different from folks in other countries. Here, we'll introduce how and where to catch your first game in Tokyo, plus introduce the magic and appeal of Japanese professional baseball. Join as we check out a game with the Tokyo Yakult Swallows—whose home field is at Jingu Stadium, located in central Tokyo and easily accessible from various tourist spots. Incidentally, the Swallows are a famous team that is currently home to Norichika "Nori" Aoki, who recently returned to Japan after a successful MLB career in the US. Starting this season, he will play for the Swallows again, which will surely bring quite a lot more attention to the team!
Close to Shibuya, Jingu Stadium is Easily Accessible!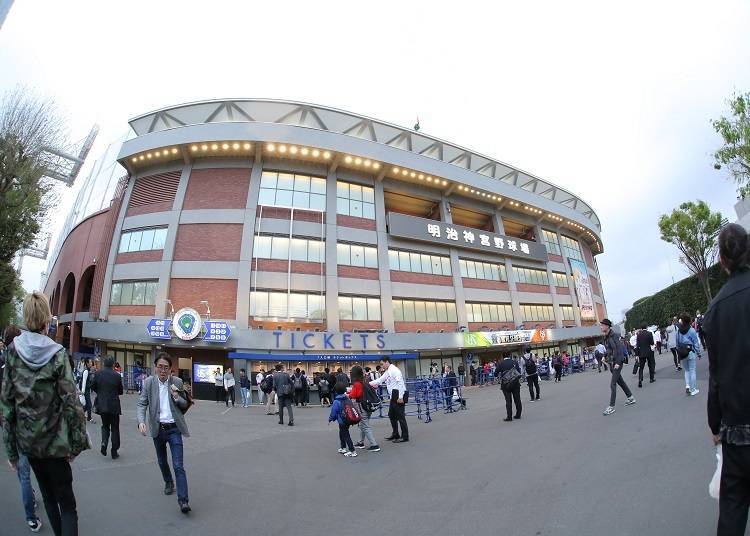 Jingu Stadium is a 5-minute walk from Gaienmae Station on the Tokyo Metro's Ginza Line. This large, open-air baseball stadium really stands out, so you won't get lost even if you're not used to navigating around in Tokyo. And since it's located in the heart of the city and near a major station, right after a game you can also easily get back to your hotel. It's also just two train stations away from the Harajuku/Shibuya area which houses many popular fashion and dessert shops where you can enjoy shopping or catch a bite—either before or after catching a game.
Jingu Stadium: Open-Air and Spacious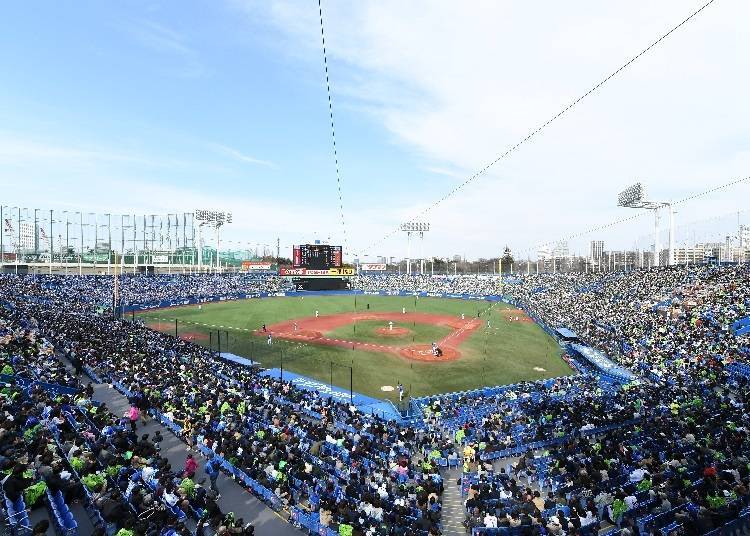 Jingu Stadium is an open-air baseball stadium. A spacious facility, it can accommodate over 30,000 people, and spectators can gaze out at the twinkling Tokyo skyline from wherever they may be seated. Spacious and wide-open, it's perfect for people who enjoy watching sport matches. As the sun sets around game time, a refreshing breeze tends to blow, making for a perfect outdoor experience.
Watching a Baseball Game is One of the Few Night Activities in Japan!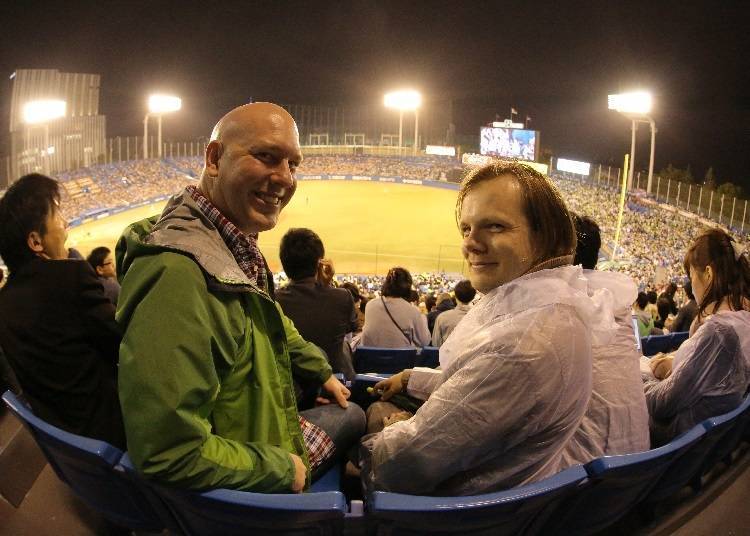 It's often said that there are only a few places to enjoy oneself during nighttime in Japan, but there are those who'd want to make the most out of each day during their stay. Given that major tourist sights close in the early evening hours, night games provide a perfect chance to see a completely different side of locals. After shopping and sightseeing during the day, join in the fun and excitement of a night baseball game!
How to Watch a Japanese Baseball Game: Fans Come Together and Support the Game as One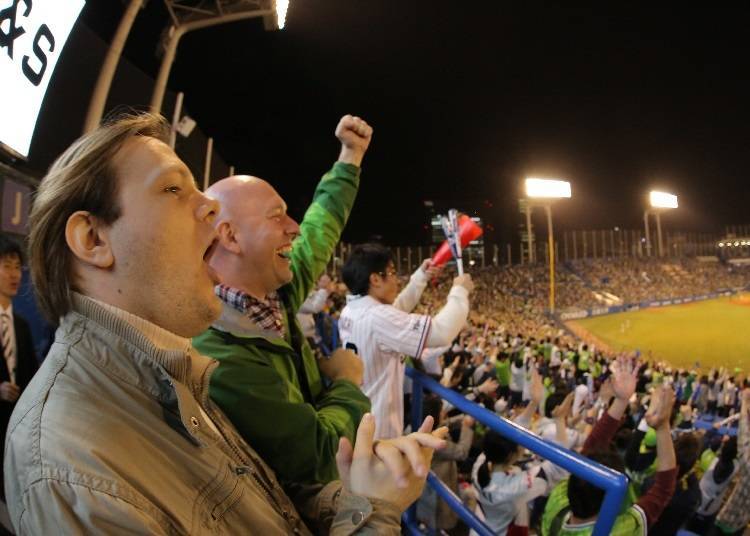 While the powerful plays of pro baseball players make for exciting highlights in any game, Japanese baseball itself is characterized by fans coming together in unison to support the game itself. As opposed to how many games happen in other countries, one can see how "polite" Japanese culture manifests itself in and around the field. As one example: instead of individual fans cheering for their team during the game, people tend to take turns to cheer on their team when up to bat—while letting fans of the opposing team take their turn afterward. There are even original cheers and fight songs that are chanted for each player, providing constant immersive entertainment. Going to watch even numerous times is never boring. You may think that you won't have fun because you don't speak Japanese aren't necessarily a backer of any of the teams on field, but don't worry. You may feel a little shy at first to join in, but if you just move and cheer like those around you, it's actually quite a lot of fun!
To give you an idea of what the experience is really like, we spoke to two expats who live in Tokyo. They don't usually go out to watch baseball games, but they both eagerly said that the unique Japanese way of cheering is "very lively and exciting!" The game can be enjoyed not just by passively watching, but by actually joining in the fun through cheering. This real-time, hands-on experience is one of the reasons why watching pro baseball is so beloved in Japan. (But of course, merely watching the game is also a lot of fun!)
Baseball Games: Imbued with the Excitement of a Festival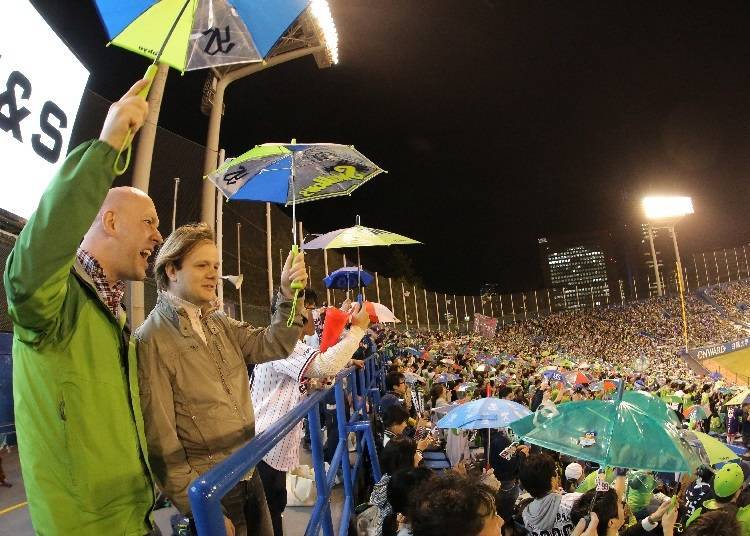 With loud voices cheering in turns, the atmosphere inside the stadium feels festival-like. Tokyo Yakult Swallows' unique cheer called "Tokyo Ondo" is not to be missed: seeing (and joining) everyone dancing while holding umbrellas is a spectacle in itself. Even though it was their first time, the two expats we interviewed danced to the beat, exclaiming, "Unlike American baseball, the cheers in Japanese baseball change to match how the game's mood unfolds, which is a lot of fun!" We hope you'd also experience this energy and vitality at the stadium – you'll love it!
Umbrellas and cheer megaphones are sold at the stadium, so you can come to the game empty-handed. And if you like cute characters (we're sure you'll become a fan when in Japan!), look out for "Tsubakurou," the team's mascot. His comical moves energize fans all the more.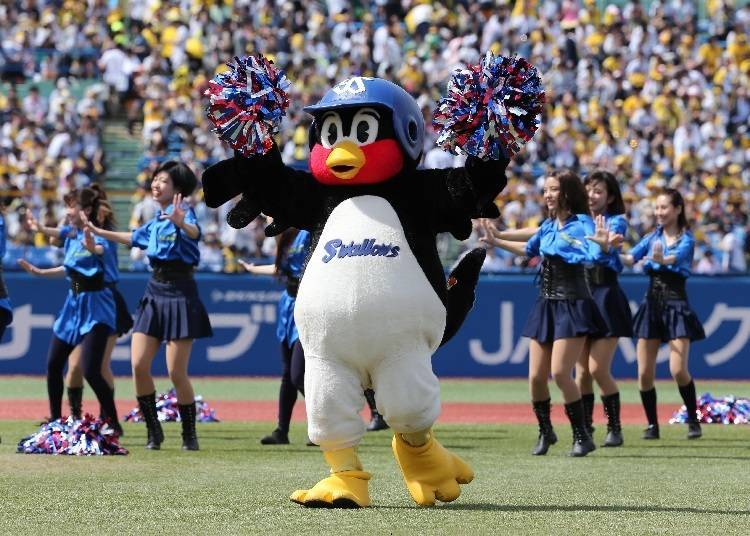 Savor Beer Poured by a Saleslady!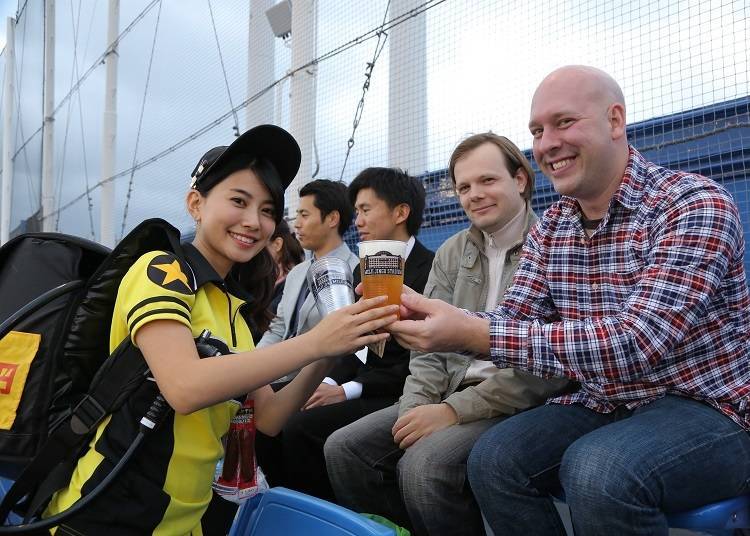 When it comes to watching a ball game, the drink of choice is surely beer! When you're thirsty from all the excitement and heat of the game, beer goes down even more easily with its refreshing taste. And under a breezy evening sky at Jingu Stadium, it's such a relaxing beverage. At Japanese pro baseball stadiums, salesladies walk around hawking beer, so you can buy a cup in the stands while watching the game. Beer poured this way tastes even more delicious!
Baseball + Japanese Food = Awesome!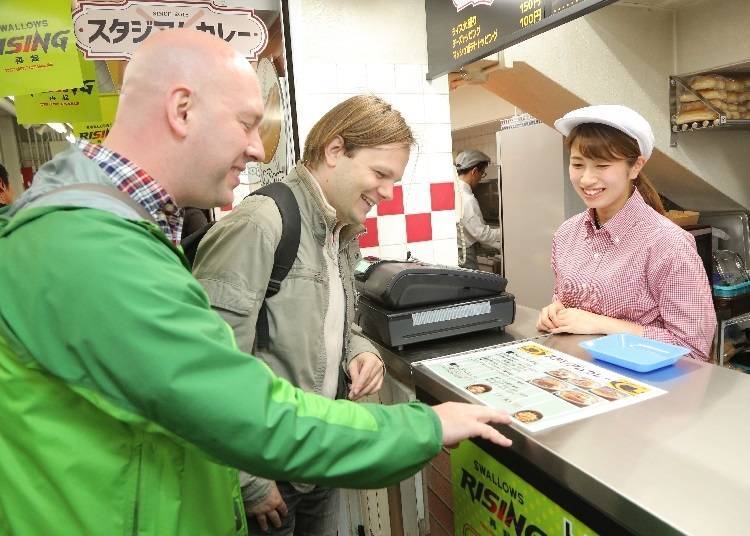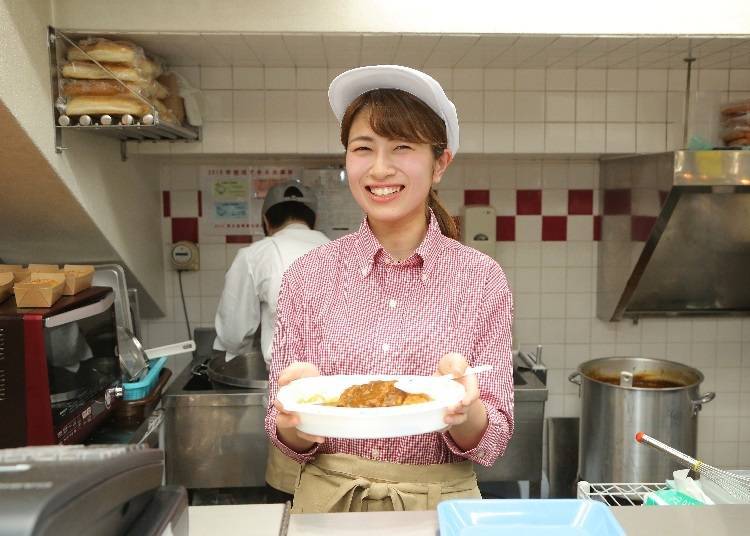 Popular Japanese fast food items such as ramen, curry, yakisoba noodles, and takoyaki octopus balls are sold inside the stadium. Our two foreign residents noted that "The food menu at Japanese stadiums is extensive—and they even sell alcohol. And everything all tastes great!" It seems that fast food originating from Japan also suits the tastes of foreign guests. The foods also pair well with beer, so please do give them a try!
Delicious Delights During the Game—Don't Miss the Food Festivals!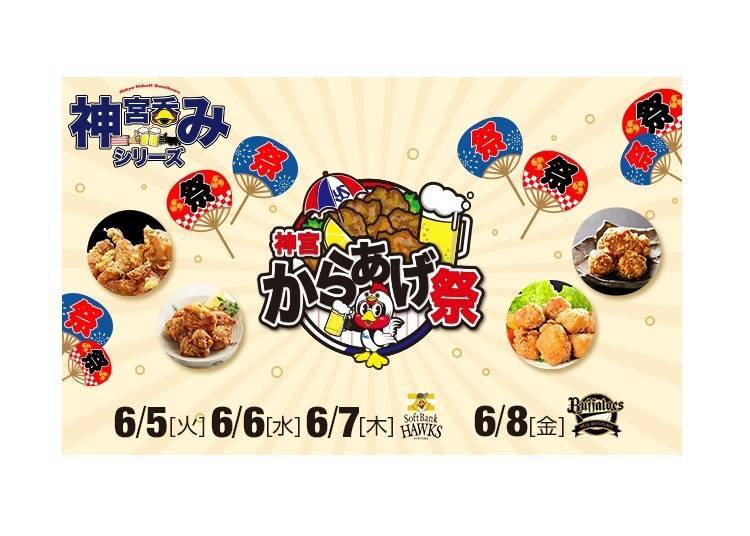 A variety of events are also held at Jingu Stadium to go along with games, so be sure to check them out. From June 5 to June 8, twelve kinds of fried chicken from all over Japan will be featured at the "Jingu Fried Chicken Festival." Try them and pick your favorite!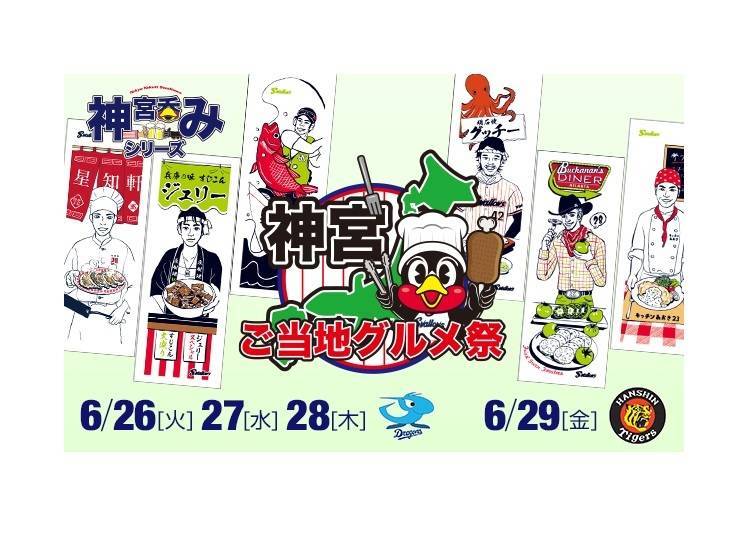 From June 26 to June 29, the "Jingu Local Gourmet Food Festival" will be held, where you can enjoy dishes from players' hometowns. Being able to try various specialties from all over Japan while in Tokyo is a treat indeed. During this event, beer that usually retails for 750 yen will only cost you one 500-yen coin! This is an amazing chance to sample regional gourmet delights so please do come and visit!
Another Can't-Miss: Fireworks Lighting Up the Summer Sky!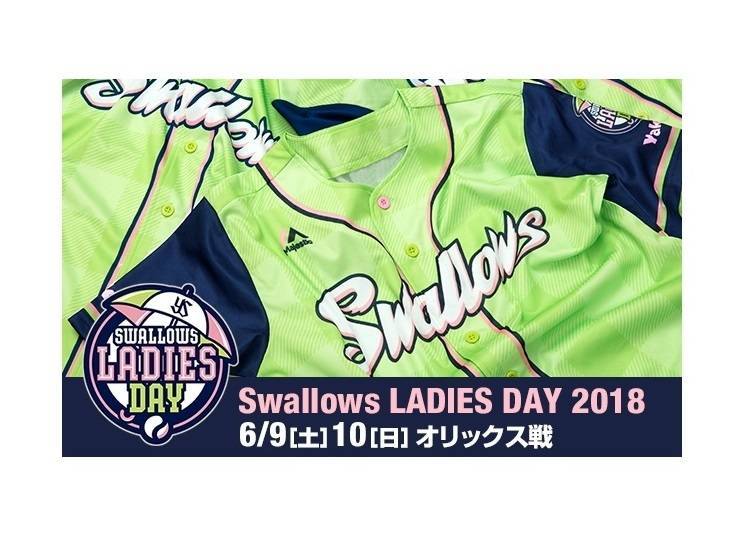 The stadium is jam-packed with events even after June. "Swallows Ladies Day" is an especially fun event for the ladies wherein they can receive team uniforms, which would make great souvenirs from Japan!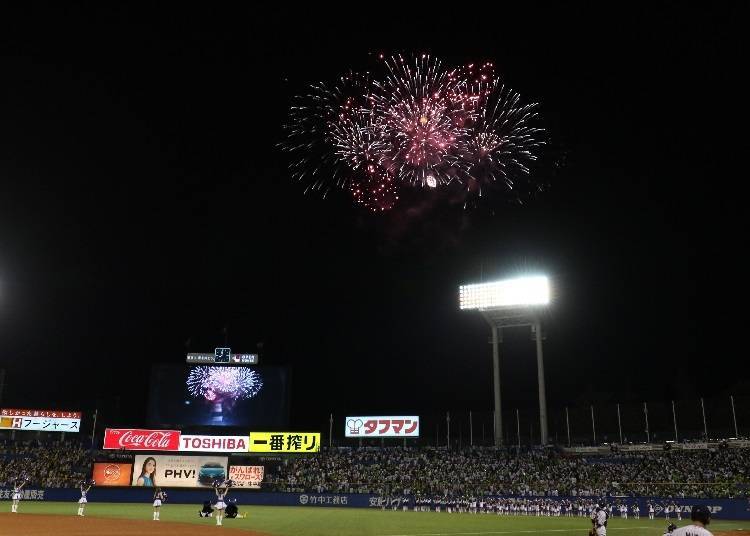 From July 20 to September 2, fireworks will be displayed during games! More than anything else, fireworks evoke summer in Japan. They render an awesome power that almost makes the body tremble and moves the heart when seen up close. Watching baseball games at Jingu Stadium is beloved by so many because it's a lot of fun no matter when they come, or how often they visit.
Buying Advance Tickets Online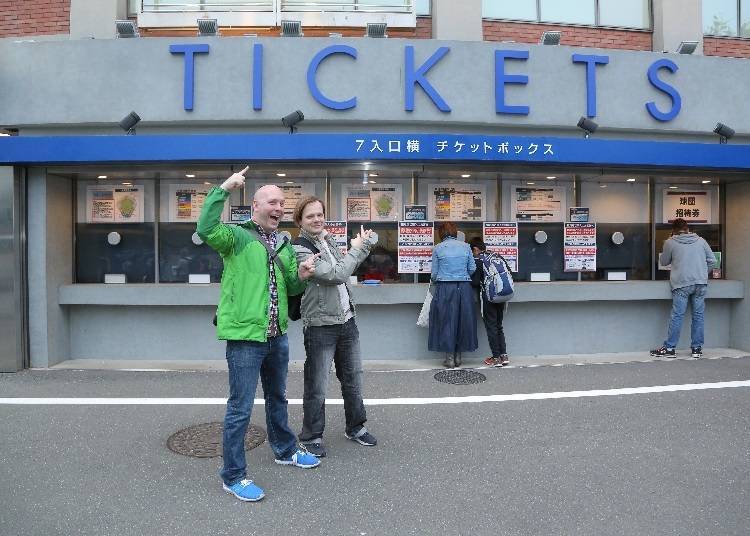 Aside from getting them at the stadium itself, game tickets may also be purchased online. The website conveniently has an English-language version, so you can easily buy tickets ahead of (or during) your visit to Tokyo. Buying advance tickets is highly recommended, so entry into the stadium is easier.
So, what do you think of the magic and appeal of watching Japanese professional baseball? Games with a powerful impact, passionate cheering, delicious food and drink, various events... Experiencing a Japanese baseball game packed with fun and excitement is one of the best forms of entertainment! It will surely form an unforgettable memory of your trip to Japan, so be sure to add a game at Jingu Stadium to your Tokyo bucket list!

*This information is from the time of this article's publication.
*Prices and options mentioned are subject to change.
*Unless stated otherwise, all prices include tax.