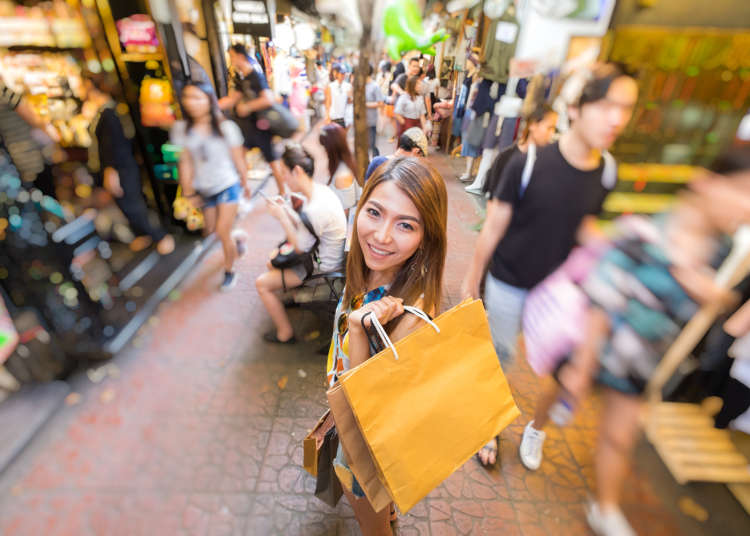 A lot of people use their trip to Japan to get their hands on Japanese electronic products, known for their cutting-edge technology and high quality. BicCamera, one of the country's largest and most popular electronic retailers, is a prime place to shop and there's pretty much no one who doesn't end up stopping by!

BicCamera may be a mass electronics retailer, but the large shops actually sell pretty much anything you'd ever want; from household appliances to cosmetics, health goods, snacks, and more! The best part is that BicCamera offers a tax-free service for international tourists on top of various discounts and campaigns. We'll show you some of the shop's highlights to help you make the most out of your shopping spree!
Bic Super Express: Have Everything Delivered to Your Hotel!
BicCamera offers a wonderfully convenient delivery service that lets you send your purchases to certain specified areas for 1,000 yen. You even get to choose a time when your delivery arrives, with a minimum delivery time of only 30 minutes! Send whatever you just got to your hotel so that you can enjoy the rest of the day without having to carry bags around, If you make a purchase for more than 15,000 yen, the delivery service is free!

The Ikebukuro location of BicCamera, for example, delivers to the following wards: Toshima, Itabashi, Nerima, Kita, and Bunkyo. Within these areas, any address is A-Okay!
Here are the times that can be chosen for your delivery:

a. 12:00 p.m. – 2:00 p.m.
b. 2:00 p.m. – 4:00 p.m.
c. 4:00 p.m. – 6:00 p.m.
d. 6:00 p.m. – 8:00 p.m.
e. 8:00 p.m. – 10:00 p.m.
f. Every other day: 9:00 a.m. – 12:00 p.m.
※A delivery request must be made one hour prior to the desired delivery time.
Delivery Service Even to the Airport!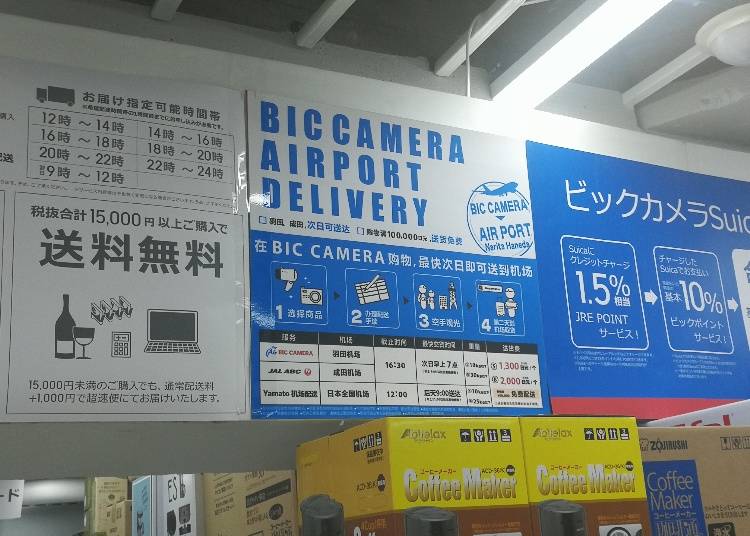 Next to deliveries to certain areas, BicCamera also offers to send your purchase directly to the airport. If you're departing from Haneda, Narita, Kansai International or Chubu International Airport, you can use this service if you set up your delivery bey 4:30 p.m. on the day before your flight. The next day, your delivery will be ready to be picked up from 7:00 a.m.! (However, that also means the service can only be used for flights departing after 9:00 a.m.)

For domestic airports, you'll have to do the delivery procedure two days in advance and it can be picked up at 9:00 a.m. on the day of your flight. (That means the service can only be used for flights departing after 11:00 a.m.) Make sure to pick it up two hours before your departure time.

This convenient service saves you the hassle of packaging our purchases for the journey and – depending on how much you buy – probably a lot of luggage to be hauled around from the hotel to the airport.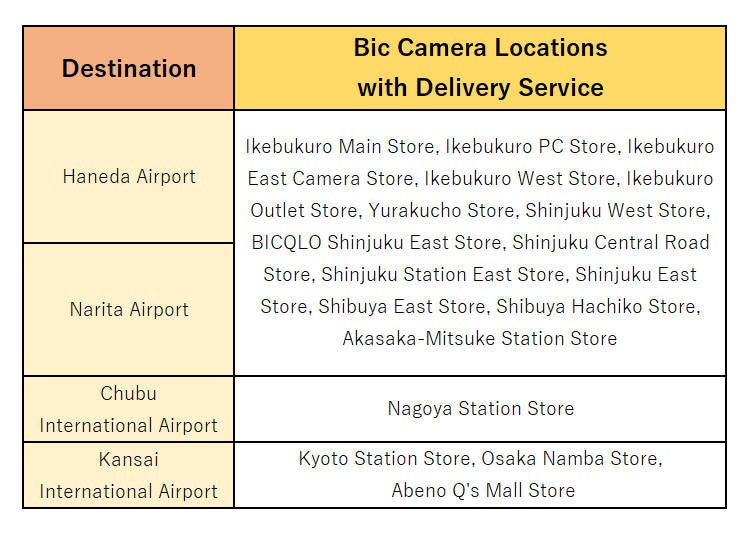 Price:
Small size (up to 10kg): 1,300 yen per piece
Large size (up to 30kg): 2,000 yen per piece

Conditions:
・The size (the sum of length, width, and height) must be within 160cm, and weigh 30kg or less (or 25kg for airport deliveries), and the value must be within 300,000 yen.
・Can only be used for products purchased at the store.
・Cannot be used for products that are not in stock at the store.
・No cash on delivery.
・Certain goods may be excluded.
・Pick up the delivery before the boarding procedure, at least two hours before departure time.
・Please show your purchase receipt as you pick up the delivery.
・Please contact the service counter for changes regarding delivery date and time.
・Deliveries can only be made on the day of your flight.
・Deliveries cannot be made before or after the day of your flight.
Use BicCamera's Free Wi-Fi!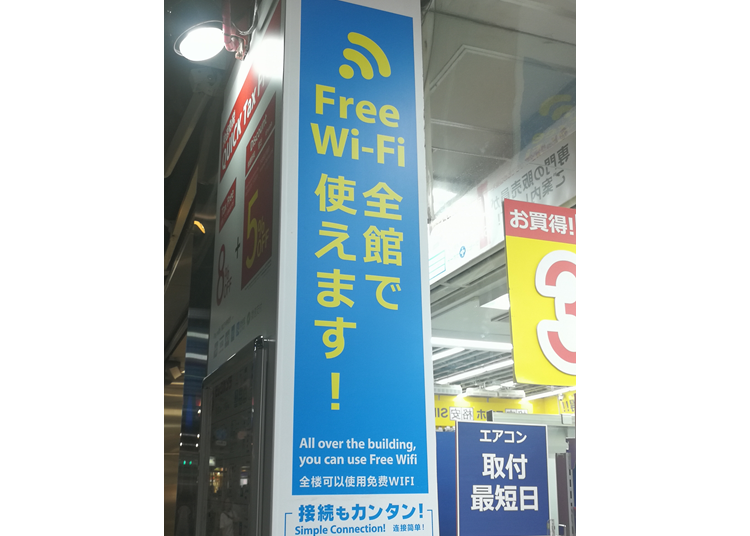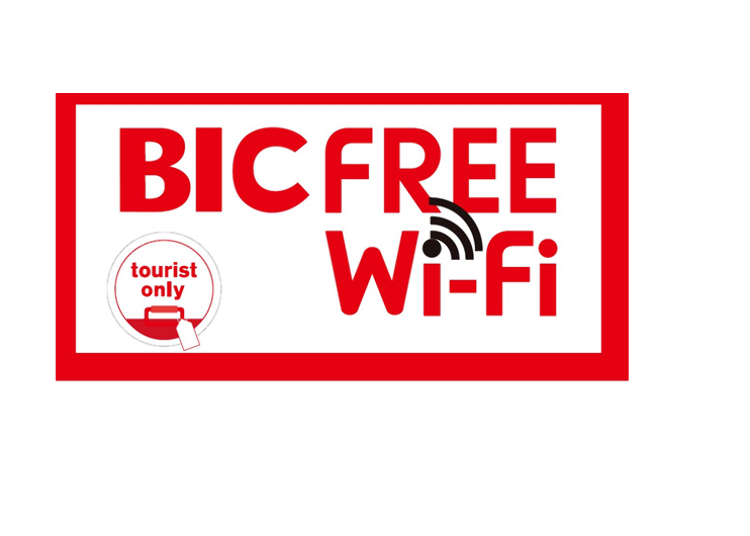 In today's day and age, traveling without a working internet connection can be tough. Even a rental Wi-Fi geared towards tourists often comes with a data limit. If you see a BicCamera sign, you can rely on free Wi-Fi, ready to be used! That comes in handy for confirming train and bus schedules, taking a quick break to look up a nice restaurant, or even checking what interesting spots are in the area.
Reserve a Product from Your Home Country and Pick it up in Japan!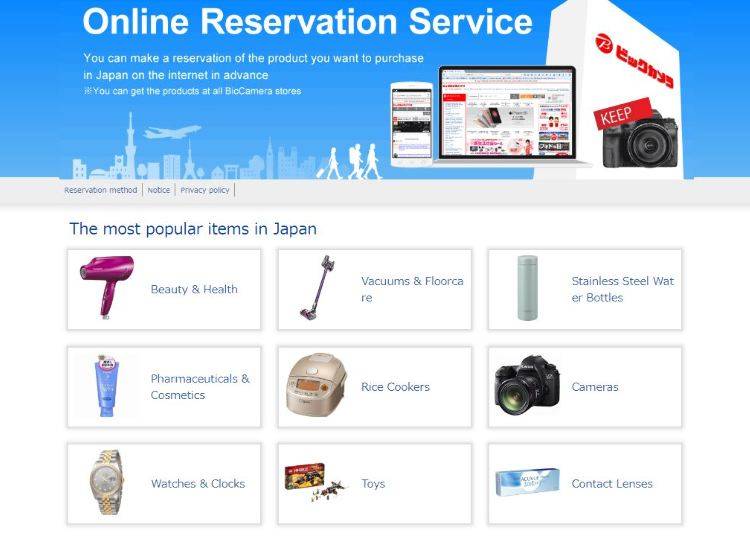 Since 2016, BicCamera also offers a service exclusive to international tourists: you can make a reservation for a product from your home country via the internet and pick it up at designated stores once you're in Japan. That doesn't only save you valuable time of navigating the aisles of a store but also lets you choose the precise item that you want without any hassle or the need to speak Japanese. The official website is currently available in English and Chinese (simplified and traditional), so don't hesitate to take a look. Here is how it works:

1. Search for the item you want and a store that has it in stock.
2. Enter your passport number, your name as it is written on your passport, your email address, and your desired pickup date.
3. The reservation confirmation is sent via mail automatically, you will have to confirm it via a provided link within an hour.
4. Once you've confirmed everything, a final email is sent to you and you will be able to pick up your item at the selected store.
Various Convenient Services for International Tourists!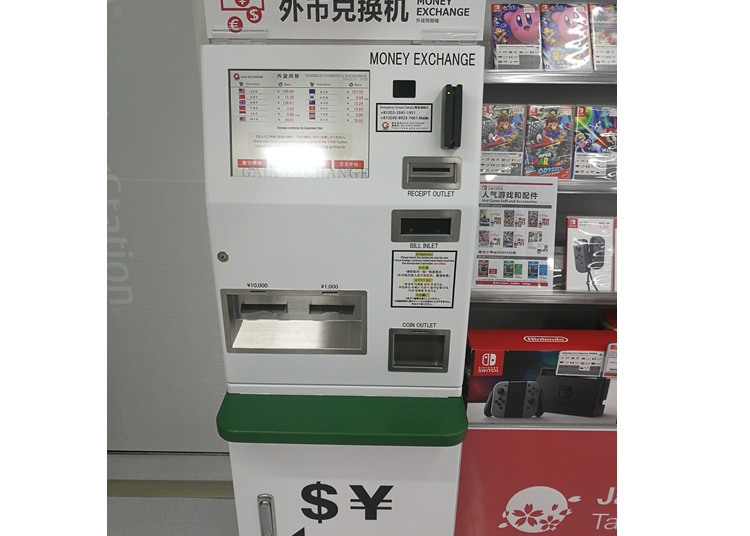 As you're traveling and enjoying a fun shopping spree, you might suddenly find yourself all out of Japanese yen. The BicCamera locations in Shinjuku East Exit and Yurakucho offer exchange counters and machines for quick and convenient currency exchange. The rates are displayed in different languages to be checked at a single glance. While this service is only available at two stores but will likely be expanded to many more.

Additionally, BicCamera also sells the highly sought-after Tokyo Subway Ticket, an indispensable deal for everyone sightseeing in and around Tokyo! Don't forget to show your passport when you want to get your hands on it. Here are the BicCamera shops that sell it:

BicCamera Yurakucho
Bicqlo BicCamera Shinjuku East Exit
BicCamera Akasaka-Mitsuke Station
BicCamera Ikebukuro Main Store
BicCamera Ikebukuro West Exit
BicCamera Shibuya East Exit
BicCamera Shibuya Hachiko Exit
BicCamera Shinjuku West Exit
Bic Drug Shidax Shinjuku Central Road
Ikebukuro East Exit Camera Bldg.
Sofmap Amusement Bldg.
Akihabara☆Sofmap 1
Sofmap Reuse General Store
Sofmap MacCollection
Sofmap Used Computers Ekimae
BicCamera Akiba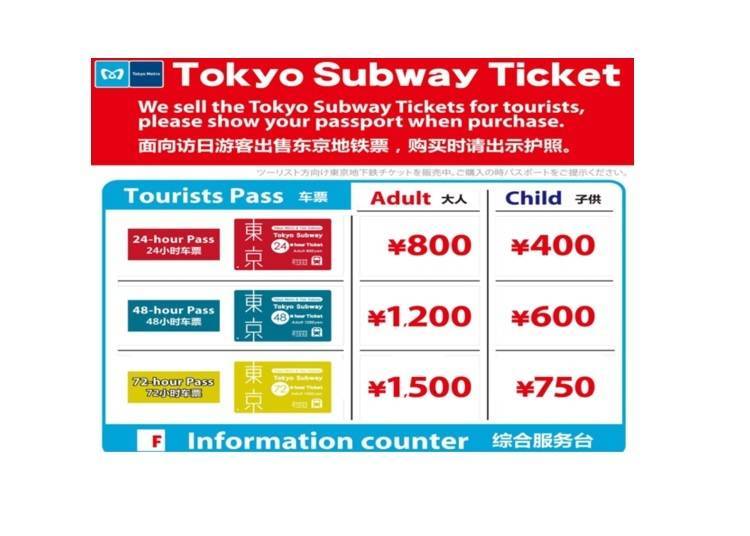 Get a Coupon Valid Until December 31, 2021
Got excited about BicCamera yet? On top of all these nice services sure to make your shopping experience so much more convenient, we have a special little present for you! Here's a discount coupon valid until December 31, 2021! Simply take a screenshot of it and show it to the staff to net a sweet extra deal! Now, all that's left to say is happy shopping and a wonderful time in Japan!
*This information is from the time of this article's publication.
*Prices and options mentioned are subject to change.
*Unless stated otherwise, all prices include tax.