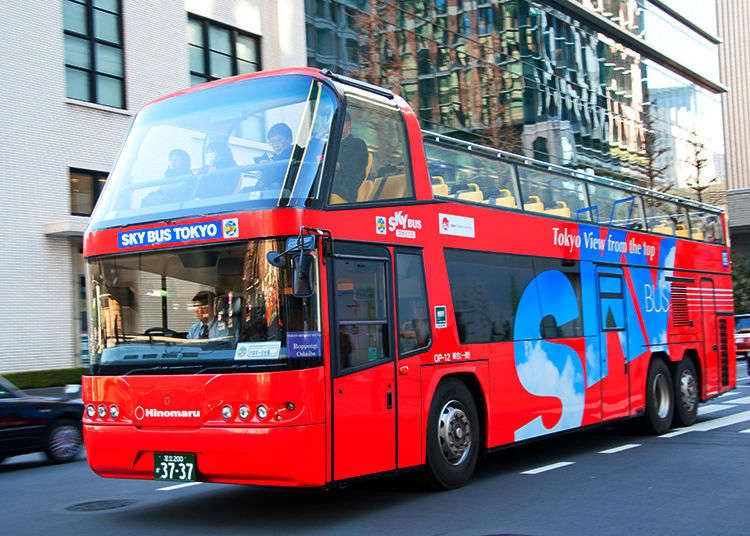 Tokyo is huge and if you explored the city entirely on foot, you'd likely ruin your feet in the process. A much more comfortable and unique way to sightsee your way through all major landmarks is to hop on a sightseeing bus! Especially fun is the two-story Sky Bus offers routes along Tokyo's prime sights while providing an audio guide in English, Chinese, and Korean. From the open deck on the second floor, you'll have an excellent view of the surroundings!

Today, we'll take a closer look at Sky Bus' "Tokyo Tower & Rainbow Bridge Course," taking you through Tsukiji and over said Rainbow Bridge. There are many sights on the route, so let's check them out!
Sky Bus offers two courses during the day. Both take about 50 minutes each and run hourly or every two hours. One of the main characteristics of Sky Bus is that you can conveniently hop on and off as you please! There's also one course offered in the evening, although it only departs once per day. Another highlight of the night course is that it includes 60 minutes of free time in Odaiba, a popular shopping and sightseeing spot.

The Tokyo Tower & Rainbow Bridge Course that we hopped on runs every two hours on weekdays and hourly on the weekend and on national holidays.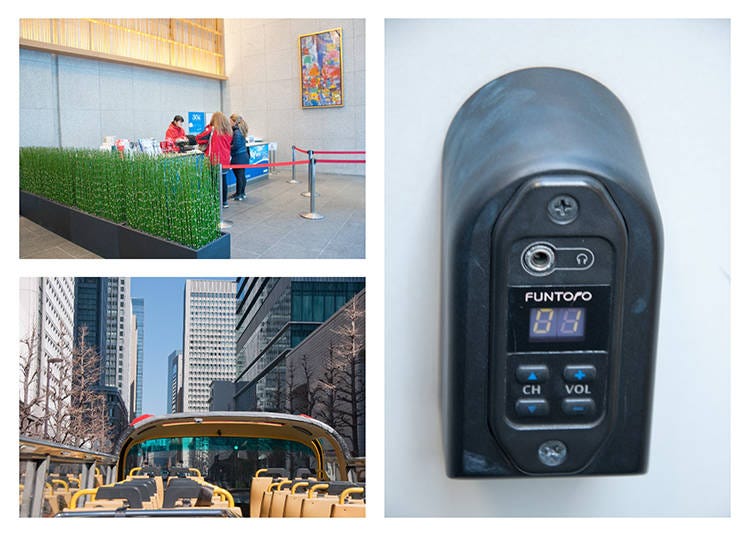 Upper left: the free audio guide rental, available in English, Chinese, and Korean.
Lower left: all seats are allocated. The front seats are below a roof that blocks the wind but also impacts the view. We highly recommend back seats.
Right: the audio guide in front of your seat. Plug your earphones in and enjoy!

If there's enough room on the bus, you can hop on without a prior reservation. Simply head to the Mitsubishi Building about a 3-minute walk away from Tokyo Station to buy a ticket. While Sky Bus doesn't have a toilet, it's still a good idea to buy a drink before getting on the bus. If you do, make sure that whatever drink you buy has a lid because the wind and shaking of the bus might cause you to spill it accidentally. (Drinks without lids are prohibited while on the bus.)
Major Sight #1 - Tokyo Station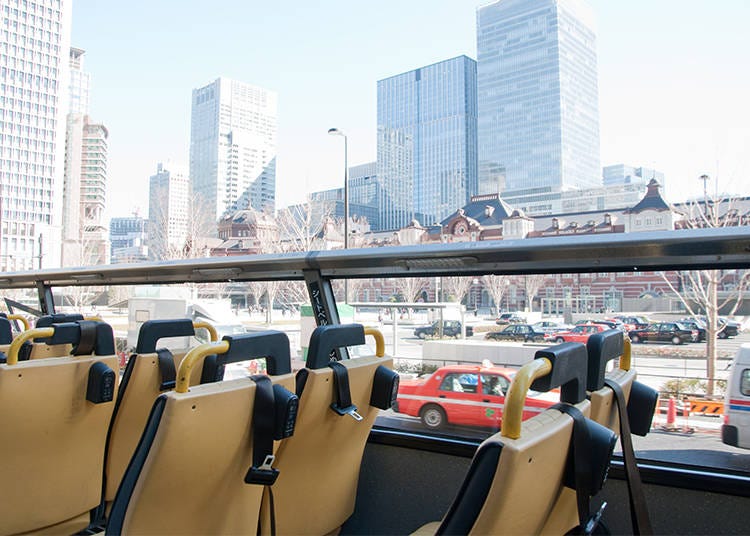 Don't miss Tokyo Station and its beautiful, historic building on the right side. Its magnificence is hard to grasp if you only stand in front of it, but the bus offers a sublime view on this historic masterpiece of architecture. You'll also find that Tokyo Station is bigger than you thought!

The station building was first opened in 1914. Renovation and restoration works started in 2014 and since December 2017, Tokyo Station can be experienced in all of its authentic glory. The architectural style is one of the most prominent examples of the unique mix of Western and Japanese style. The building blends Western brick warehouse with Japanese aesthetics, creating a one-of-a-kind style that is iconic for early 20th-century Japan.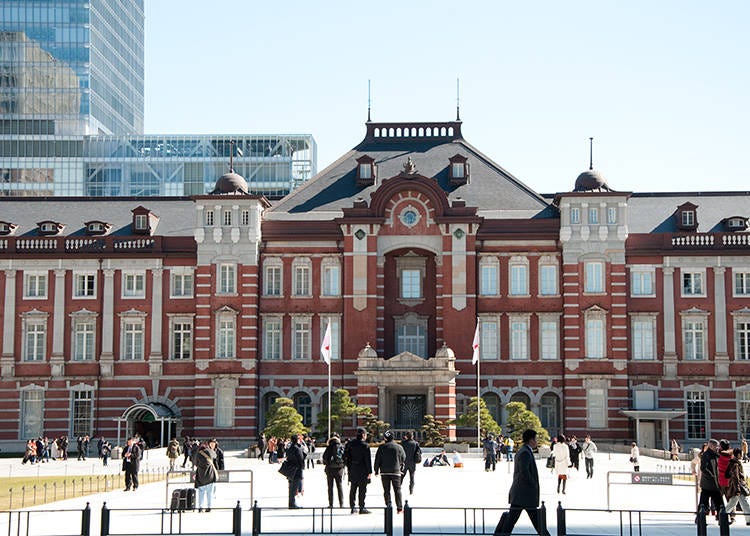 The view on the station building from the ground. Its beautiful left and right sides are hard to see from this perspective. The big door was once reserved for exclusive use by the Japanese Emperor.
Oops, Watch Your Head: Tokyo's Traffic Signs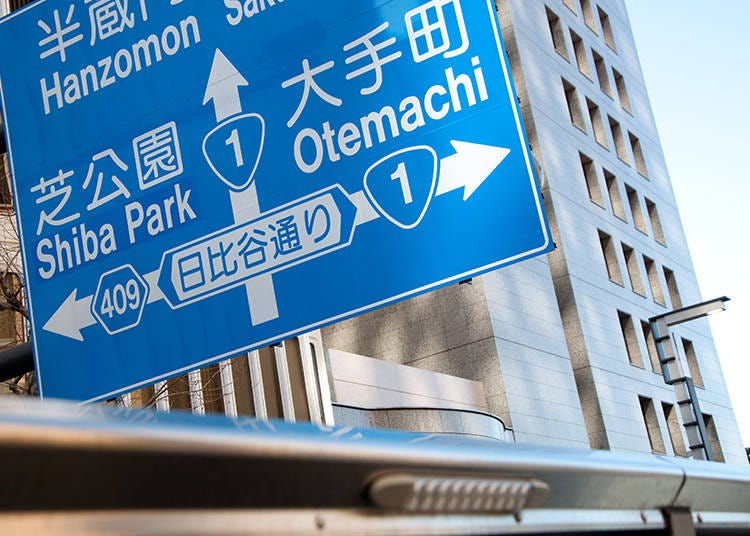 A small but exciting detail about the Sky Bus experience is how close the signs above your head are! Even if you can rest assured that those large signs aren't going to hit you, you might find yourself ducking a bit nonetheless. In Tokyo, the signs feature both characters and alphabet, so it's easy to follow where the bus is going!
Major Sight #2 - Tokyo Tower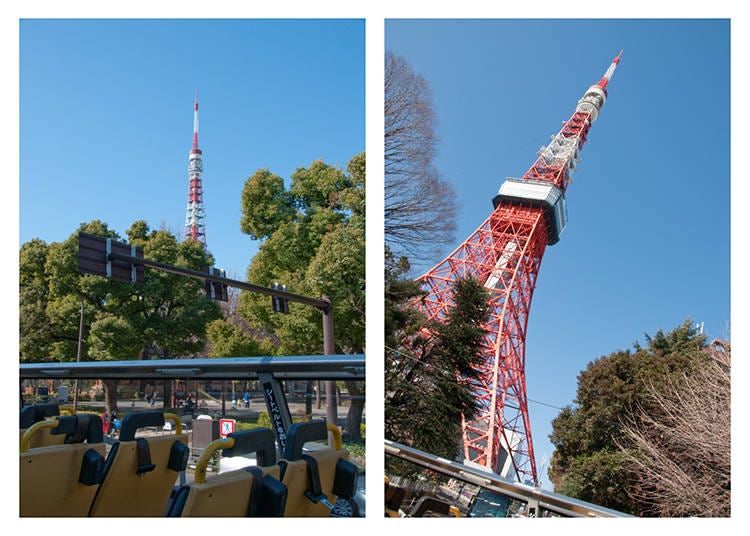 Getting closer and closer! There are many opportunities to snap a great picture!
Tokyo Tower is a must-see spot for everyone coming to the city. In 2018, the iconic tower celebrates its 60th anniversary and for this occasion, the Special Observatory observation deck opens on March 3 after a thorough renewal! It also gets an all-new name: Top Deck. Next to this reopening, a gallery showcasing 60 years of Tokyo Tower is also planned.

Tokyo Tower is one of the city's most beloved landmarks and frequently appears in Japanese movies and songs. A popular example of this is the 1961 movie "Mothra," as well as a Japanese song called "Tokyo Tower in the palm of your hand," roughly translated.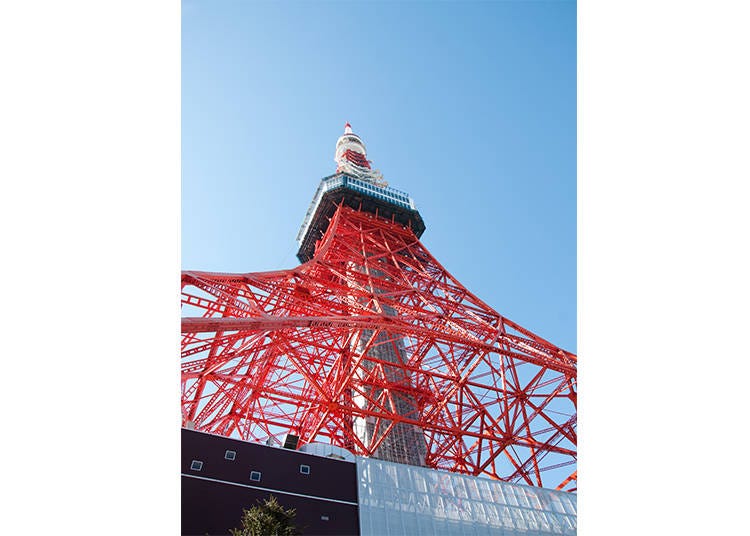 The radio tower is 333 meters high. From the bus, you'll see it on the left side.
Oops, Watch Your Head: Tokyo's Highway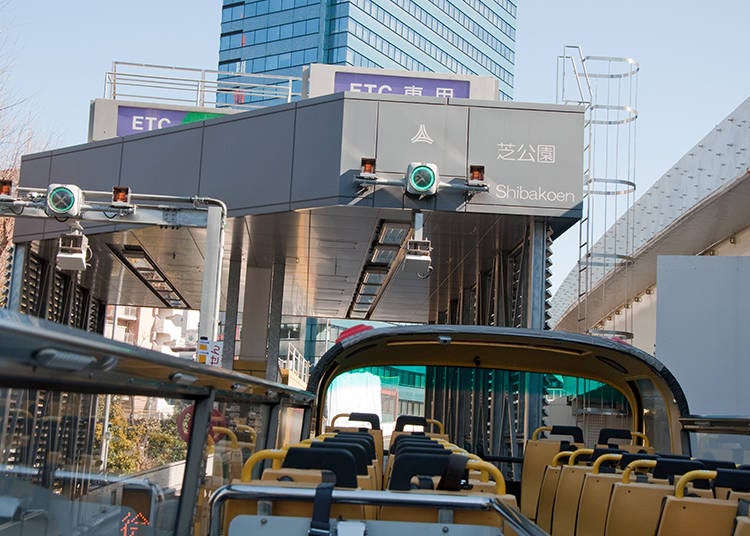 The transfer from a standard road to one of Tokyo's highways is rather exciting! You cannot help but admire the skill of the driver who maneuvers the large bus through impossibly narrow passages.

As soon as the bus enters the highway, it naturally picks up speed and it's almost a bit of an adrenaline rush as you sit on the open deck. The wind gets stronger as well, so make sure to wear warm clothes during winter and enjoy the breeze during summer!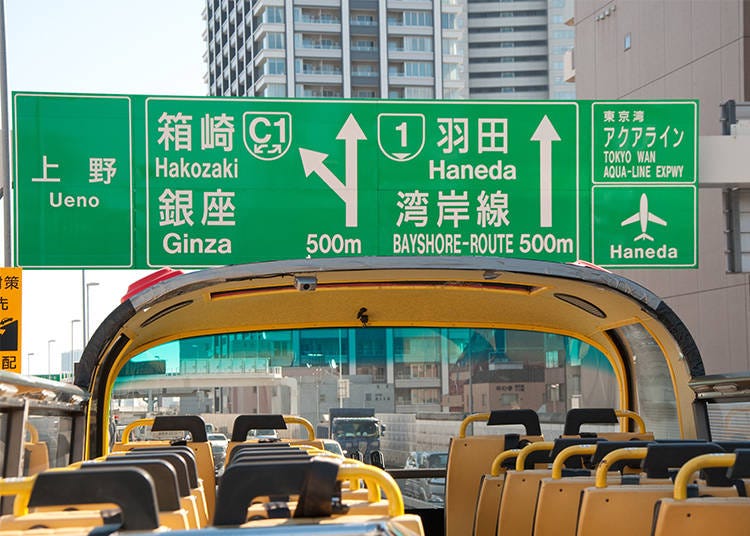 Signs on the expressway are green instead of the usual blue. As it's a main highway of Tokyo, there are particularly many signs.
The highway ride offers interesting views on both the right and the left side.

On clear days, you might be able to spot Mount Fuji on the right side, while Tokyo Skytree is on the left! Even as you pass over the Rainbow Bridge, Odaiba sprawls before you on the right side, while the left side boasts the scenery of Toyosu, where the new fish market will be. But let's take a closer look at the iconic Rainbow Bridge!
Major Sight #3 - Rainbow Bridge
Rainbow Bridge is an impressive sight, even from the distance. Here, we are approaching it gradually.
Rainbow Bridge is first visible on the left side. It was completed in 1993 and is made up of two layers, basically. The bottom layer is the general road and even has a pedestrian sidewalk, while the top layer is the expressway.

Seeing the open sky above you as you cross this iconic bridge is an incredibly rare experience to make. On sunny days, the scenery of the while steel frame and the deep blue sky is particularly modern and beautiful.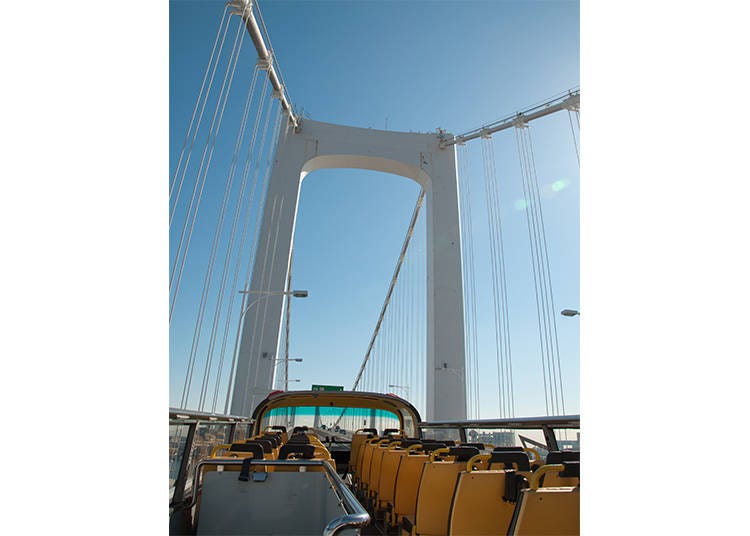 Rainbow Bridge is shaped like an arch. After the buss crossed the bridge halfway, it'll be on the highest point of the uphill slope, which is the perfect spot to take pictures.
As the bus turns left to cross the bridge, you'll have an excellent view on Tokyo Skytree on the left. The best shot can be taken when the tower is unobstructed by high-rise buildings, so look to the left and wait for the perfect moment!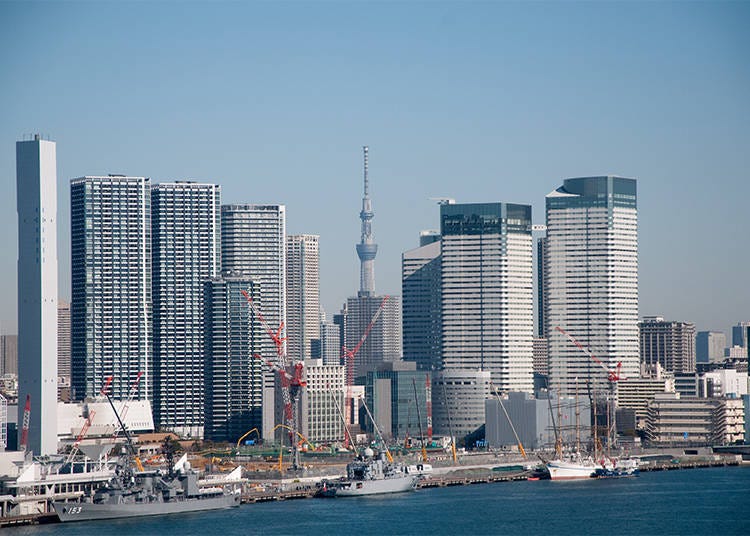 Tokyo Skytree, seen towering between tall buildings, boasts a much sleeker shape than Tokyo Tower. The light-up at night is also exceptionally beautiful.
Because the bus crosses Rainbow Bridge via expressway, it continues on toward Odaiba without stopping. The man-made island can be seen on the right after the first half of the bridge. Famous shopping spots such as Venus Fort and Tokyo Decks can be found on Odaiba, as well as the newly opened Gundam Base Tokyo in Tokyo DiverCity.

Sky Bus' Daiba Nightscape Course lets you enjoy the sparkling lights of Tokyo as you're taken to Odaiba, where you can stroll and shop for 60 minutes to your heart's content.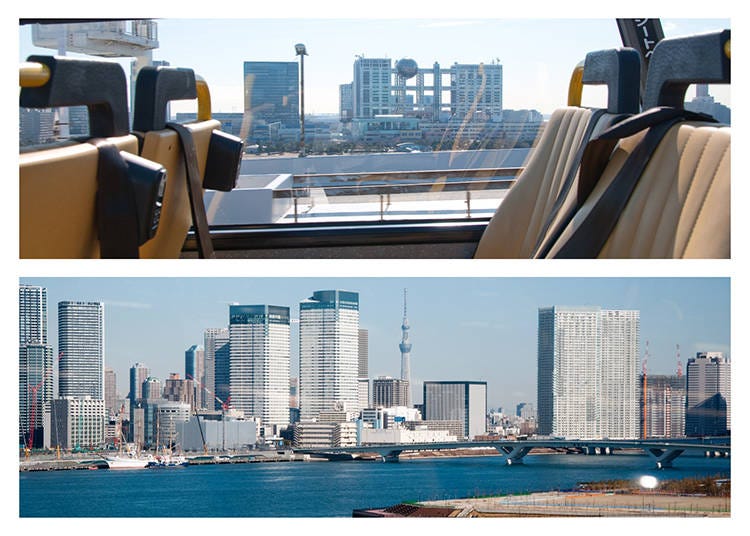 One of Odaiba's most characteristic spots if the Fuji TV Building and its giant sphere. That sphere is actually an observation deck, letting you gaze over the island and Tokyo.

You'll be able to see the building just as the bus leaves Rainbow Bridge and it's also the moment when Tokyo Skytree is visible for the longest time.

Leaving Rainbow Bridge behind, the bus switches to a regular road again. A famous scenery here is the combination of Rainbow Bridge and Toyosu Ohashi Bridge, spanning over Sumida River – the contrast between the two is quite interesting. On sunny days, you might even be able to see Mount Fuji in the distance.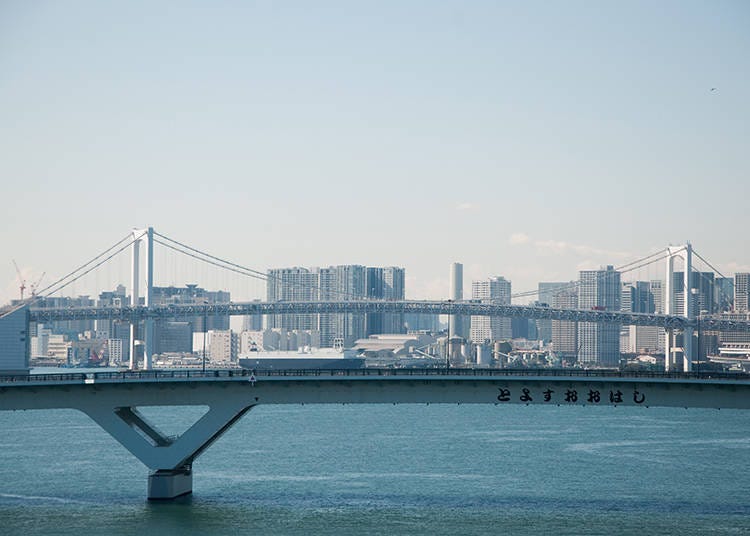 During the Olympic Games in 2020, the Toyosu Ohashi Bridge will play the important role of connecting the athlete's village with the different venues.
Major Sight #4 - Toyosu New Market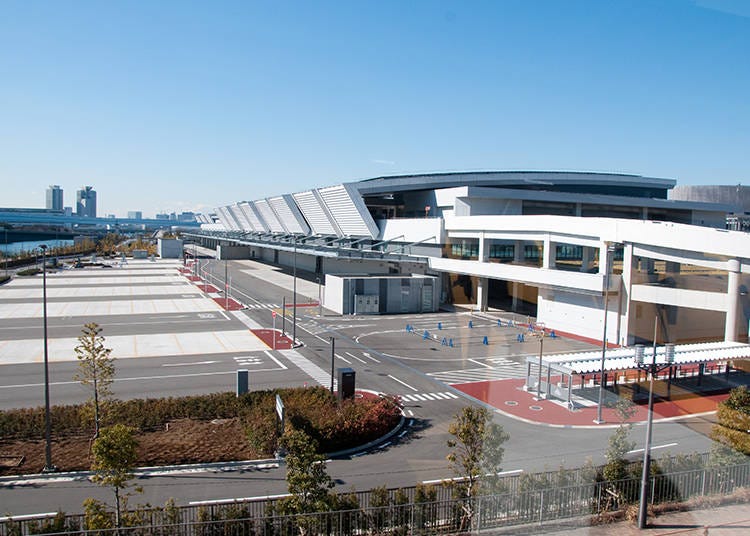 Tokyo's famous tuna market will be relocated to Toyosu in October 2018.
Tsukiji Market is another incredibly famous sightseeing spot and it is going to be relocated to Toyosu (as of February 2, 2018, the interior etc. is being installed). Now might be the only time to savor the large, modern space devoid of the daily hustle and bustle.
Mini Sightseeing Extra 1 - Car Roofs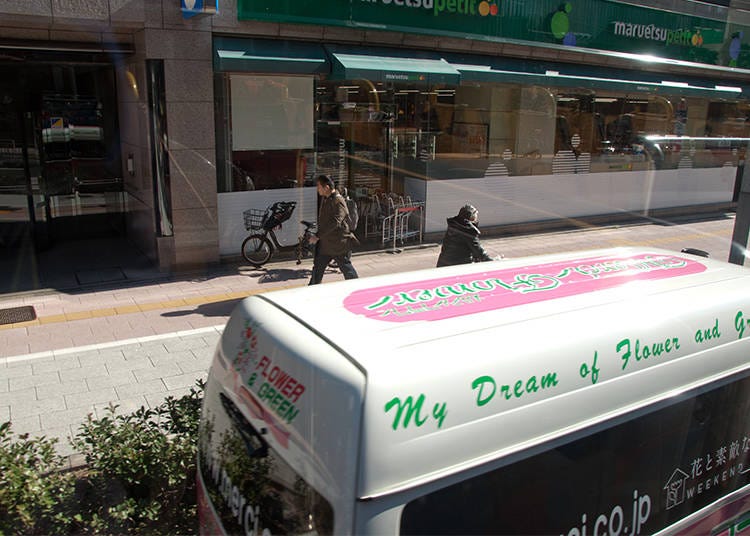 You might have never noticed it before, but the roofs of vans tend to be decorated!
Your elevated position on Sky Bus' deck allows you to gaze down on all sorts of cars, including many vans and delivery cars. You'll notice that commercial vehicles often have decorated roofs, while police or security cars prominently feature numbers. This is to easily spot them from above!
Major Sight #5 - Tsukiji Market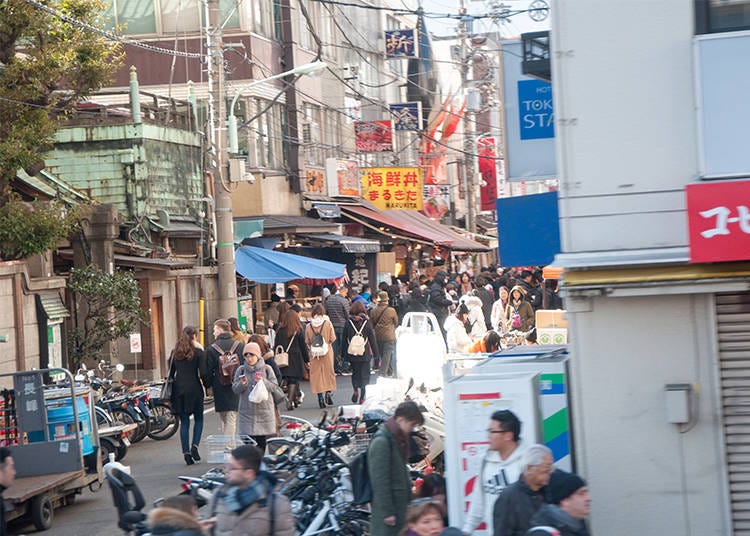 The Tsukiji Market is a busy place, even on a weekday. Once the relocation of the market is complete, you'll also be able to see this lively buzz from above as the Sky Bus passes Toyosu.

Tsukiji Market is often called "Japan's kitchen," as the place offers everything a gourmet's heart desires – fresh seafood, fresh fish, fresh produce, but also dried goods, pickles, and more. Walking around the area and trying the numerous snacks is a major highlight! We especially recommend fried fish and Japanese-style omelet. Try some soft serve for dessert!
Mini Sightseeing Extra 2 - Offices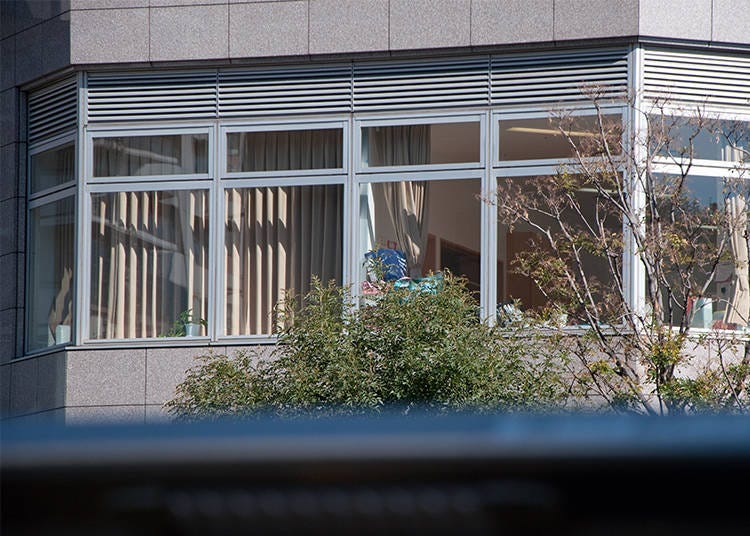 The second floor of an office building, The blinds are only partially closed, so you'll get to peek inside.
For a taste of daily life in Tokyo, keep an eye open for office buildings. In many cases, the blinds on the second floor are open and you'll manage to catch a brief glimpse inside an office or a hospital. These are views that can't be experienced from below!
Major Sight #6 – Kabuki-za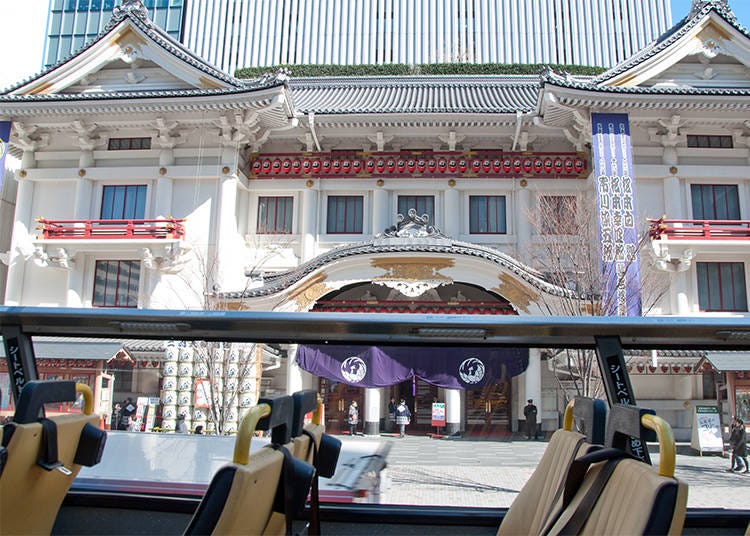 The Kabuki-za celebrated its 125th birthday in 2013 and was entirely renovated. From the Sky Bus, you can see this historic building without cars or anything else blocking your view.

The theater is a designated important intangible cultural property of Japan, representing Kabuki theatre, an ancient performance art that is also registered as an Intangible Cultural Heritage of Humanity by UNESCO. Next to performances, you can also explore the gallery for a fee and visit dedicated souvenir shops in the entrance hall. We recommend stopping by to look for a unique and traditional souvenir, only available at this historic theater.
Left: Wako and its famous clock tower at the Ginza 4-chome Intersection. You'll see it on the right side.
Right: Tokyu Plaza, one of Ginza's newest landmarks. It was designed in the image of Edo Kiriko, a traditional glass craft of the Edo period. Can be seen on the left.

After passing the Kabuki-za theater, Sky Bus continues to Ginza, Tokyo's premier shopping area. You'll get to see two of the area's most representative department stores!
Wako is the first one. It specializes on jewelry and handbags from Japan and abroad. The second one is Tokyu Plaza, a relatively new building that boasts a wonderful selection of traditional Japanese arts and crafts, skillfully adapted to modern aesthetics.

Both are a 15-minute walk away from Tokyo Station, the terminal station of Sky Bus, so you'll have plenty of time to hunt for a unique souvenir after the tour!
Oops, Watch Your Head: Under the Train Tracks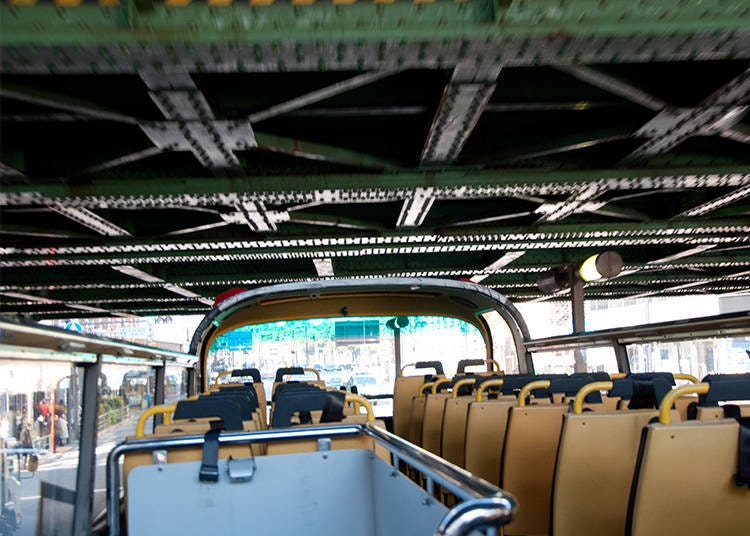 This might be the most nerve-wrecking part of the tour. You'd be able to touch the elevated train tracks if you reached out!
After leaving the glitzy Ginza area, you're in for another brief moment of excitement as Sky Bus passes under the elevated train tracks near Yurakucho Station. The JR Yamanote Line, Keihin Tohoku Line, or even a Shinkansen might run directly above your head!
Major Sight #7 – The Imperial Palace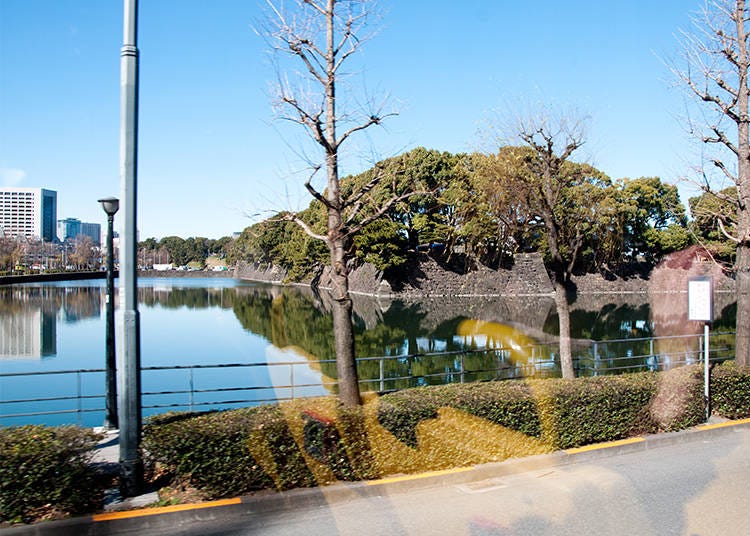 The Imperial Palace is where Japan's Emperor resides to this day. Centuries ago, the majestic Edo Castle stood at the very same spot, but today, only the moat and stone walls remain.

In this Sky Bus course, you'll pass the Imperial Palace twice – once it'll be on the left side, once on the right, so there's no need to worry that you might miss it!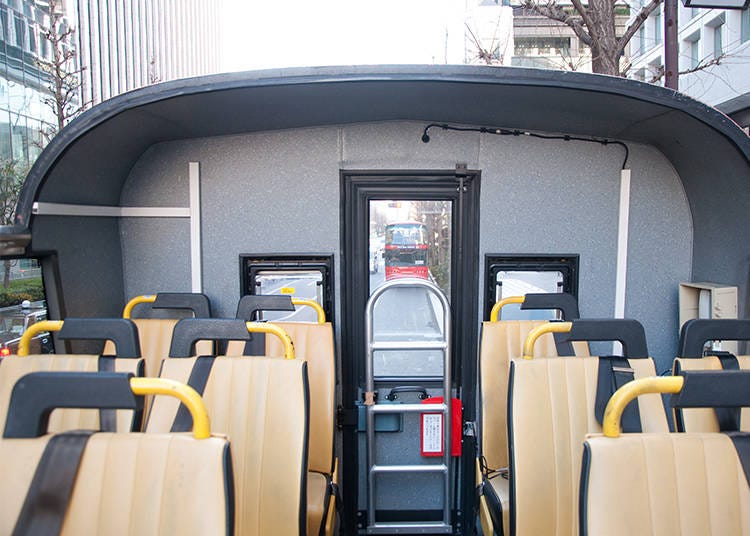 The last stop of the Sky Bus is the Mitsubishi Building, next to Tokyo Station. Right now, Tokyo is in a time of constant evolution and development in regards to the Olympic Games 2020, so every time you ride the bus, there'll be something new to discover! As the Sky Bus runs 4 to 8 times a day, hop on and off as you see fit!
Three Sky Bus Courses: Everything You Need to Know
This time, we showed you the course that takes you over Rainbow Bridge, but Tokyo Sky Bus offers two other courses. Let's have a look:

1) Imperial Palace – Ginza – Marunouchi Course
This course focuses on some of Tokyo's most famous historic buildings, letting you experience the unique charm of times past.

Route:
In front of Mitsubishi Building → Imperial Palace → The National Art Center, Tokyo → the British Embassy → the National Theater → the Supreme Court Building → The Parliament House → Kasumigaseki → Ginza → Mitsubishi Building

Price: 1,600 yen for adults, 700 yen for children
Duration: 50 minutes
Schedule: 10:00 a.m., 12:00 p.m., 2:00 p.m., 4:00 p.m.

2) Tokyo Tower & Rainbow Bridge Course
This exciting course shows you Tokyo from its liveliest side while featuring highlights such as crossing the Rainbow Bridge.

Route:
In front of Mitsubishi Building → Imperial Palace → Tokyo Tower → Rainbow Bridge → Toyosu → Tsukiji → Ginza → Hibiya → Marunouchi → Mitsubishi Building

Price: 1,800 yen for adults, 800 yen for children
Duration: 50 minutes
Schedule:
Weekdays: 10:30 a.m., 12:30 p.m., 2:30 p.m., 4:30 p.m.
Saturdays, Sundays, public holidays: 10:30 a.m., 11:30 a.m., 12:30 p.m., 1:30 p.m., 2:30 p.m., 3:30 p.m., 4:30 p.m., 5:30 p.m.

3) Odaiba Night View Course
This course shows you the shining lights of Tokyo at night and includes 60 minutes of free time on Odaiba.

In front of Mitsubishi Building → Imperial Palace → Tokyo Tower → Rainbow Bridge → Odaiba (60 minutes free time) → Rainbow Bridge → Tsukiji → Ginza → Hibiya → Marunouchi → Marunouchi Building

Price: 2,100 yen for adults, 1,000 yen for children
Duration: 120 minutes (including free time)
Schedule: 6:30 p.m. every day (varies by season)

※Schedule until March 16, 2018.
*This information is from the time of this article's publication.
*Prices and options mentioned are subject to change.
*Unless stated otherwise, all prices include tax.