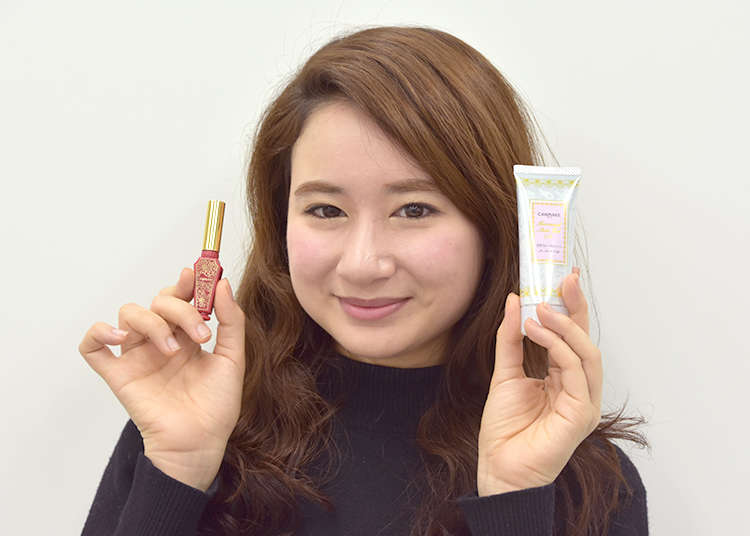 If there's one brand that can be said to be representative of Japan's budget cosmetics products, it's Canmake. You can easily get it at Japanese drug stores at reasonable prices, and is popular across a wide age range, from teenagers to mid-career women. With both stylish, adorable packaging and high-quality products, it doesn't lose out to department store cosmetics.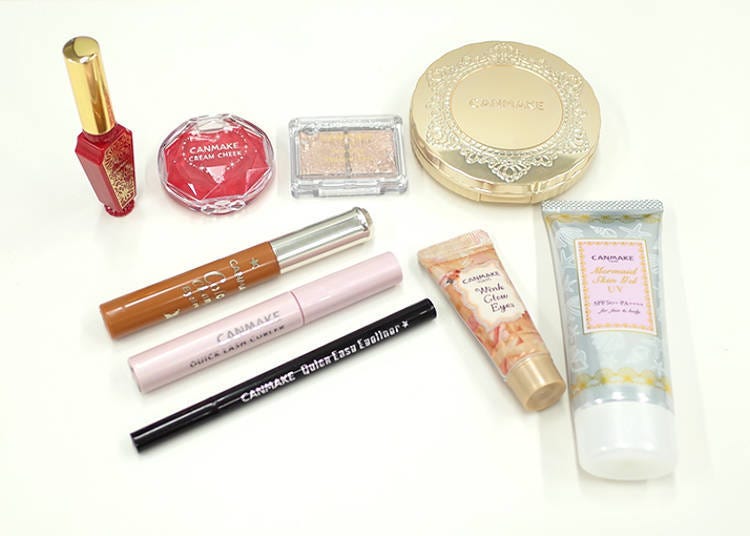 These are the Canmake products we'll be using this time for our French-Japanese lady to challenge! We recommend these items to visitors to Japan as well.
Our model: Nene, born and raised in Japan to a French father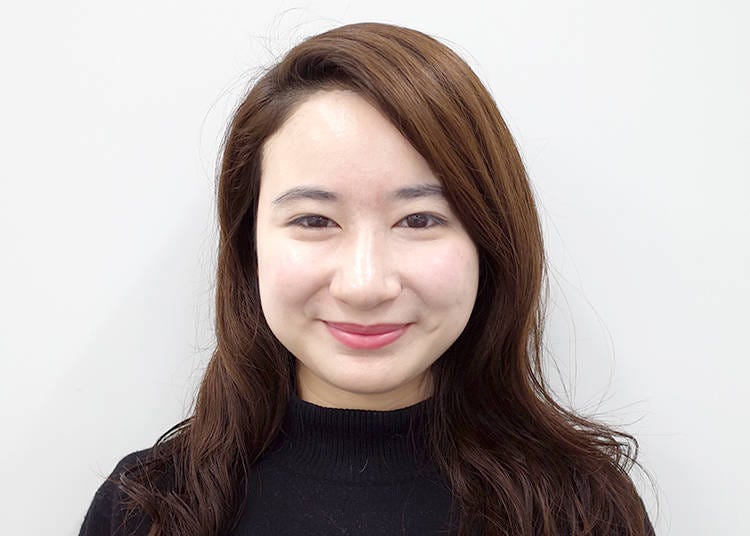 This time, we'll be challenging Nene, born to a French father and Japanese mother, to try creating a full look using Canmake products. Right now, she's studying in a Japanese university.

Regularly consulting magazines and going to international brand name makeup stores, her penchant for makeup is high indeed. With her pale skin and clear-cut features, Nene normally uses Korean cosmetics with large color variations.

"Foundation in Japan tends toward the yellower side, and it's hard to match with my skin color", "My eyebrows are quite thick, and I can't use eyebrow makeup," are some of the issues that she struggles with.

"Today, I'll use Canmake to try a completely different look!"
Mermaid Skin Gel UV: A foundation that acts as both skincare and sunscreen, this product is perfect! (700 yen, tax excluded)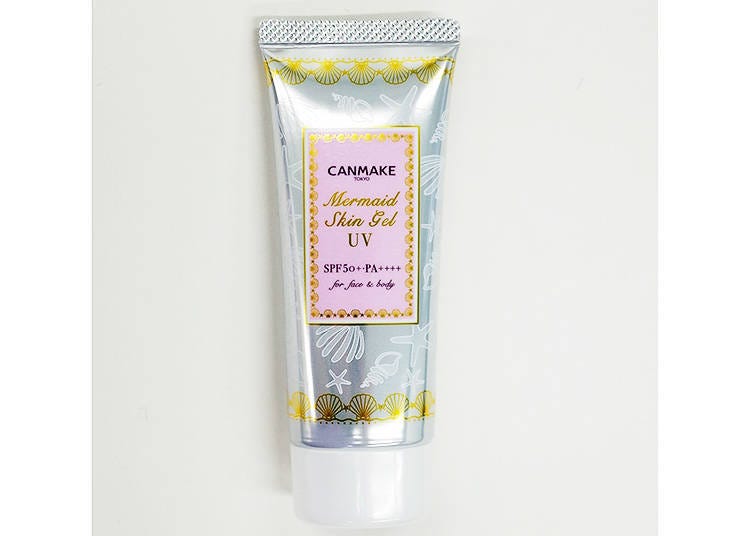 Mermaid Skin Gel UV (700 yen, tax excluded)
An excellent all-in-one serum, sunscreen, and foundation. Applying regular foundation on top of sunscreen can cause multiple layers of makeup to smudge or break down, and this is a great item that solves this problem. As a light and smooth gel, it feels great upon application.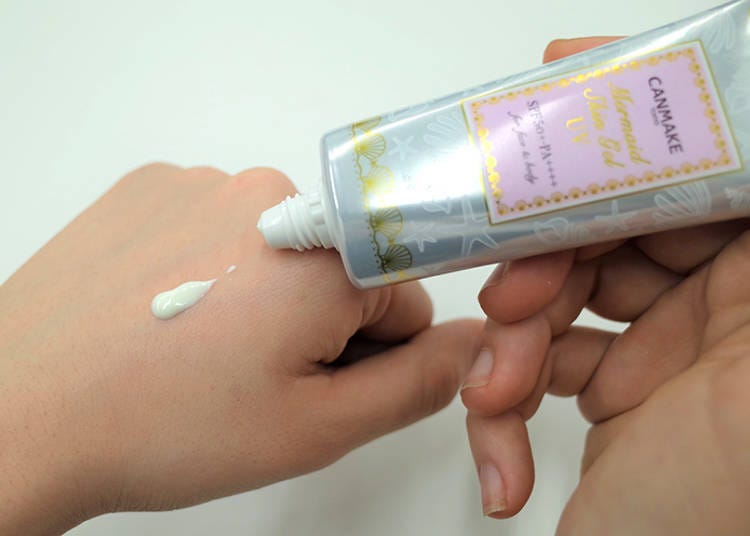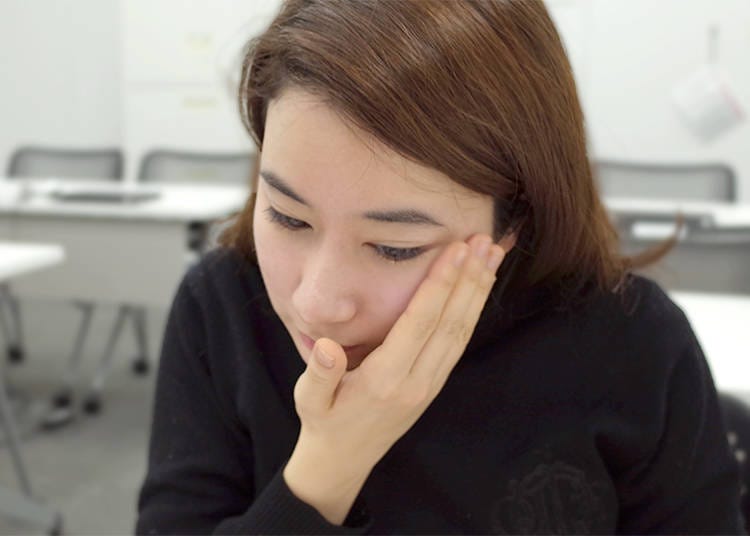 "It's really light and moist! It has a high SPF, but doesn't feel heavy at all, and is easy to apply and use." For Nene who often cannot find base makeup that matches her skin color, "This naturally fits my skin, it's really great," she feels.
Marshmallow Finish Powder MP: With the ability to conceal as well, this creates a natural finish! (940 yen, tax excluded)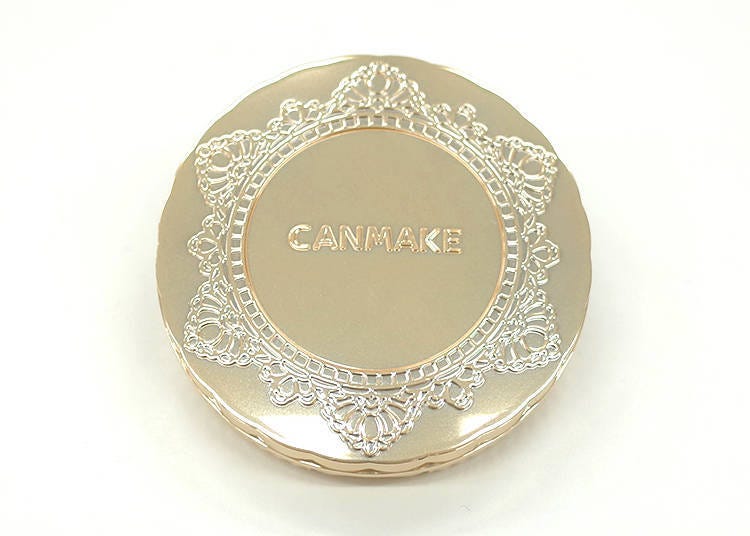 Marshmallow Finish Powder MP (940 yen, tax excluded)
Among the large lineup of Canmake products, one of the more popular ones is "Marshmallow Finish Powder". As its name suggests, it's a face powder that creates a finish like marshmallows. This time, we chose a slightly pinkish color, MP Matte Pink Ochre.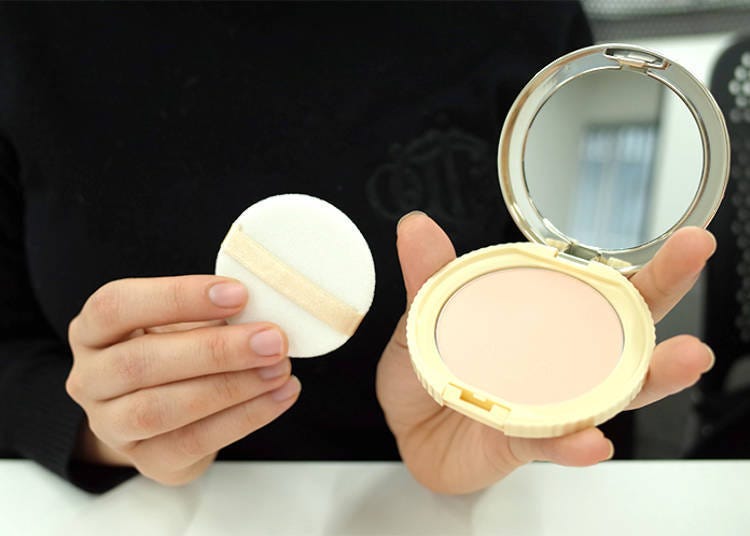 "This is amazing! I have unusually dry skin, and I always had the impression that using powder will dry it out even more, so I hardly use it. But this doesn't tighten my skin up at all! Even if I apply a very thin layer the finish looks natural, I feel that it really suits my skin."

As expected of such a popular item, Nene couldn't hide her surprise when she used it. It doesn't just make your skin look prettier, even after an extended period of time the powder doesn't dust nor ruin your makeup, and is a great concealer too. For those who have experienced dryness with makeup powders, this product has surprised them quite a bit.
Color Change Eyebrow 01: An eyebrow mascara that can easily change the way your eyebrows look! (500 yen, tax excluded)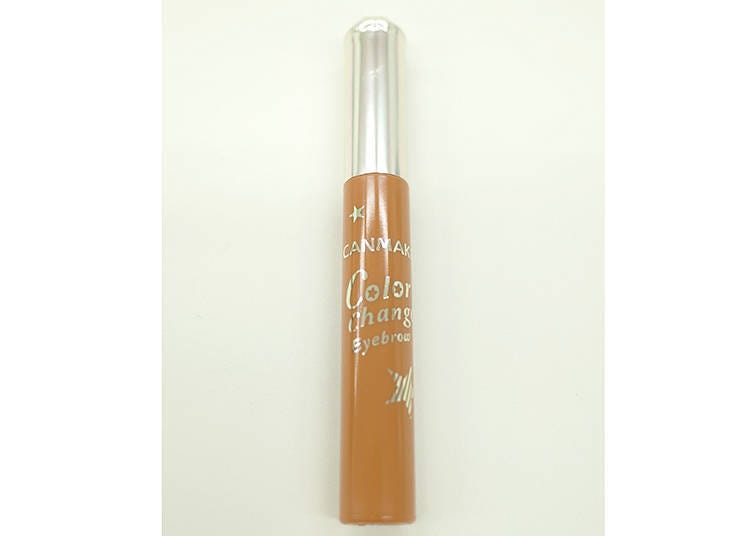 Color Change Eyebrow 01 (500 yen, tax excluded)
Waterproof, yet easily removed with warm water, this is a great and easy to use item. This time, from among five colors, we picked 01 Chestnut Brown to match her hair for her image change.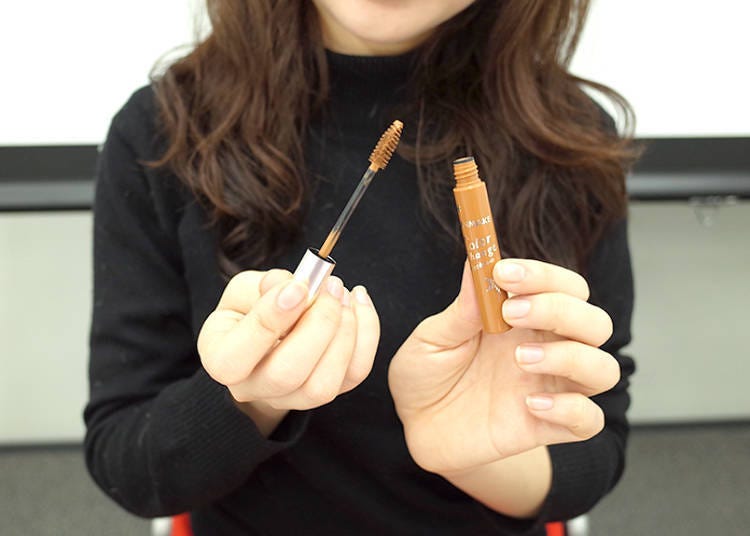 "As my eyebrows are thick, I usually don't draw them. I want to try eyebrow makeup, but they're too thick..." Nene says, but for those who wish to change the shape and feel of their eyebrows, eyebrow mascara is the perfect product.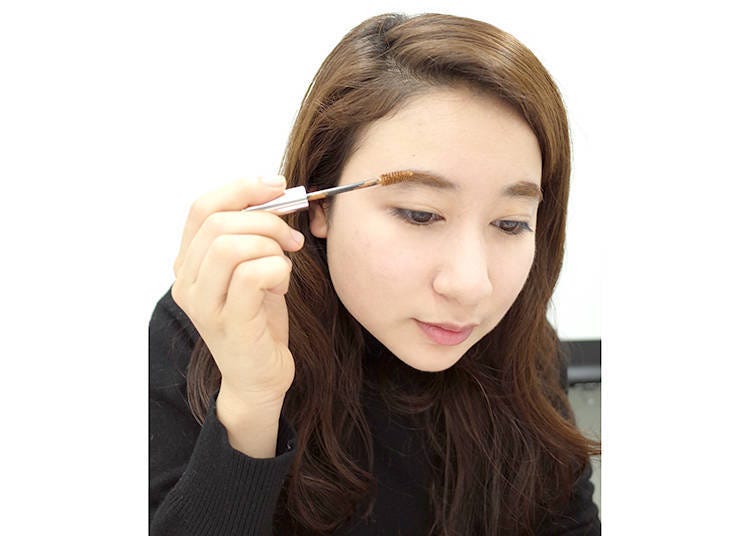 The moment she uses it, "The feel of my face has changed! I've never used eyebrow mascara before, but this is easy to apply. It's perfect for beginners," she comments. With both her hair and eyebrow colors matching, there is a sense of refinement and class to her face.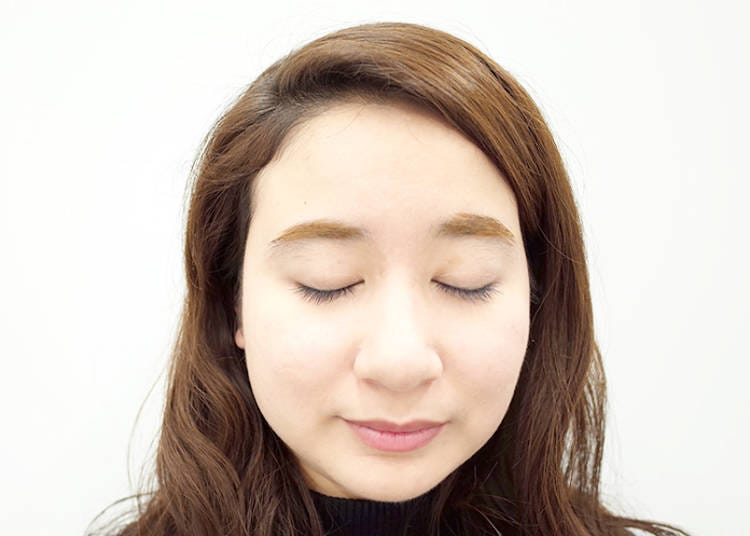 Wink Gloss Eyes 04: For eyes that glow elegantly! (500 yen, tax excluded)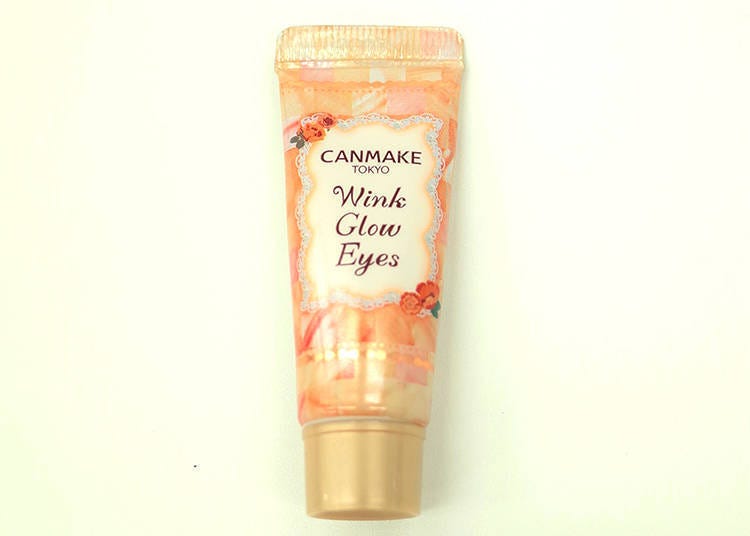 Wink Gloss Eyes 04 (500 yen, tax excluded)
This gloss shadow creates more of a pearl-like lustre than glitter around your eyes. One of its selling points is its tube form, which makes it easy to apply with your finger. This time, we'll be trying out 04 Lady Gold, which displays more sheen than color.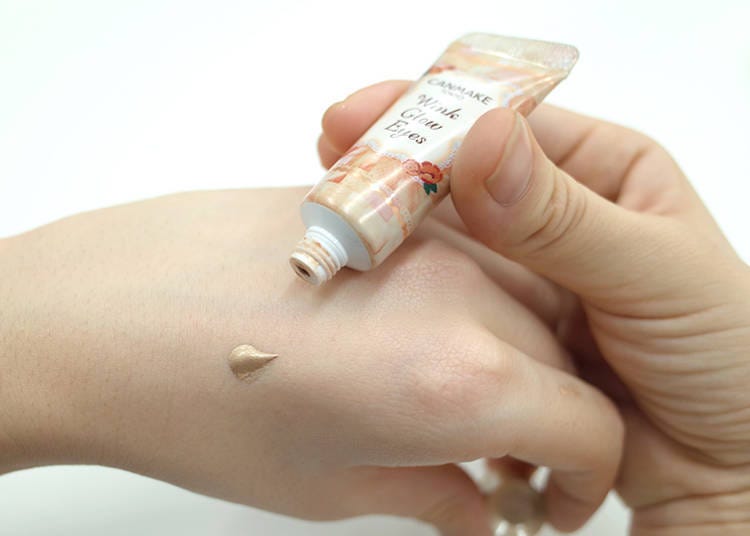 "It has a very velvety feel! The natural pearl feeling is very nice. Usually for liquid type makeup, it applies thickly and is pigmented too strongly, making control difficult, but this is a very natural color. It's great for everyday use."

With a smooth and soft texture, it is surprisingly easy to match with your eyelids, making for a very natural finish. "At just 500 yen, this has great cost performance indeed!" The great product quality and affordable price is very surprising indeed.
Jewelry Shadow Veil 02: Eye shadow that uses large and small glitter to bring out the elegance of your eyes! (600 yen, tax excluded)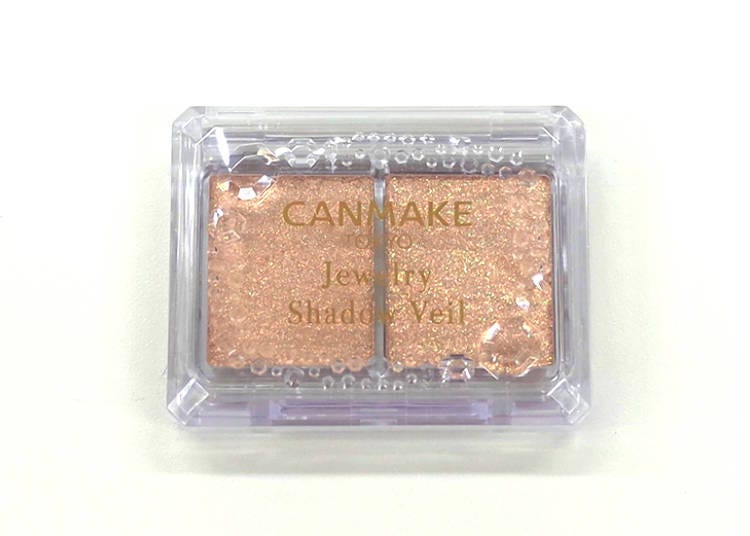 Jewelry Shadow Veil 02 (600 yen, tax excluded)
Uncolored and containing only glitter, this is an eyeshadow that can be used as both a base for eye makeup, or as a finisher. On top of this, this eyeshadow contains both large and small glitter, allowing you to adjust the look to your own preference.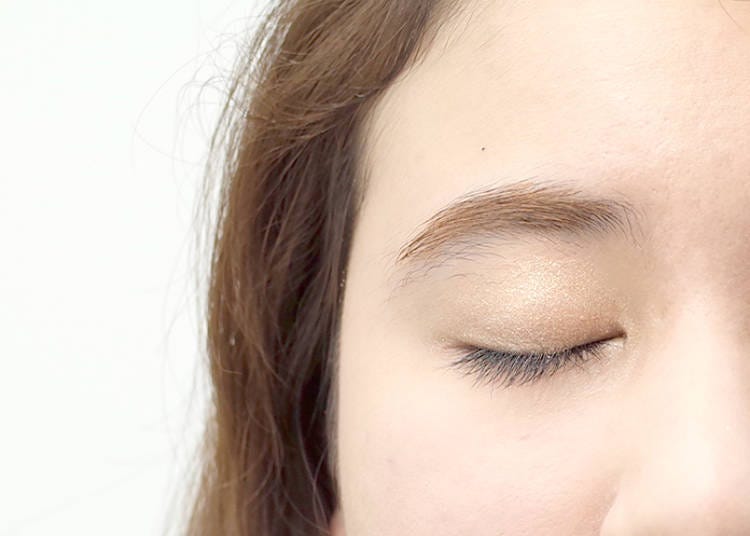 "It has a very high-quality shimmer and looks very elegant. The teardrop-like sparkle looks adorable. The small glitters look like they can be used under your eyes too!" If you dab it right under your eyes, it brings a glow to your eyes!
Quick Easy Eyeliner 01: Easy to draw, and smudge resistant! (500 yen, tax excluded)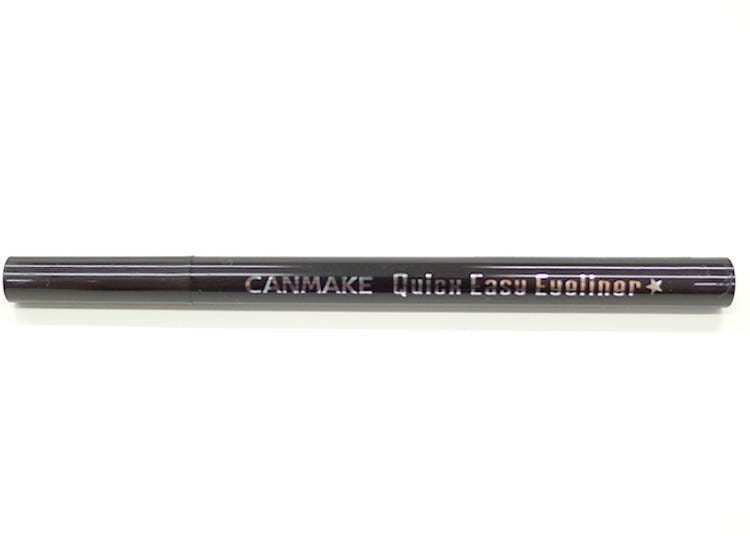 Quick Easy Eyeliner 01 (500 yen, tax excluded)
Out of all our makeup products this time, Nene likes this one the most. Normally, she doesn't use eyeliner, and particularly shies away from liquid eyeliner because they're hard to use. "The tip is very fine, and really easy to use. Even I can draw my eyes if I use this!!" she gushes.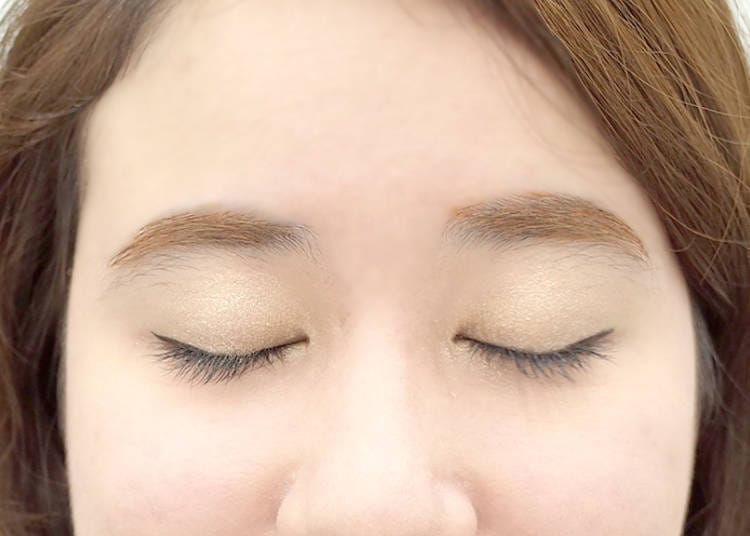 The tip of this eyeliner is just 1.65mm. The ease of use is also outstanding. It doesn't smudge easily even if your rub it, it's a high-quality item that only comes off with warm water. It's great at making your eye corners pop, and emphasizes them as well, it's no wonder that this eyeliner is so popular. This time, it was used in the eye corners to highlight them.
Quick Lash Curler BK: Easily applied with a comb applicator, a mascara with a satisfying curl! (680 yen, tax excluded)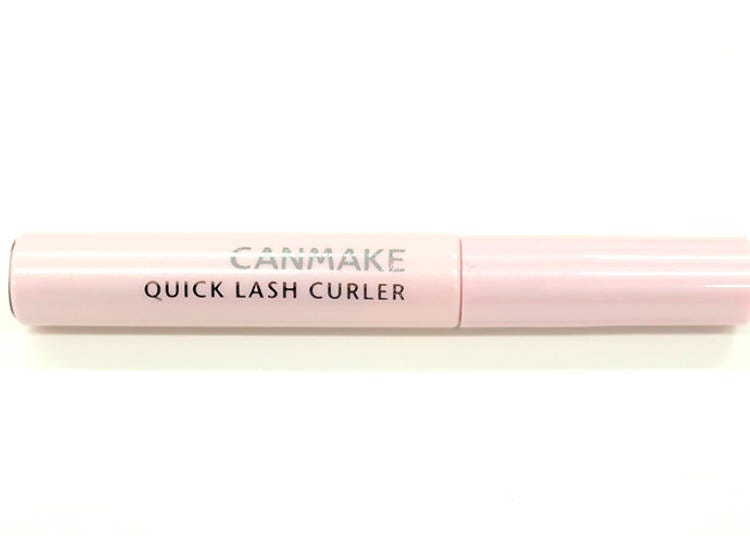 Quick Lash Curler BK (680 yen, tax excluded)
Another well-received product, it's a 3 in 1 base, mascara and top coat multi-purpose mascara. Nene says, "Actually, my eyelashes are pretty long, and I'm not good at applying mascara because it's so sticky..." If you're Japanese like me, it's a problem that you'll envy her having! However, it is true that if the brush is too big, you must apply the mascara in one smooth stroke to get a smooth finish, making them difficult to handle.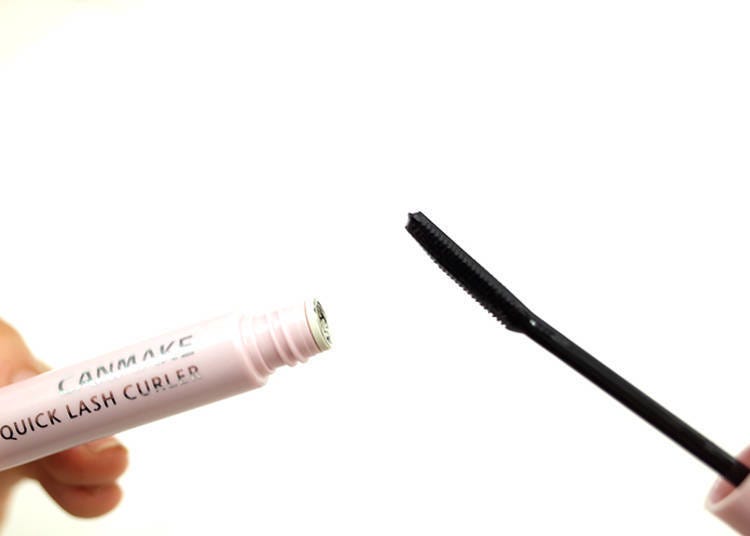 But with the Quick Lash Curler, there's no such issue. "This mascara has a very fine comb, making it unnecessary to adjust the amount needed, so it's really easy to use." As this mascara comes with a comb and not a brush, it can be easily applied to your lower lashes too.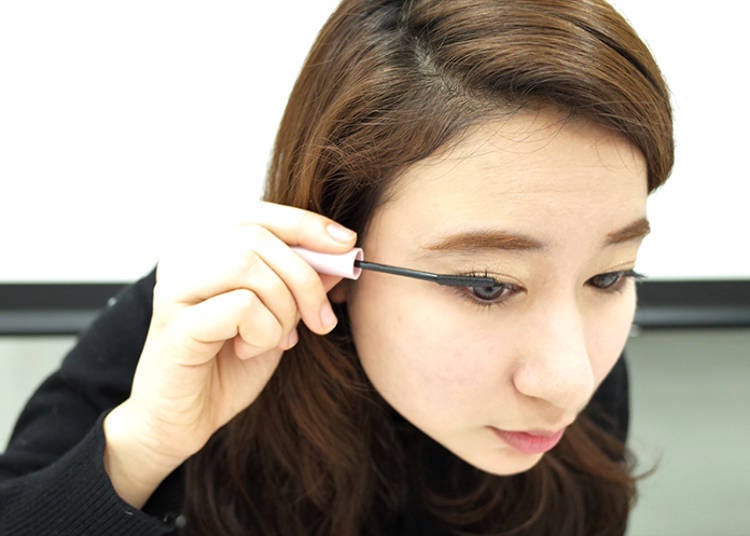 Her long lashes steadily curl upwards as the product is applied. It's easy to apply regardless of your eye shape.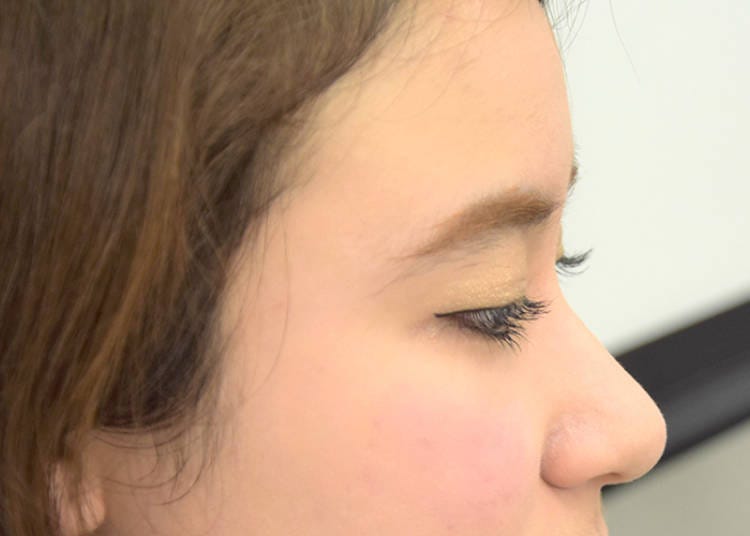 As you can see, it has a strong curl as well.
Cream Cheek (Clear type) CL08: Usable on both your cheeks and lips, a delicious blush with two uses! (580 yen, tax excluded)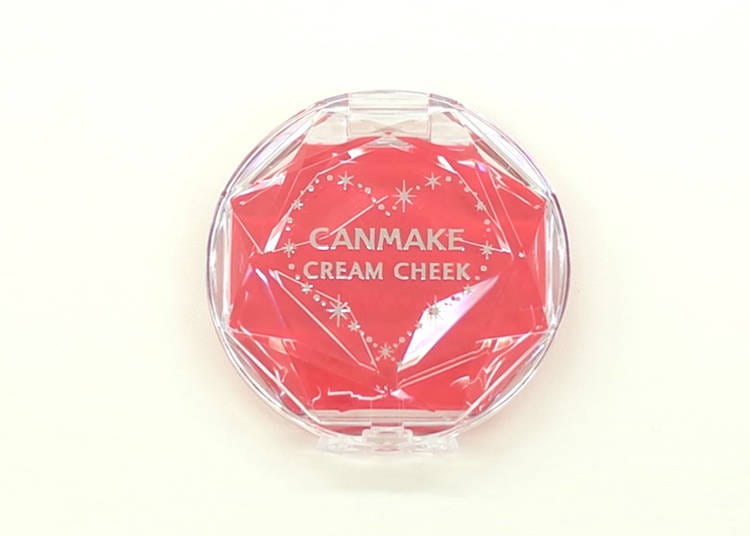 Cream Cheek (Clear type) CL08 (580 yen, tax excluded)
Cream cheek can be used for both your cheeks and lips. This product's plus point is its great pigmentation. If you apply it straight onto your skin, you get a lustre, and if you apply powder on top, you get a soft finish.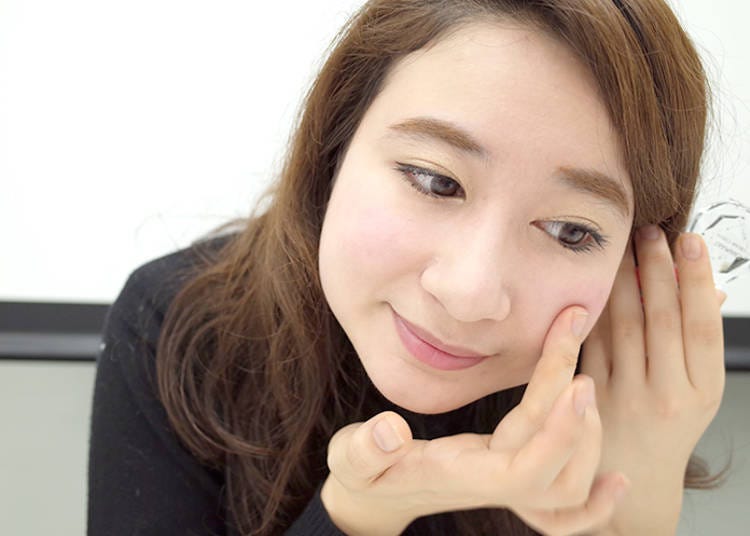 "Even though it's called a cream, it isn't too sticky, and is easy to use. Just dabbing it on brightens your skin, I love how well the color shows up!" For Nene, who has always liked makeup with great coloring, she's completely satisfied with this product.
Lip Tint Syrup 04: Lip tint that gives you glossy lips with both lasting color and moisture! (650 yen, tax excluded)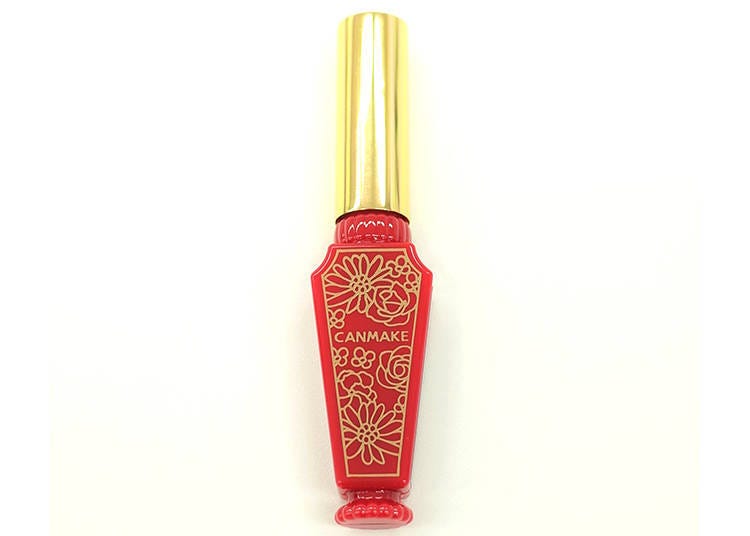 Lip Tint Syrup 04 (650 yen, tax excluded)
Out of all the makeup used this time, another product that Nene found herself especially liking besides the eyeliner is the Lip Tint Syrup. From the name "syrup", you get the feel that it it's neither too watery nor thick, with a smooth syrupy feel, and you'll be captivated once you use it.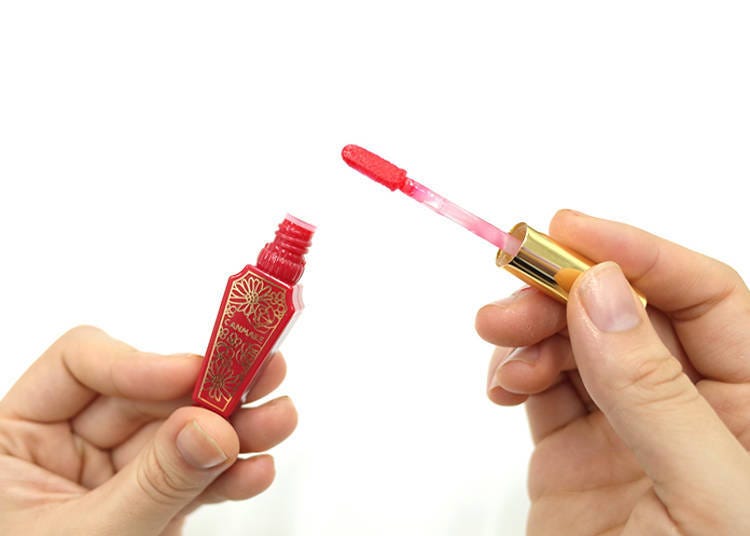 "It's light, just like real syrup! It's good that it looks like it has just the right amount of pigmentation. Besides this, the tint I use often dries out fast, but this one is really moist." This tint's amazing feature is that it adds just a little coloration to your original lip color to change its hue, resulting in a very natural finish. On top of that, the application feels light, and properly locks in both moisture and color.
Just like the arrival of spring, Nene's gorgeous look is created!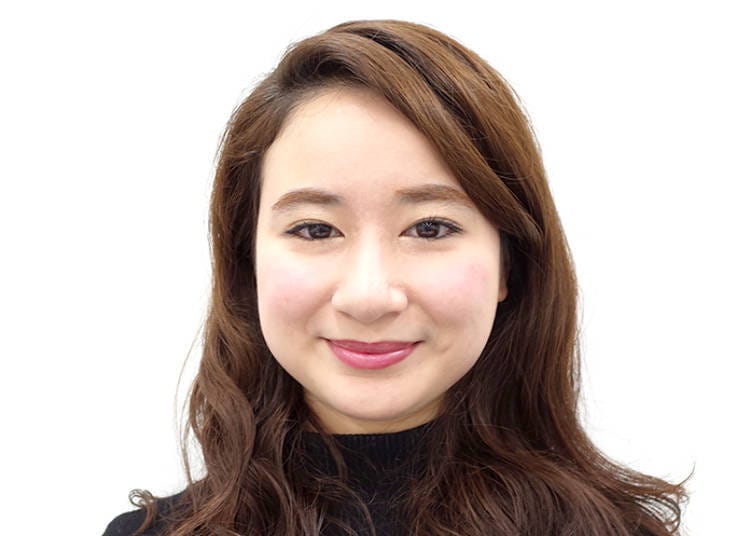 This is the completed full makeup. How does it look? It leaves an elegant and bright impression, giving off the atmosphere of a mature lady.

"I'm very surprised that the face powder and lip tint haven't dried out. You can say this about pretty much all the products, but these two are especially suitable for my skin! The mascara's small size and fineness of the eyeliner make them easy to use, and I like them."
Canmake items that we recommend to foreign visitors, too!
The recent makeup trend here is to have glowing skin. If we are talking about Canmake products that we would recommend foreigners to get this glow, we especially recommend the following three: the Juicy Glow Skin Base (foundation), Wink Glow Eyes (Eye gloss), and Jewely Shadow Veil (Eyeshadow).

For Nene, who puts more store in a makeup product's color rather than its glow or shimmer, "From using a more natural eyeshadow in a beige-gold shade, to changing my eyebrows, it's a completely different look from my usual makeup!" she says.
Have fun with your makeup with the wide variety of products available
The items used in this time's full makeup shocked us with its amazing cost performance. More than anything, it wasn't just that it was affordable, its application was much better than we expected. With outstanding ease of use and an affordable price tag, it makes the perfect souvenir or present of Japanese product. To our non-Japanese readers, please do give Japan's budget cosmetics a try.
We have recommendations for this spring and summer's new products too!
Speaking of Canmake, we'll be introducing a few new products suitable for spring and summer.
Creamy Touch Liner (2 colors available) (650 yen each, tax excluded)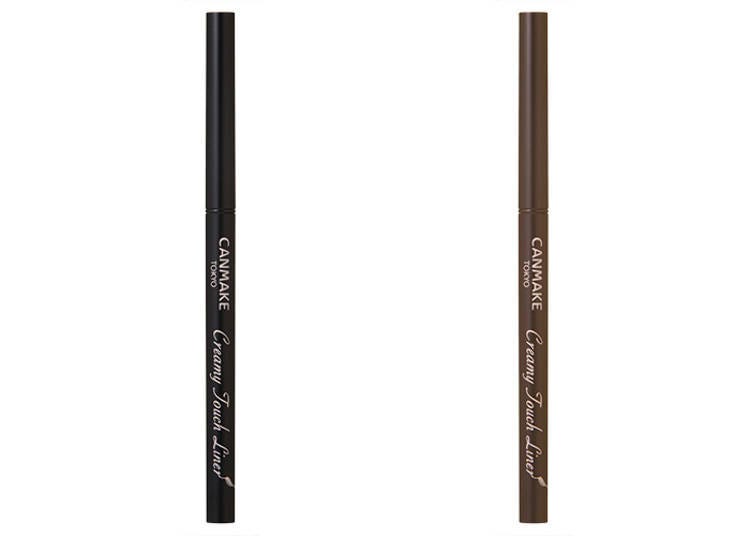 With an even finer tip that the eyeliner used this time, this is a gel liner that makes drawing your eyes a breeze.
Lip Tint Matte (3 colors available) (650 yen each, tax excluded)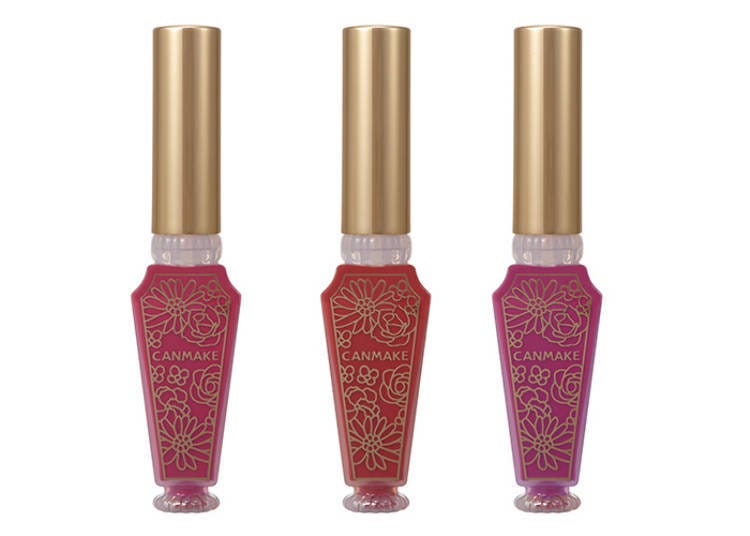 New lip tint colors with a matte finish.
Velvety Fit Colors (4 colors available) (550 yen each, tax excluded)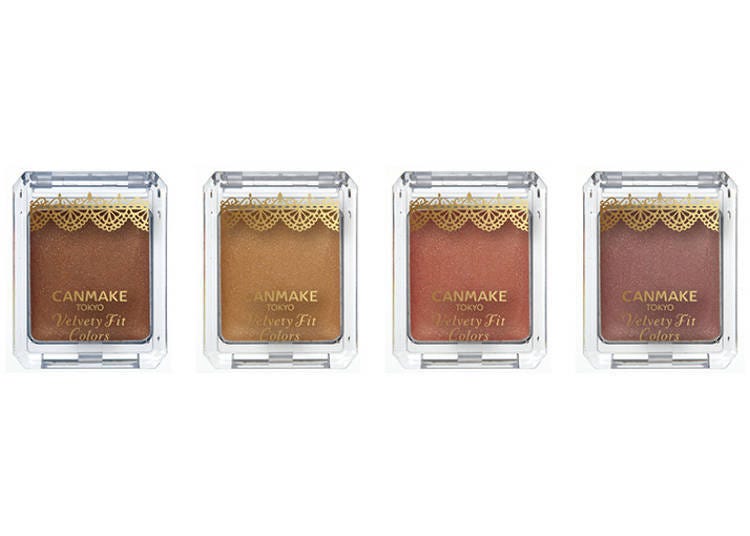 Taking the best of cream and powders, it's both moist and compact, and is a single color eyeshadow that can be smoothly applied.

With so many new products, we have high expectations!

Written by: Miyuki Yajima
*This information is from the time of this article's publication.
*Prices and options mentioned are subject to change.
*Unless stated otherwise, all prices include tax.