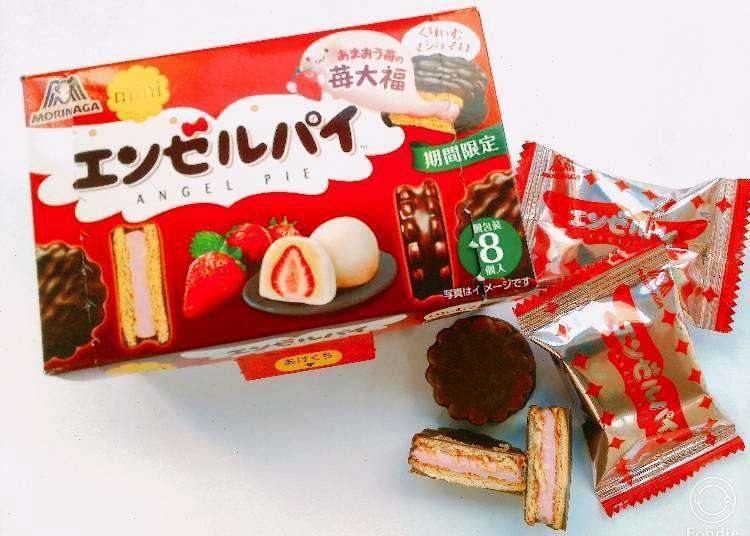 Spring in Japan isn't just time for cherry blossoms, it's also the super-delicious strawberry season! The massive discount store Mega Don Quijote in Shibuya, a famous treasure trove of basically everything, stocks up its colorful sweets selection with a tasty variety of strawberry-flavored goodies! Donki, as the shop is affectionately called, is particularly beloved for its reasonable prices, allowing a big shopping spree that doesn't necessarily hurt your wallet! As a tourist, you can even make use of tax exemption, so without further ado, let's check Donki's strawberry sweets!
Morinaga Amaou Strawberry Cake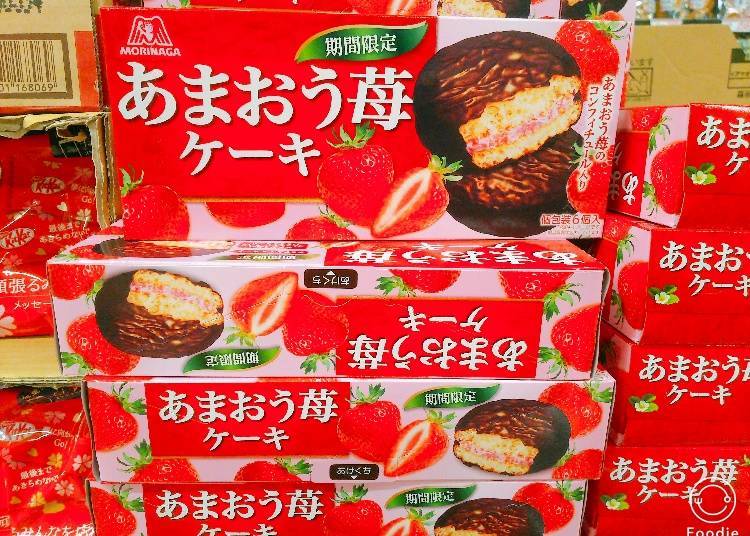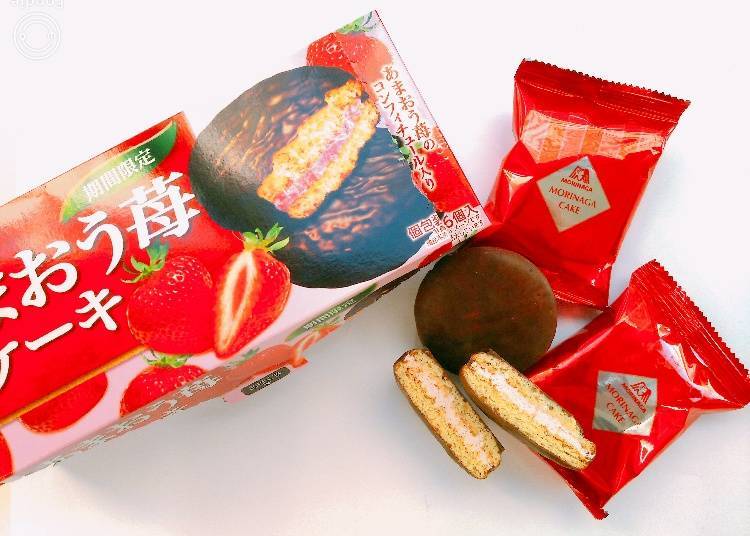 Morinaga is a long-established Japanese confectionery and one of its most prominent sweets is the classic chocolate cake. Its strawberry version makes use of plump Amaou strawberries from Fukuoka. They're turned into a full-bodied jam-infused cream, surrounded by fluffy cake and rich chocolate. This delicious treat is surprisingly luxurious and an absolute must-try when it comes to strawberries!
Price: 238 yen
Glico Pocky Double Strawberry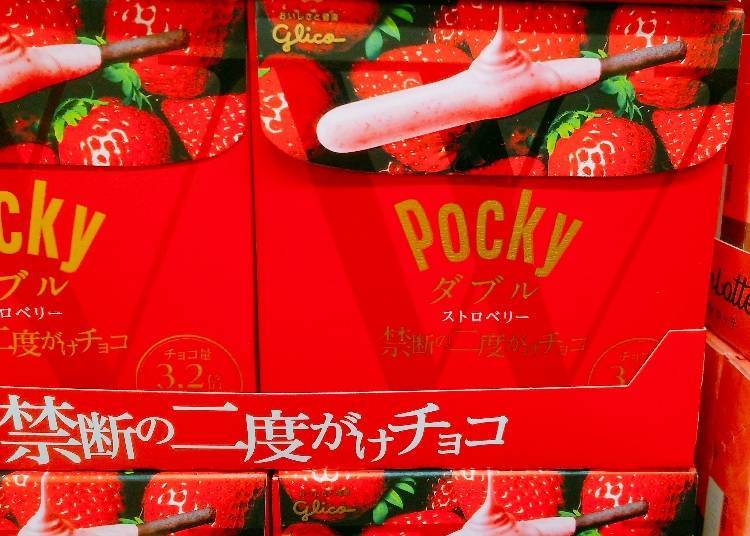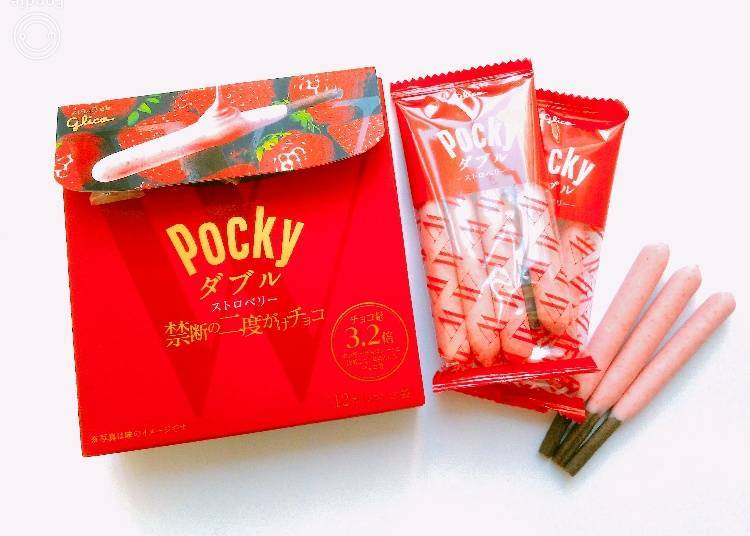 Pocky might be one of Japan's most famous sweets. The iconic biscuit sticks are also available in a creamy strawberry version, coated in thrice as much mellow strawberry chocolate than regular Pocky! Enhanced with 1.9% cocoa powder, this sweet offers a perfect balance between sweet, sour, and a hint of bitter. Each box comes with three separate bags, so it's the perfect souvenir to share with your friends!
Price: 198 yen
Morinaga Koeda Amaou Strawberry Flavor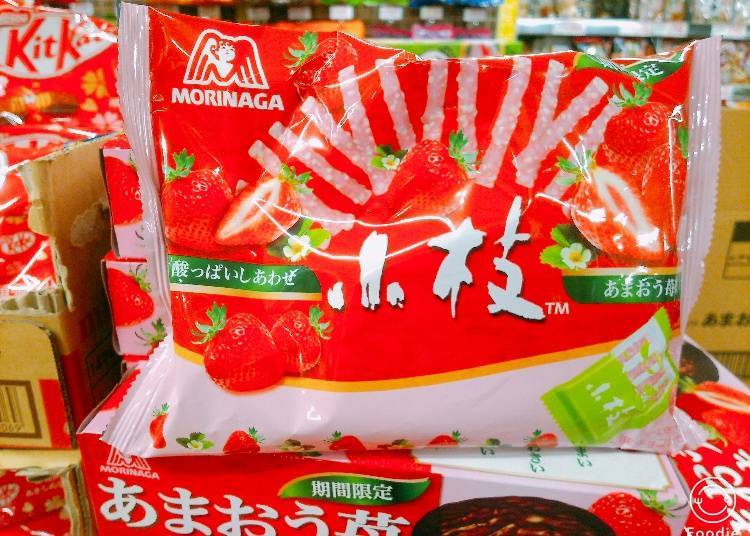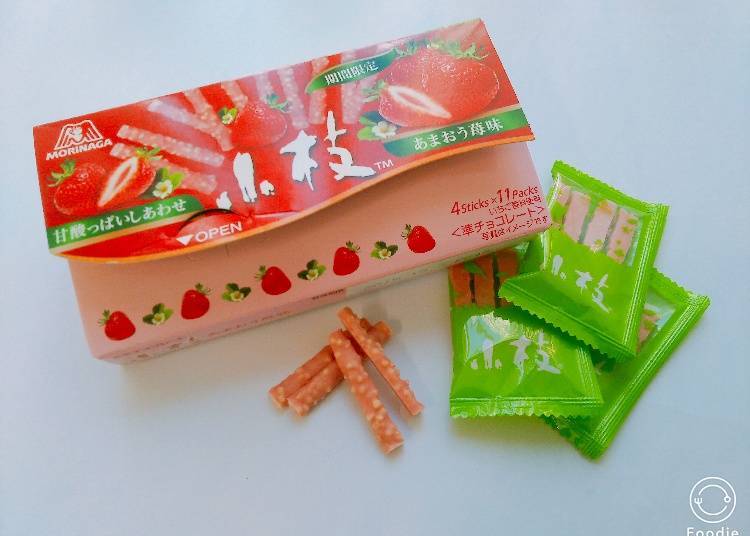 Morinaga's Koeda is an adorable sweet snack created to resemble little twigs (which is exactly what "koeda" means, by the way). The strawberry flavor of this adorable treat adds a gentle sourness to the sweet chocolate and tickles your taste buds with the full-bodied aroma of Amaou strawberries. It's an excellent little souvenir for coworkers or classmates, as the Koeda twigs come in cute little bags.
Price: 148 yen
Lotte Pie no Mi Sweet Strawberry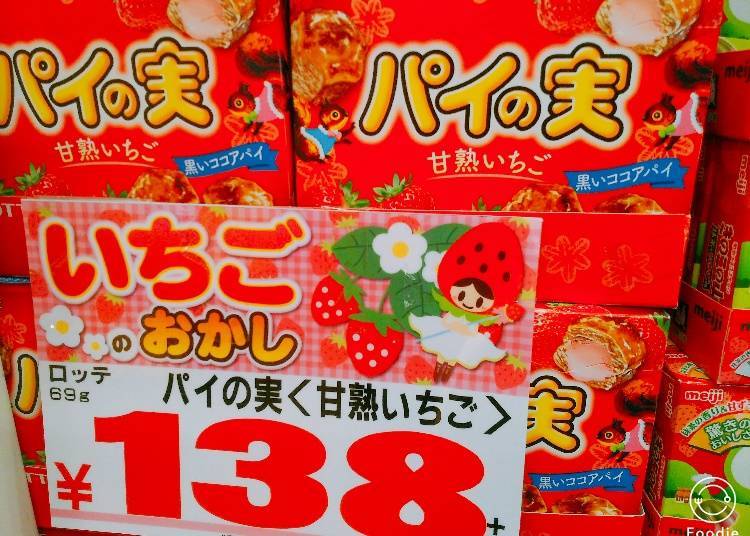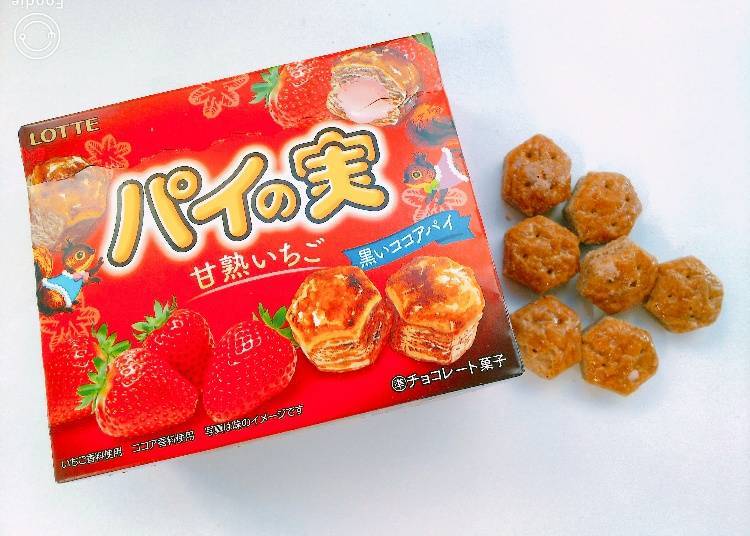 Pie no Mi by Lotte is a classic biscuit snack that conquers every sweet tooth's heart with its thin, crispy layers of pastry dough. Usually filled with milk chocolate, the Sweet Strawberry version naturally features a full-bodied, mellow strawberry cream on the inside. It's hard to stop snacking these little delicacies away once you've popped the first one in your mouth!
Price: 138 yen
Lotte CharLotte Strawberry Jelly Chocolate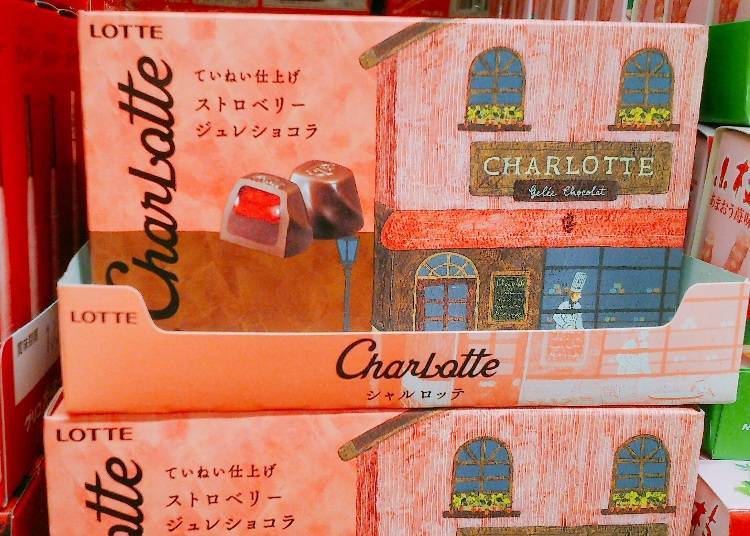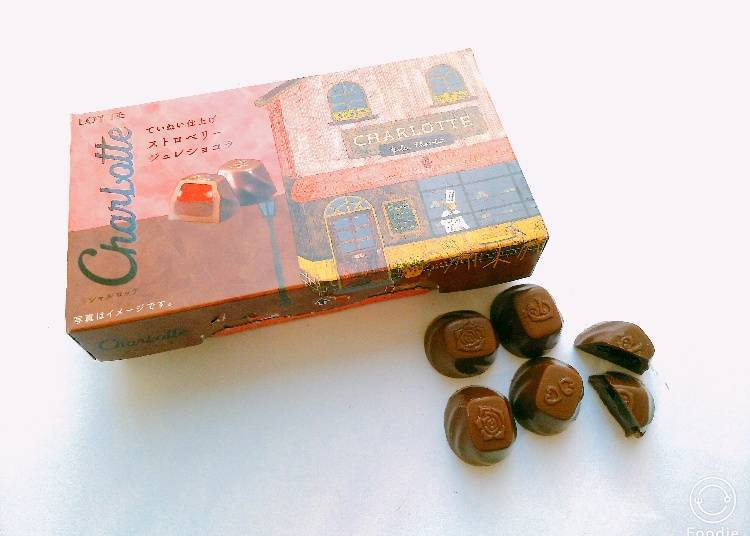 The CharLotte series brings you the luxury of long-established European chocolate makers for Lotte' usual little prices. The bite-sized pieces are filled with a flavorful strawberry jelly, balancing its sweetness with a hint of bitter chocolate, taking you straight to strawberry heaven!
Price: 220 yen
Morinaga Angel Pie Strawberry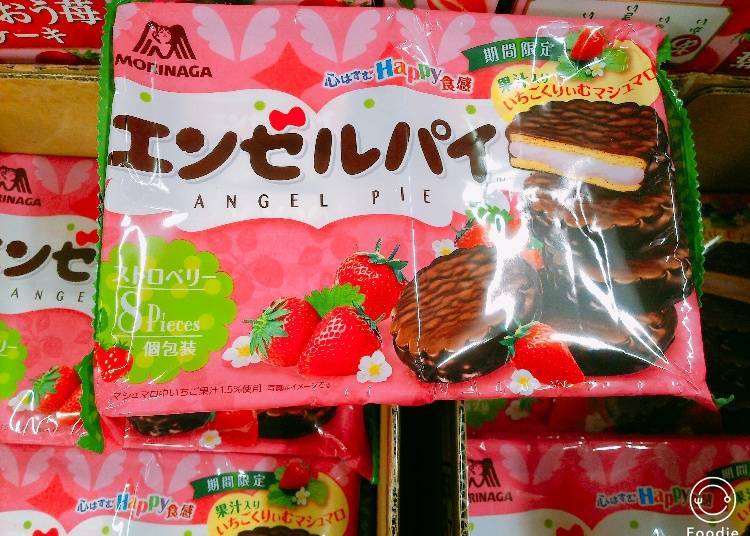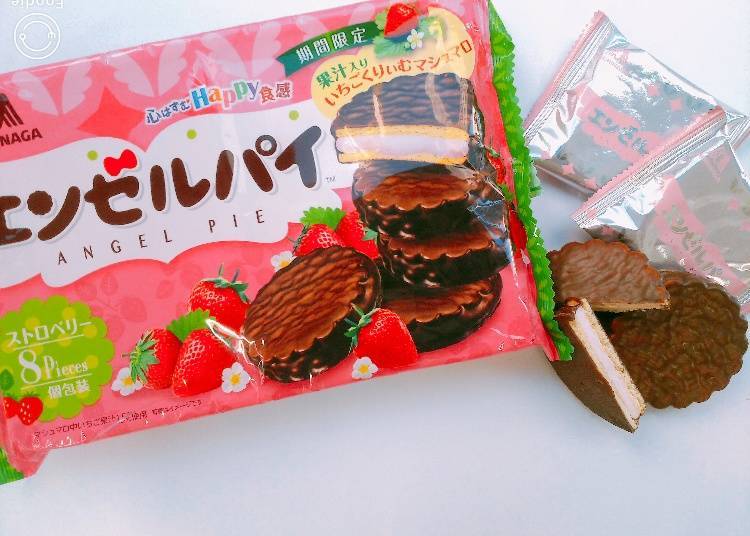 Angel Pie sounds as enticing as it tastes. Morinaga's famous cake will get you addicted to its fluffiness and smooth mouthfeel! The strawberry version makes use of 15% berry juice to infuse a mellow marshmallow cream, making for one of the most blissful strawberry sweets Japan has to offer.
Price: 298 yen
Morinaga Mini Angel Pie Strawberry Daifuku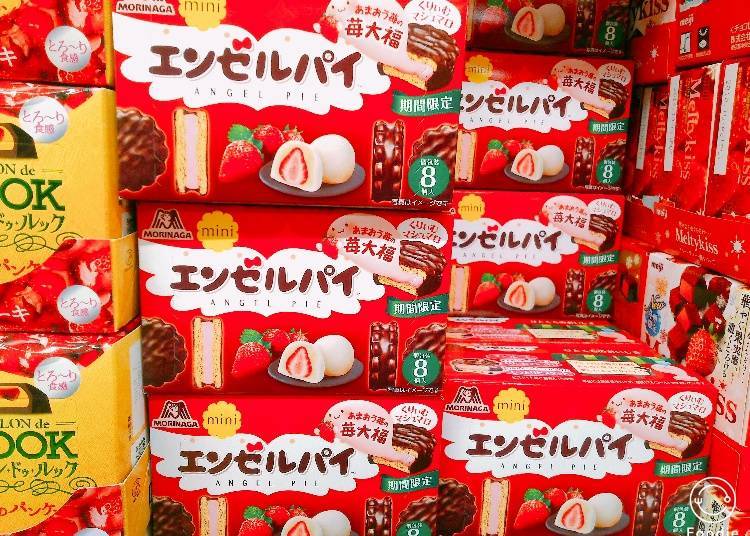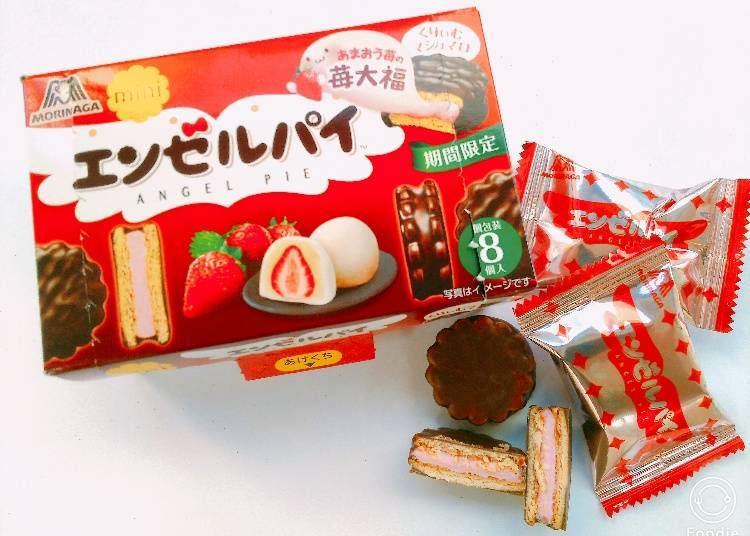 Mini Angel Pie is the sweet little sister of the pie snack mentioned just above. It is inspired by the traditional Japanese dessert of strawberry daifuku, a plump berry coated with sweet bean paste and mochi rice cake. For this, the pie borrows the flavor and aroma of Fukuoka's Amaou strawberries – it's an absolute must-try!
Price: 168 yen
Fujiya Salon de Look Strawberry Pancake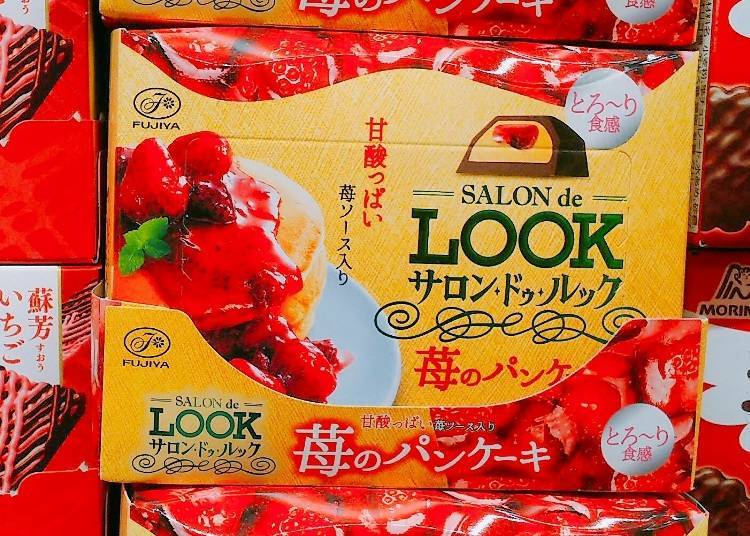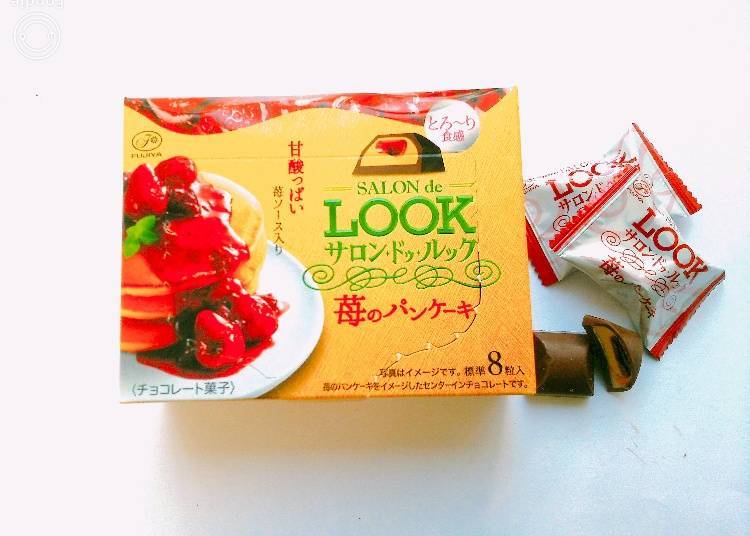 Fujiya is the company behind the iconic mascot Peko-chan and Salon de Look is one of its most famous chocolate series. This year, it fuses the distinctively milky flavor of pancakes with the subtle sourness of strawberry, coated by mellow chocolate. The taste lingers pleasantly on your tongue even after the last bite is all but gone.
Price: 178 yen
Meiji Takenoko no Sato Milky Strawberry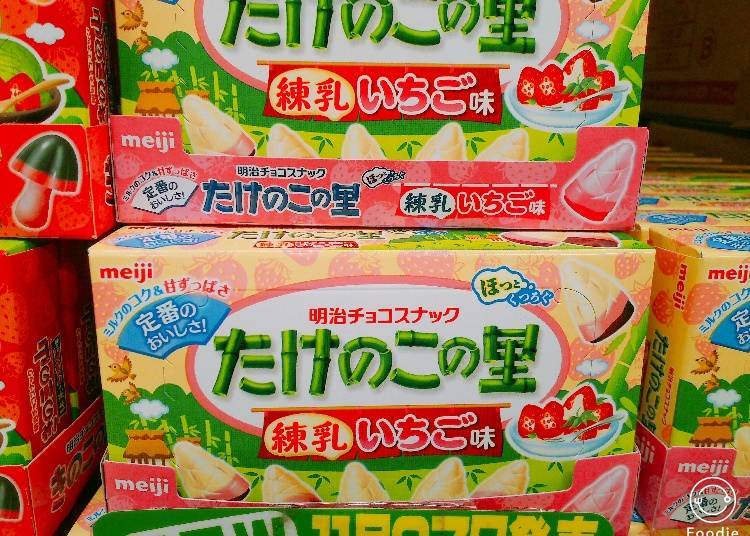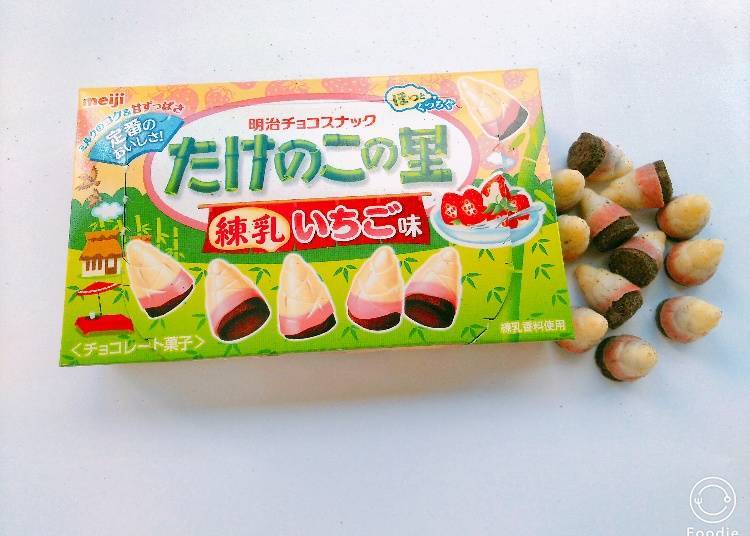 Japanese sweets enthusiasts will know Takenoko no Sato very well. The famous treat comes in the shape of bamboo shoots and its strawberry flavor skillfully blends creamy milk with mellow flavored chocolate. While the little shoots look rather sweet, you'll be surprised by their subtle but oh so addictive taste, making you empty the box before you know what's happening.
Price: 158 yen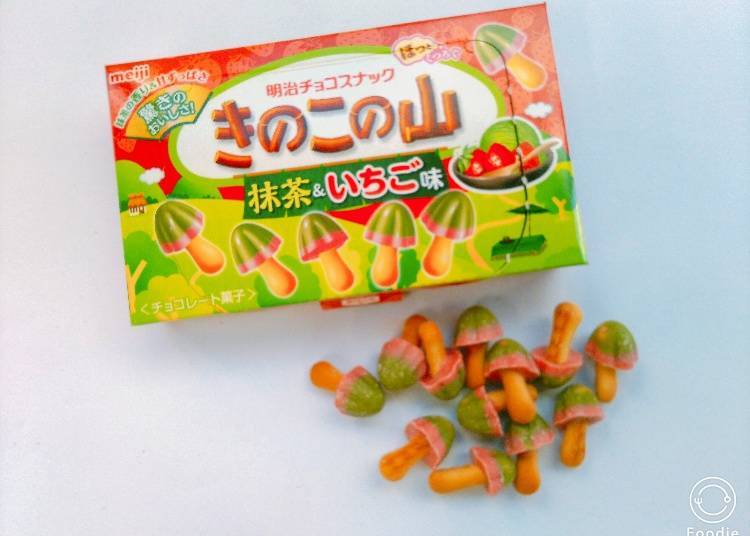 Another one of Meiji's all-time favorites is Kinoko no Yama, or "forest of mushrooms." This yummy variety fuses matcha, Japan's green tea phenomenon, with full-bodied strawberry. The combination is simply amazing, offering the best of both worlds!
Price: 158 yen
Lotte Puchi Busse Fragrant Strawberry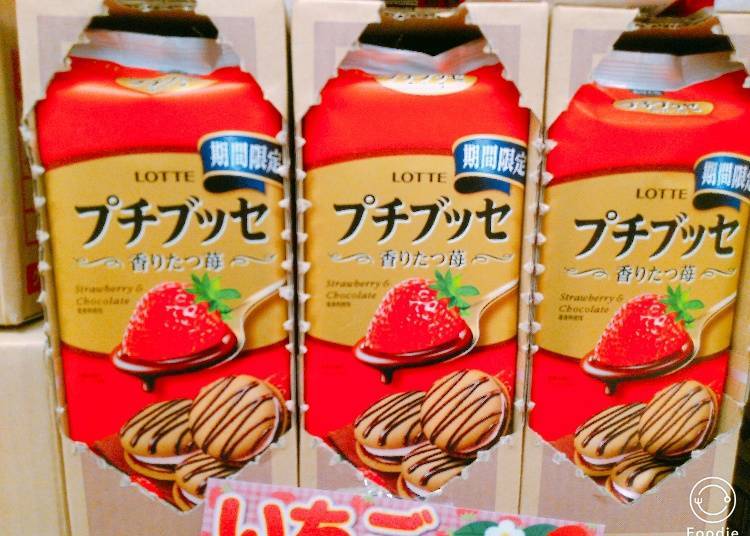 These small cake treats called Puchi Busse by Lotte are perfect if you're craving a sweet snack but don't want to feel too full. The spring-limited Fragrant Strawberry variety sandwiches flavorful strawberry cream between chocolate plates and fluffy cocoa cake. The rich, fruity taste enhanced with slightly bitter chocolate will knock you off your socks!
Price: 158 yen
Meiji Meltykiss Fruity Strawberry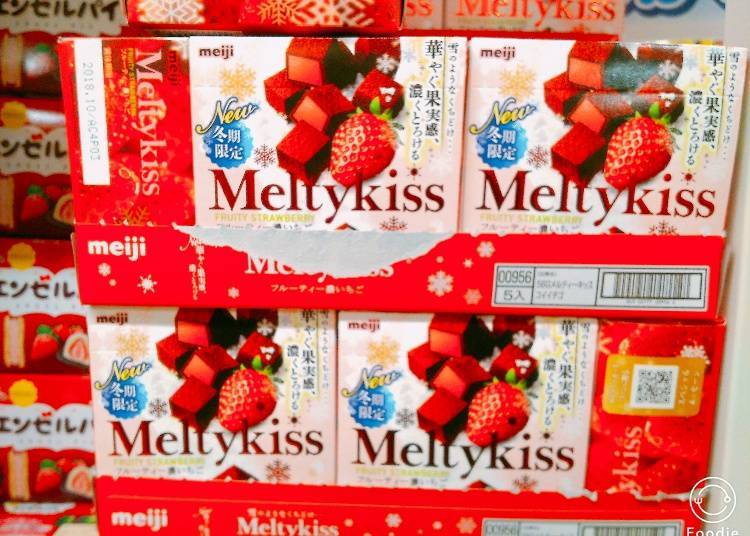 Meiji's Meltykiss is the one seasonal creation everyone looks forward to. The winter-only chocolate celebrates one of Japan's favorite fruits with a full-bodied, rich, and extremely creamy strawberry filling.
Price: 238 yen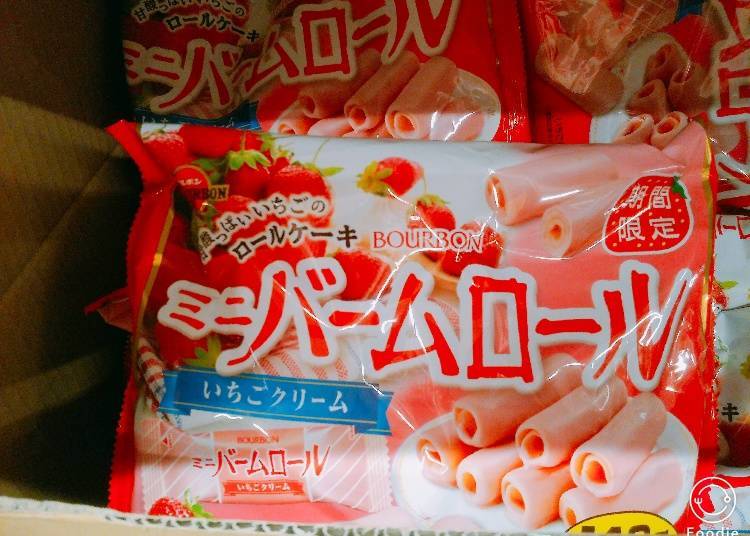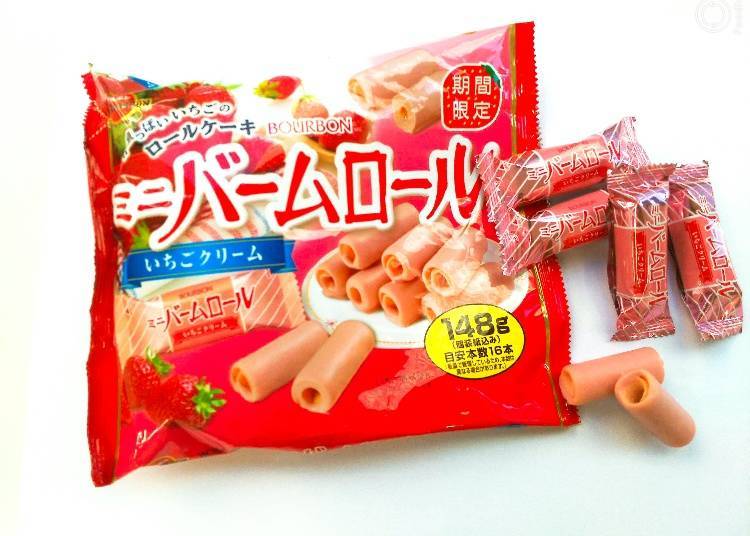 Baumkuchen, the German take on spit cake, is immensely popular in Japan. While a whole cake is a bit much for a snack on the go, Bourbon created a tiny version of the classic called Mini Baum Roll. It can only be enjoyed during the strawberry season – which is a shame, really, because once you've tried the wonderfully moist and flavorful cake bits, you'll definitely crave for more.
Price: 298 yen
Lotte Sasha Akabeni Strawberry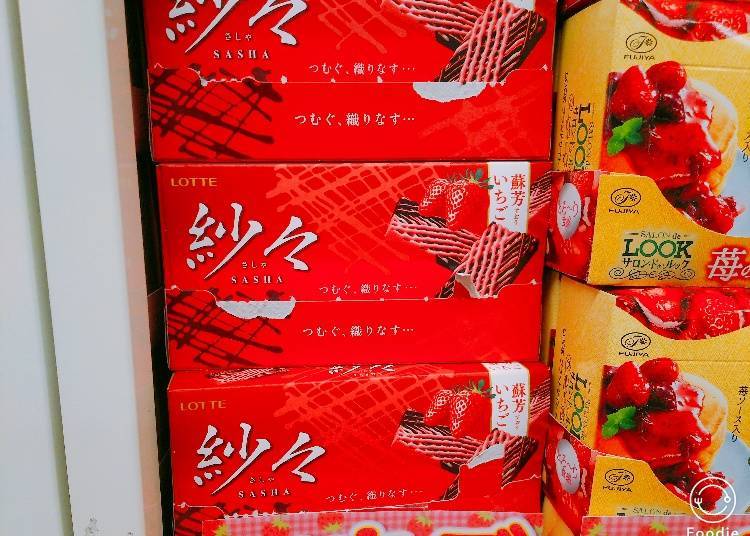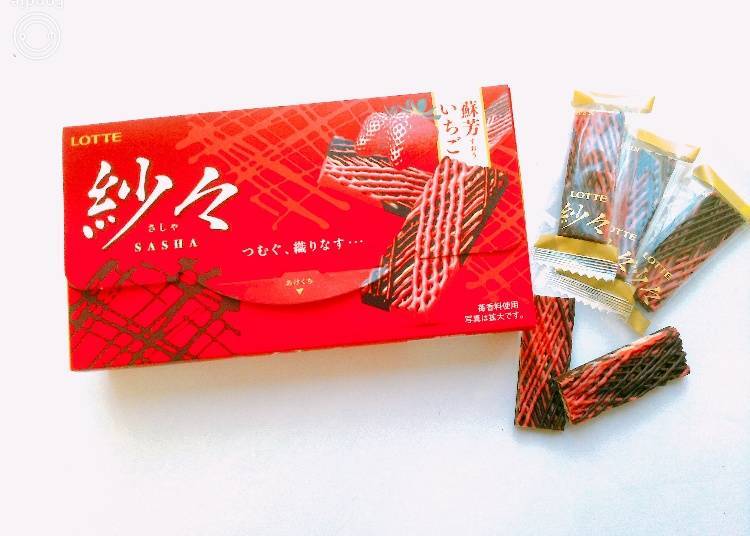 Sasha Akabeni Strawberry" is as beautiful as it is delicious. Three kinds of chocolate strings are delicately woven into each other, tasting pleasantly rich of sweet and sour strawberries. Akabeni is one of Japan's traditional colors, once regarded as one of the basic colors, having a characteristic dark and vivid red.
Price: 198 yen
Tirol Choco White Strawberry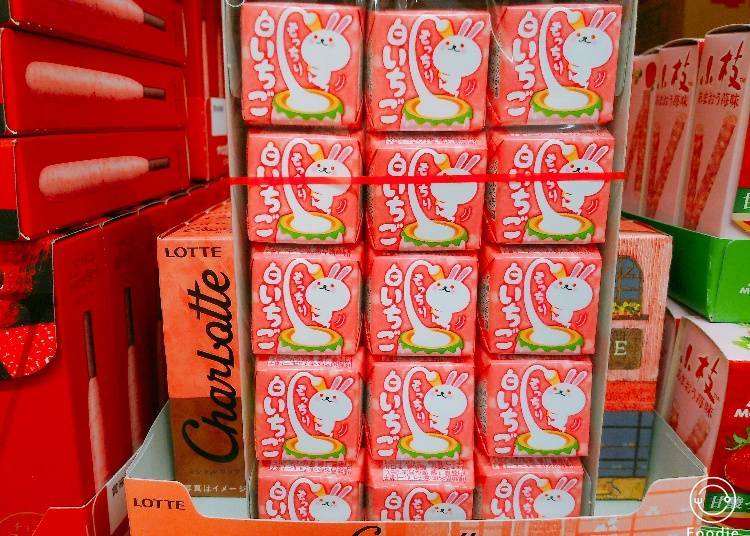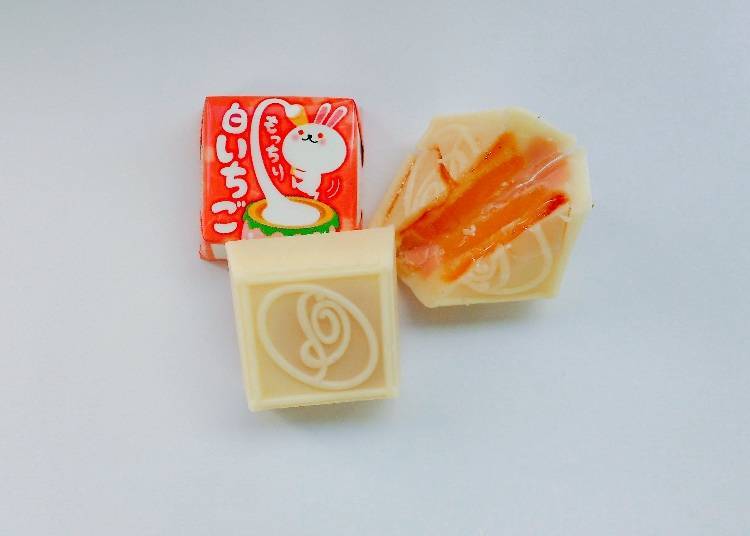 Tirol is famous for creating bits of chocolate that make for an amazing gourmet experience in a single bite. White Strawberry uses, as the name suggests, white strawberries from Saga for both the filling and the jam that the chocolate on the outside is infused with.
Price: 30 yen
Pocky Crunchy Strawberry Heartful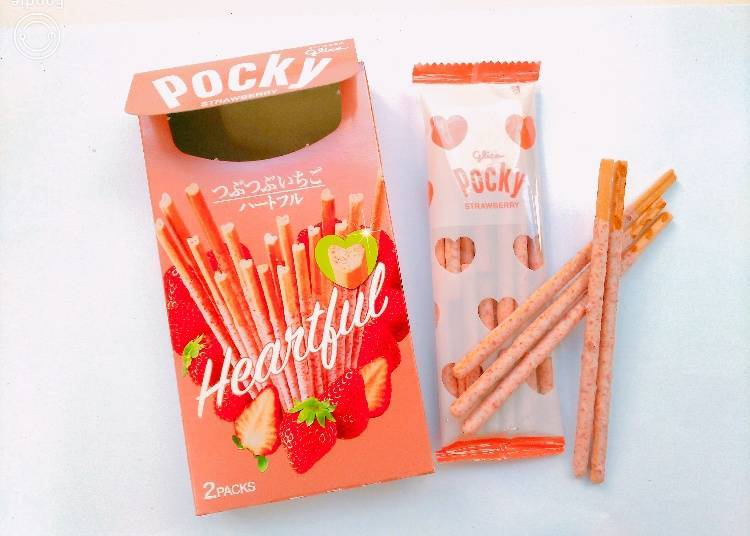 One of Japan's most popular seasonal delicacies are the Pocky Crunchy Strawberry Heartful that are so rich in flavor, the sweet and sour strawberry taste will linger on your tongue long after the last delicious bite! But take a closer look before snacking the treat, as each Pocky comes in an adorable heart-shape.
Price: 138 yen
MEGA Don Quijote Shibuya: Tax-Free Service!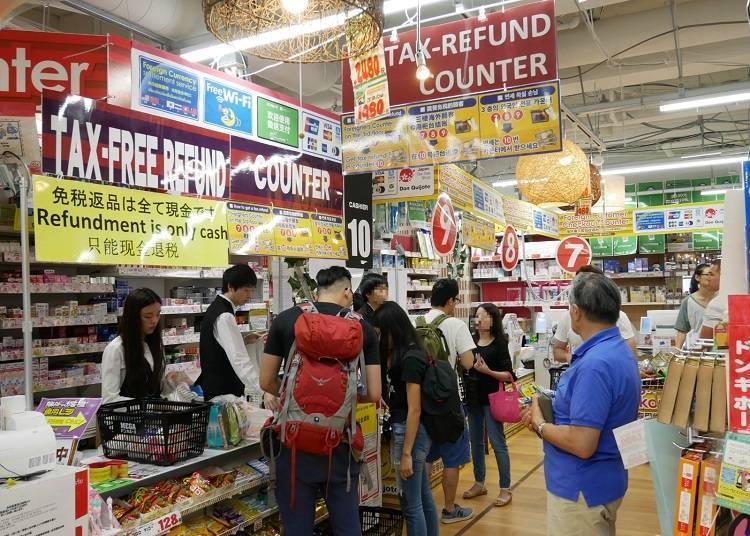 If you're eager to try all the strawberry sweets we showcased but worried that it's going to hurt your wallet, you can relax a little. The MEGA Don Quijote in Shibuya offers a convenient tax-free service on the third floor for on-the-spot tax exemption, easy and convenient!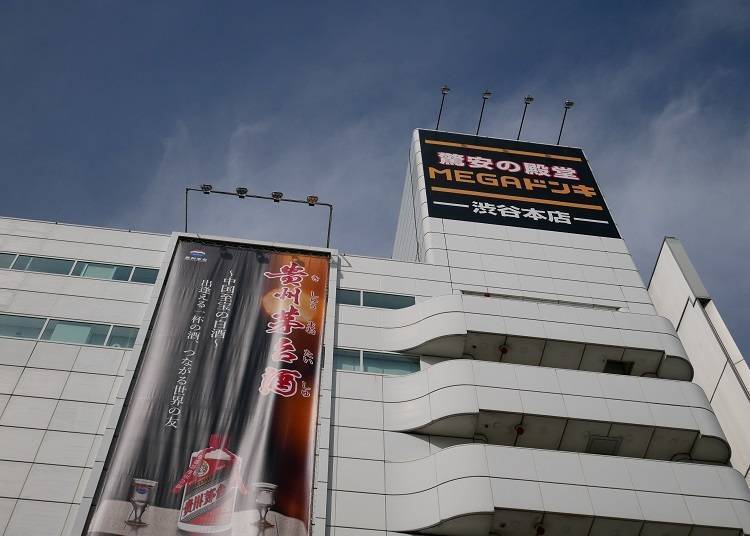 The MEGA Don Quijote at Shibuya is a massive store that offers a variety of all kinds of products at extremely reasonable prices. It's a real treasure trove of souvenirs, gifts, and miscellaneous goods – it's almost as if you step into a different world, colorful and fun! Of you're in Shibuya, make sure to stop by!

※The information given in the article is from January 2018.
※Certain products may be sold out.
※All prices are excluding tax.

Hours: 24/7
Closed: always open
MEGA Don Quijote Shibuya Main Store

MEGAドン・キホーテ渋谷本店

Address

Udagawa-cho, Shibuya-ku, Tokyo 1500042, Japan

Hours:
Everyday 12:00am - 12:00am
Opens 24 hours a day

Closed:
None
*This information is from the time of this article's publication.
*Prices and options mentioned are subject to change.
*Unless stated otherwise, all prices include tax.