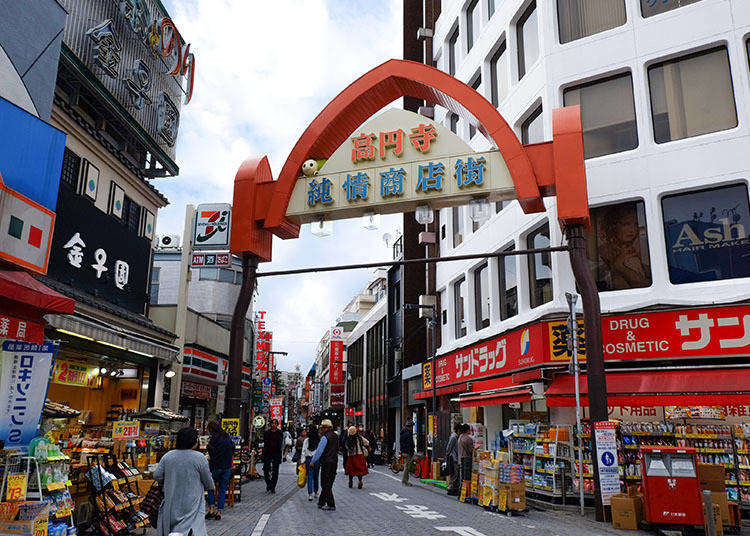 Tokyo's fascinating tourist attractions aren't limited to high-profile locations and shopping malls.

More than 90% of Tokyo's shopping malls were developed after World War II. Prior to that, people did much of their shopping in "shopping streets" where they could purchase daily necessities.

One of the most famous of these streets, Ameya Yokocho, more commonly known as "Ameyoko," began as a black market hotspot for the selling of American military supplies after the war. As more reputable retailers gradually opened shop in the area, its reputation as a tourist location grew.

Many shopping streets were located near train stations, which brought a steady flow of customers. With the development of society and increased prosperity, shopping street began to feature a wider variety of shops and affordable restaurants, and now they've evolved into an interesting mix of old and new stores standing side by side.

Each shopping street has its own unique style and charms. For example, if you want an amazing variety of stores, head to Kichijoji Sun Road. Koenji Junjo is known for exotic foods. Sugamo Jizo-dori is known as "The Grandmothers' Harajuku," and has great ramen shops. And Nakano Sun Mall is an otaku's dream. Get ready for a stroll down Tokyo's top ten shopping streets!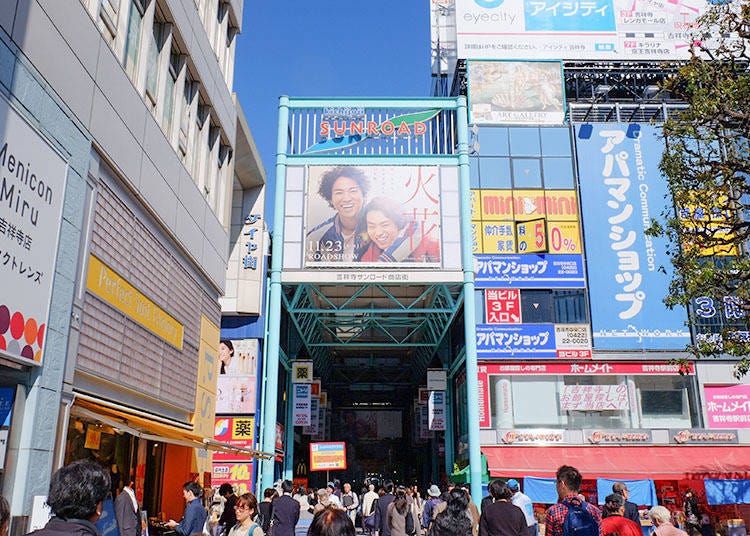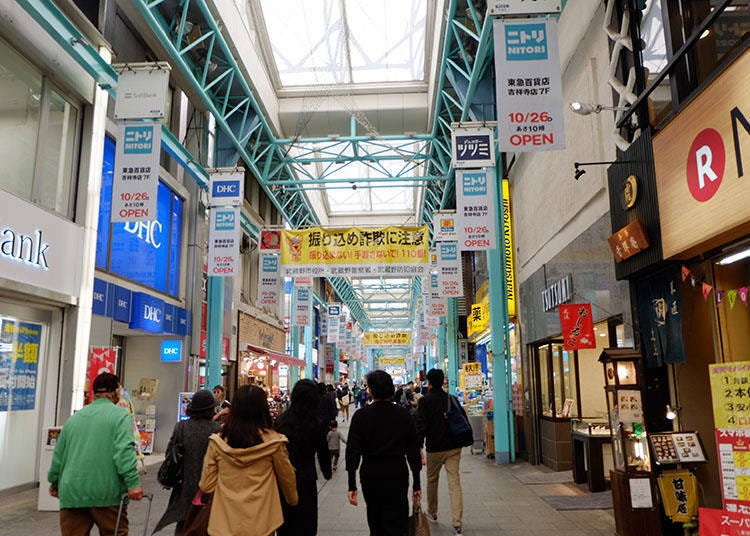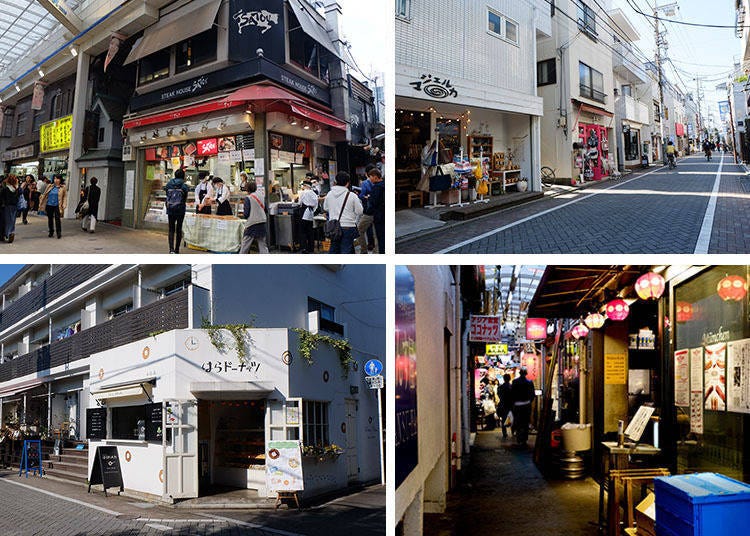 Kichijoji has been considered one the most desirable areas of Tokyo for many years, and the relaxed, cozy atmosphere is one of the most enjoyable aspects Kichijoji Sun Road shopping street. The hundreds of shops found there include drugstores, clothing stores, jewelry stores, shoe stores, department stores, etc. Some well-know stores include, but aren't limited to: Flying Tiger, CouCou, off & on, Natural Kitchen, Seria, salut!, DAISO, 3Coins, KxK by Kitchen Kitchen, CAN★DO, Loft, and Muji. There are also many specialty stores worth visiting.

In addition to the stores, the food Kichijoji is not to be missed! The SATOU Sato Meat Shop may be the most popular. The narrow Sun Road is full of closely packed exotic snack bars, izakayas, and old grocery stores, and the bright red lanterns in front of the stores fill the area with the nostalgic atmosphere of the Showa Era. Hara Donuts' natural hand-made soy milk donuts are a must-try, as are many of the ramen noodle shops in the area.
吉祥寺サンロード商店街

Address

Moto-cho, Kichijoji, Musashino-shi, Tokyo 〒180-0004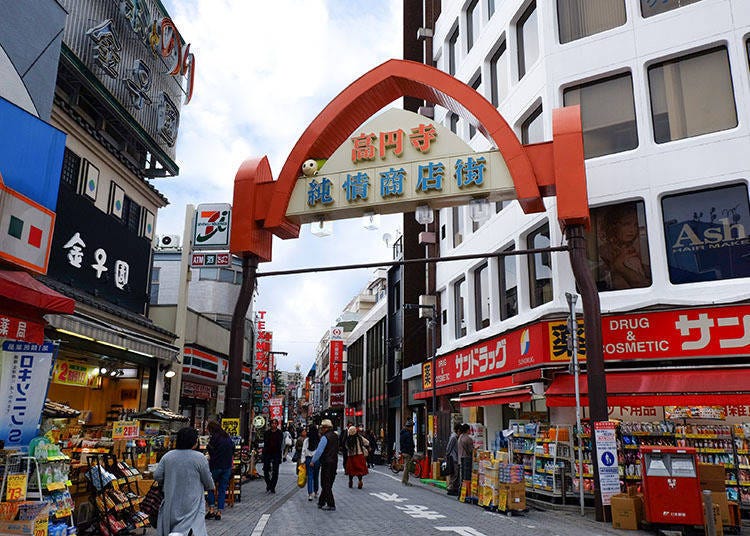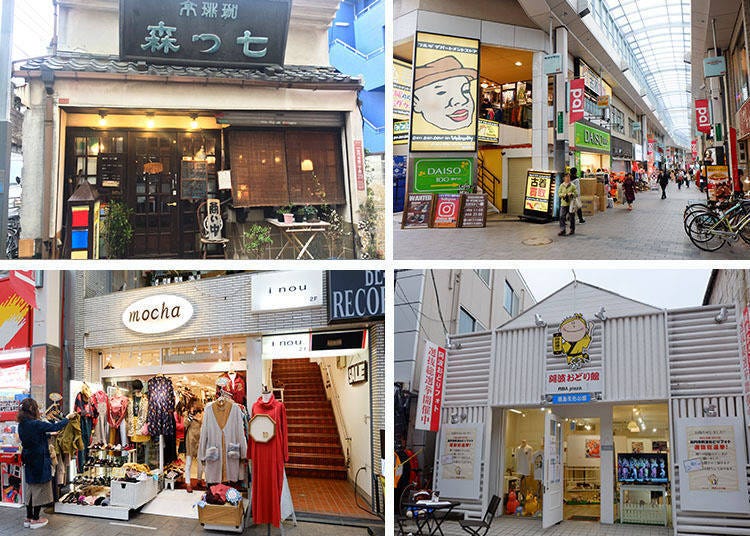 Koenji Junjo shopping street has a exotic air of multiculturalism, and combines youthful trendiness with charming nostalgia. This has made it a popular filming location for many Japanese TV dramas, and even features in Japanese author Haruki Murakami's novel "1Q84." In summer, Koenji is the site of the Awaodori Dance Festival – one of the three largest summer festivals in Tokyo.

The Koenji shopping arcade is very long and wide. You'll first see Koenji Junjo when leaving the north exit of the JR Chuo Line's Koenji station. The area is actually a combination of Pal Shopping Street, Look Shopping Street, and four others. There are many antique shops, second-hand toy stores, grocery stores, fashion boutiques, and on the main streets, and many small izakayas hidden in the surrounding alleys. Tensuke tempura and Floresta, a doughnut shop specializing in animal-shaped doughnuts, are just two of the restaurants worth checking out.
Koenji Junjo Shoppong Street

高円寺純情商店街

Address

Koenji-kita, Suginami-ku, Tokyo 〒166-0002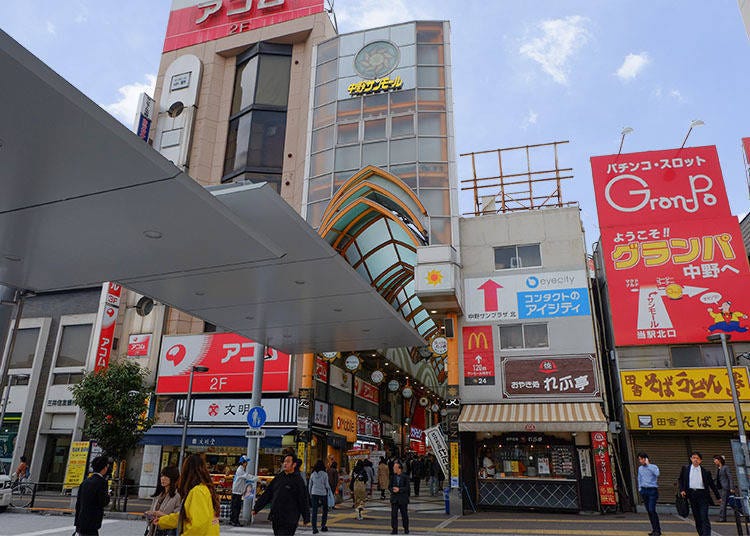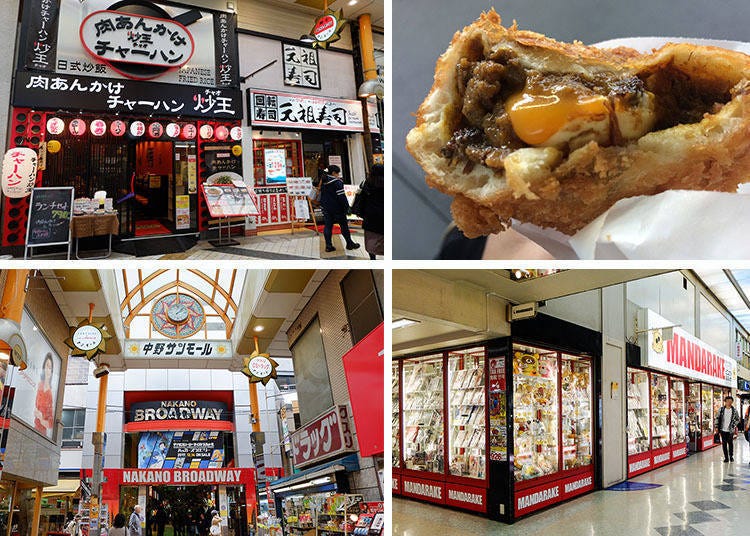 Nakano's fun and enjoyable Sun Mall shopping street is just one stop and a 4-minute subway ride from Shinjuku and, the north exit of JR Nakano Station, leads straight into the entrance of the shopping street. The arcade is covered by a glass roof, which fills the streets with natural light and a bright, clean atmosphere. Rain or shine, you can enjoy shopping at hundreds of stores and restaurants. UNIQLO, Matsumoto Kiyoshi, OS Drug, and ABC Mart are just a few of the chain stores surrounded by many more noodle shops, sushi restaurants, and fast food joints. Tenma Curry & Curry Pan is particularly popular with hungry tourists.

Nakano Broadway rivals Akihabara for the title of "Otaku Heaven," and is a manga, anime, and collector's dream. There are countless shops featuring anime products, dolls, second-hand memorabilia, and vintage movie posters. It's gigantic walk-in treasure chest just waiting to fulfill the dreams of your heart!
Nakano Broadway Shopping Street, Nakano Sun Mall Shopping Street

中野サンモール商店街

Address

5 Nakano, Nakano-ku, Tokyo 〒164-0001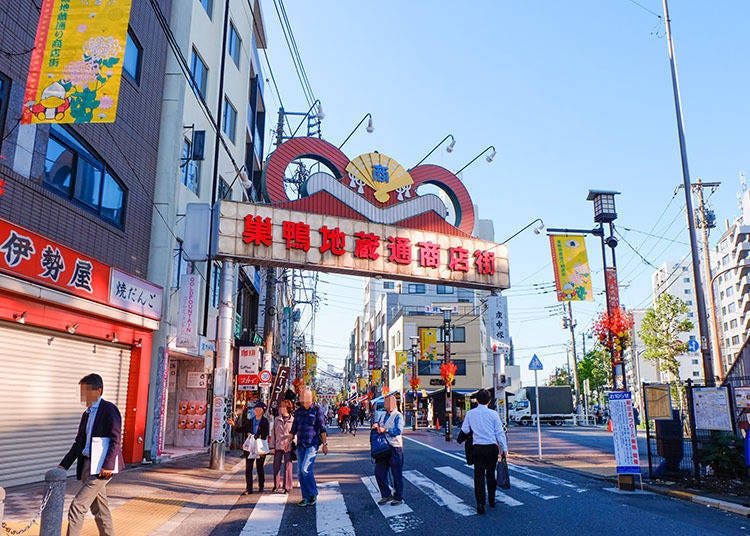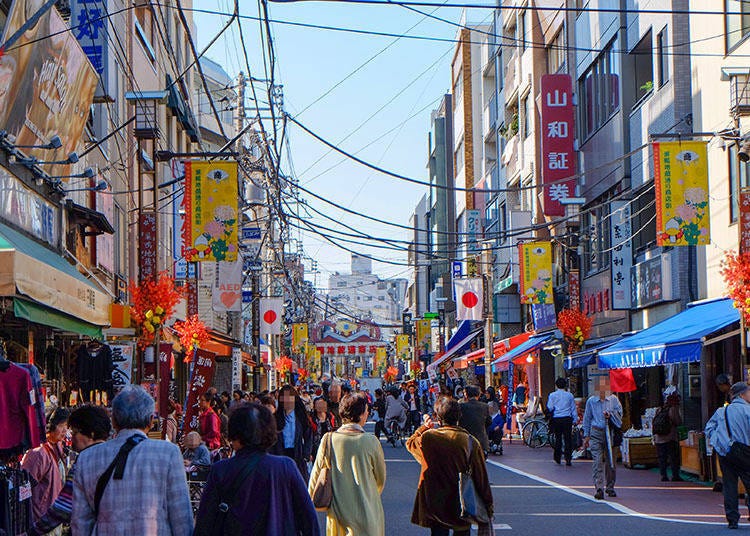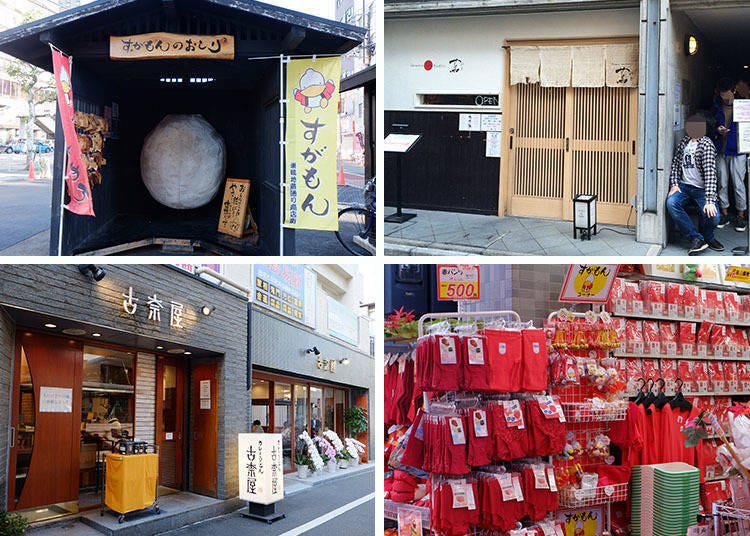 Sugamo Jizo-dori shopping street is located near Sugamo Station on the JR Yamanote Line, only two stops from Ikebukuro, and is also close to Sugamo-Shinden Station on the Toden Arakawa Line. Because the nearby Koganji temple, known as a site for healing, is popular among the middle-aged and elderly, Sugamo Jizo-dori is known as "The Grandmothers' Harajuku." The 800-meter-long street's duckling mascot can be found throughout the area. It's symbolic of nesting and love. Among the many great restaurants along Sugamo Jizo-dori, the Konaya Curry's main branch and Michelin-rated soba noodle shop Tsuta are just two of the standouts.
Address

3, Sugamo, Toshima-ku, Tokyo, 170-0002
View Map

Nearest Station

Sugamo Station (JR Yamanote Line / Toei Mita Line)
2 minutes on foot


Phone Number

03-3918-2101
5. Yanaka Ginza Shopping Street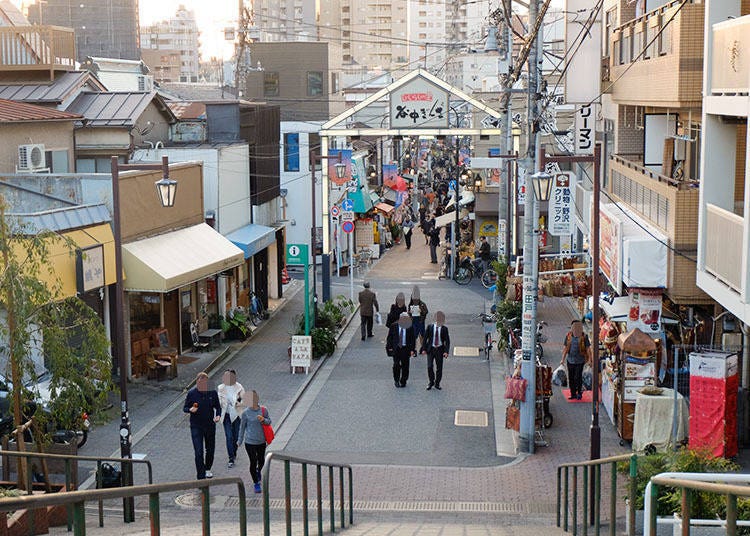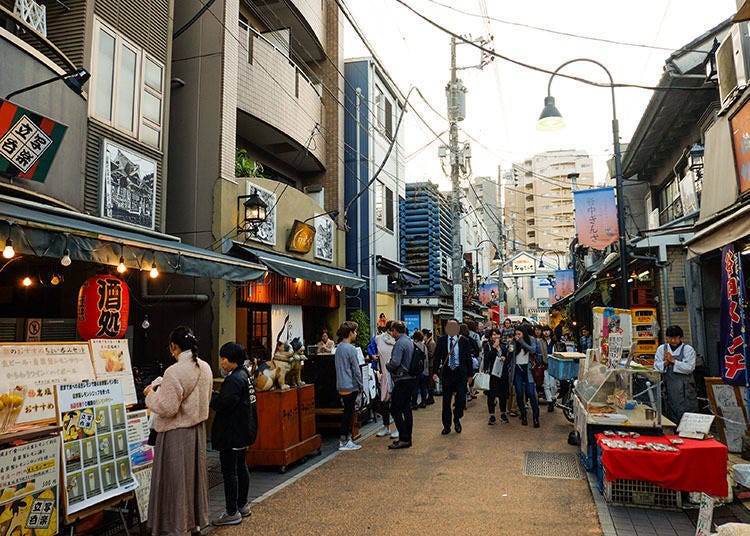 To get to Yanaka Ginza shopping street west exit of Nippori Station on the JR Yamanote Line. Along the way you'll pass through the Yanaka Cemetery Park, known for its spectacular cherry blossoms, before coming to staircase overlooking the shopping street. It's a popular place for taking photos, and if the weather's clear the sunsets are amazing.

The shopping street is known for its traditional characteristics and independently owned shops and restaurants. "Nikunosuzuki" meat patties are a local delicacy and Niko-no-Sato is a leader seller. Home-style foods and grilled seafood are among other items popular with tourists. Due to its traditional feel, Yanaka Ginza is well known, and well visited by countless tourists each year.
Address

3, Yanaka, Taitou-ku, Tokyo, 110-0001
View Map

Nearest Station

Nippori Station (JR Keihin-Tohoku Line / JR Yamanote Line / JR Joban Line / JR Ueno Tokyo Line / Nippori-Toneri Liner / Keisei Main Line / Narita SKY ACCESS Line)
5 minutes on foot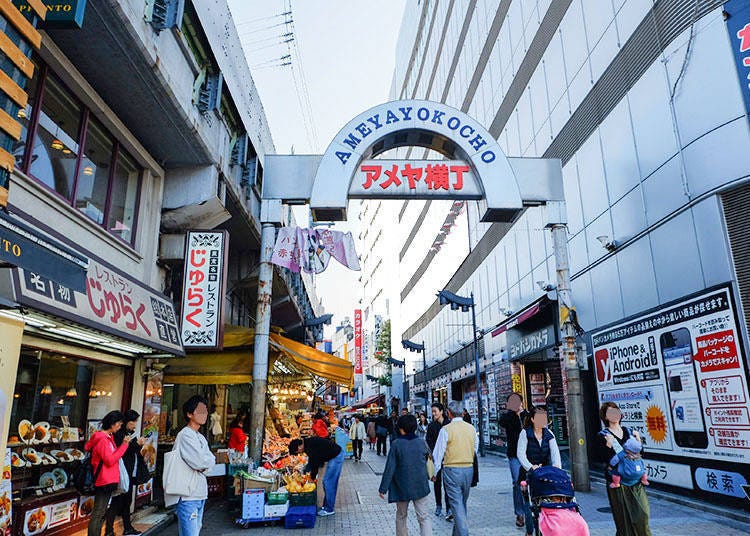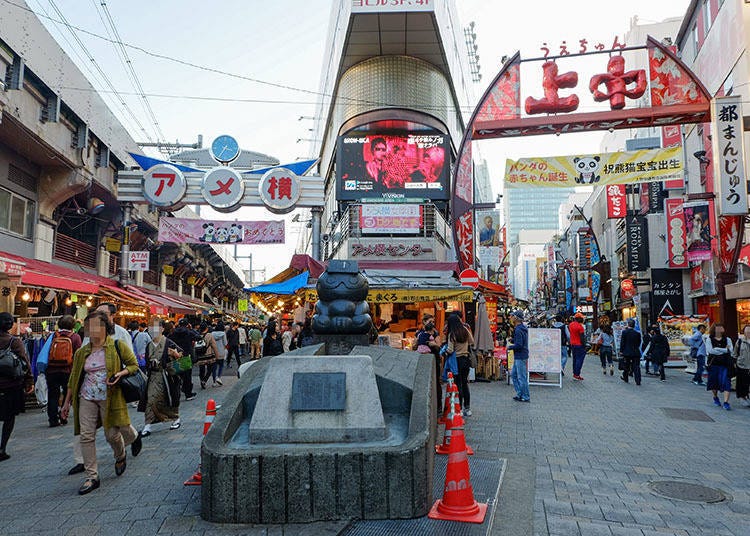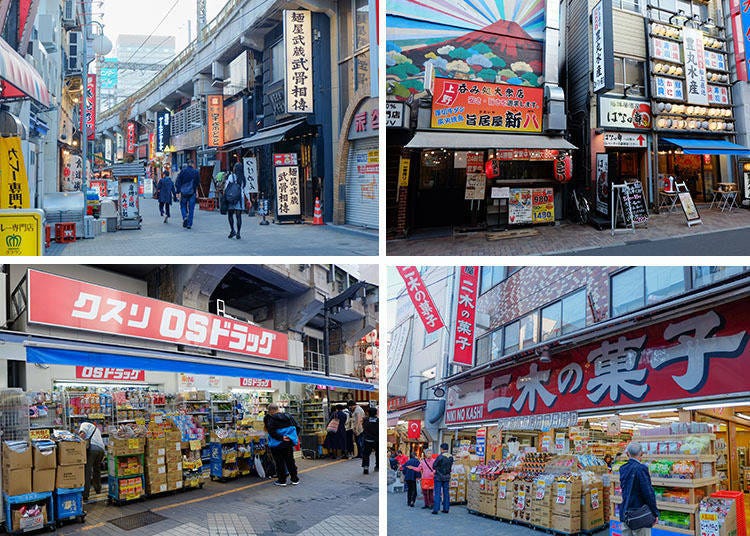 Ameya Yokocho is located near Ueno Station in Taito Ward, and there are several train and subway line that will get you there very easily. Ueno Park is a major tourist draw and "Ameyoko" is undoubtedly the most popular Tokyo shopping street for tourists from all over the world. And at the end of the year, many Japanese locals come to the mall to buy high-end and imported seafood.

More than 500 kinds of shops, selling anything from cosmetics to reasonably priced cuisine make everyday one of excitement for tourists and locals alike. The nearby Yamashiroya toy store is another popular destination.
Address

4, Ueno, Taitou-ku, Tokyo, 110-0005
View Map

Nearest Station

Ueno Station (Hokkaido Shinkansen Line / Tohoku Shinkansen Line / Akita Shinkansen Line / Yamagata Shinkansen Line / Joetsu Shinkansen Line / Hokuriku Shinkansen Line / JR Keihin-Tohoku Line / JR Yamanote Line / JR Tohoku Main Line / JR Utsunomiya Line / JR Takasaki Line / JR Joban Line / JR Ueno Tokyo Line / Tokyo Metro Ginza Line / Tokyo Metro Hibiya Line)
1 minute on foot


Phone Number

03-3832-5053
7. Togoshi Ginza Shopping Street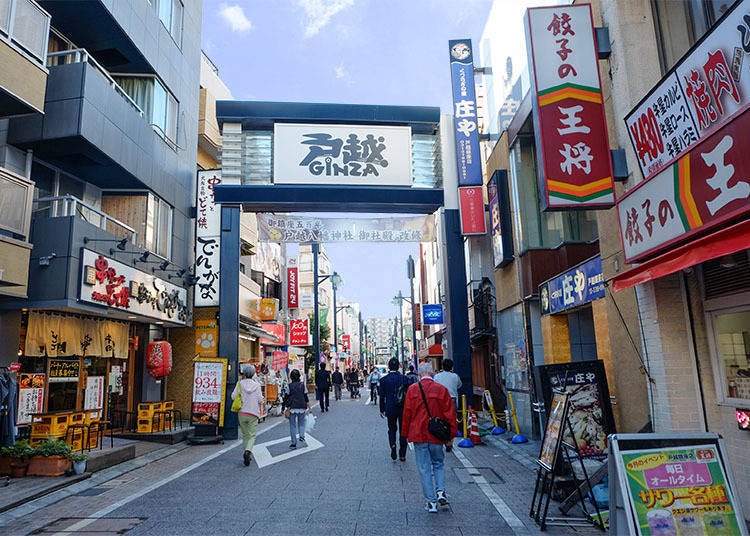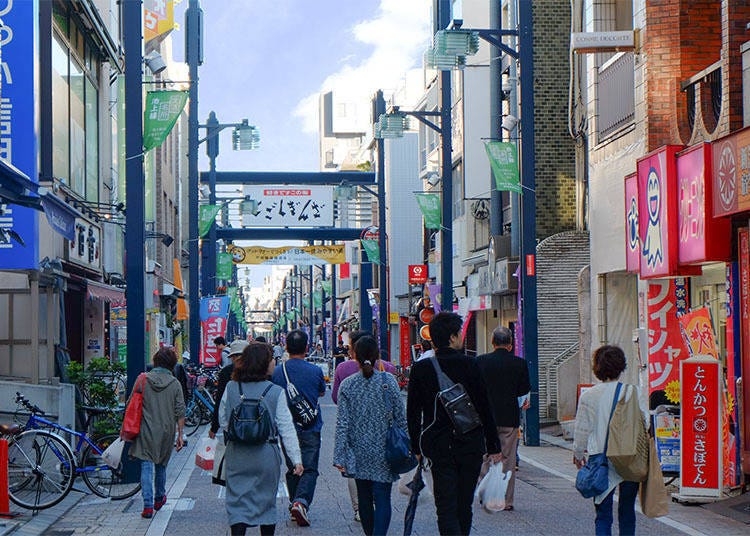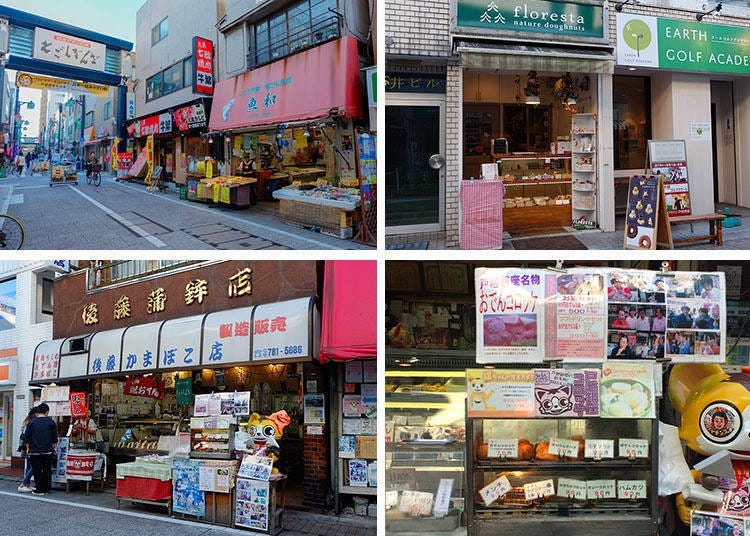 Togoshi Ginza shopping street in Shinagawa is the longest shopping street in Tokyo at a in impressive 1.3 kilometers in length. Centrally located, it enjoys easy access from a number of stations and lines. The shopping street is self is cosily surrounded by residential areas and is a major footpath for commuters. This gives it a closer connection to everyday life than many other shopping arcades.

Adding to the domestic feel, the street is home to meat shops, fresh fruit and vegetable stands, grocery stores, hardware stores, dairy shops, bakeries; and, of course, restaurants and izakayas. In addition to a Floresta doughnut shop, other friendly and unforgettable shops include Kamaboko Shop Goto and it's popular oden, and Kurokosyousen for black pepper senbei rice cracker.
Address

Togoshi, Shinagawa-ku, Tokyo 1-3 chome, 142-0041
View Map

Nearest Station

Togoshi-Ginza Station (Tokyu Ikegami Line)
10 minutes on foot


Phone Number

03-3788-1474
8. Akabane Ichiban-cho Shopping Street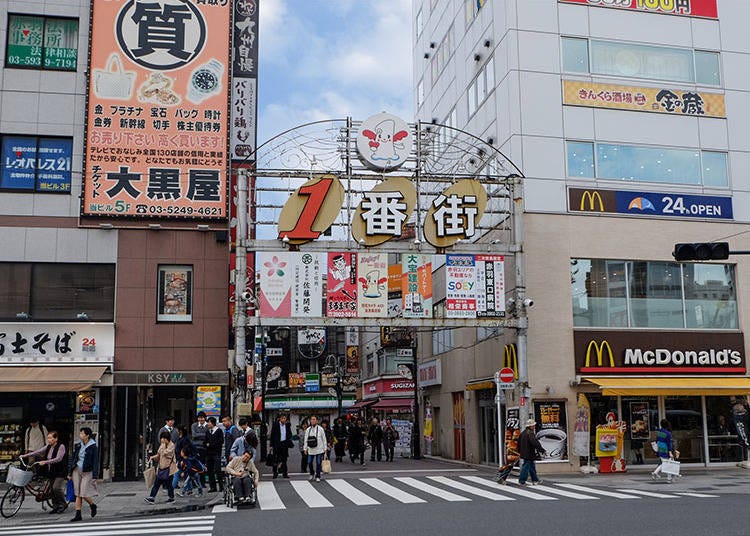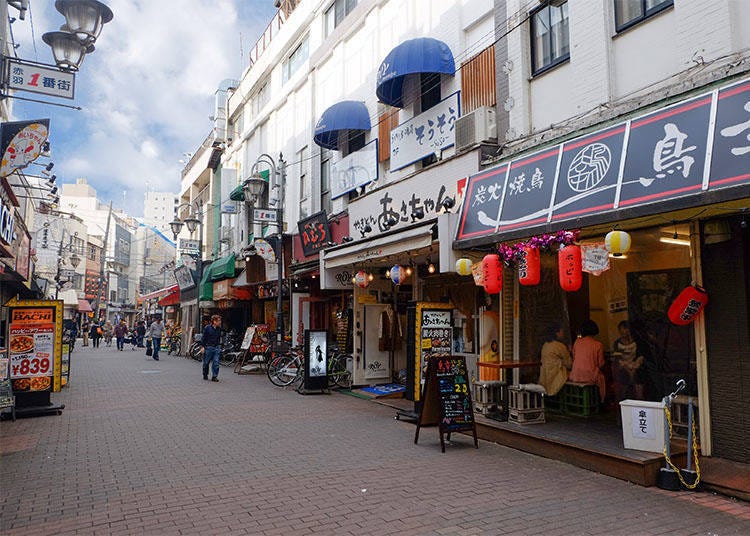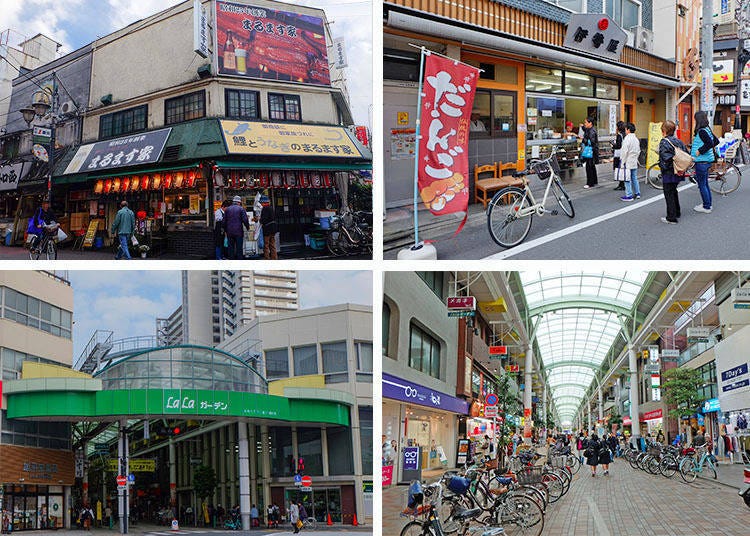 Located approximately 5 minutes from Akasaka Station, out the east exit of JR Akabane Station, there are more than 100 shops, including many specialty pork and skewer shops. For those who want and excellent venue for experiencing the unique Japanese izakaya culture, be sure to enjoy a drink at Akabane Ichiban-cho Shopping Street! Koi to Unagi no Marumasuya, famous for eel and other seafood dishes, always has a line of customers waiting to get in. The red bean rice mochi and other sweets of long standing Iseya are also popular Japanese desserts found along the shopping street.

The area is also home to a large shopping mall, with many well-known chain stores, and AEON supermarket, and Yamada Denki electronics store.
Akabane Ichiban-cho Shopping Street

赤羽一番街商店街

Address

1 Chome-23-6 Akabane, Kita, Tokyo 〒115-0045
9. Musashi Koyama PALM Shopping Street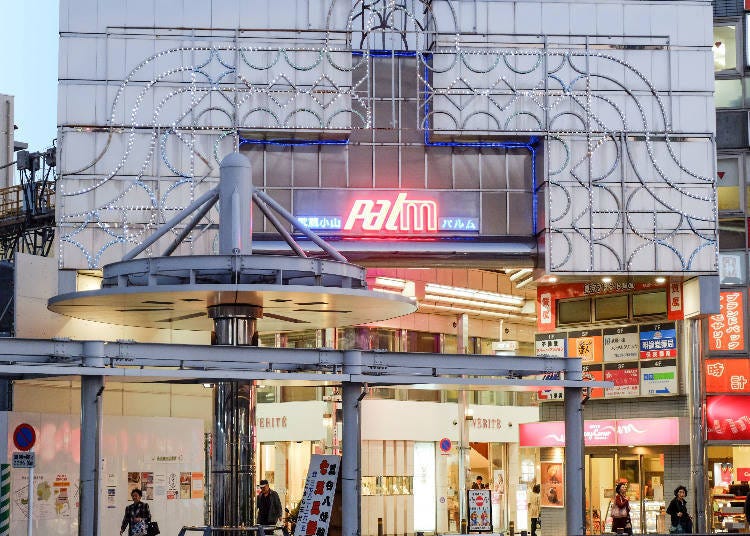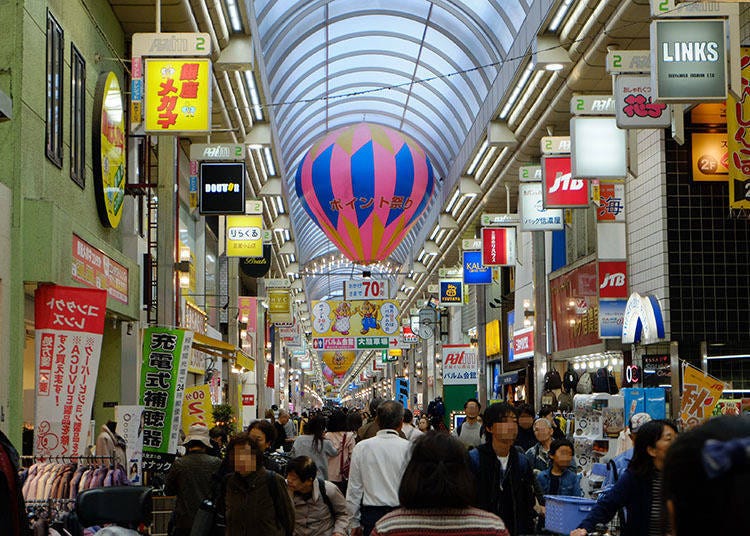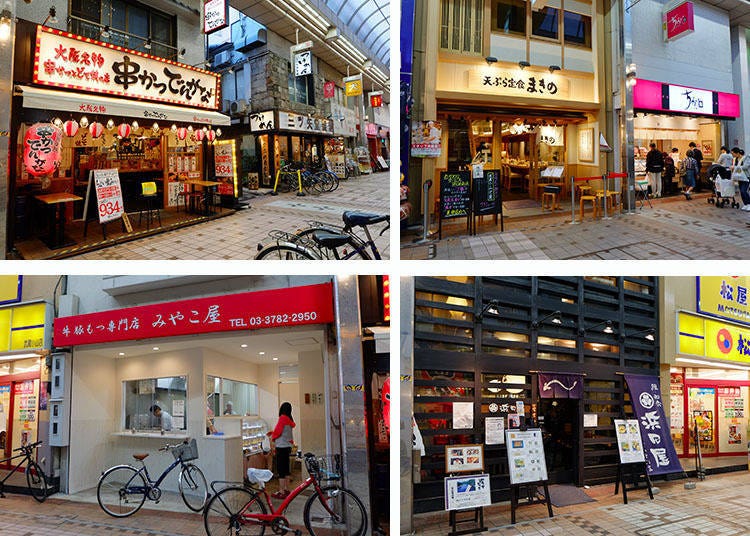 Musashi Koyama PALM Shopping Street" is another famous shopping street in Shinagawa. It's a 1-minute walk from the east exit of the "Musashi-Koyama" station on the Tokyu Meguro Line. The most obvious difference from the open-air Togoshi Ginza Shopping Street and 800-meter-long Musashi Koyama PALM is the latter's arcade-style roof, which makes for pleasant shopping even on rainy days. This arcade is also conveniently located about 30 minutes from Haneda Airport.

Among the over 250 shops and restaurants, Makino stands out as a prime tempura vendor and Pan no Tajima's hot dogs and sandwiches are a tasty fusion on East and West.
Address

3, Koyama, Shinagawa-ku, Tokyo, 142-0062
View Map

Nearest Station

Musashi-Koyama Station (Tokyu Meguro Line)
1 minute on foot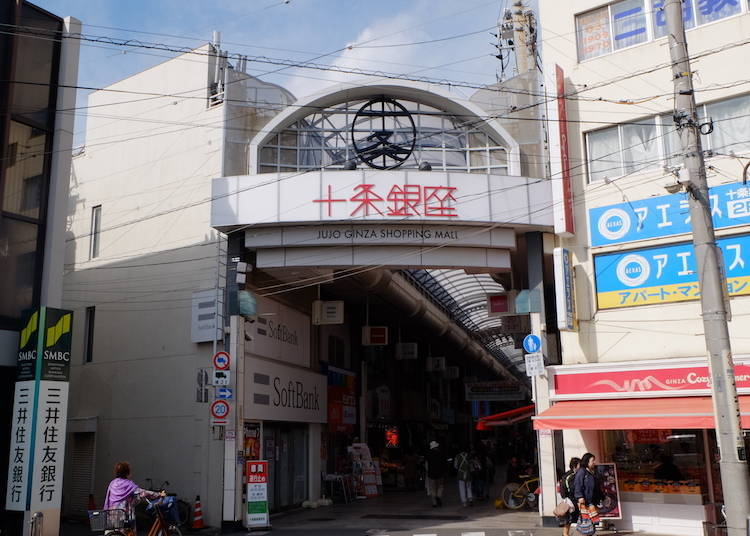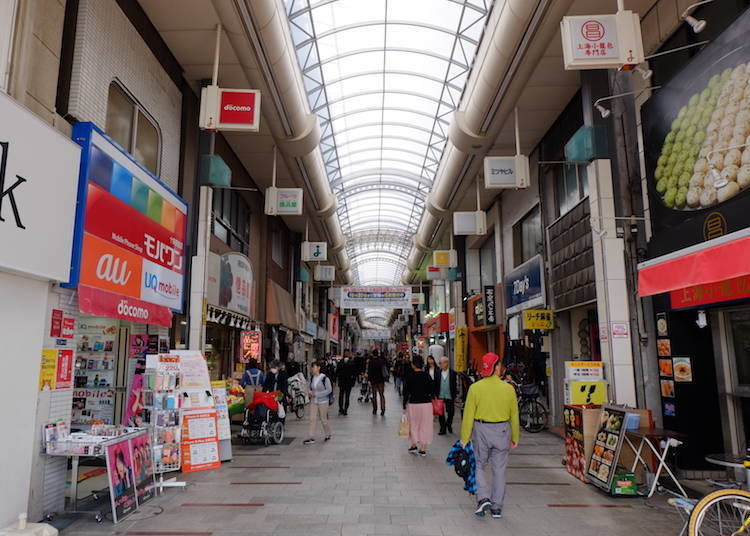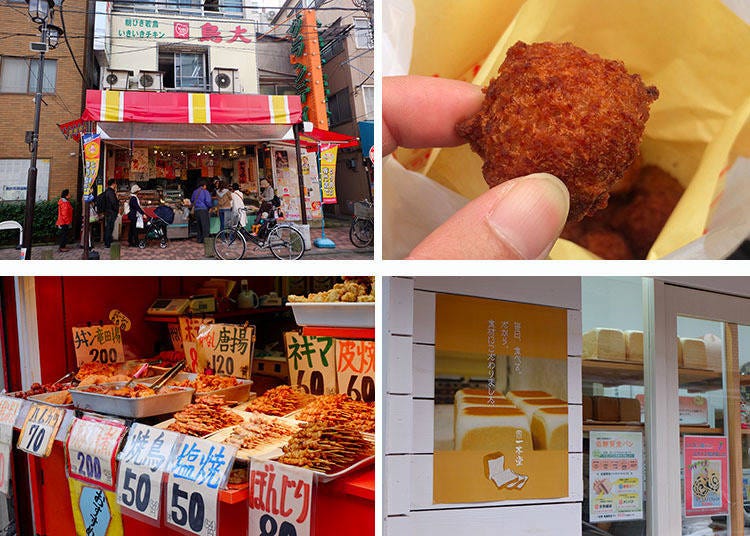 Jujo Ginza Shotengai is the largest arcade shopping street in northern Tokyo. It is located at the west exit of Jujo Station on the JR Saikyo Line. Founded during the Meiji Era, it has long served the daily shopping needs of local residents, and still retains architectural features of the early Showa Era. There are more than 200 meat shops, fresh fish shops, fruit and vegetable shops, grocery stores, and izakayas, which sell their goods at affordable prices, and are one of the charms of the ten Ginza shopping streets. Many of these well-established stores have grown to have multiple locations.

One of the most often recommended restaurants in the area is Toridai. Selling more than 50 kinds of fried and grilled dishes. At the bargain price of 10 yen apiece (limit 50 per person), the most popular dish is their fried chicken meatballs. Their exterior is a warm golden color, and the meat is neither dry, nor greasy. The Tokyo-based bakery chain Ippondo serves great bread with a wonderful aroma. Bes sure to try some!
十条銀座商店街

Address

2-30-2 Kamijujo, Kita-ku, Tokyo 〒114-0034
Tokyo's shopping streets are unique tourist destinations that should not be overlooked. They're conveniently located, well-concentrated with stores, and their neat, tidy environment make for comfortable shopping trips. In addition to great bargains, you'll find classic architecture and links to a bygone era, as well as affordable dining. The next time you're in Tokyo, be sure to visit at least one of the exciting streets on this list!

Written by: Yu. English by Gabriel Wilkinson.
*This information is from the time of this article's publication.
*Prices and options mentioned are subject to change.
*Unless stated otherwise, all prices include tax.