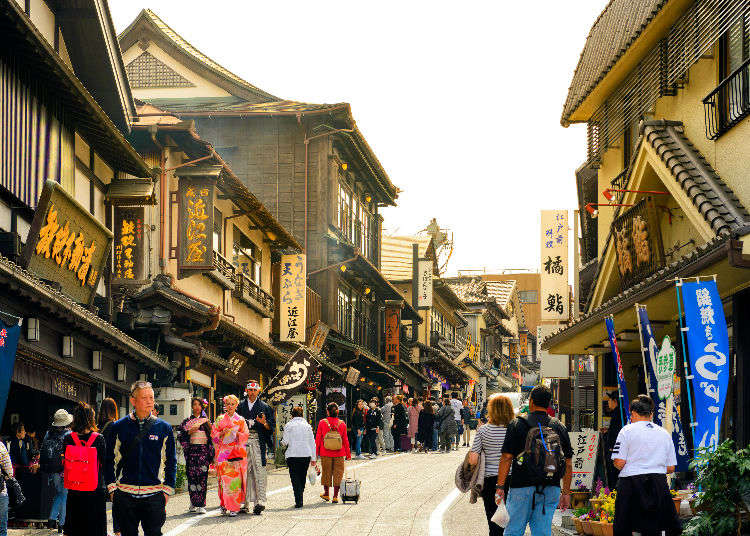 Every year, around 24 million people from all over the world visit Japan to explore the country and its rich and fascinating culture, a number that is ever increasing. While interests differ from visitor by visitor, there are certain "only in Japan" things that everyone wants to see, such as the tea ceremony and samurai. Just looking is nice and well, but to really dip your toes in the rich and deep culture of Japan, you have to get hands-on.

We have compiled Tokyo's 10 best cultural experiences to discover Japan and its culture first-hand! From the tea ceremony to samurai, explore Japan in your own way!
1. Ginza Kimono Komachi: Wear Authentic Kimono and Explore the City, Japan style!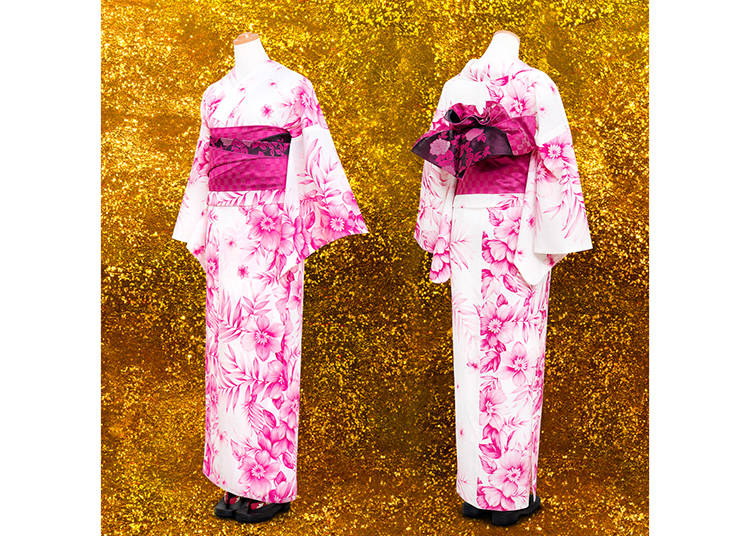 Kimono might be one of the first things everybody thinks of when hearing "Japanese culture." Thus, actually wearing one while exploring Tokyo should be on the list of everyone coming to Japan!

Ginza Kimono Komachi is a rental shop located in the glitzy area of Ginza, often called Tokyo's Champs-Élysées. With always 500 kimono of 300 brands in stock, Kimono Komachi has an amazing selection of colors and patterns, so you're sure to find a kimono that fits your style! Depending on the season, kimono are worn rather differently, their colors and patterns changing as well, so get creative and try to find something that matches both yourself and the season!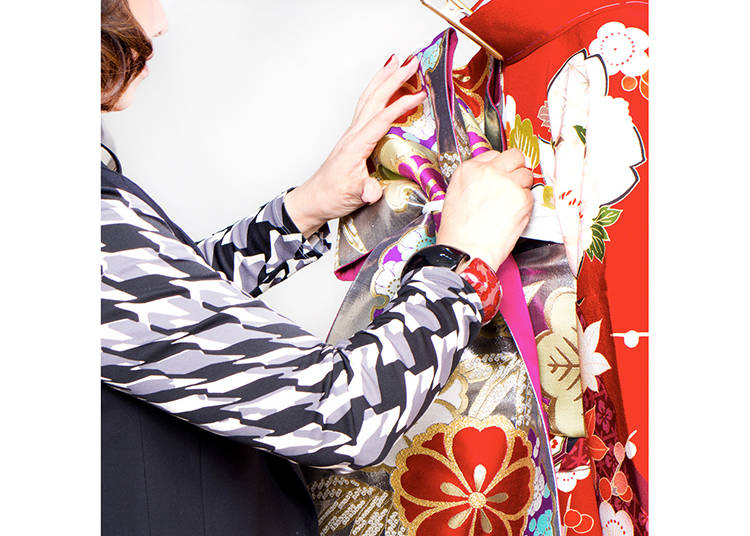 The kimono experience is available from 7,000 yen.
Of course, Kimono Komachi offers everything you need for a proper kimono outfit, including accessories, so feel free to just stop by as you are. Why not combine the rental service with a fun stroll around town, a kabuki play in the nearby theaters, or even a sumo match?

Ginza Kimono Komachi
Cregran Ginza Bldg. 6F, 8-4-23 Ginza, Chuo-ku, Tokyo-to 104-0061
TEL: 03-3575-9629 (No reservation necessary. Weekday hours are 11:00 a.m. ~ 4:00 p.m.)
Access: Shinbashi Station (Tokaido Line, Yokosuka Line, Keihin Tohoku Line, Yamanote Line, Ueno-Tokyo Line, Tokyo Metro Ginza Line, Toei Asakusa Line, Yurikamome Line), 4 minutes on foot via Ginza North Exit
2. Japanese Culture Experience Salon: Traditional Japanese Culture, Authentic and Fun!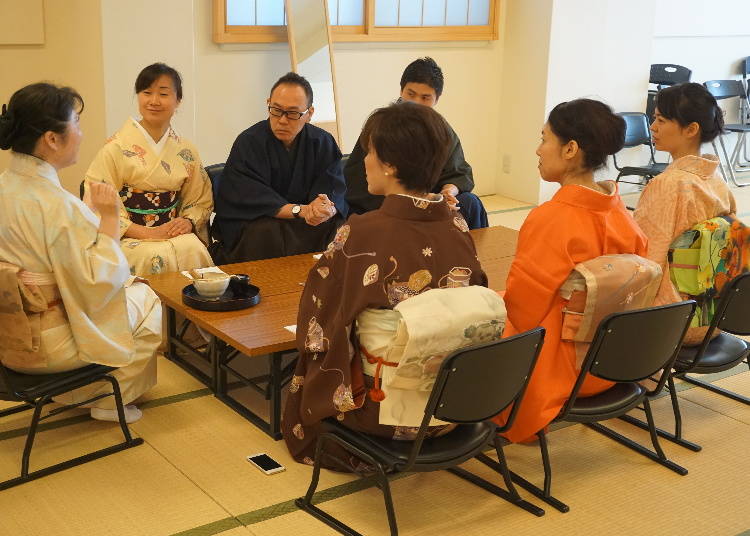 For all of you who really want to be an active part of Japan, Japanese Culture Experience Salon is the place to go. From the tea ceremony to ikebana, from calligraphy to Japanese dance, indulge in a large variety of cultural experiences that are both authentic and fun! Japanese Culture Experience Salon combines wearing a kimono with this colorful assortment of activities.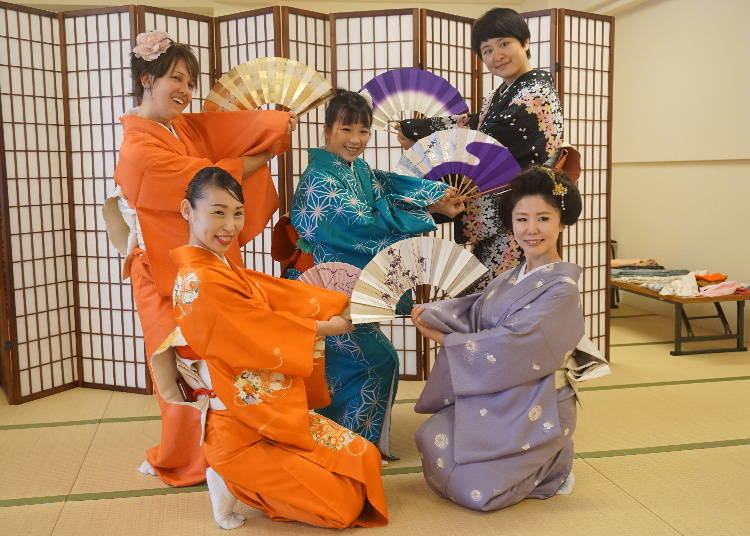 The experience plans start at 8,000 yen (differs by experience).
Some things really are better when you try them yourself instead of just watching. Japanese dance is one of these things. Utilizing a fan in the most beautiful of ways, don't hold back and express yourself in this authentic form of Japanese dance. And that's just one of the many cultural experiences offered at Japanese Culture Experience Salon!

Japanese Culture Experience Salon
Sekiguchi Building 1F, 21 Aizumicho, Shinjuku-ku, Tokyo-to 160-0005
TEL: 03-5457-2310
Access: Yotsuya-Sanchome Station (Tokyo Metro Marunouchi Line), 5 minutes on foot via Exit 2
3. Masuda-ya: Be Part of the Real Japanese Tea Ceremony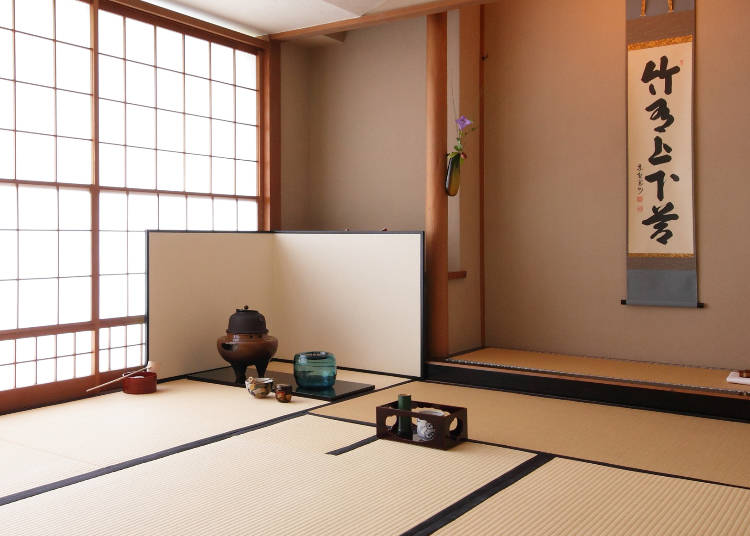 Masuda-ya was founded in 1930 and has since offered both tourists and locals an authentic glimpse into the mystery that is the tea ceremony, available from as little as 2,500 yen. Countless people have been taught the beautiful routine of the ceremony in Masuda-ya's ceremony, a tradition that continues on even today. Now, a lot of people from abroad flock to the shop to indulge themselves in Japan's tea ceremony and learn that it is about more than just tea.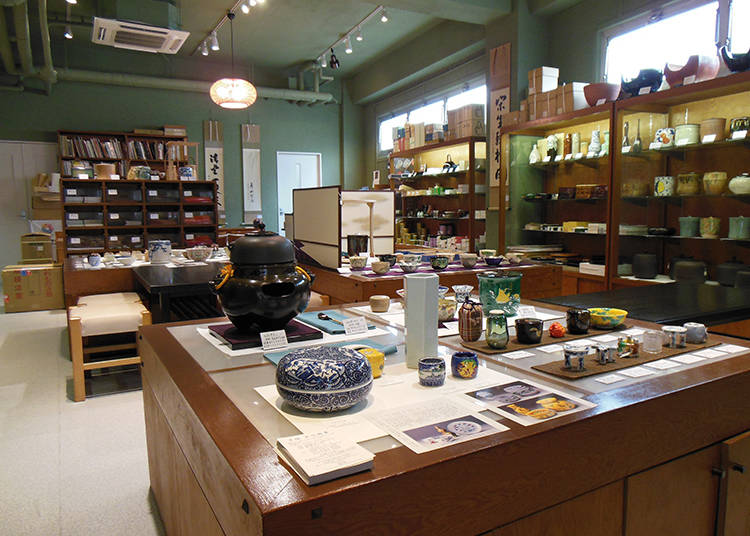 Masuda-ya is an excellent choice especially for people who have no idea about the tea ceremony at all. This beautiful tradition is said to be the "pinnacle of hospitability," and Masuda-ya makes sure to prove an environment that is both authentic and comfortable. Just relax and free your mind as you sip on hot green tea! The tea ceremony is one of those things you really need to have done at least once yourself to understand what it is all about – no video can replace the real experience. For those who have already experienced the tea ceremony at least once, look forward to a 20% discount!

Masuda-ya (益田屋)
Address: 2-17-11 Hyakunin-cho, Shinjuku-ku, Tokyo, 169-0073
Nearest Station: Shinjuku Station
TEL: 03-3362-3281
4. Sengoku Photo Studio Samurai: Become a Fierce Warrior!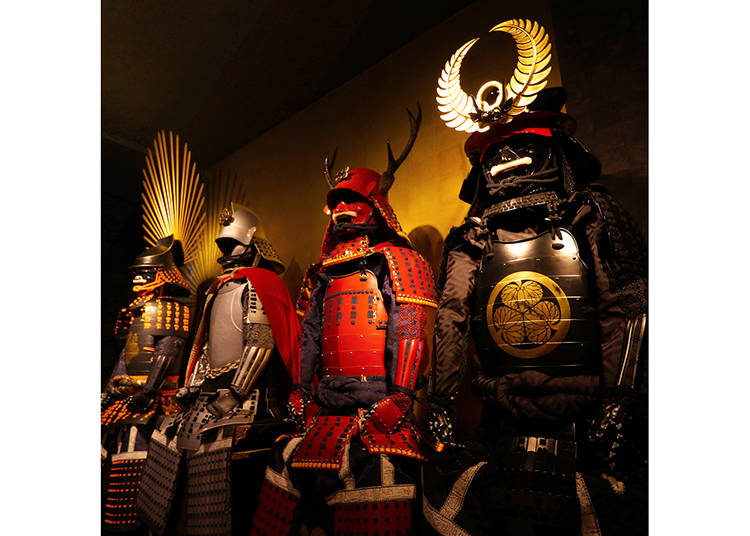 Samurai, Japan's fierce but honorable warriors, are known throughout the world. How about becoming one yourself? At Sengoku Photo Studio Samurai, look forward to wearing the armors of famous samurai such as Oda Nobunaga, Tokugawa Ieyasu, Toyotomi Hideyoshi, Date Masamune, and many others, faithfully reproduced. Once dressed, you'll get to pose in fierce and fancy ways while being shot by specialized photographers – the end result looks like a movie poster!
If you're not yet sold on this awesome experience, here's another treat: every pose was created by none other than Tetsuro Shimaguchi, the swordfight choreographer of Quentin Tarantino's Kill Bill Vol.1.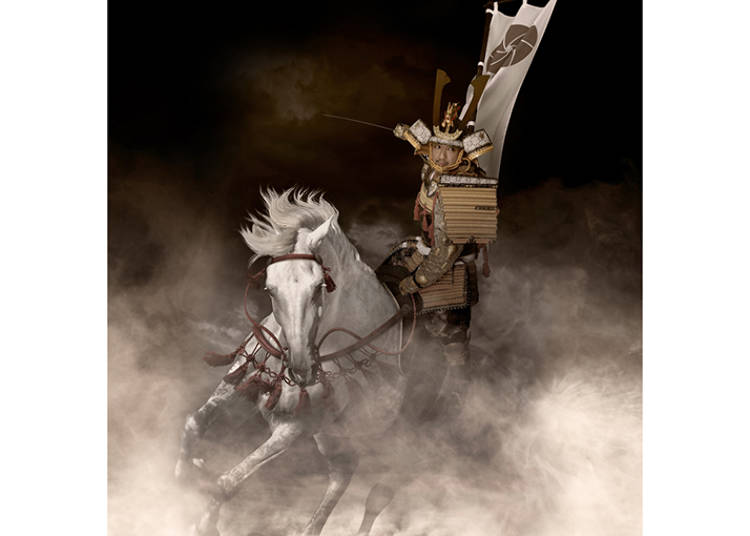 Sengoku Photo Studio Samurai offers a fun experience all around, even while you wait for the shooting to be set up. Examine the many samurai exhibits on display or play darts with throwing stars to get yourself in the proper mood! These photos will surely make some of the best mementos of Japan.

Sengoku Photo Studio Samurai
Yoyogi Ocean Bldg. 3F, 3-35-10 Yoyogi, Shibuya-ku, Tokyo-to 151-0053
TEL: 03-6847-2653
Shinjuku Station (Shonan Shinjuku Line, Yamanote Line, Chuo Line, Saikyo Line, Tokyo Metro Marunouchi Line, Toei Shinjuku Line, Toei Oedo Line, Keio Line, Keio Shinjuku Line, Odakyu Odawara Line), 12 minutes on foot via South Exit
5. Azuma Minamoto no Masahisa: Discover What Makes Japanese Knives so Sharp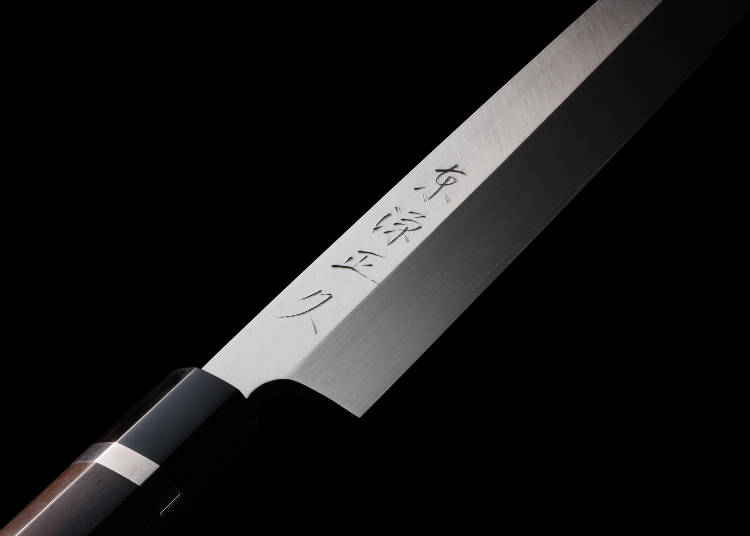 Chefs know that a good knife will last a lifetime – and possibly longer. It's not just about the sharpness, however. Balance, weight, and the grip play a big role as well when it comes to determining how good a knife actually is.
Azuma Minamoto no Masahisa, or Masahisa in short, is a kitchen knife specialty shop in Tsukiji that dates back to 1872, famed for its kitchen knives of a quality so ridiculously high, numerous chefs swear by them. Masahisa's traditional methods of bladesmithing are skillfully interwoven with the modern world, making for excellent hand-made Japanese kitchen knives.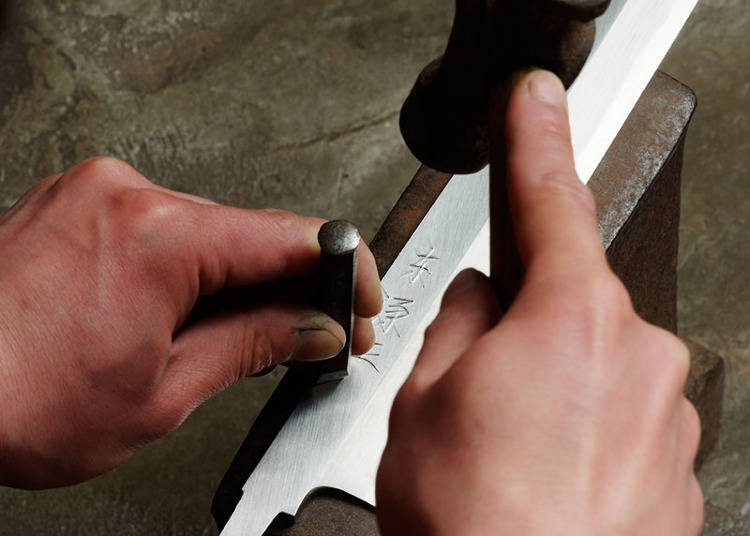 By the way: the 150cm long tuna cutting knives that you see all over Tsukiji Fish Market (and now at Toyosu Fish Market) were born at Masahisa, and are produced and popular to this very day. Just popping by the shop and taking a look at the selection is absolutely worth a visit. Of course, taking your own Japanese kitchen knife home will also make for a memento that'll last a lifetime – or longer!

Azuma Minamoto no Masahisa
4-13-7 Tsukiji, Chuo-ku, Tokyo-to 104-0045
TEL: 03-3541-8619
Access: Tsukiji Station (Tokyo Metro Hibiya Station), 7 minutes via Exit 7
6. Ginza Seiyudo: Hands-On with Real Japanese Swords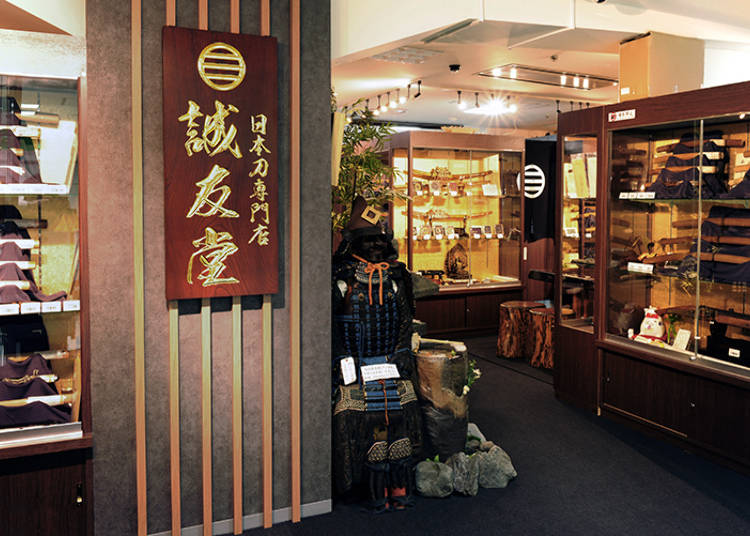 From kitchen knives to actual weapons, the samurai's katana might well be one of the most famous types of swords in the world. Seeing – and trying – such a samurai sword is high on the list of must-dos for many a tourist. Ginza Seiyudo offers this exciting experience!
The shop has carried on and cultivated the katana culture for a long time now. Japanese swords were born out of the desire for extraordinary sharpness while still withstanding numerous fierce battles. For hundreds of years, the smithing techniques have improved to a point of near perfection, giving the katana its almost mysterious shape that it has today. Katana are more than swords, however. An entire culture of warriors, honor, and the Japanese soul itself is attached to them, which is probably why they fascinate so many people all around the world.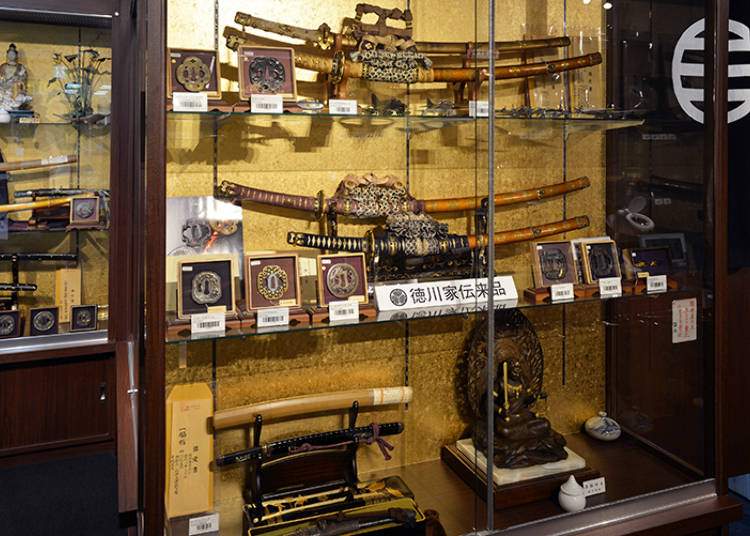 Ginza Seiyudo deals in antique and high-quality katana, but also more affordable swords, compared to the famous blades. If you are sincere about taking a real katana home, this is certainly the place to go. But even if you just want to have a look and hold a Japanese sword for yourself, Seiyudo is more than worth the visit!

Ginza Seiyudo
Ginza Five 2F, 5-1 Ginza, Chuo-ku, Tokyo-to 104-0061
TEL: 03-3558-8001
Access: Ginza Station (Tokyo Metro Ginza Line, Marunouchi Line, Hibiya Line), 2 minutes on foot via Exit C1
7. Inishie: Antiques Made "Approachable"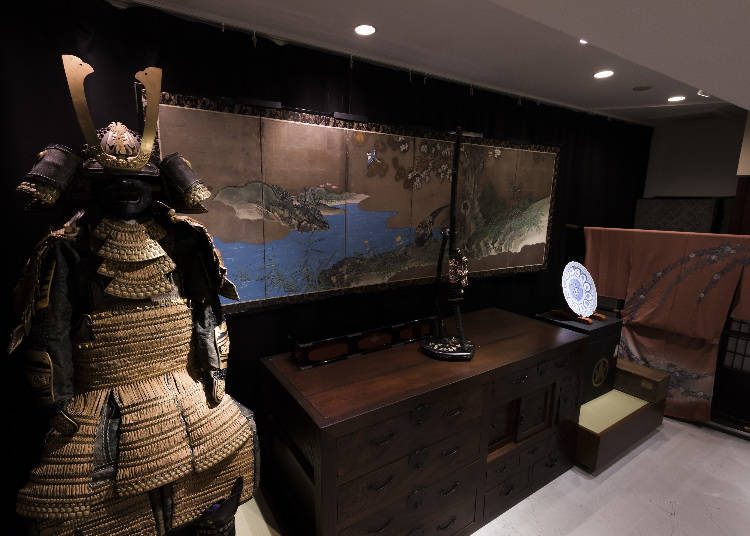 Antique dealers often have that certain serious feel to them, making you to not actually want to go inside the store after all... Japan is no exception to this unspoken rule of antiques. Inishie in Roppongi, however, has the declared mission to do away with this stereotype about antiques and does its best to be "approachable." With great success – stating that everyone is welcome, "regardless of gender, nationality, or generation," Inishie invites to not just look at its antiques, but to actually hold them, polish the ancient swords, and even partake in the tea ceremony.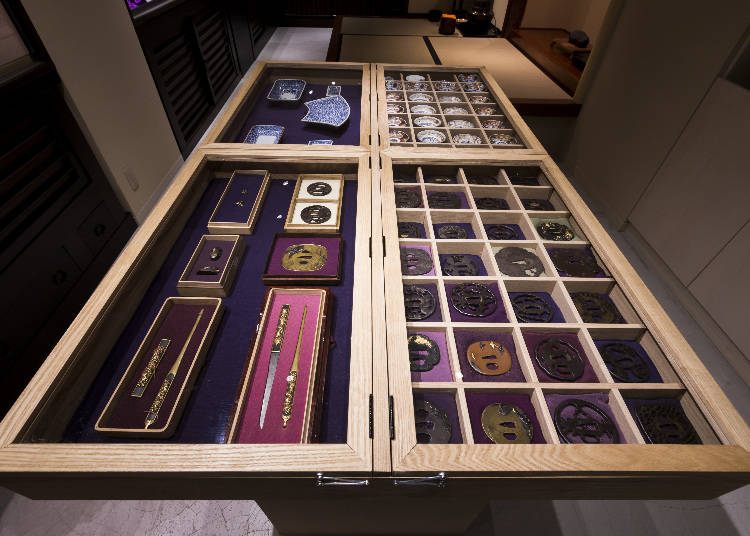 Inishie deals in all kinds of antiques, from accessories of almost all eras to furniture, from pottery to folding screens. A big part of the shop is also dedicated to everything samurai with helmets, armor, swords, and ornaments, and everything needed for an authentic tea ceremony can be found here as well.
Speaking of: as already mentioned, Inishie holds regular events, such as katana polishing and the tea ceremony. Why not stop by and get an authentic yet relaxed glimpse into Japanese history?

Inishie Antiques
Hagiwara Building 4F, 7-14-7 Roppongi, Minato-ku, Tokyo-to 106-0032
TEL: 03-3401-0124
Access: Roppongi Station (Tokyo Metro Hibiya Line, Toei Oedo Line), 2 minutes on foot via Exit 4a
8. Subaru Travel: Tokyo's Exclusive Sightseeing Taxi Tour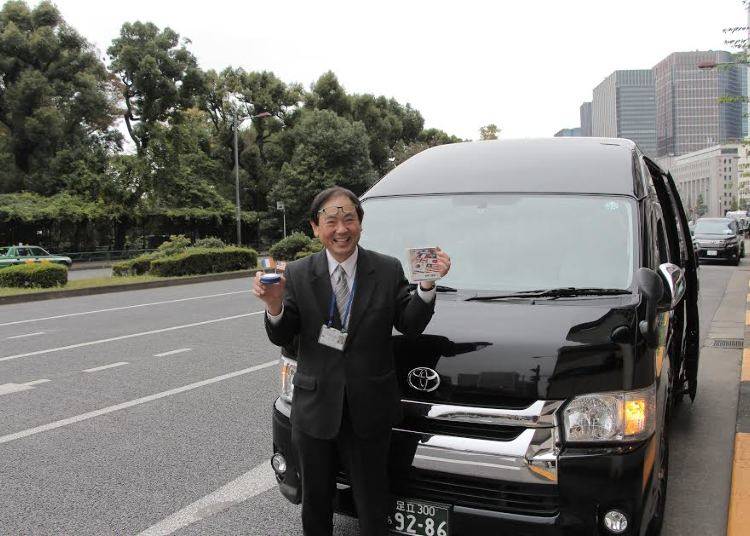 From cultural sights to amazing restaurants, Tokyo has countless spots to discover and savor. For everyone who wants to explore as much of Tokyo as possible in a brief amount of time, we have the perfect recommendation for you: Subaru Travel's Sightseeing Taxoi Tour, starting at 17,690 yen for one ride.

The tour can entirely be customized by you to visit all the spots you want to see, or you can leave it to the driver to show you their own must-see recommendations. Next to classic destinations such as Asakusa and the Imperial Palace, the taxi drivers are more than happy to adapt to your personal preferences – Akihabara for otaku, Harajuku for fashionistas, and so on!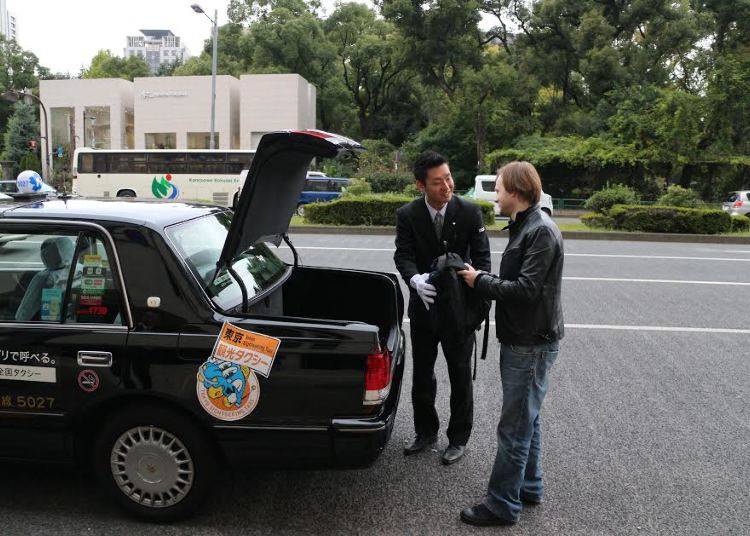 We highly recommend to leave at least some of the trip to the driver – as real Tokyo taxi drivers, they know every nook and cranny of the giant metropolis and are more than able to surprise you with hidden spots you never knew existed! This kind of custom, local tour is a must for everyone to really jump head-first into Tokyo's many secrets.

Subaru Travel Sightseeing Taxi Tour
TEL: 03-3857-2211
Access: Tsukiji Station (Tokyo Metro Hibiya Line), 2 minutes on foot via Exit 2
すばるトラベル

Address

2-15-15-802, Tsukiji, Chuo-ku, Tokyo, 104-0045


Nearest Station

Tsukiji Station (Tokyo Metro Hibiya Line)
2 minutes on foot


Phone Number

03-3857-2211
After a fun day filled with numerous cultural experiences, you must be tired. But why pick a regular hotel when you could also have an Only in Japan experience while sleeping? Everyone has heard of Japan's famous capsule hotels at this point. Contrary to the stereotypes, Tokyo's modern capsule hotels actually offer a great deal of both comfort and safety, making them a great choice for almost every traveler! Our favorite is Capsule Hotel Anshin Oyado.
9. Stay at a Capsule Hotel! Anshin Oyado Shinjuku: Safety, Comfort, and Very Reasonable Prices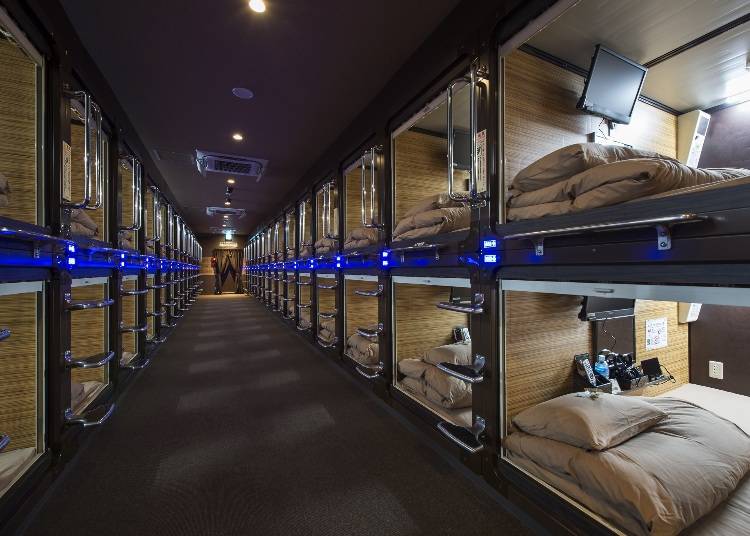 One night from 4,480 yen.
At first glance, Anshin Oyado Shinjuku really doesn't look like a capsule hotel at all. The clean and spacious hotel offers a tastefully furnished and comfortable interior, equipped with sleeping capsules that have the slight aura of a tropical resort. Despite its nature as a capsule hotel, Anshin Oyado seems like an oasis of calm and relaxation in the middle of busy, crowded Shinjuku.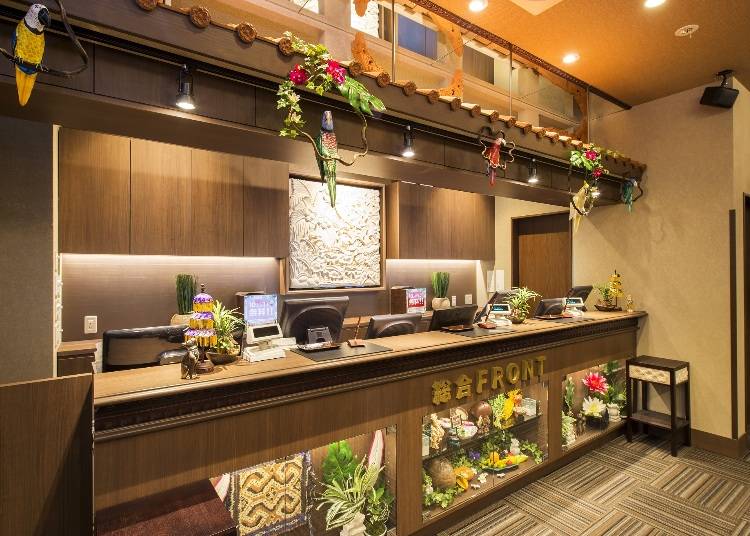 On top of that, the capsule hotel offers all sorts of amenities for the capsules itself, such as an electronic lock, a fire alarm, and an emergency button, just like the things you'd find at a regular hotel. The hotel also has cleaning staff that keeps the place tidy and neat.
Besides the comfy capsules, Anshin Oyado also features its own artificial hot spring, a jet bath spa, and a steam sauna. Feel free to use the baths, grab a nice manga or magazine, and kick back in a free-of-use massage chair. After a treatment like that, we're sure you'll sleep soundly in the soft and custom-made bedding. The only downside: it's men only.

Luxury Capsule Hotel Anshin Oyado Shinjuku Ekimae Branch
4-2-10 Shinjuku, Shinjuku-ku, Tokyo-to 160-0022
TEL: 03-6856-3222
Access: Shinjuku Station (Shonan Shinjuku Line, Yamanote Line, Chuo Line, Saikyo Line, Tokyo Metro Marunouchi Line, Toei Shinjuku Line, Toei Oedo Line, Keio Line, Keio Shinjuku Line, Odakyu Odawara Line), 1 minute on foot via Southeast Exit
Appealing

Address

4-2-10, Shinjuku, Shinjuku-ku, Tokyo, 160-0022
View Map

Nearest Station

Shinjuku Station (JR Shonan Shinjuku Line / JR Yamanote Line / JR Chuo Main Line / JR Saikyo Line / Tokyo Metro Marunouchi Line / Toei Shinjuku Line / Toei Oedo Line / Keio Line / Keio New Line / Odakyu Odawara Line)
1 minute on foot


Phone Number

03-6856-3222
10. Anshin Oyado Premium Ogikubo: Relax in a Bar Before Going to Bed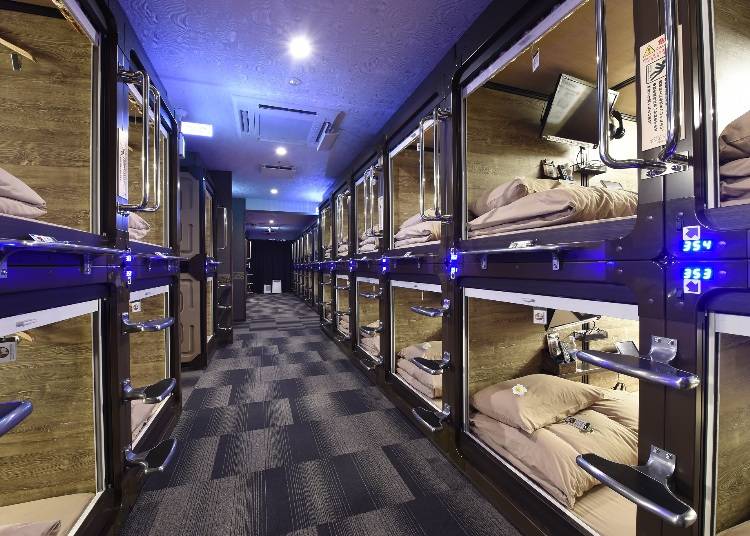 One night from 4,480 yen.
If you don't want to sleep right in Shinjuku, how about Anshin Oyado's Ogikubo location? A 10-minute train ride away from Shinjuku, it makes for a bit of a quieter space while keeping all the amenities we introduced earlier. On top of the safe and comfortable capsules, however, this location of Anshin Oyado also serves an amazing selection of Japanese sake and yummy side dishes. If you're looking for a drink and a snack before heading to bed, look no further.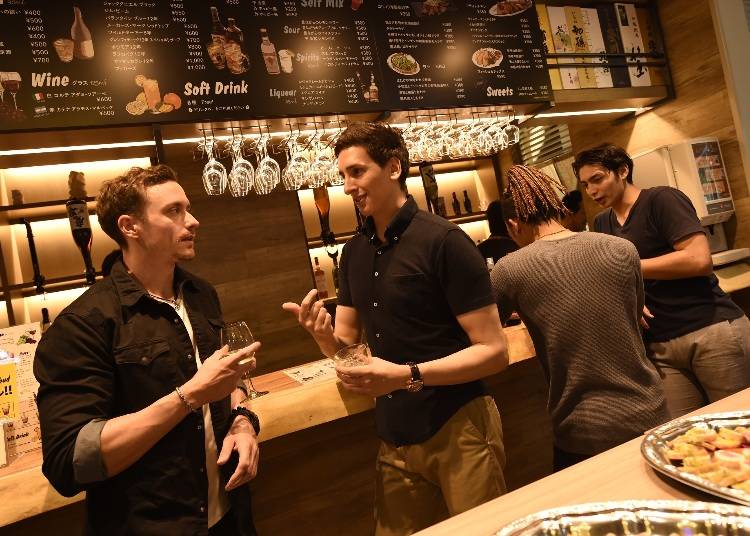 Free breakfast curry all-you-can-eat is only available at Anshin Oyado's Ogikubo location. It is famed for being both delicious and filling, and one of the best ways to charge your energies for a great day of Tokyo sightseeing!

Anshin Oyado Premium Ogikubo
1-11-2 Kamiogi, Suginami-ku, Tokyo-to 167-0043
TEL: 03-6866-0045
Access: Ogikubo Station (Chuo Line, Tokyo Metro Hibiya Line), 3 minutes on foot via West Exit
To really understand a country and its culture, you need to be an active part of it. With our extensive list of cultural activities in Tokyo, we hope that you'll discover Japan and its many charms in your own way, firsthand!

*This information is from the time of this article's publication.
*Prices and options mentioned are subject to change.
*Unless stated otherwise, all prices include tax.
Recommended places for first-time visitors to Tokyo