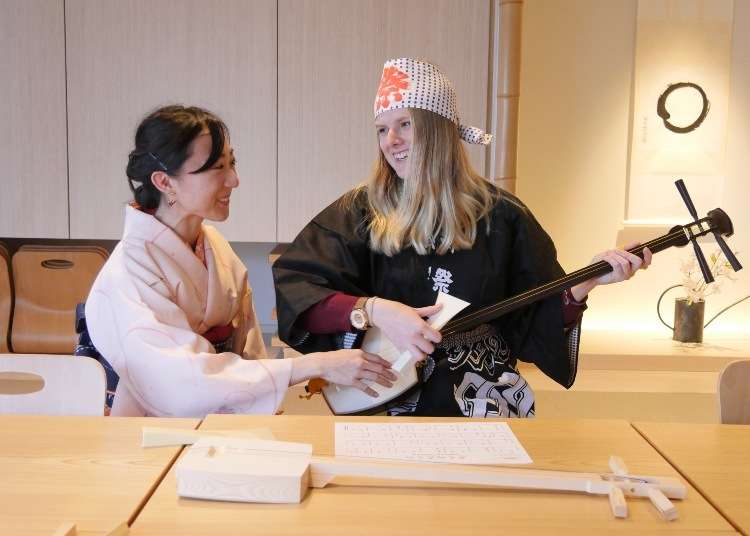 There's a new way to experience Japanese tradition first-hand, and we're here to tell you all about it. TOKYO SHAMI is one of those experiences you just cannot miss if you're in Tokyo, where old really meets new. From building your own take-home traditional shamisen, to playing classic songs from the days of yore, there's so much just waiting for you.

It is in the very heart of Tokyo that you can embark on this traditional musical journey. So much more than typical historical exhibits, this is an interactive learning experience that you can take home literally and metaphorically. So, let's take a peek into this musical world.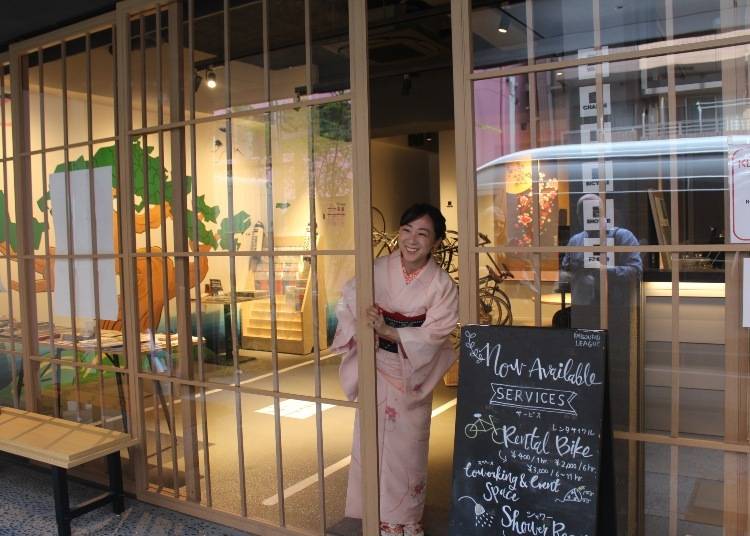 Naturally, as with most traditional arts, the number of shamisen players has dwindled with the advent of high-powered technology, but there are still some custodians of this fine craft who are striving to share their tri-string passion with the rest of the world.

Kana, the owner of the new Airbnb Experience (an immersive cultural activity led by a knowledgeable local) called TOKYO SHAMI, is one of such people. "I lived abroad for 4 years [in the Philippines, Australia and New Zealand] and that's when I realized that Japanese culture is very special," she told us. "When I traveled abroad, I met wonderful people, who helped me a lot. So this time it's my turn to be a great host for the guests. I want to share Japanese culture with foreign people." This was the genesis of TOKYO SHAMI, and as we were about to find out, it doesn't disappoint.
The TOKYO SHAMI Experience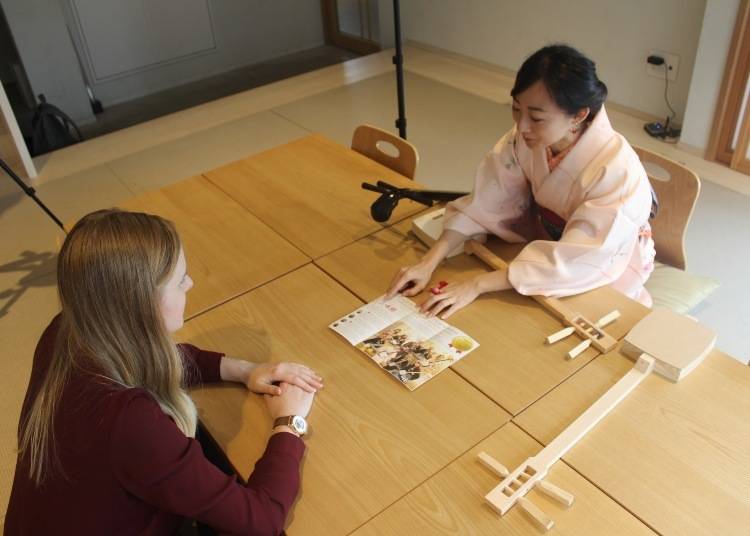 Kana greeted us at the entrance to Shinjuku's Inbound League shared office building, clad in a sakura-themed kimono and smiling like a Cheshire cat. As she took us up the elevator to her workspace on the 8th floor (though on occasion she will use the 1st floor instead), she told us, "I started the company in September because of my grandmother who is a shamisen master. I also asked friends and students if they had heard shamisen music before, and interviewed foreigners in Asakusa, many [of whom] said they would like to try playing the shamisen." This inspired her to turn her award-wining idea into a reality.

On stepping out of the elevator and into the workspace, we were greeted by an aura of calm. The lone room has a classic Japanese interior with a slightly modern twist: cubed-shape, tatami floor mats, a low central table, shoji sliding doors – which open out onto decked terrace with views of the Shinjuku skyline – and a muted color palette. A cherry blossom branch illuminated within a wall cove in the corner is the only bright hue clashing against the crisp, creamy white of the room.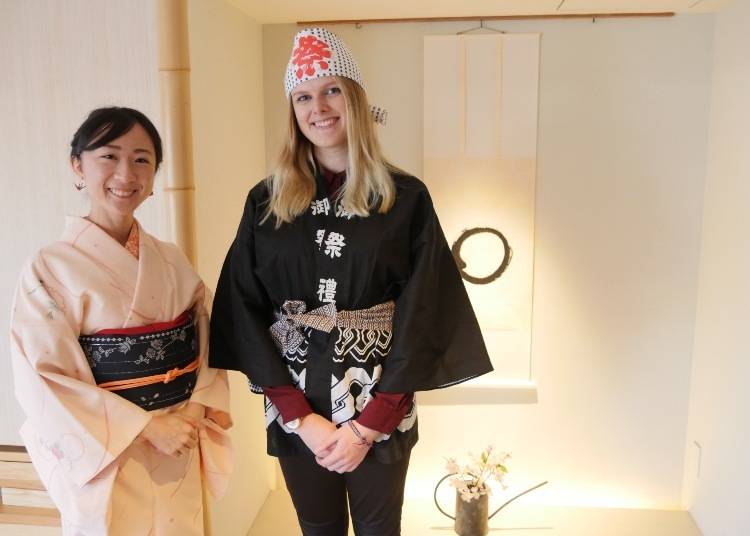 Before the experience gets under way, Kana gives participants a happi – a long Japanese overgarment traditionally worn during festivals – and a hachimaki headscarf to put on. These both feed into the cultural aspect of the task at hand. Once you look the part, it's almost time to get building your shamisen underway. But first, a brief historical interlude.

Kana details the fascinating history of the shamisen to all guests at TOKYO SHAMI, but here's a quick overview. The shamisen (三味線 – literally meaning "three taste strings") is a three-string banjo-like instrument originating in the 16th century Ryukyu Kingdom of Okinawa. The instrument was based on the ancient Chinese sanxian, one of the many tangible elements of traditional Chinese culture introduced to Okinawa by Japan's seafaring neighbors to the east. The shamisen became popular on the mainland as a musical accompaniment to Bunraku puppet theatre in 17th century Osaka, before cementing itself as a staple in the repertoire of Kyoto's geisha performances; so much so that nowadays geisha and shamisen are almost inexorably associated with one another.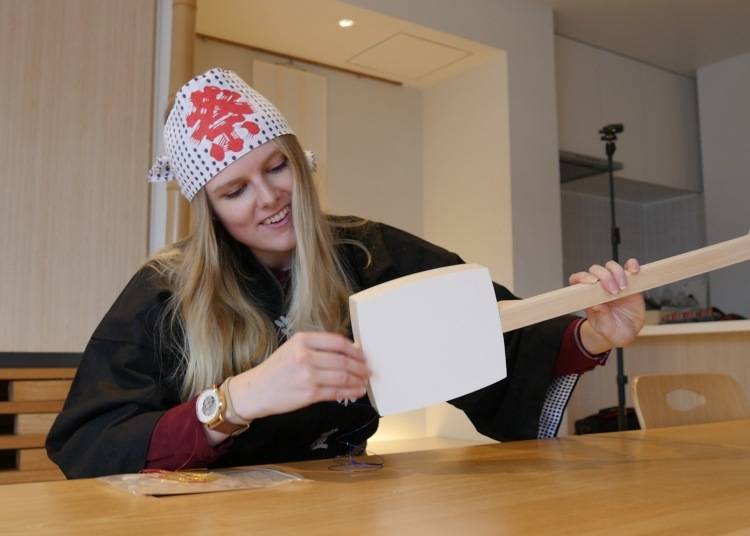 Here is a simple step-by-step process of what is required during the crafting process. It typically takes around 30 minutes: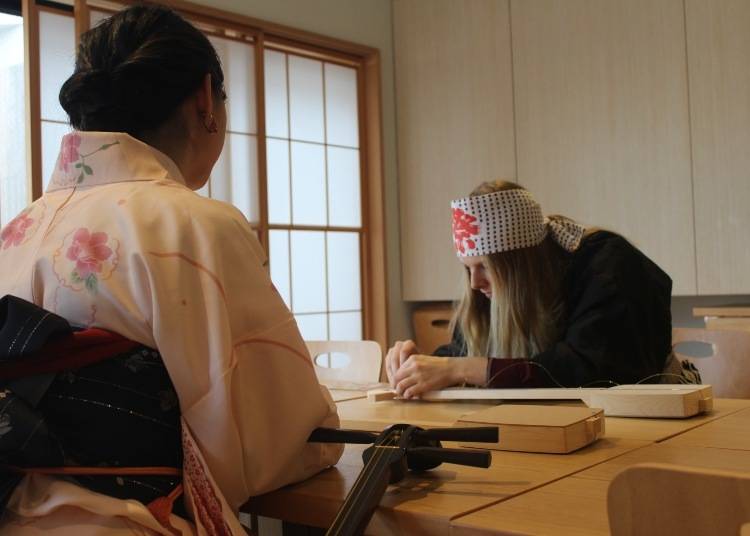 Step 1: The Strings
The shamisen you build at TOKYO SHAMI are slightly smaller than those typically used by masters of the craft but they are fit for the purposes of beginners. For our lesson, with shamisen in hand, we threaded three colored strings from the head to the base, before adding a small bridge to raise the strings. But this was just our experience – Kana is always making sure to be up to date with the latest trends, so your experience may be different! It's a fairly simple process that shouldn't require an extraordinary amount of finger dexterity and only takes around 10 minutes.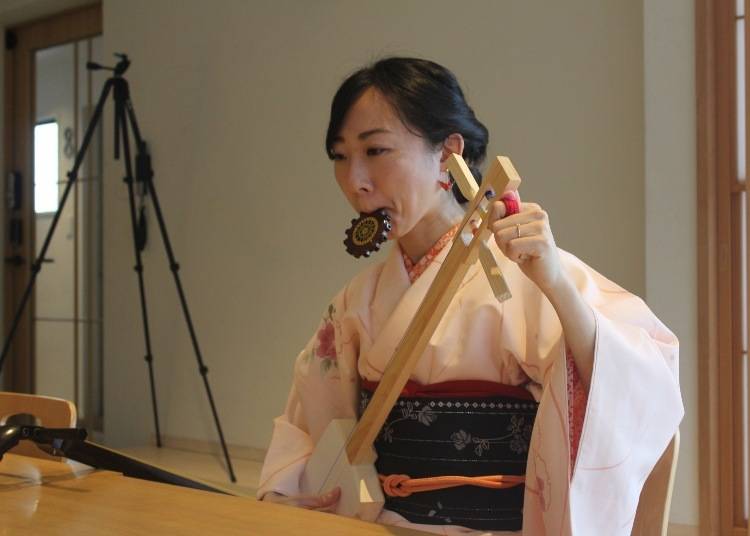 Step 2: Tuning
Now it's time to tune your instrument. You can opt for one of two options: tune your shamisen using a traditional Japanese tuning pipe (better for experienced musicians), or you can use an app (which Kana has installed on her phone) detecting when you have tuned your D.I.Y instrument to the correct pitch. Note: you will start with two songs, both of which require the shamisen to be tuned in a different way.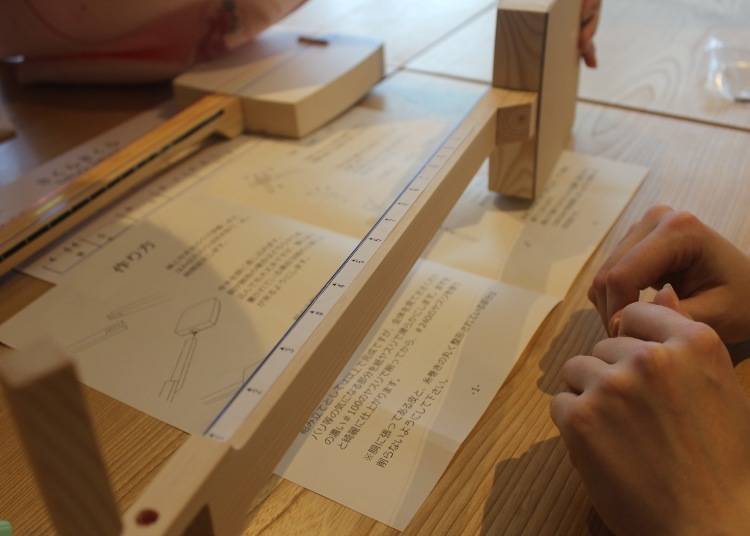 Step 3: Add the Notes
The final crafting step is adding the note markers along the neck of the instrument. Kana will provide you with a thin strip of numbered paper which you will glue along the neck of the shamisen. The numbers and colors correlate with the sheets of music provided. It may sound somewhat complex, but even as a musical instrument beginner was able to figure out how the shamisen worked more or less instantly – so hopefully that will quash some fears, if nothing else.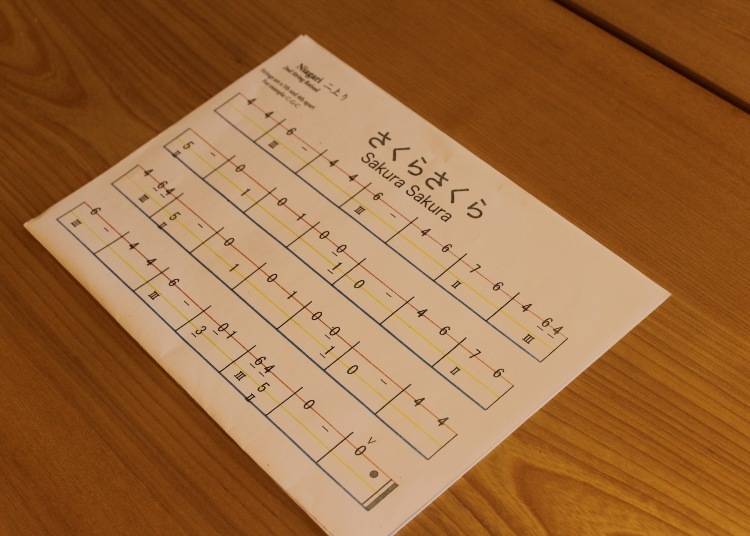 Now into the meat and bones of the experience: playing the shamisen. To start out there were two songs available for us to play: Twinkle Twinkle Little Star and Sakura Sakura (a famous Japanese folk song). Before playing each song, Kana gave us a quick solo rendition, accompanying the latter of the two with some fine vocal backing.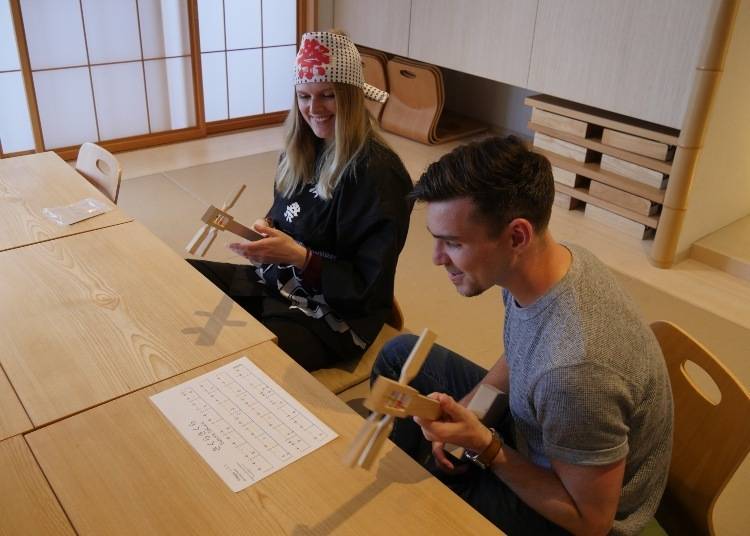 First up for us was Twinkle Twinkle. It's the simpler of the two beginner songs, requiring minimal sliding of the fingers along the neck of the shamisen. Sakura Sakura is a tad more complex with a skipping beat and slightly more dextrous hands needed. How long it takes you to get through the songs is really down to how quickly you take to the instrument. For example: being, by my own admission, musically challenged, I struggled with Sakura Sakura (the brain said one thing, the fingers involuntarily opted for another). Whereas Live Japan editor, Cassie, who has much experience wielding stringed instruments, was able to power through them and onto more technically accomplished pieces with relative ease.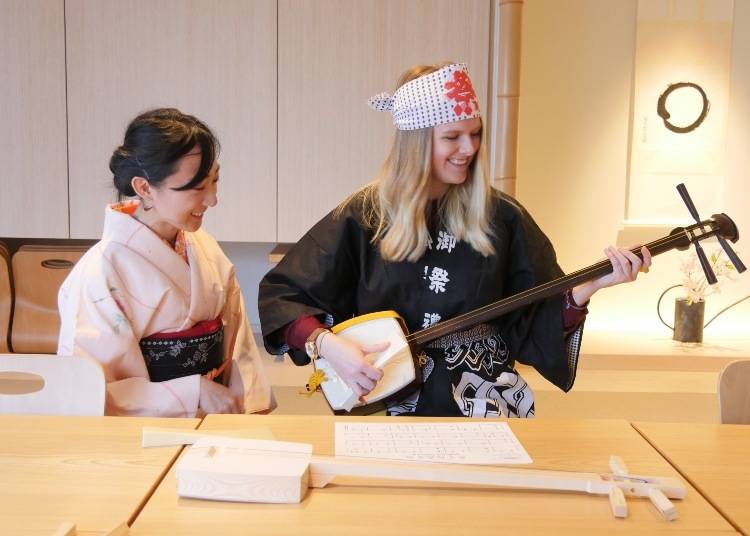 For musicians (or at least people with a history of playing stringed-instruments), this is where the TOKYO SHAMI experience can really take off. Kana has two extra songbooks, one of which contains sheet music for classic folk tunes, the other has simplified sheet music for your D.I.Y shamisen featuring famous Western pop songs. She may also let you play her own shamisen with a paddle-esque pick called a bachi. In our case she expertly delivered the Monkees' Daydream Believer (a la shamisen), with great aplomb, after which Cassie attempted it herself.

Our two-hour experience drew to a close with Cassie and Kana trading tunes on the shamisen, with frequent smiles and cries of "dekita" ("you completed it") from the latter after each song. Kana tries with great success to instil an element of fun, and a feeling of accomplishment, into the learning curve of the experience. Ultimately, this is one of TOKYO SHAMI's greatest takeaways.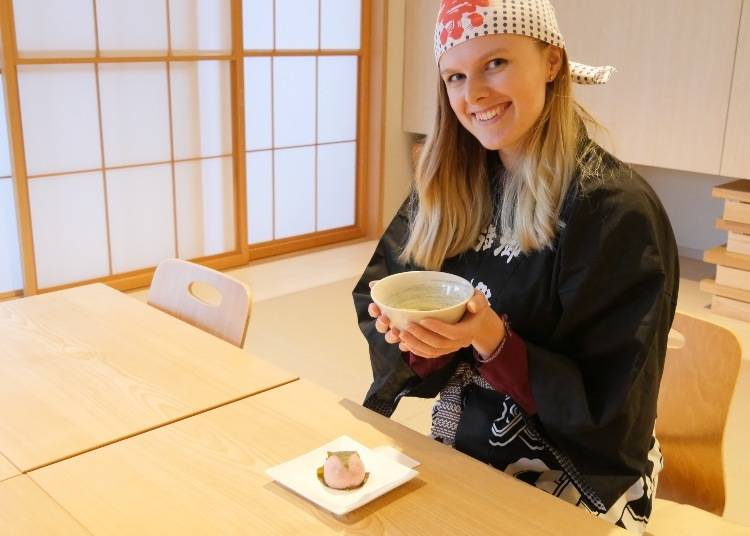 Before we wrapped up for day, Kana treated us to a tea break of matcha and local sweets – as is customary for all guests to TOKYO SHAMI. Said treats vary from day to day, but think sakura mochi, icihigo daifuku, and various other Japanese calorie bombs, and you're in the right ball park. She has no set time for the tea break but rather, as if in traditional tea ceremony manner, uses her expert judgement to adjust the timing depending of the break to suit the natural level and flow of each lesson. You can also expect to be serenaded with a live samisen set whilst you sup your drinks.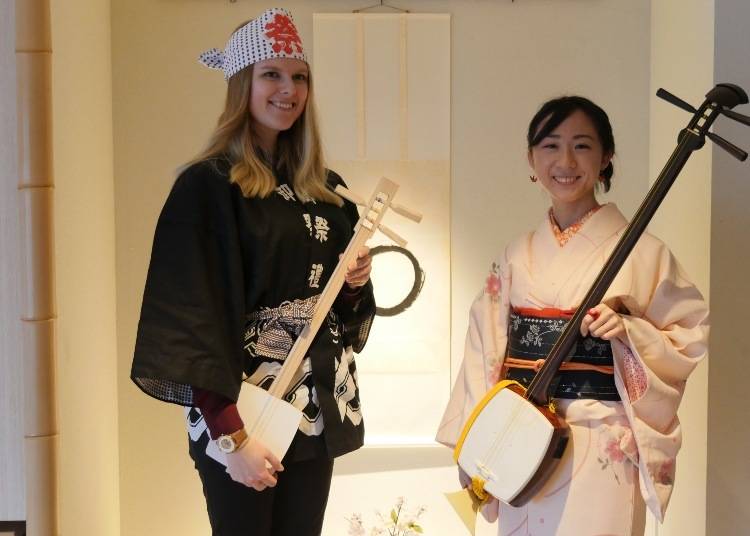 People of all dispositions are encouraged to take part at TOKYO SHAMI, and learn about this unique and unfortunately fading part of Japan's rich cultural heritage. Those who have musical experience or an aptitude for playing instruments certainly have an advantage. But in fact, beginners may even find a certain joy out of the new instrument that more seasoned musicians might not – according to Kana, one such first timer was so enthralled by the experience that she immediately wanted to take up the instrument and enter the world of music.

As we left, I wanted to get some of Kana's final thoughts on what she wants to achieve with TOKYO SHAMI. "I hope people will continue to play the shamisen after they go home and introduce it to people in their own country," she says. With Japan having so many strong traditions battling against the tides of modern change, it's an honorable goal, and hopefully, one that she's able to achieve.
TOKYO SHAMI

Address

5 Chome-15-14 Shinjuku, Shinjuku City, Tokyo 160-0022 (8th or 1st Floor)

Number of Participants: Currently 1 – 5 (possibly larger groups to be included in the future)

Experience Time: 2 hours per session

Price: 18,000 yen per person – including lesson, shamisen, music, tea and sweets (this is as of December 2019, subject to change. For more info see: https://www.airbnb.com/experiences/925863).
Written by: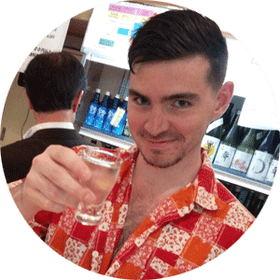 *This information is from the time of this article's publication.
*Prices and options mentioned are subject to change.
*Unless stated otherwise, all prices include tax.