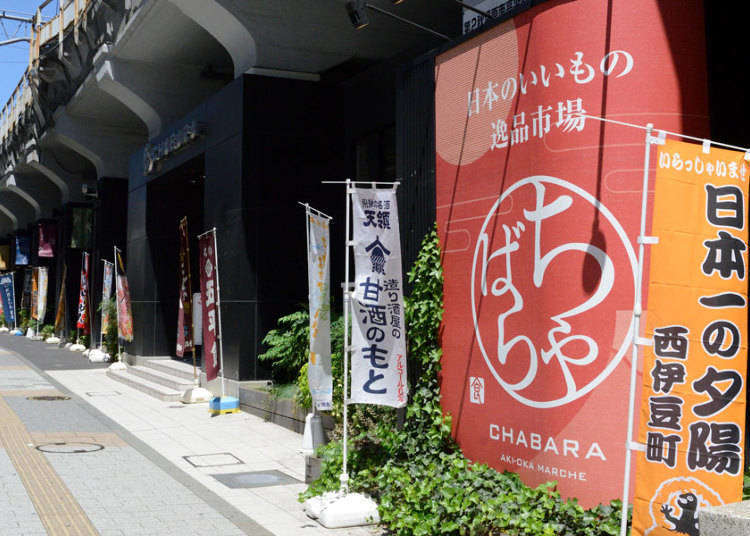 Tokyo is full of elevated train tracks, and the image that the general Tokyoite has when thinking about them - cozy izakayas, little restaurants, and smoky bars. Recently, however, these very "under the train track" spots called "kokashita" have been reborn as some of Tokyo's most trendy must-visit spots! Fashionable and modern, these locations represent the pulse of Tokyo like none other, so let's go and take a look!
Nakameguro Kokashita: Stylish and Trendsetting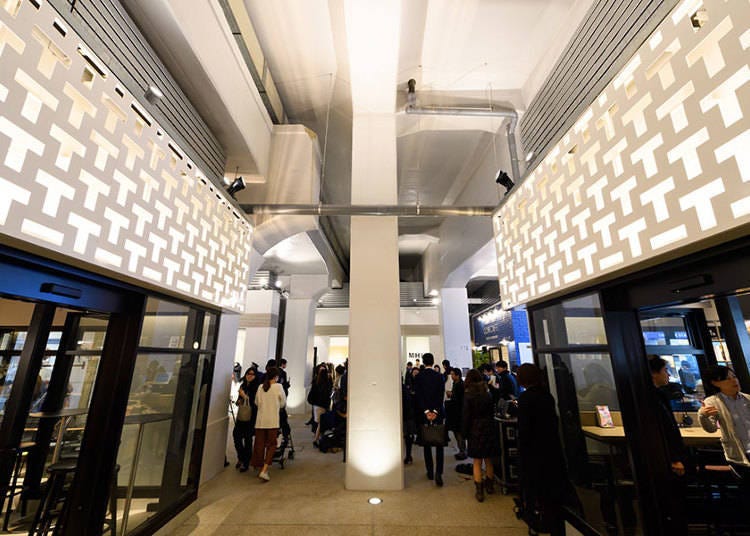 Nakameguro is known as an area crowded with fashionable cafés, a wonderful place to kick back and relax in style. The Nakameguro Kokashita opened in November 2016 directly underneath the elevated Nakameguro Station. So far, the area under the train tracks has gained a lot of positive attention! A total of 28 stores stand next to each other on about 700 meters, covering all sorts of genres and tastes. Among them is Nakameguro Tsutaya, a wine specialty store, and a whole variety of other sophisticated spaces. Nakameguro Kokashita is the place to go when it comes to checking on Tokyo's trends!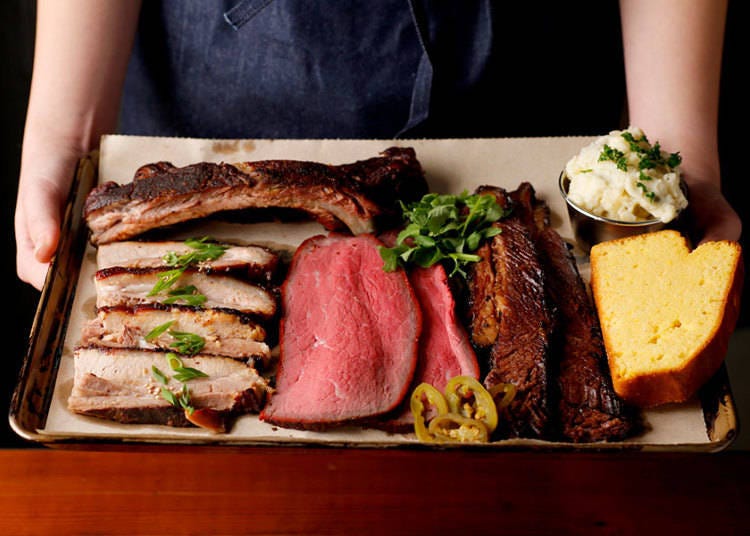 Tokyo's gourmands flock to the popular restaurant GOOD BARBECUE to feast on smoked meat from the States. This authentic food experience is a must for meat lovers! The restaurant even features a terrace, offering a wonderful view on the cherry blossoms over Meguro River in spring.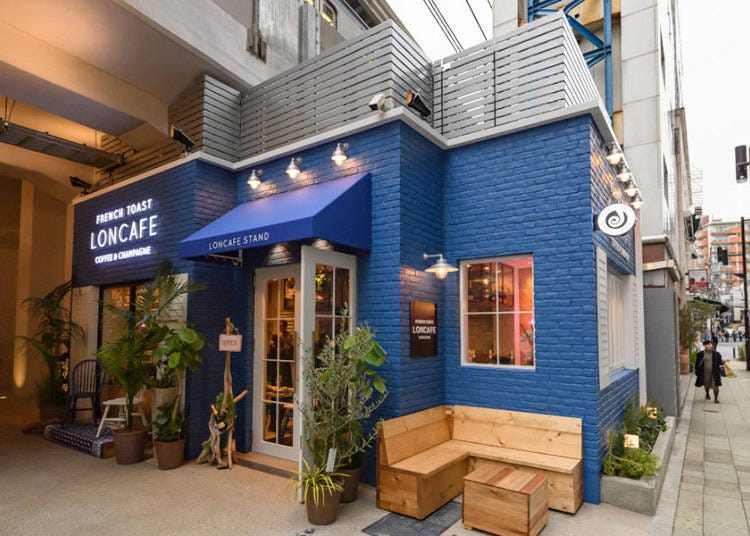 Another recommendation for foodies is LONCAFE STAND NAKAMEGURO, a French toast specialty café that is originally from Enoshima that has opened its first location in Japan's capital now. The Crème brûlée French Toast (1,490 yen, drink included) is a must-try menu item. Crispy on the outside, mellow on the inside; this delicacy promises to take you to dessert heaven!
GOOD BARBECUE
Hours: 11:00 a.m. - 2:oo a.m. (last order: 1:00 a.m.)
Sundays: 11:00 a.m. - 11:30 p.m. (last order: 10:30 p.m.)
Closed: always open

LONCAFE STAND NAKAMEGURO
Hours: 10:00 a.m. - 11:00 p.m.
Saturdays, Sundays, national holidays: 9:00 a.m. - 11:00 p.m. (last order: 10:30 p.m.)
Closed: always open
中目黒高架下

Address

1-22-12 Kamimeguro, Meguro-ku, Tokyo-to 153-0051
Shimokitazawa Cage: Exploring Shimokita Culture!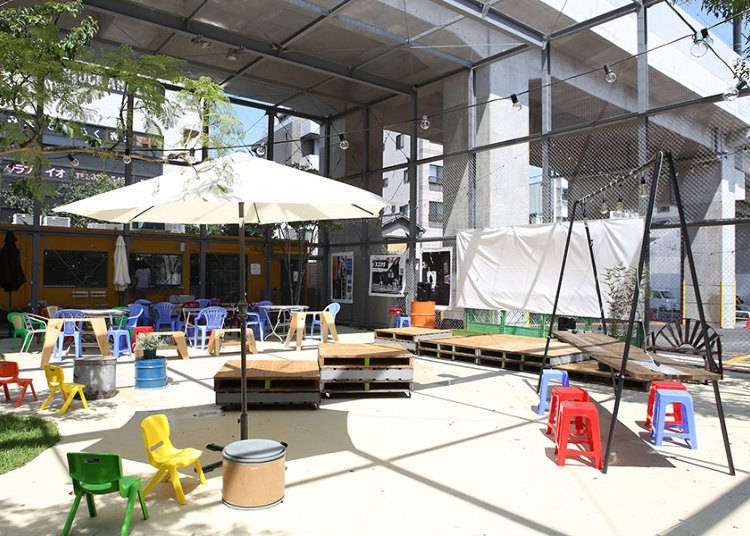 Shimokitazawa Station is on the Keio Inokashira Line and just four stops away from Shibuya Station. It is known as a town for youth culture where a lot of small theaters and clothing stores crowd the area. The unique and intriguing "Shimokitazawa Cage" can be found under the tracks of the Shimokitazawa Station. It was opened in August 2016 and will be open for about three years.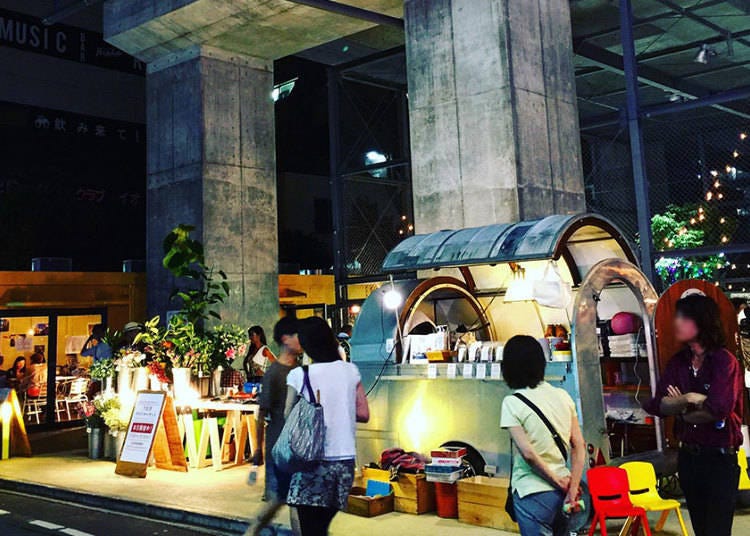 Shimokitazawa Cage is a beautiful open space to relax in during the day. Once the sun has set, the structure transforms into a culture hot spot where events are being held and live music can be enjoyed, welcoming people of all ages, genders, and walks of life. The restaurant Long Va Quan provides casual, delicious dishes centered on Asian street food. The "Cage" is the perfect spot to get a first-hand impression of the famous Shimokita culture!

Hours: 1:00 p.m. - 11:00 p.m.
Outside seating last order: 10:30 p.m.
Holidays: always open
下北沢ケージ

Address

2-6-2 Kitazawa, Setagaya-ku, Tokyo-to 155-0031
2k540 AKI-OKA ARTISAN: Akihabara's Creative Kokashita Space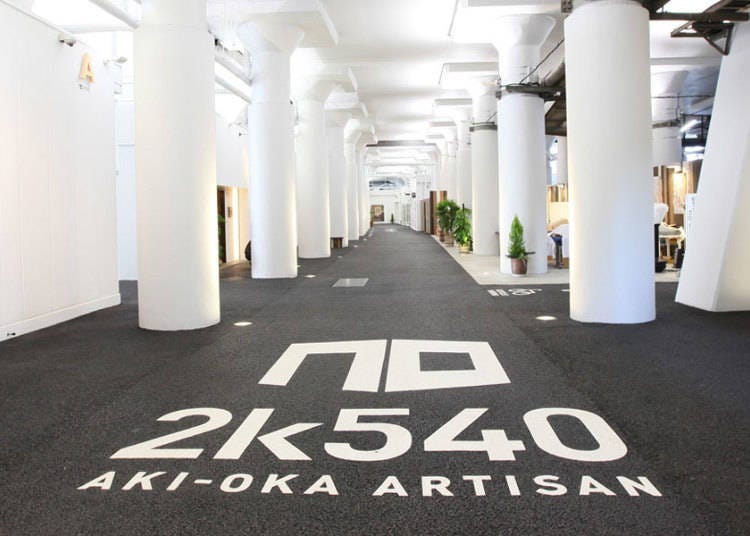 Akihabara is known as the center of Japanese pop culture, famous all around the world. Apart from maid cafés, manga shops, and game centers, the neighborhood also features a treasure trove of contemporary Japanese style and aesthetics.

2k540 AKI-OKA ARTISAN is this very spot, located under the train tracks between Akihabara and Okachimachi Station. A large number of famous arts and craft shops and designers crowd this kokashita area, around fifty in total, offering intriguing handmade products and workshops to dirty your hands yourself.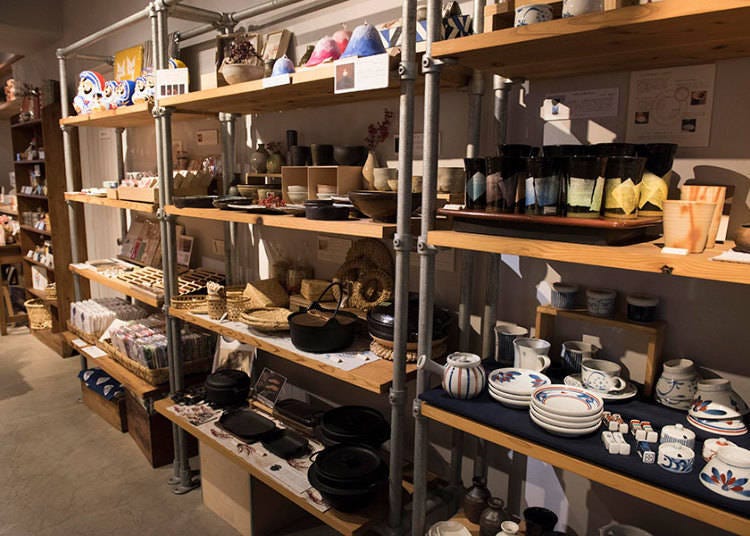 One of those shops is the "Nippon Department Store." It sells a variety of different crafts from masters all around Japan, from bags to notebooks, ceramics to accessories.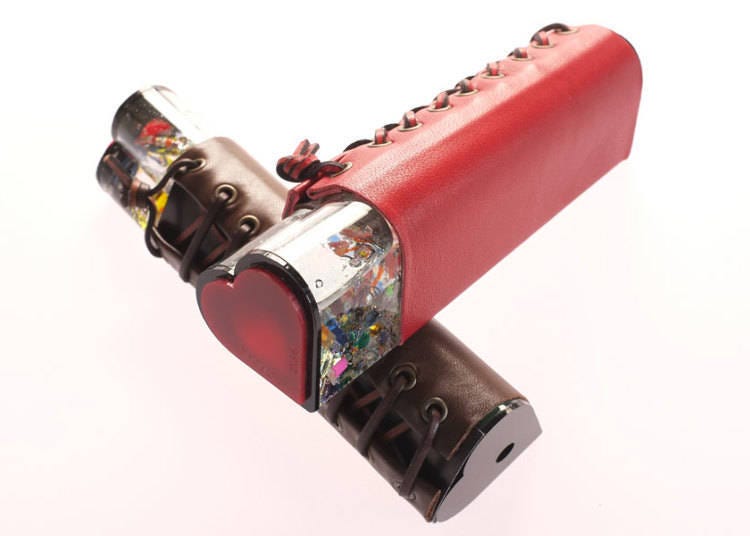 The "Soshin Kaleidoscopes" is a must-visit spot for many people, both Japanese and international, tourists and locals, and does not only feature a gallery and shop, but also an atelier that hosts various workshops.
No matter what kind of souvenir you're after, chances are high that you will fall in love with one thing or another at 2k540 AKI-OKA ARTISAN.

Nippon Department Store
Hours: 11:00 a.m. - 8:00 p.m.
Closed: Wednesdays

Soshin Kaleidoscopes
Hours: 11:00 a.m. - 7:00 p.m.
Closed: Wednesdays
Address

5-9, Ueno, Taitou-ku, Tokyo, 110-0005
View Map

Nearest Station

Akihabara Station (JR Keihin-Tohoku Line / JR Yamanote Line / Tokyo Metro Hibiya Line / Tsukuba Express / JR Sobu Line)
6 minutes on foot


Phone Number

03-6806-0254
CHABARA AKI-OKA MARCHE: Savoring Japanese Cuisine under the Train Tracks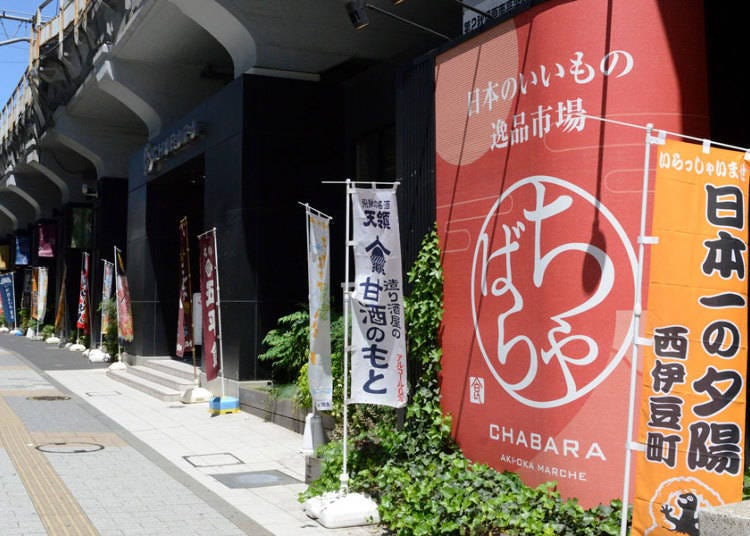 As its name suggests, CHABARA AKI-OKA MARCHE is a sister spot of the famous 2k540 AKI-OKA ARTISAN under the train tracks near Akihabara Station. It occupies the spot of the old Kanda fruit market, and thus focuses on the broad topic of Japanese food. In March 2017, three unique stores have opened their doors to hungry gourmets.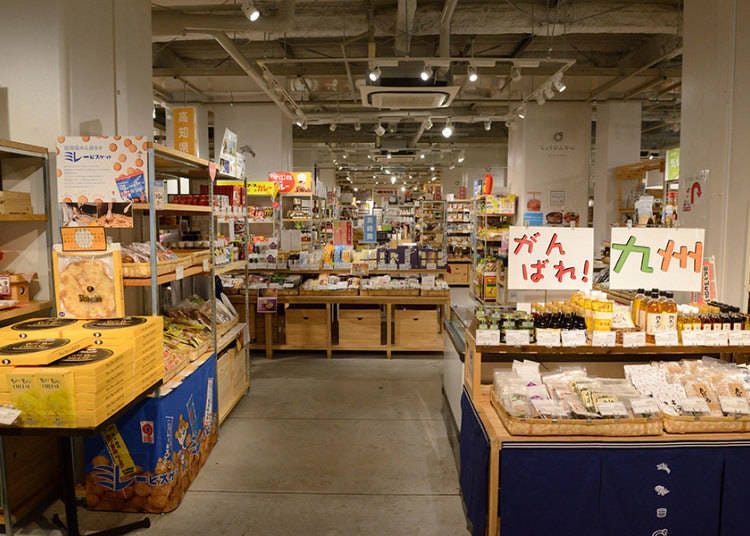 The Nippon Department Store Shokuhinkan offers a wonderful selection of local produce from all offer Japan, allowing you to taste the characteristic delicacies of all kinds of regions without having to leave Tokyo. Even just window-shopping and exploring the many regional foods is a unique and intriguing experience!

Nippon Department Store Shokuhinkan
Hours: 11:00 a.m. - 8:00 p.m.
Closed: New Year's first Wednesday of June, first Wednesday of November
CHABARA AKI-OKA MARCHE

Address

8-2 Kanda Neribeicho, Chiyoda-ku, Tokyo-to 101-0022
Yurakucho Guard-Shita: Gourmet Heaven under the Tracks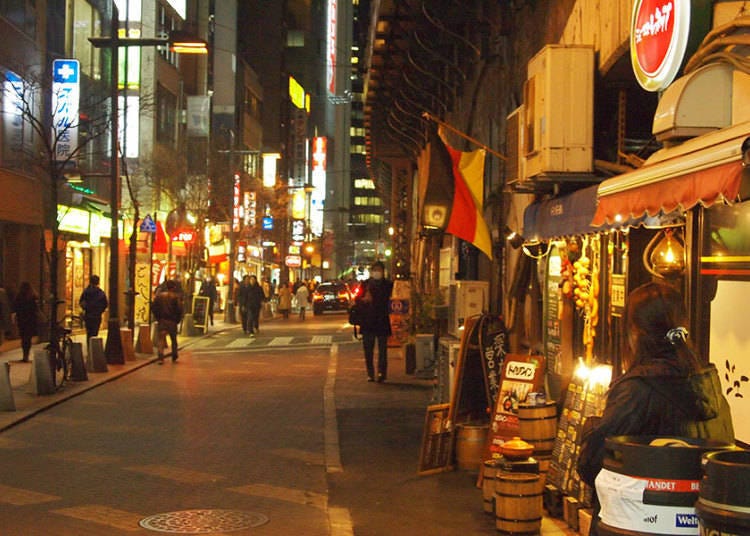 Gurad-Shita, as the area under the tracks between Yurakucho and Shinbashi Station is called, is a favorite place of many an employee in and around the Yurakucho area. It is crowded with gourmet spots, offering a wonderful lunch and dinner experience to hungry gourmets. Especially after work, you'll be able to see many a salaryman and woman enjoy a cup of liquor at Guard-Shita.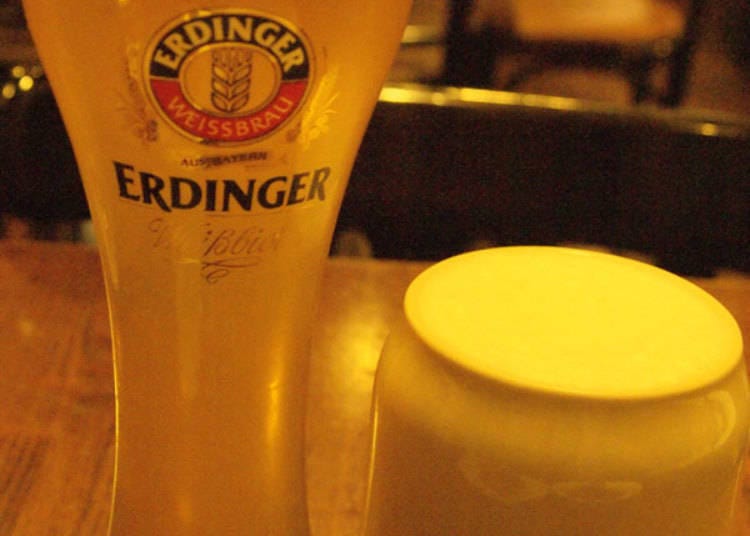 One of the spots of Guard-Shita is the German izakaya JS Lennep, celebrating its 39th anniversary in 2017. This gourmet spot will tickle your tongue with traditional German cuisine and full-bodied German beer, of course. JS Lennep welcomes both tourists and regulars, some of whom keep celebrating their anniversaries with sausage and sauerkraut since many years! Choose from 6 types of draft beer and 10 types of bottled beers, a lineup that is sure to satisfy every beer lover!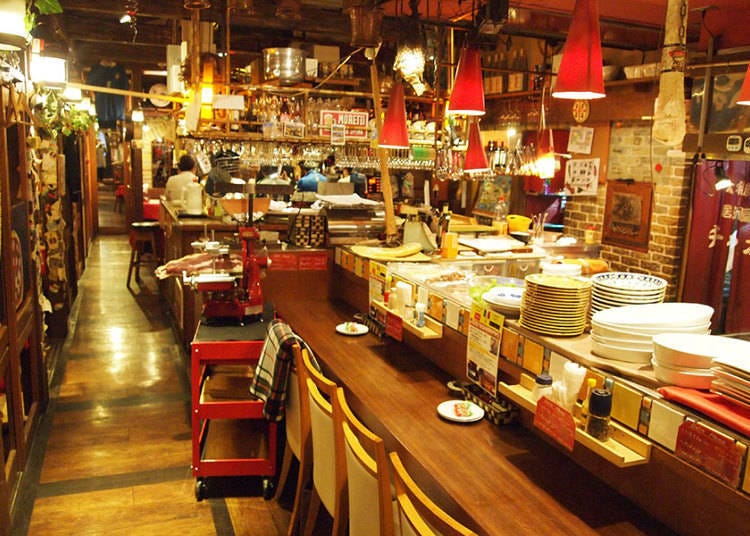 Another recommendation is the Italian Bar Trattoria CIAO, which is famous both for its excellent food and its cheerful atmosphere. Especially delicious are the restaurant's cheese delicacies, such as the Parmesan Cheese Risotto for 1,400 yen. Served in a hot stone pot, the risotto rice sits right on top of a large piece of parmesan and is mixed right in front of your eyes - yummy!

German Izakaya JS Lennep
Hours: Mondays to Thursdays: 3:30 p.m. - 11:30 p.m. (last order at 10:45 p.m.)
Fridays & days before national holidays: 3:00 p.m. - 2:00 a.m. (last order at 1:30 a.m.)
Saturdays and Sundays: 12:00 p.m. - 11:30 p.m. (last order at 10:45 p.m.)
Holidays: always open

Trattoria CIAO
Hours: Mondays to Fridays: 11:30 a.m. - 11:30 p.m. (last order at 10:30 p.m.)
Saturdays: 12:00 p.m. - 11:30 p.m. (last order at 10:30 p.m.)
Sundays & national holidays: 12:00 p.m. - 11:00 p.m. (last order at 10:00 p.m.)
Holidays: always open
有楽町ガード下

Address

2-1 Yurakucho, Chiyoda-ku, Tokyo-to 100-0006
Writer: Ooshi Marie
*This information is from the time of this article's publication.
*Prices and options mentioned are subject to change.
*Unless stated otherwise, all prices include tax.