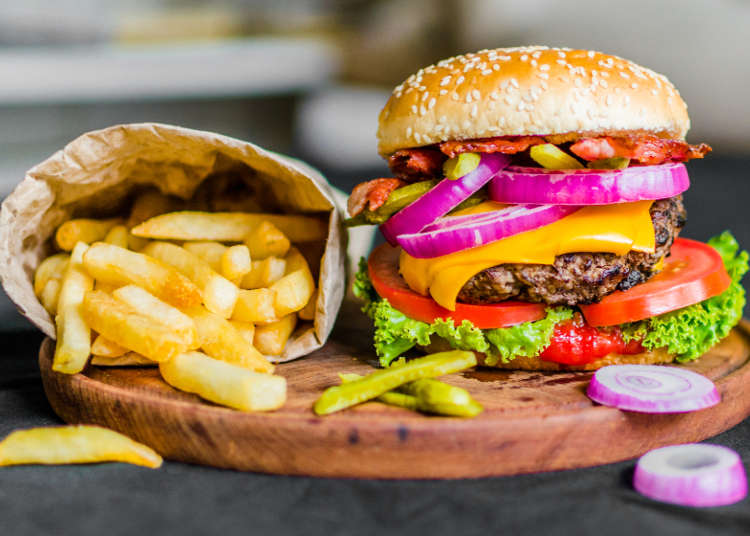 While there is certainly no shortage of delicious Japanese cuisine to be found in Tokyo, sometimes you just want something different. If you find yourself with a craving for a juicy burger, you may have to search a bit deeper.

For anyone looking for an authentic burger place in Tokyo, this guide will show just how to find that perfect bite of happiness–and even some fries on the side! Whether you prefer a trendy California burger shop, a Japanese style restaurant, or chic New York style burgers in unusual flavors that are accompanied by a martini, you are sure to find the perfect burger among our list. Here are some of Tokyo's best burger restaurants based on taste, popularity, and atmosphere!
1. Burger Mania - Unique Burgers and a New York City Vibe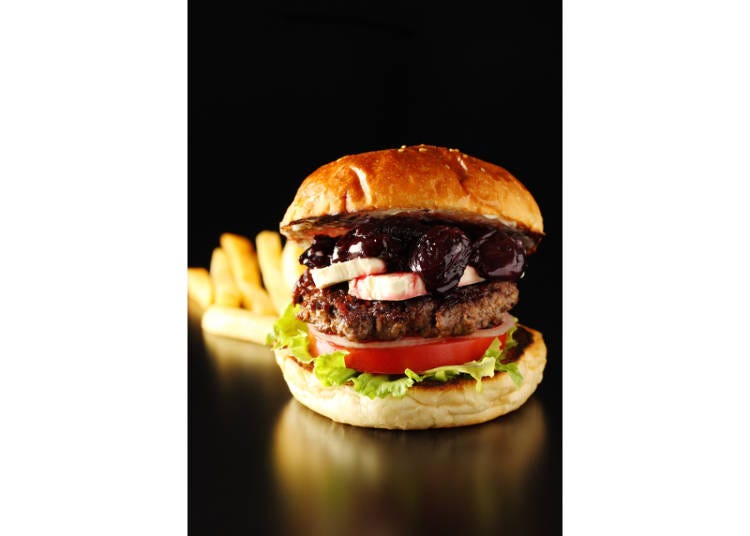 You'll be a maniac for Burger Mania! Burger Mania's patties are 100% quality guaranteed Japanese beef. The restaurant has a Western industrial atmosphere with white brick walls, wooden panels, amber tinted light bulbs on the ceiling, and an open kitchen located right in the center. Hear the sizzling sound of the patties, while the aroma of grilling meat and freshly ground espresso waft through the air.

The New York-inspired menu includes not only burgers, but scrumptious sandwiches and pancakes as well. The burgers themselves are quite unique. Fruit fanatics may want to try the Cherry Burger, featuring a combination of cherry, cream cheese, and beef. For a very well-seasoned and flavorful burger, the Rosemary Lemon Burger is a rare treat for your taste buds.

If you still have room after enjoying Burger Mania's flavorful beef, crisp, and onions that are cooked to perfection, you can finish the experience with a cup of latte art coffee and one of the restaurant's homemade sweets.
バーガーマニア

Address

〒106-0047 Tokyo-to, Minato-ku, Minamiazabu, 5 Chome−15-25
2. Fatz's Koenji - The Burger with California Cool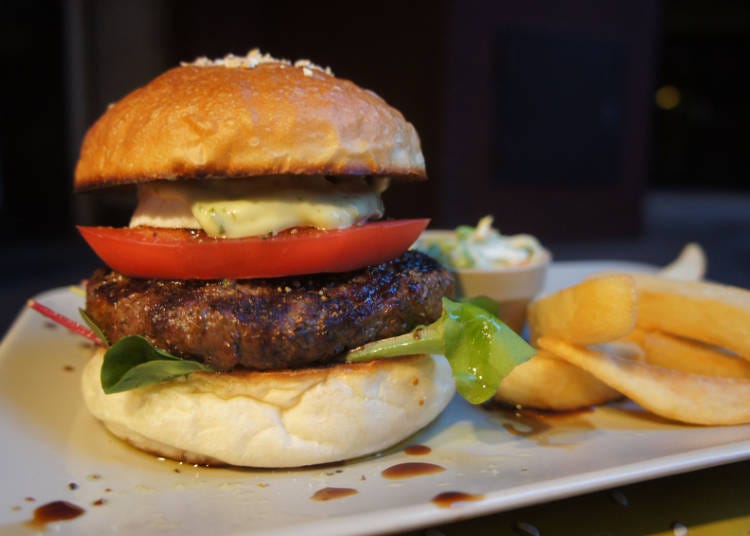 Fatz's Koenji is located just a three minute walk from the North Exit of Koenji Station, a neighborhood surrounded by vintage apparel shops and overall trendy vibe. The owner of this shop is originally from the Bay area of California. So if you are seeking for an authentic American taste, you'll want to check this one out!

One special feature of Fatz's is that you have a choice of bread, veggies, meat, sauce, toppings, and sides, so you can really make it your own! The beef patties are both juicy and well-seasoned. What really makes Fatz's stand out from other burger places is its special menu which includes seasonal limited items. In addition to mouth-wateringly good burgers, they also offer some fantastic side dishes and desserts, including fried mozzarella sticks, and banana splits.
ファッツ

Address

3-21-19 Koenji-Kita Lions Plaza, Suginami-ku, Tokyo
3. Grill Burger Club Sasa - a Sweet Japanese-Style Burger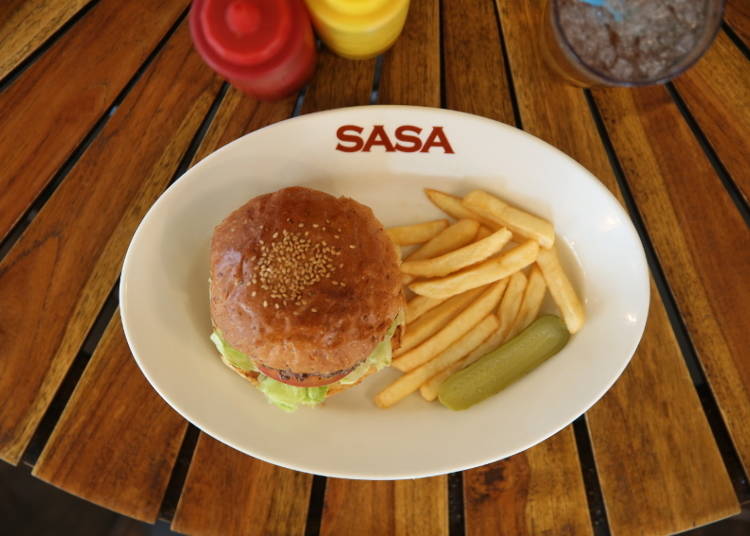 Located in the chic shopping neighborhood of Daikanyama, Grill Burger Club Sasa is an excellent choice for a post-shopping burger.

The handmade patties are made with 100% Japanese beef, with buns are made from whole-wheat flour and natural yeast, and sauce made with caramelized onions, simmered in the oven until they have just the right amount of sweetness, giving their burgers their characteristic sweet taste. You can choose from three sizes of burgers to suit your appetite. You may also want to try their special burger of the month if you are in the mood for being a little adventurous.

And if it's your birthday, you can try their special birthday offer! A two kilogram Birthday Burger uses whipped cream in place of beef patties, and sponge cake for buns. Celebrate in burgerlicious style!
グリルバーガークラブササ

Address

2-21-15, Ebisunishi, Shibuya-ku, Daikanyama-pocketpark 1F
4. Homeys - A Favorite for Students
This small burger bistro in Takadanobaba is a popular spot for nearby Waseda University students, and something of a hidden treasure. One of the recommended items is the basic Cheeseburger, with a juicy patty and crispy bacon, as well as the Chili Burger that is a perfect blend of sweetness and spices.

A number of American beers like Blue Moon, Anchor's Liberty Ale, and Brooklyn Lager are offered in the extensive drink menu. If you find yourself near Waseda University, do pay a visit to the stylish and cool Homeys and find out why it captures the students' hearts and stomachs.
ホーミーズ

Address

2 Chome-91 Takadanobaba, Shinjuku, Tokyo 169-0075, Japan
5. Hungry Heaven - A Burger Fit For an Angel
If you are a late lunch goer, then Hungry Heaven is the place for you! Lunch lasts all the way until 5:00 p.m., and the unique patties in Hungry Heaven will definitely take you to paradise. Not only are the burgers in Hungry Heaven fantastic, the side menu, including chili fries, fish and chips, and fried avocado are all incredibly tasty as well.

When the aesthetically pleasing burger is served, you won't hesitate to take the first bite. Interestingly enough, the patties used in Hungry Heaven contain a touch of yakiniku (grilled Japanese barbecue meat), making them much more tender than normal patties. The Grilled Burger and the Smoked Bacon Burger are recommended, but you should definitely try the other 'heavenly' burgers as well.
ハングリー ヘブン

Address

1-2-22 Shimomeguro, Meguro, Tokyo
6. Martiniburger - Martini Meets Burger
Who knew that a martini and a hamburger could make such a lovely combination? This unique "burger bar" is managed by Eliot Bergman, a true New Yorker. Under the burger menu, the N.Y. Burger Collection offers eight different kinds of burgers, all are served with 200 grams of 100% beef. But if you are not quite so hungry, order their small portioned Martiniburger, their signature burger. Instead of a bun, this burger is served on an English muffin. You also get to choose your preferred sauce.

For burger lovers with big appetite, The Skyscraper is what you should order: a 200-gram patty topped with onions, bacon, chili, mushrooms, avocado, cheddar and gouda cheese. This is one burger guaranteed to fully satisfy your appetite! Since you are in a bistro owned by a New Yorker, top off your meal with a freshly baked New York style cheesecake, known to be one of the best in Tokyo!
マティーニバーガー

Address

31 Nakazatocho, Shinjuku, Tokyo 162-0804
7. AS Classics Diner - A Classic American Burger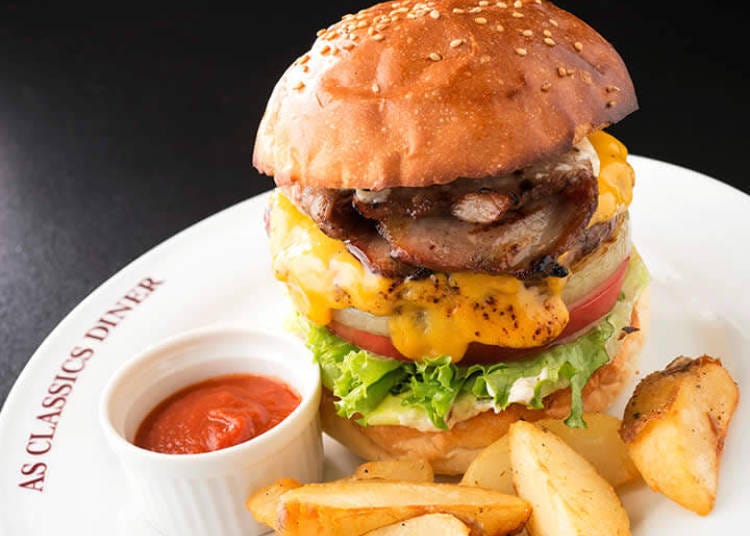 Enjoy a great burger at this comfortable American-style diner, decorated with old American memorabilia for a classic 1960's American atmosphere. All ingredients used in AS Classic Diner are quality guaranteed, with premium meat from Mexico, Australia, and Japan, and buns made with natural yeast. The condiments are all handmade for a real homestyle experience.

Some of the burgers you may want to sink your teeth into are the Avocado Cheese Burger, the Bacon Cheeseburger, or the mouth-meltingly good Onion Mushroom Burger. Just make sure to bring your appetites!
エーエス クラシックス ダイナー

Address

B1F, 6-4-1 Roppongi, Minato-ku Tokyo

*This information is from the time of this article's publication.
*Prices and options mentioned are subject to change.
*Unless stated otherwise, all prices include tax.
Limited time offer: 10% discount coupons available now!