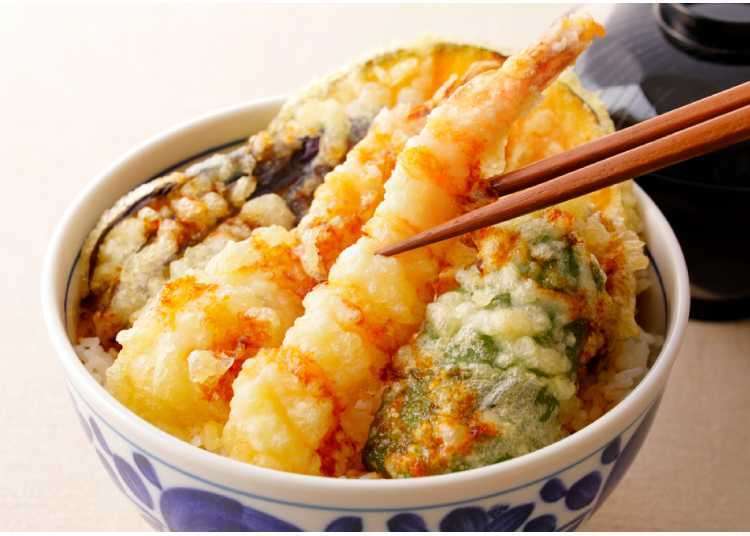 Did you know that the popularity of tempura bowls (known as tendon) for tourists to Japan has been increasing?

Beginning with the overseas expansion of the famous tendon restaurant, Kaneko Hannosuke, many tourists to Japan seek this delicacy in addition to the standard ramen and sushi. So, this time, we have carefully selected and recommended the tendon shops that you want to visit in Tokyo!
Toyama Shiroebi-tei: Plenty of precious white shrimp! Simple tendon with seafood!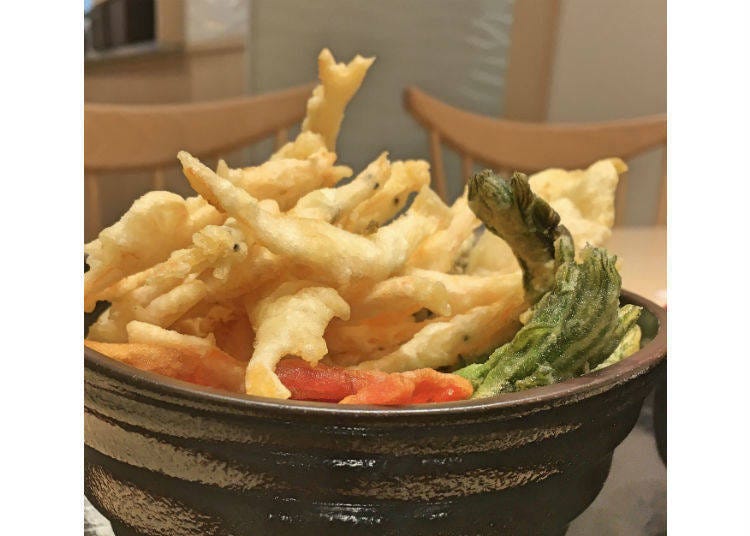 Speaking of tempura, many people will feel that the taste is a little bit rich. This spot is recommended for those who want a refreshing taste of tempura, and especially Shiroebi-tei's "Shiroebi Tendon" for 1480 yen (tax included) is what you'll want to order. The shop is located in Tokyo Station's underground shopping area, Tokyo Station First Street. This area is popular for ramen and character streets. Get off the train at "Tokyo Station Yaesu Underground Exit." Walk a little to the right and you'll find it. You may want to stop by before returning home from Tokyo Disney Resort. Toyama Shiroebi-tei has no stores outside of the Toyama head office and here in Tokyo Station.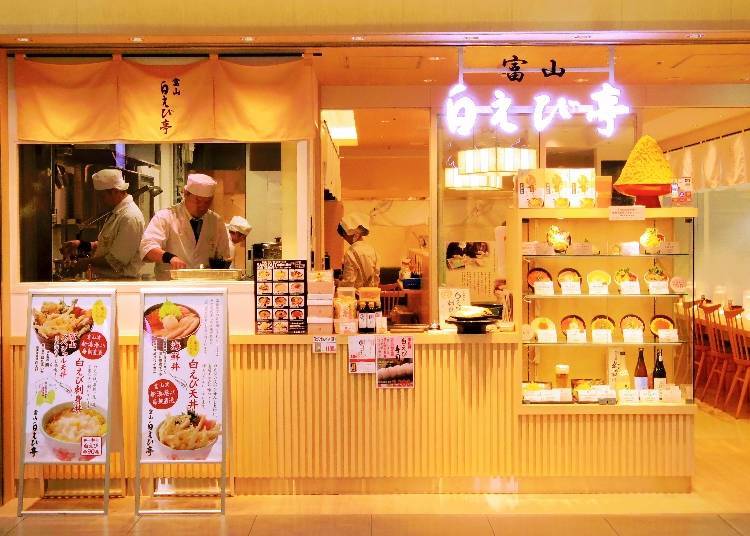 Toyama Bay benefits from its unique terrain, and there are valuable "white shrimps" that can only be caught there. The tempura made with this white shrimp is fried with the shell. The moment you put it in your mouth, the flavor of the white shrimp will spread and you will be able to enjoy an unparalleled taste.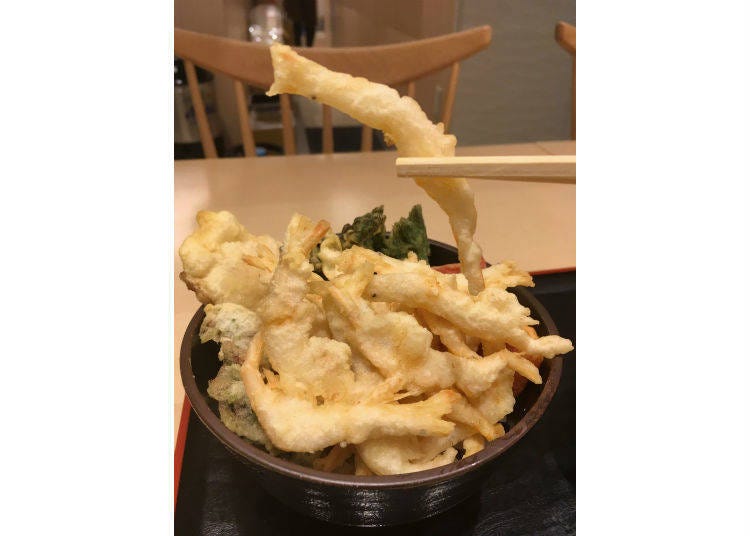 Notable is the amount: about 25 white shrimp are used in this Tendon. The shop uses a fryer exclusively for white shrimp so that the sophisticated taste and sweetness of white shrimp do not escape and the taste is not mixed with other ingredients. The special sauce on the Tendon is not too sweet and has a light taste, bringing out the delicate sweetness of white shrimp.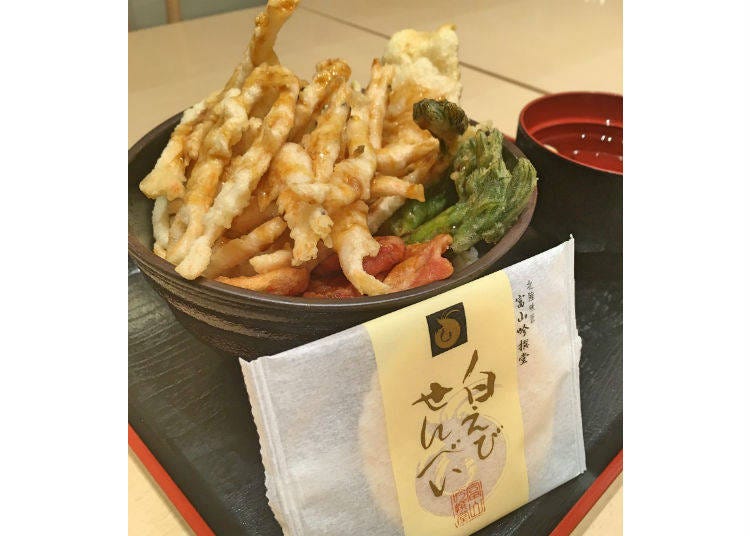 At Toyama Shiroebi-tei, soups are also recommended. The white shrimp shells are carefully peeled one by one and are combined with sashimi become the soup, and this is also a dish that can only be tasted here. It looks like milky water, but when you take a sip, you will be surprised at the taste: it's light but deep.

The "Shiroebi Ebisen" rice crackers are another recommended item. The flavor of white shrimp spreads through the mouth and is excellent. They are also available for takeout as gifts for friends or for yourself.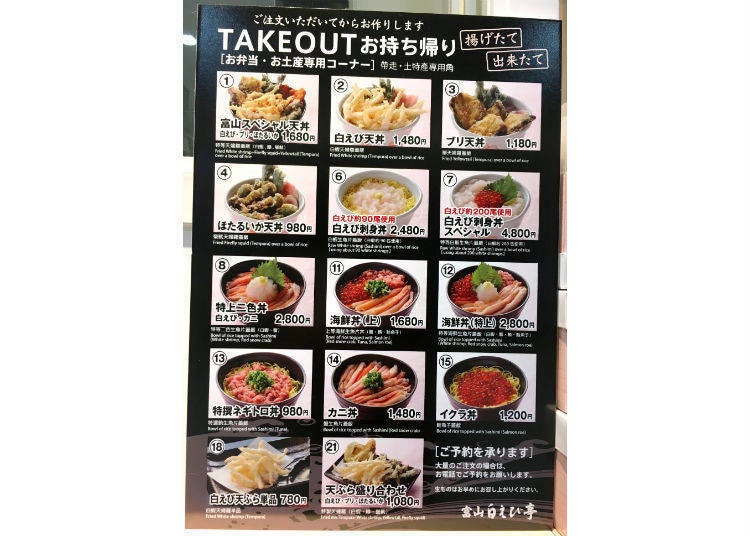 In addition, there are many people who can take out the bowl as a snack of sake at the hotel (1480 yen including tax).
富山 白えび亭

Address

B1F 1-9-1 Minamigawa, Marunouchi, Chiyoda-ku, Tokyo, 1000005 Japan

Hours: 10:00am - 11:00pm (last order at 11:30pm)
Closed: Open daily
Tempura Kurokawa in Tsukiji: You can enjoy Tendon filled with seafood!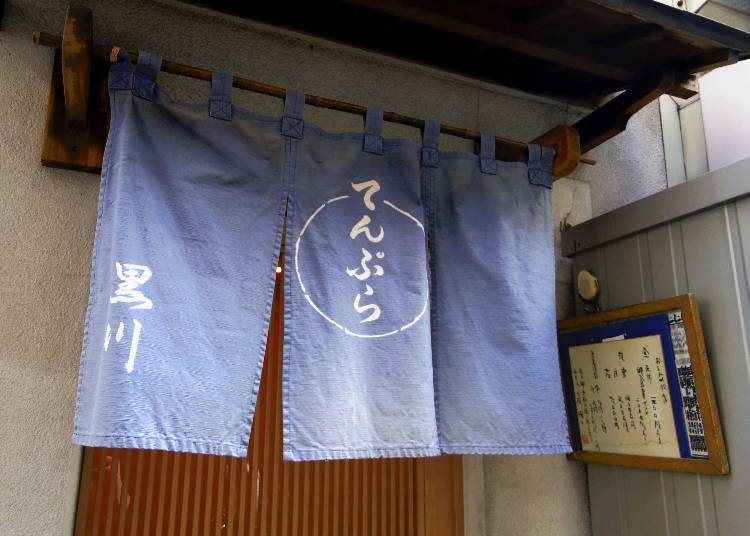 When you come to Tsukiji Market, many people think, "Eat Tendon in Tsukiji." About 30 years since its establishment, "Tempura Kurokawa" is a well-known store where the line lasts from 9:30am when the store opens until 1:30pm when the store closes. The owner, Mr. Kurokawa, has a personality of a movie star and has a strong passion for ingredients. After studying at a five-star hotel in Tokyo, he decided to become independent at Tsukiji.

The only thing you'll want to order is "Kakiage Tendon" for 1500 yen (tax included). Many people imagine putting kakiage on the ingredients and frying it all up with oil, but Mr. Kurokawa says that the kakiage at the shop is "just a supporting role, and the leading role is the original taste of the ingredients." There are four scallops in one tempura bowl and plenty of carefully selected organic vegetables specific to the shrimp and season.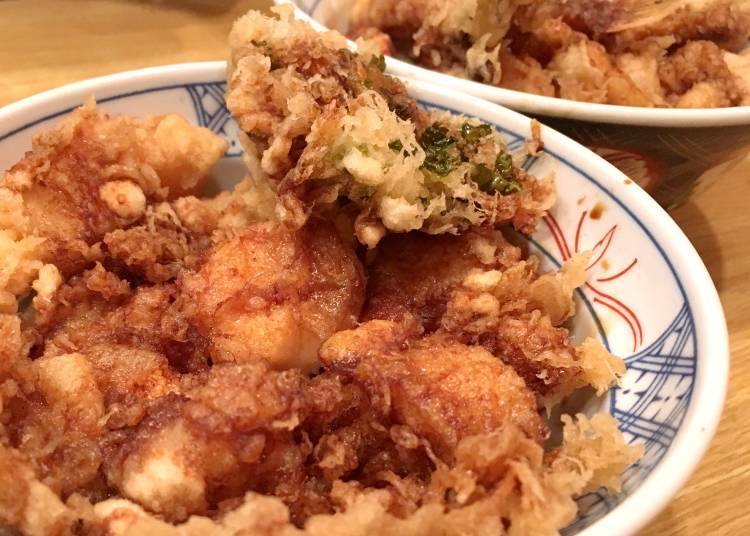 "Kakiage Tendon" 1500 yen (tax included)
This price for carefully chosen materials! It is a tempura bowl at an excellent price.

Mr. Kurokawa says that there are many Japanese customers, but some tourists walk down the alley to eat Tendon.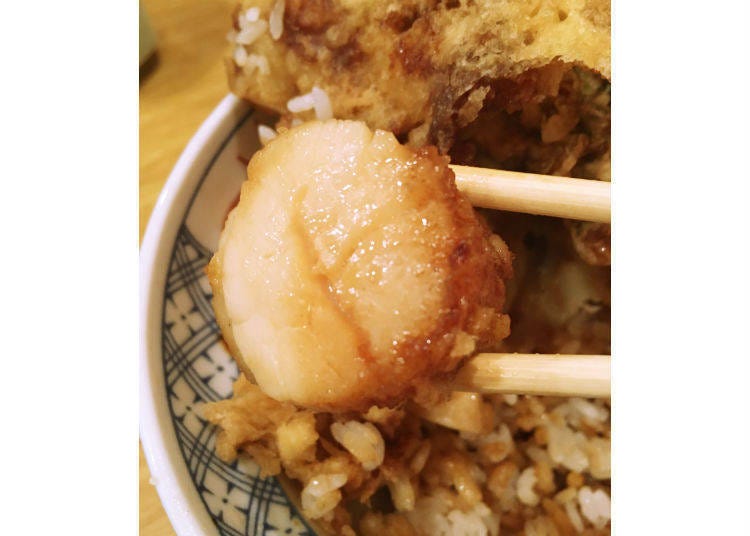 Other than Kakiage Tendon, Jyo-Tendon (1,500 yen including tax) is also recommended. The fresh shrimp and conger are deep-fried, and you can see the ingredients at a glance. Mr. Kurokawa selects the freshest ingredients on the day and prepares to open the store by 9:00am.
Whenever you go, you can eat delicious Tendon because the owner wants to deliver the freshest and delicious Tendon to customers. If you come to Tsukiji Market, please try Tendon!
てんぷら 黒川

Address

6-21-8 Tsukiji, Chuo-ku, Tokyo, 1040045 Japan

Hours: 9:00am - 14: 00pm, 17:00pm - 21:00pm
Holidays: Sundays and holidays
Nihonbashi Kanekoya: Try a unique, luxurious tempura bowl!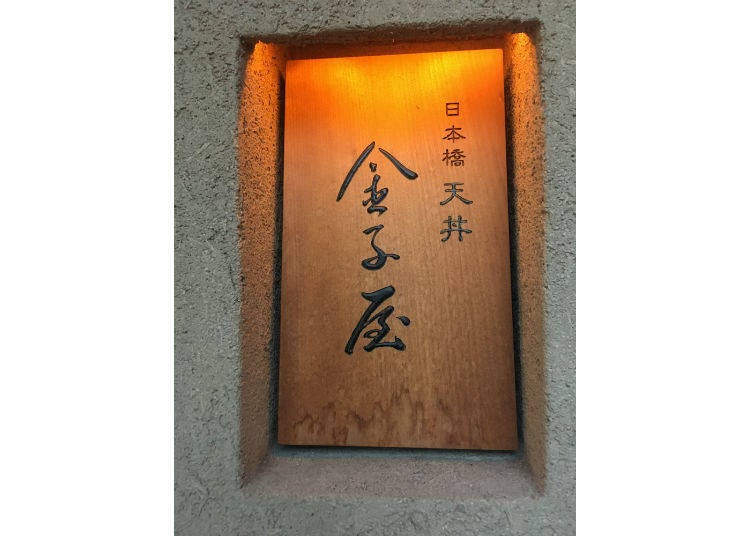 Speaking of tempura, many people may think of Hannosuke Kaneko of Nihonbashi, which has become a hot topic recently. The reasons for its popularity are its excellent cost performance and the taste of hot spring egg tempura. You can go to either the Nihonbashi Main Store or the sister store "Kaneya" in Akasaka, which is what we are focusing on here. We recommend that you try the onsen egg tempura. This is a secret place where you can enter the store almost in the afternoon.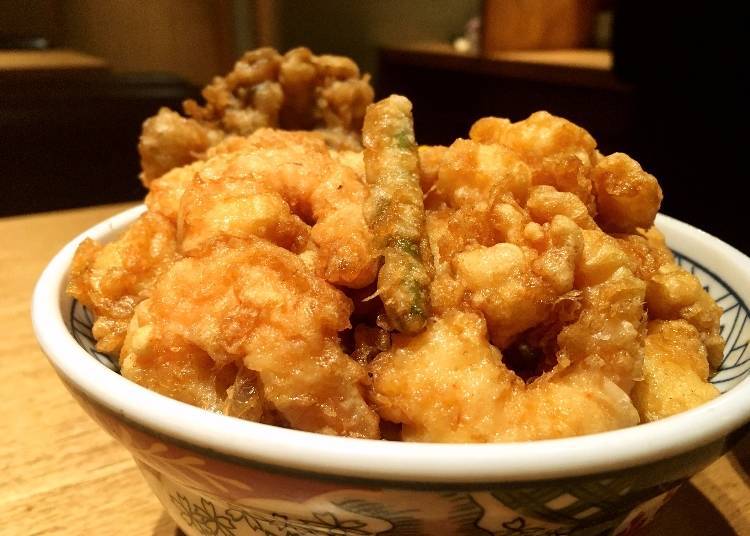 The best recommendation is "Tenbara Don" for 980 yen (tax included). Unlike ordinary tempura bowls, it is full of bite-sized tempura that are easy to eat. There are just under 20 shrimp and squid, as well as scallops and mushrooms. You can also taste the famous hot spring egg tempura, which will fill you right up.

Furthermore, there is a unique way of eating here, where you can enjoy three flavors in one bowl.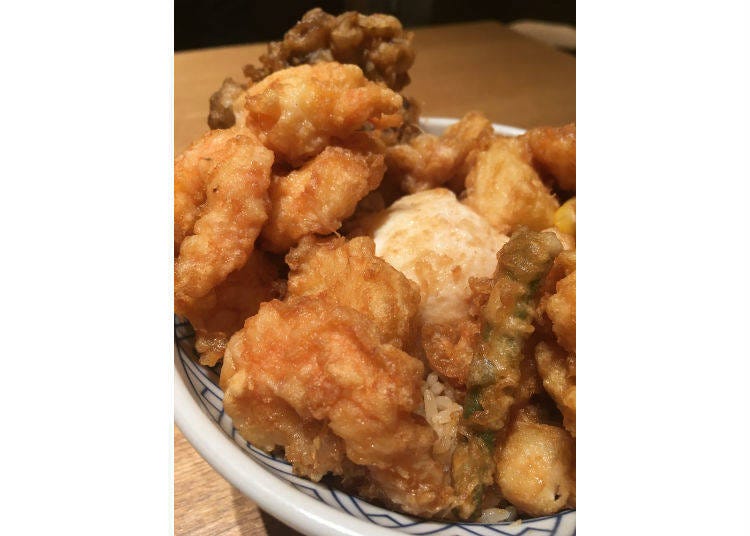 First, adjust the position of the mushroom to 12 o'clock. Eat in the middle of the bowl and enjoy the taste of Tendon itself. As you continue to eat, the hot spring egg tempura appears. Using chopsticks, crack the egg, mix the soft-boiled yolk and rice, and enjoy the rich taste. Finally, a crescent-shaped ginger appears in the rice. Ginger-worked rice has a refreshing taste and is perfect for enjoying last. This is also Kanekoya's commitment.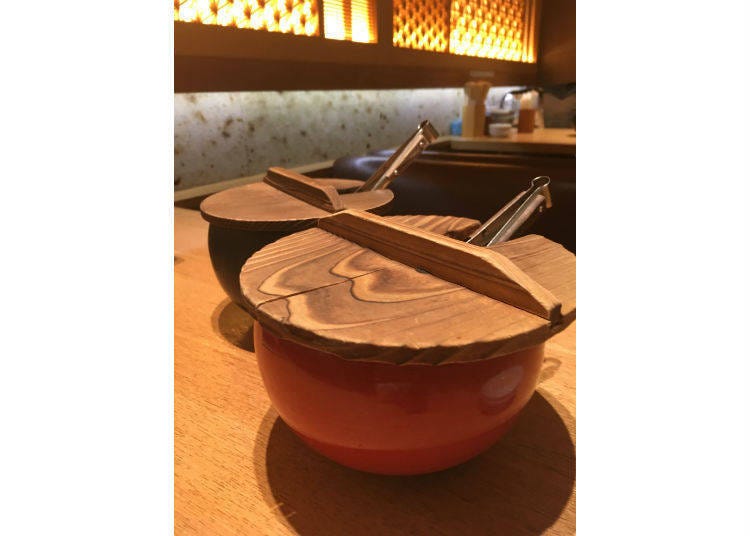 Don't miss the pickled burdock and pickled radish in a table jar.
Pickled burdock with ginger is especially popular.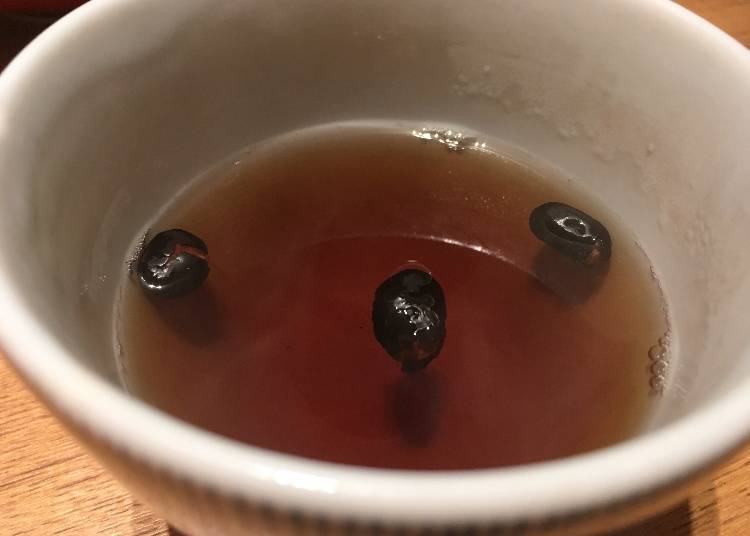 In addition, black soybean tea also has a characteristic and strong flavor. Add black bean tea in the hot water containing the beans and wait 5 minutes for the black beans to soften. When you take a sip, the flavor of black beans spreads throughout your mouth. I had a tempura bowl and ended with black bean tea. It is a wonderful moment to be thankful.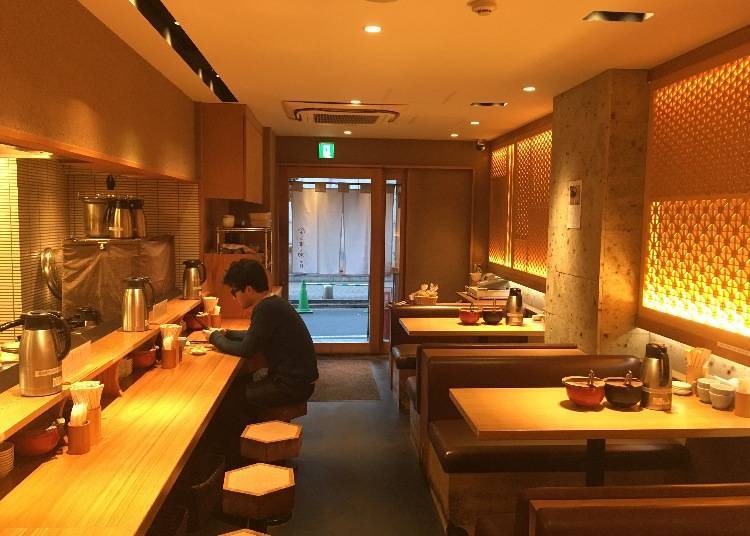 We recommend the afternoon, and there is not a long line for those to get into the store.
Nihonbashi Tendon Kanekoya

日本橋天丼 金子屋

Address

1F Matsuda Bld. 2-9-2, Akasaka, Minato-ku, Tokyo, 107-0052 Japan

Hours: 11:00am - 10:00pm (Last Order 9:30pm) (Saturdays, Sundays and public holidays ~ 9:00pm (Last Order 8:30pm)
Holiday: No holiday
Each of the three tempura bowls carefully selected by LIVE JAPAN this time has its own distinctive features that overturn the tendon's stereotype. Their common point is their commitment to ingredients: delicious taste that you can fully enjoy the seafood! If you are interested, why not take a trip around Tendon on your next trip to Tokyo? It will surely be an unforgettable journey.
*This information is from the time of this article's publication.
*Prices and options mentioned are subject to change.
*Unless stated otherwise, all prices include tax.