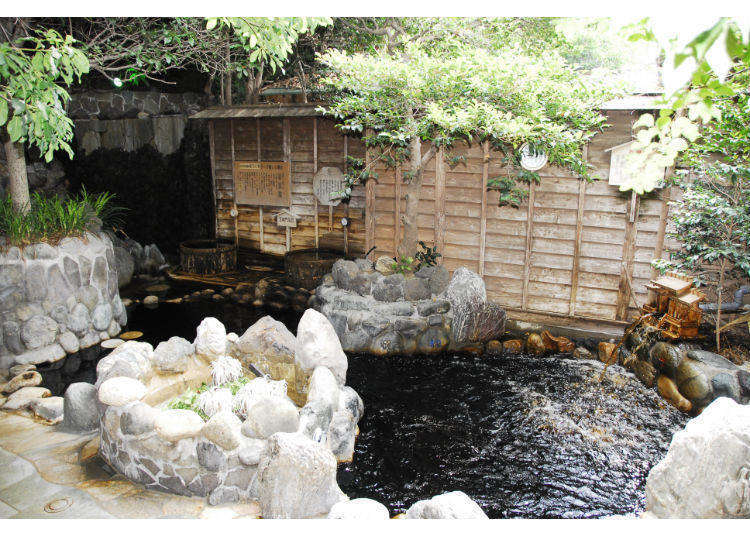 Did you know that Tokyo is home to hot springs and bathhouses with muddy water, called Kuroyu in Japanese?

Kuroyu roughly translates to black water and is a cold mineral spring of humic acid that draws its minerals from leaves and grass, remnants of the Palaeozoic era that dissolved into the groundwater. Abundant in minerals, these kinds of hot springs are also called "beautiful skin springs" due to their positive skin effects. A Kuroyu also warms you to the core of your body; you surely won't have the issue of freezing right after stepping out of the dark waters!

Tokyo has its own black hot springs, and this time, we'll introduce our three favorite Kuroyu: one in the sightseeing district of Asakusa, one in the ramen battlefield of Ogikubo, and one at Chofu's Jindai-ji Temple. No need to go all the way to Hakone to soak your body and beautify your skin!
1. Jakotsuyu – Asakusa's favorite Kuroyu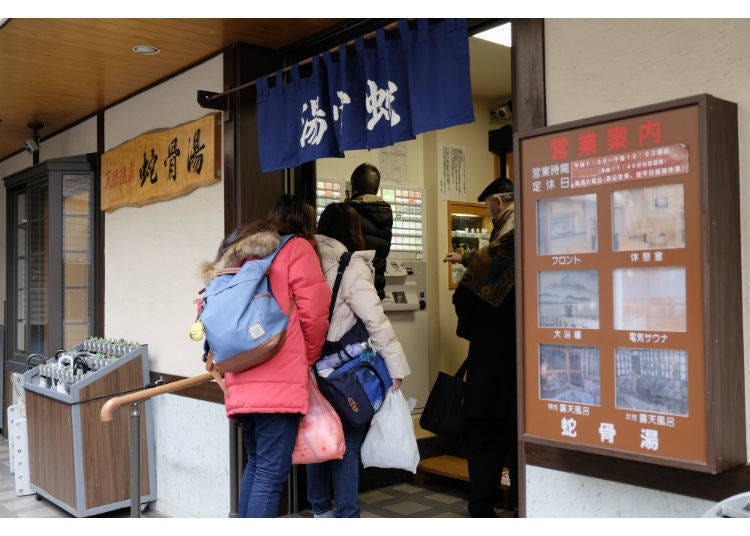 A five-minute walk away from Asakusa Station, Jakotsuyu is a historic public bath, established as early as the Edo period. It has a very interesting name; literally translated, the bathhouse is called "Snake Bone Bath" and this name isn't just made up to sound edgy.

In fact, the area was populated by craftspeople who lived in row houses called "Snake Bone Houses" and some theories even say that long ago, snake bones actually have been unearthed there as well.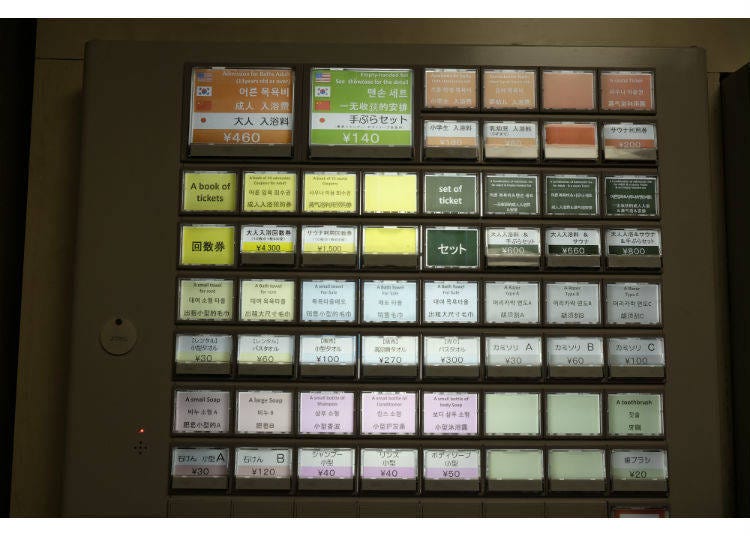 The ticket machine right at the entry isn't just operating in Japanese but also in Chinese, English, and Korean – Jakotsuyu is a very tourist-friendly public bath and one of the few ones that is perfectly fine with tattooed guests as well.

Shampoo and body soap are available at the showers them-selves and towels can be rented for 140 yen, so you don't even have to worry about bringing anything. Looking at all of these extra services and features of the kuroyu, it isn't hard to imagine how the public bath became a favorite among both locals and tourists.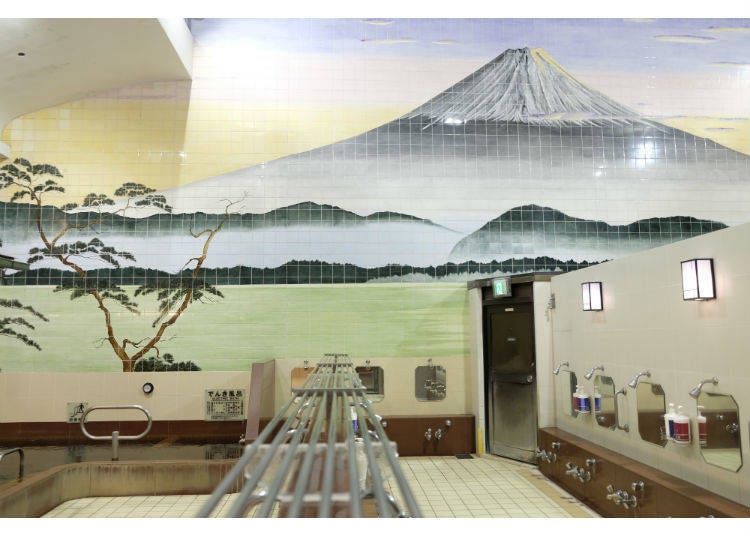 Renovated about a decade ago, Jakotsuyu is both modern and clean while maintaining a wonderfully traditional atmosphere, with a beautiful picture of Mount Fuji adorning both the male as well as the female bath.

Not only the large bath is filled with black water that is drawn up from a hot spring underground but even the showers make use of this kuroyu water.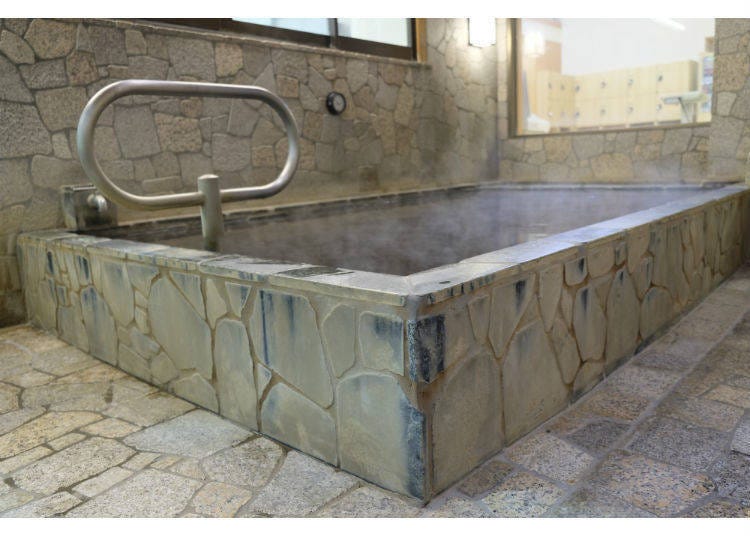 The bath itself has been partitioned and split into a high-power jet and a body jet. Even the outdoor bath is filled with beneficial black water, although its temperature is a bit lower than the inside bath.
A small pond filled with lively carps will make you forget the busy surroundings of modern-day Tokyo and instead make you feel like you've slipped back in time to the Edo period. A sauna is also available to use, so Jakotsuyu is just the right place to recharge your energies!
Address

1-11-11, Asakusa, Taitou-ku, Tokyo, 111-0032
View Map

Nearest Station

Tawaramachi Station (Tokyo Metro Ginza Line)
3 minutes on foot


Phone Number

03-3841-8645
2. Nagomi-no-Yu: Natural Hot Spring at Ogikubo Station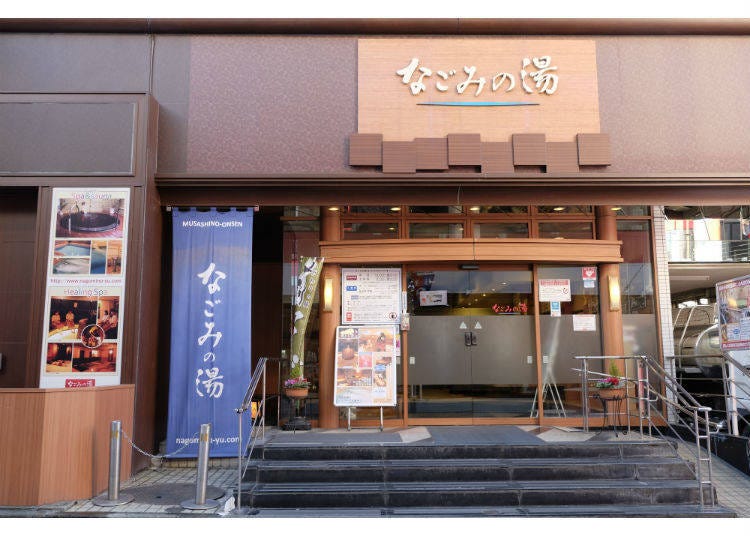 Hearing the name Ogikubo, people who are familiar with the area will think of it as a fierce ramen battleground. But what is better after enjoying a delicious bowl of ramen than soaking your body in a natural hot spring?

This is a real Only in Japan experience! To enjoy this amazing combination for yourself, head over to Musashino Natural Hot Spring Nagomi-no-Yu, only a one-minute walk away from Ogikubo Station's West Exit.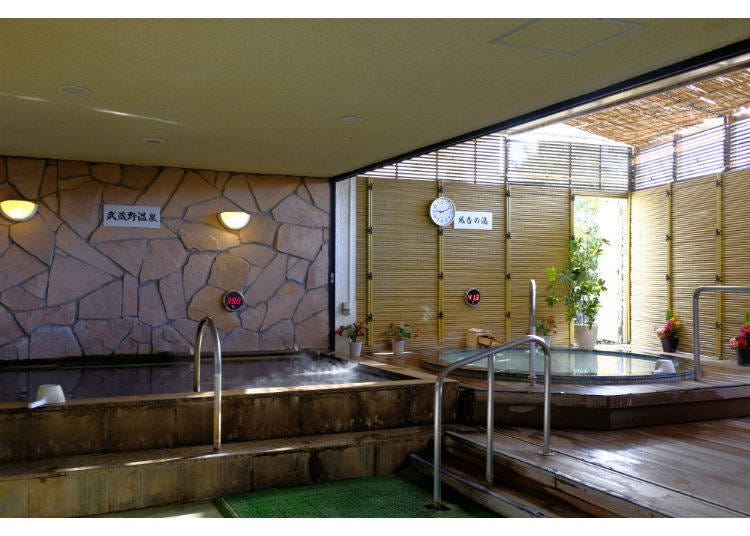 The spacious hot spring makes use of thick, blackish-brown kuroyu water, said to warm your body for a long time even after stepping out of the water.

Nagomi-no-Yu also has an open-air bath for women called Fuka-no-Yu, and one for men called Tsuboyu. This kuroyu hot spring actually also has one-person open-air baths that were made by one of the six oldest kilns in all of Japan, offering a marvelous view of the sky above while soaking your body.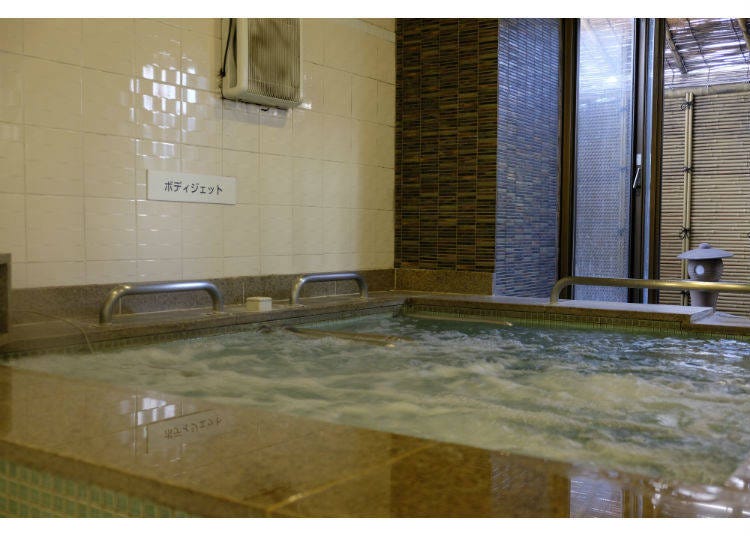 With a total of four different kinds of indoor baths, there's much and more to experience as far as Japanese bathing culture goes. One of them is the carbonated spring bath with millions of tiny bubbles that both warm the body and remove any kind of excess sebum and thoroughly clean your pores. On top of that, a jet bath, a cold bath, and a seasonal event bath that changes every week can be enjoyed for no extra charge.

The only thing that does require an extra fee to be paid is the bedrock bath while the sauna is free of charge. With dedicated rooms to relax in, cool down from a bath, or simply take a nap, Nagomi-no-Yu and its kuroyu water is incredibly popular among both locals and tourists. A separate space for women only is available as well.
Musashino Onsen Nagomi-no-Yu

東京荻窪 武蔵野天然温泉 なごみの湯

Address

1-10-10 Kamiogi, Suginami-ku, Tokyo 1670043 Japan

Phone Number

03-3398-4126

Hours: 10:00 a.m. – 9:00 a.m. (until 9:30 a.m. on Saturdays, Sundays, and national holidays)
Holidays: always open
Size: 6 floors in total. Space for a maximum of 530 people.
Facilities: open-air bath (2), indoor bath (4; carbonated spring bath, jet bath, whirlpool bath, cold bath), bedrock bath (1), sauna (5), rest area (1), restaurant (1)
Admission: 2,000 yen (including tax and bathing set)
*The bathing set includes face & hand towels, and garments.
*The Healing Spa (bedrock bath) costs 450 yen extra (for special clothes and towels)
Shampoo: available (free)
Towels: available (free)
Amenities: available (free)
Tattoos: not allowed
Language support: Chinese, English, Korean
3. Yumori-no-Sato: Relaxation Amid Refreshing Nature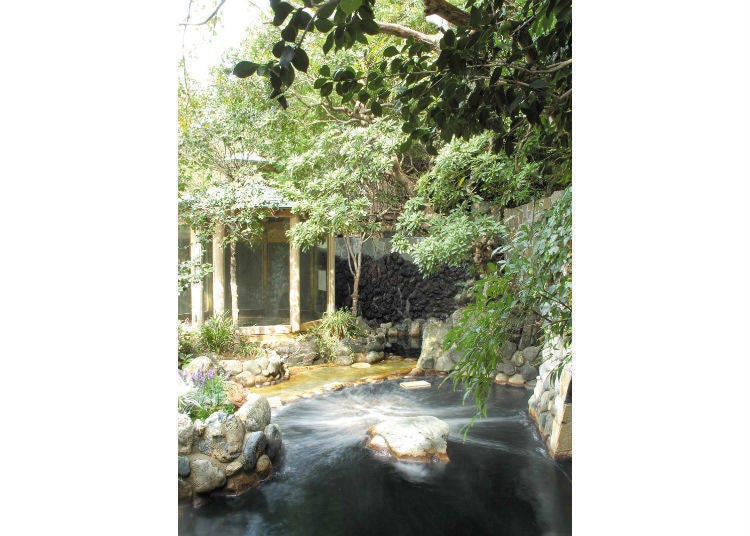 The quiet residential area of Chofu, a suburban town of Tokyo, isn't particularly known among tourists, especially not international ones. However, the town has one of the metropolitan area's most atmospheric natural hot springs to offer, filled with the characteristic kuroyu black water: Yumori-no-Sato, a natural hot spring.

It earns much to its calm atmosphere because it is rather secluded from both Keio Line's Chofu Station and JR's Musashisakai Station, but a free shuttle bus will take you to the hot spring from both stations. The bus from Chofu Station leaving at the top of every hour between 10:00 a.m. and 8:00 p.m., while the one from Musashisakai Station leaves every 30 minutes from 10:30 a.m. to 7:30 p.m.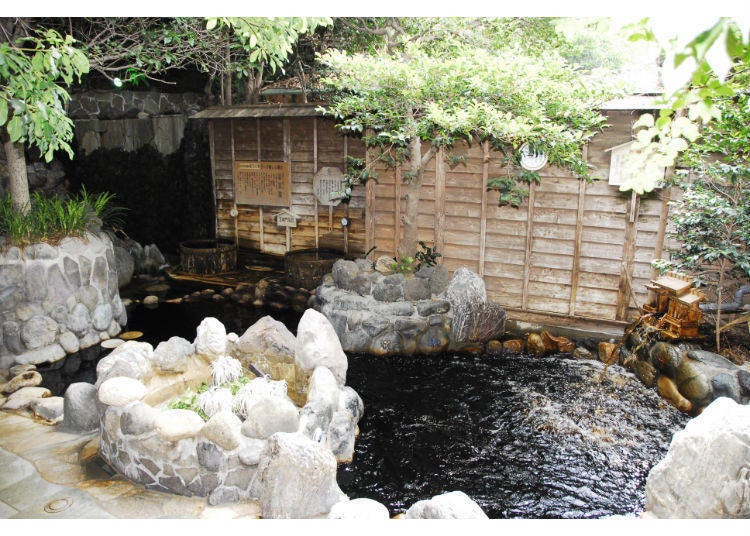 The kuroyu water of Yumori-no-Sato is jet black, drawn to the surface from a natural spring 1,500 meters deep in the earth.

As there is no extra water added to the spring and due to the kuroyu's concentration of salt being the same as that of the human body, this hot spring is effortless to enter and hardly puts a strain on one's body.

The bath itself is made out of natural materials such as bamboo, charcoal, and stones said to be high in vibration, believed by some to positively impact immune response and realign one's Chi.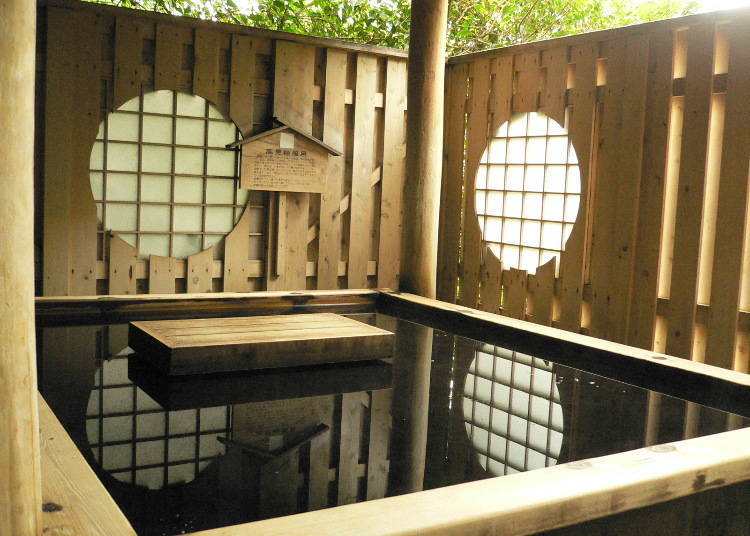 In total, nine types of baths can be enjoyed at Yumori-no-Sato, each with its own individual positive effects. The Binchotan charcoal bath for men, for example, is said to have a detoxing effect and to help to maintain youthfulness. The women's Takami bath, on the other hand, helps against both a tired mind and body with cypress, believed to have golden power according to feng shui. Choose a bath that you feel will benefit you the most and let tiredness and toxins be washed away by the hot water!
深大寺天然温泉 湯守の里

Address

2-12-2 Jindaiji Motomachi, Chofu City, Tokyo 1820017 Japan

Phone Number

042-499-7777

Hours: 10:00 a.m. – 10:00 p.m.
Holidays: always open
Size: 150㎡
Facilities: open-air bath (7), indoor bath (1), foot bath (1), sauna (1), bedrock bath (4, extra admis-sion), restaurant (1)
Admission: 1,200 yen (including towel set & garments)
Shampoo: available (free)
Towels: available (free)
Tattoos: not allowed
Language support: none
When coming to Japan, experiencing authentic bathing culture is a must – and why not do so in a kuroyu onsen or bath house? Soak your body in the characteristic black waters of Tokyo and experi-ence how relaxation is done, the Japanese way.
*This information is from the time of this article's publication.
*Prices and options mentioned are subject to change.
*Unless stated otherwise, all prices include tax.