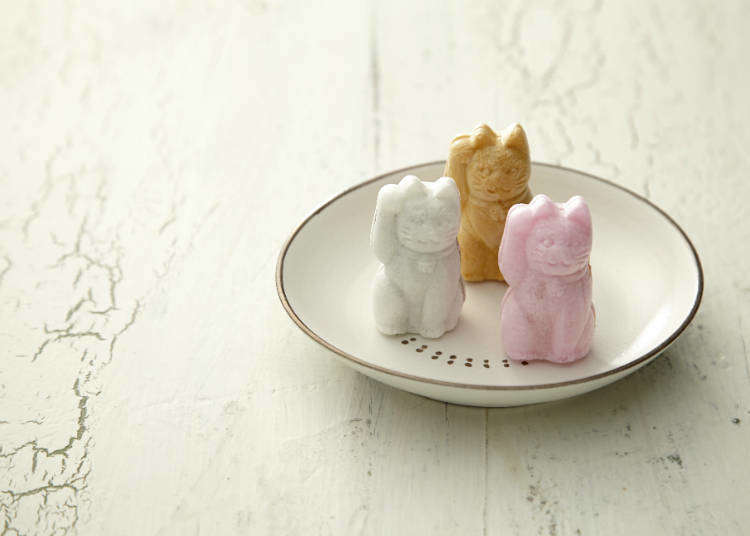 Depachika is the Japanese term of the basement floors of big department stores – and those are generally considered sacred grounds for every gourmet, being filled to the brim with delicious things! If you're looking for a unique "Made in Japan" souvenir of particularly high quality, why not head over to a depachika and find a beautiful and unique gourmet gift for family, friends, or yourself!
Shinjuku Takashimaya: Local Souvenir Delicacies at "One Hundred Kinds of Confectionery"
"One Hundred Kinds of Confectionery" is part of the depachika of Shinjuku Takashimaya department store, offering a large selection of delicious, local confectionery from all over Japan that make for excellent souvenirs. Gourmet sweets from Tokyo, Kyoto, and all kinds of cities and areas are lined up next to each other, all of them enjoyed and loved throughout the country for many years. They do not only taste amazing but also look very appealing and delicately made, so why not shop for a local depachika cake or two?
Hiyoko: Adorable Confectionary in a Shinjuku Takashimaya Limited Box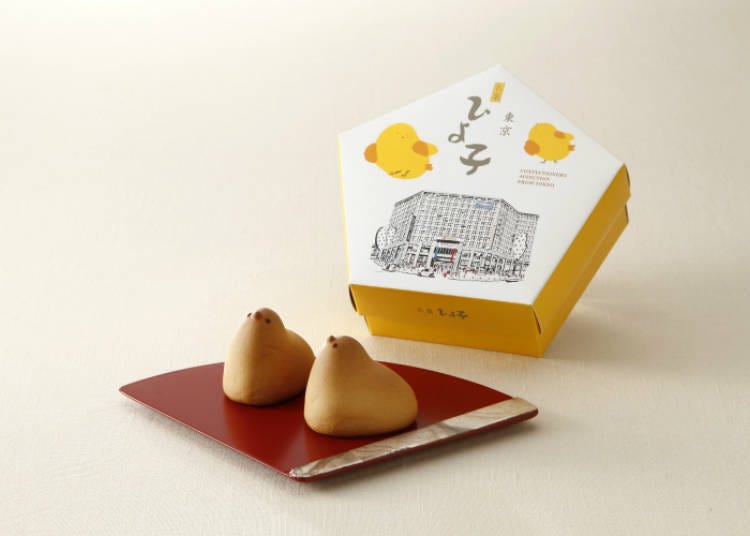 Born in 1912 in Fukuoka, the adorable bird-shaped manju, filled bun pastry, called Hiyoko is a classic when it comes to both regional delicacies and popular souvenirs. A pleasantly soft pastry coat made out of individually blended flour, egg, and high-grade sugar that gives the little bird its unique shape is filled with a bean paste of a wonderfully mild sweetness.
Sweet Souvenirs Wrapped in Tiny Hand Towels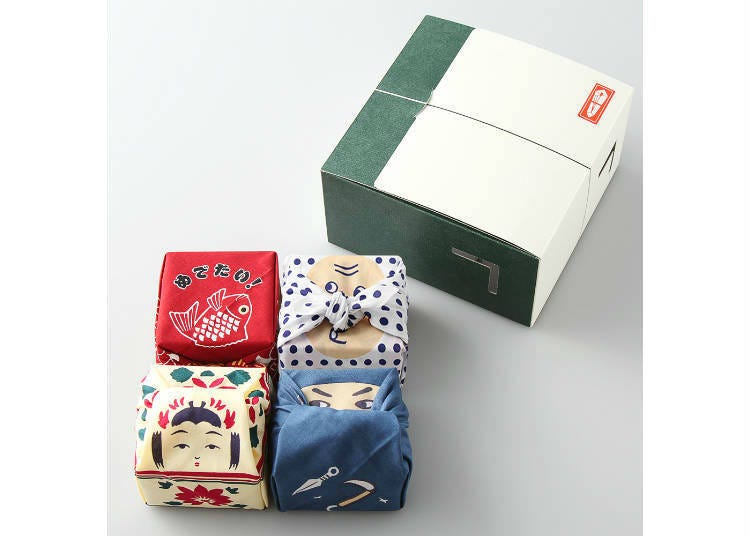 These unique little souvenir boxes are filled with equally unique sweets, such as hard candy, little sugar stars called konpeito, and tiny round cookies. On top of that, these 27cm×27cm big boxes, going by the name of "Mamegui," are wrapped in beautifully dyed hand towels. They come in all kinds of designs and tastes, representing Japan's unique wrapping gift culture and show that even the smallest little things can be fancied up with the proper packaging.
The Edible Good Luck Charm: Shofuku Monaka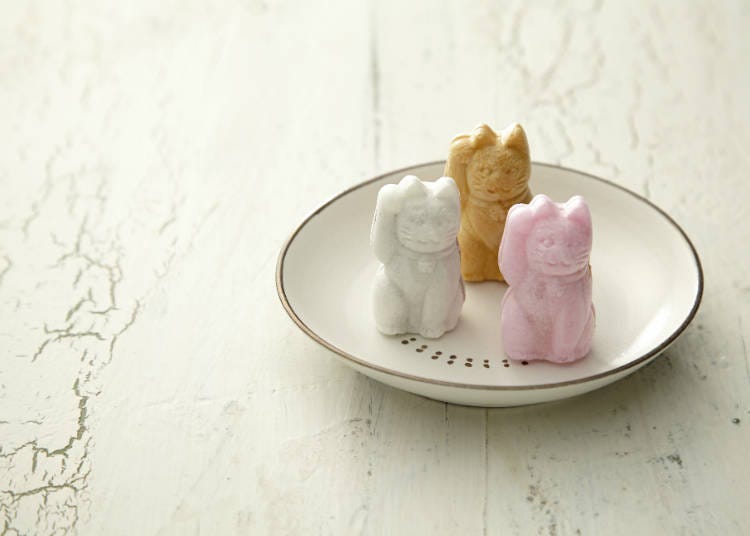 The famous maneki neko, or lucky cat, is said to have been born at the shrine of Gotoku-ji in Tokyo's Setagaya Ward. The Japanese sweets shop Kameya has transformed this beloved lucky charm into a bite-sizes and incredibly delicious sweets creation, calling it shofuku monaka, or lucky filled wafers! One box of shofuku monaka contains nine kitties of three versions: coarse red bean paste, strained bean paste, and white bean paste – there's plenty of good luck to be found in one box! Since the maneki neko is such a famous and easily recognizable symbol of Japan, it's a particularly recommended souvenir.

Shinjuku Takashimaya
Hours: 10:00 a.m. – 8:00 p.m. (until 8:30 p.m. on Fridays & Saturdays, different hours during December and New Year's)
Holidays: January 1st
Toyoko Noren Street: Tokyu Department Store's Atmospheric Souvenir Wonderland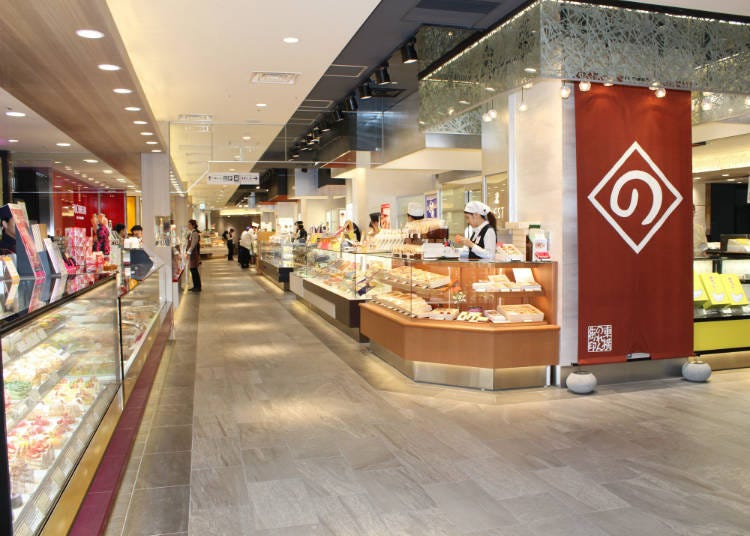 The depachika of Tokyo Department Store is called "Toyoko Noren Street" and it isn't only directly connected to Shibuya Station, it is also Japan's oldest arcade of well-known stores, called meitengai, with a history dating back to 1951. As this history suggests, Toyoko Noren Street is filled with high-quality gourmet goods from all over Japan, a lot of them made and sold by long-established stores that focus on both traditional tastes and modern creations. Let's go souvenir-hunting in this atmospheric souvenir wonderland!
Waguri Cake: Adachi Otoemon's Taste of Japanese Chestnut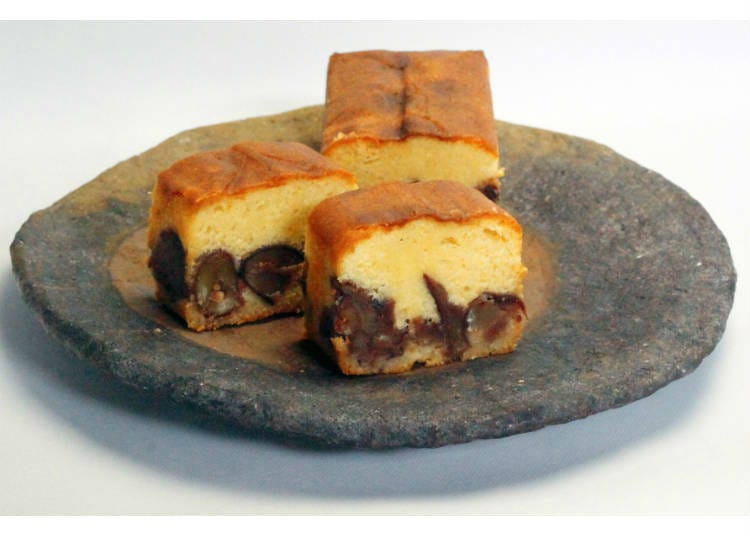 One of the most popular creations of the famous pastry shop Adachi Otoemon is the Waguri Cake, a pound cake made with so much Japanese chestnut (waguri), there's no way to cut the cake and not have the entire bottom half filled with it. The waguri used are all grown and picked in Japan, gently roasted with the thin skin still on to preserve the full-bodied flavor, and finished with a bit of brandy. The refined sweetness of the cake, enhanced with cultured butter and wasanbon sugar, fits the taste of the chestnut just perfectly. Convey the taste of Japan with this wonderful souvenir!
Sorairo's Hoshi & Cookie Set: Cookie Spoons to Savor Bean Paste With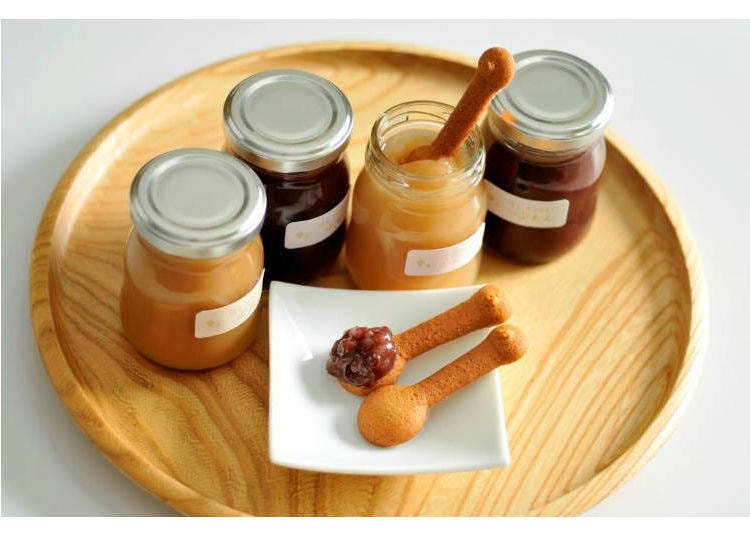 Kuya is a pastry store in Ginza, run in the fifth generation – and just a while ago, it launched a new brand called Sorairo, following the concept of "Anko is Bean Jam." Anko is the Japanese term for sweet paste made out of azuki beans. With this simple concept, even people who've never had sweet bean paste before immediately can connect to it, as pretty much everyone knows jam! As such, the brand has created many easy to eat and wonderful to enjoy anko sweets, and our biggest recommendation is the Hoshi and Cookie Set.
It consists of four little jars filled with different kinds of sweet bean paste, red and white, smooth and coarse. On top of that, little spoons made out of biscuit are included in this set, so just scoop up this delicious souvenir and take a bite!
Mon Loire's Amazing Chocolate Creations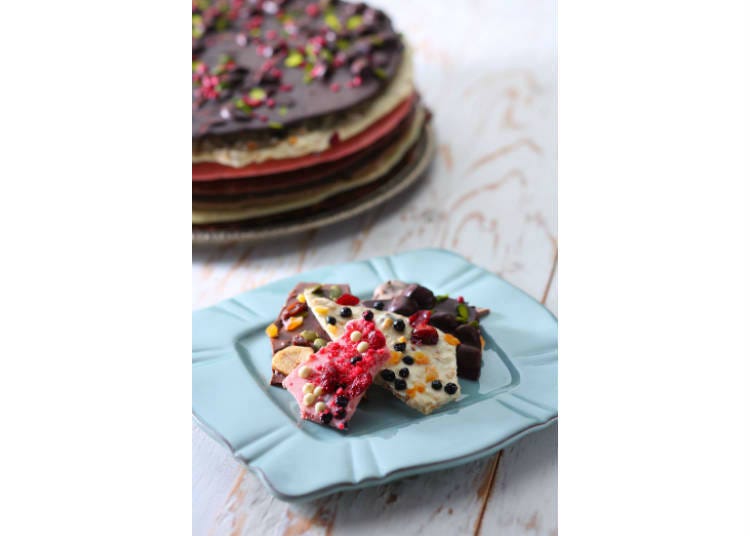 Mon Loire is an incredibly famous chocolatier from Kobe. In the store, gorgeous whole chocolates that are as big as an entire pizza are displayed in the storefront. If you want to buy one, it'll be broken into different pieces for you, for easier transportation and consumption. Another highlight of this store is the fact that whatever time it is, you can always choose between eight different flavors! These beautiful creations make for excellent souvenirs that represent a colorful Japan.

Toyoko Noren Street
Hours: 10:00 a.m. – 9:00 p.m.
Holidays: January 1st
Please inquire with the store directly if you have any questions related to the product.
*This information is from the time of this article's publication.
*Prices and options mentioned are subject to change.
*Unless stated otherwise, all prices include tax.