The days that mark the transition from one season to another are called "setsubun" in Japanese, a term that particularly refers to the last day before spring in February. This day is celebrated by throwing soybeans as a purification ritual, to pray for good fortune, the safety of one's home, and good health.

In Tokyo, the setsubun season is very lively and colorful, studded with all sorts of events - and of course a great time to see the plum blossoms! Let's take a closer look at Tokyo's highlights in February!

*Note that many events may be canceled due to coronavirus in 2021. Be sure to check with official websites ahead.
Setsubun Celebration at Senso-ji Temple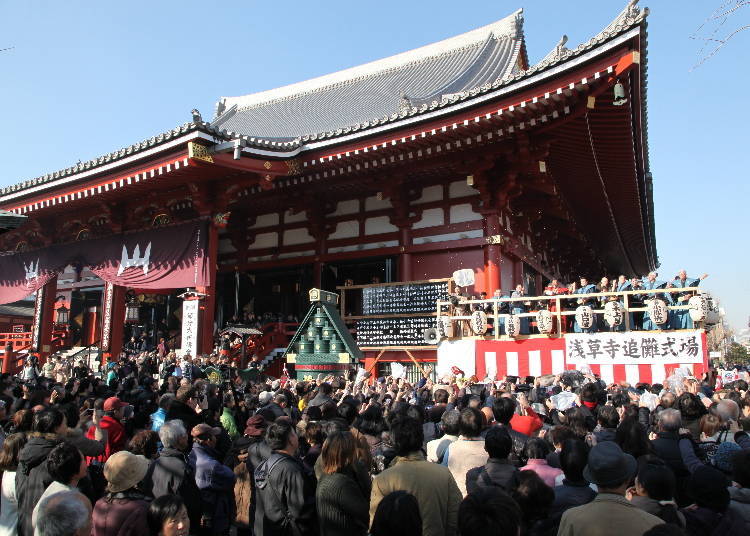 Entry fee: free. Hours: 11:30 p.m., 1:30 p.m.
February 3rd, 2021

Starting from the Denbo-in Temple in Asakusa, a procession of the chief-priest and setsubun bean scatterers will make their way to Senso-ji Temple's main hall, the Setsubunkai is then moving to a special place on the east side of said main hall. There, the traditional soybean scattering is taking place, along with lively performances of the fukuju no mai, or Seven Deities of Good Fortune Dance.

At 10:00 a.m., the little ones of the Senso-ji Kindergarten take over the soybean throwing ritual, while in the evening, the Asakusa Kannon Celebrity Setsubunkai is taking place, featuring well-beloved Japanese celebrities.

Usually, the soybeans are thrown at people dressed as ogres and demons while shouting "Demons out! Luck in!" to symbolize ritual cleaning. In Asakusa, however, there are no demons, as the deity of Senso-ji is Kannon, a Buddhist deity connected to mercy and compassion and thus the antithesis of any sort of demon. Instead, the people at Senso-ji shout "A thousand years of luck in!"
Address

2-3-1, Asakusa, Taitou-ku, Tokyo, 111-0032
View Map

Nearest Station

Asakusa Station (Tokyo Metro Ginza Line / Toei Asakusa Line / Tobu Isesaki Line (Tobu Sky Tree Line) / Tsukuba Express)
5 minutes on foot


Phone Number

03-3842-0181
Setsubun at Ikegami Honmon-ji - Driving Out the Demons!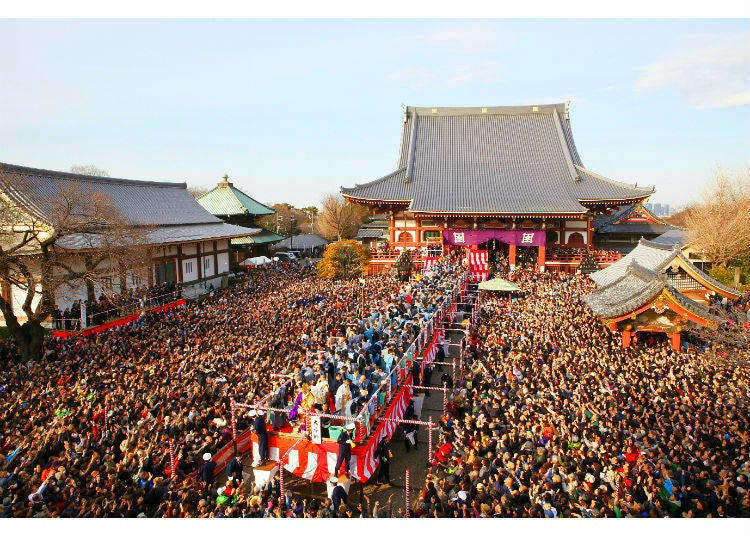 Entry fee: free. Hours: 1:00 p.m. - 3:30 p.m.
When: February 3

Ikegami Honmon-ji is the head temple of the Buddhist Nichiren Sect and also famous as the place where its founder Nichiren died. On the day of Setsubun, the 3rd of February, a procession of "lucky men and lucky women" is taking place, starting at the Tokumochi Kaikan Hall near the Ikegami Station, proceeding to the temple. The traditional soybean throwing begins at 3:00 p.m., and a special stage is set up within the temple precincts that welcomes a variety of celebrities, such as wrestling talents and TV personalities. The Ikegami Honmon-ji Setsubun event is immensely popular, drawing in crowds of about 10,000 people every single year.
Address

1-1-1, Ikegami, Ota-ku, Tokyo, 146-8576
View Map

Nearest Station

Nishi-Magome Station (Toei Asakusa Line)
12 minutes on foot


Phone Number

03-3752-2331
Setsubun at Shibamata Taishakuten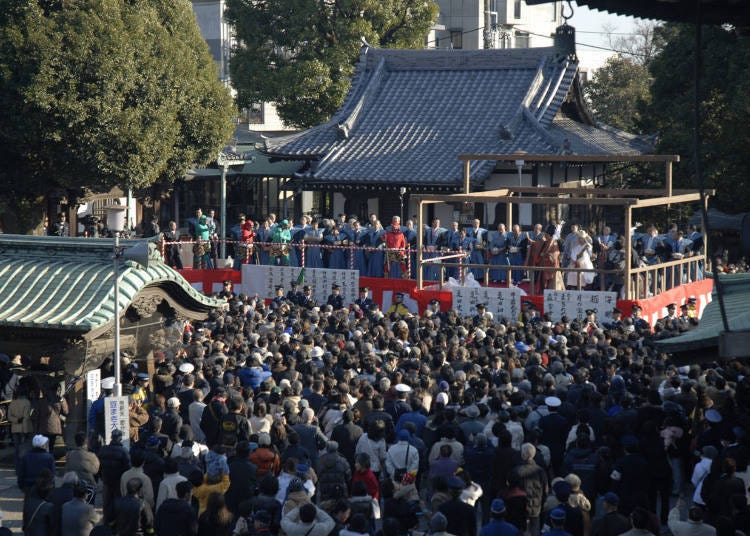 Entry: free. Hours: 1:20 p.m. - 3:30 p.m.
When: February 3

Yet another setsubun event that should by no means be disregarded is taking place at Shibamata Taishakuten, a Buddhist temple that is well-known as a prominent location of a massively popular Japanese movie series called Otoko wa Tsurai yo, or "It's tough being a man." This cinematic legacy is only part of the temple's 400 year long history, though.

At Shibamata Taishakuten's setsubun event, the traditional expelling of the red and blue demons is done by the temple's own monkey deity before soybeans are sprinkled. The soybean throwing takes place twice, at 2:00 p.m. and 3:00 p.m., with sumo wrestlers attending the latter event. The soybeans are contained in little bags, some of which contain little lottery tickets, featuring wins from a store called Shinmeikai, located on the shopping street leading up to the shrine - good luck!
Shibamata Taishakuten (Taishakuten Daikyoji Temple)

帝釈天題経寺

Address

1-10-3 Shibamata, Katsushika-ku, Tokyo 1250052 Japan
Yushima Tenmangu Plum Festival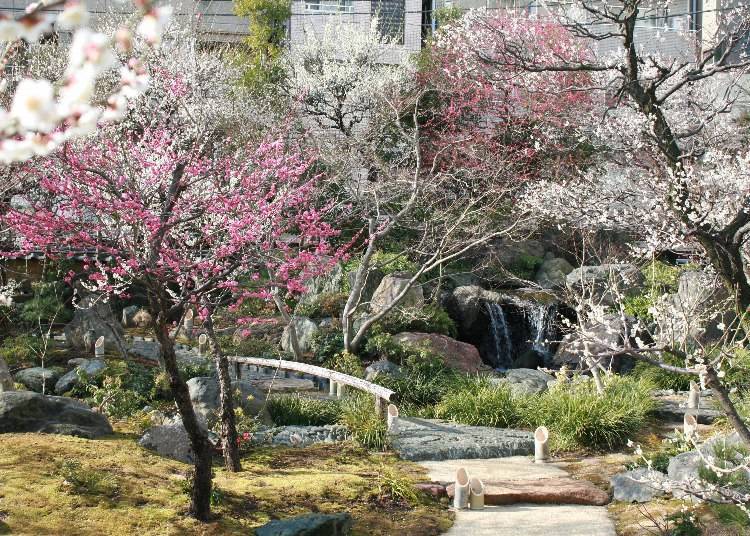 Entry fee: free. Hours: 8:00 a.m. - 7:30 a.m. Closed: always open
When: February 8 - March 8

The Shinto shrine called Yushima Tenmangu has been a famous ume, or Japanese plum, ever since the Edo period. The temple precincts alone feature 13 different kinds of ume blossoms, each blooming in a different shade of color. The best time to experience the beautiful trees is usually from mid-February to the beginning of March.

The plum festival is held in accordance with this magnificent sight, featuring a variety of events on Saturdays, Sundays, and national holidays. Some of the highlights are open-air tea ceremonies for 500 yen per session, as well as traditional dance and shamisen performances that create just the right atmosphere to celebrate the plum blossoms.
Address

3-30-1, Yushima, Bunkyo-ku, Tokyo, 113-0034
View Map

Nearest Station

Yushima Station (Tokyo Metro Chiyoda Line)
2 minutes on foot


Phone Number

03-3836-0753
The Setagaya Plum Festival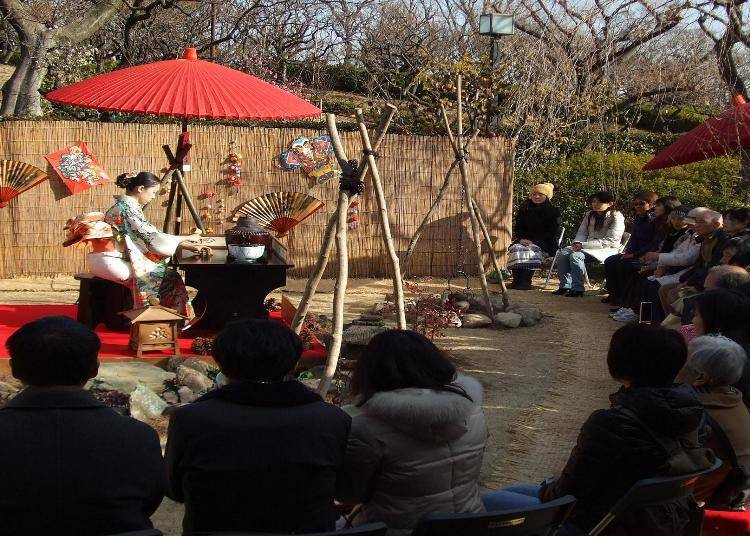 Entry fee: free. Hours: 10:00 a.m. - 4:00 p.m.
When: February 21 - March 10

This plum festival is held in Setagaya Ward's Hanegi Park, which first opened at a municipal park in 1956 and was turned into Setagaya Ward's park in 1965. Around 270 red plum trees and 380 white plum trees can be found all around the vast 80,000 square meter area, transforming Hanegi Park into a colorful wonderland and one of Tokyo's most fascinating plum blossom spots.

The Setagaya Plum Festival takes place for around one month from mid-February, offering a whole plethora of events on weekends and holidays. Among them are koto performances, haiku workshops, rice cake making, and other wonderfully traditional activities that'll make for an unforgettable ume experience. Be sure to try some of the many plum-themed delicacies sold from various atmospheric food stalls all around the park!
羽根木公園

Address

4-38-52 Daita, Setagaya-ku, Tokyo 1550033 Japan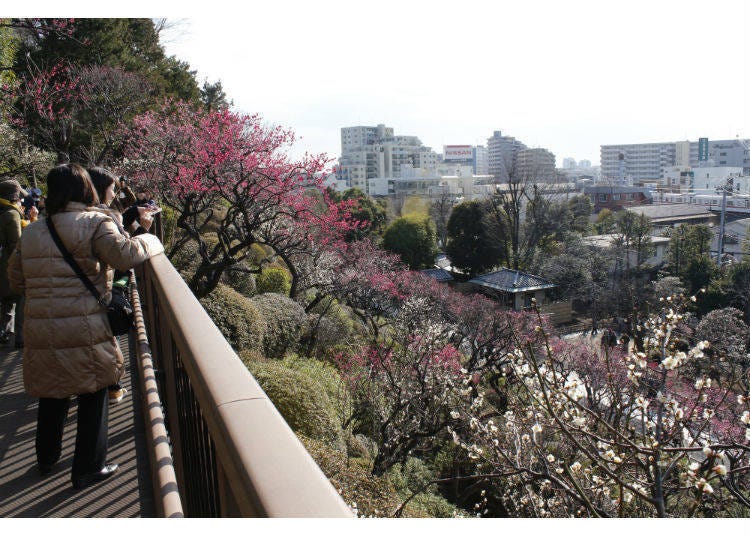 Entry fee: 100 yen Hours: 9:00 a.m. - 4:30 p.m. Closed: Mondays (except in February and March)
Ikegami Baien, or Ikegami Plum Garden, is a beautiful, quiet park in Tokyo's Ota Ward. Around 370 ume trees grace the area, dyeing the park's slope in beautiful colors. Thirty different species offer thiry different shades of ume, from a vivid pink to pale white, having nature paint a unique picture between mid-February to the beginning of March. As a famous plum spot, Ikegami Baien becomes particularly popular around that time.
池上梅園

Address

2-2-13 Ikegami, Ota-ku, Tokyo 1460082 Japan
*This information is from the time of this article's publication.
*Prices and options mentioned are subject to change.
*Unless stated otherwise, all prices include tax.