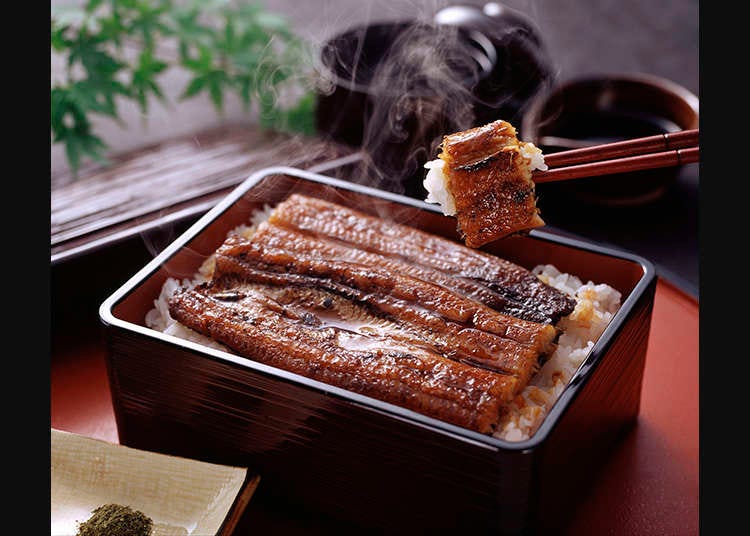 Grilled eel, called unagi no kabayaki in Japanese, is a popular dish in Japan. Find out more about its unique cooking style and rich flavor that makes this eel food so popular!
What is Kabayaki Cooking?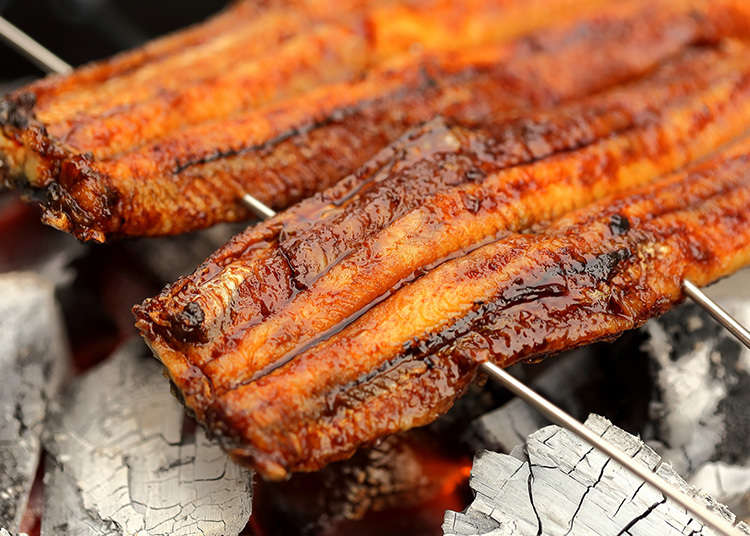 Kabayaki refers to one method of grilling, and is a popular way to cook seafood. For kabayaki, the ingredient is first gutted, boned and butterflied, then marinated in a mixture of soy sauce, sake, sugar, and other seasonings before being grilled. Other famous kabayaki meals include samma no kabayaki, grilled saury fish, and iwashi no kabayaki, grilled sardines.
History of Unagi no Kabayaki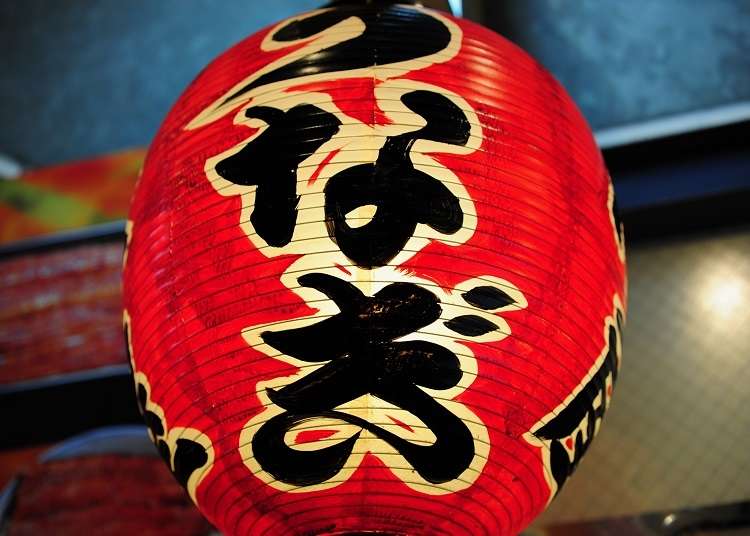 Since the Edo period (1603 - 1868), grilled eels have been a popular dish in Japan. Traditionally inexpensive, they were a common meal for many. These days, due to dwindling eel populations, they are more expensive and eaten usually as a luxury food.
Eating Grilled Eel on the Day of the Ox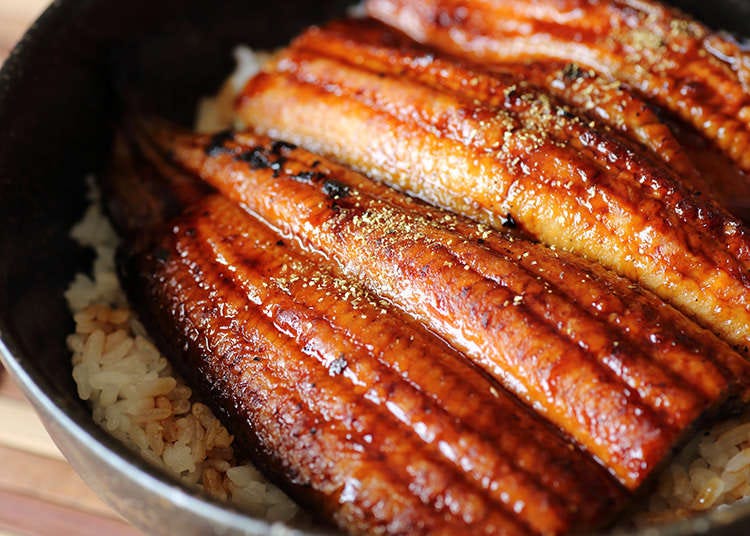 Doyo no Ushi no Hi, or Day of the Ox, is Japan's national day for eating grilled eel. The exact date changes every year, but it usually falls between July 20th and August 10th. This custom has been in place since the Edo period when eels were eaten to avoid summer fatigue as they contain high levels of energy-providing nutrients.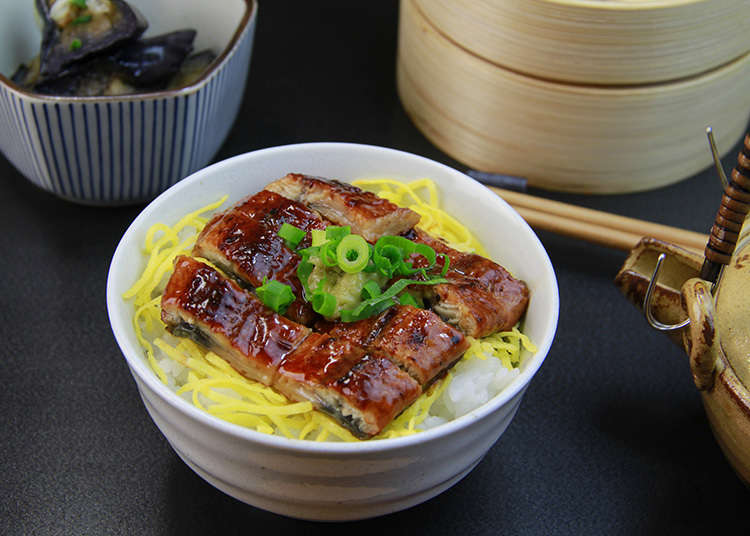 Kansai and Kanto often have different methods of preparing food, and unagi no kabayaki is one of these. In the Kanto region, the eel is slit down its back and butterflied before being grilled for the first time. Then it is steamed to get rid of excess fat, then grilled again. The result is a tender, flaky eel. In Kansai, the eel is slit down the belly and then grilled without steaming, and for longer - this makes the meat a little crispier and chewier.
How to Eat Unagi no Kabayaki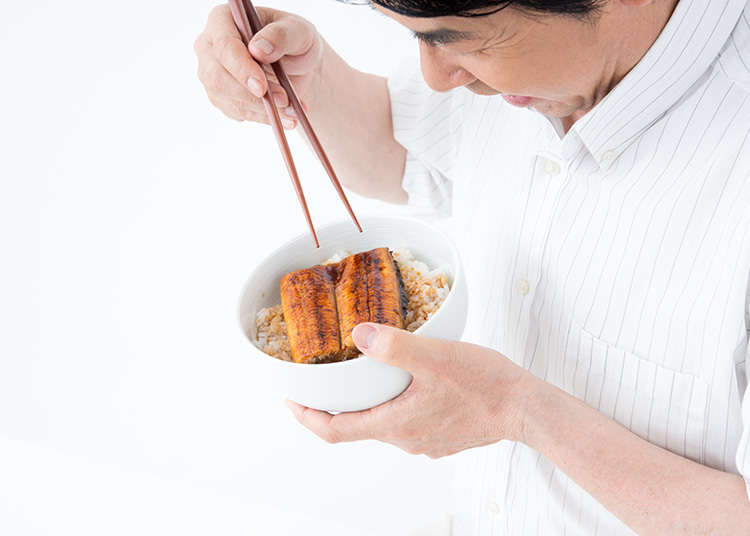 Unagi no kabayaki is usually served with freshly steamed white rice. If served separately, it's known as nagayaki, if on top of a bowl of rice, it's an eel bowl known as unadon. For more upscale versions, the unadon may be served in tiered lacquer boxes called jubako. If the eel is cut into smaller pieces and mixed into rice, the dish is called a hitsumabushi-don. Some restaurants grill eels with secret sauces that have been passed down many generations.

A soup called kimosui, made from eel livers and other eel offal, hone-senbei, crisply fried eels' bones, and pickles often accompany a kabayaki meal, depending on the restaurant.
For an extra kick, try sprinkling your unagi no kabayaki with ground Japanese sansho pepper. The fragrant seasoning not only adds some extra zing and cuts through the richness of the oily eels, it improves appetites and stimulates the digestive system.
*This information is from the time of this article's publication.
*Prices and options mentioned are subject to change.
*Unless stated otherwise, all prices include tax.
Search for International flights