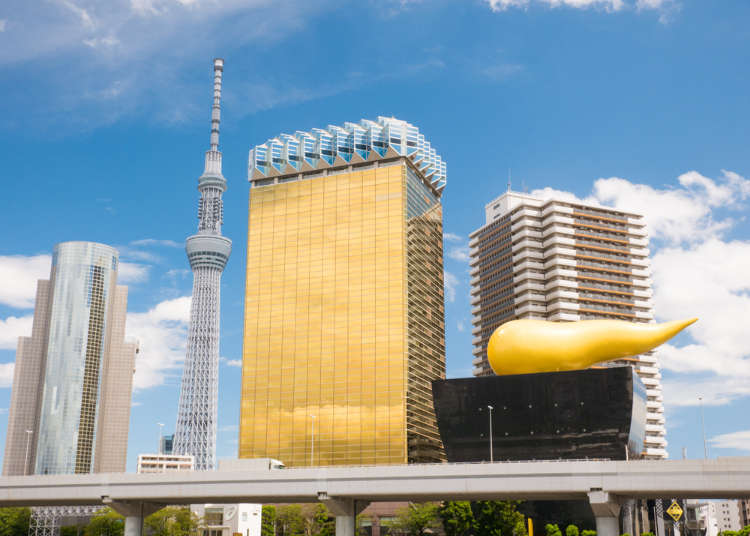 Explore different unique areas of Tokyo including the Ginza areas filled with department stores and high class shops, Asakusa with an old Edo era feel, to the famous Shibuya Scramble Crossing.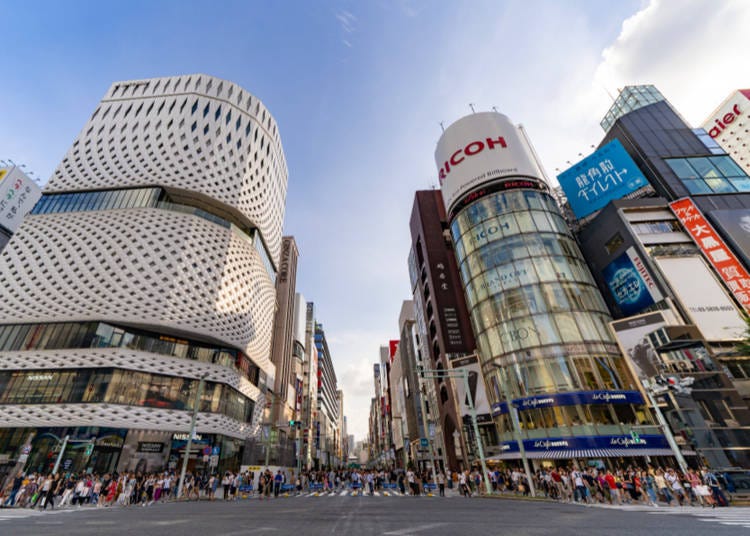 Image credit: R.Bordo / Shutterstock.com
Ginza is Japan's most prominent shopping area. Starting with Ginza Mitsukoshi, there are a lot of large department stores, such as Matsuya Ginza or the main store of Wako.

Besides these huge buildings, many stores of international high-class brands and long-established Japanese originals align next to each other, making even window shopping a wonderful experience.

On Saturdays, Sundays, and national holidays, around 1,100 meters from the main Ginza Street intersection are closed to traffic to allow people a pleasant "Ginza strolling" and shopping experience. Apart from high-class shopping, Ginza also hosts countless theaters and galleries, offering a wide range of cultural activities, from classical to contemporary art.

One of them is the famous Kabuki-za, featuring English guides for all of their performances for a small fee, opening the fascinating world of kabuki theater to an international audience.

"Antenna shops" from various prefectures in Japan also have gathered in the area, selling regional specialties from all over Japan, taking visitors on a culinary journey through the country.

Speaking about food, Ginza is a gourmet paradise, filled with high-class restaurants featured in internationally acclaimed restaurant guides, offering delicious dishes representing of all kinds of cuisines, sushi being only one of them.

At night, the area becomes a lively downtown neighborhood, glittering with the neon lights of bars and clubs.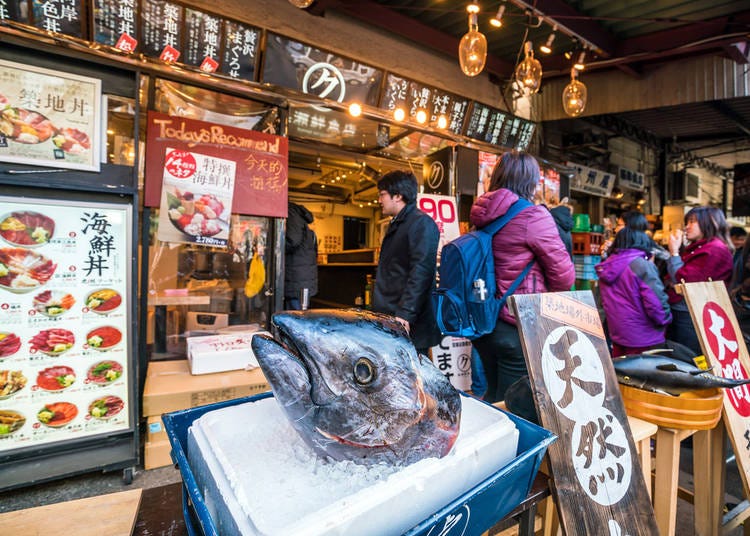 Image credit: f11photo / Shutterstock.com
Still known as Tokyo's Kitchen, its wholesale fish market had been Japan's largest until it relocated to Toyosu in 2018.

Tsukiji's outer market is still open to tourists and is still a huge draw. Around 400 different restaurants and eateries line the alleys of this area. Japanese cuisine made with the freshest of fish can still be enjoyed at Tsukiji! Food cannot only be savored, it can also be bought at the outer market: fresh fish, obviously, but also delicacies such as fish paste, seaweed, dried sardines, or bonito flakes are showcased in front of the many stores, making it a particularly lively and busy place. These little treasures not only make for wonderful snacks, but also authentic souvenirs.

Tsukiji Hongan-ji, a Buddhist temple in the north-eastern part of the outer market, is another famous tourist spot that is definitely not to be missed. It was originally built in Asakusa in 1617, during the Edo period, but after it was destroyed by a large fire, it was relocated to its current location. The peculiarity of the temple is its architectural design – despite being in the capital of Japan, Hongan-ji looks like an Indian temple from the outside, features a stairway that resembles a palace, and incorporates stained glass windows and an organ from Western churches.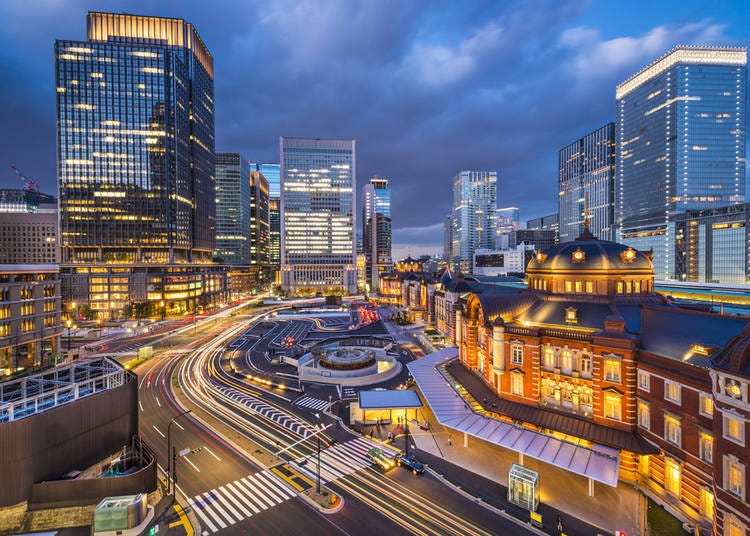 Tokyo station is a huge train terminal linking numerous train lines that spread out all over Japan, with bullet trains, Japan Railway (JR) trains, and the Tokyo Metro subways.

With the Imperial Palace (the former Edo castle) located to its north, Tokyo station is the entrance to Tokyo both in name and function. Its retro red brick exterior and elegant interior was designed by Kingo Tatsuno, the father of modern architecture in Japan, and it is one of the many famous spots in Tokyo. In recent years, the surrounding area has been undergoing renovation again, and the building was restored to its traditional appearance from its opening in 1914.

Also, the completion of skyscrapers like Sapia Tower and GranTokyo formed a commercial space for souvenir shops and restaurants within the station, which is called Tokyo Station City.

You can reach the Marunouchi office area within a minute's walk from the Marunouchi exit. It is the hub of the Japanese economy, with the head offices of famous companies and major banks lining its streets. High-end brands are also aplenty among the various business facilities along Marunouchi street.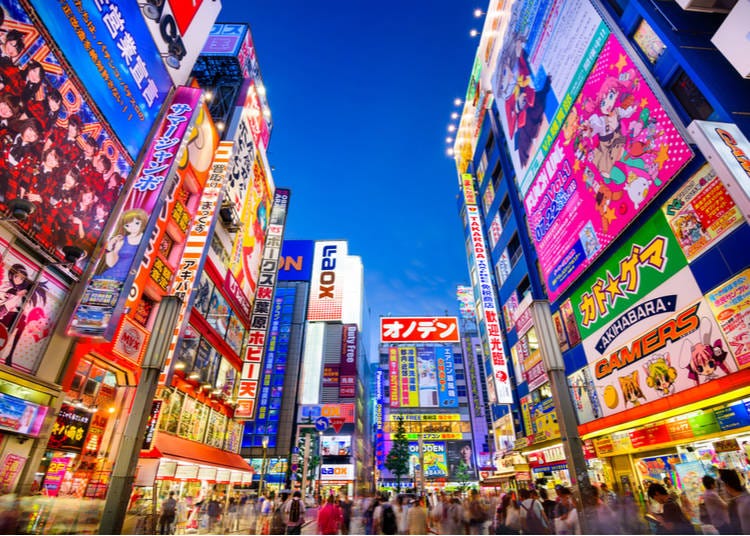 Image credit: ESB Professional / Shutterstock.com
Akihabara, a city that now represents Japan's electronics and technology, was once a black market where people dealt with random items from international troops stationed in Japan after World War II.

It was once a town for home electronics retailers and specialty stores for electronic equipment and parts, supported by loyal customers. However, following the electronic game boom, it has since transformed into a town for Otaku (fanatics of manga-related culture), with anime, manga and other hobby shops all over the town now.

At maid cafes where the staff dress up as maids, customers are all called Masters, Lords, and Miladies. It is interesting to experience such unique service too.

Akihabara is also home to the AKB48 theater, which is the leading group of the Japanese idol industry. Apart from regular stage events, there is an AKB48 CAFE & SHOP nearby as well. You can purchase various goods and enjoy dishes inspired by the group's members.

More compound buildings have been constructed in recent redevelopments as well. With the opening of the Tsukuba Express, Akihabara has started to play its role as an important transportation terminal, and we can expect to see a new face of Akihabara soon.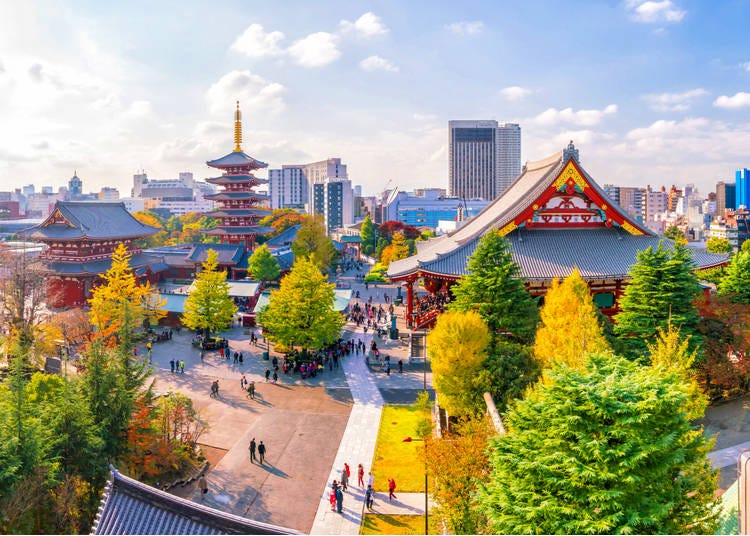 Tokyo's oldest temple, Senso-ji, stands right in the middle of Asakusa, a neighborhood that is reminiscent of old Edo and therefore a major tourist spot.

Kaminarimon and its huge paper lantern mark the entrance to Nakamise-dori, a crowded street of around 250 meters that leads right up to the temple. Around 90 different shops and stores line the street, selling traditional sweets, toys, and other goods, fitting right into the historic setting of the location.

Especially the many snacks are recommended: from deep-fried sweet buns or dumplings called kibidango to sweet-potato paste and handmade rice crackers called senbei, the sweets and snacks to be savored here are exactly the same way now as th0se enjoyed by the people of old Edo. Why not indulge in a culinary time travel on the way to Senso-ji?

While Asakusa is known for its traditional cityscape and its nostalgic, elegant atmosphere, it was actually one of Tokyo's major entertainment districts during the Edo and Meiji period, up to the Second World War. Theaters and geisha houses could be found aplenty in the 19th century.

Later, it was particularly known as the neighborhood of cinemas. The famous Denkikan, Japan's very first movie theater, was located in the area.

Old Asakusa is often compared to Montmartre of 19th century Paris or New York's Time Square around 1940. A new attraction of the area is the Tokyo SkytreeⓇ, standing on the opposite side of the Sumida River.

If you go left from Kaminarimon, cross Azumabashi Bridge and continue straight along Asakusa-dori to Narihirabashi Bridge, the massive tower can be found on the left. Both modern and traditional Japan can be enjoyed to the fullest in Asakusa.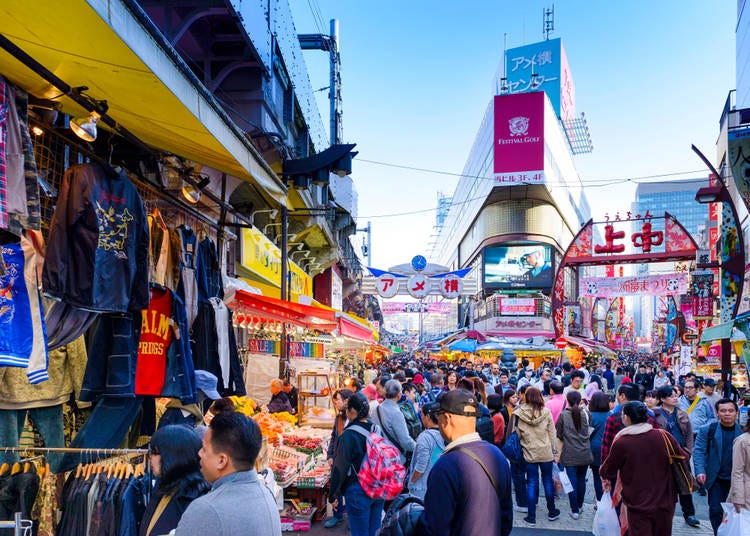 Image credit: 501room / Shutterstock.com
With a zoo and both art and science museums, Ueno definitely is a very cultural district. Home to over 500 species such as polar bears, gorillas, and giraffes, Ueno Zoo is Japan's oldest zoological garden, opened in 1882. Its most popular inhabitants are, however, the giant pandas.

The area has more "firsts" to offer: The National Museum of Nature and Science, for example, is Japan's oldest science museum, while the Tokyo Metropolitan Art Museum, built in 1926, was the country's first public art museum. The buildings alone are so impressive that admiring them from the outside is already worth the visit.

Adjacent to the museum is the spacious Ueno Park and its statue of Saigo Takamori, a famous samurai and politician known to every Japanese. Another attraction of the park is its magnificent collection of cherry trees that attract a huge crowd during spring, while the blooming lotus flowers on the Shinobazu Pond make for a spectacular view from July to August, a popular theme for ukiyo-e wood prints during the Edo Period.

An Ueno attraction outside of the park is a street called Ameyokocho, or just Ameyoko for short. One theory claims that the street got its name from the many shops in the area released goods left by the Occupation Forces of the U.S Army after the Second World War, with the "Ame" coming from "America". Now, a huge variety of shops and stalls can be found on the 400 meter long street, selling clothes, general merchandise, various snacks and food, and all the types of goods from the cheapest to luxury brands.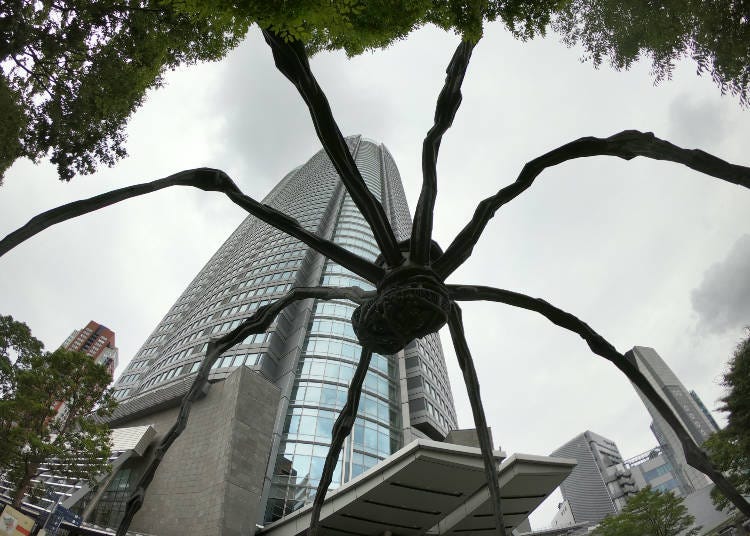 Roppongi is a town located in Minato-ku, in southeastern Tokyo. Since the 1960s, it has been known as the busiest town in Tokyo, but its characteristic as an office area was emphasized after its redevelopment.

In the area called Roppongi Hills, hotels, TV stations, and luxury apartment houses can be found, with the main landmark being the Mori Tower and its observation deck. The Mori Tower has 54 stories in total. You can enjoy the Tokyo City View and get a bird's-eye view of Tokyo with a clear view of Tokyo Tower from the building's indoor and outdoor Sky Decks, which are 250 meters and 270 meters above sea level respectively.

Tokyo Midtown is located opposite Roppongi Hills. It features various facilities, with office buildings, shopping centers, and hotels as well as their landmark, Midtown Tower, one of the highest skyscrapers in Tokyo. The Spanish and Swedish embassies are also located in Roppongi, along with US military-related facilities, and international companies. As a result, you will bump into many international people when walking around the area.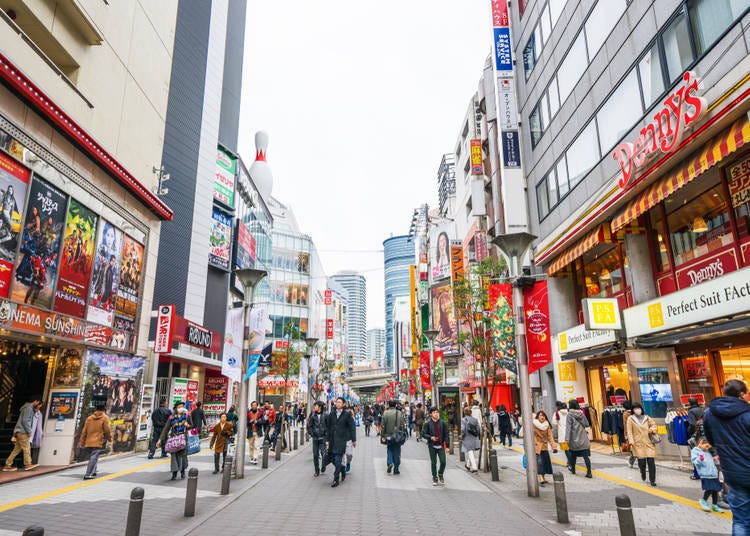 Image credit: voyata / Shutterstock.com
Connecting the JR Yamanote line, Seibu Railway line, and Tokyo Metro subway line, Ikebukuro station is a huge business hub.

Located in northwest Tokyo, the area's landmark is called Sunshine City. Opened in 1973, it is Japan's first large-scale multi-facility building, with over 60 floors and 4 basement levels.

Apart from Sunshine 60 and its observation deck, Sunshine City offers a variety of commercial and entertainment facilities, such as an rooftop aquarium, planetarium, the World Import Mart Building that has an indoor amusement park called Namja Town, Sunshine Theatre, and Prince Hotel. The Namja Gyoza Stadium and Fukubukuro Dessert Street inside Namja Town are also popular.

Apart from these attractions, Tobu Department Store, Lumine Ikebukuro, and Tokyo Metropolitan Theatre are located at the West exit of the station. The Seibu Department Store and Ikebukuro PARCO are located at the East exit. You're guaranteed to have many things to see and do in Ikebukuro.
Image credit: Mr. JK / Shutterstock.com
Shinjuku, located in western Tokyo, is home to the Tokyo Metropolitan Government Building, and is an exciting area with a constant stream of people no matter day or night.

Top department stores like Isetan, Takashimaya, Keio Department Store, and Odakyu Department Store are also located here. Among those, Isetan is treated as the landmark of Shinjuku. Inside the department store, you can find domestic and international fashion items, and lines of shoppers waiting to try the most popular desserts.

The Tokyo Metropolitan Government Building stands out among the skyscrapers in Shinjuku as the tallest building. You can enjoy a bird's eye view of Tokyo from two observation decks 202 meters above ground for free. You can see popular sightseeing spots such as TOKYO SKYTREE(R), Tokyo Tower, and Roppongi Hills in a panoramic view, and even Mt. Fuji if the weather is good.

If you are interested in experiencing the Japanese entertainment culture, visit Lumine the Yoshimoto. You can enjoy manzai (two-man stand-up comedy) and comic plays there.

Visit Shinjuku Gyoen and check out the huge park which was originally the Imperial family's garden. Rich with nature, it is literally an oasis in the city. The Shinjuku area is also known to be an entertainment area at night, contrasting the busy business town it is during the day.
Shibuya is the fashion paradise of young Tokyoites and home to a lot of commercial facilities, from with the famous Shibuya 109 store to established department stores such as Hikarie, Parco, and Marui.

The neighborhood's most iconic meeting place is the Loyal Dog Hachiko in front of the station, a statue of a dog so famous that his touching story has even been turned into a movie.

The huge intersection called "scramble crossing" next to Hachiko has become a tourist attraction, known as the world's busiest intersection. As soon as the traffic lights turn red and the cars come to a halt, a huge swarm of people start to cross the intersection in all directions – without building into each other! This interesting sight is often called a symbol of metropolitan Tokyo.

Shibuya is rich in historical sights and cultural activities as well, from the Kyu Asakura House or the Nabeshima Shoto Park to the Yamatane Museum of Art and the shrine called Konno Hachimangu.

As a young and fashionable neighborhood, there are a lot of shops and restaurants in the area that offer delicious food for very reasonable prices.

A hot bowl of ramen or a plate of sushi specialties is just the right refreshment after a long shopping trip and offers an authentic taste of Tokyo. And for everyone who isn't too tired to explore the city on foot, the neighborhoods of Harajuku, Omotesando, or Ebisu are also close by.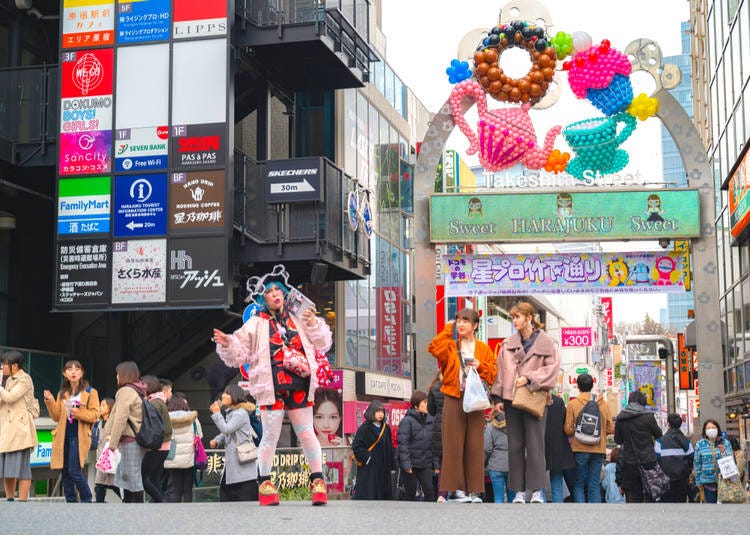 Image credit: aon168 / Shutterstock.com
For decades, Harajuku has been the center of affordable, casual, and subculture fashion and a favorite spot for young people.

The heart of Harajuku is undoubtedly Takeshita Street, a colorful 350 meter-long street line with all sorts of fashion stores. In between, shops focusing on anime and idol goods are particularly popular, and the area is always crowded with young people.

The authentic Harajuku way of making the most of Takeshita Street is to walk along with a delicious crepe in hand.

Ura-Harajuku and Cat Street, with their variety of different shops, just behind Takeshita Street, shouldn't be missed either. The entire area, known for young and unique fashion, is definitely a must-visit for every fashionista!

Just opposite this vibrant, bustling fashion area lies the solemn Meiji Shrine, nestled in lush and calm green. It is said to be the most visited shrine in all of Japan. The vast 700,000 square meter forest around the shrine is made up of about 120,000 trees that were donated by people from all over the country. It's a wonderful oasis of calm in the middle of the metropolis, the perfect place to escape Tokyo's usual hustle and bustle.

Yoyogi Park, adjacent to Meiji Shrine, is just a short walk away, and also offers a large open space for relaxation and recreation. It hosts a variety of cultural events such as Earth Day, antique markets, and international festivals such as the Thai or Vietnam Festival.
*This information is from the time of this article's publication.
*Prices and options mentioned are subject to change.
*Unless stated otherwise, all prices include tax.
Limited time offer: 10% discount coupons available now!