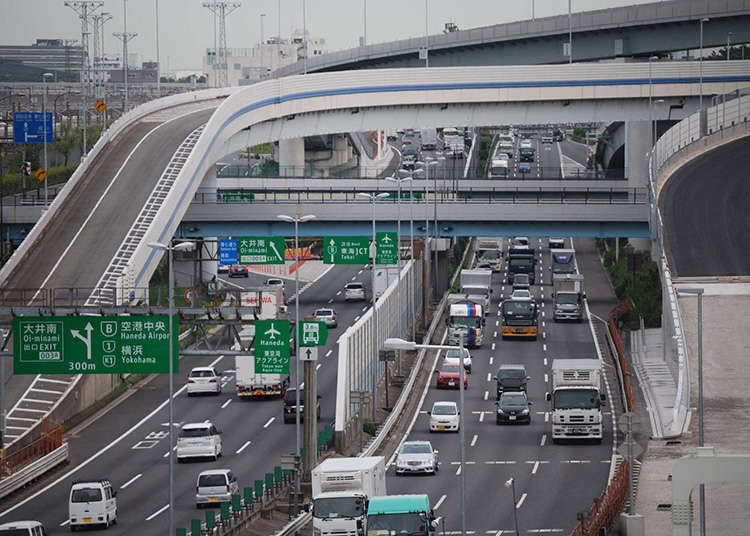 Let's take a look at some of the challenges involved in highway driving in Japan, most prominently, the road signs you will need to pay attention to.
Getting on the Highway in Japan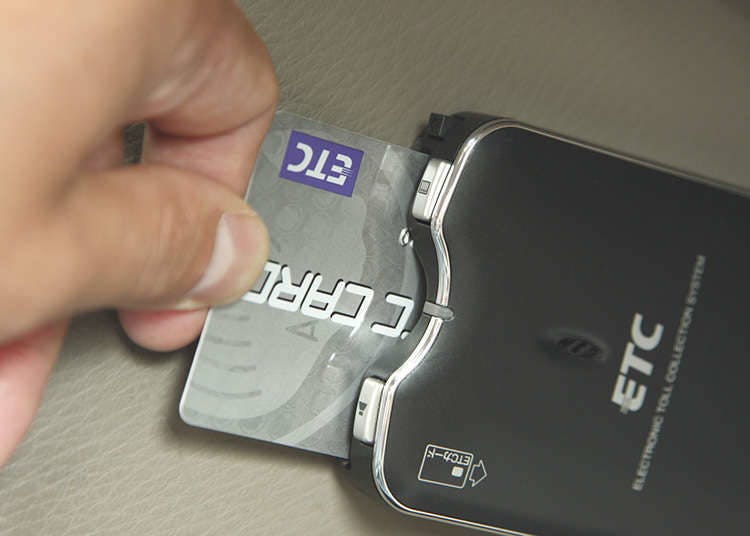 In many cases, there are different highway entrances for inbound and outbound lanes, and there is usually a tollgate at the entrance. Most cars in Japan use an automatic toll payment system called ETC. If you are in a rental car, it will almost always have an ETC card inside a special card reader. You do not need to remove the card, just drive through the lane marked "ETC". You have to drive slowly (abut 20 km/hour), then the toll gate bar will open automatically and let you pass.
If your car doesn't have ETC, use the " 一般" (ippan or general) lane, take a ticket manually (from either a person or a ticket machine), and pay when you get off the highway. Some major roads accept credit cards as well as cash, but it is best to assume that you will have to pay in cash. Be sure not to lose your highway ticket while you are driving.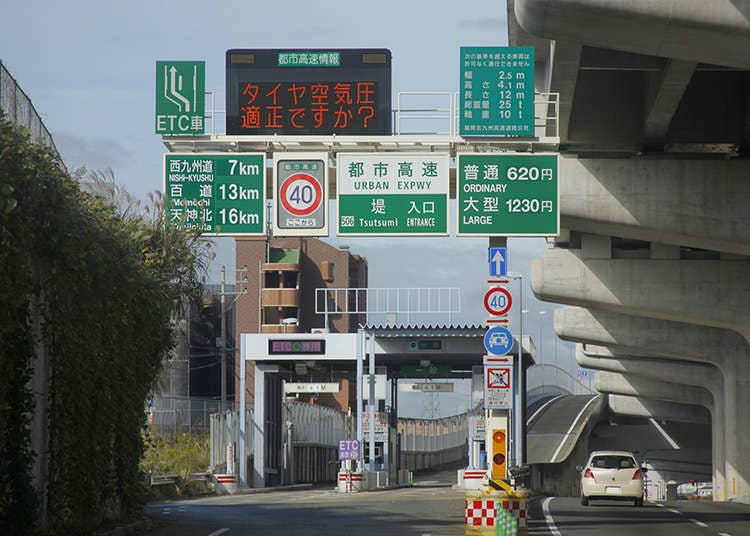 In the picture above, the distance to various cities is shown on a green sign on the left-hand side. You can clearly see the numbers 7, 13, and 16, showing the distance in kilometers. The number 40 on the right side is the speed limit for this zone, which means a maximum of 40 km per hour (25 mph). The next sign to the right is the name of the highway entrance. The 620 and 1,230 on the rightmost sign indicate the fee for using the highway. It means that a general vehicle, such as a passenger car, will be charged 620 yen. Note that many highway signs are now written in English. Almost all city and place names on Japanese highways are now in English, so you should have little trouble navigating.
Getting on the Highway and Pulling into Traffic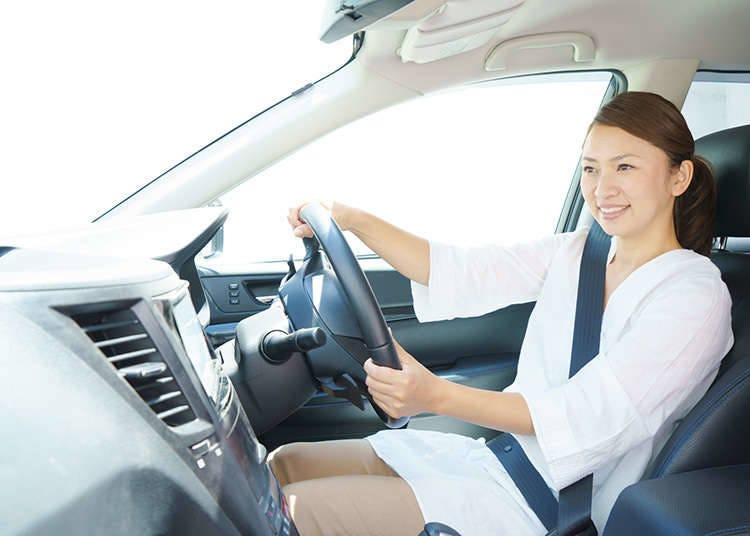 Obviously, traffic on the highway is moving very fast, and the lanes for vehicles merging into this traffic are sometimes short. Be sure to use these acceleration lanes to pick up speed and merge smoothly with the oncoming traffic. Stopping in a merging lane is very dangerous. In general, the speed limit on Japan's highways is 100 kilometers per hour (62 mph) for general vehicles and 80 kilometers per hour (50 mph) for light ("K") cars with engines of 660 cc. or less (these cars usually have yellow number plates for easy identification). Be sure to stay within the speed limit — police are watching the roads with both cars and cameras, and speed violations do result in serious fines.
Lane Differences in Japan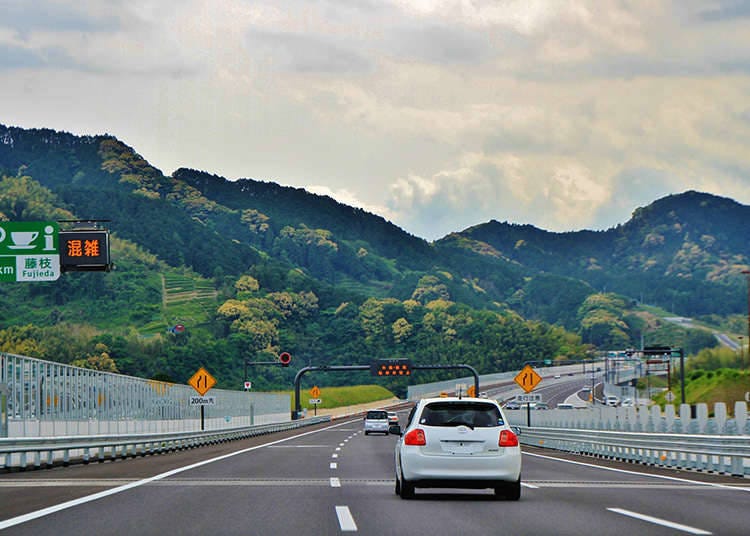 If there are several lanes, as in two-lane or three-lane highways, you are expected to drive on the left and pass on the right: the rightmost lane is the passing lane. Yet, at more complex highway intersections such as the Metropolitan Expressway in Tokyo, there are many entrances and exits and places where different highways merge together, so the rules become a bit blurred. However, one basic rule is to always pass another car on the right-hand side, never on the left.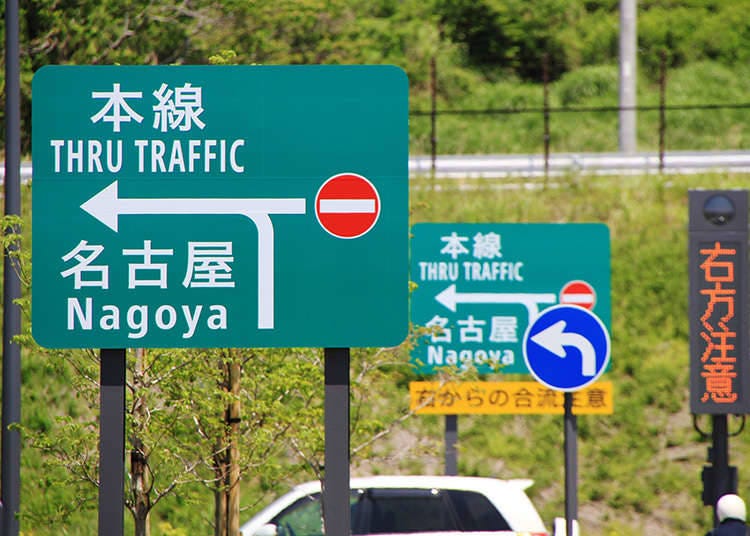 When you feel tired from driving, take a rest at a service area. The service areas in Japan may be large or small, but they are all clean and safe at any hour. The big ones have real restaurants and convenience stores, while the smaller ones might have only vending machines, but for safety's sake it is essential to rest on your journey. When you are rested and ready to return to the highway, be sure to check the signs carefully — in some places, a single service area serves both the inbound and outbound lanes of traffic, so you want to be sure you are getting on the right road and not heading back in the opposite direction.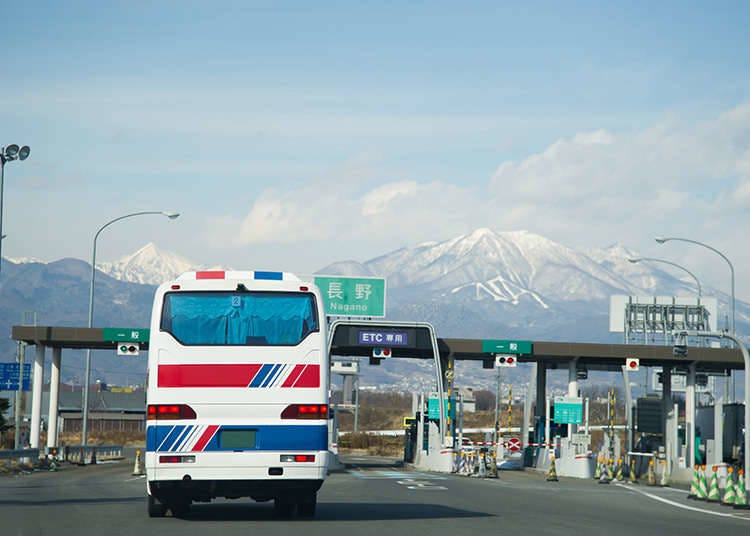 When you reach your destination, you will need to pass through a tollgate to get off the highway. Just as when you got onto the highway, the lanes are divided into "ETC" for cars equipped with the automatic payment system and "ippan 一般", meaning general vehicles, for non-ETC cars. Always drive slowly at these toll booths.
Explore Japan at Your Pace - Rent an RV!
Explore Japan at Your Pace - Rent an RV! RV rentals are a great way to see a new side of Japan from the open road!
Use LIVE JAPAN's promo code below to get 5% OFF your rental now.
・Promo code: LiveJapan_coupon_01
・On the "Request for a Quote" page, enter the promo code to get your discount.

*This information is from the time of this article's publication.
*Prices and options mentioned are subject to change.
*Unless stated otherwise, all prices include tax.