In an island country Japan, there are many uniquely developed traditional crafts and clothing. Why don't you get some products, such as tenugui (hand towels), chopsticks, and jika-tabi (rubber-soled socks) made by using precise Japanese techniques, as souvenirs for your family, friends, and for yourself?
Etenugui with Japan's Iki (Coolness)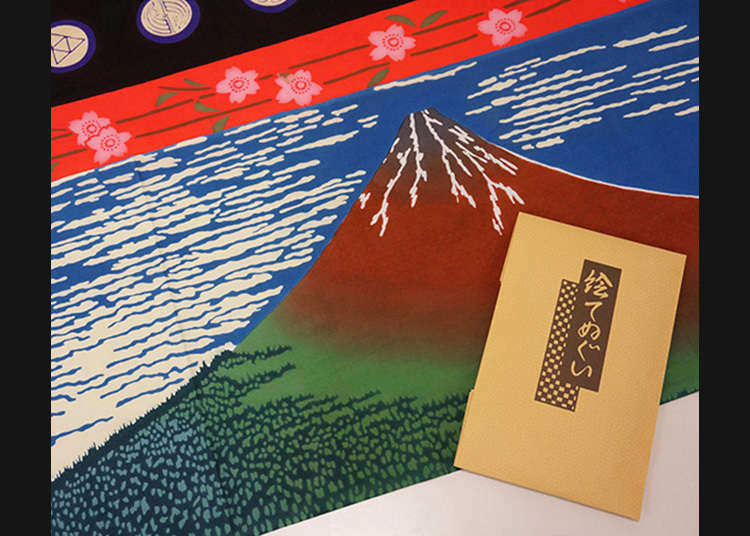 Tenugui towels are a type of a Japanese-style large handkerchief. This is a shop that carries tenugui with originally dyed patterns. There are more than 300 patterns, including well-known scenes from kabuki (traditional Japanese drama) and scenery from all four seasons. Craftsmen carve and prepare stencils based on original drawings by artists, and dye cloths by a traditional technique of hand-dyeing called chusen. Many veteran artisans are involved in making one tenugui. You may use tenugui as your daily practical use, or display them as interior decorations. Other than tenugui, this shop Asa no Ha also sell Japanese accessories such as cushions, eco bags, sensu (Japanese folding fans), gama-guchi (coin purses), kinchaku (drawstring bags), and noren (Japanese fabric dividers).
絵てぬぐい 麻の葉

Address

1-5-24, Azabujuban, Minato-ku, Tokyo, 106-0045, Japan
A set of urushi-bashi (urushi lacquered chopsticks) and hashi-oki (chopstick rest)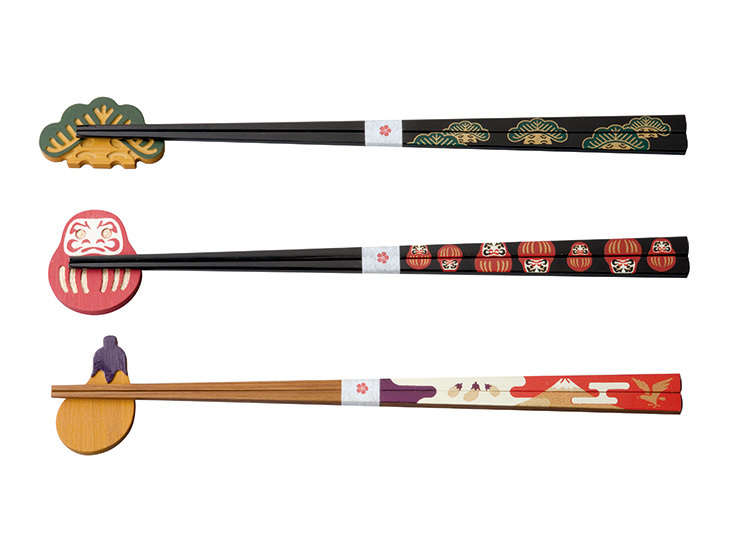 Chopsticks are essential items for dining tables in Japan. The urushi-bashi and bamboo chopstick rest set in a gift box from Ginza Kunoya comes with 3 auspicious designs: matsu (pine trees, which have abundant green even in the winter and therefore they are a symbol of eternal youth and longevity), daruma (a Japanese doll with a symbol of perfect health and safety of family as daruma dolls never fall no matter how much we try to bring them down), and ichi-Fuji ni-taka san-nasu (Mount Fuji is for eternal youth and longevity, taka [a hawk] is for career advancement, and nasu [an eggplant] is for fertility). Urushi-bashi are made by lacquered chopstick artisans from Fukui which has 80% share of the total domestic production, and chopstick rests are made by bamboo craftsmen in Kyoto where many buildings have been made using bamboos from old times. Their pretty designs will grace your dining table.
Address

3-6-1, Ginza, Chuo-ku, Tokyo, 104-8130
View Map

Nearest Station

Ginza Station (Tokyo Metro Ginza Line / Tokyo Metro Marunouchi Line / Tokyo Metro Hibiya Line)
1 minute on foot


Phone Number

03-3567-1211
A shop where you will meet your one and only stationery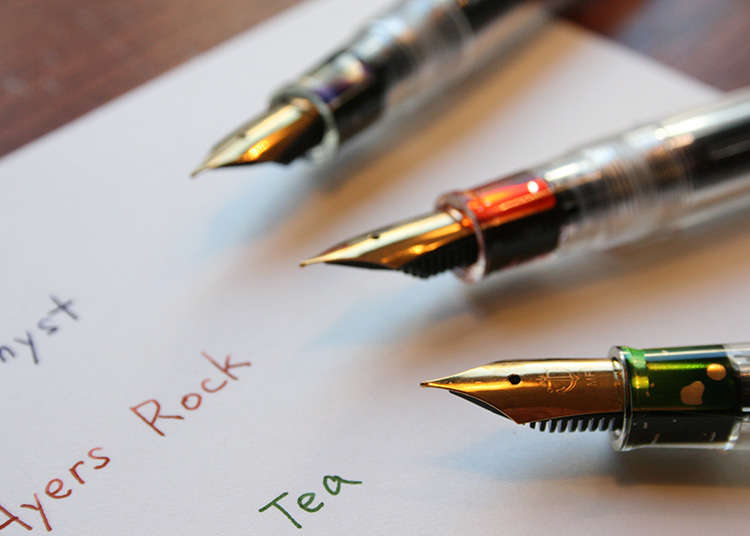 Kakimori is a shop that carries Japanese fountain pens, which are said to be one of the finest quality pens in the world. Here, you will find your personalized special pen as you try out some pens. They carry Kakimori's original fountain pen with a transparent barrel created by one of the three major Japanese fountain pen manufacturer, Sailor. Made-to-order ink, which can be ordered from 1 bottole and prepared in 30 minutes, is also available at the shop. You can mix inks of your choice to create your own color. Also, many selected stationery can be found in the shop, and you can even make your original ring notebook by choosing papers and fasteners.
Address

The first floor of Seika Building, 4-20-12, Kuramae, Taitou-ku, Tokyo, 111-0051
View Map

Nearest Station

Kuramae Station (Toei Asakusa Line / Toei Oedo Line)
3 minutes on foot


Phone Number

03-3864-3898
Adding Japanese glitz and glamour to everyday life with lacquerware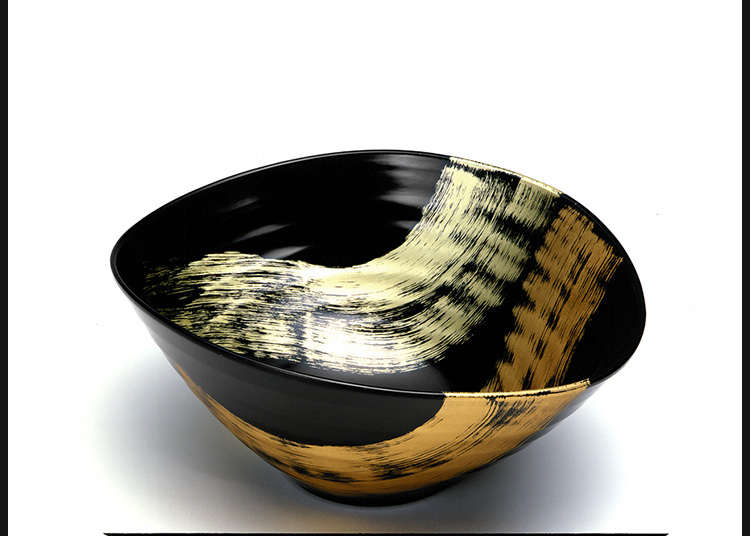 Lacquerware are known for their beauty of unique texture which has a sense of richness and warmth. Lacquer tree sap used for lacquerware is a paint with antiseptic and waterproof effects. Yamada Heiando started operating in 1919, and their tableware have been used by the Japanese Imperial Household. While preserving traditional techniques, they sell original products that suit contemporary lifestyles. They even sell salad bowls, plates, and stationery like card holders with beautiful surface of Japanese lacquering. You can casually add a Japanese look to everyday life.
漆器 山田平安堂 代官山ヒルサイドテラス本店

Address

18-12, Sarugakucho, Shibuya-ku, Tokyo, 150-0033, Japan
Colorful, pop, and stylish jika-tabi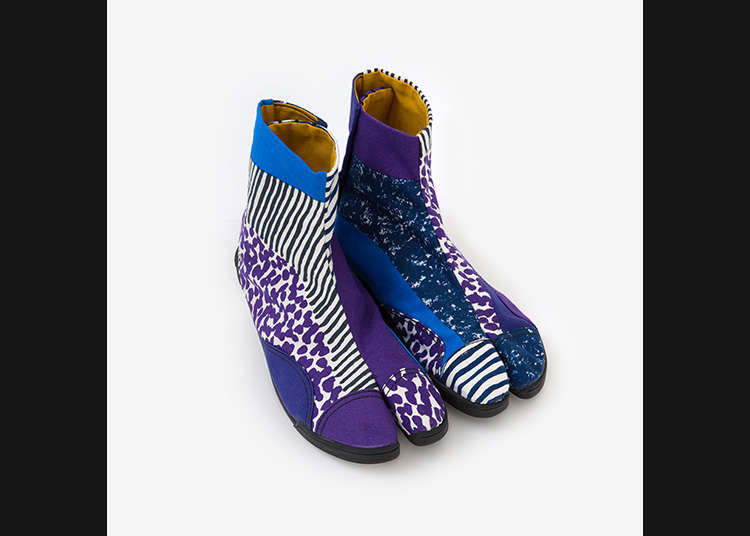 Tabi (Japanese socks) are worn directly on feet when people are dressed in Japanese clothing. Jika-tabi were created by adding rubber soles to tabi so to allow people to walk outdoor with it. Tabi are usually worn with geta (Japanese clogs) and zori (Japanese thong sandals), so the big toe part is separated from the rest, and the same for jika-tabi. At SOU SOU, you will find rare made-in-Japan jika-tabi, and a wide range of designs perfectly match the modern fashion.
SOU・SOU KYOTO 青山店

Address

5-4-24, Minamiaoyama, Minato-ku, Tokyo, 107-0062, Japan
*This information is from the time of this article's publication.
*Prices and options mentioned are subject to change.
*Unless stated otherwise, all prices include tax.
Limited time offer: 10% discount coupons available now!