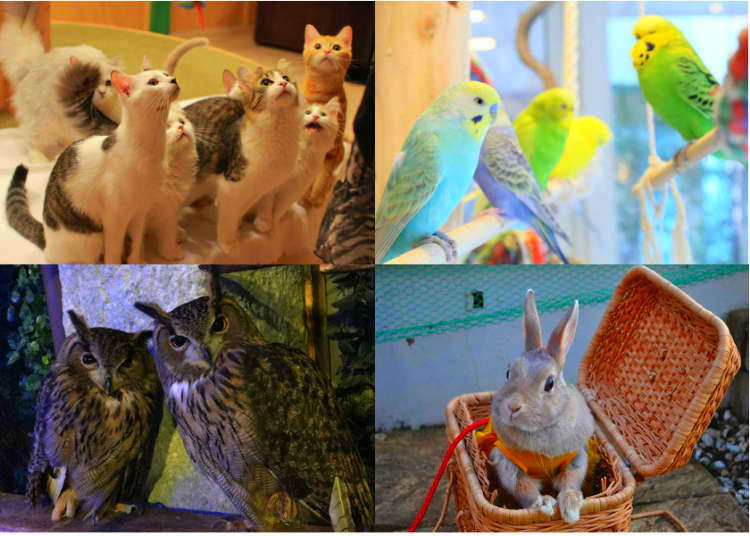 There are many cafes in Japan where you can interact with several kinds of animals such as cats, rabbits, and even birds! It's more casual than going to the zoo, and even better since you can often pet and play with the animals. If you are interested in spending some time with furry or feathery friends, then you should take a visit to one of the following pet cafes!
What is an "Animal Cafe"?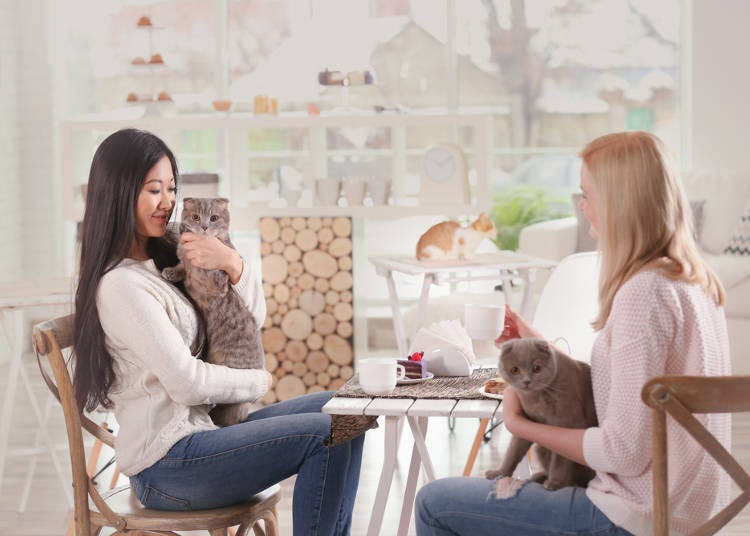 Animal cafes have been a trend for some time now in Japan. Tokyo in particular is home to a number of cat cafes, and others such as bunny, and bird cafes, have sprung up in recent years. This has a lot to do with the limited space in the city. In Tokyo, many people live in apartments or places similar to condominiums. In these types of living quarters, pets are very often not allowed. However, there are still plenty of people who wish to enjoy the company of animals, even if they cannot keep one in their own home. For such people, an animal cafe provides them with the opportunity to spend time with animals in an easy and convenient manner.

The following is a guide to some of the top animal cafes in Tokyo. Whether you want to cuddle a bunny, play with some cats, or hold some birds, you will surely find an animal cafe for you!
HUTCH ASAKUSA: Cuddle Bunnies while Enjoying a Rooftop View of Asakusa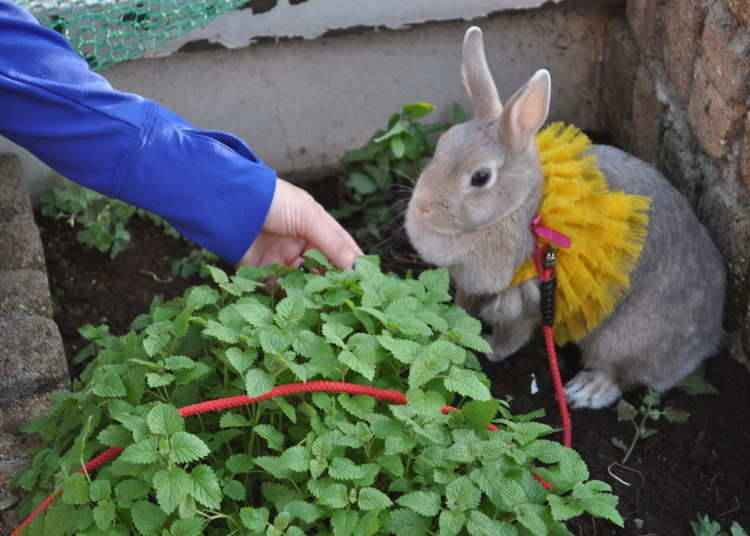 HUTCH ASAKUSA is a rabbit cafe located in one of Tokyo's prime tourist destinations. This so-called "bunny theme park" features over two dozen rabbits of various breeds, colors, and sizes, from which visitors can choose to cuddle on one of five fun floors! Depending on the plan you choose, you can even opt to spend some quality time on the rooftop, letting the bunny stroll and nibble the herb garden. You also have the chance to get a special photo taken together with your favorite bunny, set against the Asakusa skyline!
Bunny's Theme Park HUTCH浅草

Address

1-7-1 Hanakawado, Taito-ku, Tokyo 111-0033
Owl no Mori: Enter a Charming "Owl Forest"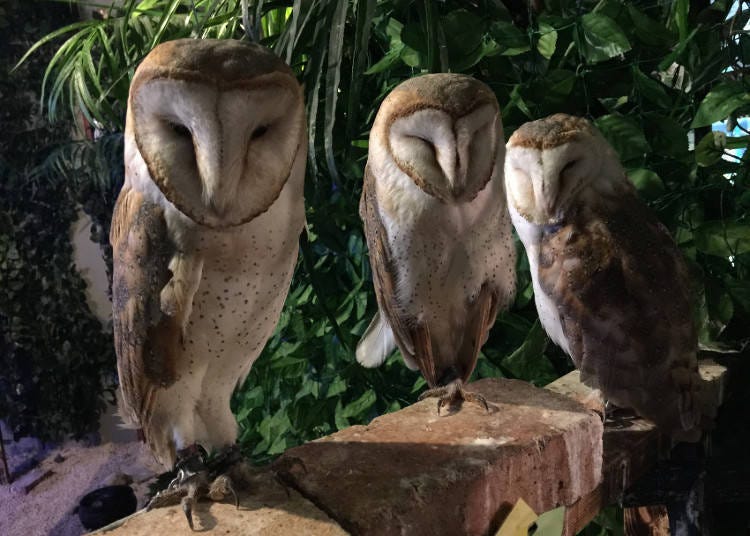 Stepping into Owl no Mori (Forest of Owls) is like entering a magical jungle! This unique owl cafe is home to 30 owls of 17 different breeds, as well as a few other small animals. See majestic owls fly around the cafe, or hold one, with guidance from the staff. Unlike a typical cafe where you are seated at a table, visitors can walk around freely, viewing the birds at their own pace. However, there is a small sit-down area where coffee, juice, and other soft drinks can be purchased via vending machine.
Address

1-22-3, Asakusa, Taitou-ku, Tokyo, 111-0032
View Map

Nearest Station

Asakusa Station (Tokyo Metro Ginza Line / Toei Asakusa Line / Tobu Isesaki Line (Tobu Sky Tree Line) / Tsukuba Express)

Cat Cafe MoCHA: A Cat Cafe with an Elegant Atmosphere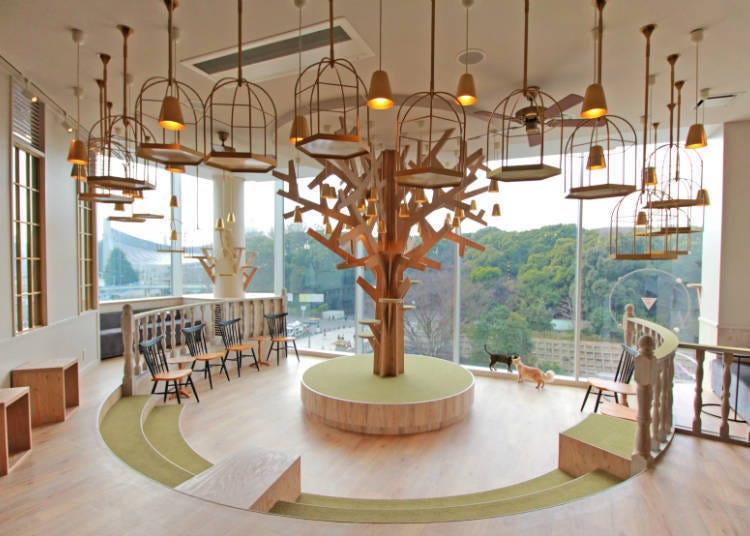 Enter this cafe and you'll immediately receive a lively welcome from roughly 30 friendly cats! Inside, you'll be treated to a scenic panoramic view of the streets of Shibuya. Cat Cafe MoCHA is not only stylish, but also considerate, allowing the cats to play freely as they wish. This may just be the most elegant cat cafe in Japan!
猫カフェMoCHA

Address

32-12 Udagawacho, Shibuya-ku, Tokyo, 150-0042
Torinoiru Cafe: You Can Touch Friendly Birds!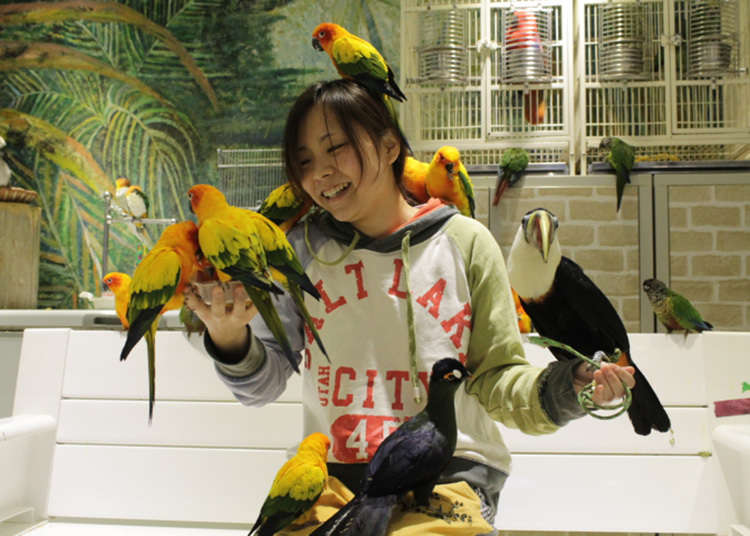 This cafe located in famous sightseeing spot, Asakusa, has about 100 birds in total, including owls, parakeets and falcons. All the birds have grown up with a lot of love by humans since they were babies, so they are very friendly. Take a visit and watch their charming antics!
鳥のいるカフェ浅草店

Address

1-12-8 Asakusa, Taito-ku, Tokyo, 111-0032
Ra.a.g.f: Play with Fluffy Rabbits!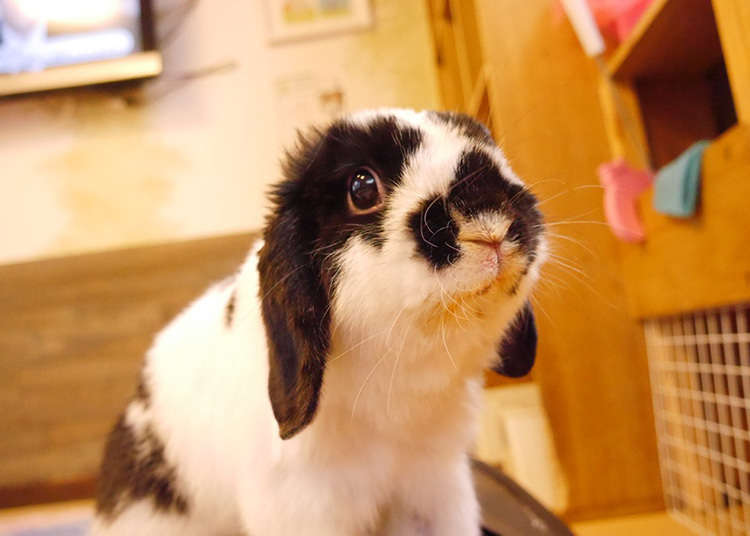 Ra.a.g.f., which stands for "rabbit and grow fat," usually has about 20 rabbits for you to enjoy. You can both pet and feed snacks to them. Every bunny has an unique personality, so you are likely to find your own favorite. A hungry rabbit may even jump onto your lap! Soft drinks are available to purchase, so you can fully relax and enjoy playing with the bunnies!
Ra.a.g.f

Address

6-14-15 Jingumae, Shibuya-ku, Tokyo, 150-0001
Sakuragaoka Cafe: Enjoy Coffee with Goats!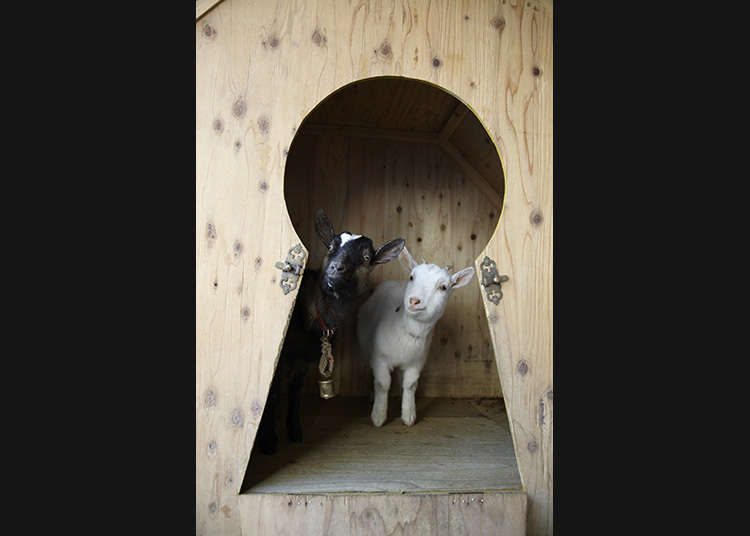 Sakuragaoka Cafe is a popular and stylish eatery with two goats that hang out on the balcony. With extensive drink and food menus, the cafe is always busy. Unlike some of the other animal cafes on the list, the focus is more on the dishes served than the animals themselves. However, customers with seats facing the hut can relax and enjoy a view of the goats.
桜丘カフェ

Address

23-3 Sakuragaoka-cho, Shibuya-ku, Tokyo, 150-0031
Kingyozaka: Gaze at Colorful Goldfish Swimming Around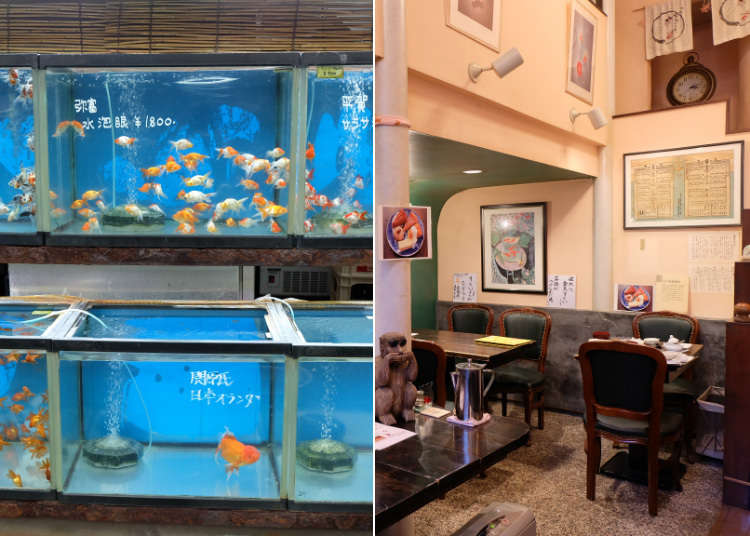 Kingyozaka was established by a goldfish wholesaler with about 350 years' history. You can enjoy delicious tea and meals while looking at goldfish swimming elegantly. (Or an alcoholic beverage and a cigar if you so desire!) They sell goldfish in the tank outside the cafe as well as goldfish-motif goods. You can also try goldfish scooping if you'd like to catch your own!
Address

5-3-15, Hongo, Bunkyo-ku, Tokyo, 113-0033
View Map

Nearest Station

Hongo-Sanchome Station (Tokyo Metro Marunouchi Line / Toei Oedo Line)
5 minutes on foot


Phone Number

03-3815-7088
Kotori Café: Little Birds and Delicious Desserts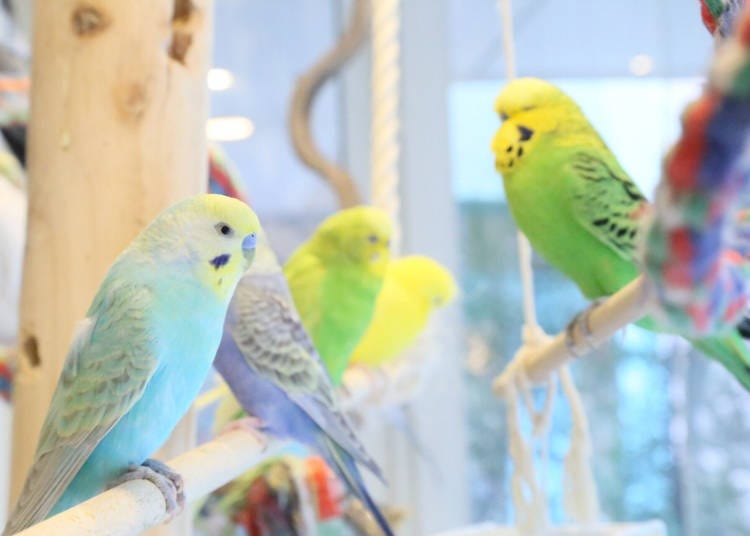 Kotori Café translates to "little bird cafe," and that is just what you'll find there! Lorikeets, cockatoos, finches, canaries, and other feathery friends are in the cafe. You can interact with the birds, or simply enjoy a cup of coffee and one of their tasty and "kawaii" desserts. There are also plenty of birdie-themed souvenirs for visitors to buy as a keepsake to take home.
ことりカフェ 表参道

Address

6-3-7 Minami Aoyama Minato-ku, Tokyo 107-0062
ことりカフェ 吉祥寺

Address

Tokyo Mitaka Shimorenjaku 1-14-7 181-0013
Also Recommended for Animal Lovers:
Hedgehog Cafe Experience ChikuChikuCAFE

ハリネズミ専門カフェ ちくちくCAFE

Address

2F Daikyo Shibuya Building, 1-13-5 Shibuya, Shibuya-ku, Tokyo
Harry Hedgehog Cafe Harajuku

ハリネズミカフェ HARRY 原宿

Address

4F Harajuku 2, 1-13-21 Jingumae, Shibuya-ku, Tokyo
マイクロブタとふれあうカフェ mipig

Address

1-15-4 Jingumae, Shibuya-ku, Tokyo
フクロウカフェ アキバフクロウ

Address

67 Kanda Neribe-cho, Chiyoda-ku, Tokyo
Owl Village Cafe Fukuro no Sato

ふくろうの里

Address

Harajuku ATM Building 4F, 1-21-15 Jingumae, Shibuya-ku, Tokyo
Address

9-83, Uenokouen, Taitou-ku, Tokyo, 110-8711
View Map

Nearest Station

Ueno Station (Hokkaido Shinkansen Line / Tohoku Shinkansen Line / Akita Shinkansen Line / Yamagata Shinkansen Line / Joetsu Shinkansen Line / Hokuriku Shinkansen Line / JR Keihin-Tohoku Line / JR Yamanote Line / JR Tohoku Main Line / JR Utsunomiya Line / JR Takasaki Line / JR Joban Line / JR Ueno Tokyo Line / Tokyo Metro Ginza Line / Tokyo Metro Hibiya Line)
5 minutes on foot


Phone Number

03-3828-5171
Address

Suyama, Susono-shi, Shizuoka character Fujiwara 2255-27, 410-1231
View Map

Nearest Station

Gotemba Station (JR Gotemba Line)
35 minutes by bus


Phone Number

055-998-1311
Address

The bank ship park, 3-2-1, Kitakasai, Edogawa-ku, Tokyo, 134-0081
View Map

Nearest Station

Nishi-Kasai Station (Tokyo Metro Tozai Line)
15 minutes on foot


Phone Number

03-3680-0777
Address

Tokyo Skytree town Solamachi 5F, 6F, 1-1-2, Oshiage, Sumida-ku, Tokyo, 131-0045
View Map

Nearest Station

Tokyo Skytree Station (Tobu Isesaki Line (Tobu Sky Tree Line))
1 minute on foot


Phone Number

03-5619-1821
Address

Shinagawa Kumin Park, 3-2-1, Katsushima, Shinagawa-ku, Tokyo, 140-0012
View Map

Nearest Station

Omori-Kaigan Station (Keikyu Main Line)
8 minutes on foot


Phone Number

03-3762-3433
Address

World Import Mart Building/Rooftop, 3-1 Higashiikebukuro, Toshima-ku, Tokyo, 170-8630
View Map

Nearest Station

Ikebukuro Station (JR Shonan Shinjuku Line / JR Yamanote Line / JR Saikyo Line / Tokyo Metro Marunouchi Line / Tokyo Metro Yurakucho Line / Tokyo Metro Fukutoshin Line / Seibu Ikebukuro Line / Tobu Tojo Line)
10 minutes on foot


Phone Number

03-3989-3466

*This information is from the time of this article's publication.
*Prices and options mentioned are subject to change.
*Unless stated otherwise, all prices include tax.
Limited time offer: 10% discount coupons available now!