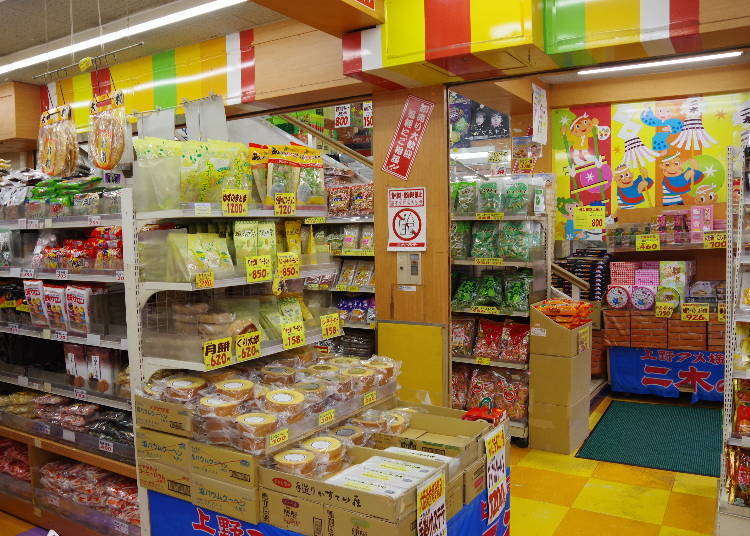 LIVE JAPAN PERFECT GUIDE TOKYO, the #1 guide for local travel information for tourists in Japan, presents the LIVE JAPAN Awards 2019, which recognizes the most popular shops and facilities among overseas visitors in Japan based on user access.

Today we would like to introduce the Top 5 Retail Shopping Areas. Taking first place is Asakusa Ameyoko's "Niki no Kachi, First Store," whose products seem to be very popular with tourists.
Presenting the LIVE JAPAN Awards 2019 Retail Shopping Division Top 5!
The Ranking System is divided into the following five categories: Gourmet, Experiences, Shopping (Large Commercial Facilities), Shopping (Retail Facilities), and Tourism. The following are the results of the Retail Shopping Division:
#5. U-TREASURE Shinjuku Branch
U-treasure is a character jewelry brand established in 1981 by Japan's largest custom-made brand, K.UNO.

One of the largest in-house workshops in Japan, there are over 180 artisans housed here. There is a rare diamond cutter that uses a patented proprietary cutting technology. With their commitment to the production process, they have also created a brand-new, made-in-Japan technology. Because of their skilled craftsmanship, even those who are particular about details will enjoy these authentic character goods, jewelry, and accessories.
U-TREASURE Store Shinjuku

U-TREASURE 新宿店

Address

Nishi Shinjuku Koide Building 2F, 3-1-3 Nishishinjuku, Shinjuku-ku, Tokyo, 160-0023


Nearest Station

Shinjuku Station (JR Shonan Shinjuku Line / JR Yamanote Line / JR Chuo Main Line / JR Saikyo Line / Tokyo Metro Marunouchi Line / Toei Shinjuku Line / Toei Oedo Line / Keio Line / Keio New Line / Odakyu Odawara Line)
5 minutes on foot


Phone Number

03-3340-0811
#4. AWESOME STORE Harajuku Omotesando Branch
AWESOME STORE, a hot topic featured in television and magazines, is a lifestyle shop, known for all of its designs, quality, and prices being... AWESOME! Located in the center of Tokyo's trendy Harajuku, Omotesando, the inside of this place reflects the atmosphere of New York's Soho cityscape and garage-like spaces.

The average price range is around ¥200 to ¥400, with the lowest price being around ¥20. It may seem cheap, but all products are both functional and stylish, and you are bound to find an item or a souvenir you like.
AWESOME STORE Harajuku Omotesando

AWESOME STORE 原宿表参道店

Address

Omotesando IIDA Building 1F / B1F, 5-8-7 Jingumae, Shibuya-ku, Tokyo, 150-0001


Nearest Station

Omotesando Station (Tokyo Metro Ginza Line / Tokyo Metro Chiyoda Line / Tokyo Metro Hanzomon Line)
3 minutes on foot


Phone Number

03-6450-6021
#3. Otachuu Akihabara Branch
A well-established second-hand entertainment shop with 10 stores nationwide, this shop is a dealer of toys, figures, games and trading cards (such as Yu-Gi-Oh).
#2. Luggage Specialty Shop Ginza Karen
Located in Ginza Chuo Dori, this shop specializes in bags and suitcases at very affordable prices. The suitcases are particularly popular, and sell for a flat price of ¥5,400, regardless of size. The shop staff is also skilled in English and Chinese, so even foreign visitors can enjoy shopping with ease.
Address

1-15-6 Ningyocho, Nihonbashi, Chuo-ku, Tokyo, 103-0013
View Map

Nearest Station

Ningyocho Station (Tokyo Metro Hibiya Line / Toei Asakusa Line)
2 minutes on foot


Phone Number

03-3572-8911
When it comes to our Top 5 selections, the major keywords seem to be "anime" and "bargain."
#1. Niki no Kashi, First Store: What is it that draws in so many tourists?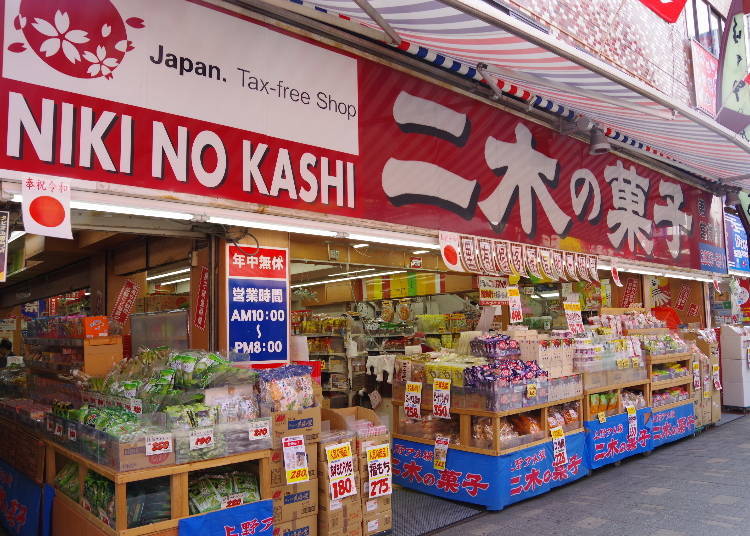 Ameya Yokocho (Ameyoko for short) is located along the tracks of JR Ueno Station and Okachimachi Station. One of the most popular shops here is Niki no Kashi, a shop that has been in business for over 70 years. Japanese locals already know this place to be an inexpensive snack shop, so when we visited we decided to ask about products popular with foreign tourists.

There are three Nishi no Kashi shops in Ameyoko, each with their own different, special features. Nishi no Kashi First Store is the first shop. The second shop, Niki no Kashi Big-Kan, sells other food items in addition to sweets, such as seasonings and packaged goods, and the third, Niki no Kashi Specialty Shop, sells souvenir items.

The first shop has become super famous among foreign visitors, winning first place in the LIVE JAPAN Awards 2019 and known as "THE" place to buy sweets. No matter what day or time you visit, you will almost always find a crowd of tourists shopping here.
Popularity Reason #1: Duty-Free Bargain Shop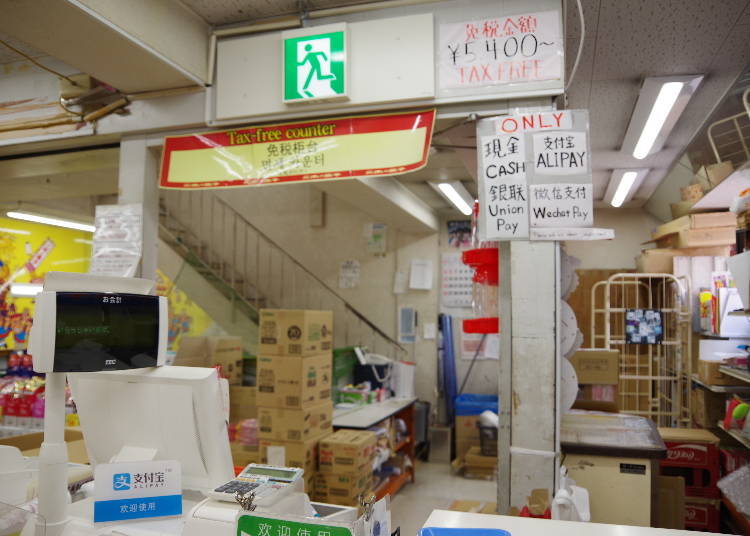 Niki First Shop is a duty-free shop, something you don't normally see in a bargain store. The duty-free cash register is located on the second floor, so make sure to make your purchases to take advantage.

Please note that the other two locations, Niki no Kashi Big-kan and Niki no Kashi Specialty Shop, are also duty-free and located in Ameyoko.
Popularity Reason #2: A Wide Variety of Delicious Cakes from All Over Japan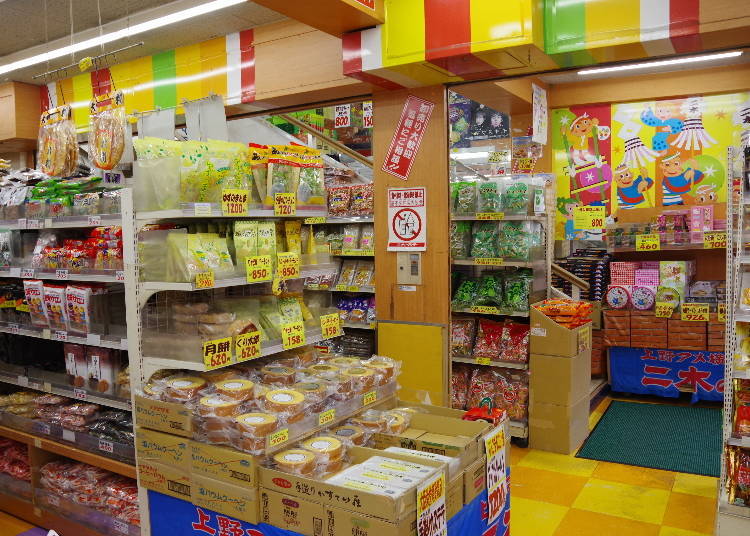 A major feature of Nishi no Kashi is the wide variety of confectionery products, gathered by buyers who visit confectionery makers in various regions in search of new, local beloved products to sell. For this reason, you can purchase local sweets here that you might not be able to find at the airport shops or in local shops.

The idea of famous, local confectionery products might bring with it a rather high-class image, but when it comes to Niki no Kashi, only affordable and delicious products are to be found here.
So what local sweets are popular with foreign tourists in Niki no Kashi?
We asked Mr. Nakagawa, director of the First Store, about the trends of their foreign visitors.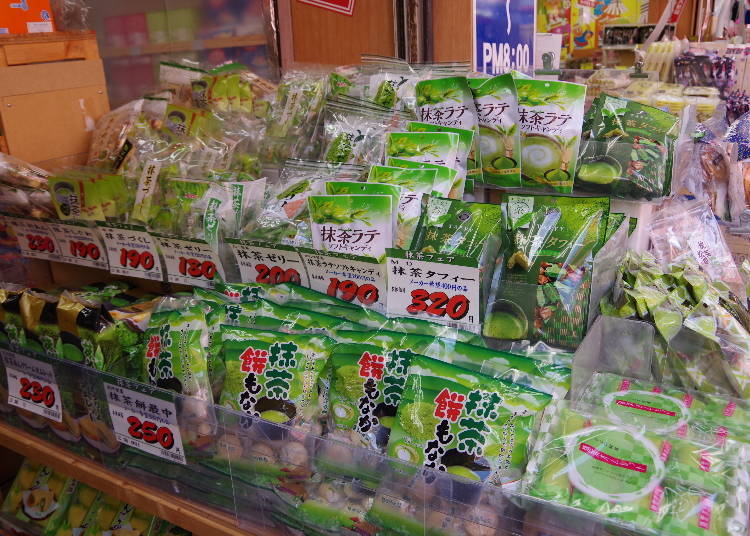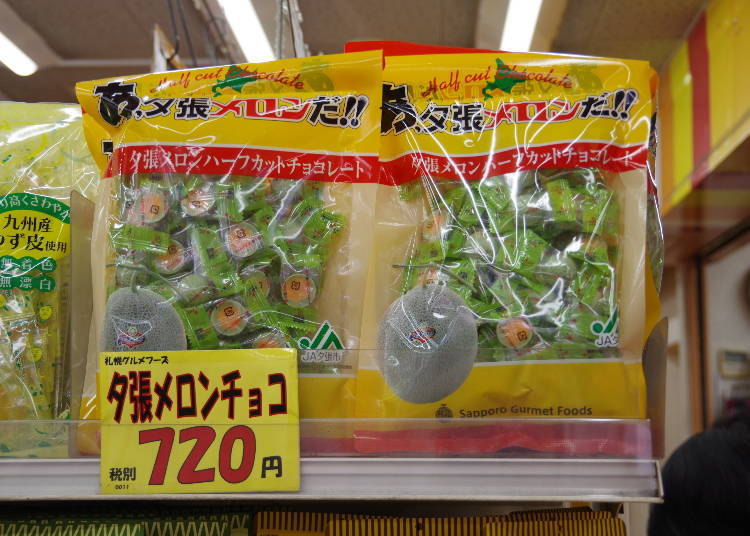 Yubari Melon Chocolate, ¥720 (tax not included)
"There is a wide range of popular products. Many of these items they have never seen before, so people tend to buy whatever catches their interest. Matcha and local Hokkaido sweets are standard popular items."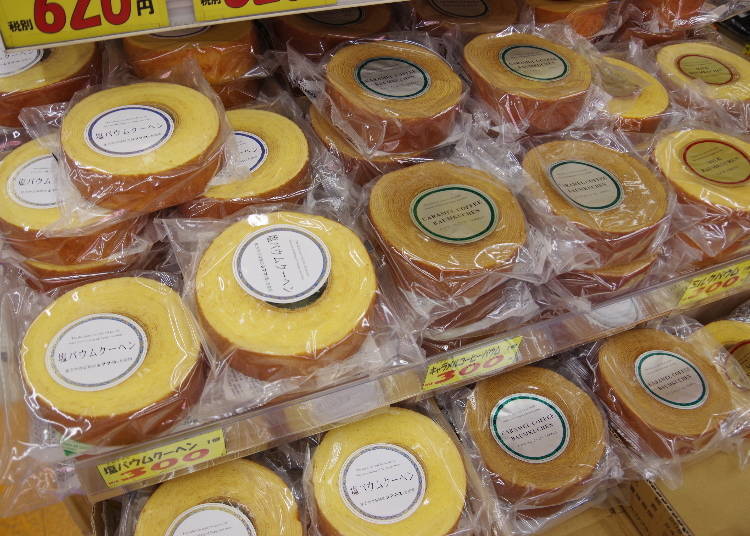 Baumkuchen, ¥300 each (tax not included)
Handmade Castella, ¥670 (tax not included)
"Soft sweets such as Baumkuchen and Castella are also popular. These handmade Castella cakes feel a bit heavy when you hold it, but that weight is the secret of its deliciousness. A less dense Castella will feel lighter when you hold it, but it will also be less satisfying."

Amidst the variety of popular sweets, there is one particular local product that seems to be purchased more than others!
Popular Local Confectionery #1: Matcha Mochi Monaka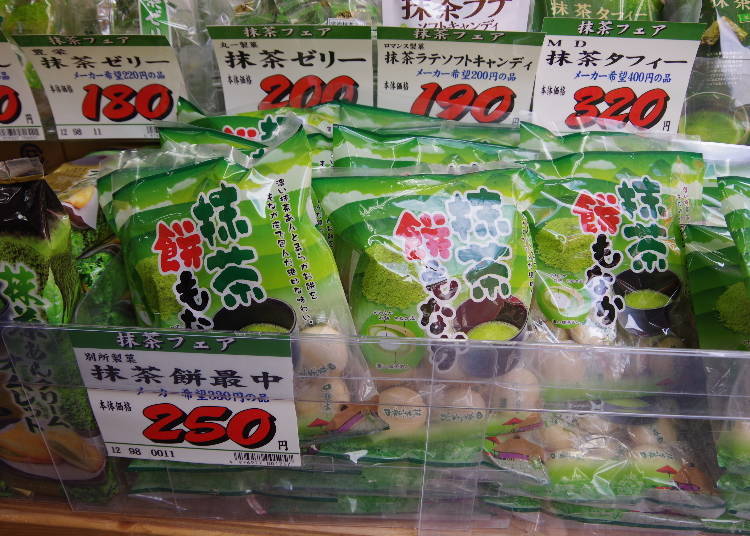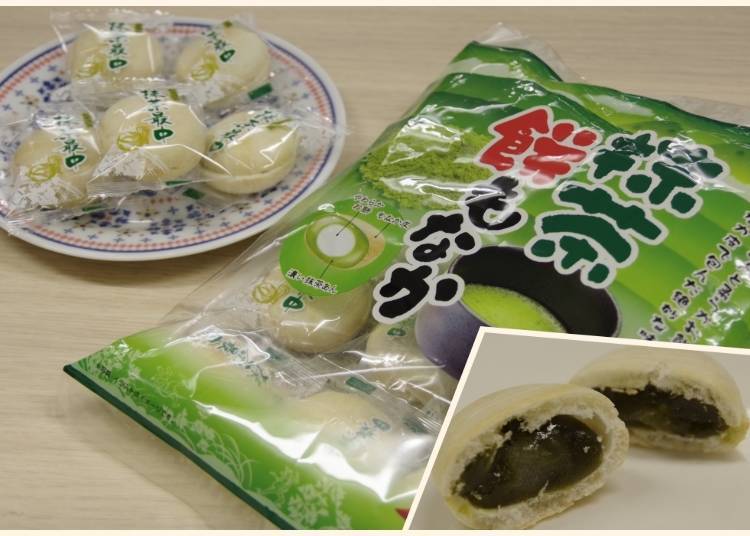 Matcha Mochi Monaka, ¥250 yen (excluding tax)
The Matcha Mochi Monaka is a confectionary product by Bessho Saika, a confectionary company located in Nagano Prefecture. It is a thick matcha bean paste wrapped in a soft mochi. With over 10 pieces in a single bag, this product is a great value.
Popular Local Confectionery #2: Kaminari-okoshi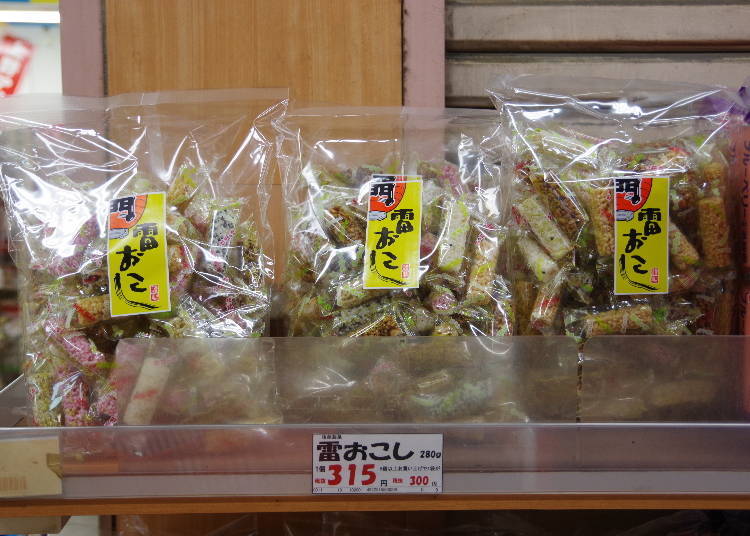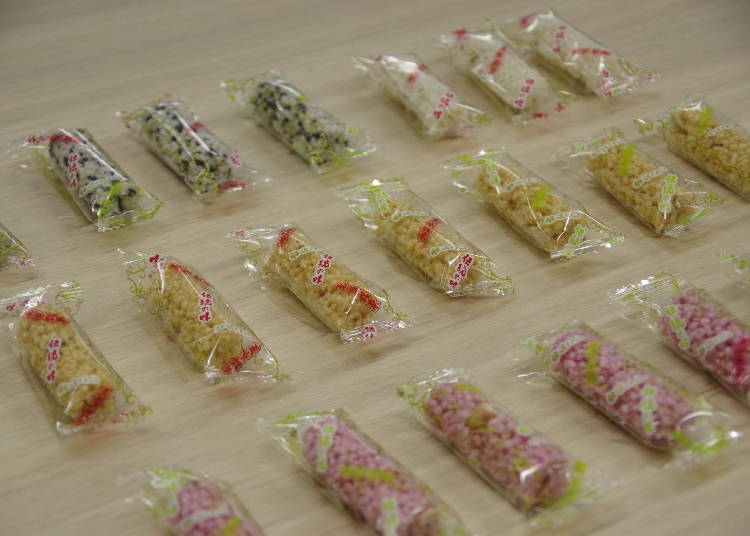 Kaminari-okoshi, ¥315 (tax-excluded)
Kaminari-okoshi is a popular Tokyo confectionary product often bought as a souvenir. A product of the company Goto-Seika, Kaminari-okoshi is also fun to look at with its many color variations.
Popular Local Confectionery #3: Fukumochi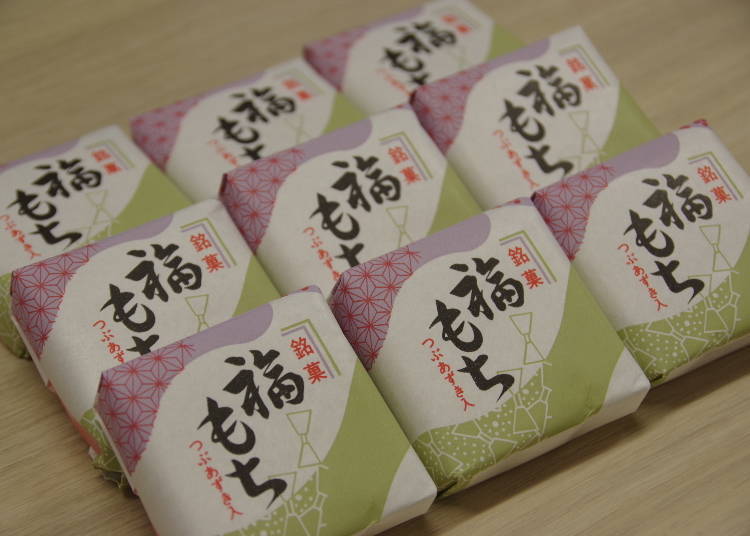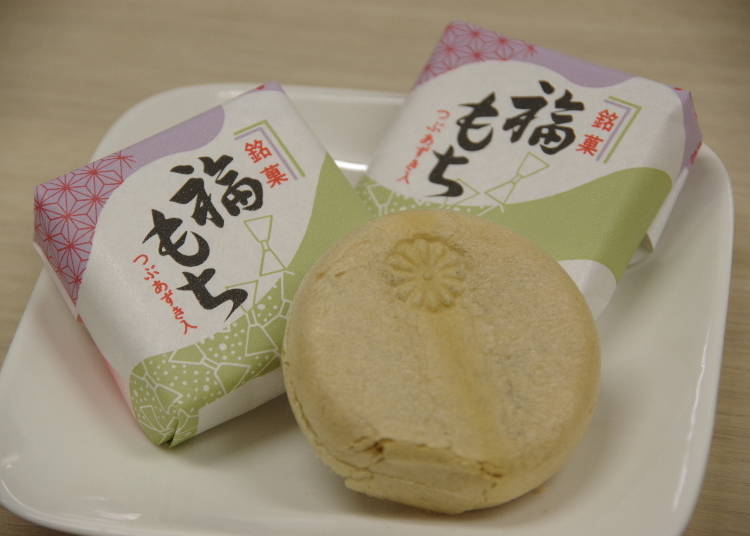 Fukumochi (10 pieces), ¥275 (excluding tax)
Fukumochi is a confectionery manufactured by the Kotobuki Seika company in Hiroshima Prefecture, and comes beautifully wrapped in Japanese patterned paper. The rice cakes inside have a chewy texture, with a simple, not-too-sweet taste, and make a great souvenir, even for people who have never tried them before.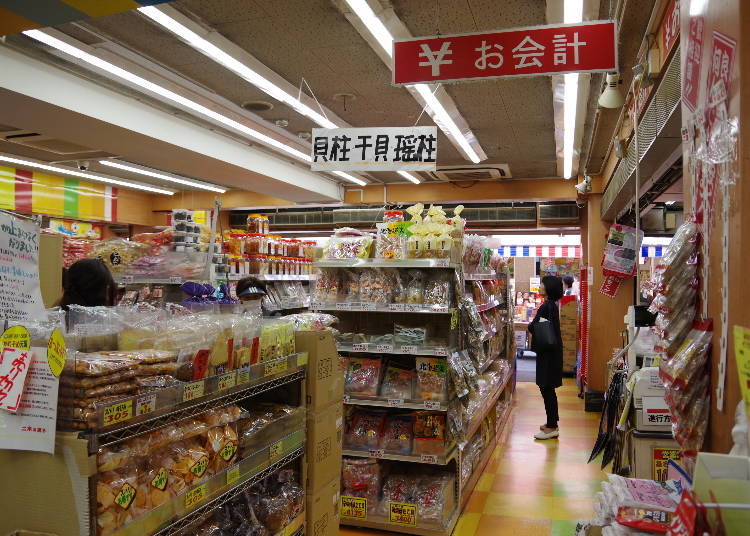 The popular Niki no Kashi, with its unique lineup of sweets and duty-free service, is a favorite retail shop to many in Japan, from new visitors to repeat buyers. Enjoy the Japanese market atmosphere and take advantage of the great deals as you shop at Ameyoko!

Written by: Ran Tanaka. English translation by: Krys Suzuki.
*This information is from the time of this article's publication.
*Prices and options mentioned are subject to change.
*Unless stated otherwise, all prices include tax.