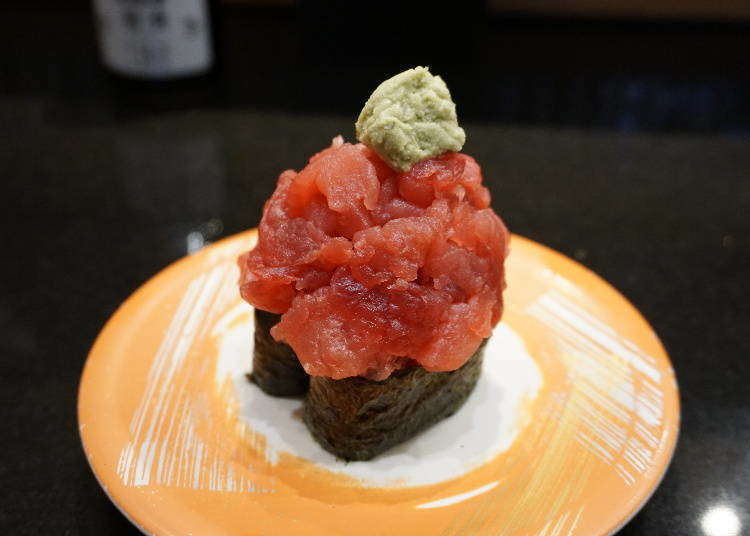 Ueno's Ameya-Yokocho is home to numerous kaitenzushi (conveyor belt sushi) restaurants, but with so many to choices you might feel a bit overwhelmed when deciding where to eat.

The highly popular Maguro Donya Miura Misaki Kou Ueno has customers waiting to get in throughout the day, and you should definitely plan a visit, too!
Value-Priced, Mountainous Gunkan Rolls!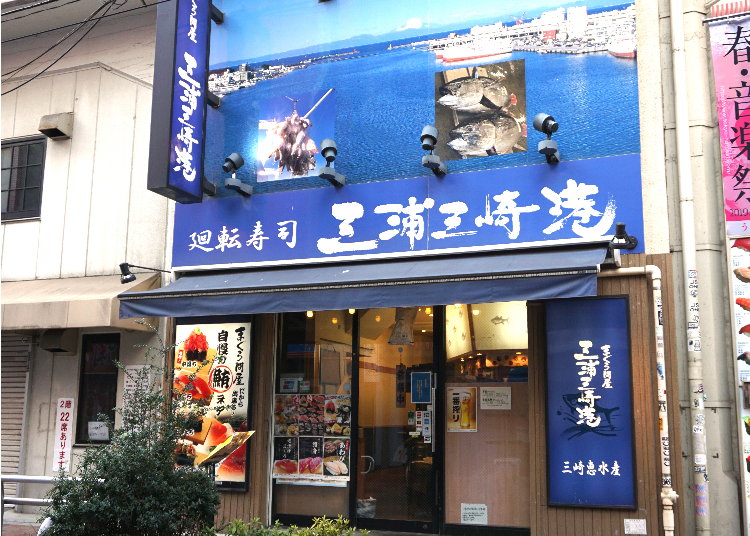 Maguro Donya Miura Misaki Kou Ueno
To get to Maguro Donya Miura Misaki Kou Ueno, leave Ueno Station via the Shinobazu Exit, cross the street under the underpass to arrive in Ameya-Yokocho.

The line of customers begins forming well before the restaurant's 10:30 opening each day. If you want to avoid crowds, either go early or between 3:00 and 4:00 in the afternoon.

When you enter the restaurant you'll be able to fully appreciate its Japanese atmosphere, from the clock on the wall to the curtains hanging over the bar. From one of the 18 seats you'll be able to watch the sushi master preparing the dishes, and while the conveyor belt is always well-stocked, you can make special orders directly.

The store has English and Chinese menus, as well as pictures of all the items. Since it's such a tourist-friendly restaurant, it's not uncommon for a many of the patrons to be non-Japanese. It's a cozy atmosphere, and the fresh fish is restocked daily!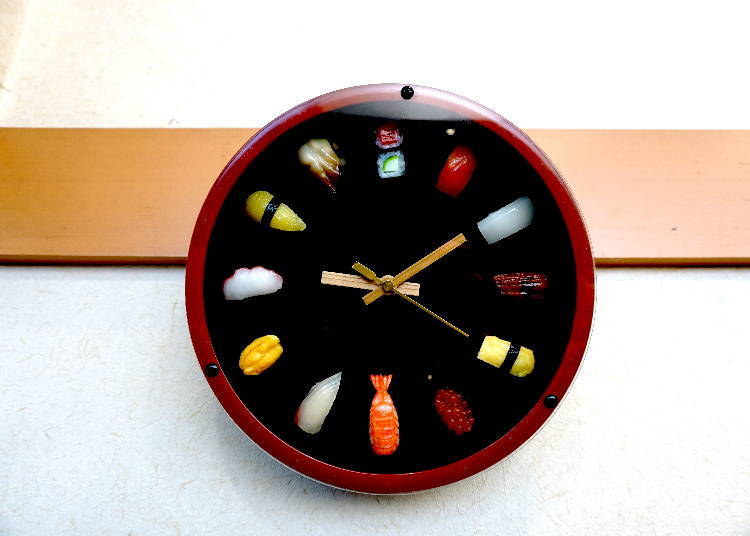 It's sushi time!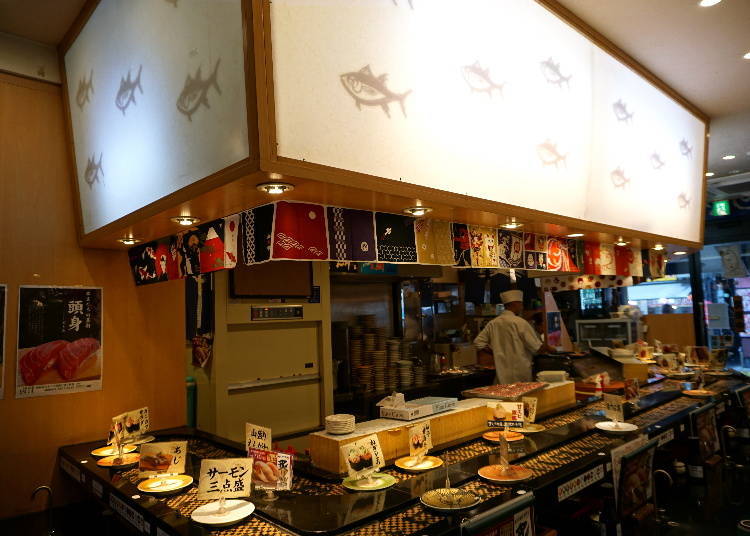 The seating area is quite Japanese.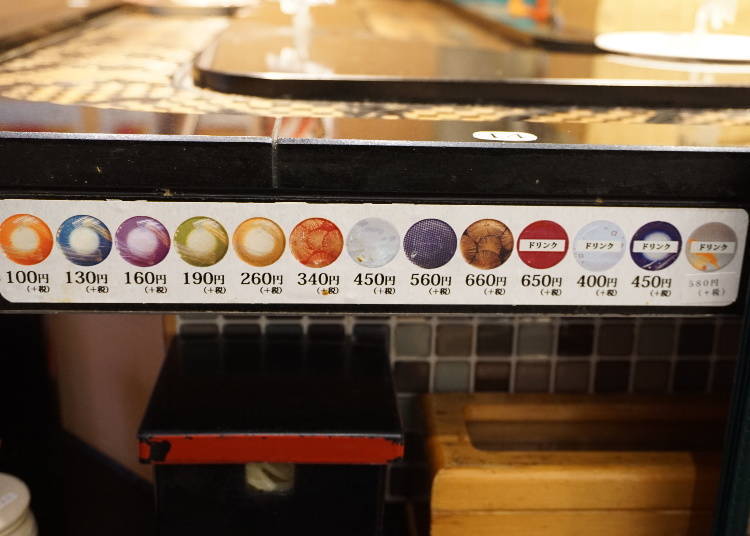 The price is differentiated by the plate's color, and there's a wide range.
A Tuna Treasure for Only 108 Yen!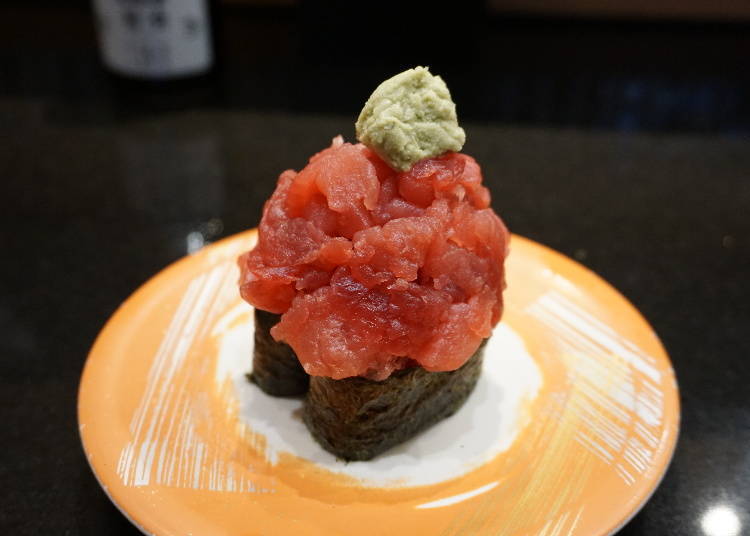 Maguro gunkan roll, 100 yen (tax excluded)
Because its parent company is a tuna company, Miura Misaki Kou provides high quality tuna at an affordable price. Their maguro gunkan sushi is only 100 yen per piece (108 yen after tax). It's one of the most ordered dishes in the Ueno store, and even on weekdays, as many as 200 plates might be sold in a single day!
Not Just the Tuna Gunkan – More Mouth-Watering Maguro!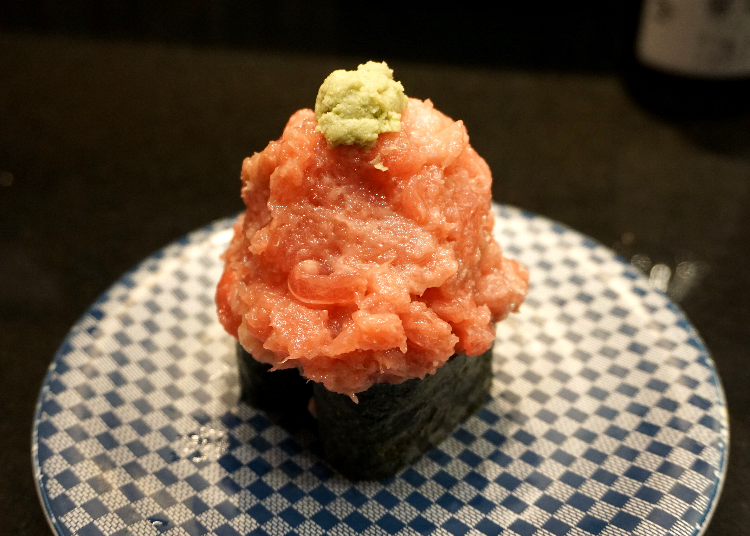 Maguro toro hikkaki gunkan, 560 yen (excluding tax)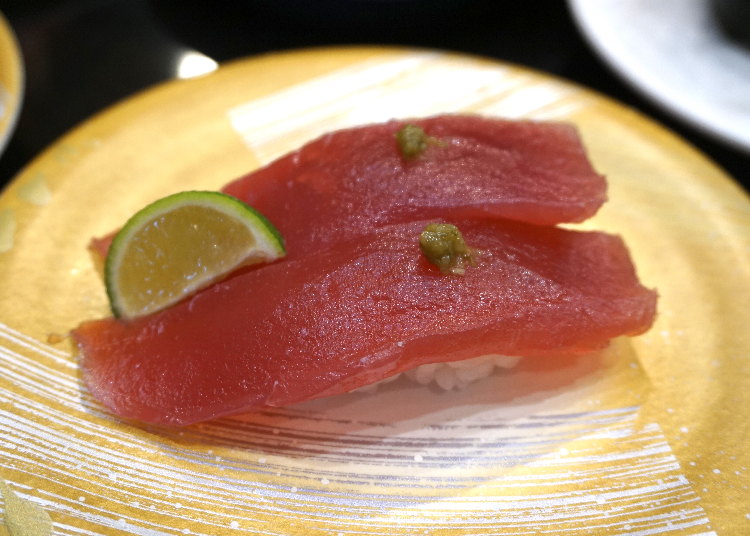 Salted tuna nigiri sushi, 260 yen (tax excluded)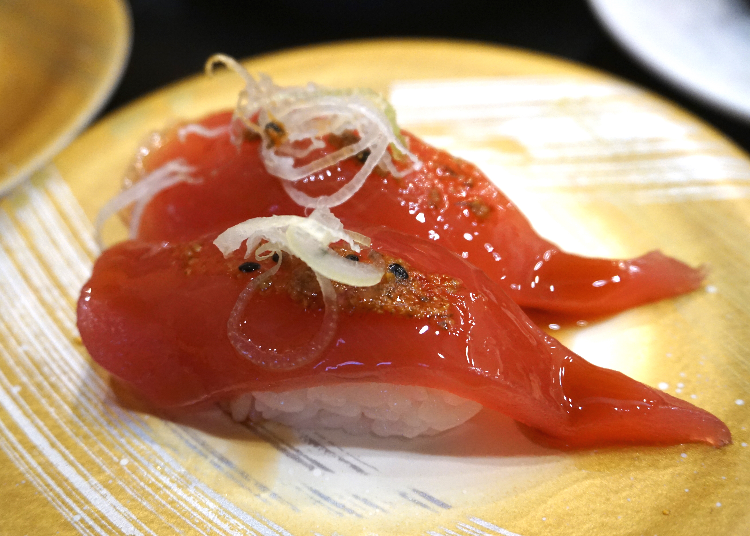 Shichimi tuna nigiri, 260 yen (excluding tax)
Among Miura Misaki Kou's rich selection of sushi, the maguro toro hikkaki (scraped tuna belly) gunkan is particularly popular. With its dense flavor and smooth texture, it's highly recommended by the restaurant's sushi chef.

The salted tuna nigiri sushi, and the shichimi tuna nigiri sushi with its seven-ingredient seasoning are two more great tuna choices. In addition, Miura Misaki Kou offers other sushi rolls and nigiri, as well as avocado gunkan, natto gunkan, and many other types of sushi.
Not Just Tuna – A Wide Variety of Gunkan!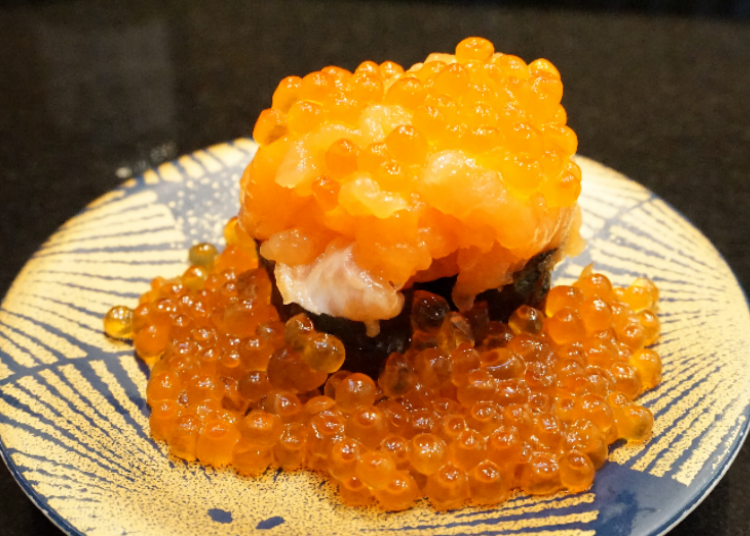 Ikura gunkan, 660 yen (excluding tax)
Flounder fin gunkan, 260 yen (excluding tax)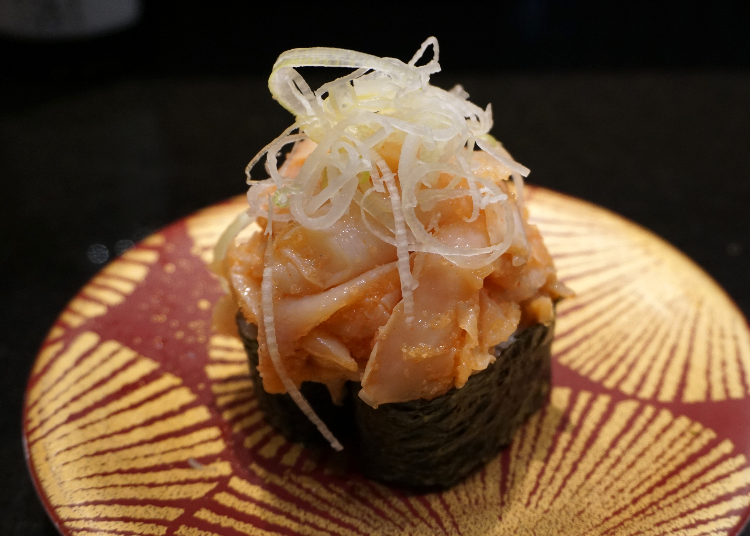 Pollock gunkan, 340 yen (excluding tax)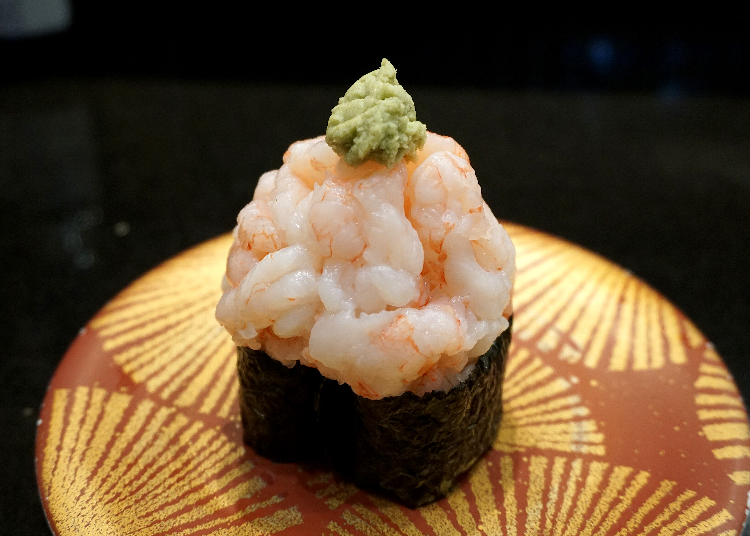 Red shrimp gunkan, 340 yen (excluding tax)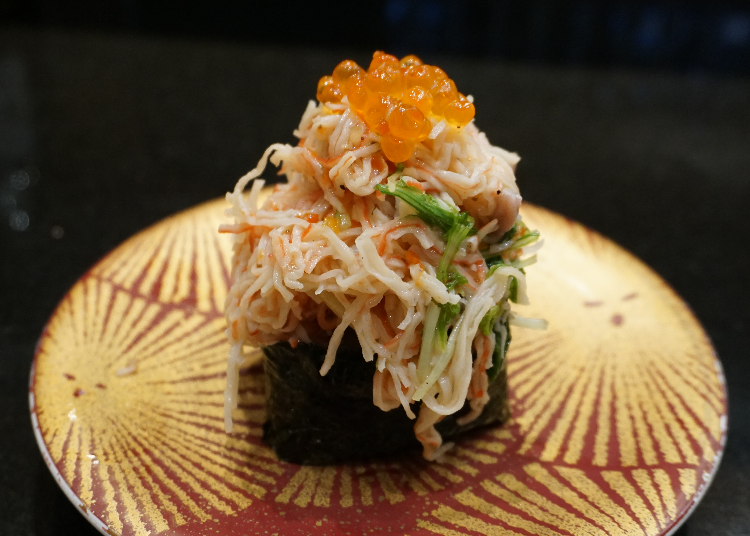 Seafood gunkan, 340 yen (excluding tax)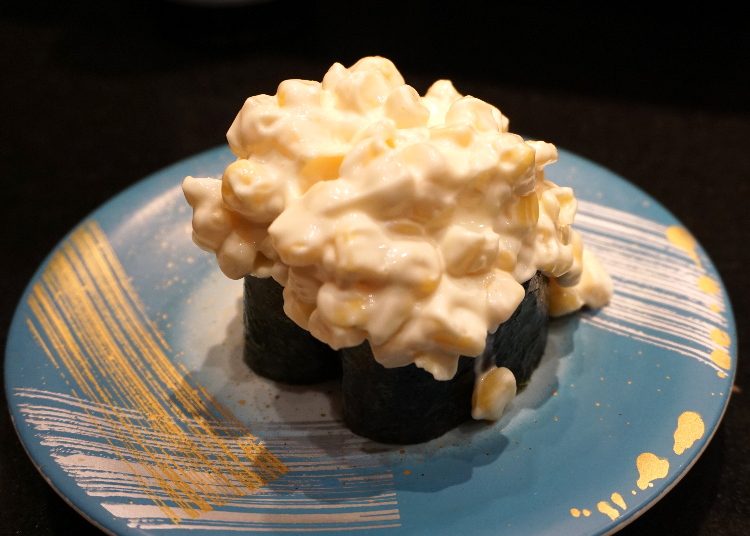 Corn gunkan, 130 yen (excluding tax)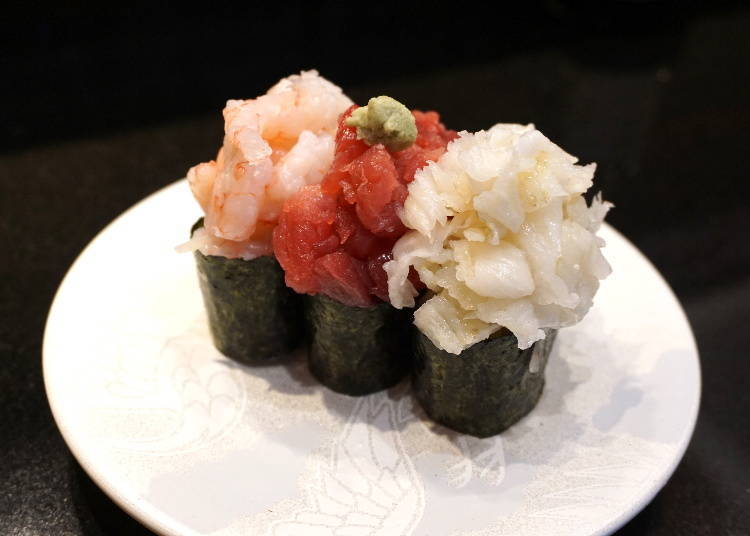 Yamamori gunkan 3 piece combo, 450 yen (excluding tax)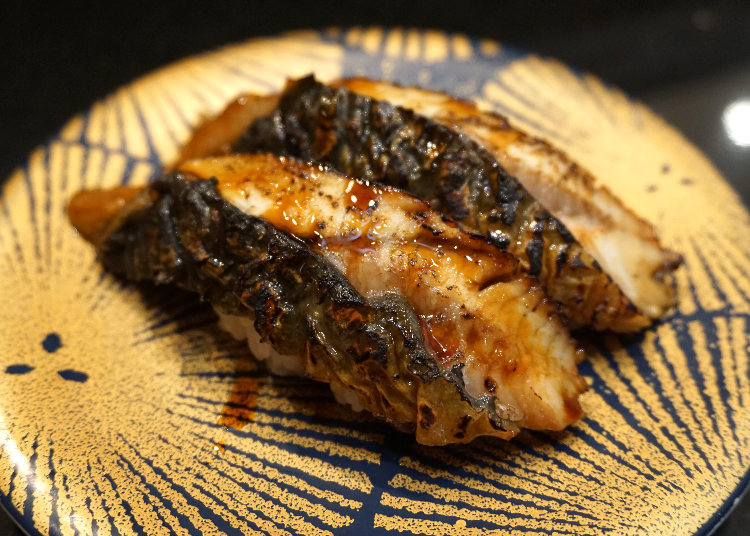 Eel nigiri, 660 yen (excluding tax)
Although Miura Misaki Kou is primarily a tuna restaurant, the other menu items shouldn't be overlooked! For Ueno's overseas tourists, the most popular fish aside from tuna are salmon and trout. Sweet sea urchin, baked eel nigiri, and salmon roe gunkan are also delicious as are the flounder fin, pollock, shrimp, and seafood gunkan rolls. Corn gunkan are well-liked by children, and you may have a tough time deciding where to start!
How Do You Eat a Huge Gunkan Like a Pro?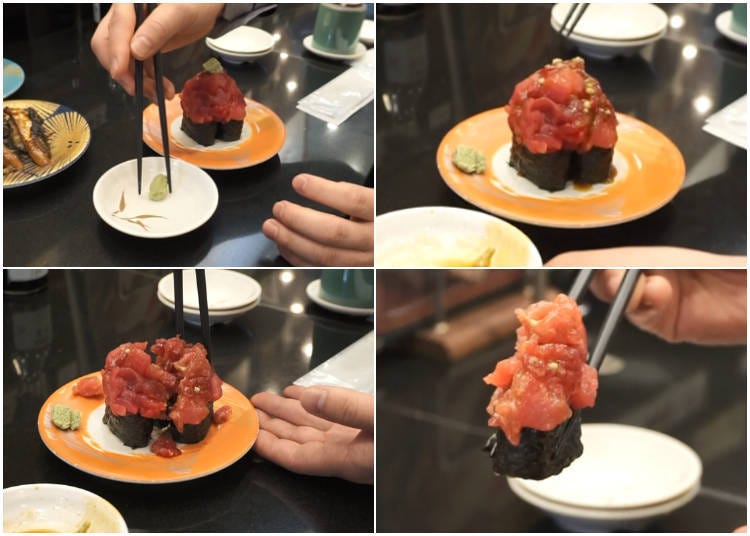 So how do you eat a gunkan roll towering with tuna the war?

Miura Misaki Kou Ueno's chef, Kouki-sensei, recommends the following method: First, take the wasabi from the top of the gunkan and place it to the side. Next, take a little bit of the wasabi, place it on the soy sauce dish, mix it with the sauce, and pour it over the gunkan. Finally, use your chopsticks to divide the roll into two halves and eat them individually. An alternative method is to eat the top first, leaving you with a more standard gunkan to enjoy.

It is worth mentioning that the wasabi is a blend of Izu wasabi and more common wasabi. And the taste isn't too spicy, so those who are less fond of wasabi can appreciate it too.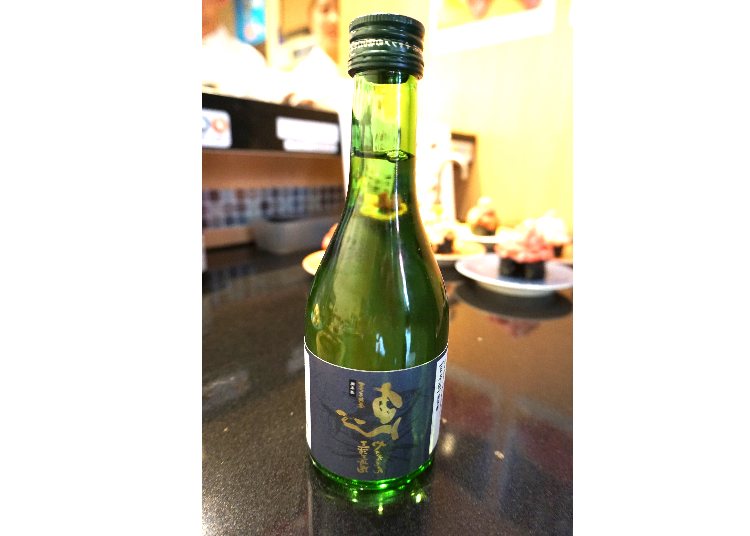 Miura Misaki Kou Ueno's Dry Sake: Miura Misaki Kou Megumi (MEGUMI)
For many Japanese, draft beer or sake go well with sushi, and Miura Misaki Kou Ueno has its own exclusive sake – Miura Makisaki (MEGUMI). Other alcoholic drinks such as sours, shochu, and highballs are available, as are soft drinks.

Other food items include temaki, tamagoyaki, miso soup, and rice to complete your meal.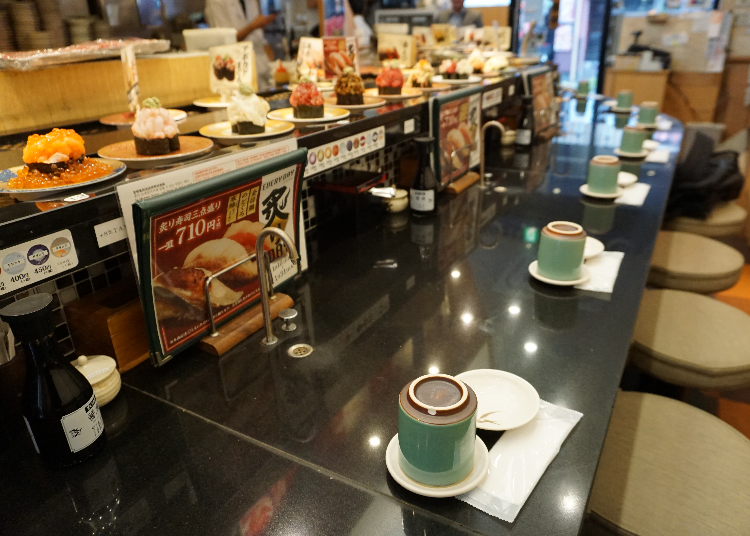 Miura Misaki Kou Ueno is the perfect location for huge gunkan rolls, and you might want to take some friends along to help! According to Kouki-sensei there are also "hidden" sushi items not on the menu, so be sure to ask about those too!


*The above information is accurate as of January 2019. Prices are subject to change.

Interview and written by: Jamie. English translation by Gabriel Wilkinson.
Maguro Donya Muira Misaki Kou Ueno

まぐろ問屋 三浦三崎港 上野店

Address

Ueno 6-12-14, Taito-ku, Tokyo 110-0005

Phone Number

03-5807-6023

1 minute walk from JR Ueno Station
Hours:
Weekdays 10:30 to 23:00 (L.O. 22:40)
Weekly breaks and national holidays 10:30~22:00 (L.O. 21:40)
Closed: open all year round
Reservations: After 18:00
Number of seats: 18 seats, all bar seats
*This information is from the time of this article's publication.
*Prices and options mentioned are subject to change.
*Unless stated otherwise, all prices include tax.