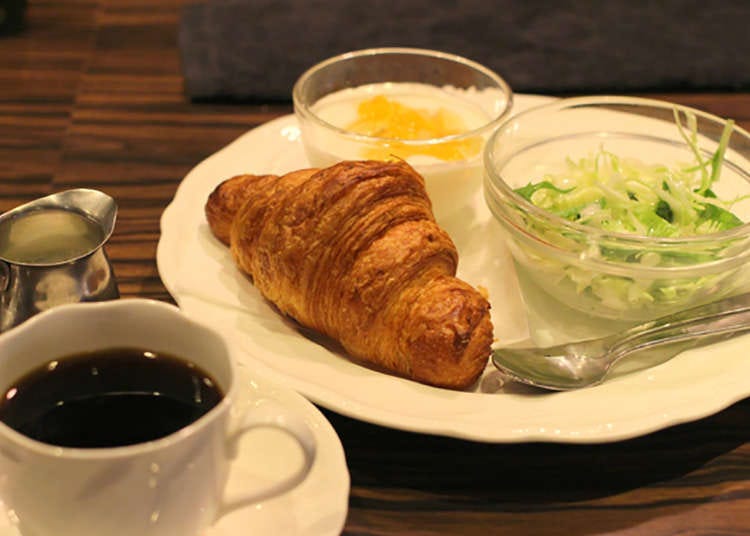 The morning time normally passes by in a flurry. How about spending it at ease once in a while? There are old fashioned Showa-period-like sento (public baths) and cozy cafes near Okachimachi Station of which public bath is open from 6:00 a.m. in the morning and cafe is open from 7:00 a.m. in the morning. I would like to introduce a way to spend the early morning time around here.
The spirit of Shita-machi (downtown)! Let's enjoy Tsubame-yu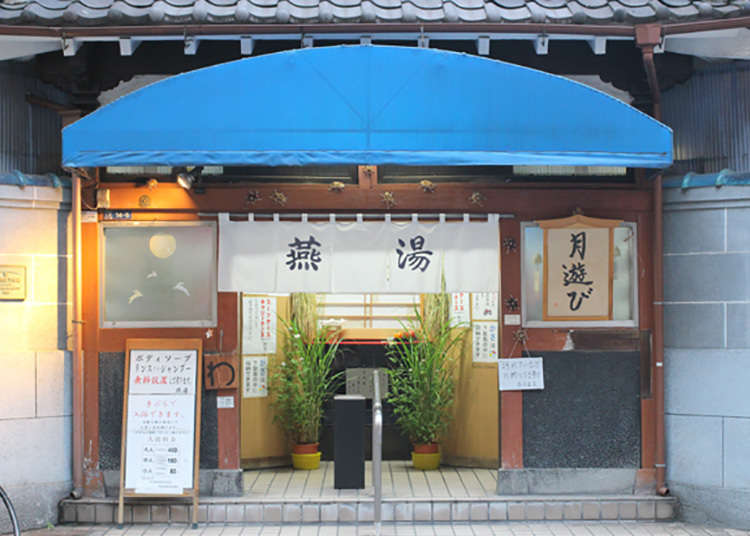 You can go to Tsubame-yu (public bath) in four minutes on foot from JR Okachimachi Station. This is the only building registered as a tangible cultural asset in Tokyo so it is very atmospheric. You can find hospitality in clean white noren (store curtain) and beautiful ikebana (Japanese flower art). Most of the public baths are opened from the late afternoon but Tsubame-yu is open from 6:00 a.m. in the morning to provide a refreshing morning public bath service called asa-yu.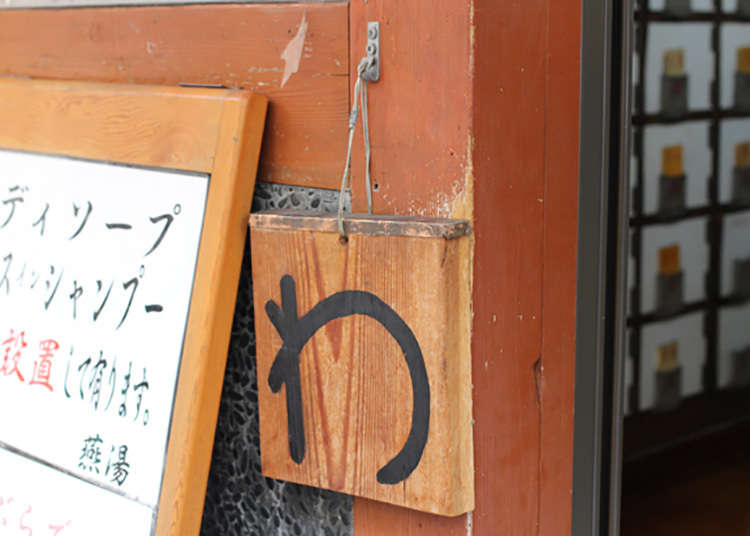 The plate bearing the word "wa" is hung on a door. Plate (Ita) is coupled with "wa", making a word "waita (boiled)". It means that hot water is on the boil. Namely, it's open. The word is changed to "nu" when closed. Nu and ita makes a word "nuita (removed)". It means that hot water is removed. The humorous works, which was created by Yoshiharu Uehara, a public bath artist, make you smile at the entrance.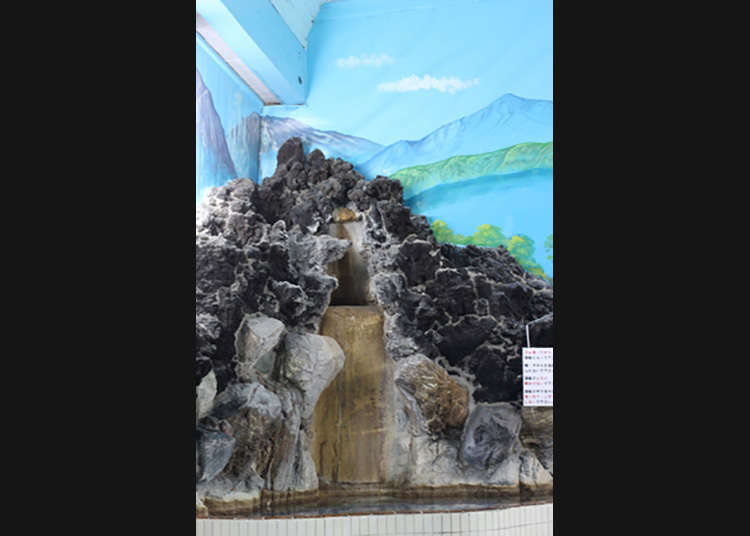 First of all, you will see rocky hill on a bathtub when entering a bathroom. It was made from Mt.Fuji's molten rocks and is registered as a tangible cultural asset same as the building. It's great. After washing your body, now get into clear hot water first in the morning. It's very hot and refreshing! Tsubame-yu is famous for its high temperature of water and its average temperature during the day is about 46 degrees Celsius. If you do not get used to hot water, please take a bath after performing kakeyu (pouring hot water on yourself). Take a bubble bath, too, to enjoy every bit of morning bath.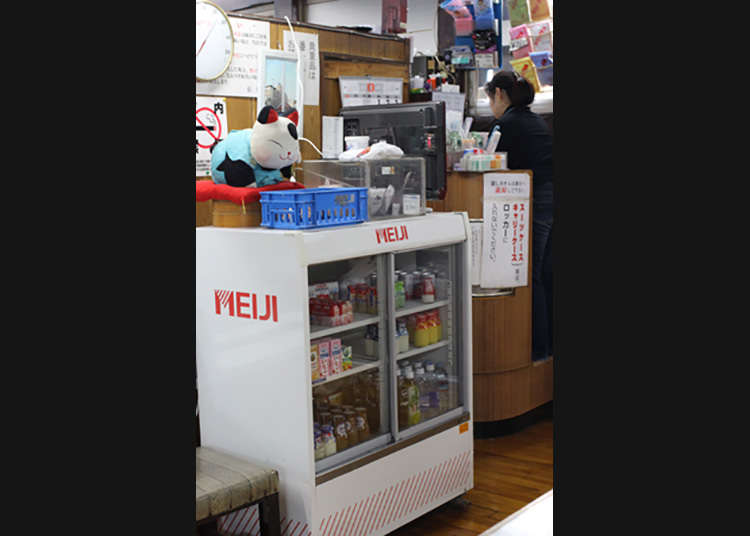 Speaking of a public bath in Japan, you can't miss cold juice. Mini refrigerator placed next to a bandai (watch stand) includes bottles of coffee milk and Yakuluto (a kind of fermented milk drink). You can cool your body with sweet and cold fruit milk. After you finish drinking the bottle, you have to return it to the basket in front of a beckoning cat, a figure with full of nostalgic atmosphere.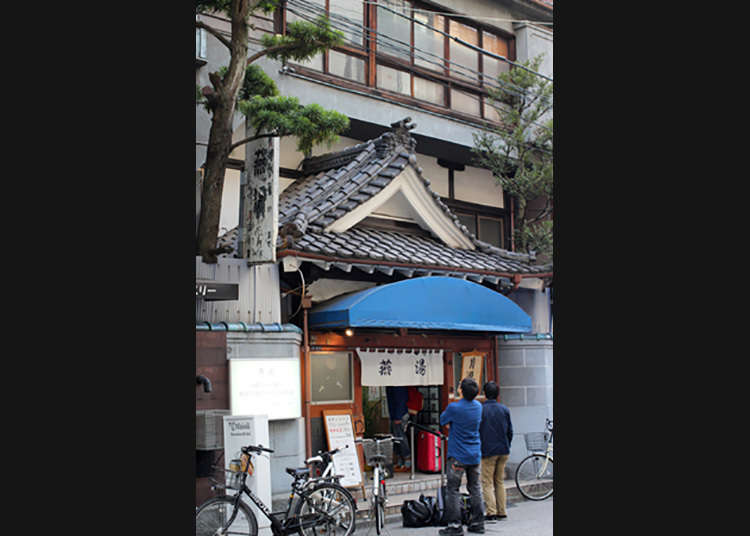 It began to be crowded so I got out of it. Outside, I encountered young people seeing Tsubame-yu's atmospheric building. They were students and came from Nagoya on a trip. They say they have just took a bath in the morning. Of course, there are many neighborhood customers. Bicycles are parked fully in front of the public bathhouse when it reached 7:00 a.m.
Address

3-14-5, Ueno, Taitou-ku, Tokyo, 110-0005
View Map

Nearest Station

Ueno-Hirokoji Station (Tokyo Metro Ginza Line)
5 minutes on foot


Phone Number

03-3831-7305
Cafe Lapin, a genuine coffee shop, in one minute on foot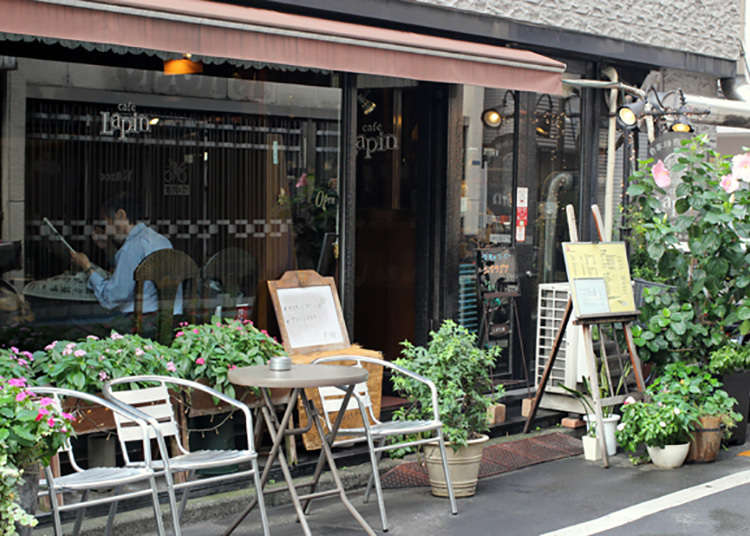 After warmed your body with the morning bath, visit Cafe Lapin. It's within less than one minute from Tsubame-yu. The glass-walled shop is full of flowers and greens with alluring seats outside. The hole parts of the inside of the shop adopts calm dark brown color and is properly lighted with natural light thrown from a big window.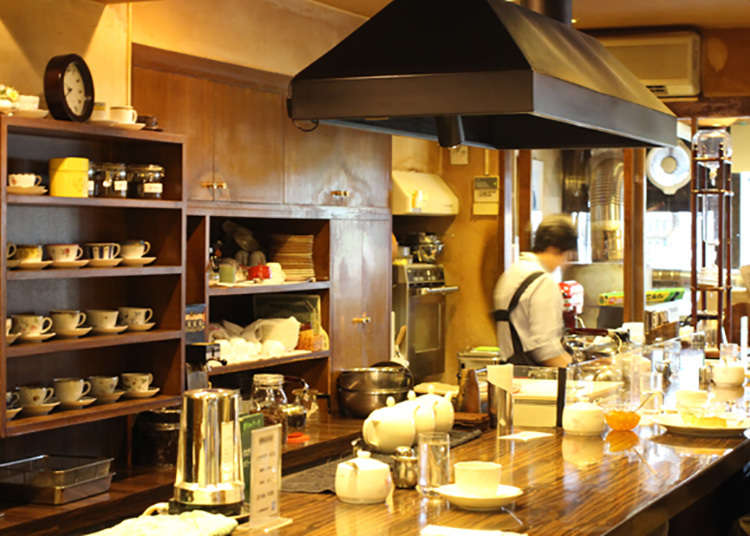 Its counter seats are recommended as a cafe in the morning. You will feel comfortable with a lively kitchen atmosphere such as the rubbing sound of dishes, water sound, boiling water sound and steam and smell of making coffee.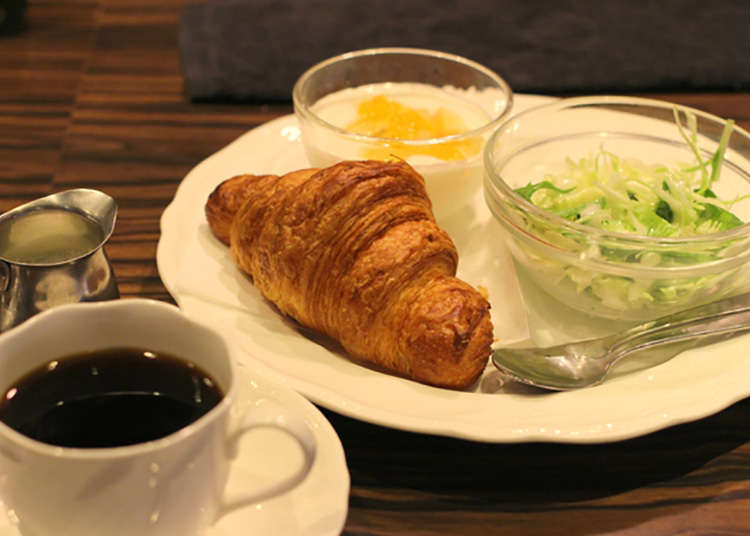 You can order a morning set by 11:00. I ordered a crescent set. The salad with potherb mustard and lettuce was crisp and delicious. Toast set with handmade jam is also popular.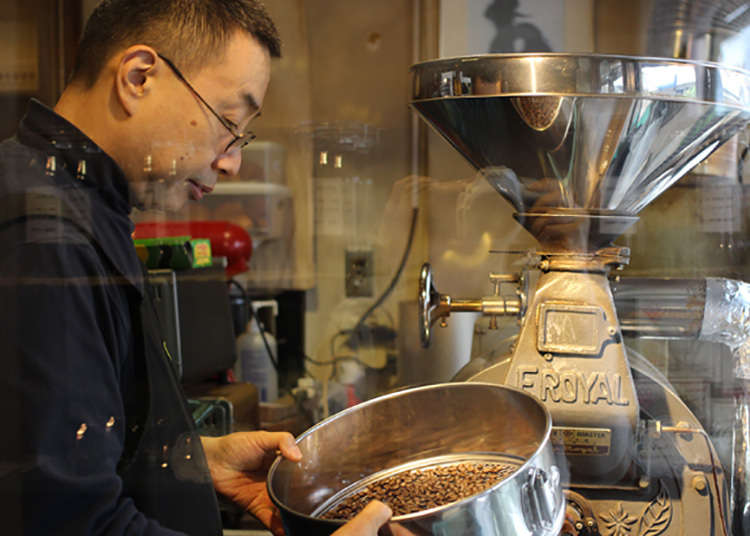 Above all, coffee is delicious! It's no wonder since this shop privately roasts coffee beans. Big roasting machine is placed at the entrance of this shop. You can see it through a glass wall. The master of cafe is very earnest in checking coffee beans.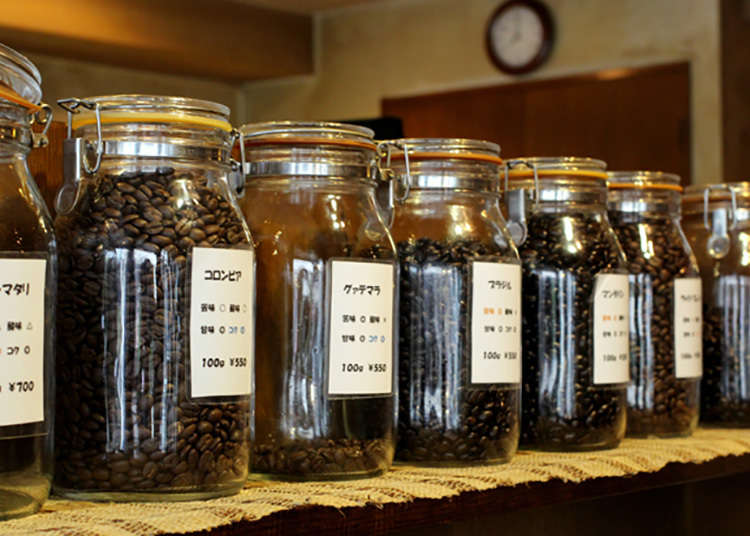 There are various coffee beans lined up at the opposite place of the roasting machine. If you are a coffee lover, there is no doubt that you will get excited. It is also a happy news that all the coffee beans used in the shop are available for purchase.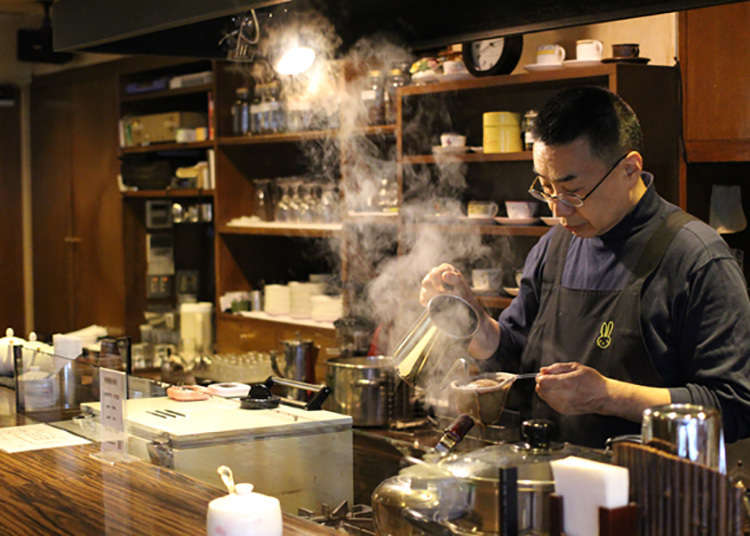 Each coffee is carefully made so even its steam is delicious. You can hear quiet jazz, the sound of customer's flipping through a newspaper and the smell of freshly made coffee. You can't be happier.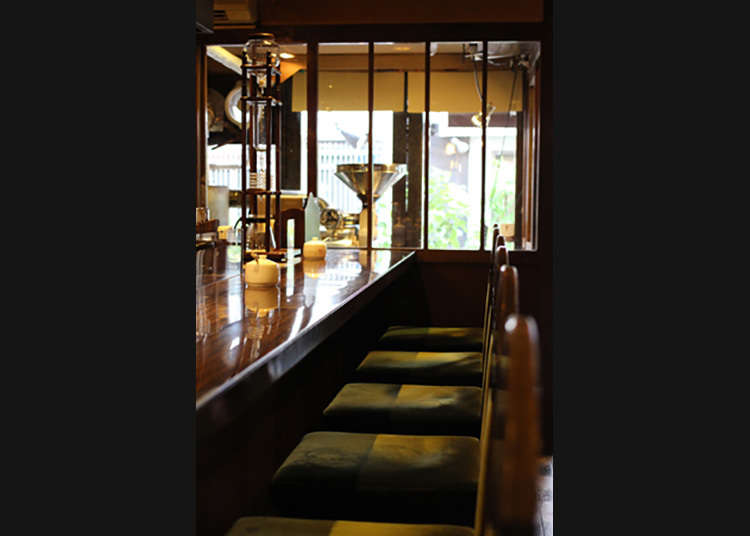 Backless chairs are often used for counter seats, however, counter chairs here are the same type used for table seats. Therefore, you can also relax in a counter seat. Chairs with moss green velour fabric is squashy and comfortable. You may want to stay longer.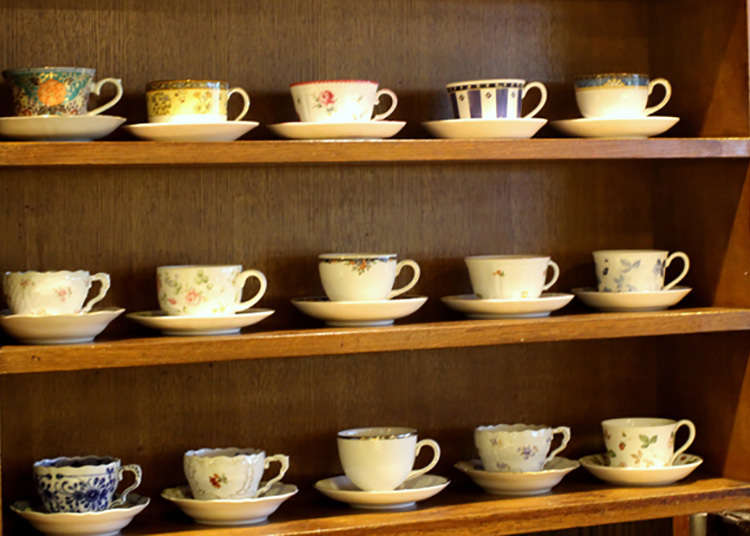 There is a rack that puts nicely designed cups and saucers in the counter. All the items are designed differently and they are fashionable! It is enjoyable just to see them. After you leave Cafe Lapin and walk for about 10 minutes, you will arrive Ameyoko and Ueno Park so it is also good to take a walk after having an asa-cafe, visiting a cafe in the morning. If you spend a superb relaxing time, you will be different than usual.
カフェ ラパン

Address

3-15-7, Ueno, Taito-ku, Tokyo, 110-0005
*This information is from the time of this article's publication.
*Prices and options mentioned are subject to change.
*Unless stated otherwise, all prices include tax.