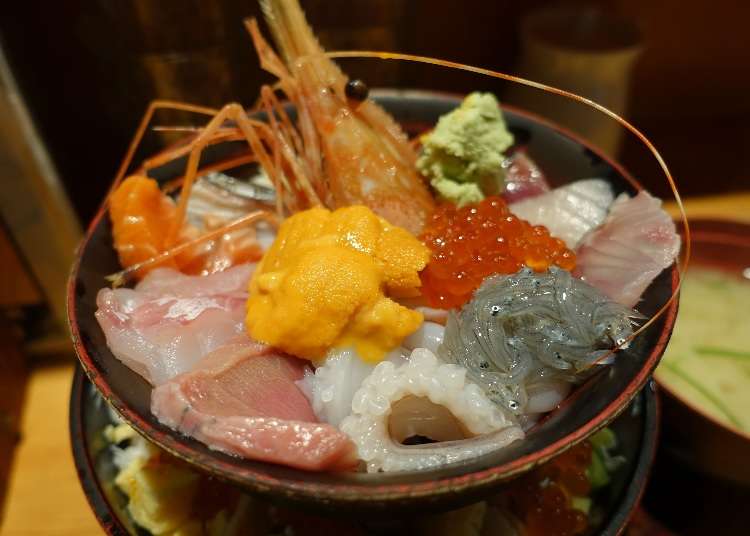 Tokyo's Tsukiji area is one of the city's main tourist draws. Even after the wholesale fish and seafood market relocated to Toyosu, there are still a wealth of incredible restaurants around the Tsukiji area that cater to curious visitors.

Confronted with the abundance of food and restaurants, it's easy to lose one's head when deciding where to have that perfect Tsukiji gourmet experience. Instead of merely judging by what seems popular with the crowds, why not listen to the locals' recommendations?
1. Sashimi Bar Kashigashira – Try the Two-Story Seafood Bowl!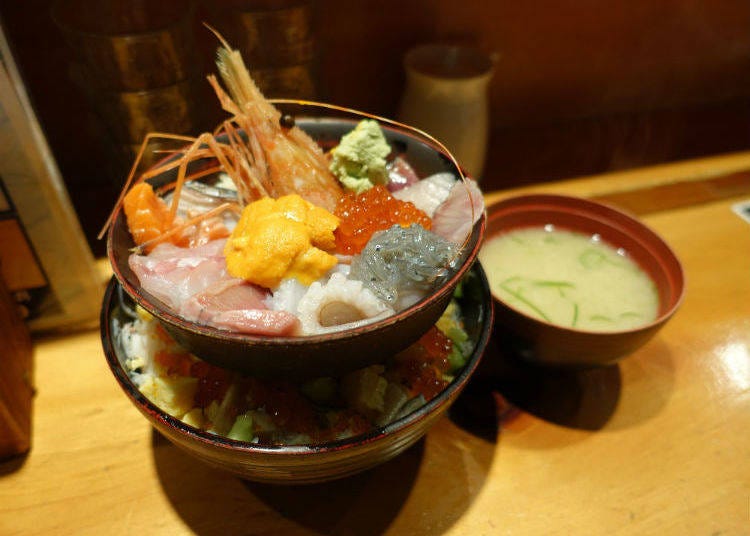 Sashimi Bar Kashigashira is a charming little sushi place that can be found at Tsukiji's 4-Chome Intersection, right at the entrance to the former large market area. Nestled in the basement floor of an apartment building, look forward to a laid-back atmosphere typical for Tsukiji and seafood delights that'll make you rethink your definition of "good sushi."

For lunch, order the bar's characteristic dish: "Tsukiji Outer Market Bowl" for 3,000 yen (tax excluded). This heavenly seafood bowl consists of two bowls stacked on top of each other, filled with over 20 varieties of fish, shells, crustaceans, and other kinds of seafood – everything from this morning's freshest catch! The lower bowl features a little box holding jelly-like vinegar. This is the vinegar that usually is added to sushi rice, allowing those who aren't a fan of this kind of dish to mix and season as they please.

The "tuna bowl of plenty" with three kinds of tuna meat for 1,500 yen and the "salmon bowl" for 1,000 yen are other classics that'll capture the heart and stomach of every sushi lover. Dinner will spoil you with a variety of course menus for 3,800 yen each – make sure to order some Japanese sake along with it!
刺身BAR 河岸頭

Address

B1F, 4-12-2 Tsukiji, Chuo-ku, Tokyo-to 104-0045

Nearest Station

Tsukiji


Phone Number

03-6383-4597

Hours
Lunch: 11:30 a.m. – 2:00 p.m. (last order)
Dinner: 6:00 p.m. – 10:30 p.m. (last order)
Closed: Sundays
2. Tsukiji Yoshino: Ever Had Conger Eel? It's About Time!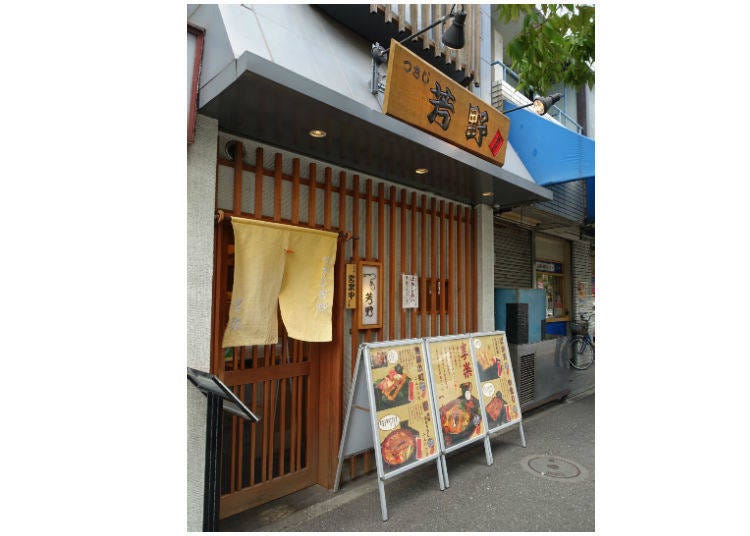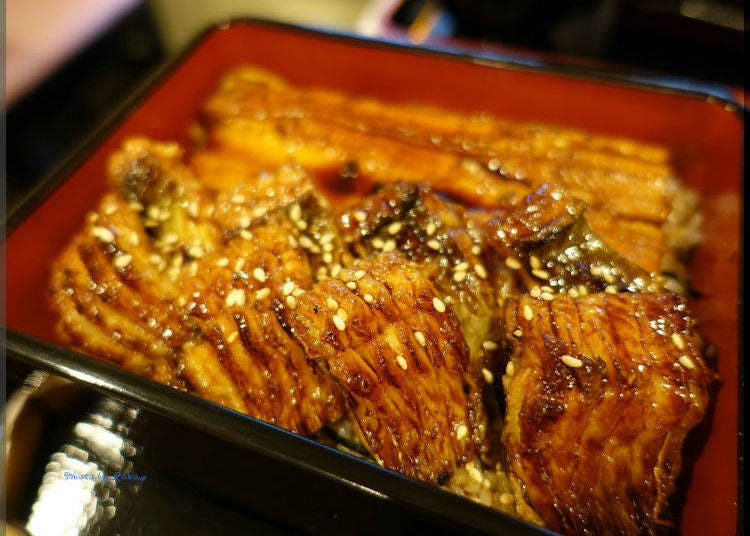 Tsukiji Yoshino is a very special restaurant located close to Tsukiji's Kachidoki Gate. This shop is all about anago, or conger eel, carefully chosen every single morning by the restaurant's manager, a wholesaler himself.

With 8 counter seats on the first floor and 16 table seats on the second, Yoshino has a calm and relaxing atmosphere that is almost untypical for the lively market area but offers its very own laid-back charm. Our warmest menu recommendation is "bakashiai" for 2,400 yen, offering a wonderful mix of fried conger on sweet sauce and broiled conger eel.

If you're not quite sure if conger eel is your thing, start with a dish called "manten komachi" for 1,200 yen. Behind this name is a gorgeously arranged seafood bowl that offers salmon, tuna, broiled conger, and conger wrapped in Japanese-style fried egg. It allows you to carefully make your first encounter with the shop's specialty while also tickling your taste buds with fresh salmon and tuna!
つきじ芳野 吉弥

Address

6-21 Tsukiji, Chuo-ku, Tokyo-to 104-0045

Nearest Station

Tsukiji


Phone Number

03-6278-7079

Hours
Lunch: 9:30 a.m. – 3:30 p.m.
Dinner (Fridays & Saturdays): 5:00 p.m. – 8:30 p.m. (reservation only on Mondays, Tuesdays, and Thursdays)
Closed: Wednesdays, Thursdays (irregularly)
3. Yamadaya: Savor Both Seafood and Sake at this Hidden Hot Spot!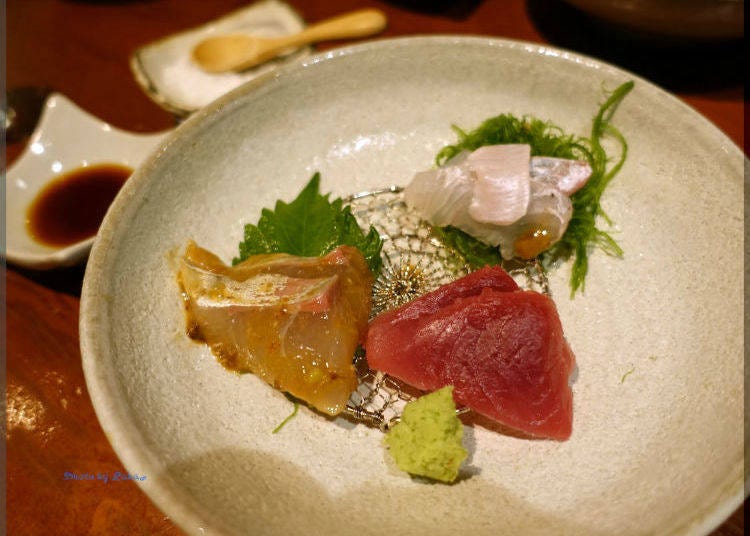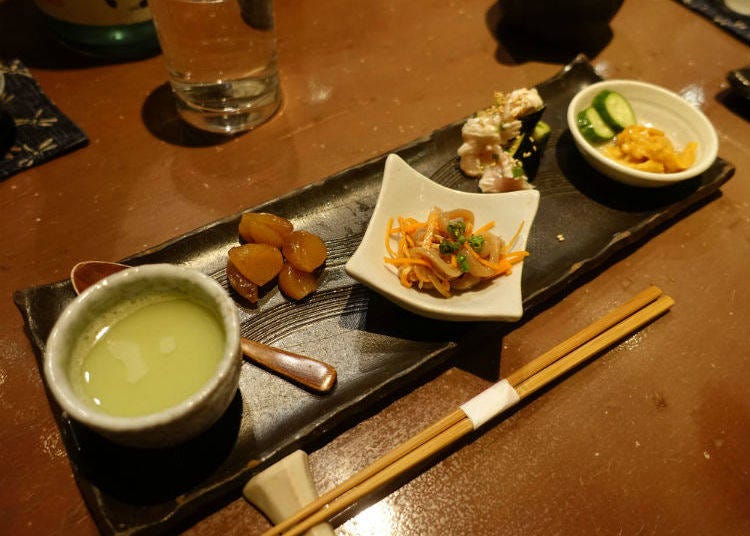 The last and probably most famous spot on our list leads us away from the area commonly defined as the former Tsukiji Outer Market. Yamadaya is hidden in a residential quarter close by and can be called a hidden hot spot, primarily known to locals and insiders.

Simply put, the shop operates on a "reservation and course meal only" policy. Every dish is made from the freshest seasonal ingredients only, carefully chosen and prepared, but the absolute must-have at Yamadaya is the "assortment of 6 drinks and dishes." Two of those 6 promised selections can be freely chosen from the menu. With delicacies like "pureed corn soup" and "springy garlic," look forward to an amazing harmony of flavors as the starter.

This is followed by the main course, a so-called "shime" meal that rounds your gourmet experience off, and a dessert – this dinner course will leave you thoroughly satisfied and happy! While making a reservation to get in at the first place may seem like a hurdle, we do urge you to take it (ask a friend or a helpful hotel concierge!) and make this once-in-a-lifetime Tsukiji gourmet experience.
やまだや

Address

7-16-3 Tsukiji, Chuo-ku, Tokyo-to 104-0045

Nearest Station

Tsukiji


Phone Number

03-3544-4789

Hours: 6:00 p.m. – 11:00 p.m.
Closed: Sundays, national holidays
*The Tsukiji Market was relocated to Toyosu in October 2018. The area it previously occupied will be redeveloped into a "food theme park" with a market function.
*This information is from the time of this article's publication.
*Prices and options mentioned are subject to change.
*Unless stated otherwise, all prices include tax.