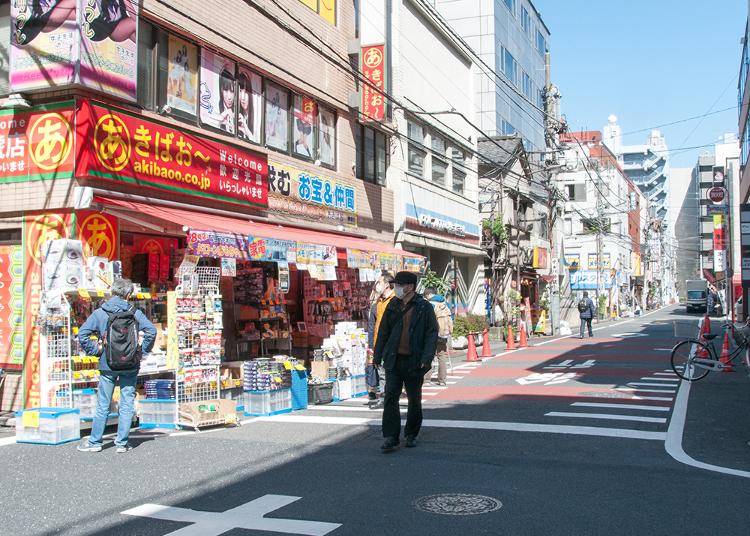 Here are the best Downtown in Tokyo and Surroundings, with travel tips and more, according to LIVE JAPAN, a top-class travel website for visitors to Japan. Our ranking is based on the most popular pages viewed by foreign visitors in a given category.

For instance, Shibuya Center Street, Yokohama Minato Mirai 21, World Trade Center Tokyo and other related spots will be listed. Be sure to check them out during your visit to Tokyo and Surroundings!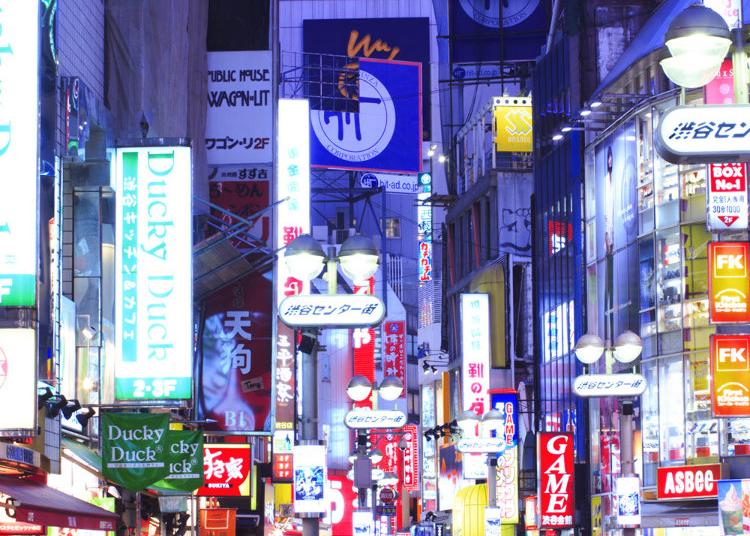 A commercial district just across the Shibuya scramble crossing full of people, especially youngsters. In the 1950's, after improvement works were done on the Udagawa River, which frequently caused flood damage in this area, more and more young people began to visit the town. Many restaurants have opened since then, and it has gained the status of a commercial district at the same level as that of Shinjuku. Since then, improvements, such as the construction of an arch, installation of street lamps and street coating, have been made and it has developed into an area people can safely enjoy themselves in. Efforts to make the area comfortable to visit continue today with the organization of various events, crime prevention, and beautification activities. It is extremely popular, especially among the young, with approximately 50,000 visitors on a weekday and about 70,000 on weekends and holidays. There is a wide variety of shops including retail stores, restaurants, game arcades and karaoke stores. It is a 3-minute walk from Shibuya Station on the JR Yamanote Line, Tokyo Metro Ginza and Hanzomon Lines, Keio Inokashira Line, and Tokyu Toyoko and Denenchofu Lines.
Address

New Shibuya corporate house 311 (the Shibuya center mall promotion association secretariat), 12-3, Udagawacho, Shibuya-ku, Tokyo, 150-0042
View Map

Nearest Station

Shibuya Station (JR Shonan Shinjuku Line / JR Yamanote Line / JR Saikyo Line / Tokyo Metro Ginza Line / Tokyo Metro Hanzomon Line / Tokyo Metro Fukutoshin Line / Tokyu Toyoko Line / Tokyu Den-en-toshi Line / Keio Inokashira Line)
3 minutes on foot


Phone Number

03-3461-3314
2.Yokohama Minato Mirai 21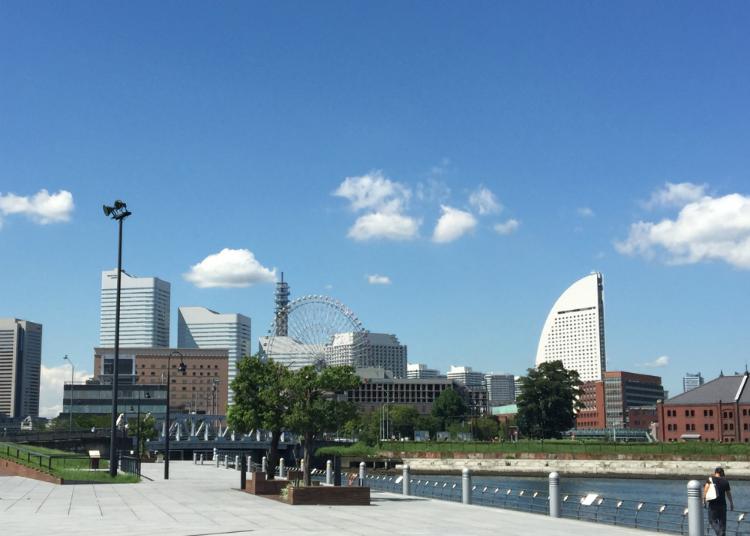 The Minato Mirai 21 area received a Minister of Construction Prize in the Urban Landscape Award in 1997 as one of the top 100 Urban Landscapes; the area's taking an initiative in forming a harmonized, high-quality, and attractive urban cityscape was highly evaluated in its effort to create a new urban center in Yokohama by producing a characteristic skyline with super-high-rise construction technology, enhancing the pedestrian spaces, and utilizing the historical assets, such as the Red Brick Warehouse. It is an urban space where you can spend a comfortable time in its open space that makes the best of its favorable waterfront location with the sea, the port, and the extensive sky. The facilities, such as office buildings, an amusement park, and department stores, create the beautiful cityscape and serve various purposes of leisure, shopping, date, business, satisfying intellectual curiosity, and tourism. The impressive night view, created by the lights of office buildings and the colorful, characteristic lights from the giant Ferris wheel named Cosmo Clock 21, is one of the area's highlights. An ocean route by water bus and railway routes are available for access to the area.
Address

Naka-ku, Yokohama-shi, Kanagawa, Nishi-ku, 220-0012
View Map

Nearest Station

Yokohama Station (JR Tokaido Main Line / JR Yokosuka Line / JR Shonan Shinjuku Line / JR Keihin-Tohoku Line / JR Negishi Line / JR Ueno Tokyo Line / Line 3 (Yokohama Blue Line) / Tokyu Toyoko Line / Minatomirai Line / Keikyu Main Line / Sagami Railway Main Line)

3.World Trade Center Tokyo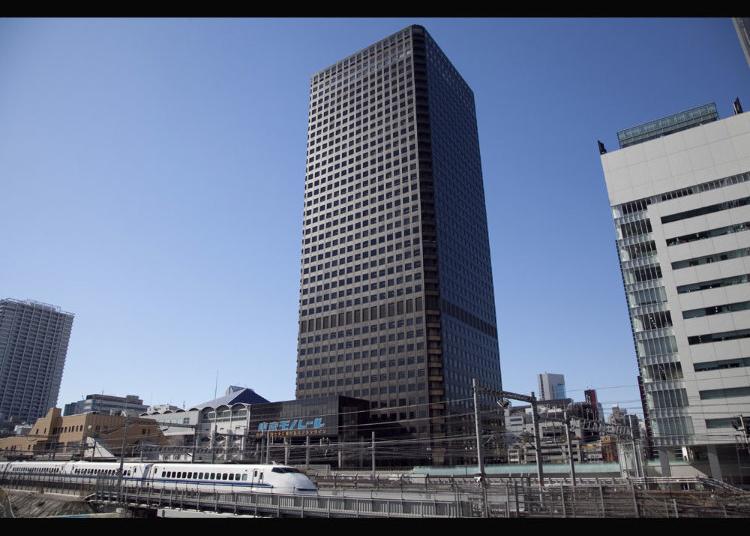 Tokyo World Trade Center Building has 40 stories above ground and three underground. In the building, there are conference rooms, exhibition areas, wedding halls, an observation platform, restaurants, and more. The observation deck, the Seaside Top, which is located on the top floor of the building, is 152 meters in height and has a 360-degree panoramic view. The view offers sceneries that cannot be seen anywhere but in Tokyo, such as the Tokyo Bay and the Odaiba area. It is one of the few places from which one can see the Tokyo Tower squarely. The night view is attractive as well. Love seats are placed facing all directions, and the Seaside Top is a popular spot from where you can have a beautiful night view, named one of the "latest three major night views of Japan and the top one hundred night views" hosted by Yakei-club (the night-view club, a community of night-view lovers). The building is directly connected to the Hamamatsu-cho Station on the JR Yamanote Line, Keihin Tohoku Line, and the Tokyo Monorail and also to the B3 Exit of the Daimon Station on the Metropolitan Subway Asakusa Line and Oedo Line.
Address

2-4-1, Hamamatsucho, Minato-ku, Tokyo, 105-6140
View Map

Nearest Station

Hamamatsucho Station (JR Keihin-Tohoku Line / JR Yamanote Line)
1 minute on foot


Phone Number

03-3435-6026
4.Akihabara Electric Town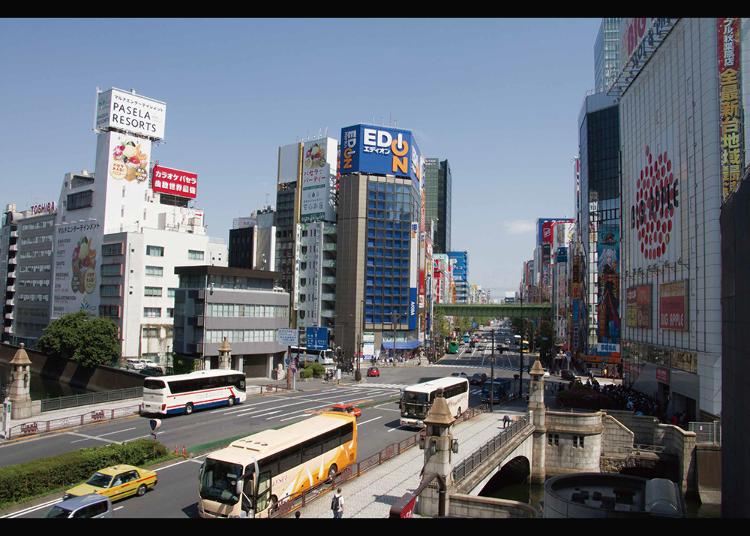 The Akihabara Electric Town handles various electrical goods, such as consumer electronics, audio equipment, computers, semiconductors, and lighting fixtures. There are about 500 stores. It is a large-scale electric or electronics-specialized town that is incomparable to any town in the world. About 30 million people visit this place every year, and the foreign-visitor count reaches one million. It originated when stalls that handled radio parts were gathered under the railroad tracks because of the Rotenseiri Ordinance (an ordinance that ordered the removal of stalls from the Tokyo Metropolitan area) in 1951. Today, there are many large electric appliance stores, but there still remain small-sized retailers that handle various electrical parts crowded under the Sobu Line tracks where you can purchase all kinds of computers and parts. Besides electric or electronics-related stores, Akihabara Electric Town attracts people with an interest in the pop culture such as anime, comics, figurines, or maid cafés (i.e., cafés with waitresses dressed in cute, frilly maid costumes). Denki-gai Chuodori or the central main street of the Electric Town is blocked off to become a pedestrian-only mall on Sundays, so you can enjoy shopping while taking your time in strolling.
Address

Sotokanda, Chiyoda-ku, Tokyo Chuo-dori, 101-0021
View Map

Nearest Station

Akihabara Station (JR Keihin-Tohoku Line / JR Yamanote Line / Tokyo Metro Hibiya Line / Tsukuba Express / JR Sobu Line)


Phone Number

03-3257-0568
5.Musashi Koyama Shopping Street Palm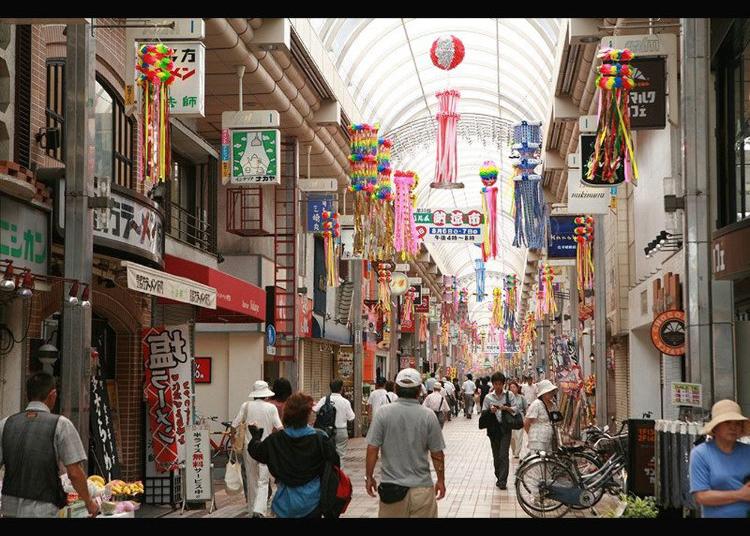 Musashi Koyama Palm Shopping Street is an all-weather shopping street with a retractable roof. It developed after the opening of the Mekama Line in 1923 but was lost during wartime air raids. In December 1947, the Musashi Koyama Shopping Street Cooperative was established to revive the area, and in1956, the first 470-meter-long arcade was completed. Today, the street comprises four arcades and has a total length of 800 meters. It continues to grow and adopt new ideas while maintaining features that have been passed down over generations. The 250 shops include stores selling grocery, clothing, stationary, pharmaceuticals, furniture, interior decoration and electric appliances as well as restaurants, medical clinics, beauty salons, game centers and more. Many events are held throughout the year such as the noryo-ichi summer fair, samba parade, ryosha (two shrines) festival and early spring wadaiko drum performances. The closest access is from Musashikoyama Station on the Tokyu Meguro Line.
Address

3, Koyama, Shinagawa-ku, Tokyo, 142-0062
View Map

Nearest Station

Musashi-Koyama Station (Tokyu Meguro Line)
1 minute on foot

6.Marunouchi Naka-Dori Street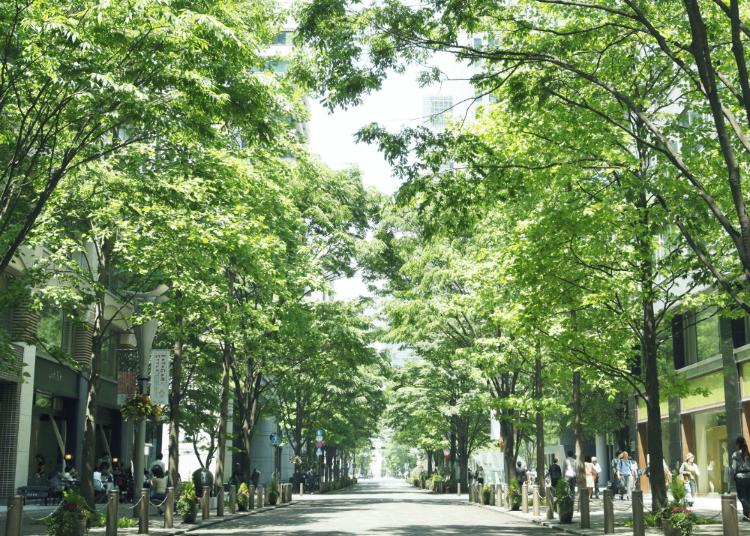 Marunouchi Naka-dori is the main street of Marunouchi, which connects Yurakucho and Otemachi and has a gorgeous atmosphere. Lined by large office buildings such as Marubiru, Marunouchi Brick Square and Shin-Tokyo biru (New Tokyo Building). Naka-dori is also lined by trees including zelkova and katsura and art works; it was designed to maintain harmony with nature and to provide an opportunity for art appreciation. Close to sightseeing spots such as the Tokyo Station and the Imperial Palace, several events including gorgeous wintertime illuminations are held at Naka-dori. Accessible from JR Tokyo and Yurakucho Stations and from Otemachi and Nijubashi Stations on the Tokyo Metro Line.
Address

Around Marunouchi, Chiyoda-ku, Tokyo 2-3 chome, 100-0005
View Map

Nearest Station

Tokyo Station (Tokaido Shinkansen Line / Hokkaido Shinkansen Line / Tohoku Shinkansen Line / Akita Shinkansen Line / Yamagata Shinkansen Line / Joetsu Shinkansen Line / Hokuriku Shinkansen Line / JR Tokaido Main Line / JR Yokosuka Line / JR Sobu Main Line / JR Sobu Main Line (Rapid) / JR Keihin-Tohoku Line / JR Yamanote Line / JR Chuo Main Line / JR Keiyo Line / JR Ueno Tokyo Line / Tokyo Metro Marunouchi Line)
1 minute on foot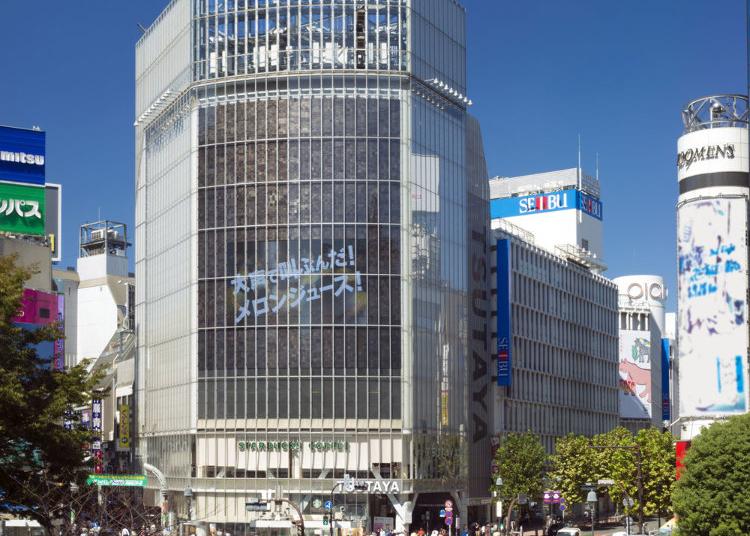 The Shibuya Scramble Crossing is right in front of the Hachiko (a statue of a dog) Exit of the Shibuya Station. Many shopping centers specialized in fashion-related products stand in a row in Shibuya, which is known to be very popular among young people. Sometimes, as many as 3,000 people are crossing during a green light, and its traffic volume is one of the highest in the world. In order to see a magnificent view of so many people crossing from every direction, this place has become more popular as a sightseeing spot these days. As many foreign movies and music videos of famous artists are filmed at this place, the crossing became well-known in the world. If you join in the crossing crowd, you may feel as if you are blending into a movie scene. On a day of a special event like Halloween, the crossing becomes even busier than usual.
Address

Dogenzaka, Shibuya-ku, Tokyo bottom, 150-0043
View Map

Nearest Station

Shibuya Station (JR Shonan Shinjuku Line / JR Yamanote Line / JR Saikyo Line / Tokyo Metro Ginza Line / Tokyo Metro Hanzomon Line / Tokyo Metro Fukutoshin Line / Tokyu Toyoko Line / Tokyu Den-en-toshi Line / Keio Inokashira Line)
1 minute on foot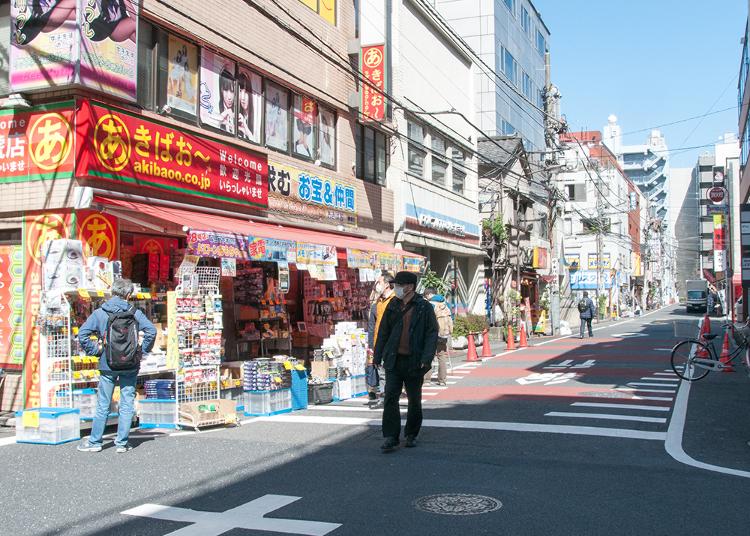 Akihabara is located to the north of Tokyo Station. During the Edo period, it was an area prone to fires where lower-ranking samurais resided. The name, Akihabara, comes from a shrine that was build in 1870 to worship the firefighting god, Akibadaigongen. Today, it is known as one of the world's leading electric towns filled with retail stores selling consumer appliances and other electronic products. A back street known as Junk Street stretching from the intersection of Kuramae-hashi Dori and Chuo Dori, to Akiba Cultures Zone, is of particular interest. This street has numerous stores that handle items, such as computer parts, peripherals, keyboards and cords, that are hard to get from general electronics retail stores. These stores also have handy everyday products and unique idea goods that can make interesting souvenirs. There are also soba noodle shops, ramen shops and kebab shops so you can take a break between shopping. It is located three minutes by foot from the Electric Town entrance of Akihabara Station on multiple JR Lines.
Address

5, Sotokanda, Chiyoda-ku, Tokyo, 101-0021
View Map

Nearest Station

Suehirocho Station (Tokyo Metro Ginza Line)
3 minutes on foot

Toshima Ecomuse Town is a multi-use complex combining public facilities, private establishments including stores, offices and medical institutions, and housing. It has created a place to gather and live based on the concept of "tree-like architecture." An earthquake-resistant, high-rise building with two additional levels above the roof, it rises from the B3 (basement) to the 49th floor. Public and business facilities occupy the verdant lower floors, while there are medical institutions, convenience stores and restaurants on the first and second floors. The main Toshima Ward Office takes up the third to ninth floors, and there is a multipurpose hall (Toshima Center Square) on the first floor. On the tenth floor is a garden terrace open to all. It is a short walk from Higashi-Ikebukuro Station on the Tokyo Metro Yurakucho Line, or from Zoshigaya Station on the Toden Arakawa Line.
Address

2-45-3, Minamiikebukuro, Toshima-ku, Tokyo, 171-0022
View Map

Nearest Station

Higashi-Ikebukuro Station (Tokyo Metro Yurakucho Line)
1 minute on foot


Phone Number

03-3984-0555
*This information is from the time of this article's publication.
*Prices and options mentioned are subject to change.
*Unless stated otherwise, all prices include tax.
Search for International flights