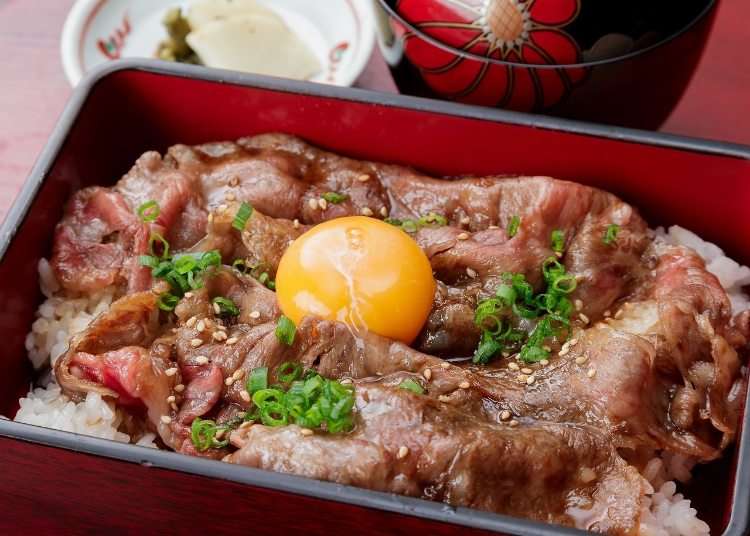 What would you want to eat in Japan? Many would think of sushi, yakiniku, or seafood rice bowls, but all of these require rice.
This winter, restaurants around Japan are participating in the "Let's Explore Japanese Rice" event, featuring the flavors of Japanese rice and sake. Restaurants have prepared delicious dishes encapturing the pleasure of Japan's rice, perfect for taking pictures to upload, and cooking courses for making things like rice balls and maki sushi. It's a great chance to experience the deliciousness of Japan-grown rice!
Fluffy and chewy! Why is it that so many people fall in love with Japan-grown rice?
Japan's rice releases sweet flavors when chewed. It's thanks to Japan's soil that it produces such great rice. Add Japan's clean water and air, and you'll find no better place to grow rice. Another important factor is the tradition of Japan's farmers, who continue to research and improve their rice varieties.

Now, Japan is recognized worldwide as a source of delicious rice, and those who enjoy it often continue purchasing Japanese rice online after returning to their home countries. Try a taste and you might become a fan of Japanese rice yourself.
What establishments are participating in "Let's Explore Japanese Rice"?
A select 120 establishments in Japan are participating. Both "Cuisine Experience" dishes that allow you to explore Japanese cooking and "Expert" dishes featuring Japanese rice are being sold. Let's see a few of the establishments taking part.
Cuisine Experience dish: Nakayoshiya (Osaka), oversized yaki-onigiri chazuke (your choice of pickled plum, salmon, or spicy cod roe filling)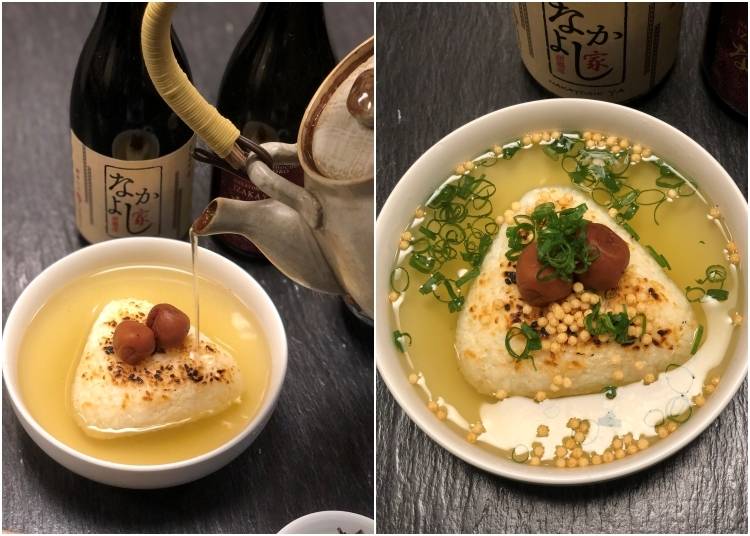 One of Japan's most famous rice dishes are onigiri, rice balls. Nakayoshiya's dish allows you to enjoy the grilled version, yaki-onigiri, in a broth made with tea, chazuke. The yaki-onigiri is perfectly delicious alone, but it's not every day you get to eat onigiri in chazuke form. It's an excellent dish that allows you to enjoy two forms of Japanese rice at the same time. Crispy on the outside, but with the chewiness you can only get from Japan-grown rice!
Cuisine experience dish: Honke Abeya Musubu Tamachi location (Tokyo), featuring make-your-own kiritanpo and kiritanpo soup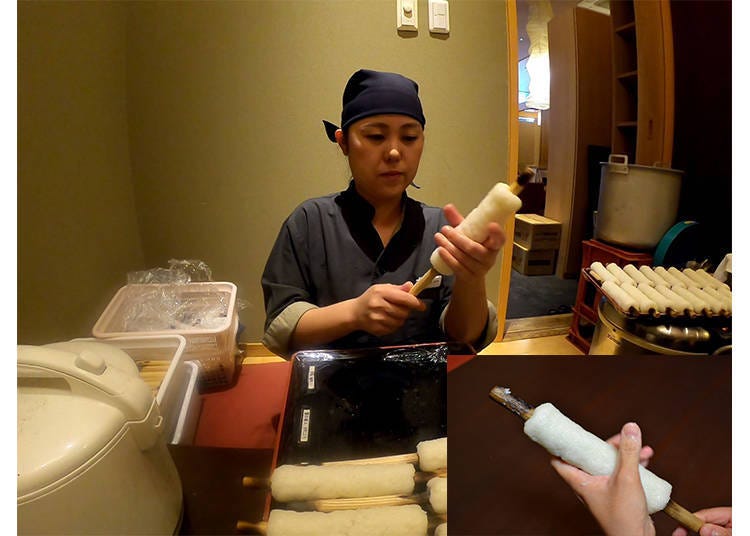 "Kiritanpo nabe," a soup of rice dumplings, is home cooking from Akita prefecture. Rice is smashed into a mochi-like paste, wrapped around a cedar branch and grilled, then cooked in soup. Not many Japanese people still have the chance to make kiritanpo, but at this establishment, you have the chance to make it yourself. It's the stickiness of Japanese rice that makes this dish possible. This dish really lets you feel the variation in Japanese rice-based cooking.
Cuisine Experience dish: Sushi & Seafood Kissui (Osaka), experience hand-wrapped sushi with fresh seafood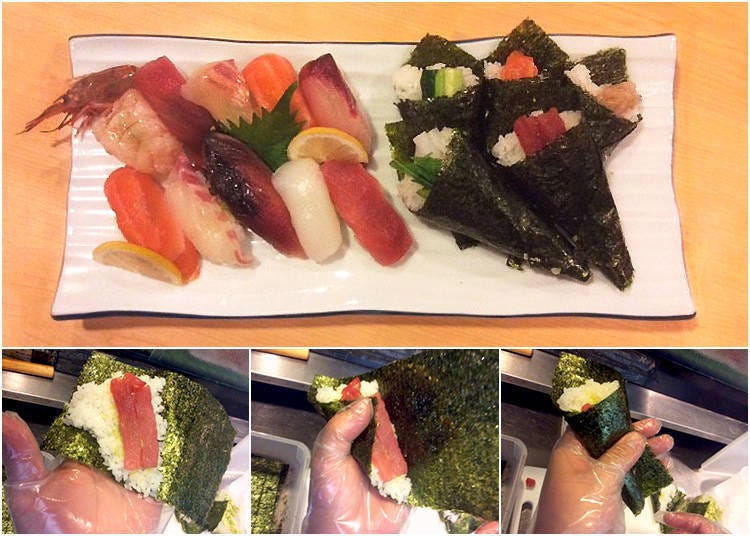 In Japan, pressed sushi is perhaps the most common form of sushi, but hand-rolled sushi is another popular choice. It's a great party food, where people can find combinations of ingredients they like and combine it into one delicious bite. This restaurant allows you to try rolling your own sushi with fresh seafood of your own choice. Japan-grown rice has the perfect amount of stickiness for sushi!
Expert dish: Gyu-No-Takumi (Hyogo), seared sushi with yuzu-awamori flavo
Kobe beef goes through some of the most strict grading in Japan, but this guarantees it has the perfect marbling of red meat and fat. Wagyu sushi at this restaurant uses only the finest parts of Kobe beef, creating beefy sushi that practically melts in your mouth! It goes perfectly with Japan's sweet rice.
Expert dish: Teramachi Yoshikura (Kyoto), Kyoto-style boxed sukiyaki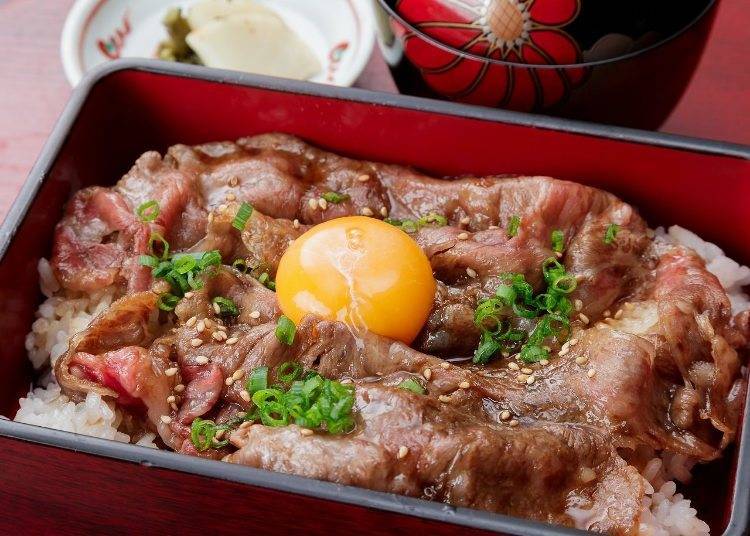 Sukiyaki, made with a sweet and salty soy sauce broth, is a well-known traditional food of Japan. This Kyoto-style boxed sukiyaki dish uses rice grown in the town of Miyama, part of Kyoto. The chewy Japan-grown rice and meat mixes together with sauce to produce the ultimate harmony of flavors.
Expert menu: Hokkaido seafood izakaya with private seating Uotto "Gyojin" (Hokkaido), luxurious boxed sea urchin, crab, and salmon roe sushi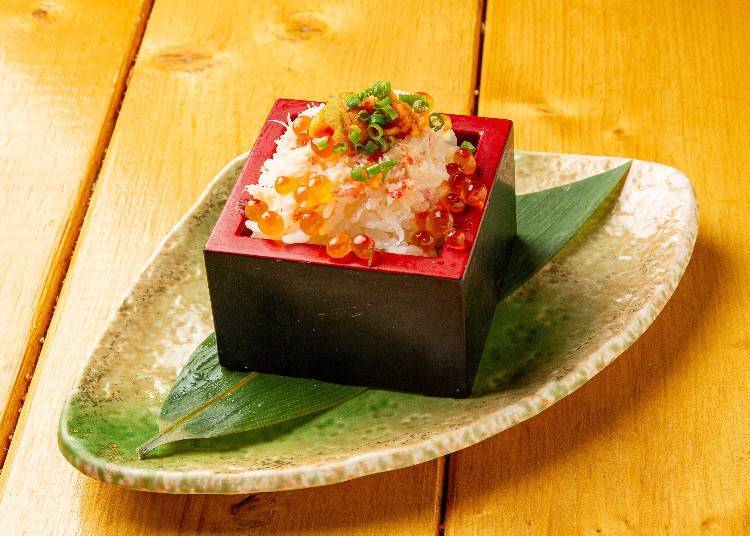 Hokkaido is known for its fresh and plump seafood cuisine. This Hokkaido izakaya serves expertly-prepared "masu sushi," sushi served in a traditional measuring box for rice or sake. The sushi made with Japan-grown rice and almost overflowing with sea urchin, crab, and salmon roe, would make for a great photo to post online.
"Let's Explore Japanese Rice" Participating Establishments
On the "Let's Explore Japanese Rice" website, you can view all 120 participating establishment, their genres, and locations. Between the sushi, yakiniku, and Japanese restaurants, it might be a tough choice.
What if I want to buy Japan-grown rice from my own country?
Having experienced the wonder of Japanese rice through cooking courses or expert dishes, you might feel like getting Japanese rice to cook with at home. と思ったあなた。 Online shopping has made it increasingly easy to purchase Japan-grown rice around the world.

"Let's Explore Japanese Rice" also introduces websites were you can buy Japanese rice, sorted by country. It makes it easy to understand all the brand of Japanese rice with pictures and explanations.
"Let's Explore Japanese Rice" Event Info
Period: 1-14-2020 (Tue) to 2-16-2020 (Sun)
Establishments: 120
Remarks: Cooking courses may require reservations. Contact establishments in advance if you have concerns.
*This information is from the time of this article's publication.
*Prices and options mentioned are subject to change.
*Unless stated otherwise, all prices include tax.