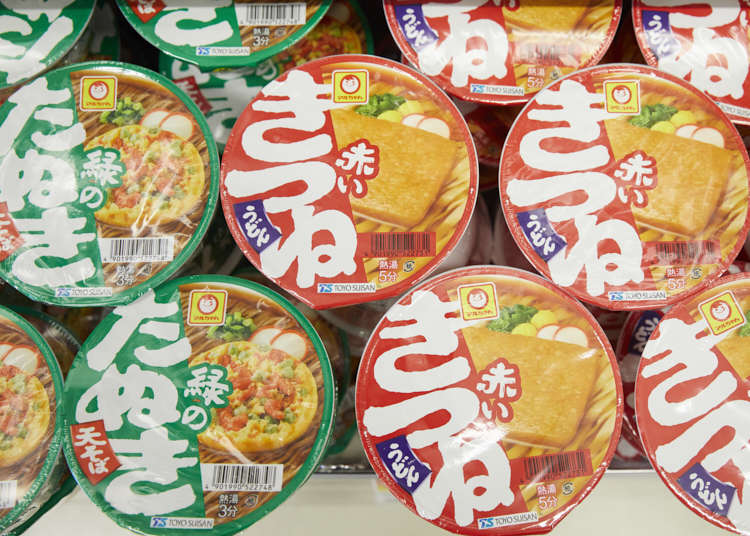 You'll find groceries and a whole lot more at Japan's supermarkets and convenience stores. And some of their top-selling food products are instant noodles! As an easy way to enjoy the taste of Japan's popular noodles, they're highly valued as a late-night snack and as tasty souvenirs.

However, with wild popularity comes wild variety, which makes it challenging to figure out which one to choose. Here are some tips from LIVE JAPAN's editors on how to pick out popular instant noodle brands! We asked people from Toyo Suisan, the company behind some of the best cups of instant noodles available, why people claim their noodles are the best.
On the hunt for instant noodles, we visited the Kawagoe Minami Furuya location of Yaoko Marketplace, a supermarket chain based in Saitama Prefecture that can be found in Tokyo and six surrounding prefectures. Let's go check out their instant noodles section!
Choosing Tip No.1: Find the brands with the most sales space!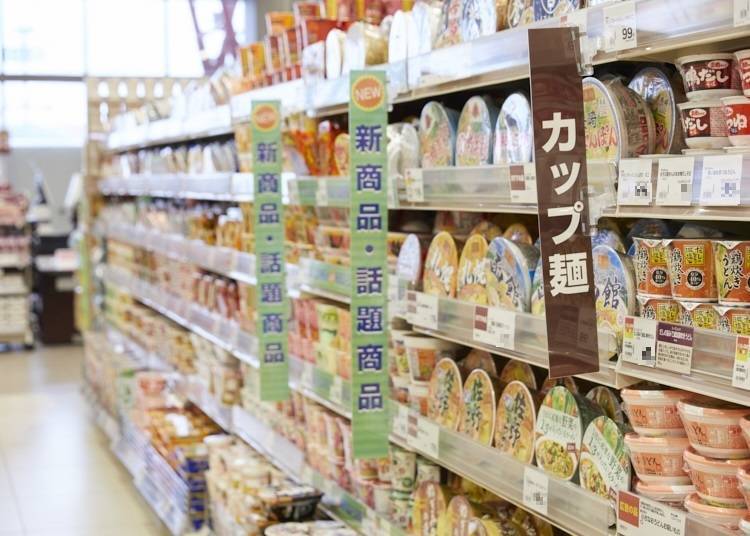 First, take a look over the whole section. There is a multitude of instant noodle brands, but you can wager the ones that are given the most space are the regular sellers.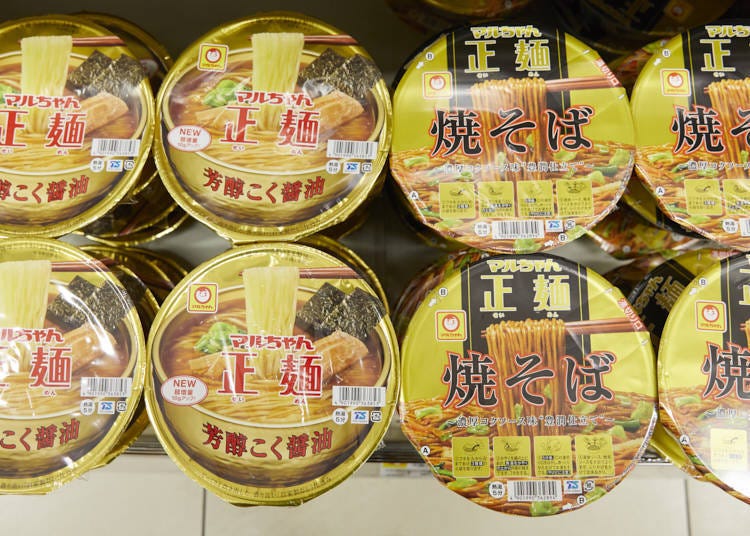 Special showcases near areas of high foot traffic will also contain popular brands. Japan's supermarkets monitor the flow of goods to come up with unique displays, and it only makes sense that products that are easy to find are products that are selling.
Choosing Tip No.2: Check out the lower racks of special showcases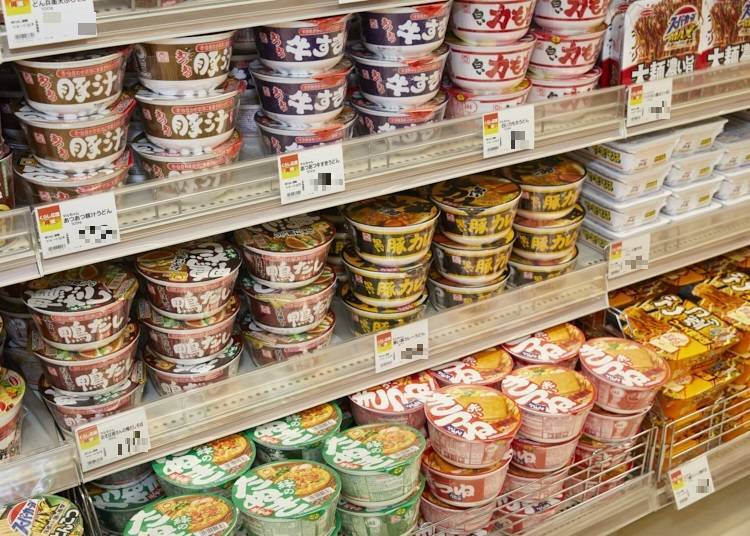 Amongst brands arranged in a special display, which would you think are the most popular? The answer is "the bottom shelf."

Supermarket customers often pick up things while they're walking past, and their line of sight is near their own feet, which is to say, the lowest shelves. Supermarket managers theorize that it's this low line of sight that causes people to most often select items from bottom racks.
Choosing Tip No.3: Judge a book by its cover?!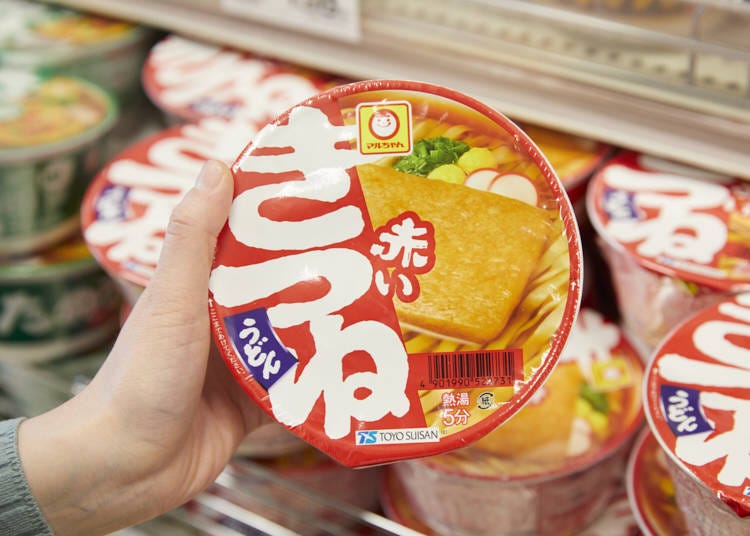 The image of the product on the packaging is vital. Words, Japanese or not, are not enough to describe the flavors one conjures up in their mind when looking at an image of food. Brands that prominently feature the finished product on their packaging aren't just making it easy to understand what you're buying: they're expressing their confidence in quality. For instance, the image for "Akai Kitsune Udon" is dominated by its big block of a Japanese specialty, aburaage (fried tofu). It's hard to turn your nose up at something that looks that good.
Choosing Tip No.4: Check for variety!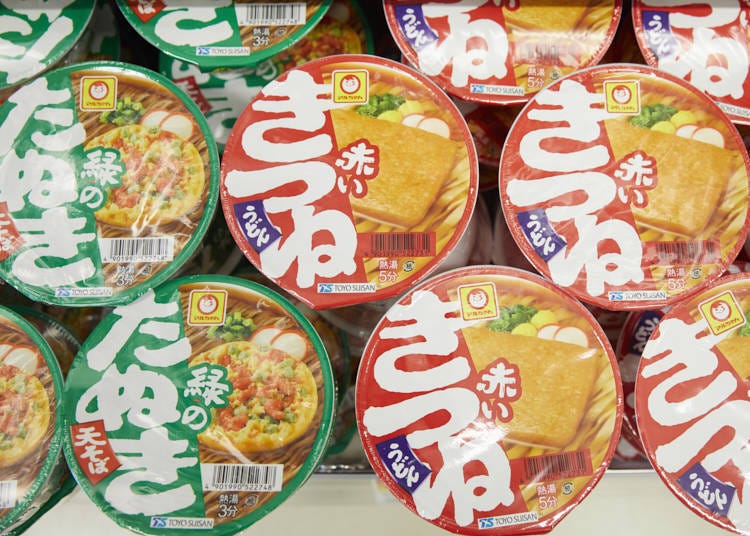 Check the packaging, yes, but also see if it's part of a series. The previously mentioned "Akai Kitsune Udon" is part of a series that includes "Midori no Tanuki Ten Soba," Kuroi Buta Curry Udon," "Shiroi Chikara Mochi Udon"... and many more.

Much like the supermarkets, manufacturers pay close attention to their sales, ever-adding new versions to popular series. If you're not sure what to buy, buy something that's part of a series.
Choosing Tip No.5: Trust products with easy-to-find ingredient lists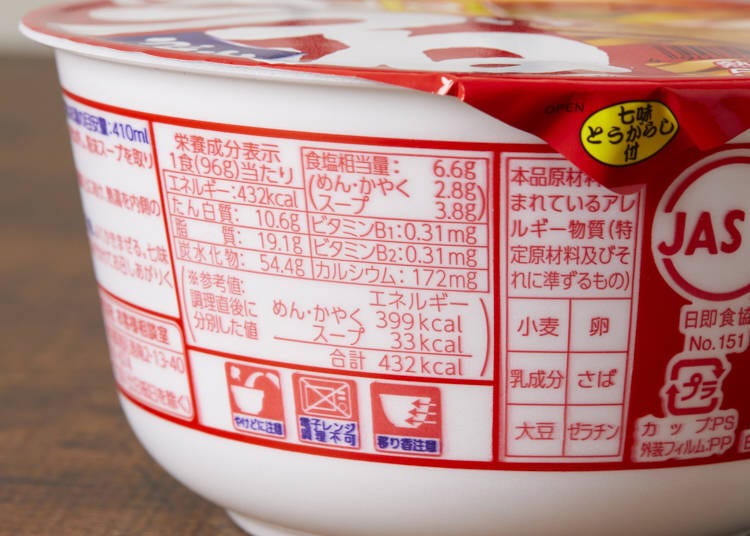 Another essential tip for choosing instant noodles concerns how easy it is to read their ingredient lists. Much like the size of the product image, a prominently displayed ingredients list is proof the manufacturer is confident in their ingredients. The aforementioned "Akai Kitsune Udon" has a list of potential allergens on the right side. A translation app will help you decode it.
In our research for this article, we found two products that fulfill all of the conditions above. Those two were "Akai Kitsune Udon" and "Maruchan Seimen Cup." Both are flagship brands of Toyo Suisan, one of Japan's biggest food product manufacturers.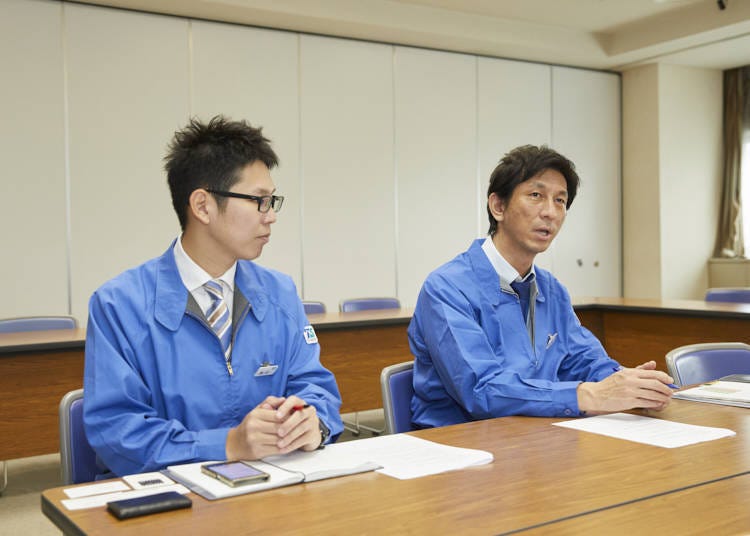 How did their brands build their popularity and come to be known by so many Japanese people? To answer this question, LIVE JAPAN's editorial team interviewed two people from the company's processed food division, Nakajima and Sumita!
What kind of company is behind the Maruchan juggernaut?
Toyo Suisan began as a fishing industry company and expanded in the 1950s with the addition of processed fish-based foods. What got them into making instant noodles?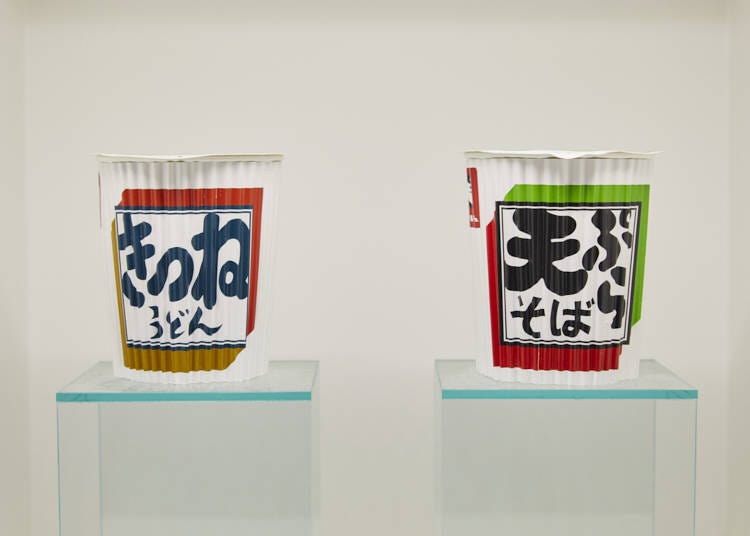 "In the 60s, there was an explosion of companies making instant noodles, and that includes Toyo Suisan. They began with the bagged type, and their Japanese style kitsune udon and tempura soba cups, both industry firsts, were huge hits. For Akai Kitsune Udon, the cup was expanded into a bowl, and became a long-seller for our company." (Nakajima)

"Now we produce around 200 kinds of instant noodles for sale. We introduce new products almost every week, creating over a thousand each year in the industry. However, few of the products will be produced beyond an entire year." (Sumita)

Who knew the instant noodle industry was this turbulent? The fact that Toyo Suisan instant noodles still dominate instant noodle isles is telling of their overall flavor and popularity.
Giving it all for the perfect cup of instant noodles! What makes Akai Kitsune Udon special?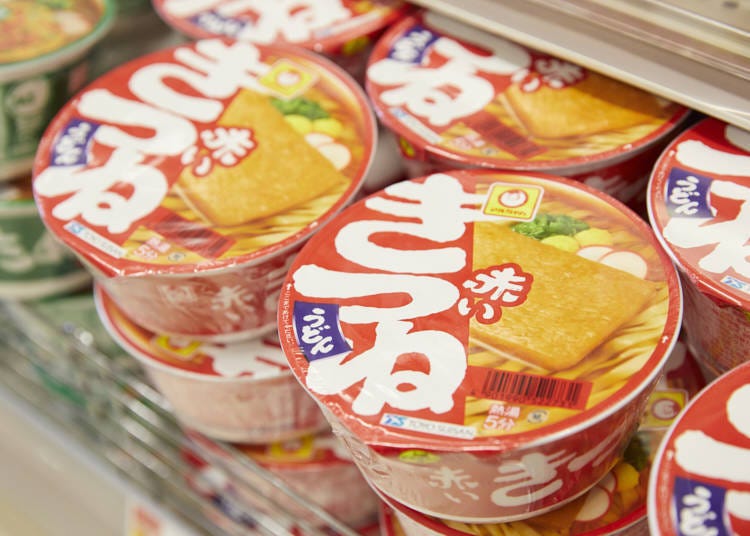 Somehow, through all the cutthroat competition of the instant noodles industry, Toyo Suisan's noodle-making expertise enabled Akai Kitsune Udon to survive indefinitely.

"Everything in the cup, including noodles, soup, and ingredients are vital, but the juiciness of the fried tofu is what gives it its reputation. Being a fish industry company at heart gives us a leg up on the soup, too." (Nakajima)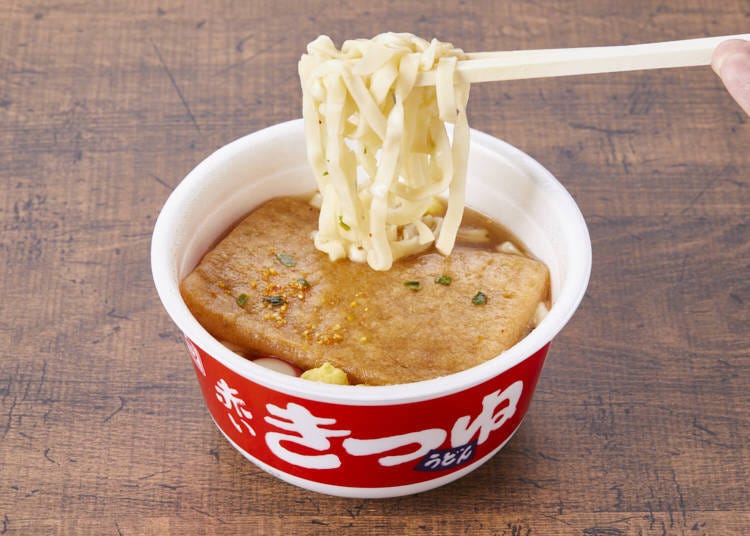 A big block of aburaage (fried tofu) floats atop a lake of clear broth, with flat-sided noodles underneath. The thought of it is enough to stoke the appetite of any Japanese individual.

"It's been 40 years since we started selling it, but Akai Kitsune is a product that's been polished to near perfection. The noodles are carefully created to account for the temperature and amount of water used to prepare them. Big and round Sanuki udon noodles are great, but if we used them as our noodles, it would no longer be Akai Kitsune Udon. Whatever improvements we find, we'll never change the look of it. Aim for perfection, but respect the past." (Nakajima)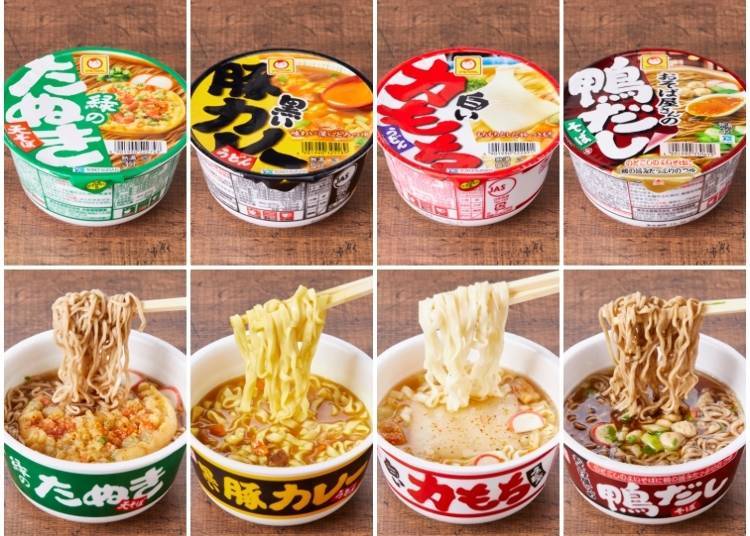 The Akai Kitsune Udon series has lots of entries. Each has its own flavors and ingredients.

"The Akai Kitsune Udon is in a series with Midori no Tanuki Ten Soba, Kuro Buta Curry Udon, Shiroi Chikara Mochi Udon, Kon no Kitsune Soba, and more, with typical sizes, "Mame" small servings, and "Dekamori" large servings." (Nakajima)

"Also, Akai Kitsune Udon and Midori no Tanuki Ten Soba have four flavor variations depending on where you buy them." (Sumita)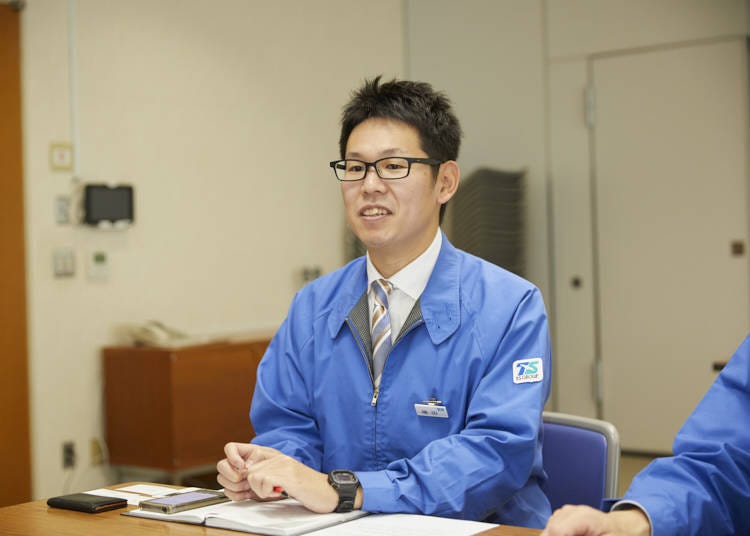 Four of them?! How are they different?

"From the very beginning, it had east and west Japan versions. The East Japan version has a sharper soy sauce flavor, while the West Japan version is less prominent, focusing more on the broth base. Starting in the 2000s, we added Japanese sardine broth to the West to make a Kansai version, and to the East, the addition of Rishiri kombu seaweed broth created a Hokkaido version." (Nakajima)

It sounds more and more like their fish industry origins is what helped create the bestselling series. But which in the Akai Kitsune Udon series sells the most?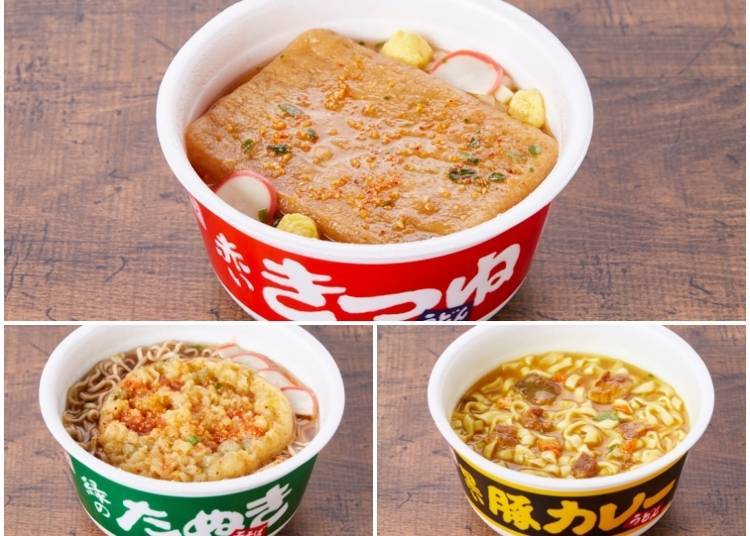 "On top is Akai Kitsune Udon. Next up is Midori no Tanuki Ten Soba, then Kuroi Buta Curry Udon, then Shiroi Chikara Mochi Udon." (Nakajima)

Specialty soups and chewy noodles keep the Akai Kitsune Udon series on top. See how many of them you can try while you're in Japan!
The astounding quality of Maruchan Seimen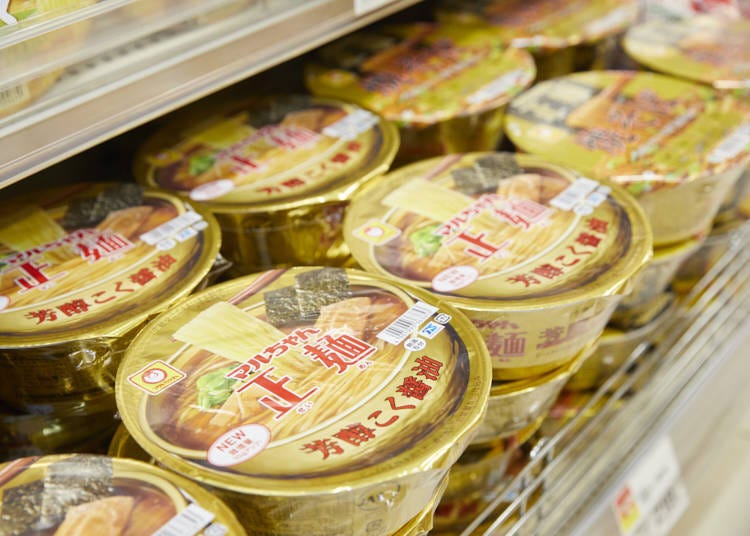 As much as we talked about Akai Kitsune Udon, another Toyo Suisan product that dominated the Yaoko instant noodles section as Maruchan Seimen. Mr. Sumita took part in its development and was more than happy to tell us about what went into it.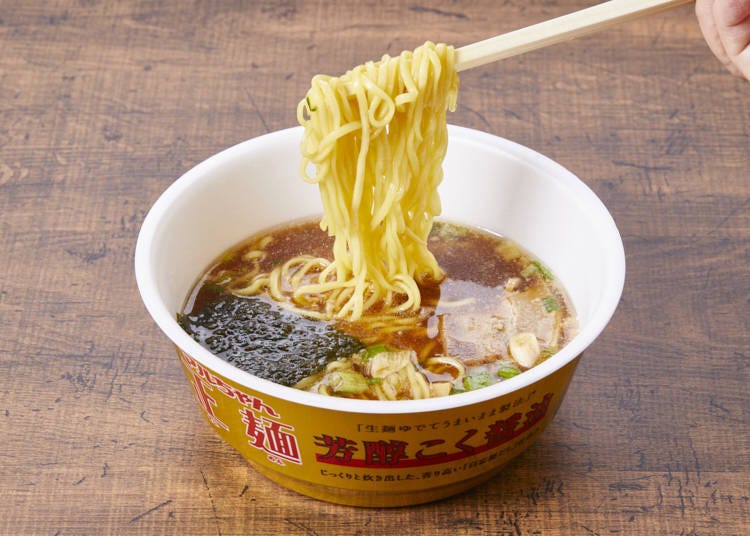 "Marucha Seimen noodles were created to replicate fresh, boiled noodles - not fried. They're sleek and smooth, with a sense of weight. Our goal was to make you feel like you were sitting down to eat in a ramen restaurant. It took us four years to develop the technology to create these noodles, then factory-produced them. But thanks to everyone's support, their sales took off immediately." (Sumita)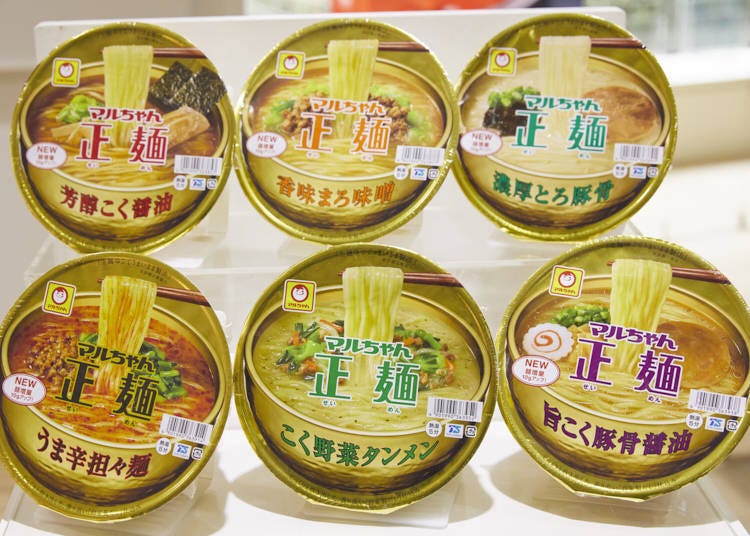 The "Noukou Toro Tonkotsu", "Koku Vegetable Tanmen," and "Umakoku Tonkotsu Shoyu" Maruchan Seimen instant noodle products are currently not available.
A lot of hard effort went into those noodles, which may be why they're featured so prominently on the packaging. That image alone is enough to set one drooling...

"The packaging was updated in 2019. The luxurious gold colors were left in place, and the bowl image was enlarged and its angle modified for better dazzle." (Sumita)

Maruchan Seimen has many varieties, too. Which one sells the best?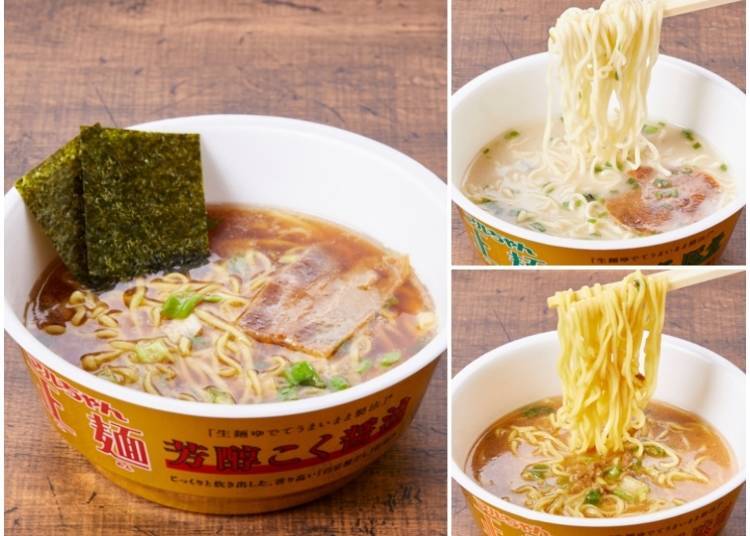 "On top is the full-bodied Soy Sauce flavor. Next is aromatic Miso, and Cup Yakisoba is also popular." (Nakajima)

All of them sound delectable... You might not have time to stop by a ramen restaurant in Japan, but you can always take back Maruchan Seimen to enjoy in your own country!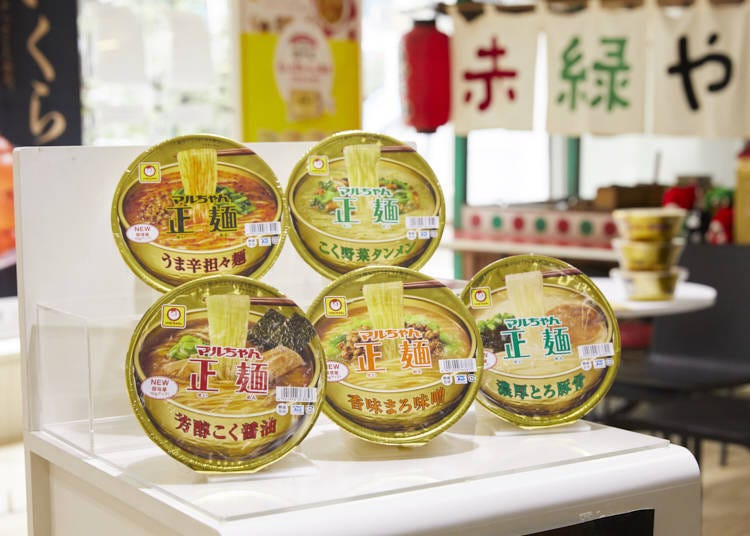 The "Noukou Toro Tonkotsu", "Koku Vegetable Tanmen," and "Umakoku Tonkotsu Shoyu" Maruchan Seimen instant noodle products are currently not available.
We hope that our dive into "How to Pick the Perfect Instant Noodles" was helpful for you! No doubt by now, you're well-aware how Toyo Suisan's products are truly the cream of the crop. It seems like the perfect reason to try Akai Kitsune Udon or Maruchan Seimen Cup as a late-night snack, or take them home as a souvenir.
Coverage for this article was done on January 23, 2020.
*This information is from the time of this article's publication.
*Prices and options mentioned are subject to change.
*Unless stated otherwise, all prices include tax.