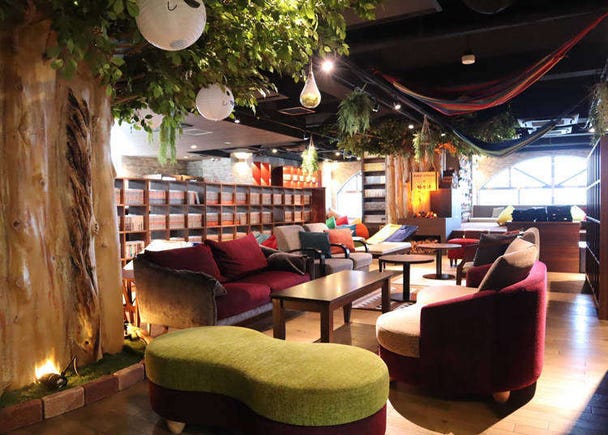 Tokyo Station, as the name suggests, is the gateway to Tokyo city - the terminal station that everyone has to pass through whether they're heading to other parts of the country or surrounding suburbs for shopping and sightseeing. Some people have so much fun with their activities that by the time they make it back to Tokyo Station, every other mode of transportation has already closed down for the day!

Unlike other cities, Japan's trains don't keep going throughout the night, so this problem is more common than you might expect! But not to worry, because here are some fantastic places accessible from Tokyo Station that you can chill out in until the morning trains start running again.
Raku Spa 1010 Kanda: Customizable relaxation with shower rooms, nap rooms, and comics for days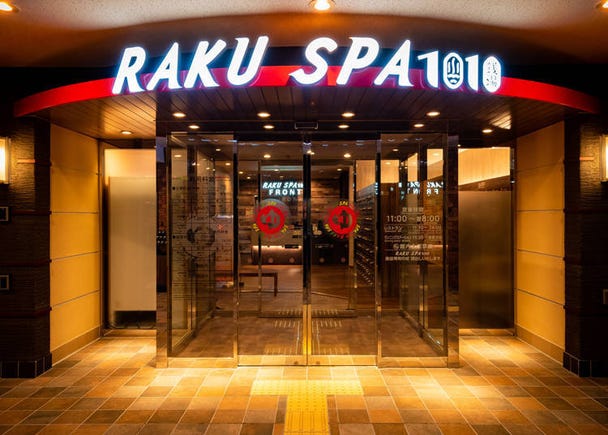 A relaxing shower, chatting with friends, spending time together, resting, and napping - sometimes, you wish you could do all of that at once, as impossible as that may sound. But is it really impossible? Head down to Raku Spa 1010 Kanda that's about a 5-minutes walk from Ochanomizu Station's Hijiribashi Exit to have your dreams come true! Located a manageable two kilometers (about 1.2 miles) away from Tokyo Station, you'll reach in about five minutes via the JR Chuo Line, or in about 10 minutes by taxi.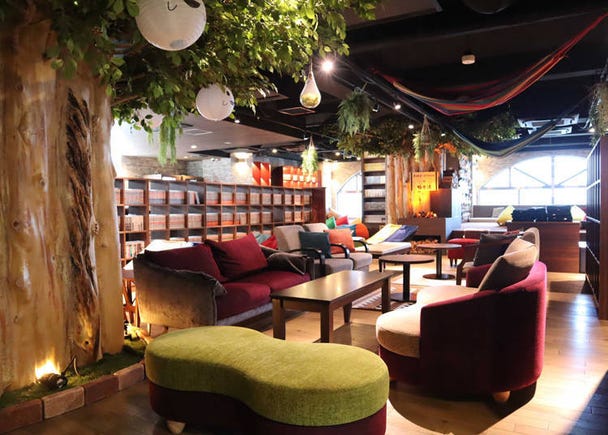 The concept behind this facility is a city oasis that combines spaces for "healing", work, and interaction. In addition to regular public baths and saunas, you'll also find co-working spaces, dining rooms, and even a pub! This new type of spa facility allows you to choose the activity that fits your personal idea of relaxation best.
There are plenty of hammocks and sofas for you to lounge around in. The place is also fully stocked with manga (Japanese comics) and charging ports - more than what you would usually expect to see in a health center or spa facility.

It's a lot more accessible than normal hotels, making it popular among people of all ages, from students to working adults. Who wouldn't want to spend time surrounded by such a relaxing and trendy-looking interior space, anyway?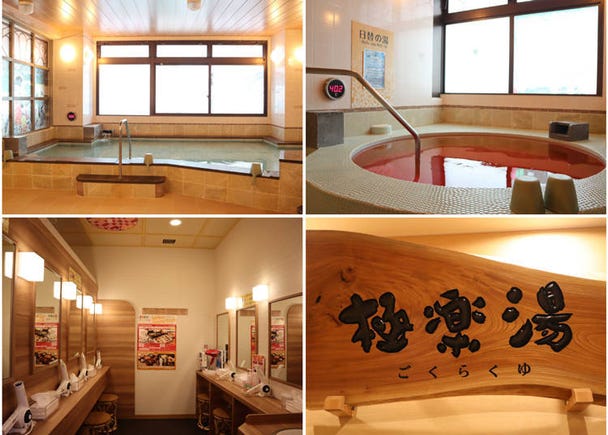 Gokurakuyu is a hot spring and sauna space within the facility that's open until very late at night. Amenities and towels are available at a fee, so there's no need to worry about dropping by empty-handed.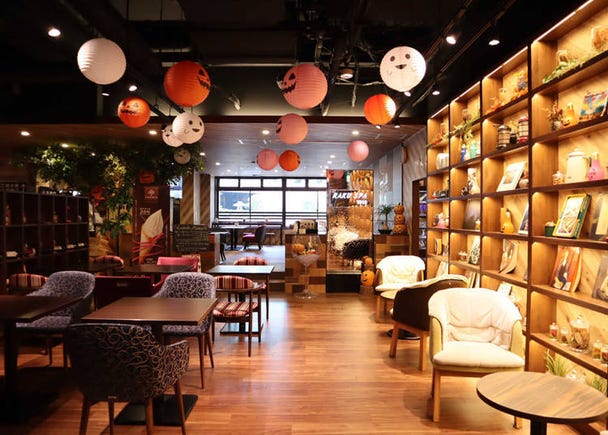 The spacious dining area serves everything from finger food to proper meals. There's also a variety of alcoholic drinks and beer tasting sets if that's your type of late-night leisure! The full menu of tasty treats can definitely last you through the night without issues. During lunch time, the restaurant will be the only space open for business within this facility.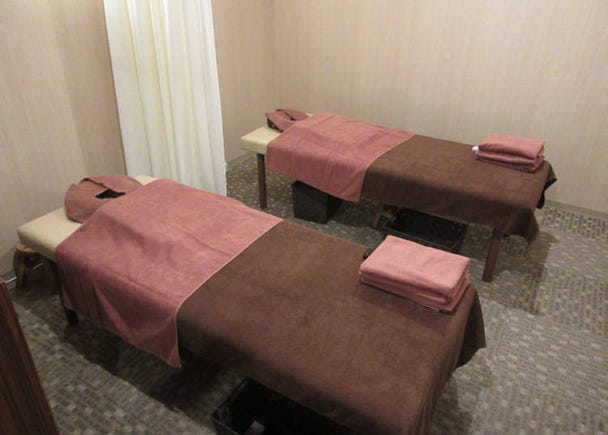 For relaxation spaces, full body or foot massages can be booked before 10:30 p.m. After 11:00 p.m., the massage parlor is converted into a women-only sitting room.
Here's a picture of what another 24-hour women-only sitting room within the facility looks like. This is a nice touch that allows women to enjoy their late-night stay here with complete ease of mind.
There aren't really too many well-equipped spa facilities that welcome people of all demographics near Tokyo Station, so taking the time to go slightly farther for a space that's comfortable for all is definitely worth the travel. You can even use it as a jogger's pitstop or regular late-night public bath and sauna. However, take note that this option will not grant you access to the Raku Spa floor, and the bath and sauna is closed between 1:00 a.m. to 5:00 a.m. daily.

With so many packages for different uses available, however, you can be sure to find one that suits your needs perfectly.
RAKU SPA 1010 神田

Address

Tokyo Chiyoda-ku Awaji 2-9-9

Nearest Station

5-minutes walk from Hijiribashi Exit of Ochanomizu Station on the JR Chuo-Sobu Line
5-minutes walk from Exit B2 of Shin-Ochanomizu Station on the Tokyo Metro Chiyoda Line
5-minutes walk from Exit A5 of Awajicho Station on the Tokyo Metro Marunouchi Line
5-minutes walk from Exit A5 of Ogawamachi Station on the Toei Shinjuku Line
10-minutes walk from Kanda Station on the JR/Tokyo Metro Ginza Line


Phone Number

03-5207-2683

Business hours: 11:00-8:00 the next day (lastest check-in 7:00)

Example Course Pricing:
[RAKU SPA Course (10 hours)]
Weekdays: 1490 yen (tax included)
Saturdays, Sundays, and holidays: 1590 yen (tax included)
Late-Night Premium (1:00 a.m. to 5:00 a.m.): 1,300 yen on top of above fee (tax included)
<Hours>
11:00 a.m. – 8:00 a.m. the next day (last entry: 7.00 a.m.)
<Areas>
All facilities, sauna rooms
Bagus Ginza: Too early for bed - Play some billiards or darts instead!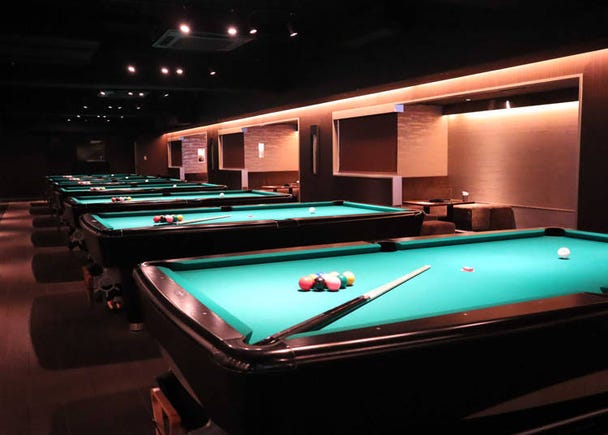 For regular night owls who would rather sacrifice rest for play, how about a game of billiards or darts at Ginza, a town that's very near Tokyo? This is where Bagus Ginza is located - the largest amusement facility in Ginza that provides a playground for sophisticated entertainment for adults.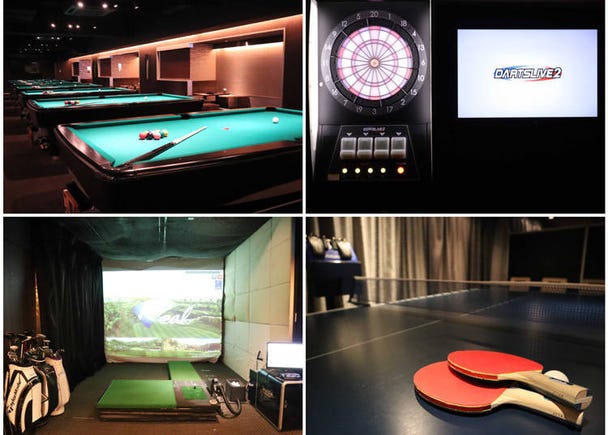 There's no shortage of entertainment activities here to sate your late-night wanderlust - billiards, darts, table tennis, karaoke, golf simulators, and others. You'll also find enjoyable cuisine in the facility's restaurant space, which offers a range of alcoholic beverages and proper meals.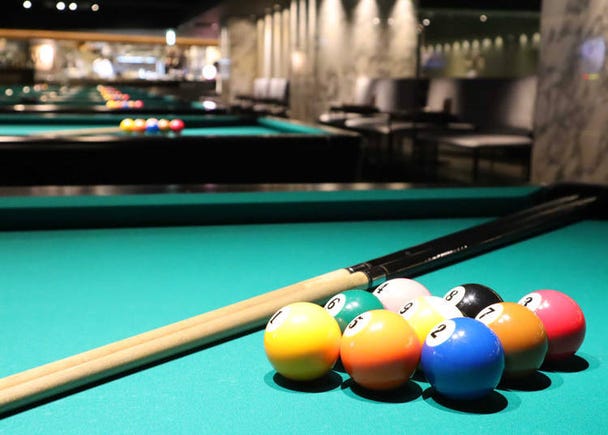 Staff on hand will explain to you the basics and rules of billiards and darts, so even if you've never played these games before, you won't be at a complete loss. For expert players and those wanting to practice their skills in a serious setting, professional trainers are available to give lessons every Tuesdays and Thursdays from 6:00 p.m. to 11:00 p.m. The late-night billiard package that's only available from Mondays to Thursdays and Saturdays from 11:00 p.m. onwards is also great value for those who want to enjoy the game all through the night without needing to worry about ad-hoc costs.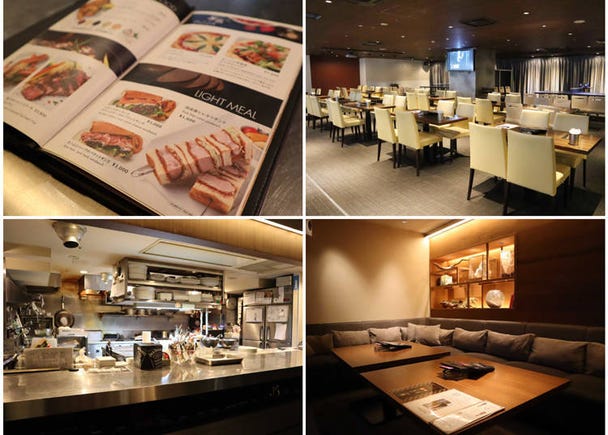 The facility's restaurant space is large enough to be often booked for corporate events and wedding after-parties. The fact that there's a place to go to for proper food in the middle of the night is something night owls can definitely appreciate.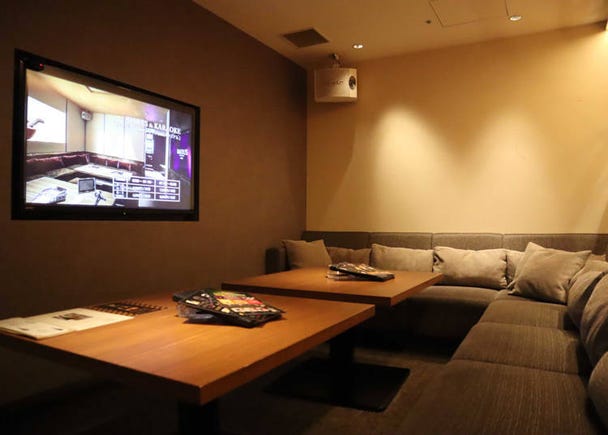 Pictured here is a private room equipped with karaoke functions. In fact, private rooms are available in just about every segment of the facility - billiards, darts, karaoke, and golf simulation. These comfortable spaces are just right for tired souls wanting to soak a little bit of privacy during their late-night activities.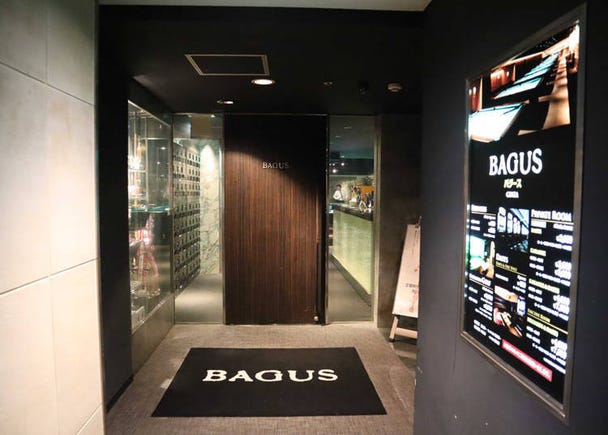 Bagus Ginza is known for the premium and stylish leisure spaces it offers, and patrons range from businessmen who drop by after work to students looking for a place to unwind. With so many well-equipped entertainment facilities available in one convenient stop, watch out that you don't accidentally stay longer than planned, because time flies when you're having fun!
BAGUS銀座店

Address

Daiwa Ginza Bldg. B1F, Ginza 6-2-1, Chuo-ku, Tokyo-to 104-0061

Nearest Station

5-minutes from Ginza Exit of Yurakucho Station on the JR Lines; 2-minutes from Exit C2 of Ginza Station on the subway; 6-minutes from Exit 7 of Shimbashi Station; 6-minutes from Exit 1A of Shimbashi Station on the Yurikamome


Phone Number

03-6219-0353

Hours: Mondays to Fridays 3:00 p.m. – 5:00 a.m. the next day; Saturdays 12 noon – 5 a.m. the next day; Sundays and public holidays 12 noon – 5 a.m. the next day

Price List
[Billiards]
From Shop Opening – 7:00 p.m.
Sundays to Thursdays / public holidays 400 yen; Fridays/Saturdays/Public holiday eves 530 yen
*For 30 minutes per person, one mandatory drink per person to be bought separately

[Darts]
Sun - Thurs (including national holidays) 480 yen
Fri, Sat, day before a national holiday 780 yen
*Per person. Each new game from 100 yen
From Shop Opening – 5:00 a.m. the next day
Ally's Bar: A trendy bar near the station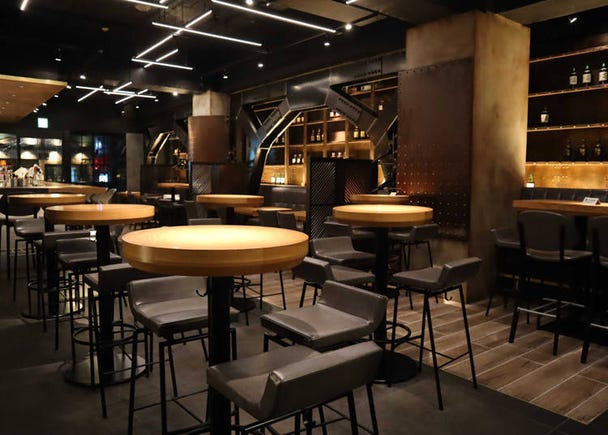 Ally's Bar is located quite near from Tokyo Station's Yaesu Kita Exit. Established in the year 1985, the name is a clever portmanteau of the words "all" and "always", which perfectly describes the bar's motto - a bar that always provides entertainment for all!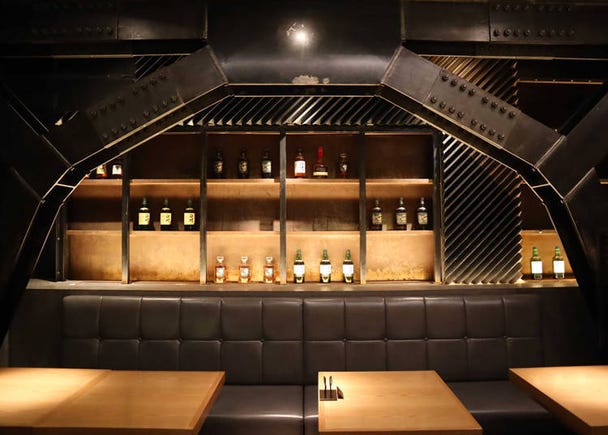 The bar's tastefully designed interior is a harmonious blend of three elements - metal, wood, and stone. In May of 2017, the shop underwent renovations and gained new life with a design that's more chic and trendy than before while still maintaining its original vibe. Together with dim lighting that's meant to provide a sensory experience to patrons, the shop lives up to its purpose of being a space for social interaction between adults.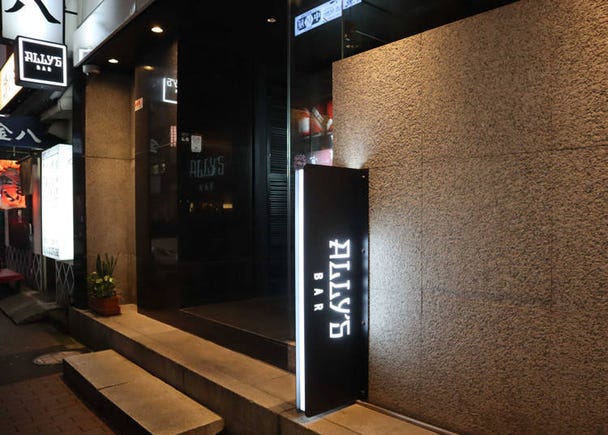 Even the exterior looks so stylish! The stone wall face serves as its landmark.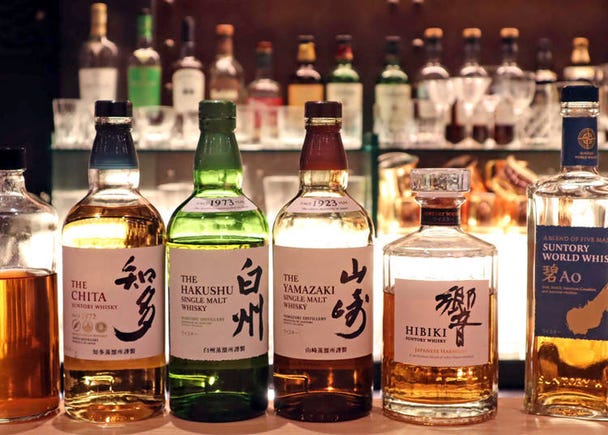 This is a full-scale bar with all the drinks one would come to expect from one. The main focus is on Suntory whiskey, though the menu includes other alcoholic beverages and casual food as well. As previously highlighted, the bar is host to people of all demographics, from youths to the elderly, couples to business people. After-party hour starts from 8:00 p.m. onward, and the bar is usually filled to capacity during this time period, though it'll be relatively easier to find a seat on weekdays after the last train.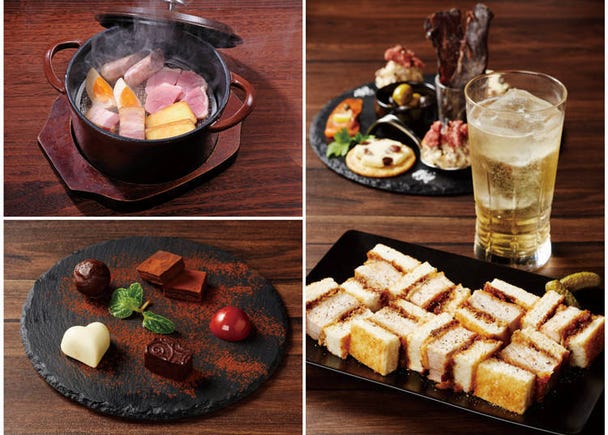 The recommended items to try here are the highball drinks made from Suntory whiskey brands such as Yamazaki or Shirasu. There's also the bar original "Yaesu Highball", which features whiskey-pickled orange slices, lemon slices, and ginger slices, creating a fruity taste that's easy on the throat. It's a great entry beverage for ladies who are new to highball drinking. In the area of food, try out their cutlet sandwiches, homemade smoked dishes, or chocolate dessert platters.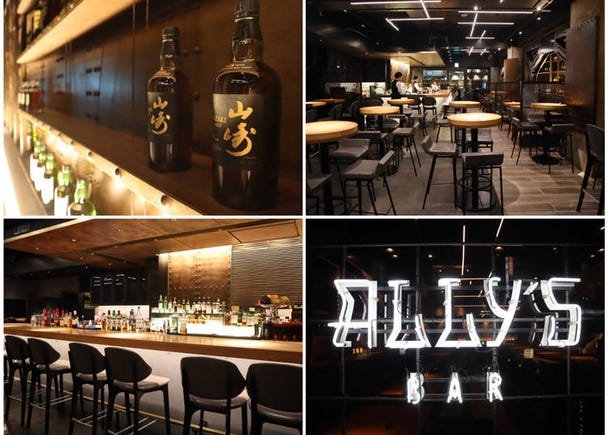 Since the bar is located very near the station, traveling here is quite safe even during late hours. The shop also comes conveniently equipped with charging points so your electronic devices can stay up with you all through the night as well. Simple amenities like oil blotting papers for ladies who wish to refresh their makeup are available, demonstrating their dedication to giving good service to all patrons. Definitely consider this bar as an option for a trendy late-night outing if you're looking for a place with a bit of a grown-up atmosphere.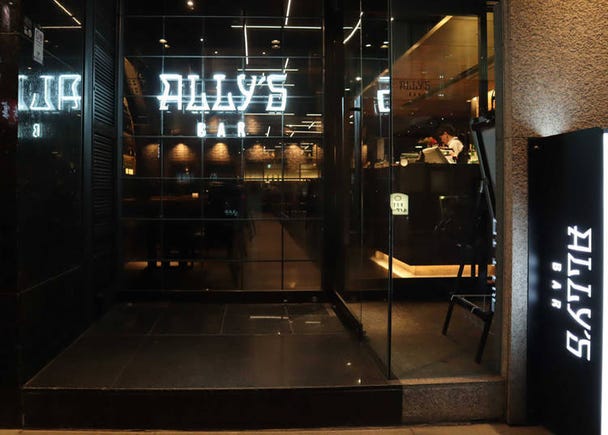 ALLY'S BAR

Address

Yaesu Guchi Kaikan 1F, 1-7-20, Yaesu, Chuo-ku, Tokyo-to

Nearest Station

1-minute walk from Yaesukita Exit of Tokyo Station on the JR Lines; 3-minutes walk from Exit B3 of Nihombashi Station on the Tokyo Metro Ginza Line; 3-minutes walk from Exit A3 of Nihombashi Station on the Tokyo Metro Tozai Line


Phone Number

03-3271-9077

Hours
Weekdays 6:00 p.m. – 4:00 a.m. (last order for food 3:00 a.m. / drinks 3:30 a.m.); Weekends 5:00 p.m. – 11:00 p.m. (last order for food 10:00 p.m. / drinks 10:30 p.m.)
Closed: Sundays and public holidays

Seats
70 total, including counter seats, sofa seats, and round table seats
*All seats are non-smoking. Minors below 20 will not be admitted into the bar.
Make the most of every moment in Tokyo!
A spa, amusement center, or bar - which is your personal pick? Whichever you do choose, you can be sure that an exquisite experience unique to sophisticated urban cities like Tokyo awaits. Now, missing the last train doesn't seem like such a terrible ordeal after all. In fact, some experiences can only be had at night, so if you ever do find yourself in such a predicament, roll with it and try out some of these activities that are only available late at night, and enjoy all that Tokyo has to offer to the full.

Translation by Huimin Pan
*This information is from the time of this article's publication.
*Prices and options mentioned are subject to change.
*Unless stated otherwise, all prices include tax.