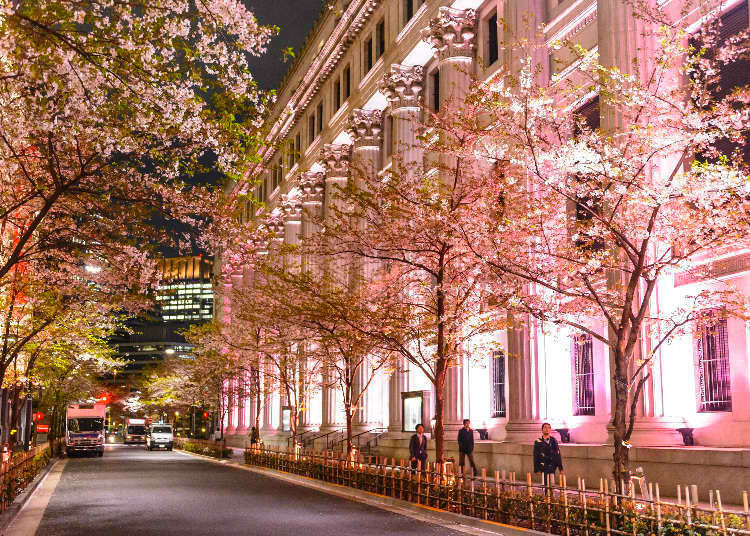 Nihonbashi has been a thriving hub of activity for Tokyo since the capital was still known as Edo, during the 1600s to 1800s. It comes as no surprise, therefore, that there are amazing sakura cherry blossom viewing spots scattered throughout the area.

It is also the venue for the 2019 Nihonbashi Sakura Festival, held from the March 15 to April 7. This event allows all to admire sakura in many different and interesting ways, and the theme encourages people far and wide to gather together for sakura events that will be taking place in a few venues within Nihonbashi.

One of the venues for the event is Coredo Muromachi, a shopping district with a dazzling variety of commercial shops - from well-established eateries oozing with traditional appeal to the trendiest shops of the town. After "Coredo Muromachi 2/3" opened in the year 2014, Nihonbashi has become busier than ever, and will definitely be one of the best places to start your Nihonbashi sakura appreciation tour!
Nihonbashi's Sakura Illuminations Will Take You into Another World
・Event Period: Friday, March 15 – Sunday, April 7, 2019
* Exact starting time of illuminations may vary according to individual facilities
Buildings in the Nihonbashi Area, including the cultural legacy Mitsui Honkan, will be illuminated with fantastical lights patterned after sakura. All of Coredo Muromachi 1/2/3 will be taken over by a beautiful sakura pink sheen as well - a rare sight that's absolutely worth checking out. Walking down the streets of Nihonbashi at night while basking in the imminent arrival of spring will be a great way to pass time.
The Tree of Light: Tomoshizakura - The Most Glamorous Fantasy Sakura Tree on This Side of Japan
・Event Period: Friday, March 15 – Sunday, April 7, 2019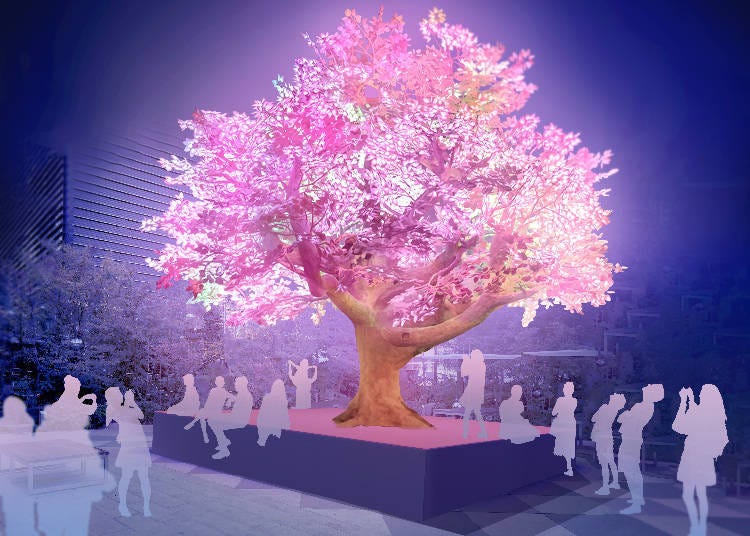 Over in Fukutoku-no-Mori (Fukutoku Forest), a well-known relaxation spot in Nihonbashi, an eight meters, or 26 feet tall digital tree, "The Tree of Light: Tomoshizakura" will loom over gathered crowds. This special installation is a digital artwork that reproduces an actual sakura tree, and the approximately 100,000 LED light bulbs that can be found in each and every leaf of the tree react dynamically to sounds and even the passing breeze, creating an intriguing space for a magical night of sakura viewing. This will also be the first appearance of what is known as digital art on Japanese soil. Don't miss the opportunity to check out this avant-garde art medium that caused a huge sensation even at Burning Man, the largest-scale art event in the world.
Step on a Sakura Carpet That Blooms Beautifully Along with Your Every Move
・Event Period: Friday, March 15 – Sunday, April 7, 2019
* Active from 5:00 p.m. to 8:00 p.m.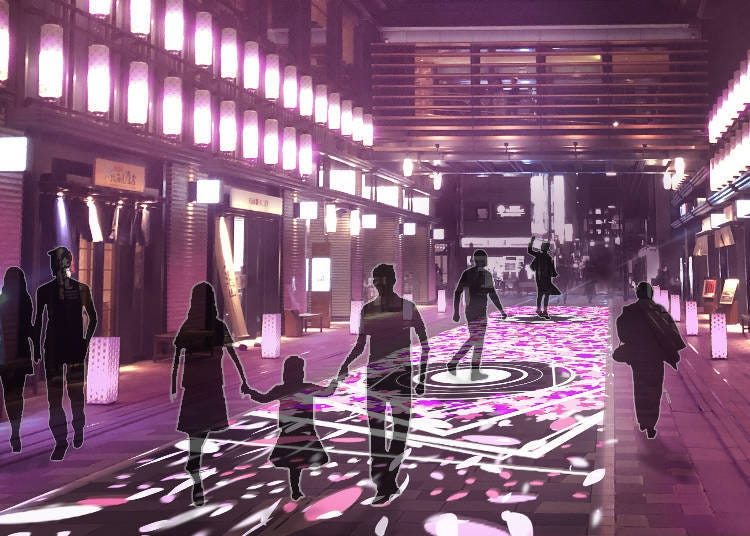 A magical sakura carpet will be rolled out along Naka-Dori, the street leading to Fukutoku Shrine during the event. The 16 meters, or 52.5 feet long sakura carpet is a joint interactive project between Nihonbashi and the first batch of young creators from "nihonbashiβ", a workshop program that connects young creators with iconic shops in Nihonbashi to reinvent the town and offer fresh new experiences. The sensors in the carpet are designed to detect movement and slowly turn the street floor into a brilliant shade of sakura pink. It's not every day you get to make sakura bloom with every step you take, so you can be sure you'll be making some very unforgettable memories here!
Get Into the Sakura Viewing Mood with Sakura-Themed Food, Snacks, and Assorted Goods with the Nihonbashi Sakura Menu Walk!
・Event Period: Friday, March 15 – Sunday, April 7, 2019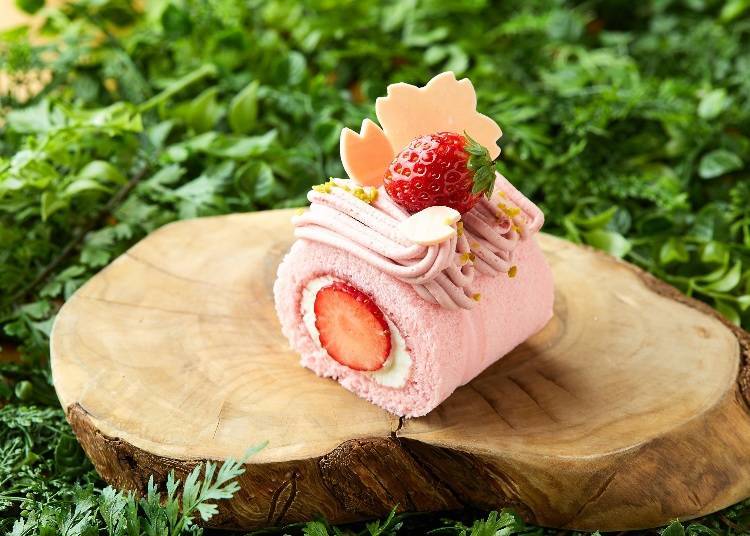 Nihonbashi Sakura Menu Walk is a joint effort by about 190 participating shops within the Nihonbashi area. You can expect to find sakura-themed food or other goods in these popular shops, exquisitely crafted just for the event. And since shops in Coredo Muromachi, Nihonbashi, Yaesu, and Kyōbashi feature virtually everything under the Japanese sun, you're bound to find something that tickles your fancy! Savor the feeling of spring with food designed just for this season while searching for that perfect sakura-themed item you never knew you needed until you saw it. Bonus tip: All items on the Sakura Menu are perfectly photogenic and bound to make waves with your friends on social media!
Limited Time Items from Popular and Established Stores at the Nihonbashi Sakura Yatai (Street Food Stalls)
・Event Period: Saturday, March 30 – Sunday, March 31 2019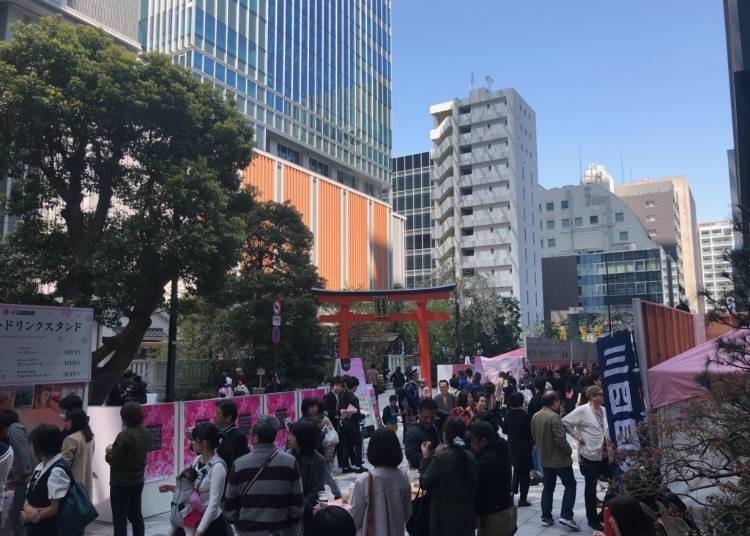 In the vicinity of Fukutoku Shrine, a two-day only yatai (street food stalls) will be held during the event, and street food vendors, mainly from "Miyoshikai", the youth wing of the Nihonbashi Restaurant Association will come together to serve up delicious gourmet treats to hungry visitors. Of course, restaurants from Coredo Muromachi will be setting up stalls here as well, offering menu items specially made for the event. Naka-Dori and Ukiyo Shoji are the streets to watch if you're looking to bask in the traditional Edo aura this sakura season!


As you can see, Nihonbashi Sakura Festival is absolutely the place to be for those looking for a new type of sakura viewing experience. Sit back and admire beautiful sakura flowers along with the rare sight of Nihonbashi being made over in sakura-pink - all while treating your taste buds to the latest sakura-themed food and beverages. Everyone is welcome to join the event and make full use of their five senses to usher in a new spring in Japan.
Written by: Yoko

*This information is from the time of this article's publication.
*Prices and options mentioned are subject to change.
*Unless stated otherwise, all prices include tax.
Recommended places for first-time visitors to Tokyo