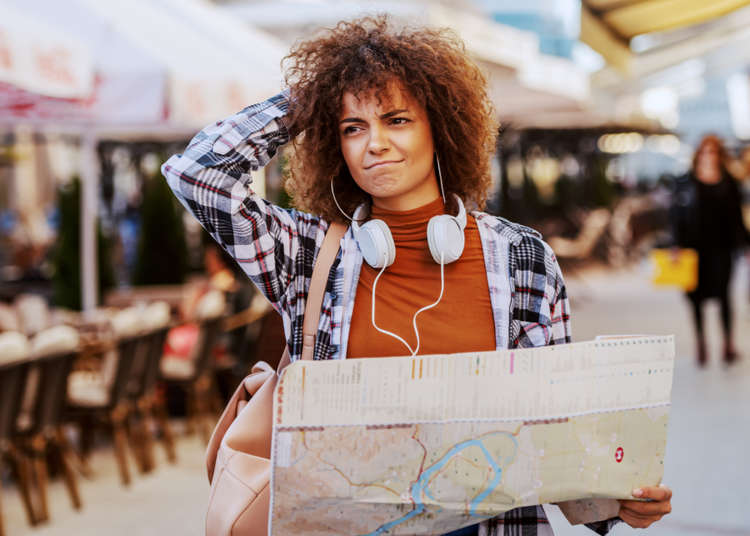 Tokyo, the famous international metropolis. It's the center of Japan, home to the headquarters of innumerable global corporations, a place of bustling business and economics. Landmarks such as Tokyo Skytree and Shibuya Crossing never seem to sleep, the traditional neighborhood of Asakusa and its Senso-ji Temple are always bustling with tourists, old downtowns such as Yanesen transmit nostalgic charms, and the high-end shopping district of Ginza attracts people from far and wide. Tokyo is a treasure trove of sights and experiences for people from around the world, birthplace of thousands of trends, and the beating heart of Japanese politics and economics.
On the other hand, few people of this giant city know that 47% of the Tokyo's inhabitants are from entirely different prefectures, excluding the neighboring prefectures of Saitama and Kanagawa. Four to five of 10 people living in Tokyo are from rural areas, and a lot of them have moved to the city for college or to find a job. Just like international tourists who come to Tokyo for the first time, those Japanese countrysiders also have their own experiences of culture shocks and surprises! This time, we look at the five most common things of Tokyo that stun people from the Japanese countryside!
1. Tokyo Seen by Countrysiders: the World's Largest City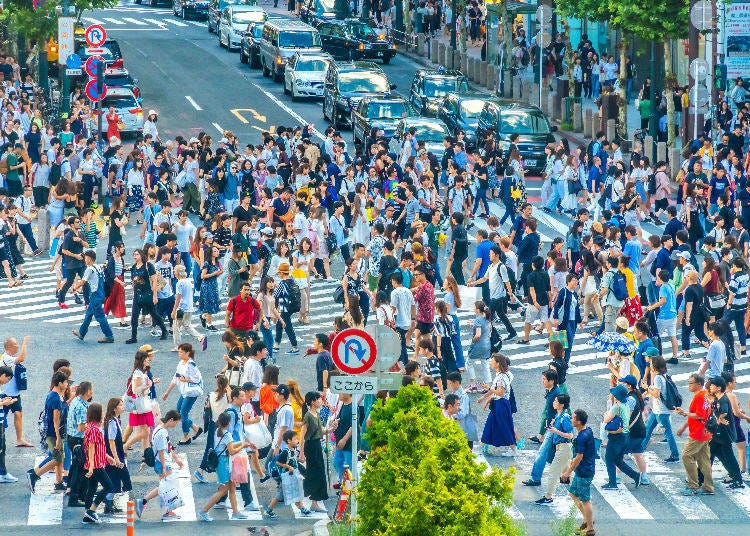 Is This Some Kind of Rally? People As Far As the Eye Can See!
The number one thing that stuns people moving from rural areas to Tokyo is the sheer number of people. The city's never empty and there's a constant stream of people day and night, so much that the author of this piece (from Gunma prefecture) thought that there's some sort of rally happening.

Tokyo's population stands out, even when compared to other major cities around the world. The United Nations' "The World's Cities Data Booklet" of 2016 announced that in its ranking of cities with more than 10 million inhabitants, Tokyo was the largest city with 38.14 million people, defining it as a city and its adjacent urban areas. Delhi in India is in the second place with 26.44 million, followed by Shanghai in China with 24.44 million people. The population difference to Tokyo is a whopping 10 million – there's no doubt that it is the city with the world's largest population.

The Trains Are So Full... It's A Frightening Number of Passengers!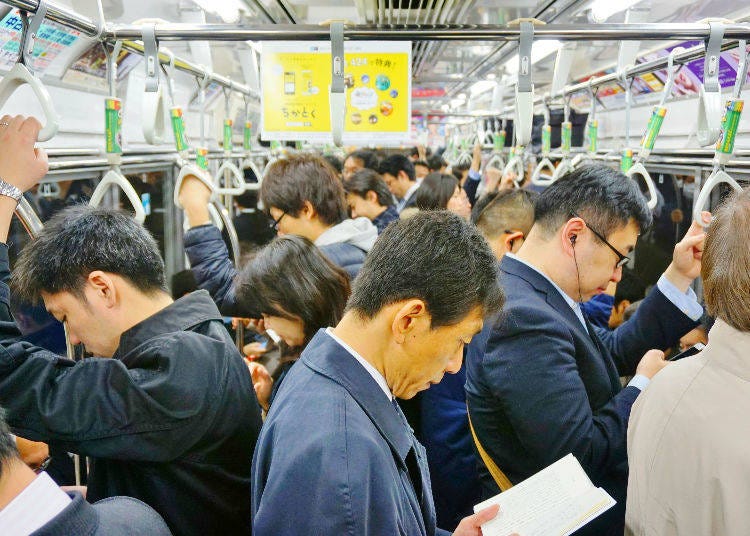 The crowded commuter trains is an image so closely linked to Tokyo, it almost is a synonym at this point. Seeing station staff literally pushing people into the trains during rush hours certainly is a shock to many people from the countryside.

The Ministry of Land, Infrastructure and Transport categorizes crowdedness of trains via the "congestion rate" inside a train for each area. It looks as follows: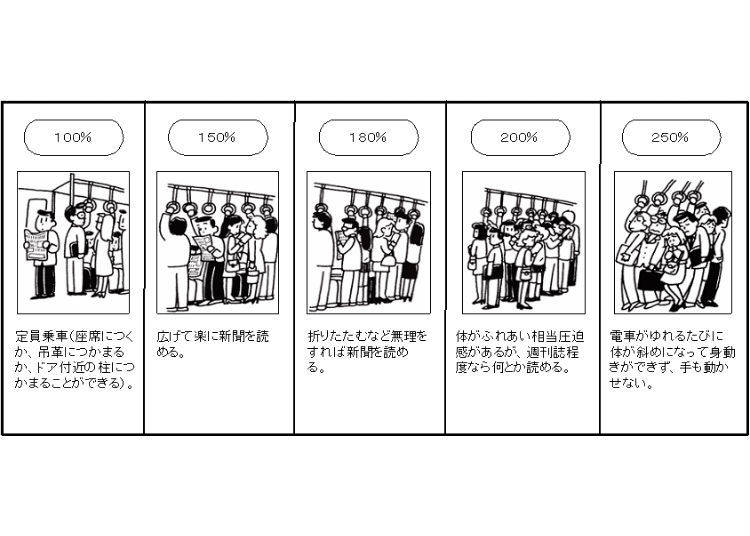 Source: "Changes in the average congestion rate in major wards of three metropolitan areas," Ministry of Land, Infrastructure and Transport

100%: the regular riding capacity (you can get a seat, hold on to the hand straps or rails next to the doors rather comfortably).
150%: you still have enough space to unfold a newspaper.
180%: you can still read the newspaper if you fold it appropriately.
200%: there's a bit of pressure from other people's bodies, but still enough space to read a weekly magazine.
250%: bodies press against you every time the train shakes, you cannot move your hands.

Based on the definition above and the data stated in a report called the "Changes in the average congestion rate in major wards of three metropolitan areas" by the Ministry of Land, Infrastructure and Transport, Tokyo's average congestion rate is 163%, followed by Osaka with 125% and Nagoya with 131%. Tokyo clearly stands out as the most crowded.
2. Tokyo Seen by Countrysiders: Every Station is a Maze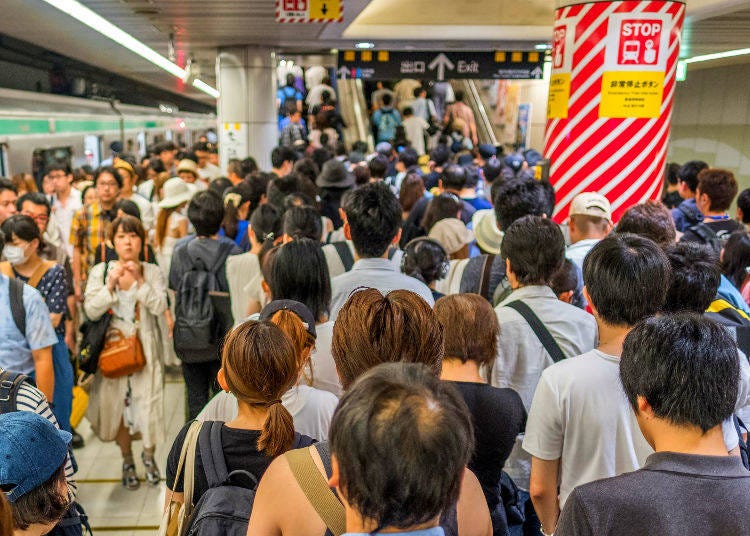 JR East, Tokyo Metro, Odakyu Electric Railway, Keio Electric Railway, Tobu Railway – these major companies make up Tokyo's railway network and its innumerable lines. Sometimes, it's described as the world's most complex public transportation network due to the large number of train lines. Pretty much everyone who moves to Tokyo from the countryside is overwhelmed and surprised by this complexity that Tokyo is so famous for.

A good example is the number of trains, differing by region. For the author, who grew up in Japan's countryside, one train per hour was the standard – seeing trains come and go within minutes was shocking. After living in Tokyo for 10 years, I have lost the habit of carefully keeping an eye on the timetable.

Here are some voices of other former countrysiders regarding Tokyo's trains:
"I can go anywhere by train." (man from Kyoto, 26)
"The distance between stations is short." (man from Niigata, 27)
"I'm amazed by how long the trains are." '(woman from Hiroshima, 25)
"The doors open automatically!" (man from Gunma, 26)

The structure of complex stations also is another point of surprise. Especially those served by many lines, such as Shinjuku, Shibuya, and Tokyo Station, are a huge maze for countrysiders. Next to multiple ticket gates and exits, the plethora of restaurants and shops scattered around the premises often prove to be a puzzle for Tokyo first timers. It is hard to get to where you want to go even when following the many guidance signs.
Another factor that bewilders people from rural areas is the number of people rushing about on the station premises. Shinjuku Station, for example, holds the Guinness Record for the world's busiest station, with an average of 3.64 million passengers per day. If you need to navigate one of Tokyo's major stations, I highly recommend planning ahead and leaving enough time.
3. Tokyo Seen by Countrysiders: The City Never Sleeps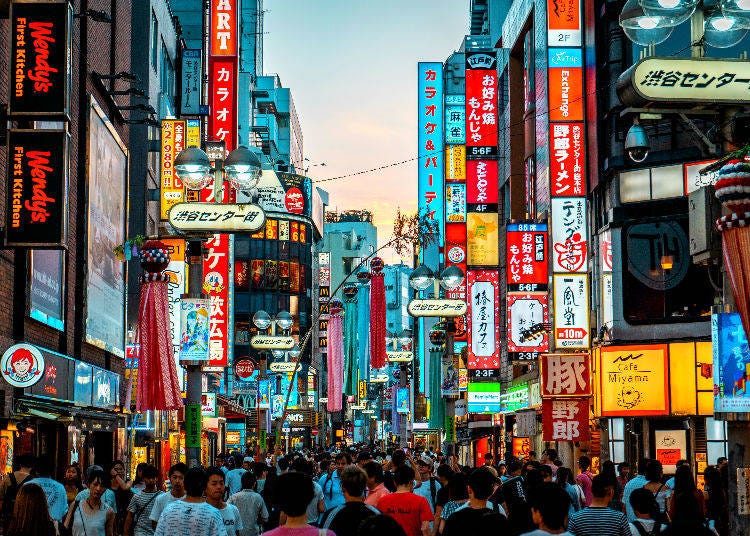 There are plenty of cities that are empty and quiet after midnight, even in their city center. Tokyo isn't one of them – there are people all around the clock and the sight of employees or students up and about even deep into the night is often baffling for countrysiders. Karaoke parlors and izakaya (traditional pubs) dot major neighborhoods such as Shinjuku, Shibuya, and Ikebukuro, and are either open all around the clock or until the early hours of the morning.
In rural areas, the last train departs at about 11:00 p.m., but Tokyo's trains usually run until 1:00 a.m., with taxis getting people from A to B throughout the rest of the night. The lights are never out, there are people everywhere. The sight of Tokyo in the early morning is nothing short of a shock to people from the countryside.

One way to enjoy this never-sleeping city is barhopping. As the name suggests, it's basically going from one bar to the next while drinking. Tokyo boasts several barhopping paradises crowded with bars and pubs, such as Golden Gai in Shinjuku, Ameya Yokocho in Ueno, and Asakusa's "Hoppy Street" being prime examples. Those kinds of areas often have "Dori" or "Yokocho" in their name to be easily identified. It's a fun and exciting atmosphere that is reminiscent of Tokyo's Showa era, an experience that cannot be savored in Japan's rural parts.
4. Tokyo Seen by Countrysiders: So Many Foreign Workers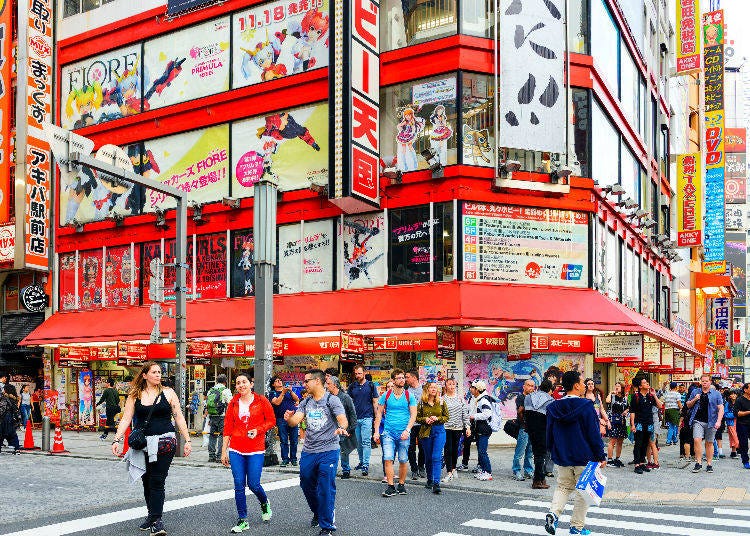 In recent years, the number of people migrating to Japan for work has increased. It's commonplace to see immigrant workers around town today, but until not too long ago, many Japanese people from rural areas were surprised by how many foreign workers there are.

According to a report from the Ministry of Health, Labour and Welfare, there are 1,278,670 foreign workers in Japan (as of October 2017). Among them are 394,834 people who work in Tokyo, which is an increase of 18.5% compared to the previous year – this increase is a rather steady trend. Looking at these numbers by prefecture, 30.9% of all immigrant workers in Japan are in Tokyo. Aichi is in the second place with 129,155 people (10.1% of the total number), so it is obvious that the majority of Non-Japanese workers live in Tokyo.
Here's a further breakdown: Chinese people account for 29.1% of the total number of foreign workers, followed by Vietnam with 18.8%, the Philippines with 11.5%, Brazil with 9.2%, and Nepal with 5.4%.

The report states that "the government's promotion of accepting highly skilled foreign professionals and students," "improvements in the employment situation, and increased employment of people with permanent residencies or Japanese spouses," as well as "more technical intern training programs being carried out" are key factors. Tokyo's population increases every year, but the issue of labor shortage is getting worse. It seems to be a situation of "the number of people will increase, but no matter what number, we won't be able to make it."

The Ministry of Health, Labour and Welfare's "Hello Work" also looked at the valid job vacancy rate (the ratio of jobs offers to people looking for a job) by prefecture, Tokyo is far at the top with a ratio of 2.16. Under these circumstances, immigrating workers are expected to be valuable assets to the workforce, and it is necessary to further promote being able to get a status of residence as a foreign worker and to further improve the working environment in the future.
5. Tokyo Seen by Countrysiders: The Rent is Completely Different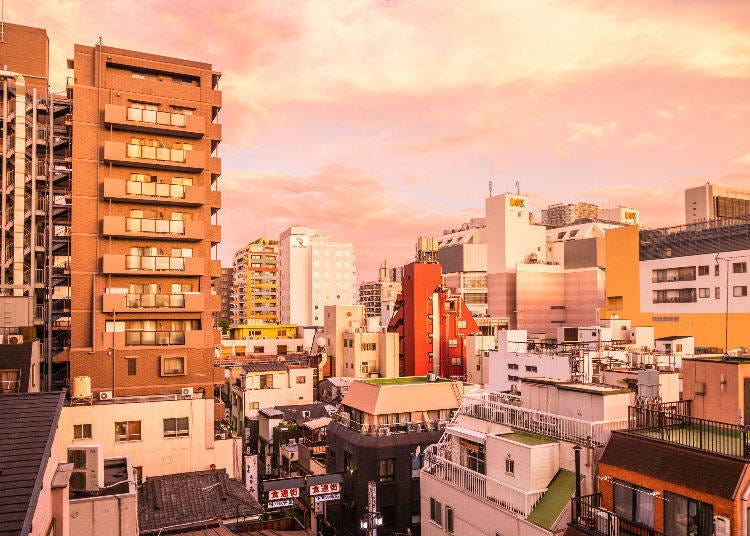 Rent is at the very top when to price differences between rural areas and Tokyo.

The Ministry of Internal Affairs and Communications published a survey about retail prices by prefecture in 2017. Unsurprisingly, Tokyo takes first place with the highest prices, followed by Kanagawa and Saitama. On the other hand, Gunma boasts the lowest prices, just after Miyazaki and Kagoshima that share the second-to-last place. So, what's the difference between Tokyo's high prices and Gunma's lowest prices when it comes to rent?

According to LIFULL HOME's, a service that provides real estate and housing information, the rent in Tokyo's popular areas (for one room, 1K, 1Dk apartments) are as follows (as of September 2018):

#1: Shinjuku Ward (97,600 yen)
#2: Nakano Ward (79,000 yen)
#3: Shibuya Ward (107,600 yen)
#4: Chūo Ward (107,200 yen)
#5: Minato Ward (125,500 yen)

On the other hand, the rent in Gunma's most popular areas (for the same apartment type) looks as follows (as of September 2018):

#1: Takasaki City (42,300 yen)
#2: Maebashi City (41,900 yen)
#3: Ōta City (37,200 yen)
#4: Isesaki City (34,900 yen)
#5: Tatebayashi City (38,000 yen)

The difference is obvious and it is hard to believe that the numbers are for the same apartment type.
But how different are the wages? There was a nationwide summary conducted in 2017 by the Ministry of Health, Labour and Welfare to look at just that. Tokyo is at the top with 377,500 yen, while Aomori Prefecture is at the bottom with 234,800 yen – a difference of 140,000 yen. The five top and bottom prefectures are as follows:

#1: Tokyo (377,500 yen)
#2: Kanagawa (329,500 yen)
#3: Osaka (326,100 yen)
#4: Aichi (318,300 yen)
#5: Kyoto (311,600 yen)
...
#43: Okinawa (244,400 yen)
#44: Akita (240,800 yen)
#45: Iwate (236,900 yen)
#46: Miyazaki (235,500 yen)
#47: Aomori (234,800 yen)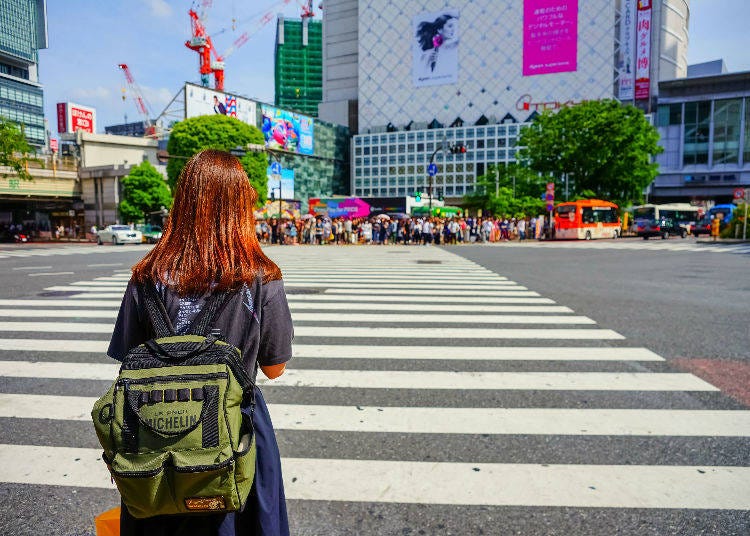 Tokyo is a place where people of all kinds of nationalities and religions live together – it's a curious mix of people from the countryside, foreign workers, and both domestic and international tourists. This mix creates its very own culture that Japanese countrysiders aren't familiar with; an entirely different side of Japan. Looking at Tokyo only, it's easy to understand why this place so fascinating! We've looked at quite a lot of peculiarities that make Tokyo so unique, but there's still many shocks and surprises left to discover. Go on your own Tokyo adventure and make your very own experiences!

Written by Tomoya Nakazawa
Top photo credit: Mahathir Mohd Yasin / Shutterstock.com
*This information is from the time of this article's publication.
*Prices and options mentioned are subject to change.
*Unless stated otherwise, all prices include tax.