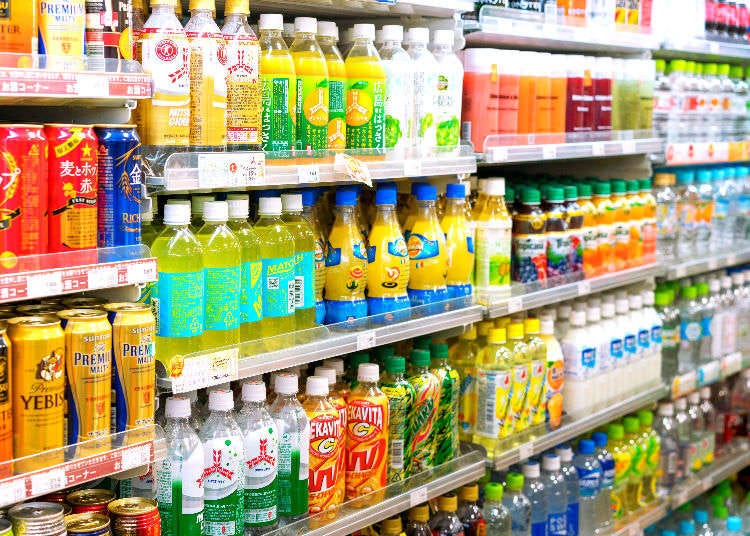 For the past few years, sparkling drinks have experienced a boom in Japan because of growing consciousness regarding health and nutrition. There aren't only sweet sodas on the market but also fizzy drinks with zero sugar, with plenty of new creations being released by major companies on a regular base.
In contrast to Europe, where sparkling water is enjoyed as it is, Japan has mainly used carbonated water to mix with whiskey and other spirits. However, more and more people in Japan are discovering it as a refreshment all by itself. Competition is fierce on the fizzy drink market, so we're going to show you our top 10 favorites at Keio Supermarket!
1. Wilkinson Carbonated Water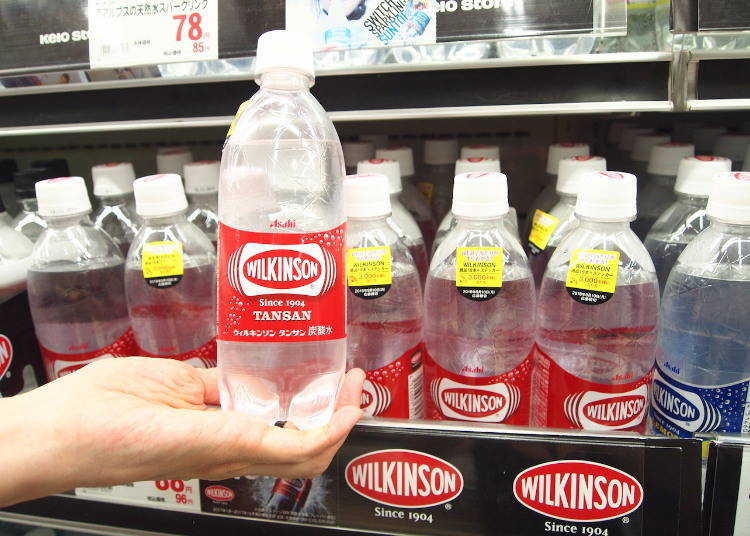 The Most Popular Choice
A highly carbonated water with a red label. (500 ml; Asahi Soft Drinks, 88 yen excluding tax)

Asahi Soft Drink's "Wilkinson Carbonated Water" sits on top of the popularity charts when it comes to simply enjoying fizzy water as it is. Its main characteristic is the strong carbonation and the repeated filtering, making for a wonderfully refreshing feeling and clear taste. This product's market share of the carbonated water category has reached a whopping 50% and celebrates an increase of 22.1% compared to 2017. For the past 10 years, this carbonated water keeps breaking records!
In 2011, the water switched from glass to a 500ml plastic bottle and together with Japan's low-sugar boom, it has become massively popular as a healthy carbonated water without any sugar.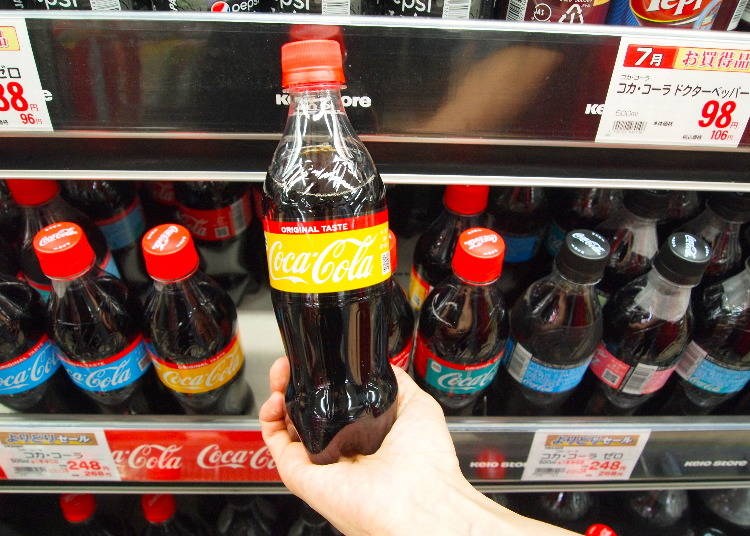 Ever Popular
Which color to choose? The limited color edition. (500ml; Coca-Cola, 88 yen excluding tax)

Coca-Cola was born in Atlanta, Georgia in 1886 and is a fizzy drink that is loved throughout the world. Its distinctive combination of fizz and acidity is popular among young and old alike. Since its Japan release in 1961, Coca-Cola has always ranked high in popularity and numerous varieties such as "zero," "caffeine zero," or "clear" keep consumers excited. The packaging, bottle size, and marketing may change, but it is Coca-Cola's original and unchanging taste that makes it such a long-seller. In 2018, both Coca-Cola and Coca-Cola Zero's 500ml plastic bottles are adorned with special labels that come in 12 different colors.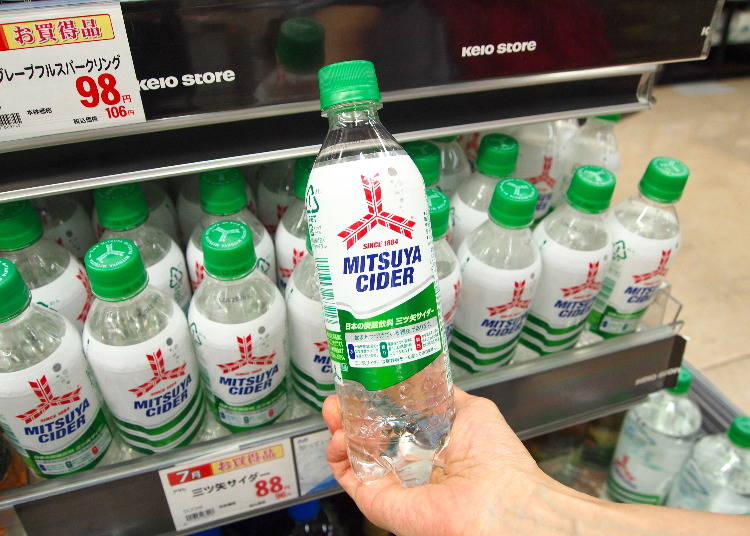 Japan's Original Soda Creation
A Japanese original with a refreshing fizz. (500ml, Asahi Soft Drinks, 88 yen tax excluded)

With its logo of green and three red arrows, Japan's original carbonated drink "Mitsuya Cider" immediately catches the eye. It all started in 1884 with the water source of Tadamura plains in Hyogo Prefecture, which means that the drink celebrates its 135th anniversary in 2018. While most Europeans might know "cider" as the alcoholic apple drink (while folks in North America might likely associate it with a non-alcoholic apple drink), it's something entirely different in Japan, often used to mean "carbonated soft drink" in Japanese – and usually without any apple flavor whatsoever! Next to the standard Mitsuya Cider, there's also the "Mitsuya Cider NIPPON PET 500ml" that reproduces the simple sweetness and invigorating aroma of the 70s as a limited edition, on sale since July.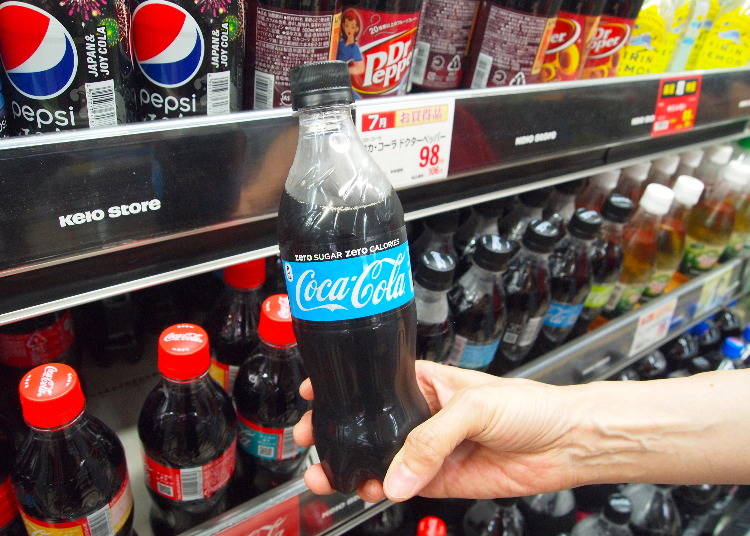 Zero Calories, Preservatives, and Artificial Flavors
Coca-Cola Zero features a black cap. (500ml Coca-Cola, 88 yen excluding tax)

Since its launch in 2007, Coca-Cola Zero refreshes people with its strong carbonation and rigorous lack of calories, preservatives, and artificial flavors. It's an indispensable drink for both men and women who have an eye on their calorie intake and is often enjoyed at cherry blossom viewing parties, home parties, barbecues, or other outdoor events. In the United States, the "soda tax" on drinks with a high sugar content is implemented in more and more states. Coca-Cola uses sucralose, acesulfame potassium and other sweeteners instead of sugar as a response. With taxes such as these and the low-sugar boom, the "zero" market is likely to expand further in the future.
5. Wilkinson Carbonated Water Lemon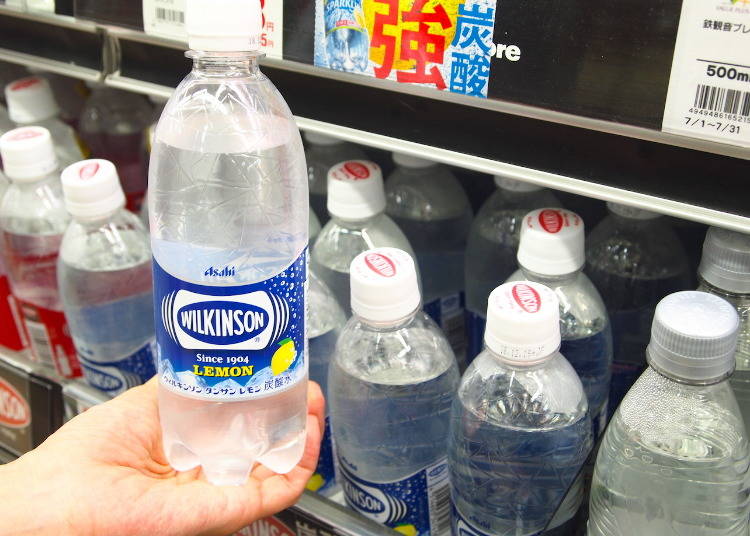 The blue bottle harbors a refreshing lemon flavor. (500ml, Asahi Soft Drinks, 88 yen excluding tax)

Wilkinson Carbonated Water Lemon is a carbonated drink with a refreshing lemon flavor and aroma, sold by Asahi Soft Drinks. It's also a popular choice to be mixed with strong spirits such as whisky. Asahi's lemon-flavored fizzy drink is a pioneer of carbonated waters with flavor, so much that it caused a boom of carbonated drinks without sugar and caused the market to further develop. The flavor recreates the taste of lemon peel. The name "Wilkinson" might have you think that it's a brand from overseas, but it is, in fact, thoroughly Japanese. It pays homage to a British man called Wilkinson who discovered a carbonated hot spring in the mountains of Hyogo's Takarazuka.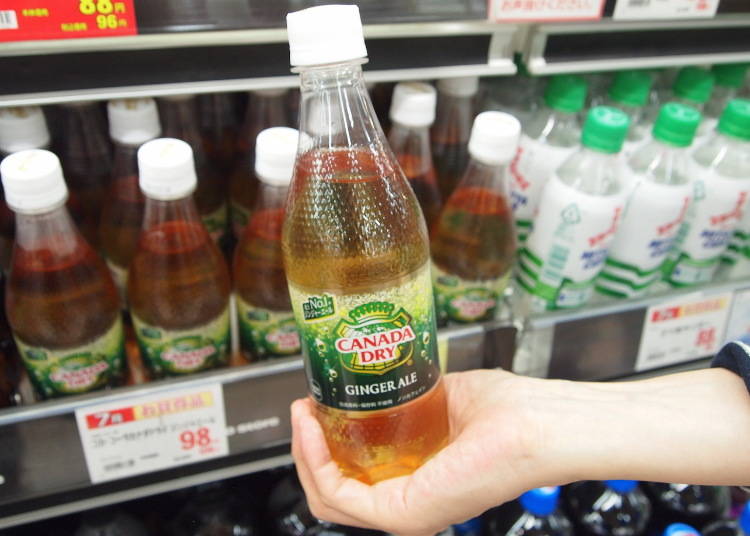 The Number One Ginger Ale
A golden color like champagne! (500ml; Coca-Cola, 98 yen excluding tax)

Canada Dry Ginger Ale is characterized by its rich golden color and fine bubbles, both reminiscent of champagne – it's the most-sold ginger ale in Japan. It is properly sweet and only features a note of gingery pungency, the drink is even suited for children. This ginger ale is even great for cocktails because of its no-nonsense taste that does not muddle the flavor of the liquor. In 1904, a man called J.J. McLaughlin created the dry ginger ale as an alcohol-free champagne alternative. It became instantly popular and started proper production in 1907.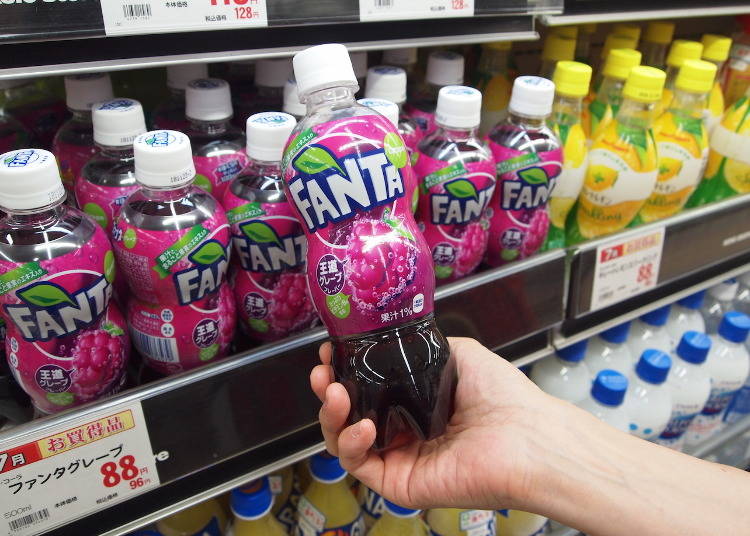 Loved by Old and Young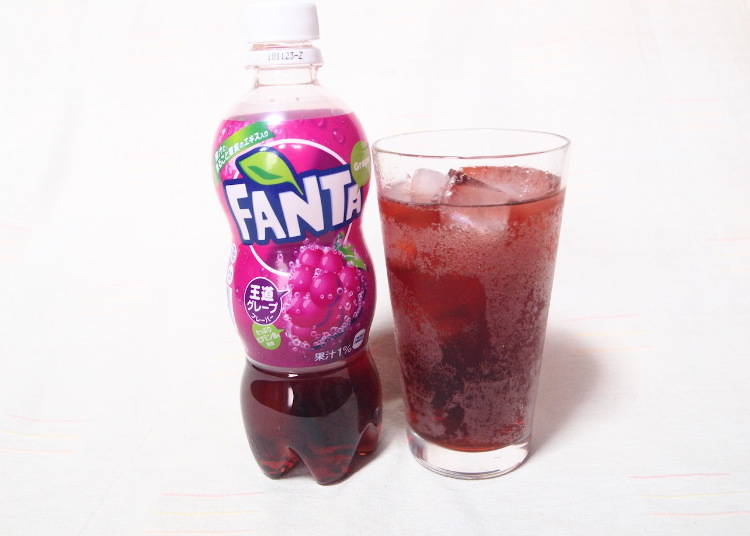 Fanta Grape is an all-time favorite! (500ml; Coca-Cola, 88 yen excluding tax)

This soda enjoys a reputation of being especially fruity and fizzy, following the concept of "fruity tastiness that overflows with spirit and fun." Fanta is extremely popular with Japanese teenagers and since 2000, Fanta drinks have constantly enjoyed upgrades in regard to logos and packaging, going with the trends of the time and enticing consumers with ever new creations. Did you know that the name Fanta comes from the words "fantasy" and "fantastic?" It is supposed to evoke an image of lightheartedness and fun to add a dash of color to reality. Fanta has released over 100 flavors in Japan, including the classic orange and grape. It was first sold in Japan in 1958 and celebrates its 60th anniversary in 2018.
8. Dekavita C Double Super Charge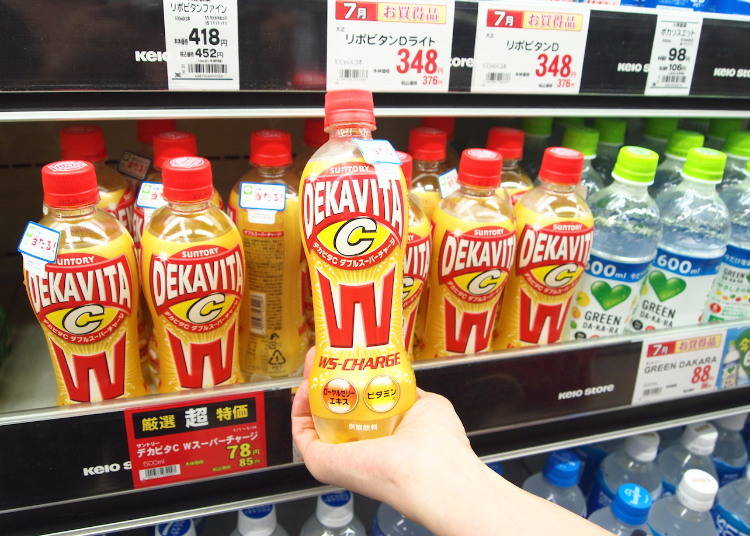 Retro Trend!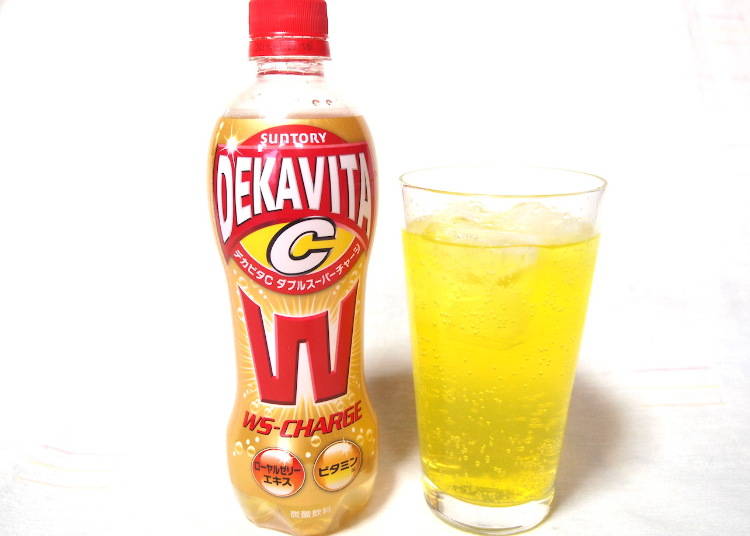 The vivid yellow of this vitamin fizzy drink. (500ml, Suntory Foods, 78 yen excluding tax)

Dekavita C is a famous drink series that was first released in 1992. Created as a nutritional drink for after exercise or work, it has long been a favorite of junior high and high school students, as well as young men in their 20s. The name is easy to understand, meaning "plenty of vitamin C", the drink enjoyed rekindled popularity as a carbonated drink with a decent dose of vitamins. The classic glass bottle is iconic, but since the plastic bottle version was introduced in 2011, Dekavita was more widely available in supermarkets and convenience stores. Dekavita C Double Super Charge expresses the image of a bottle chock-full of vitamins and energy even further, indeed featuring a more intense taste and powered-up minerals. The commercial featuring the famous franchise Monster Hunter even made waves abroad.
All-Natural Lemon Flavor
The stylish bottle of the nation's main lemon soda. (500ml; Kirin, 88 yen excluding tax)

Kirin Lemon was first released in 1928 and the lemon soda celebrates its 90th anniversary in 2018. There's pretty much no one in Japan who doesn't know the "Kirin Lemon Song" from commercials, so this fizzy drink really is an inherent part of daily life. It doesn't have any artificial sweetener, coloring agents, or preservatives, uses natural spring water and flavor derived from lemon peel of Setouchi-grown lemons – this iconic drink is all about ingredients and manufacturing techniques. Kirin Lemon was renewed in 2018 as a carbonated drink of high quality that is safe to enjoy, especially targeting health-conscious adults in their 20s and 30s. Colorless and transparent, this originally Japanese soda enjoys everlasting popularity alongside the aforementioned Mitsuya Cider.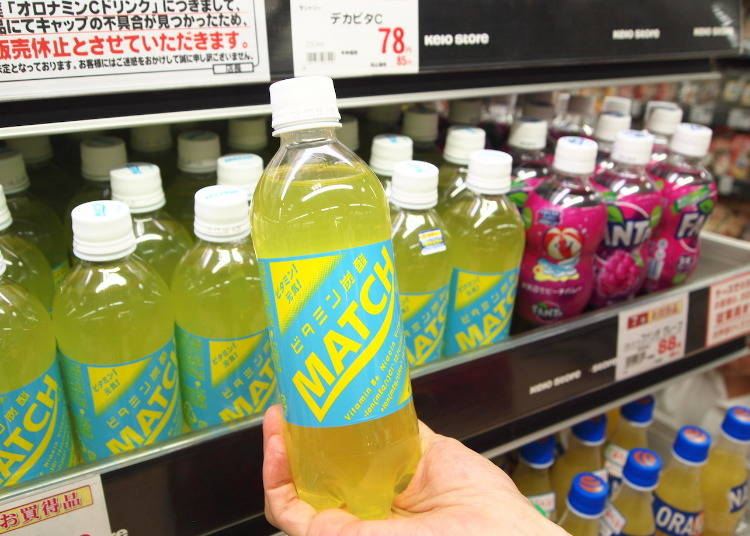 Clear Yellow, Gentle Sweetness, Plenty of Vitamins
(500ml; Otsuka Foods, 88 yen excluding tax)

"Vitamin Carbonated Drink Match" is a fizzy drink first released in 1996 that is gentle and features vitamins. Because the carbonation is on the lighter side, it's a particularly popular choice with teenagers and high school students after club activities, sport, or even while studying. Vitamin C, niacin, and vitamin B6 provide nutrition with a delicious taste. Also, Match's commercials are known for portraying cultural festivals and club activities in a comical way, allowing a fun glimpse into Japanese daily life. Next to the standard Match, there are also the mixed berry flavor and fewer calories "Berry Match," and "Match Set Position" with a cooling effect.

Keio Store is a supermarket chain that is all about the daily life around Keio Electric Railway's lines. As of right now, there are 33 individual stores including the affiliates Kitchen Court and Keio Store Express, all of them loved by the locals. We hunted for the best heat-to-eat curry specialties at the Sakuragaoka Store, right next to Sakuragaoka Station, and also recommend its other diverse product selection, ranging from fresh foods to alcohol and miscellaneous goods. Women are the main customers during the day while office workers crowd the shop in the evening.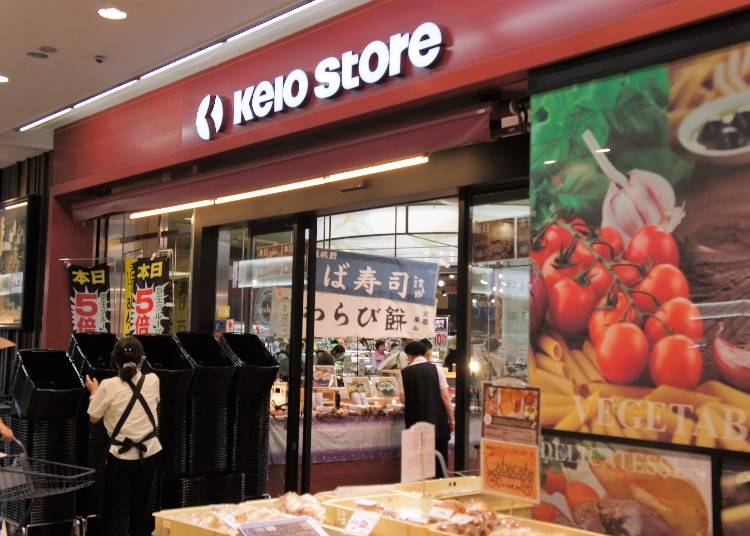 京王ストア 桜ケ丘店

Address

〒206-0011 東京都多摩市関戸1丁目11−1/1-11-1 Sekido, Tama-shi, Tokyo, 206-0011, Japan

Nearest Station

Seiseki-sakuragaoka Station (Keio Line), right next to the station


Phone Number

042-337-2511

Hours: 10:00 a.m. – 11:30 p.m. (2F is open until 9:00 p.m.)
Closed: January 1, irregularly twice a year

*This information is from the time of this article's publication.
*Prices and options mentioned are subject to change.
*Unless stated otherwise, all prices include tax.