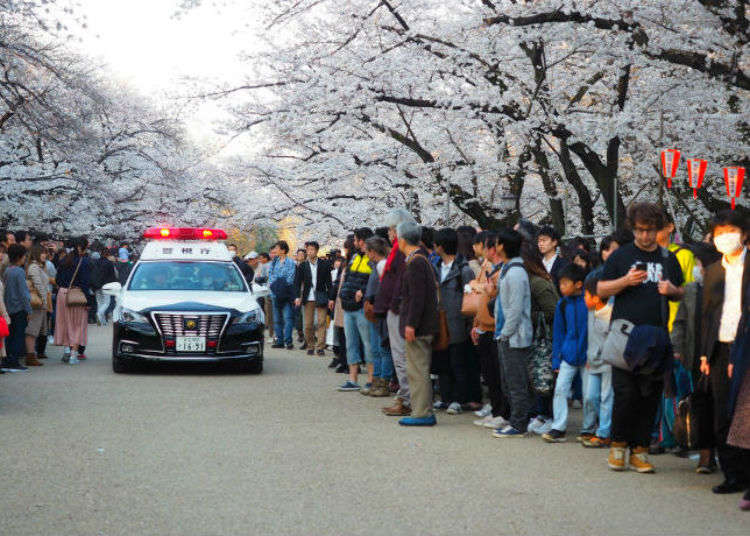 People all around the globe have an image of Japan being safe. Indeed, the Global Peace Index (a ranking determined by domestic crime and conflict, war, military budget, and so on) sees Japan on rank 10, a number that leaves no doubt about Japan being safe and peaceful.

However, it is also an unpleasant truth that heinous crimes such as murder and theft have become more noticeable. In the unlikely event that you will be affected by such a crime, your positive impression will have been ruined. Let's take a closer look at Tokyo's neighborhoods and find out where and what kinds of crimes take place, should you want to avoid the worst places.
Tokyo's 23 Wards - Ranked by the Number of Crimes
Generally speaking, Tokyo experiences less than 40,000 criminal incidents per year. According to a report about the number of crimes in Tokyo's 23 wards by the Metropolitan Police Department, most crimes happen in Shinjuku, the western ward with the city's largest population Setagaya, and Edogawa on the east where a lot of families live. Here are the exact numbers of criminal cases in these wards:
Areas with the Largest Number of Criminal Incidents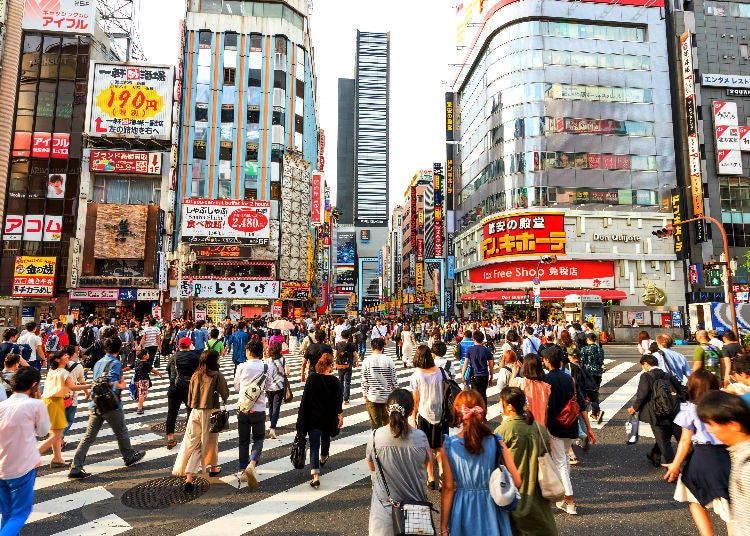 1) Shinjuku: 7,940 crimes in total, a lot of them shoplifting. (Shinjuku, Shin-Okubo, Takadanobaba area)
2) Setagaya: 7,839 crimes in total, a lot of them burglaries of temporarily vacated houses; a quiet residential area. (Futakotamagawa, Shimokitazawa, Meidaimae, Sangenjaya area)
3) Edogawa: 7,759 crimes in total, a lot of them vehicle break-ins. (Kasai Rinkai Park, Koiwa, Funabori area)

There are subtle differences in the places where these crimes occur. Shoplifting is the most common criminal incident in Shinjuku, which boasts the world's largest terminal station. Shinjuku Station has the world's largest number of passengers per day on average, so there's a plethora of restaurants, bars, and entertainment spots. In an area as crowded as Shinjuku, it is inevitable that a comparatively large number of crimes occur. Be extra careful about your belongings as you explore the amusement area of Kabukicho.

Break-ins into empty houses occur particularly often in Setagaya, Tokyo's ward with the largest population that is also a rather upscale residential area, as well as in Adachi Ward up north. Edogawa in the east has a lot of cases of vehicle break-ins.
Areas with the Lowest Number of Criminal Incidents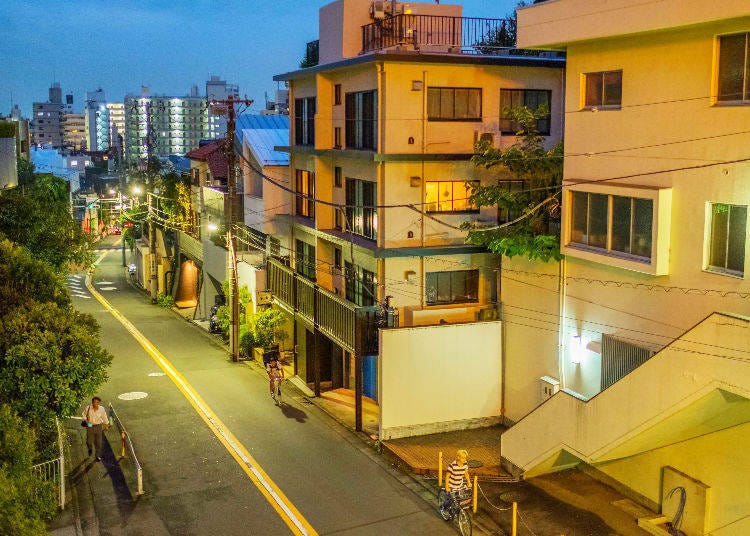 1) Bunkyo: 1,730 crimes in total. (Suidobashi, Ochanomizu, Nezu, Yanaka, Sendagi area)
2) Meguro: 2,354 crimes in total. (Jiyugaoka, Naka-Meguro, Toritsu-Daigaku, Senzoku, Yutenji area)
3) Arakawa: 2,385 crimes in total. (Nippori, Minamisenju, Mikawashima area)

On the other hand, Bunkyo Ward boasts the lowest crime rate in Tokyo. It's the location of various famous sights and historic locations, such as Tokyo Dome, Koishikawa Korakuen Garden, and Rikugien Garden. It's followed by Meguro and its neighborhoods of Naka-Meguro and Jiyugaoka, known as great neighborhoods to live in among Japanese people. Third place takes Arakawa, the ward served by the Tokyo Sakura Tram streetcar and its wonderfully nostalgic atmosphere.

It is said that Bunkyo Ward has such a low number of crimes because it is home to several educational institutions such as colleges and high schools. Frequent police patrols and neighborhood watches play a big role in crime prevention there as well. Bunkyo is also an area with a lot of "good old neighborhoods" such as Yanesen, as well as sightseeing spots including Nezu Shrine and Yushima Tenmangū.

The areas with the largest number of crime incidents, namely Shinjuku, Setagaya, and Edogawa, are also areas with a comparatively high population. Likewise, few people live in the low-crime areas of Bunkyo, Meguro, and Arakawa. Those who do live there are said to be mainly locals born and raised in these parts of Tokyo, which may also have an influence on the low crime rate.
Tokyo: Crime Rate Ranking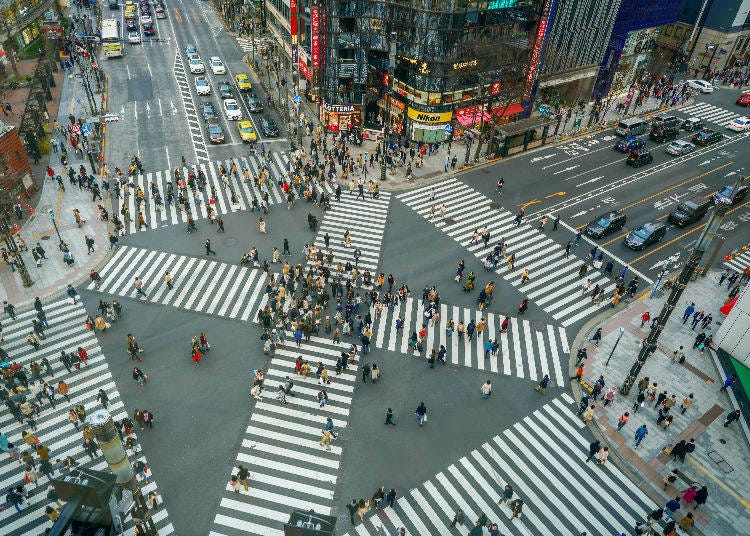 However, it's natural that areas with a high population also have a higher number of crimes. What likely expresses the state of an area more realistically is the crime rate, which is the ratio at which crimes are committed. If the population is small but the crime rate is high, an area is labeled as dangerous. Let's take a look at the crime rate in Tokyo's 23 wards to get a realistic picture, based on information by the Metropolitan Police Department.
Top 3 Areas in Tokyo with the Highest Crime Rate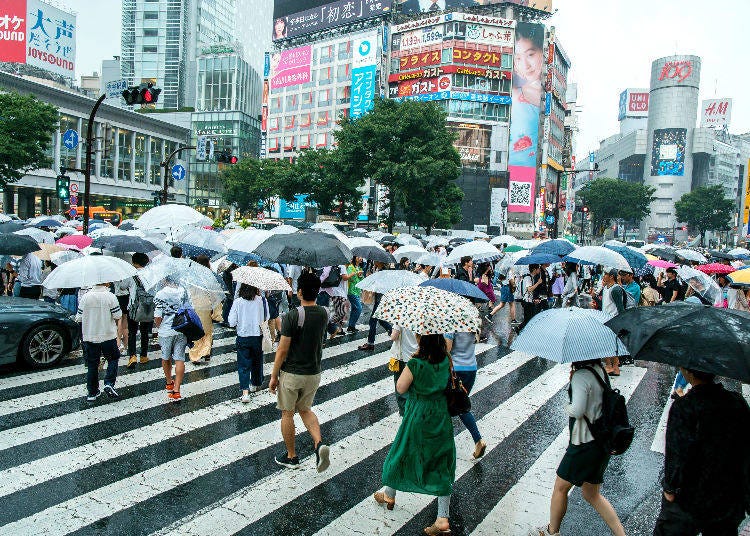 1) Taito (1.26%): Ueno, Asakusa area
2) Toshima (1.10%): Ikebukuro, Sugamo, Mejiro area
3) Edogawa (1.03%): Kasai Rinkai Park, Koiwa, Funabori area
Shibuya (1.03%): Shibuya, Harajuku, Ebisu area

The ward with the highest crime rate in Tokyo is Taito, which includes the two famous downtown areas of Ueno and Asakusa. It's also the district with the highest male ratio of all 23 wards. Both Asakusa and Ueno enjoy a large number of international tourists, so it is particularly important to maintain public order and safety.

Toshima ranks second, which is where the large downtown area of Ikebukuro is located. A lot of young people from the suburbs gather here to enjoy themselves, which may be a reason for the increasing number of incidents. On the other hand side, such a mixed crowd of people also creates an interesting culture, so if Ikebukuro manages to create an atmosphere of "safe and fun," it may very well become a new Tokyo trend spot.

Edogawa is on the third place and is also the ward with the lowest average age of its residents. Is it the energy of youth or the temperament of an old downtown area? Historically, Edogawa has played a major role in the evolution and development of Tokyo, so a safer daily life is much desired.

Tokyo's wards with a high crime rate tend to be rather representative downtown areas of the city, such as Taito with Ueno and Asakusa, Toshima with Ikebukuro, and Shibuya with Harajuku.
The Top 3 Areas in Tokyo with the Lowest Crime Rate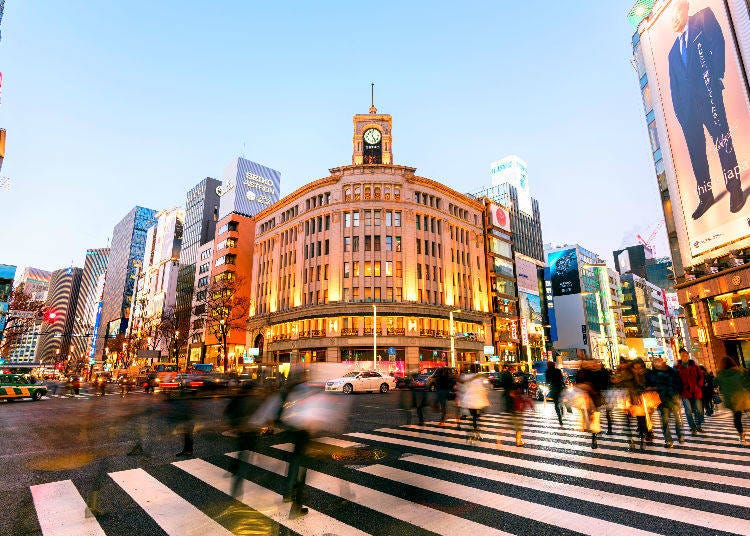 1) Chuo (0.41%): Nihonbashi, Ginza, Yaesu area
2) Chiyoda (0.42%): Yurakucho, Ochanomizu, Kanda, Akihabara area
2) Bunkyo (0.42%): Suidobashi, Ochanomizu, Nezu, Yanaka, Sendagi area

Chuo Ward on the first place is an area dotted with high-end shopping districts and office buildings, including Ginza, Nihonbashi, Ningyocho, and Yaesu. Due to various measures taken by the ward, the number of young people moving to Chuo is on the rise as well. It seems like a lot of people are drawn to the district's long-cultivated upscale feeling and atmosphere.

Second place goes to Chiyoda, a ward with several major institutions such as the Imperial Palace and the National Diet Building. That may be a reason as to why the district has such a low crime rate, almost earning it first place. However, Chiyoda also includes downtown areas such as Kanda and Akihabara, as opposed to Chuo Ward where upscale shopping and business areas dominate the picture. This makes it obvious that Chiyoda has a high level of security and order. Chiyoda was also the first ward to forbid smoking on the street, which is another example for its strict measures for public order.

Bunkyo on third place is home to Tokyo University, Japan's highest-ranked college. Next to an abundance of facilities such as schools and hospitals, and even the locals born and raised in Bunkyo are also often very elegant and sophisticated people. The ward has a distinct atmosphere that seems to exude the feeling that crime does not have a chance here. Quiet residential neighborhoods define the ward's cityscape, boasting nature and feeling inherently safe.
Violent Crimes in Tokyo, Ranked by Number of Incidents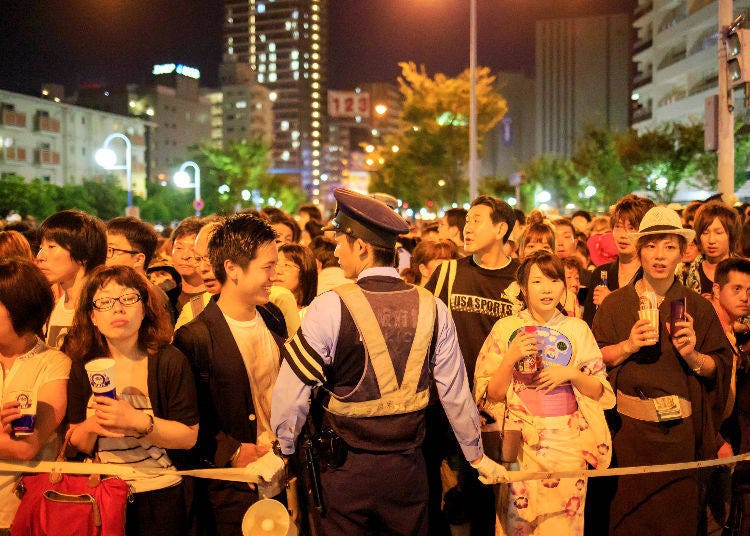 We're also going to look at the number of violent incidents in addition to criminal incidents and crime rates. How many cases of homicide, robbery, assault, and so on are occurring around Tokyo? To get a better picture of this, we divide Tokyo's 23 wards into the 77 jurisdictions used by the Metropolitan Police Department and look at the number of violent incidents that occurred in one year within a 20-minute walking distance. We start with the areas with the most violent crimes.
Top 3 Areas in Tokyo with the Highest Number of Violent Crimes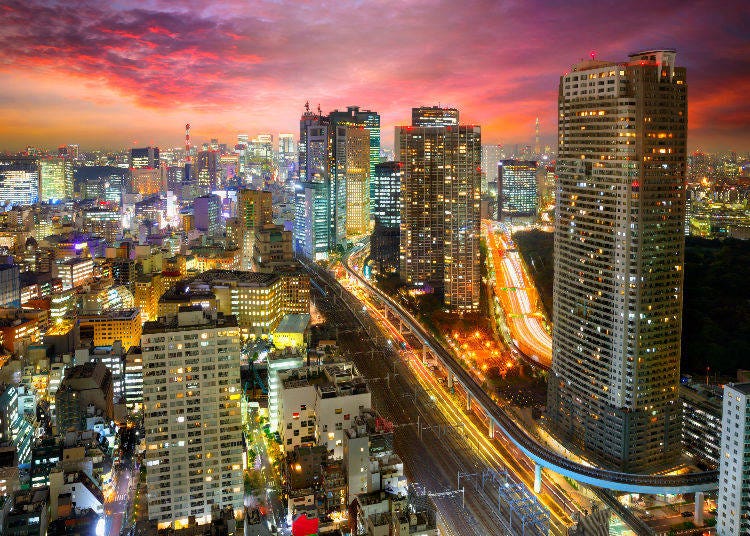 1) Shinjuku Ward (Shinjuku): 757 incidents; Shinjuku, Kabukicho, Shin-Okubo area
2) Chiyoda Ward (Manseibashi): 642 incidents; Akihabara, Marunouhi, Kanda area
3) Toshima Ward (Ikebukuro): 581 incidents; Ikebukuro, Sugamo, Mejiro area

The number of violent incidents is high in areas with a lot of people, such as Shinjuku, Kanda, and Ikebukuro. It is said that there is a correlation between the number of incidents and areas where a lot of ATMs and pachinko parlors can be found. Downtown areas with an abundance of those seem to be more easily affected by a deterioration of security.

These downtown areas also feature a lot of entertainment facilities, shops and department stores, as well as bars and restaurants. But even in a safe country such as Japan, be aware of measures for the safety of yourself and your belongings as to not get caught up in an incident.

Especially Shinjuku's Kabukicho is known as a city that does not sleep, illuminated by neon lights even late at night, but it is also a neighborhood with a high number of violent crimes such as injury cases, blackmail, or assault. Pay attention to your surrounding as you enjoy the nightlife district.
Top 3 Areas in Tokyo with the Lowest Number of Violent Crimes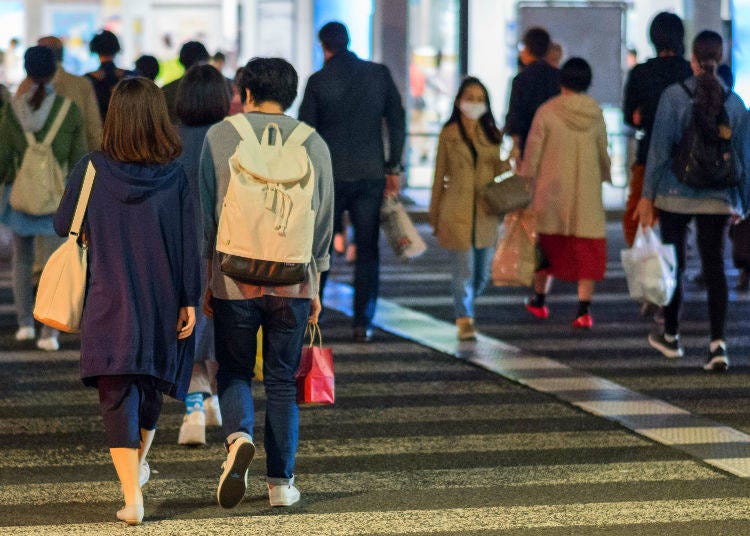 1) Ota Ward (Haneda Airport), 13 incidents; Haneda Airport area
2) Minato Ward (Tokyo Wangan), 14 incidents; Odaiba, Ariake, Shin-kiba area
3) Ota Ward (Ikegami), 55 incidents; Tamagawa, Ikegami, Kugahara area

Places one and to go to Ota and Minato Ward, defined by Haneda Airport and Odaiba with the Tokyo Bay area respectively. These are areas where few people live and even though they do get crowded with people, violent crimes are few. Additionally, the area around Ota Ward's Ikegami neighborhood is not too close to the city center, boasting an atmosphere like a historic downtown and acting mainly as a quiet residential district. However, the security situation around the crowded Kamata Station is somewhat concerning, even though it is in the same ward. Safety tends to be better further away from terminal stations, and that is not only true for Ota.
Tokyo Ranking: Where is it Safe, Where Should You be Careful?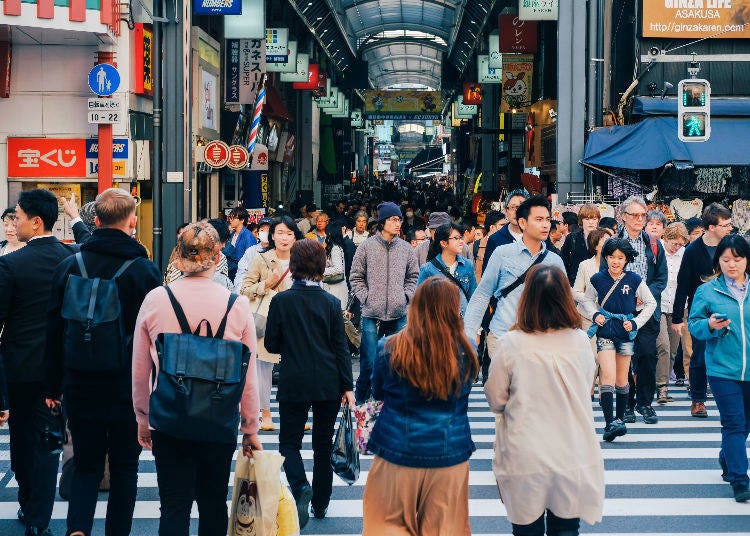 We're going to take a look at what kind of incidents occur in which part of Tokyo's 23 wards, to find out which neighborhoods are actually safe. Let's determine areas that have a high level of security and those that don't, based on the data of the Metropolitan Police Department.
First up is Shinjuku Ward, one of the areas with the most incidents in all of Tokyo. Where are the areas that are considered dangerous, which of them is the worst? Shinjuku Ward is divided into four areas based on the jurisdiction of the police stations, namely Ushigome, Totsuka, Yotsuya, and Shinjuku.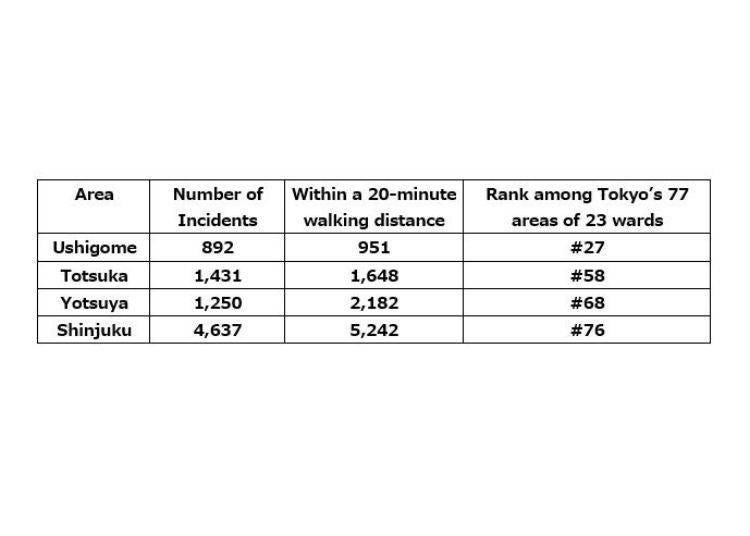 ・Ushigome: Akebonobashi, Ushigome Wakamatsu, and the student town of Waseda are eastern areas with many restaurants and sweet shops, boasting a traditional and nostalgic atmosphere.
・Totsuka: a northern area that includes Ochiai, Omokagebashi, and Takadanobaba. Especially the latter neighborhood is famous as the birthplace of the creator of Astro Boy.
・Yotsuya: located in the south and is made up of Shinanomachi, the New National Stadium, as well as Aarakicho with its many eateries that still convey the atmosphere of the town's former status as a red-light district. Yotsuya Sanchome and Shinjuku Sanchome, dotted with shops and commercial facilities, also belong to this area.
・Shinjuku: a shopping hot spot centered around Shinjuku Station, Kabukicho (the busiest downtown area in all of Japan), Shin-Okubo and its Koreatown, as well as the Tokyo Metropolitan Government.

The number of violent crimes occurring in 1 year within a 20-minute walking distance, by type of incident.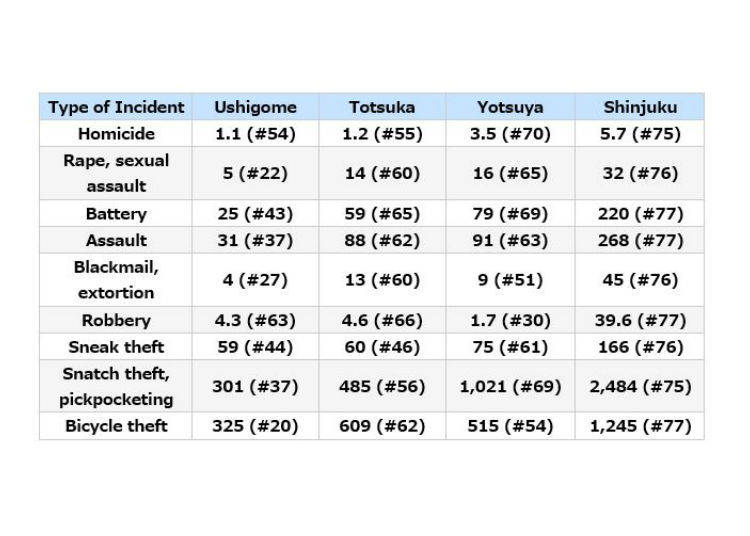 As expected, the number of incidents that occur within a 20-minute walking distance of Shinjuku Ward peak in the flourishing nightlife district of Kabukicho, right in the heart of Shinjuku (around Shinjuku Station). Especially in regard to battery, assault, robbery, and bicycle theft, Shinjuku takes last place among all 77 areas when it comes to safety. The ward boasts a lot of tourist attractions such as Shinjuku Golden Gai, Shinjuku Gyoen National Garden, Koreatown in Shin-Okubo, and ever-exciting Kabukicho. However, visitors should be careful both day and night. On the other hand side, Shinjuku's Ushigome area climbs to #27 in overall safety, and there's very little crime compared to Shinjuku's other districts.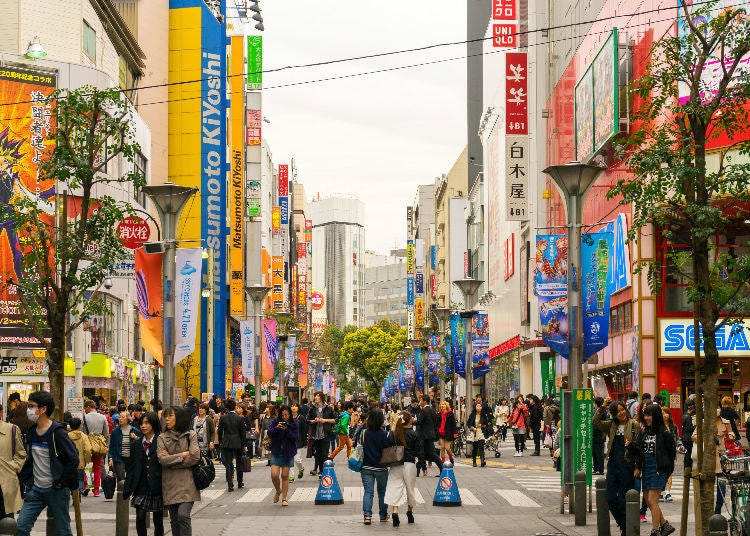 Staying with bustling downtown areas for now, let's take a look at Toshima Ward next. Ikebukuro and its large terminal station are at the center, while Sugamo and Mejiro are the other two areas that the ward is made up of. The number of violent crimes is quite high in all areas, comparable to Shinjuku.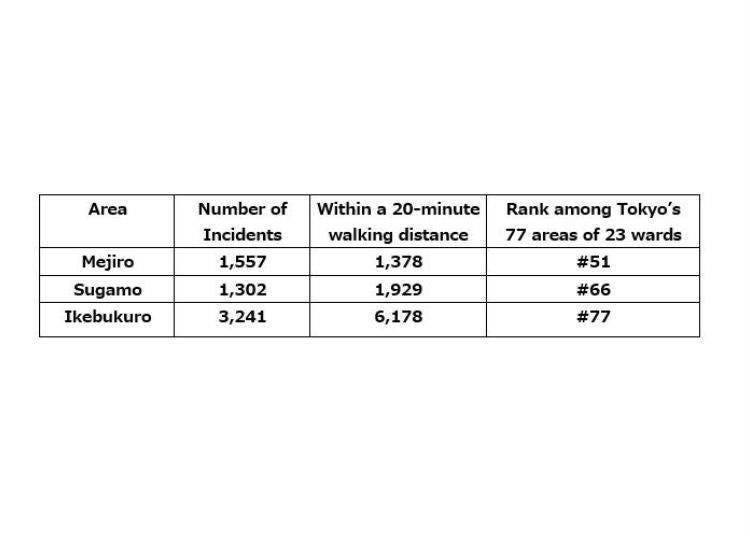 ・Mejiro: an area in the west that includes Higashi-Ikebukuro, Zoshigaya, Gakushuinshita, and Mejiro, with the latter being a quiet residential area with upscale property.
・Sugamo: made up of Otsuka, Komagome, Koshizuka, and Sugamo, where a lot of senior citizens live.
・Ikebukuro: a central area with Ikebukuro Station at its heart that also includes Shimo-Itabashi and Kita-Ikebukuro.

The number of violent crimes occurring in 1 year within a 20-minute walking distance, by type of incident.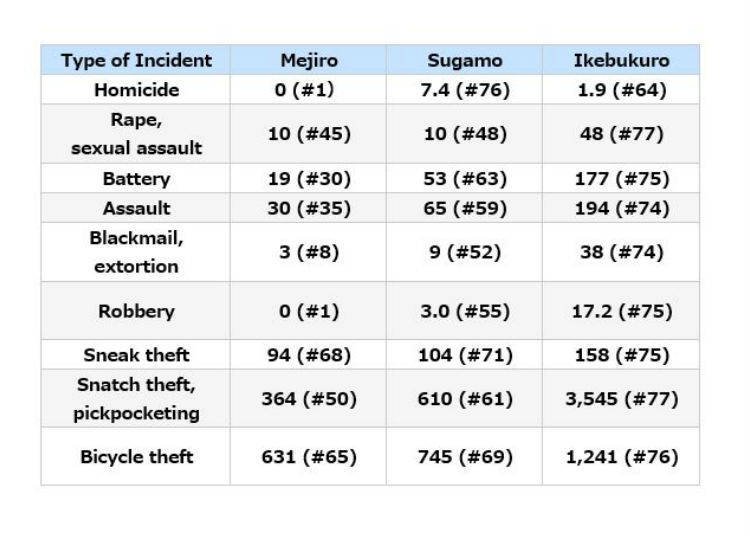 The Ikebukuro area is crowded day and night with many young people and has more criminal incidents than the Shinjuku area. It lands on the lowest rank among all 77 areas in regard to rape, sexual assault, snatch theft, and pickpocketing. It is said that recently, the number of snatch thieves on motorcycles has increased not only in the bustling downtown areas but also in residential neighborhoods. Sugamo, which is popular among Tokyo's seniors, has a high number of homicides and sneak thefts.
But Which Areas of Tokyo Are the Safest?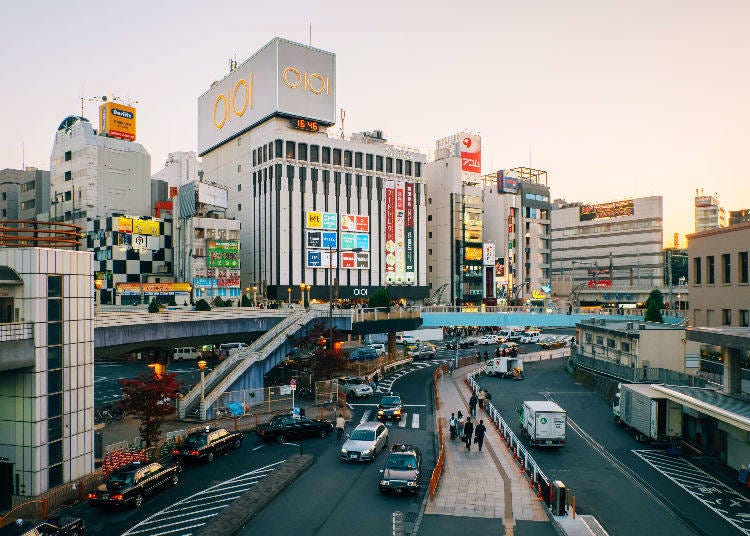 Tokyo's Safest Area #1: Ota Ward, the Largest Ward of the City
#1 Haneda Airport, #3 Ikegami, #11 Den-en-chofu

If we look at the Metropolitan Police Department's data in regard to where the fewest criminal incidents occur, we find Ota Ward at the top. Of all 77 areas, Ota's Haneda Airport is ranked first, with Ota's Ikegami following on place three, while Ota's Den-en-chofu is ranked 11th.

Ota Ward also is the largest of all of Tokyo's wards in regard to area. Generally speaking, it is a very safe ward, but it is important to differentiate between truly safe and unsafe places within Ota. It is divided into the four areas of Den-en-chofu, Omori, Kamata, and Ikegami. The number of incidents differs greatly between them (the table excludes #1 Haneda Airport).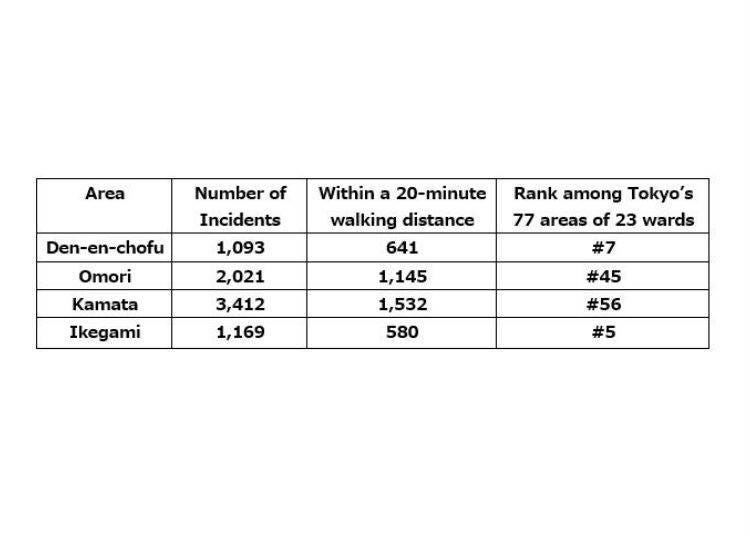 ・ Den-en-chofu: an area in the west that includes Okayama, Kitasenzoku, and Den-en-chofu, one of Tokyo's prime residential neighborhoods.
・ Omori: it faces the sea on its east side, has an abundance of restaurants and bars, and includes Showajima, Heiwajima, and the Tokyo Ryutsu Center.
・ Kamata: a southern area served by three lines, boasting some of Tokyo's best restaurants. Includes Umeyashiki, Zoshiki, and Kamata.
・ Ikegami: Magome, Kugahara, and Ikegami make up this district, with the latter known for Monzenmachi and Ikegami Honmon-ji Temple.

The number of violent crimes occurring in 1 year within a 20-minute walking distance, by type of incident.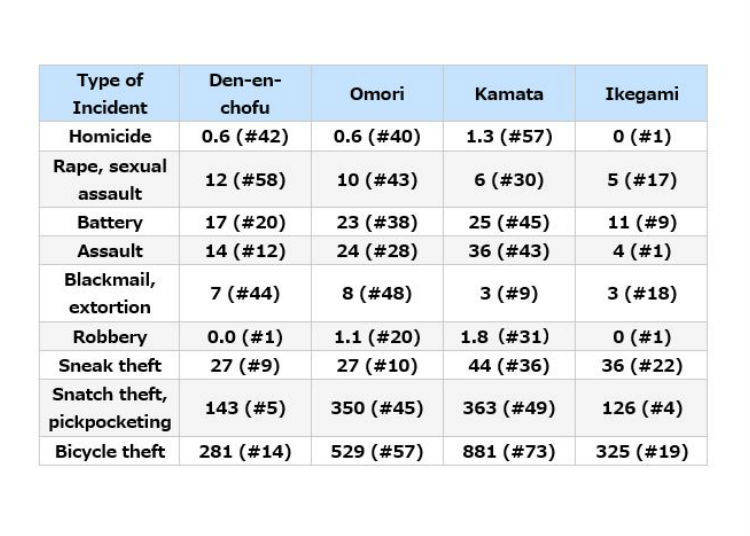 Ikegami is a calm residential area with a lot of families, while Den-en-chofu is known as an upscale residential neighborhood – in both places, the number of criminal incidents is very low.
On the other hand, crimes occur considerably more often in Kamata and Omori. Especially bicycle theft is bad in Kamata, making it the 5th worst district in regard to this particular crime. It may not be an exaggeration to say that there's a good chance that your bike is going to get stolen if you don't lock it properly.

Tokyo's Safest Area #2: Nerima
<@#4 Hikarigaoka, #7 Nerima, #10 Shakujii|b@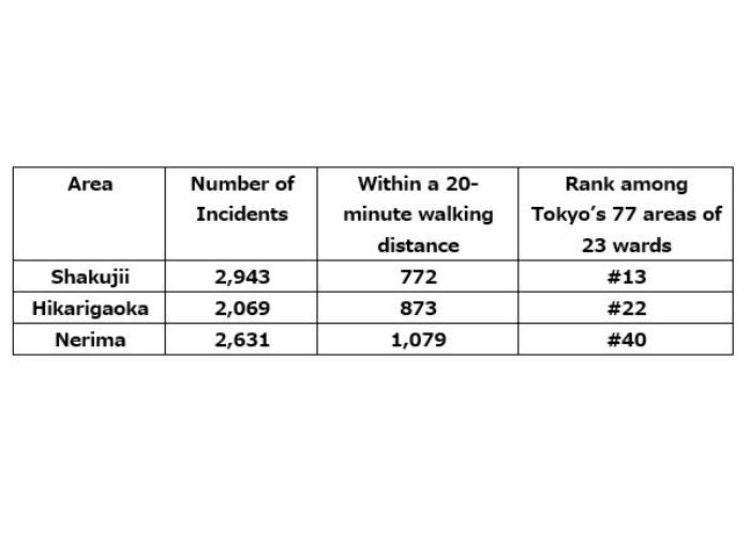 ・Shakujii: the picture of a quiet residential area in the west with plenty of parks, gardens, and greenery right at the station, such as Shakujii Park. Includes Musashi-Seki and Oizumi-gakuen.
・Hikarigaoka: a central area with Akatsuka, Nerima-Takanodai, and Hikarigaoka, the first station on the Toei Oedo Line.
・Nerima: an area in the east with great access to the city center, made up of Heiwadai, Ekoda, and Toshimaen. Served by three lines.

The number of violent crimes occurring in 1 year within a 20-minute walking distance, by type of incident.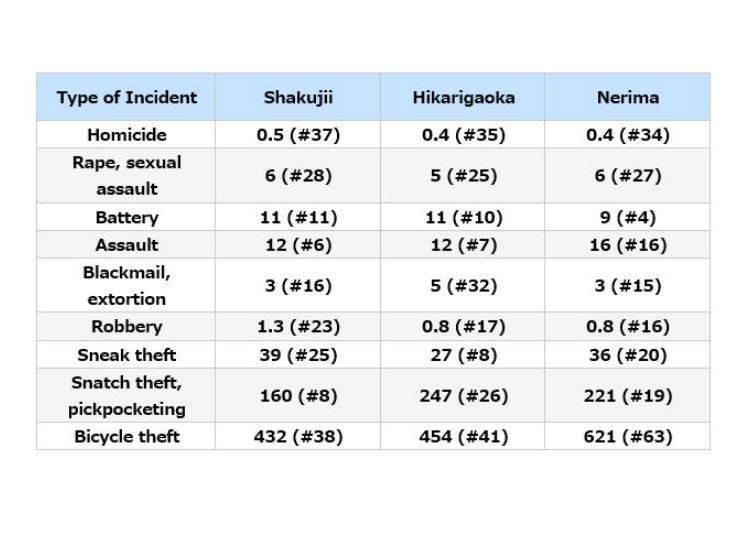 None of the three areas of Nerima Ward has particularly high crime numbers compared to Tokyo's other 77 areas, no matter what incident we're looking at. This is especially surprising because it is one of the most populated wards. Usually, there's a correlation between the number of people in an area and the number of crimes, but Nerima seems to be an exception. It's popular as a residential area especially among families, but also known as a nice and safe neighborhood for singles.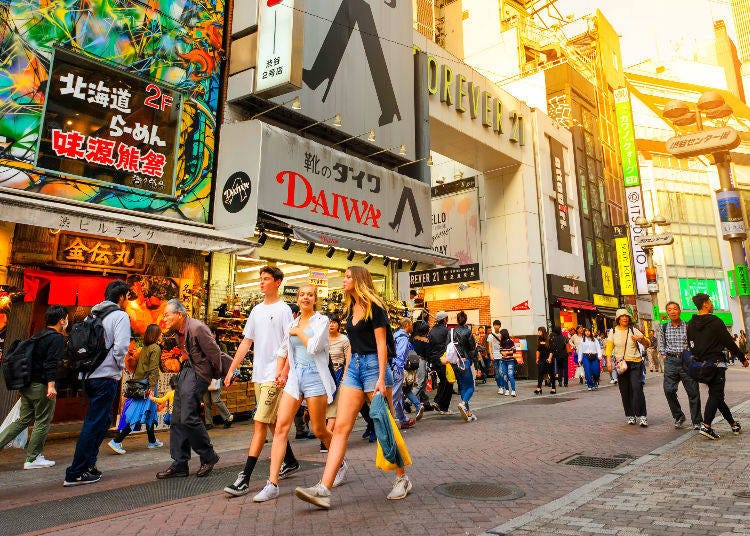 Looking at the data of the Metropolitan Police Department, it's easy to see which specific areas are labeled as safe and what counts as a "bad neighborhood." There seems to be a tendency of a higher number of criminal incidents in areas with terminal stations, especially those that have a lot of restaurants and bars. However, residential areas aren't automatically safe as snatch and bicycle theft can be quite frequent. As you plan your sightseeing trip and try to find accommodations, it can be useful to check the areas that you're particularly interested in!

Source: Metropolitan Police Department, Mansion Market Lab (マンションくらし研究所)
*This information is from the time of this article's publication.
*Prices and options mentioned are subject to change.
*Unless stated otherwise, all prices include tax.