Asakusa is one of those neighborhoods in Tokyo that everyone is going to visit. There's Sensō-ji, Tokyo's oldest temple, as well as Hanayashiki, Japan's oldest amusement park. It's an area that feels like it has fallen through a crack in time, ready to give you a taste of Japan's rich history.

That taste is rather literal. Next to magnificent sights, Asakusa is also famous for its culinary side, offering a plethora of traditional dishes waiting to be savored!

Tempura is one of them. It's a crispy delight of various ingredients, most famously seafood and vegetables, being coated in a special batter and fried until wonderfully crunchy!
What is Asakusa's Edomae Tempura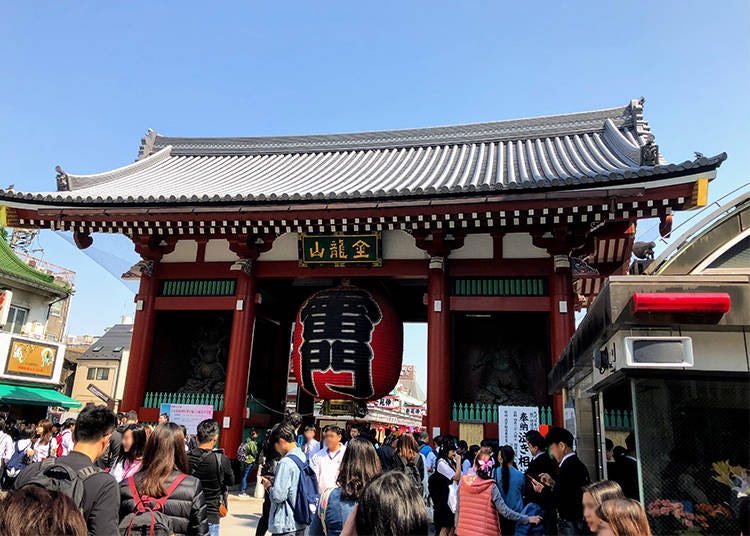 What you probably didn't know is that there are various varieties of tempura. Among them is "Edomae tempura," a specialty from Asakusa, one of Tokyo's prime sightseeing areas. Edo is the old name of Tokyo and this variety got its name because people in Asakusa made tempura with all the ingredients available in Edo's suburbs, deep-frying them in sesame oil. Another important point: vegetable tempura is actually called shōjin-age and treated as a different dish.

Now, let's dive deeper into the crunchy world of Edomae tempura and visit three of the most delectable and authentic shops in Asakusa!
1) Masaru: the King of Tempura Bowls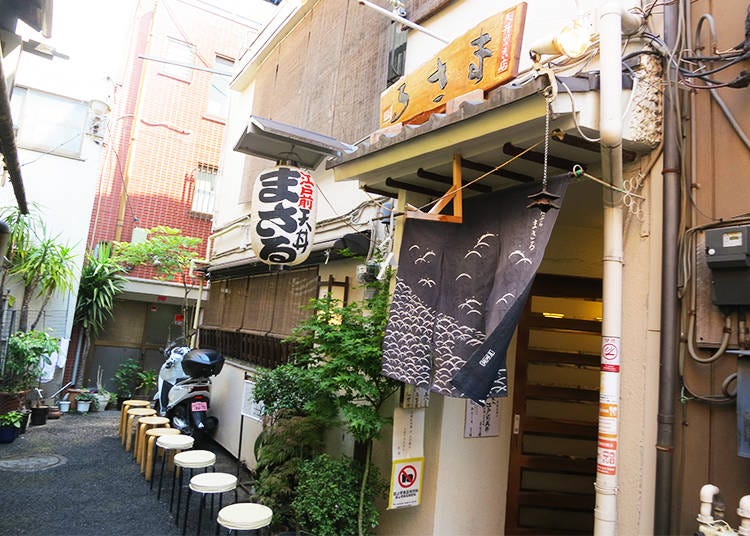 This famous shop is tucked away in an alley next to Nakamise-dori Street.
As you enter the scenic alley, you'll immediately notice two things. One is the many chairs lined up in front of the restaurant, the other one is a large, flag-like signboard that says "delicious tempura bowls" in Japanese. Masaru has every right to advertise its delectable tendon tempura bowls like that, as they're reputed to be among the very best of the neighborhood.

On many days, the shop only offers the "Ōiri Edomae Tendon" bowl ("plentifully topped tempura bowl") for the rather princely sum of 3,700 yen – that is well above Asakusa's average for tempura dishes. And still, you will not see a single day on which Masaru is empty or even without a queue.

The tempura is so amazingly good, the prices are more than justified and a lot of people regard eating here as a one-of-a-kind culinary experience that they're treating themselves to.

Other dishes on the menu are the "Kuruma-ebi Tendon" (Japanese tiger prawn tempura bowl) for 5,800 yen or the "Edomae Tendon" for 3,400 yen. However, it seems that there's a supply shortage for the necessary ingredients, so there might only be a single dish available.

Masaru is open only for three hours, between 11 a.m. and 2:00 p.m. There'll be a queue in front of the ship throughout, but the tempura experience is well worth the wait.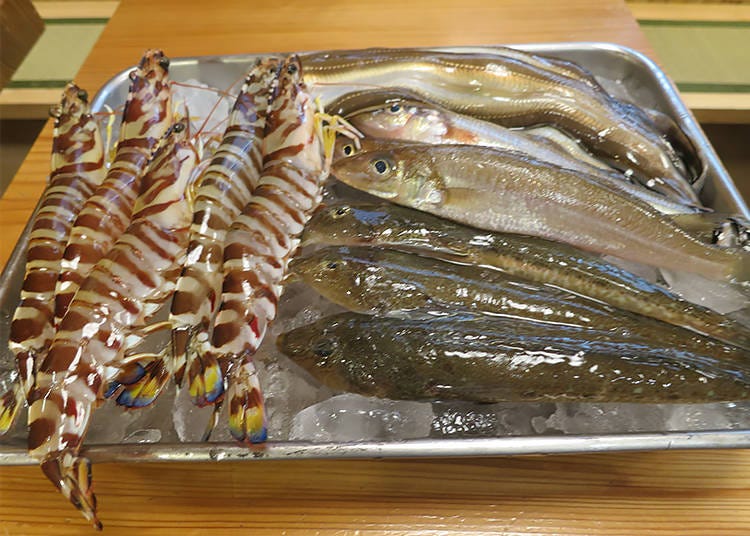 Freshly delivered Japanese tiger prawns (on the left), as well as conger eel, whiting, and big-eyed flathead.
"90% of the tempura's quality depends on the ingredients, 10% depend on the skill of the chef," says Yoshinori Takasaki, the shopkeeper of Masaru. Even if the shop itself is only open for a very short time, he goes all-out to get the freshest day of the catch for his famed tempura bowls. "Committed to using very best ingredients" is Masaru's philosophy.

When we visited the shop, he showed us said the ingredients of the day for the famous Ōiri Edomae Tendon. The Japanese tiger prawns were still jumping about, and even the conger eel, whiting, and flathead looked so fresh and shiny, we suspected they came out of the water mere minutes ago.

At some point, the restaurant was the very definition of Edomae and exclusively used ingredients from Tokyo Bay. Nowadays, that is no longer possible due to the supply shortage and the seafood now comes from Aichi and Oita Prefecture. "It's inevitable because we're committed to natural ingredients. The quality is the same, however," explains Mr. Takasaki.

Speaking of – depending on the seafood supply, Masaru's opening hours may be even shorter. On particularly unlucky days, the restaurant won't open at all.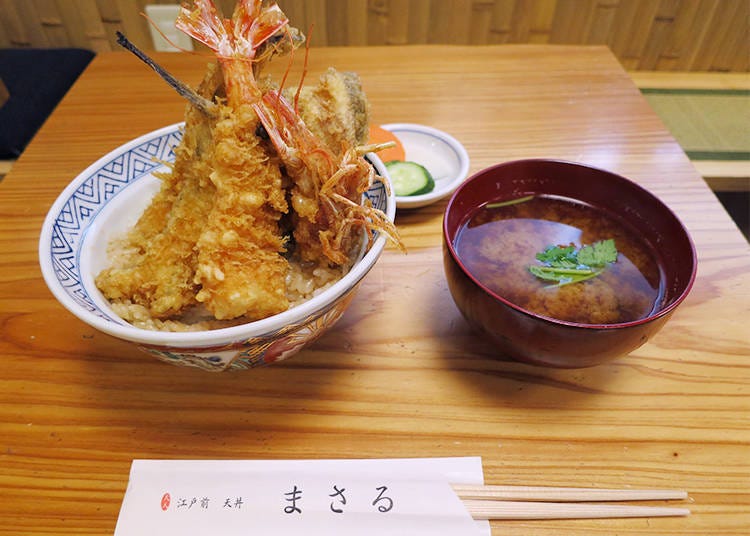 The Ōiri Edomae Tendon (3,700 yen) on the left and miso soup (200 yen) on the right. Unlike many other restaurants, Masaru charges a small extra fee for miso soup. That's because even the soup is exquisite and comes from a production in Nikkō.
Finally, we're served the legendary Ōiri Edomae Tendon! The tiger prawns are fried whole, served to complement the conger eel, whiting, and flathead tempura. The bowl really is plentifully topped, a serving so generous, the usual lid doesn't even fit.

The first bite starts crunchy, but the inside is wonderfully soft and juicy, spreading the natural taste throughout your entire mouth. The sauce that tops the tempura is only made from kaeshi (a mixture of soy sauce, mirin, and sugar) and bonito soup stock. It's simple but very effective. Usually, kaeshi is used as a sauce for noodle dishes such as udon or soba, boasting a gentle sweetness.
Even the sesame oil that Masaru's tempura is fried in is made with the high-grade ball-squeezing method, adding to the all-around fantastic taste.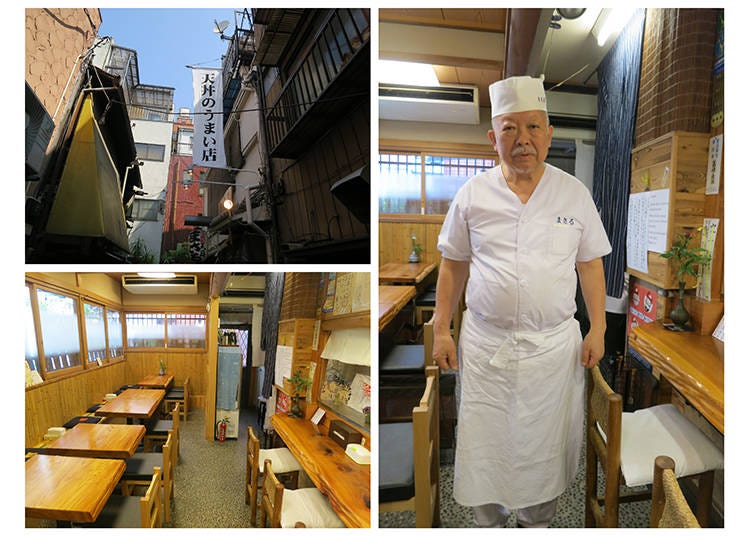 1) The white flag of the restaurant: "delicious tempura bowl." 2) "Whenever someone eats something extremely delicious, you can tell by the look on their face," says Mr. Takasaki, the shopkeeper. 3) The small yet cozy interior. Tissues at both table and counter seats ensure clean hands throughout your gourmet experience.
By the way, there's a rumor on the internet that Masaru doesn't let children in that are younger than elementary school age. "That's not true," corrects Mr. Takasaki. "It's just that the store is very small, and it gets crowded, which makes kids uncomfortable. So we merely advise people to refrain from coming with small children while it's particularly crowded." He asks people with small children to talk to the staff about how crowded the restaurant is. "The menu might be a little pricey, too, so a lot of parents do not order for their children. That especially makes me feel sorry for the little ones."

The thoughts behind the rumor actually come from a place of genuine kindness and concern. That alone makes you wonder how much love the shopkeeper puts into every single tempura bowl... it would certainly explain the heavenly taste.
まさる

Address

1-32-2 Asakusa, Taitō-ku, Tōkyō-to 111-0032

Nearest Station

Asakusa Station (Tokyo Metro Ginza Line, Toei Asakusa Line, Tobu Skytree Line, Tsukuba Express), 3 minutes on foot


Phone Number

03-3841-8356

Hours: 11:00 a.m. – 2:45 p.m. (shop closes at 3:00 p.m. or when out of ingredients)
Closed: Wednesdays, Sundays, New Year's (may be closed in case of supply shortage or bad weather)
2) Tempura Nakasei: a Traditional Taste Loved by Famous Writers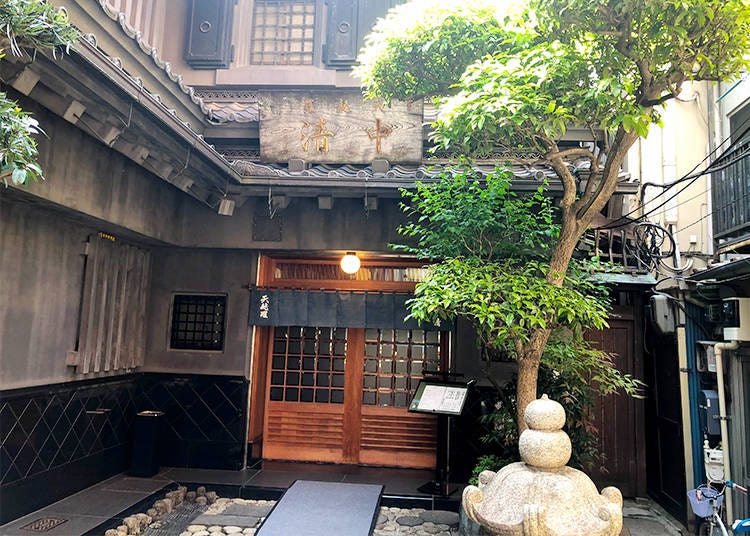 An alley that has a quiet and peaceful atmosphere, entirely different from Asakusa's busy main streets.
Our next tempura stop is Nakasei, located in an alley just opposite of the Asakusa Public Hall. The building alone stands out, built in a beautiful, traditional style called sukiya. The restaurant was originally established in 1870 and thus boasts a long history, but the original building did not survive the Great Kanto Earthquake and the air raids of WWII.

The current restaurant was built after the war and adjusted later on while the restaurant itself continued to make history. There's a pond in Nakasei's courtyard in which large carps frolic about, so this restaurant even offers a bit of sightseeing as well! It certainly is a fascinating place, letting you feel Japan's rich culture through and through.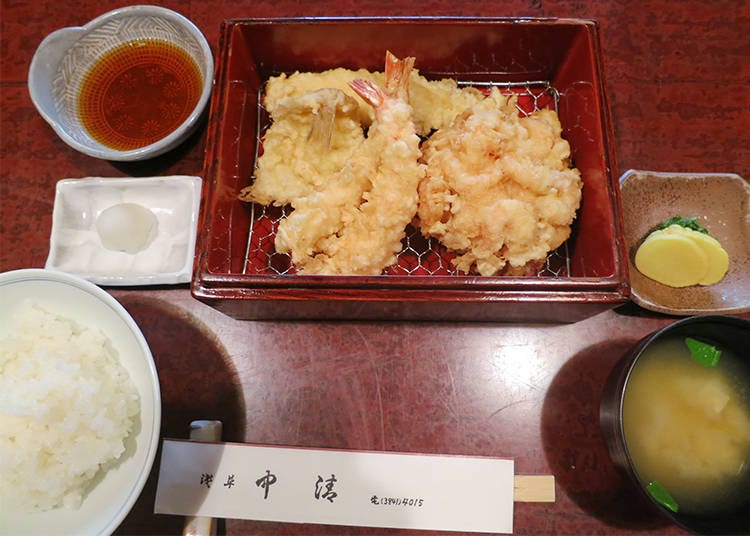 The "Tempura Set Meal" for 3,000 yen with two Japanese tiger prawns, whiting, conger eel, and "kaki-age," a tangle of seafood.
The most popular dish on Nakasei's menu is the "Tempura Set Meal" for 3,000 yen. It features two Japanese tiger prawns, whiting, conger eel, and kaki-age, a "tangle" of seafood. Depending on the season, you might also find young sweetfish on your plate. The kaki-age is fried with shiba shrimp, boasting a taste and texture different from the tiger prawns used for the larger tempura.

The oil that the delicacies are fried in is a mix of sesame oil and salad oil, making for a vivid golden color and a nice crunch. Nakasei serves Edomae tempura as well, so there won't be any vegetables. A refined sauce provides a wonderful balance, however, making sure that the seafood isn't too overwhelming.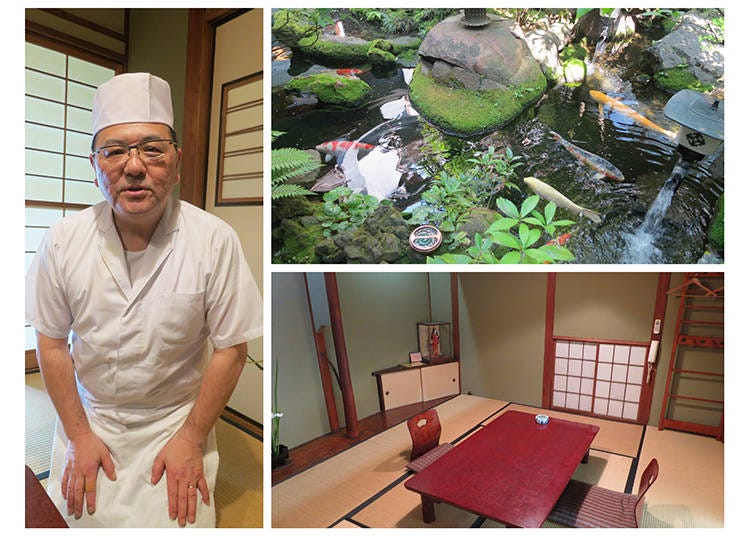 1) The shopkeeper in sixth generation, Hiroki Nakagawa. The restaurant's atmosphere is warm, welcoming, and wonderfully Japanese. 2) The koi carps in the pond are from a village called Yamakoshi in Niigata, famous for colored koi. 3) A tatami room next to the courtyard. It feels like an old inn.
Nakasei also boasts a history of being a favorite restaurant for famous Japanese writers such as Kafū Nagai. Another regular was Mantarō Kubota, an author and poet who is said to have been childhood friends with the third-generation shopkeeper. This legacy is palpable not only in Nakasei's wonderful atmosphere, but also in the crunch of the tempura – maybe you'll get inspired yourself!
天麩羅 中清

Address

1-39-13 Asakusa, Taitō-ku, Tōkyō-to 111-0032

Nearest Station

Asakusa Station (Tokyo Metro Ginza Line, Toei Asakusa Line, Tobu Skytree Line, Tsukuba Express), 5 minutes on foot


Phone Number

03-3841-4015

Hours
Weekdays: 11:30 a.m. – 2:00 p.m.; 5:00 p.m. – 10:00 p.m.
Saturdays, Sundays, public holidays: 11:30 a.m. – 8:00 p.m.
Closed: Tuesdays, the 2nd and 4th Wednesday of the month
3) Daikokuya Tempura: Spicy, Unique, and Incredibly Delicious!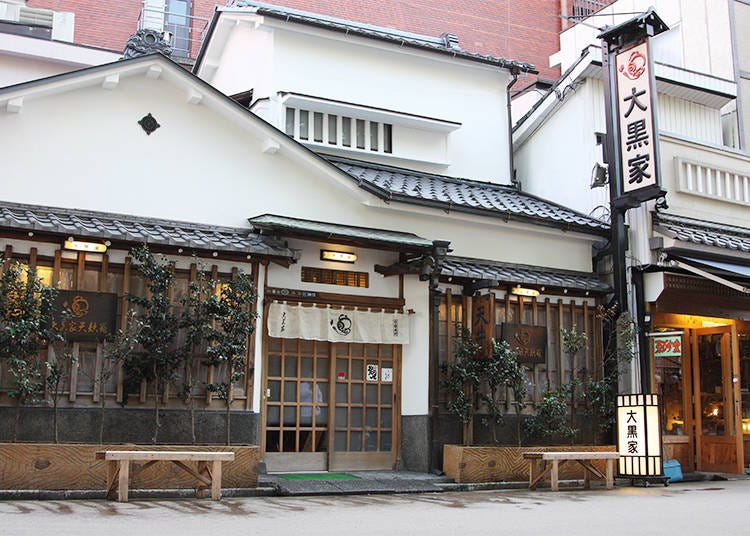 Daikokuya' Annex, right next to the original restaurant.
Last but certainly not least, we make our way to Daikokuya. It's also one of Asakusa's most representative tempura restaurants, founded back in 1887. Curiously enough, it started out as a soba restaurant and even though it was popular, there didn't seem to be much profit in buckwheat noodles. One day, when the shop made soba tempura and they sold like crazy, it changed its menu entirely and switched to tempura at the end of the Meiji period – at least that's how the story goes.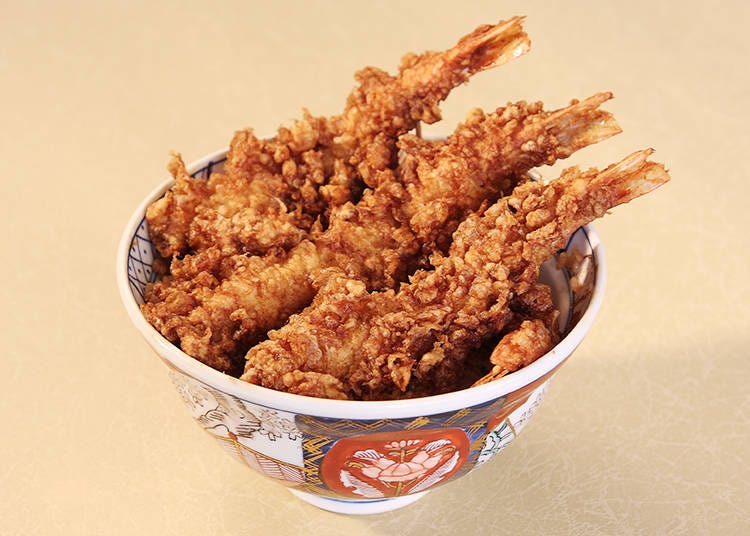 "Ebi Tendon" tempura bowl with four Japanese tiger prawns for 1,950 yen. It's a generous serving that barely fits the bowl!
Daikokuya is a popular restaurant that usually boasts rather long queues during lunch and on holidays. However... "Our tempura is polarizing. People either love it or hate it," explains Michio Kobayashi, Daikokuya's manager. The tempura looks unusually dark, which is because of the sesame oil typical for Edomae tempura. Another reason for the intense color is Daikokuya's characteristic sauce: rich, flavorful, and salty-sweet. It is rumored that this sauce is made with the same recipe since the restaurant's opening, a well-guarded secret.

Another major characteristic of Daikokuya is that the tempura isn't really crunchy but instead rather moist and firm to the bite. That might be a bit of a culture shock for some, but we absolutely urge you to give it a try! It's this uniqueness that people are queuing up for every day.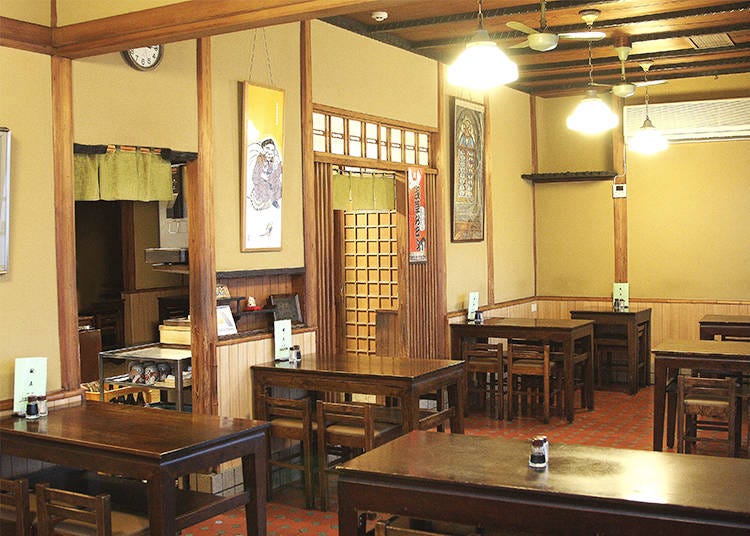 The atmosphere just screams "Asakusa;" rustic, traditional, and full of warmth.
浅草大黒家総本店

Address

1-38-10 Asakusa, Taitō-ku, Tōkyō-to 111-0032

Nearest Station

Asakusa Station (Tokyo Metro Ginza Line, Toei Asakusa Line, Tobu Skytree Line, Tsukuba Express), 5 minutes on foot


Phone Number

03-3844-1111

Hours: 11:00 a.m. – 8:30 p.m. (open until 9:00 p.m. on Saturdays and Sundays)
Closed: always open
*This information is from the time of this article's publication.
*Prices and options mentioned are subject to change.
*Unless stated otherwise, all prices include tax.