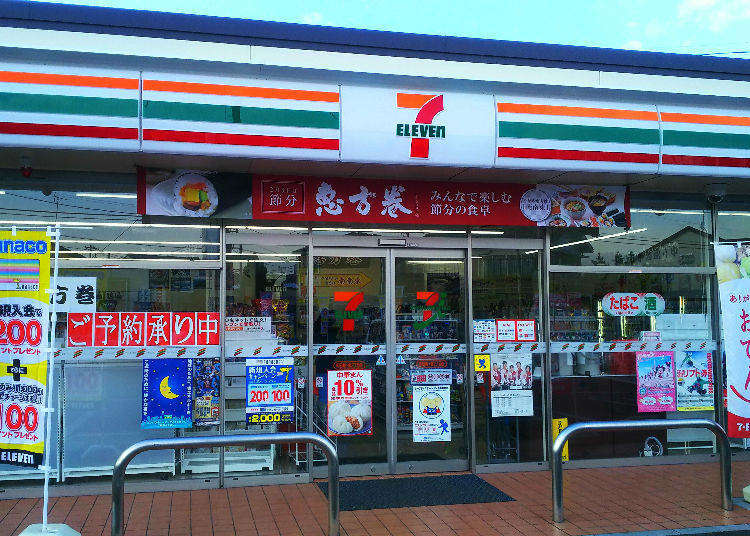 For those of you who don't know, yakitori is a traditional Japanese snack in which charcoal grilled chicken is placed on a skewer. It is a popular food item in Japan, sold by yakitori shops and izakayas (Japanese bar and grill) as it's said to go especially well with alcohol. With varied parts of the chicken used such as momo (thigh meat), kawa (skin), and harami (meat from the diaphragm), and a choice between shio (salt) or tare (a type of soy sauce) for flavoring, there are a multitude of types to choose from. In this article, we are going to introduce the types of yakitori you can buy at the heated food section next to the register at convenience stores such as 7-Eleven, Family Mart, and Lawson, all for around US$1.50! These are perfect for a quick breakfast, a snack between meals or even to supplement your dinner at the end of the day.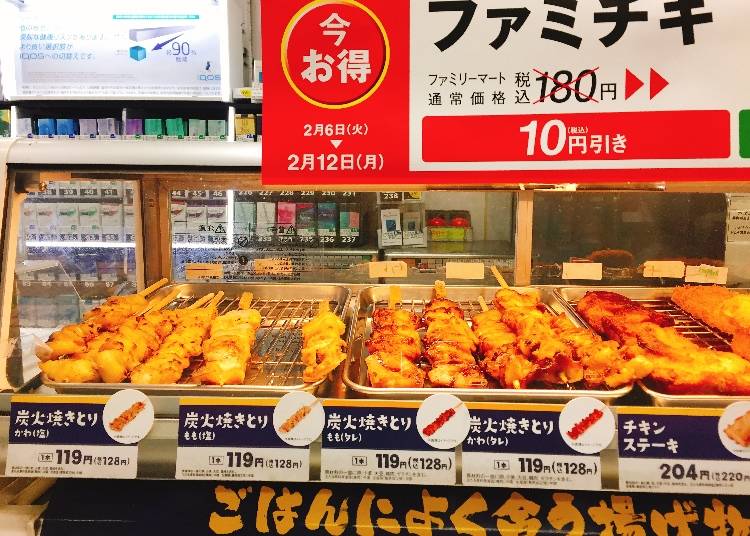 To order one of these tasty snacks, simply point to the one you want in the heated food section next to the register and say kore ga hoshii desu ("koh le ga hoshee dess").

The cashier should then put the item in a plastic bag for you. The staff will often ask you atatamemasuka? ("ah tah tah meh moss caw?") They are asking if you would like to heat it up in the microwave, so if you'd like them to do so, you can simply nod your head or say hai ("hi") and they will heat it up for you. If you don't need them to heat it up, respond with iie ("ee ee eh"). If you're going to eat it right away then we strongly suggest you have them heat it up to fully enjoy the hot snack!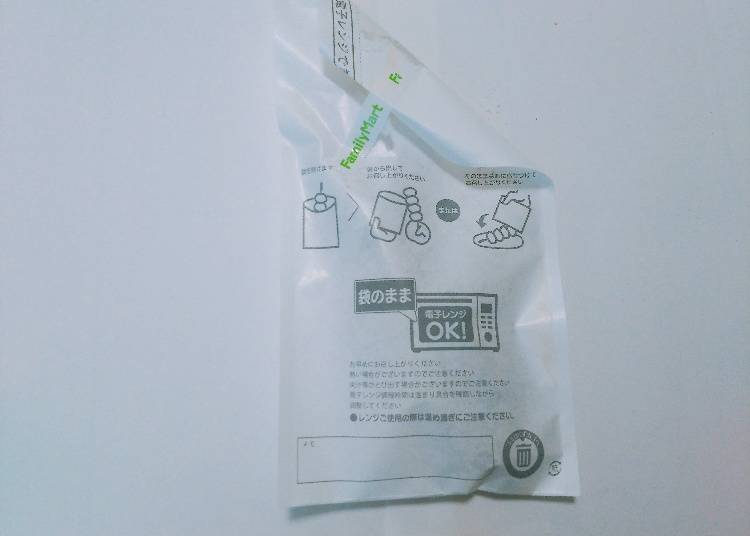 This is the kind of bag they put the yakitori in. To heat it up, you simply have to put it in the microwave as is!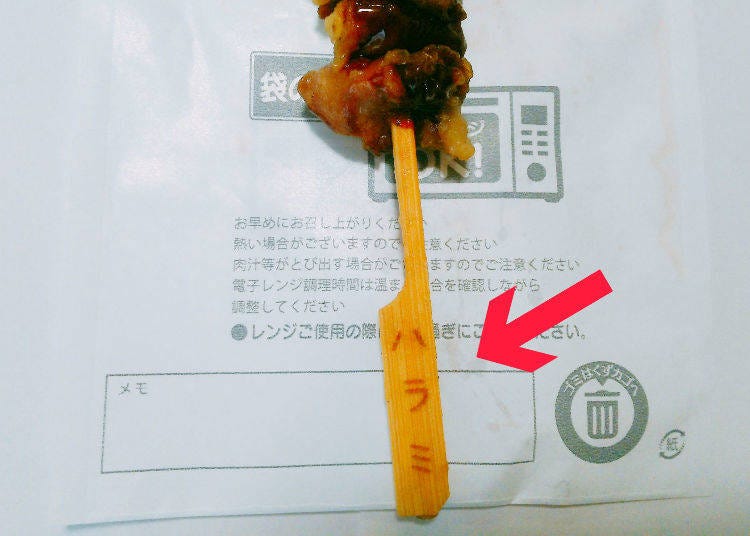 Since yakitori types all look pretty similar, the name of the type is written on the bottom of the stick. This one says harami.
The thing that makes Lawson's yakitori special is the simple fact that they are huge! Each piece of meat on the skewer is quite large, making it a filling treat.
Char-Grilled Yakitori, Momo Tare 120 yen (~US$1.20) (left), Larger Yakitori, Momo (thigh meat) Tare (yakitori sauce) 130 yen (~US$1.30) (right)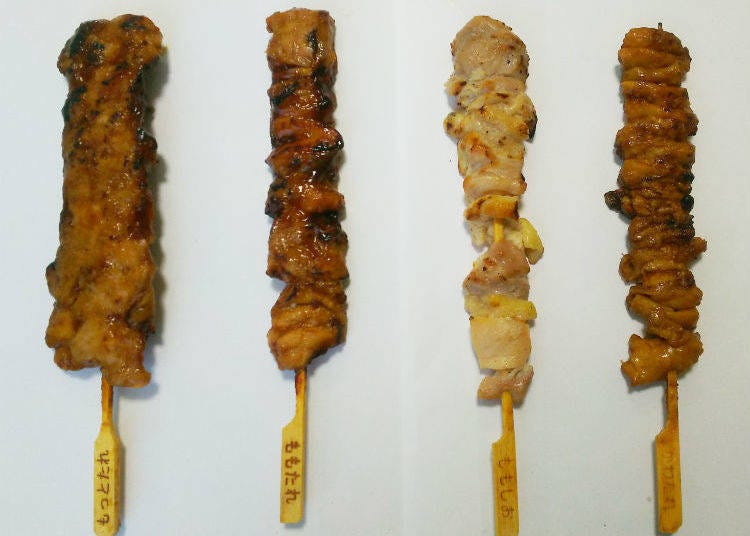 The Larger Yakitori, Momo Tare is roughly 20% larger than the regular Charcoal Grilled Yakitori, Momo Tare. You can see by the picture that it is, in fact much bigger. The meat was quite juicy and tender when we tried it. There are about 8 to 9 pieces on each stick making this snack easy to share if you're eating with a friend. It might also be a good idea to try adding some shichimi (blend of 7 spices) and cayenne pepper. The yakitori lets off a faint charcoal aroma just like a yakitori shop's one does.
Large Yakitori, Momo Shio (salt) 120 yen (~US$1.20)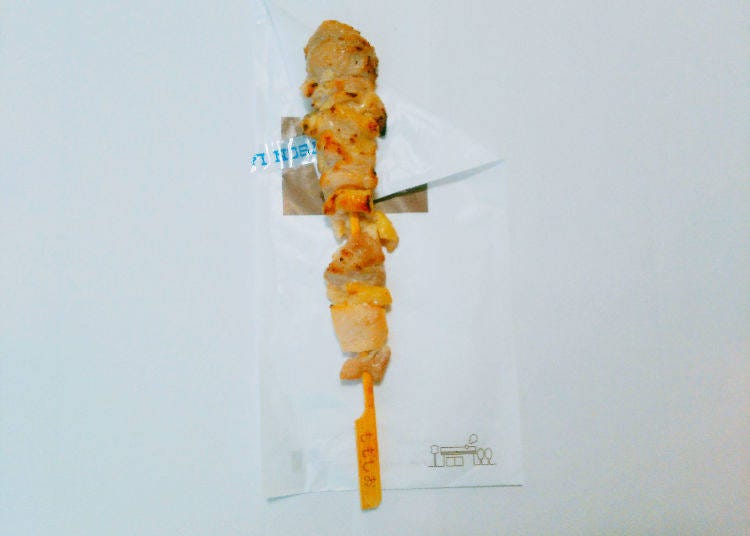 Compared to the Momo Tare, the Momo Shio had a lighter, more refreshing taste. The salt used in the Momo Shio comes from the clear ocean waters of Gotonada, Nagasaki. It's said to have a strong flavor with less bitterness than regular salt. By grilling it longer than usual on the charcoal, the yakiniku comes out with a nice charcoal fragrance. There are about 7 pieces on a single stick.
Large Yakitori Kawa (skin) Tare 120 yen (~US$1.20)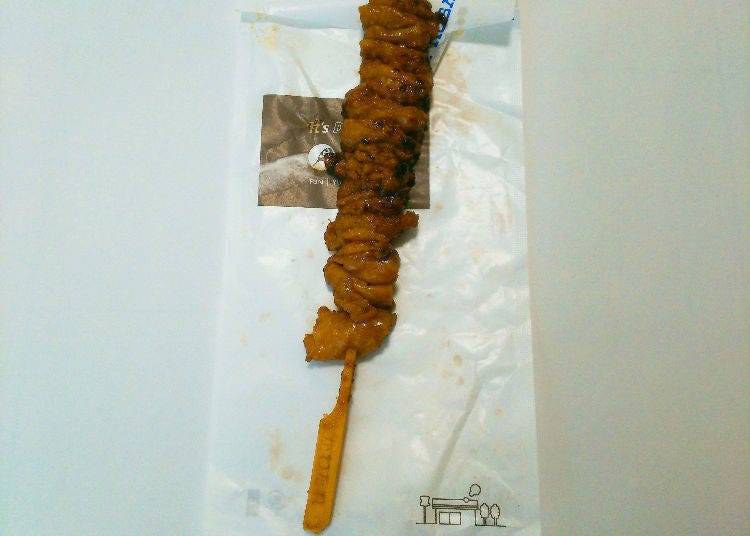 Kawa Tare is a type of yakitori that uses the skin from chickens. It has a tender chewiness and a fair amount of sauce making this a good snack to wash down with a cold beer. The sauce is naturally and domestically fermented in wooden barrels. They also pay close attention to how they grill the yakitori. By increasing the grilling time, it releases the fat from the inside to create a truly aromatic yakitori.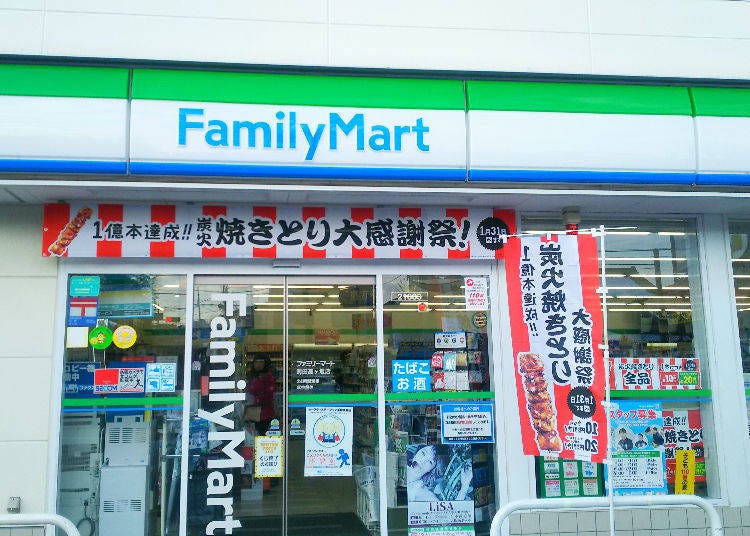 Family Mart is known for their char-grilled yakitori. From just one glance, you can see that they are charred just right, the same as you'd expect from a yakitori shop's products. From January 23-31, Family Mart had a 10 yen discount on all yakitori to celebrate selling a hundred million yakitori in 2017.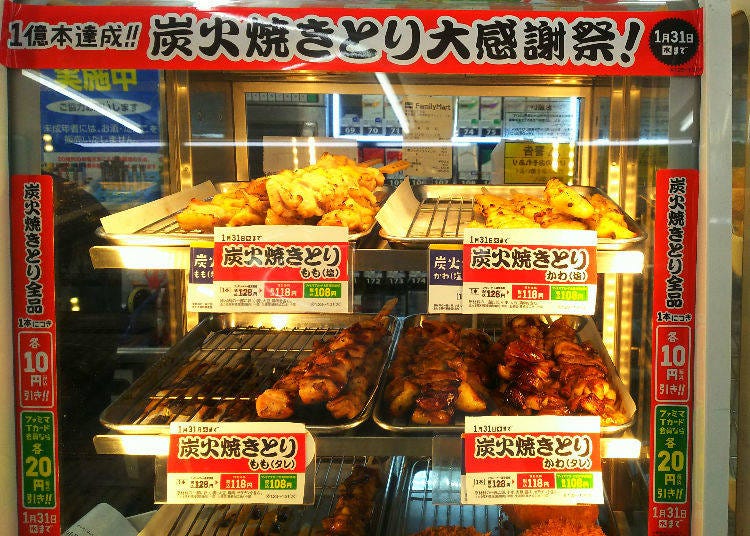 <@Char-grilled Yakitori Tori Kawa Tare 120 yen (~US$1.20)
(left), Char-grilled Yakitori Tori Kawa Shio 120 yen (~US$1.20) (right)|b@>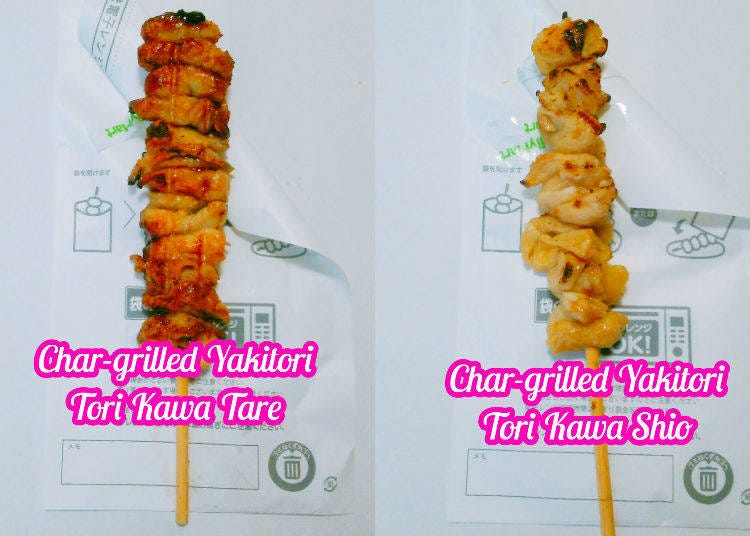 Family Mart's Tori Kawa Tare is simply smothered with sauce! It has trickled down, in and out of the gaps between the skin! Not to mention that it's char-grilled to perfection! If you like truly greasy foods, then this is the snack for you! It has a perfectly chewy texture that feels great when it goes down your throat. The Tori Kawa Shio on the other hand gives you the salty flavor you love without all the grease. Choose your favorite flavor or try them both!
Char-grilled Yakitori Momo Tare 120 yen (~US$1.20) (left), Char-grilled Yakitori Momo Shio 120 yen (~US$1.20) (right)
The sauce from Family Mart's Momo Tare tastes just like a yakitori shop's special shoyu (soy sauce). What makes Family Mart's thigh meat especially good is the tenderness of the meat. The Shio flavoring adds just enough saltiness to the meat, making it a truly appetizing treat.
Family Mart: Char-Grilled Yakitori Harami Tare 120 yen (~US$1.20)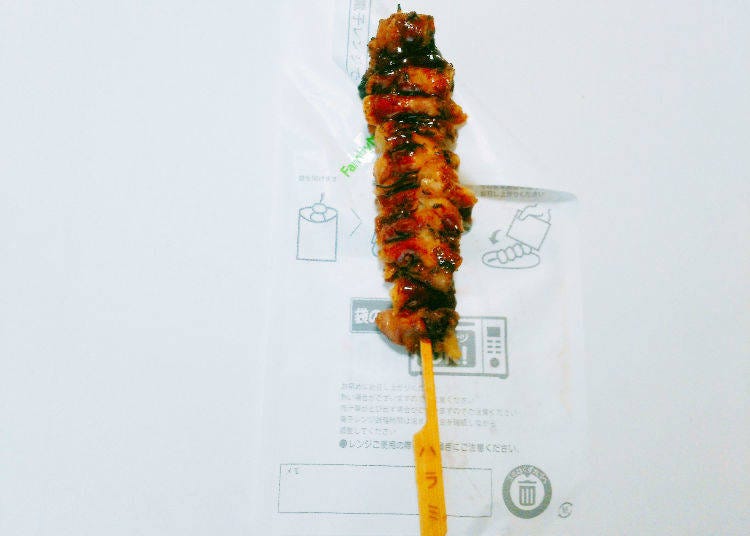 Harami is the meat cut from a chicken's diaphragm and only 10 grams of it can be collected from a single chicken, making it quite rare compared to the other chicken parts. Harami is a tough, yet chewy meat and the thick sauce goes perfect with it!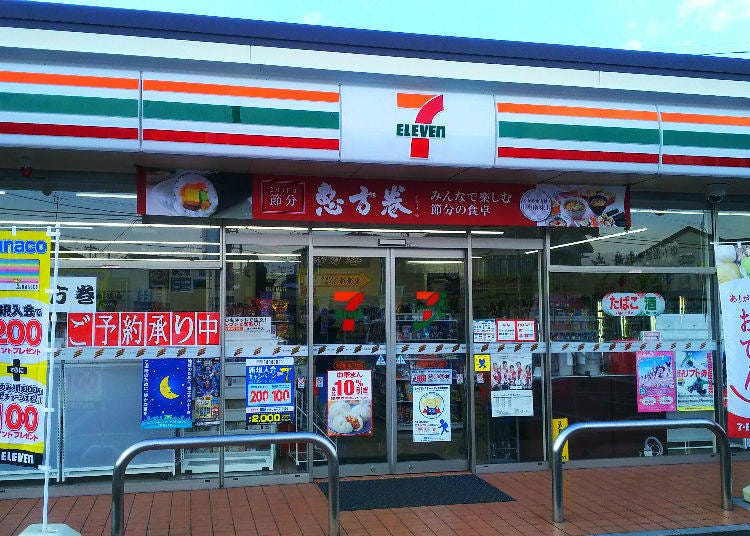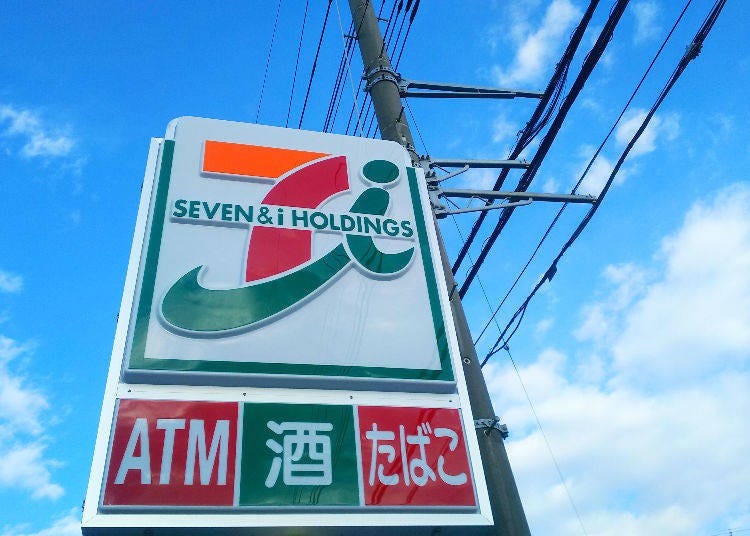 Here are some other snacks you can find in the heated food section of 7-Eleven and other convenience stores such as kara'age (deep-fried chicken) on a stick or even corndogs!
Kara'age on a Stick (Tatsuta'age) 120 yen (~US$1.20)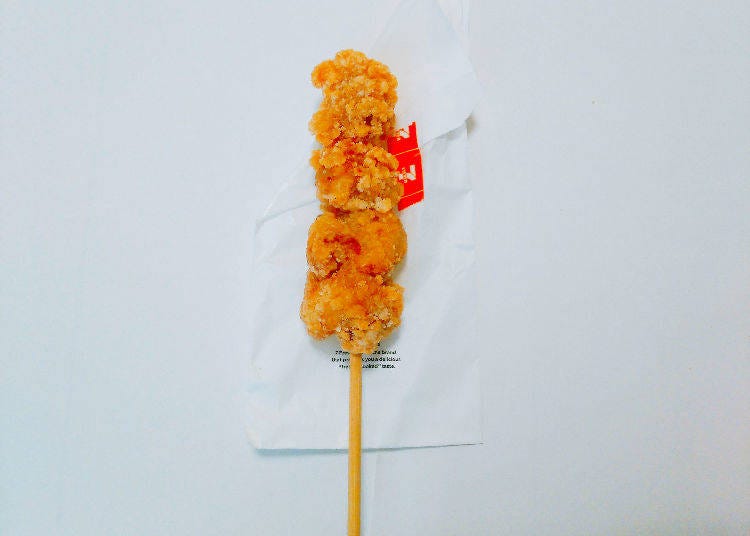 As the name implies, Kara'age on a Stick is four large lumps of deep-fried chicken skewered onto a single stick. The way these are deep-fried differs slightly from the way they are deep-fried in the west so it's definitely worth a try! This juicy snack will have you drooling before you even put it in your mouth!
Corn Dog (Big American Dog in Japanese) 100 yen (~US$1)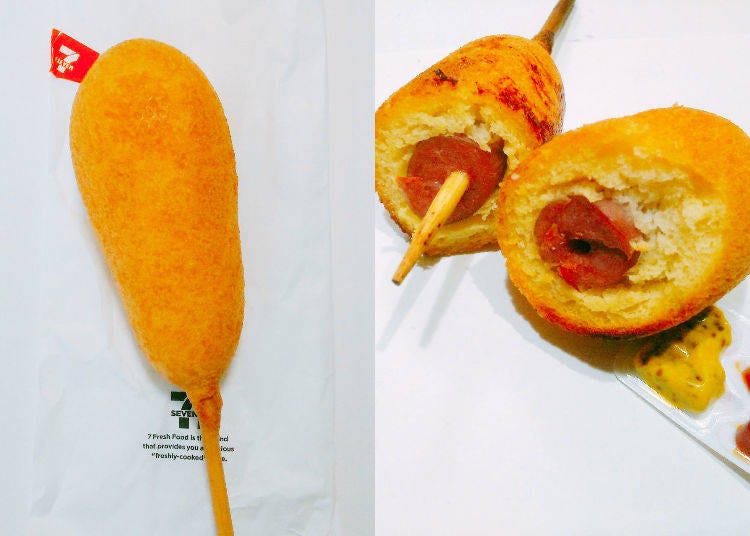 A quite large-sized corn dog for Japan. Although similar to the western corn dog, the Big American Dog uses a type of sausage instead of a hot dog in the middle and the breading is a little sweeter. Regardless, it is still a delicious snack like it always has been! They will hand you a little ketchup and mustard package when you order these. Point the flat end towards your corn dog and bend both sides to fold the package towards you to dispense the ketchup and mustard evenly.
*This information is from the time of this article's publication.
*Prices and options mentioned are subject to change.
*Unless stated otherwise, all prices include tax.