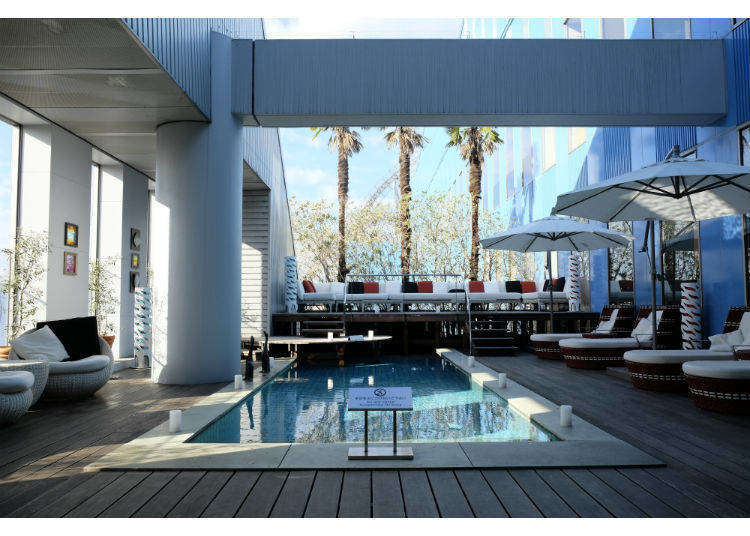 A ten-minute train ride away from the massive Tokyo Station lies Tokyo Dome City, a large entertainment complex right at Tokyo Dome, where various events, concerts, and baseball games are held throughout the year. Next to Tokyo Dome Hotel, attractions such as roller coasters, and around 50 shops and restaurants, you will also find an extensive spa facility, home to a natural hot spring right in the heart of Tokyo: Spa LaQua.

It is the happy place of many a Tokyoite, used to relax after work or during a day off, or as a unique place to go on a date or spend a nice day with friends. For tourists, it is an extraordinarily great chance to dip one's toes in Japan's rich bathing culture while enjoying an amazing night view over Tokyo's colorful lights.

It might be hard to imagine that a natural hot spring is located right in Tokyo, and very convenient and easy to visit as well. But Spa LaQua will cast any of your doubts aside, inviting you to forget the hustle and bustle of the big city for a while, showing you what genuine Japanese hospitality means.
Off to Tokyo's Natural Hot Spring, Spa LaQua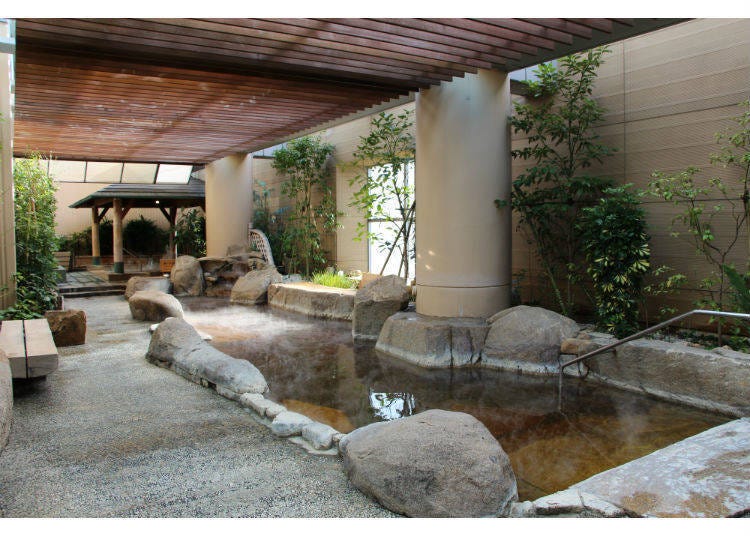 Spa LaQua is a hot spring facility in Tokyo, consisting of two main areas: Spa Zone, the hot spring area, and Healing Baden Zone with low temperature saunas. Let's head over to the Spa Zone first – can you hear the sound of the roller coaster from outside?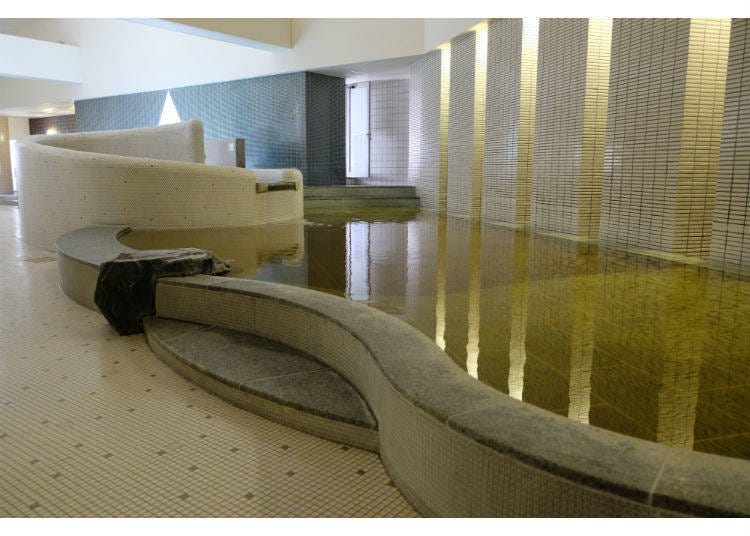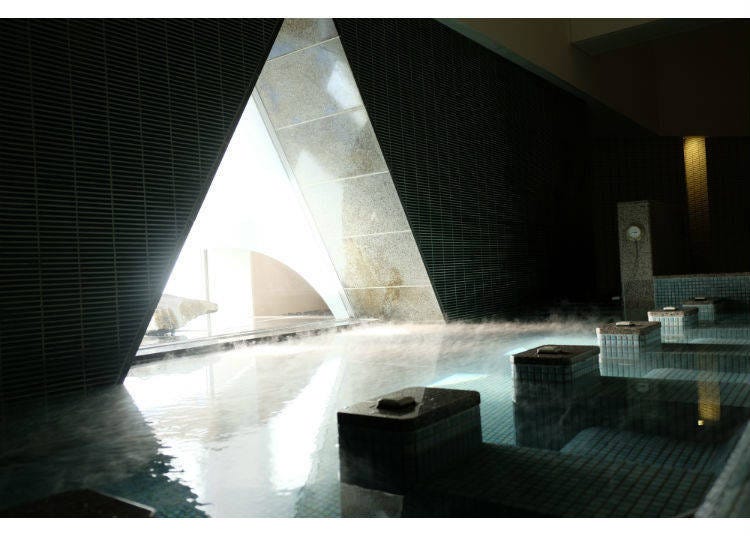 One of the most amazing characteristics of Spa LaQua is the fact that just outside, people experience a thrilling ride on Tokyo Dome's roller coaster – particularly evident in the open-air bath, where you can hear the people's screams of excitement very clearly.

For people who aren't used to bathing naked in front of others, heading there first is recommended. The audible excitement is very likely to make you less shy and self-aware about your nudity. There are two open-air baths to enjoy, one rock bath of 38 degree Celsius and one cypress bath of 42 degree Celsius, both drawing their water from about 1,700 meters underground.

This type of strong sodium chloride hot spring is a Strong Salt Spring, and often called Heat Bath or Slim Figure Bath. The active components of the water have a moisturizing effect on your skin, and are also excellent in regards to heat retention. It's also just the right bath for stiff shoulders, back pain, a sensitivity to cold, and more.

Both the indoor and outdoor baths are filled with this natural hot spring water and in the same area, you can also relax by enjoying a foot bath, massaging jet baths, and baths to cool down in.
Let's Go Sweat, the Löyly Way!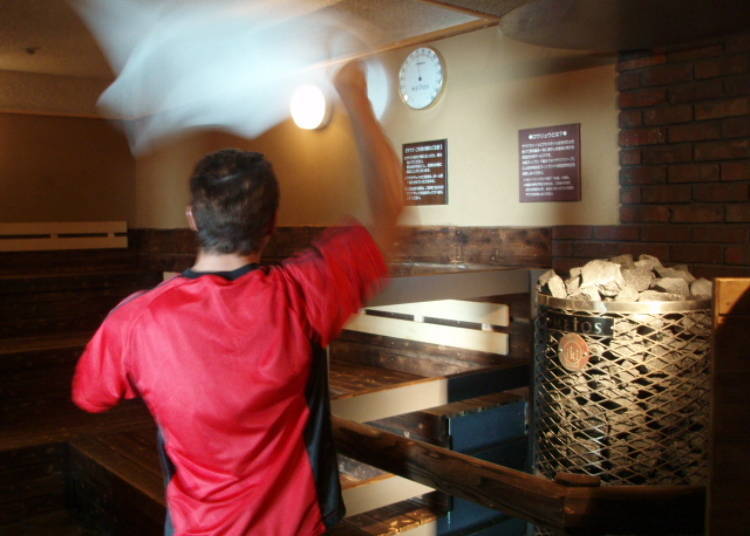 How about having a good sweat? Spa LaQua offers three kinds of saunas in total: a salt sauna, promising a purifying effect, a mist sauna which is said to stimulate the right brain, as well as a medium temperature sauna that is sure to make you feel thoroughly refreshed!

In the medium temperature sauna, the popular "löyly" service is implemented – originally, löyly is a Finnish term that specifically refers to the steam that is generated when water is poured on the hot sauna rocks. In the case of Spa LaQua, the water that is poured over the sauna stones is enhanced with aroma oil, making the rising löyly have a very pleasant fragrance in addition to making you sweat really nice and good! The heat and negative ions of the steam is said to work like magic against fatigue!

Experiencing this Finnish way of sweating in an authentic Japanese setting is our hottest recommendation – pun intended.
From Japan to the Tropics – Enjoying a Romantic Night Sky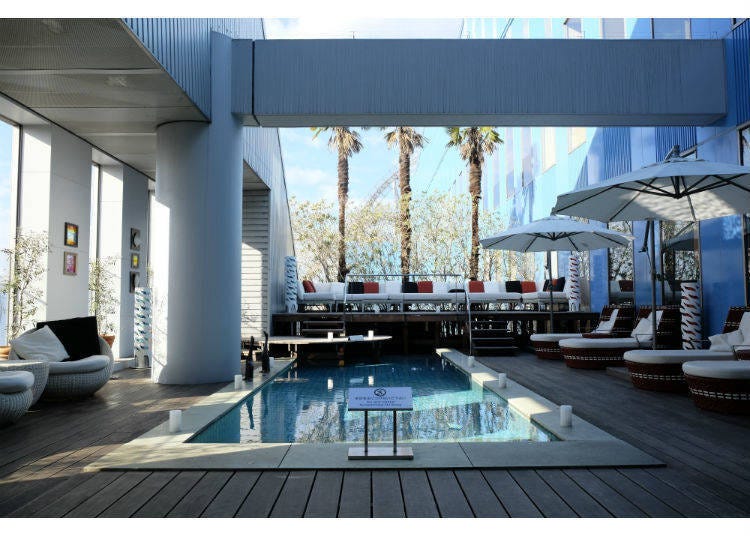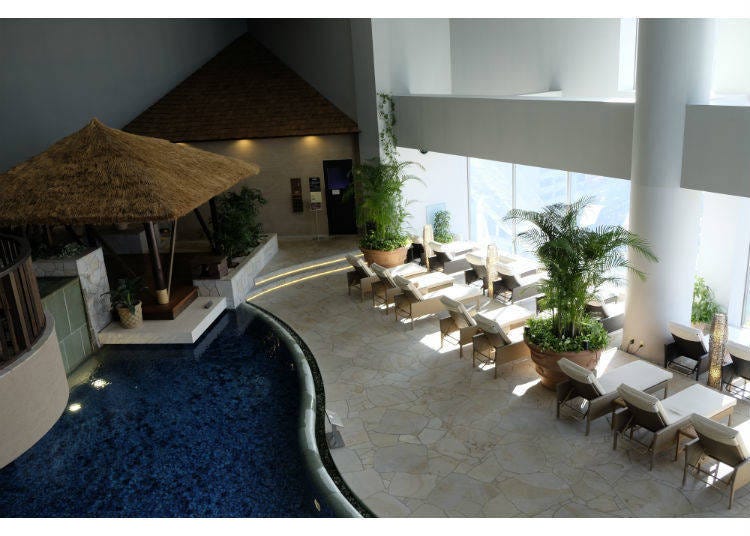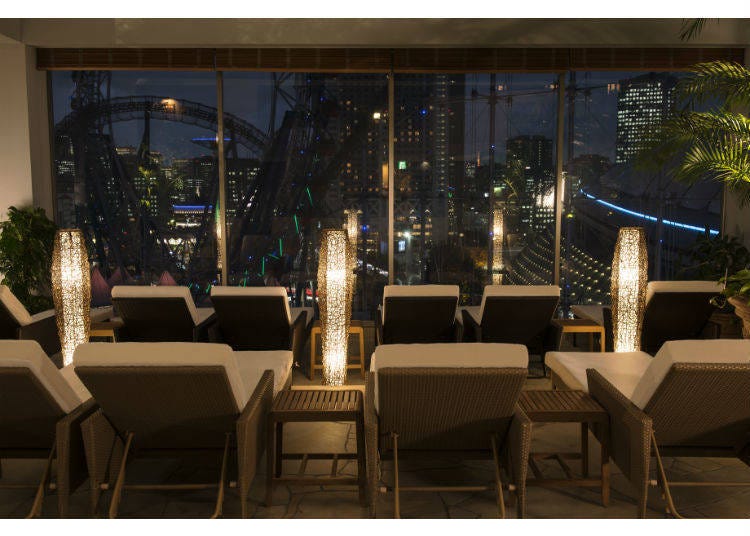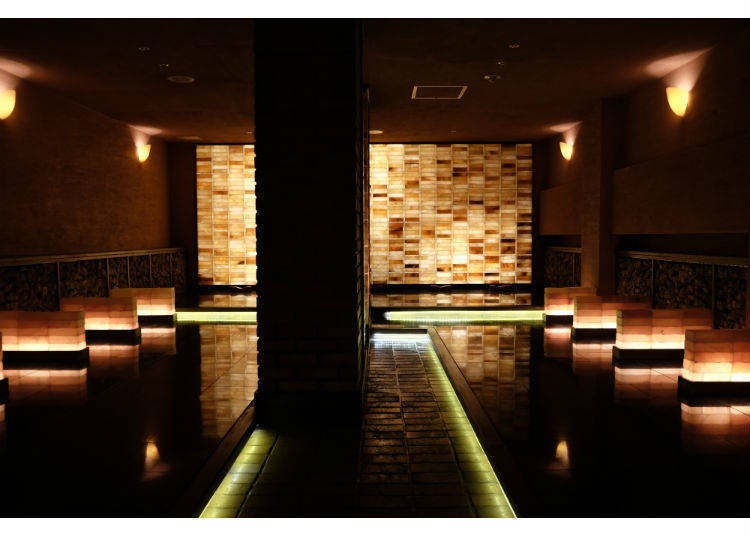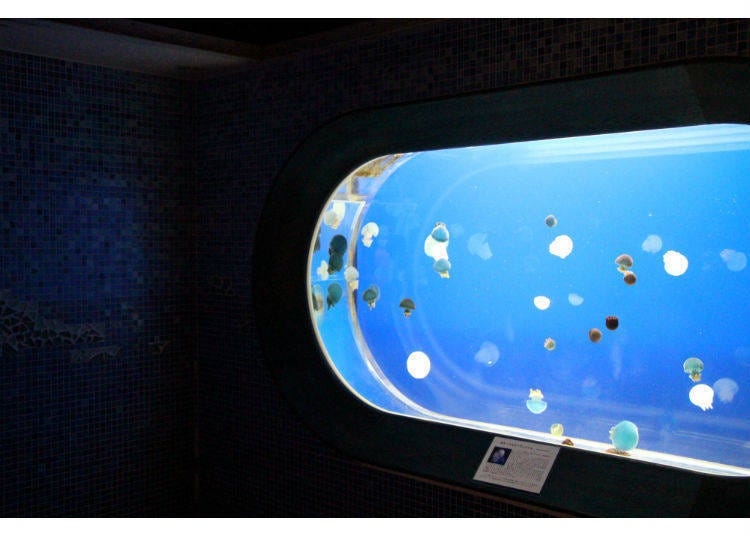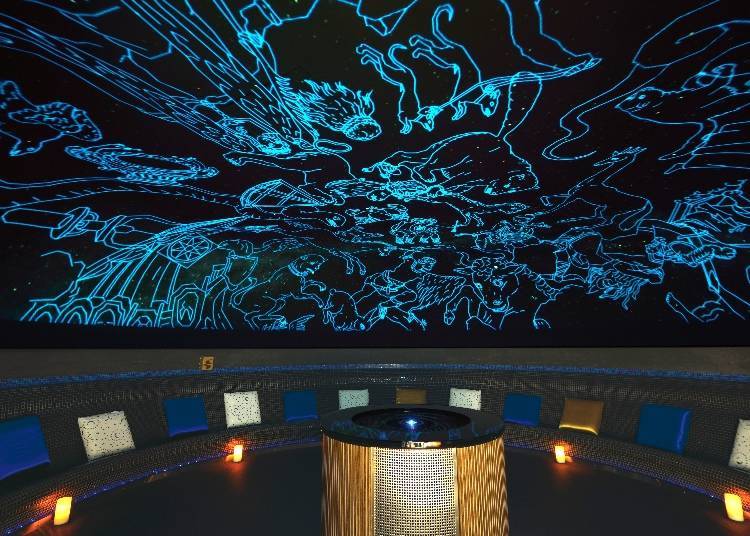 Let's head over to the Healing Baden Zone next, filled with low temperature saunas. The first thing you might think upon entering the area is: "Wow, did I suddenly get teleported to Bali?"

The area has a wide and open layout, reminiscent of a tropical resort that spreads right in front of your eyes. On one hand side is a large window front, offering a wide gaze over Tokyo Dome and its many attractions. Once the sun has set, this scenery transforms into an ocean of lights – and an incredibly romantic atmosphere unfolds.

During the winter months, the scenery is further enhanced by the illuminations displayed in Tokyo Dome, just right outside the window. Next to the Bali feeling, the Healing Baden Zone does have different low temperature saunas to offer, many of them with "healing" characteristics of various countries, such as Korea or Germany.

The Ocher Sauna, said to have an anti-aging effect, the Saiki Sauna which incorporates color therapy, the Dogen Sauna which doesn't just detox your body but will also make you feel like you've stepped into ancient ruins, and the Benisei Sauna for women only, relaxing your body and mind while you lounge on a mineral called Shokoseki that emits far infrared rays. These are the four types of low temperature saunas available.

Besides, there is also an area to relax in called the Tensendo, made out of beautiful maifan stone. The Suisobo, on the other hand, will promote your blood circulation while your mind can cool down by watching jellyfish in a beautiful tank. The last highlight is the Seikudo, fashioned after a planetarium.
Kicking Back in a Recliner Chair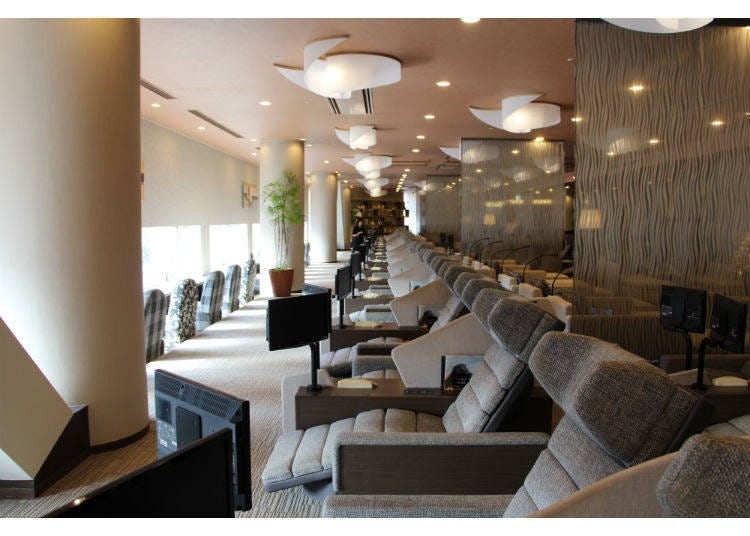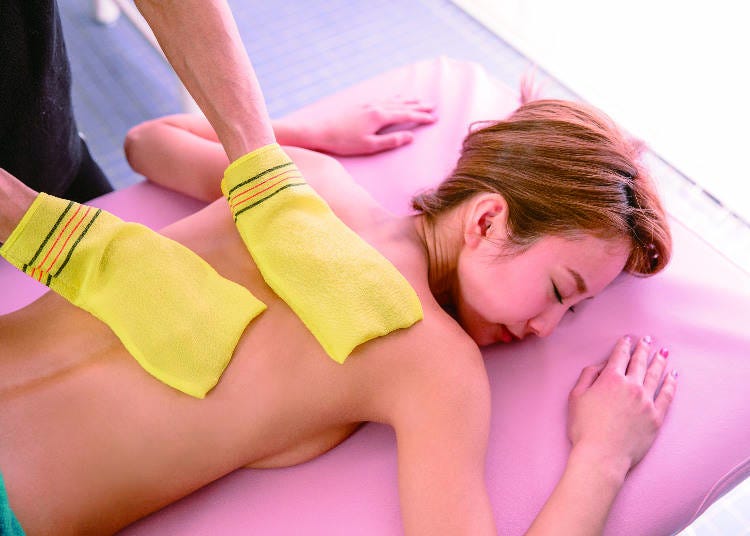 One of the smaller areas of Spa LaQua is called Relaxation, so let's head there after properly heating up and cooling down your body.

This lounge features around 200 comfortable recliner chairs and sofas, each equipped with its own screen and tablet. Feel free to watch some TV, surf the internet, and even use your own devices and charge them at the integrated charger sockets.

On top of that, drinks – both soft drinks and alcoholic beverages for 360 yen – and snacks for 310 yen can be ordered from the intercom at hand, tax included, so why not enjoy them while reading a book or one of the magazines that are provided for free? Simply taking a nap is also perfectly fine – take the time to relax and let your body rest.

Besides the areas for all genders, there also is a special Ladies' Lounge to relax in. Fourteen different kinds of treatment and beauty services can be enjoyed as well, such as a nail salon, scrubbing, or pelvic adjustment.

If you're getting peckish, why not enjoy a relaxed meal in the Japanese restaurant, Asian-style restaurant, or at the cafeteria? A whole day is easily spent at Spa LaQua.
Try a Variety of Make-Up for Just 100 Yen!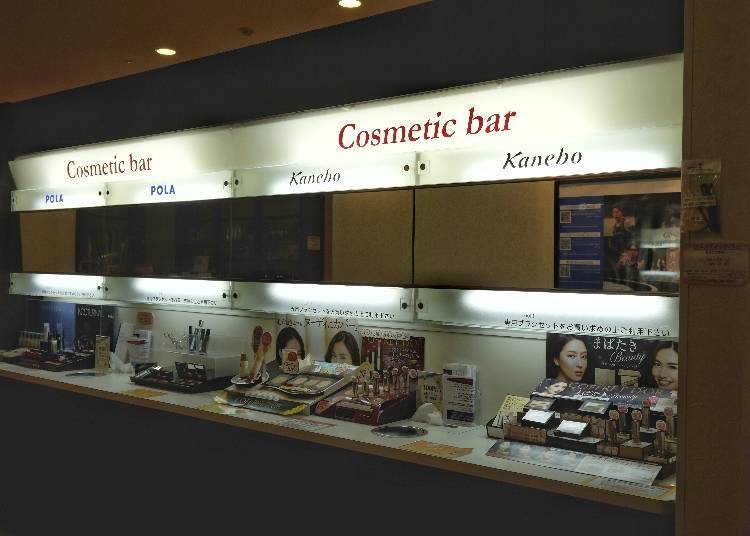 If you're standing in the locker room and notice that you've forgot something – don't worry, Spa LaQua has got you covered. The Amenity Shop sells a variety of necessities, such as underwear and socks. Furthermore, there's a Cosmetic Bar in the women's locker room that'll let you try out all the newest products of famous brands like Shiseido or Kanebo. After purchasing a brush set for 100 yen, you're free to try anything you like!
Open throughtout the Night!
Spa LaQua has incredible opening hours, from 11:00 a.m. to 9:00 a.m. the next day! As such, it is the perfect oasis of relaxation to pop by, for example after a concert at Tokyo Dome or after an entire day of sightseeing, before returning to your hotel. No matter at what time you're in the need of relaxation and want to recharge your batteries, Spa LaQua's doors are open to you, even late at night.

Hours: 11:00 a.m. – 9:00 a.m.
Holidays: Closed several times a year for inspection and maintenance
Size: around 10,000 ㎡ (women's only space around 750 ㎡)
Facilities: indoor baths (5), open-air baths (2), saunas (3), low temperature saunas (4; admission fee 864 yen), rest areas (2), restaurants (5)
Admission: 2,634 yen (includes towels & garments)
1,944 yen between 1:00 a.m. and 6:00 a.m.
Extra admission on holidays: 324 yen (Saturdays, Sundays, national holidays, special holidays)
Shampoo: available
Towels: available
Spa LaQua Tattoos: Tattoos and other body art (paints, seals, etc.) are prohibited
Language support: Chinese, English, Korean pamphlets available
Spa LaQua(スパ ラクーア)

Address

5-9F (Front Desk 6F)Tokyo Dome City LaQua, 1-1-1 Kasuga, Bunkyo-Ku, Tokyo 1120003 Japan
Written by : Lulu
*This information is from the time of this article's publication.
*Prices and options mentioned are subject to change.
*Unless stated otherwise, all prices include tax.
Limited time offer: 10% discount coupons available now!