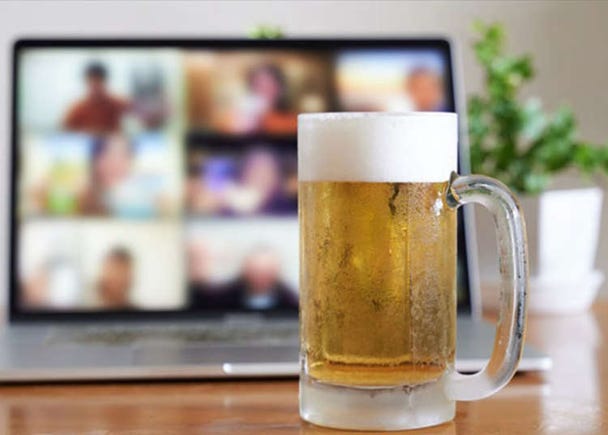 If you've ever visited Japan, you may have noticed that the nomikai, or drinking party, is a cornerstone of business and social communication. There's even a word, nomunication (a combination of nomu, to drink, and communication), used to describe how much easier it is to communicate when the drinks are flowing. Drinking with coworkers and superiors is a vital part of business life in Japan, and many social groups such as hobby groups or clubs, PTAs, and neighborhood associations also hold nomikai throughout the year. Even a group of friends getting together for a few drinks is a type of nomikai.

Nomikai can also be an opportunity to meet new people, or even a new partner. There is a special type of nomikai called gokon, which is a kind of group date where singles mingle over drinks and food, hoping to make a connection with someone. There are even speed-dating gokon, where you talk to each new person for 5 minutes and then take your drink and move on to the next one.

But how do you hold drinking parties or meet people in these times of coronavirus fears and State of Emergency orders? Next Level, an online media company, conducted a survey of 297 single men and women ages 20 to 49 on the possibilities of meeting people through nomikai held online, with participants drinking at their home. The results were surprising: 48.5% felt it was possible to meet a new partner through an online #stayhome nomikai.
Relaxing with Old Friends... and Meeting New Ones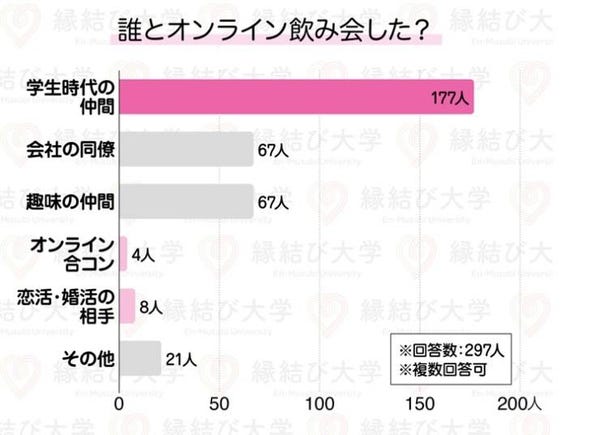 Who did you have an online nomikai with?
Friends from my student days | 177 people
Colleagues from work | 67 people
Members of the same hobby group | 67 people
Online group date | 4 people
Date | 8 people
Other | 21 people

Most of the survey respondents said they participated in online nomikai with friends from their student days. Fewer than half of that number said that they participated in nomikai with coworkers or members of the same hobby group.

Interestingly, this trend seems to be the reverse of in-person nomikai, where drinking with coworkers is a frequent occurrence for many, but there are fewer chances to get together with old friends who may have moved away or become too busy with their own lives.

Only a handful of people participated in online gokon or an online date, as shown in light pink in the above graph. But the next question shows why online nomikai may be here to stay.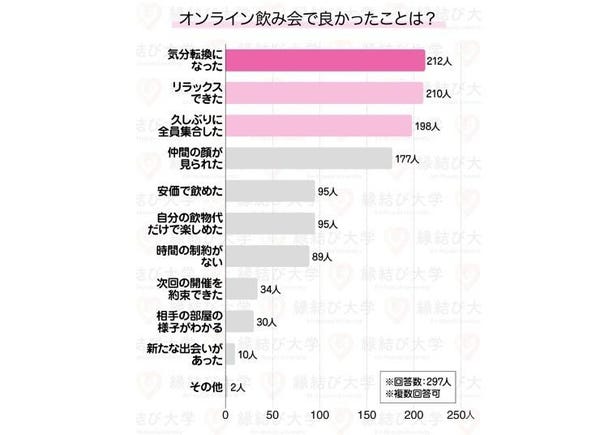 What did you like about online nomikai?
It was a pick-me-up |212 people
I was able to relax | 210 people
Everyone was able to get together for the first time in a long time |198 people
I could see my friends' faces | 177 people
I could drink cheaply | 95 people
I only had to pay for what I drank | 95 people
There was no time limit | 89 people
We made plans for next time.| 34 people
I saw the inside of the other person's home | 30 people
I met someone new | 10 people
Other| 2 people
A New Twist on a Cultural Institution
When asked what people liked about online nomikai, some of the answers were predictable, while others were surprising. Company nomikai in particular have formal aspects that don't apply when everyone is drinking in their own home, and people really seem to like that. The top two responses were "It was a pick-me-up," and "I was able to relax." Since company nomikai are usually mandatory affairs, many don't consider them to be relaxing or uplifting, but people seem to enjoy #stayhome nomikai a lot more.

Nomikai culture usually requires that everyone pay the same amount, regardless of how much they eat or drink, and as you can imagine, this can cause some friction. With online nomikai, everyone pays only for what they consume, and about 1/3 of survey respondents liked that. Another 1/3 responded that they liked being able to keep the costs down. Since a formal nomikai can cost around 5,000-10,000 yen, drinking at home can save a lot.

Some respondents noted that they liked the safety of meeting someone online instead of in person for the first time. One participant commented that she liked being able to participate in pajamas, without having to put on make-up. Others commented that they liked being able to see the insides of the other participants' homes. Which leads to the next question.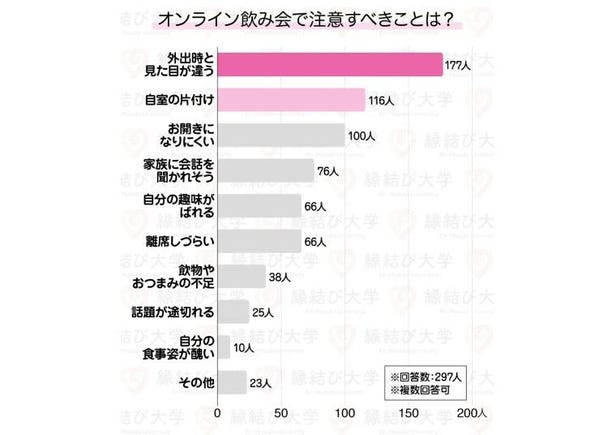 What do you need to be careful of when doing online nomikai?
Appearances are different from when going out |177 people
Cleaning my home |116 people
It is difficult to end the party |100 people
My family might overhear the conversation |76 people
People might find out about my hobbies |66 people
It's difficult to excuse myself |66 people
I run out of drinks and snacks |38 people
We run out of things to talk about |25 people
I look bad when I eat |10 people
Other |23 people
Pitfalls of #StayHome Nomikai
The top two were "Appearances are different from when going out" and "Cleaning my home." One participant noted that her skin showed up in sharp detail on the screen, and she found it was better to sit a little farther away from the camera! Another commented that he had left some embarrassing items sitting out, and another participant pointed them out to him. Another major problem is that it is difficult to end an online nomikai. In-person nomikai usually have a time limit, or must end when the store closes, but online nomikai tend to drag, so respondents suggested choosing and ending time in advance.

Around a quarter of respondents noted a problem that doesn't come up when nomikai are held at a bar or restaurant: running out of drinks and snacks! So, be sure to clean up, have plenty of supplies on hand, and maybe change out of the sweatpants?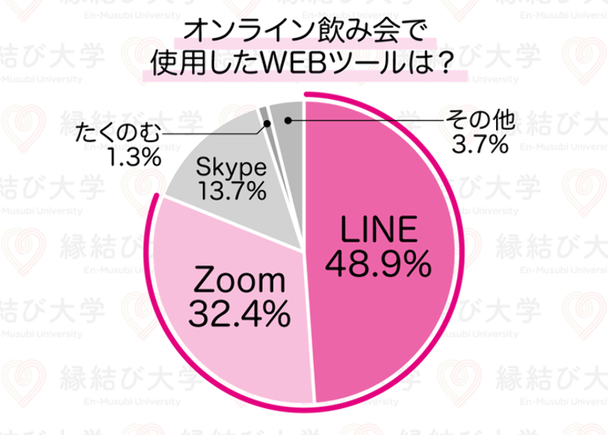 What online tool do you use for online nomikai?
LINE|48.9%
Zoom |32.4%
Skype|13.7%
Other|3.7%
Takunomu (app especially for online nomikai) |1.3%
Options for #Stayhome Nomikai
Around half of online nomikai participants used the ubiquitous messaging app LINE. Since many people in Japan already have it on their phones, it is easy to organize an online gathering without any additional preparation. LINE is also free for however long you use it. There are filters and stamps you can use to change your appearance to make it more fun or to hide any flaws you want to conceal.

Another 1/3 used the conferencing app Zoom. They liked that they could customize their background, and that it is easy to know who is talking. One drawback is that the free version cuts off after 40 minutes. A small number of people used Skype and other applications. Skype was recommended for voice-only nomikai, when you just don't feel like getting dressed or cleaning up.
A New Way of Meeting People
About half of the respondents to this survey thought that it is possible to meet a new partner through online nomikai. Since social distancing is going to be around for a while, online nomikai are a great way to preserve and create new social connections while staying safe. They also give us an opportunity to broaden our horizons, since you don't need to be in the same city or even the same country to drink together. Why not round up a few friends (and get them to invite their friends) and try it out for yourself?
*This information is from the time of this article's publication.
*Prices and options mentioned are subject to change.
*Unless stated otherwise, all prices include tax.