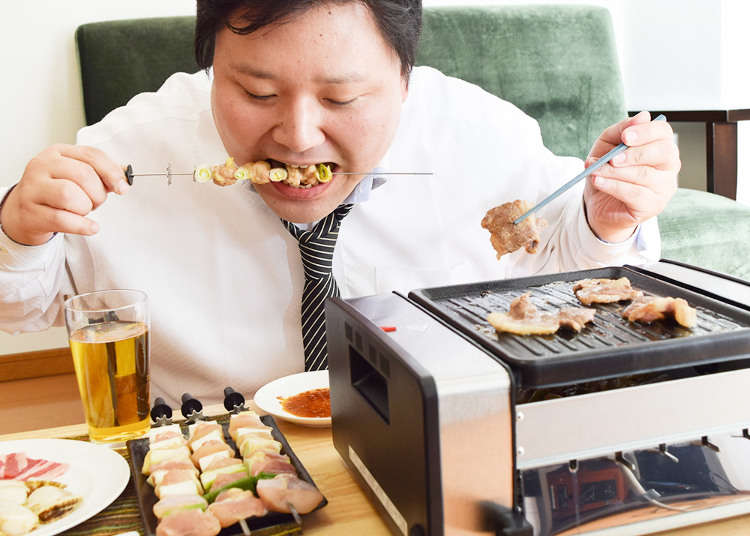 Now that people are spending more time in the kitchen than ever before, it is a perfect time to update your kitchen to make it more convenient and fun. Here we will introduce some new kitchen gadgets that will make your time spent in the kitchen more enjoyable. Japanese kitchen gadgets are often designed to minimize the amount of space taken up, or to do double duty so fewer gadgets are needed, and these are no exception. Of course, not only will you have more fun cooking, you will have more fun eating, too!
Keep Your Produce Longer with this Food Dehydrator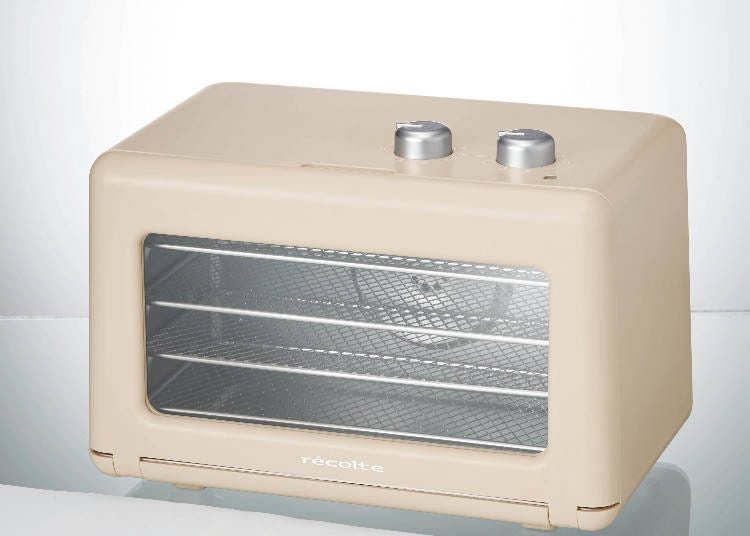 Do you ever buy too much produce and struggle to use it all before it goes bad? If, so, then this is the appliance for you! Drying is a traditional food storage method, but the traditional way of drying outdoors in the sun takes lots of time, space, and sunny weather. For busy city dwellers, these are not always available. But now this Food Dryer is here to help. Designed to be compact and minimize the space it takes up in your kitchen, the Food Dryer has 4 drying trays that hold a surprising amount of food at one time.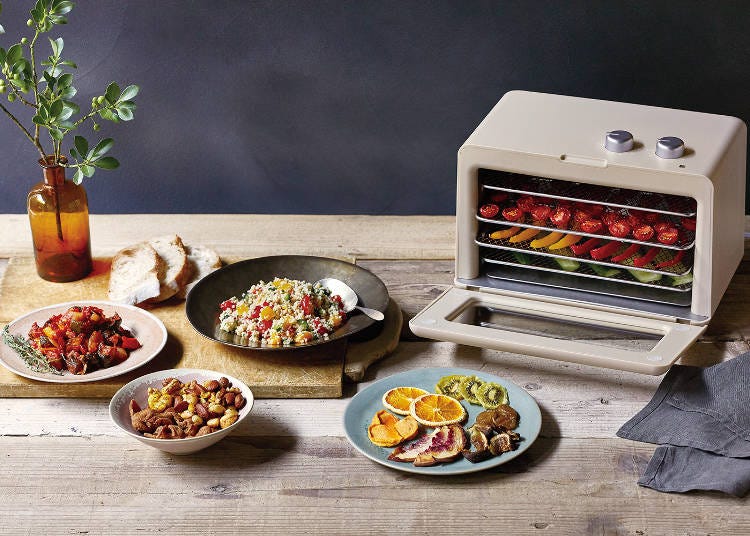 If you want to incorporate more fruits and vegetables into your diet, the Food Dryer can help you do it more conveniently and economically. Drying food preserves the flavor and nutrients of your food longer, so it minimizes food waste and helps you save money. Drying times are from 2 to 30 minutes, which helps you save time as well. Dried food can also be used to minimize the cooking time of a dish, saving even more time. The Food Dryer comes with a recipe book with 32 dried food recipes created by health and beauty chef Rikako Ishimatsu. Try your hand at drying food to make your kitchen, and your life, more convenient!

The Food Dryer went on sale in mid-March, and costs 12,000 yen (not including tax).
2-in-1 Blender for All Your Mixing Needs!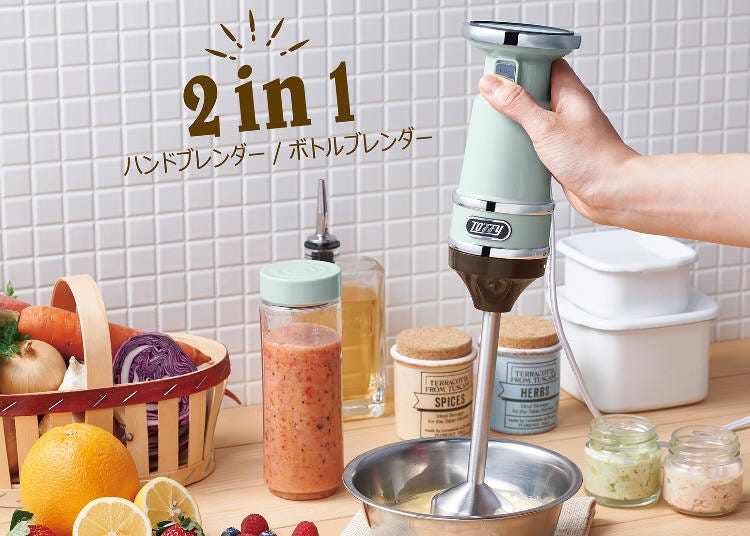 This cute retro-style blender can be used as both a stick blender and a bottle blender. Just change the attachment to change functions. Use the stick blender to blend ingredients in a bowl or pot, and use the bottle blender to make drinks and smoothies. It couldn't be easier, or more convenient! The speed adjustment function lets you choose how smooth to blend your ingredients, making it very versatile. The device itself is compact and doesn't take up a lot of space in your kitchen. Comes in your choice of two cute colors, pale aqua and ash white.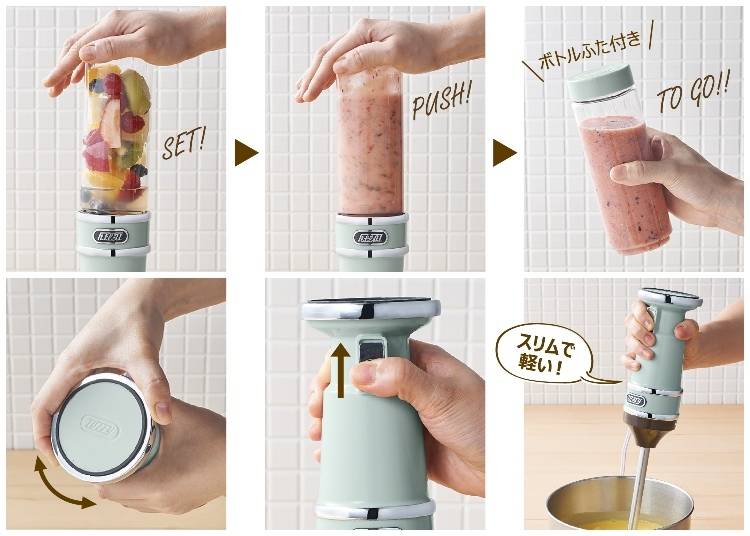 The bottle blender comes with a cover, so after blending you can take your smoothies or drinks with you. We love that it means fewer dishes to wash! This handy gadget would make a great addition to your kitchen!

The Hand and Bottle Blender went on sale in mid-April and costs 6,500 yen (not including tax).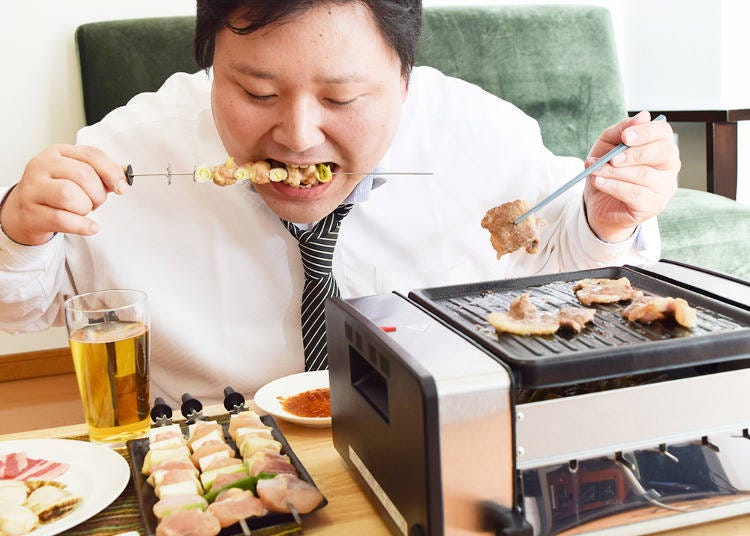 Meat lovers who have visited Japan will be familiar with yakitori, grilled skewers of chicken, and yakiniku, grilled slices of meat. These popular dishes are served at many restaurants dedicated to one or the other. But have you ever thought you'd like to have both at once, and in the comfort of your own home, not a smoky restaurant?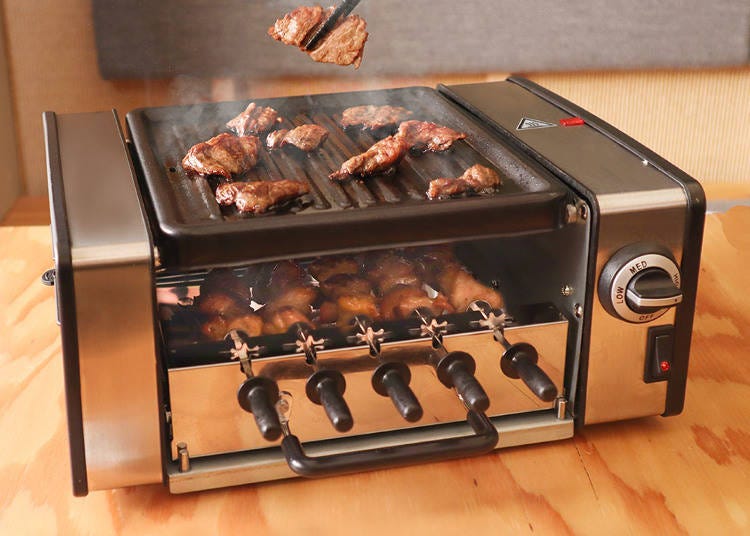 This device, called "Yakimono Taisho" (Admiral Grill), allows you to enjoy yakiniku and yakitori at the same time at home. Grilled sliced meats on the top plate while your skewers of meat and vegetables turn automatically below. The skewers can also be fitted with rollers to make the perfect hot dog. 3 temperature settings let you grill your perfect meat, vegetables, or fish. The device is constructed to emit little smoke, so you can use it comfortably at home. With this in your kitchen, cooking dinner will feel like a party!

We're sure you'll have a lot more fun in the kitchen with these cool and unique gadgets. We're constantly on the lookout for more fun things from Japan to brighten your home and your life!

Sources:
https://prtimes.jp/main/html/rd/p/000000052.000024163.html
https://prtimes.jp/main/html/rd/p/000000070.000001231.html
http://data.thanko.jp/media/190930CYNKYGRL.pdf
*This information is from the time of this article's publication.
*Prices and options mentioned are subject to change.
*Unless stated otherwise, all prices include tax.