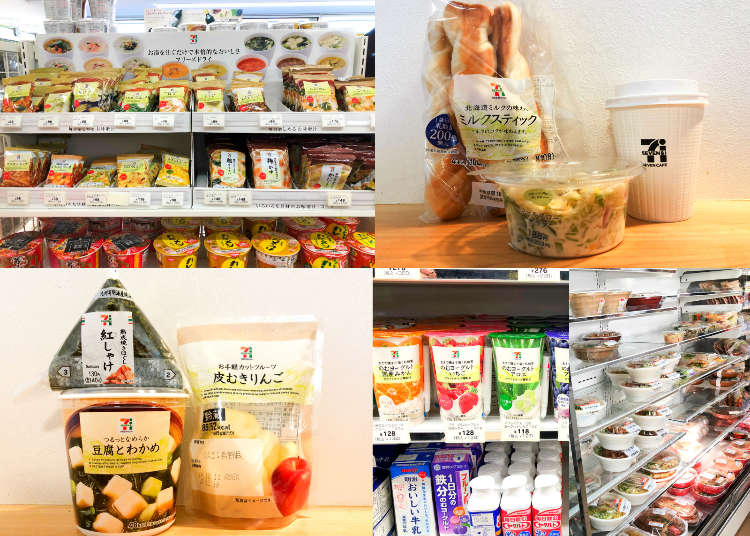 Many Japanese buy breakfast at a convenience store on their way to work. In fact, according to a 2014 survey*, almost 80% get breakfast at a convenience store and eat it at school or work!

As Japanese can be quite reliant on these convenience stores, you might be curious to know that they can be a perfect spot for breakfast for visitors on the go as well! Here we'll recommend some tasty convenience store breakfasts that you can buy for just 500 yen.
When in Japan, try some Japanese breakfast classics!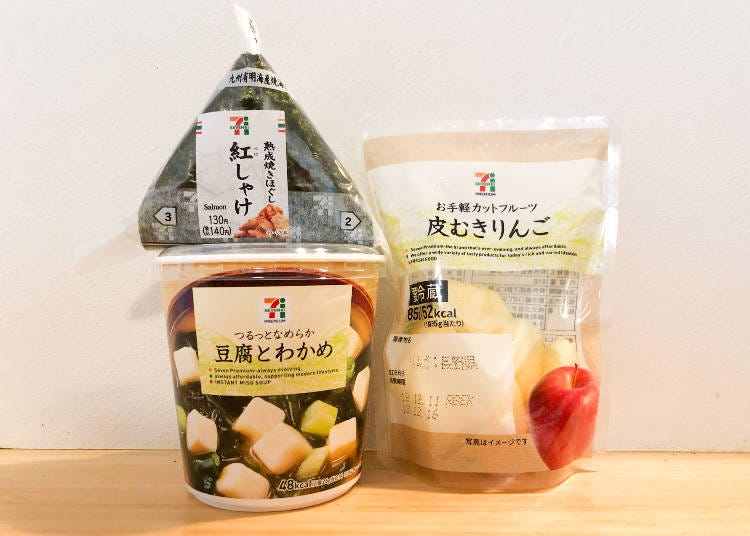 First, I will introduce you to the Japanese breakfast style. I chose an onigiri rice ball, miso soup, and a sliced apple for dessert. The miso soup requires hot water. For this you can use electric kettles that are placed in the convenience stores and hotels. This time I got my breakfast at "7-Eleven," one of the big chain convenience stores in Japan.

Japanese style breakfast
・Rice ball (grilled salted salmon) 140yen (tax included)
・Miso soup with tofu and kelp 100yen (tax included)
・Sliced apple 159yen (tax included)
Total 393 yen (tax included)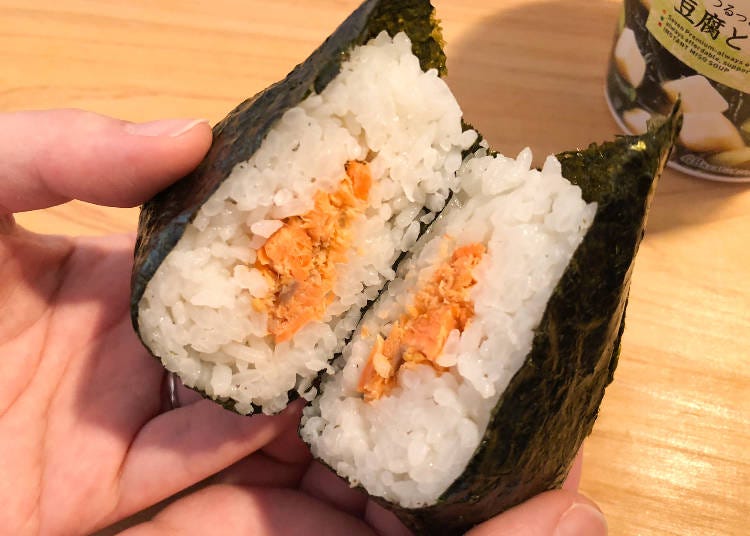 Grilled salted salmon is one of the most popular rice ball fillings. This exquisite combination of rice, salt, and crispy seaweed makes the texture even better.
The ingredients of miso soup are tofu and kelp. For people who don't like kelp, don't worry as convenience stores carry many kinds of miso soups. Please give it a try.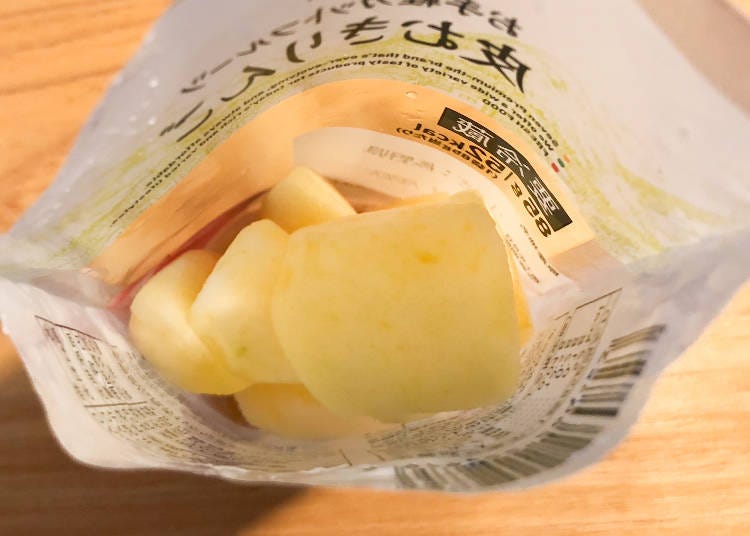 The apples are sliced into bite-size pieces, so you can eat it as a snack.
There are not only apples but also pineapples and oranges in convenience stores as well.
You can choose anything you like.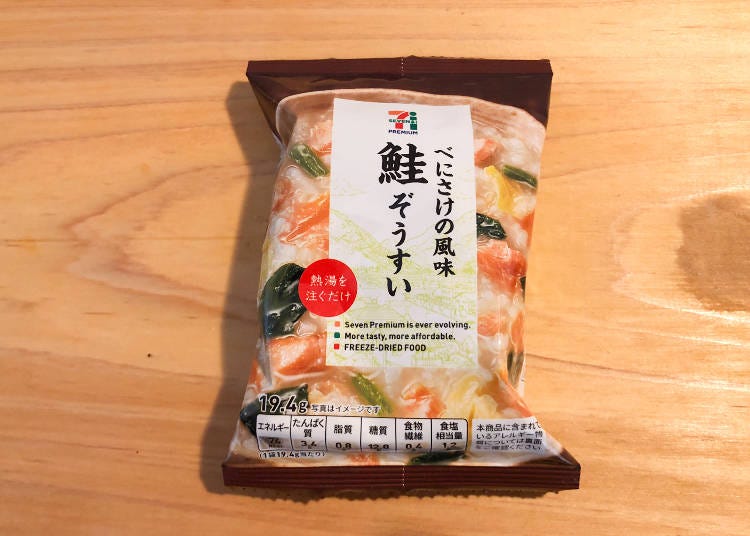 ▲Zousui, a porridge of rice, grilled salmon, and vegetables - 159yen
I'd like to introduce you one more dish that is a Japanese style breakfast.
It's a freeze-dried porridge-type dish called zousui. Maybe you are not familiar with zousui, but it is a traditional Japanese dish which has been eaten for ages. It is prepared by stewing steamed rice and a dashi broth (soy sauce, bonito-shavings, seaweed) kind of like a risotto.
The most popular way to prepare this dish is to add rice into leftover Nabe soup (a big Japanese stew) and cook it. This way of preparation is called "shime" in Japanese. This way of cooking is seen in many Asian countries.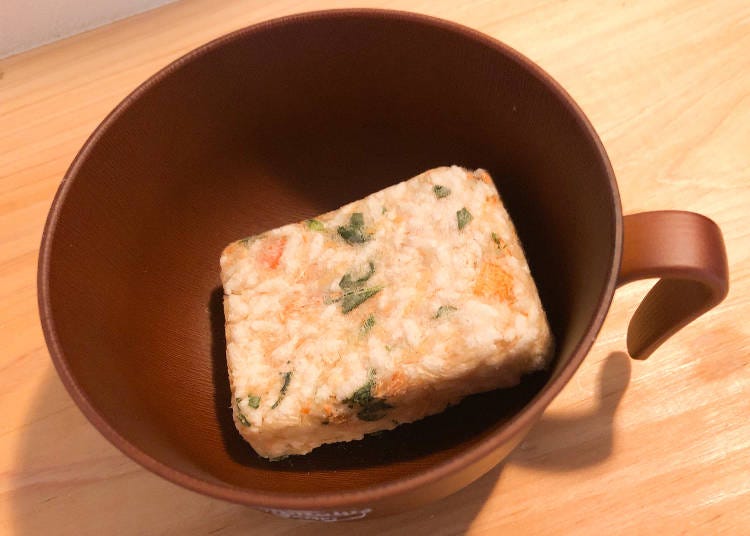 Take the zousui out of the packet and put it in a cup.

Pour hot water, wait for 1 minute, then stir lightly to finish.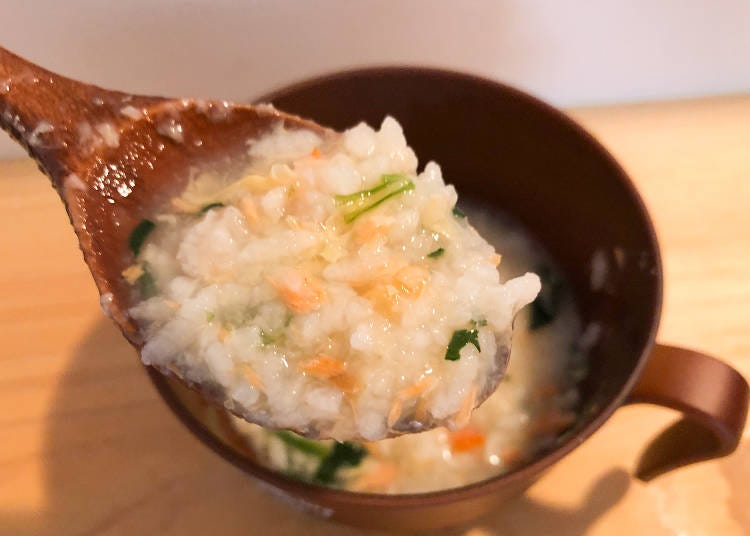 I chose a zousui which ingredients are mainly grilled salted salmon. It will surely fill you up as the rice which soaks up a lot of flavor from the broth and ingredients mixed with the lightly salted salmon to stimulate your appetite will satisfy your needs.
It is easy on your stomach, with a simple taste, which makes for a solid breakfast – especially when you have a hangover!
A variety of freeze-dried food at convenience stores are increasing day by day.
In addition to miso soup, there are many kinds of soup in a convenience store. Western soups such as onion soup, minestrone, and Chinese soups like shark's fin soup. Adding hot soup as side dish will wake your body up.
■If you are not hungry, low-calorie food is the best! / Vegetable breakfast options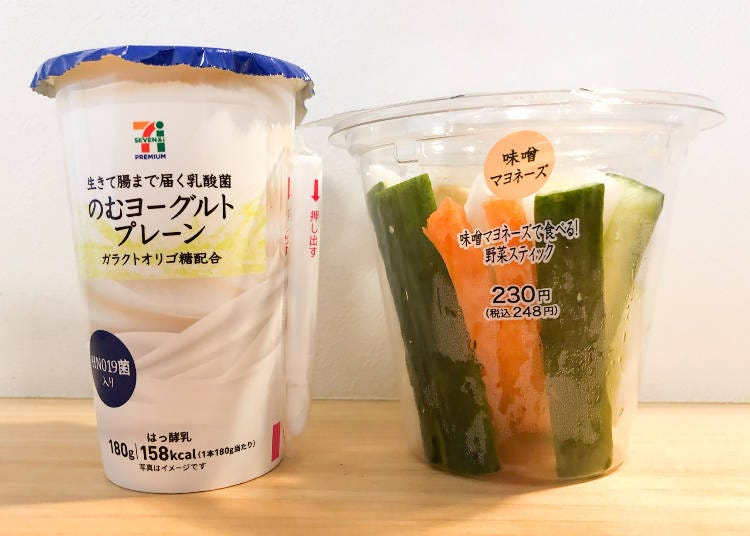 Sometimes you will have a poor appetite. You should eat staples such as rice and bread to be energized all day, but you don't have to force yourself to eat too much. When you don't feel like eating, you should try to choose a low-calorie dish. How about a vegetable breakfast like this:

Low-calorie vegetable breakfast
・Plain drinkable yogurt 118 yen (tax included)
・Vegetable sticks 248 yen (tax included)
・Total 366 yen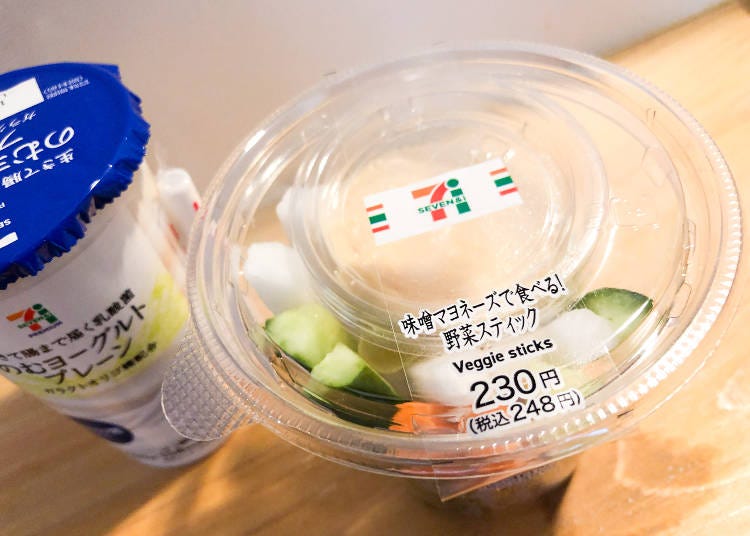 The main dish is dip with vegetable sticks which are cucumber, Japanese radish, carrot, and cabbage. You might feel that you don't have enough, but vegetables contain much dietary fiber, that will make your stomach full.
The dipping sauce in this picture is Miso with mayonnaise. Dip the vegetable sticks in the sauce and eat. Miso mayonnaise is so thick and flavorful that you feel full with this small amount of vegetables. It's delicious, low-calorie, and fills you up. It's perfect for a light breakfast.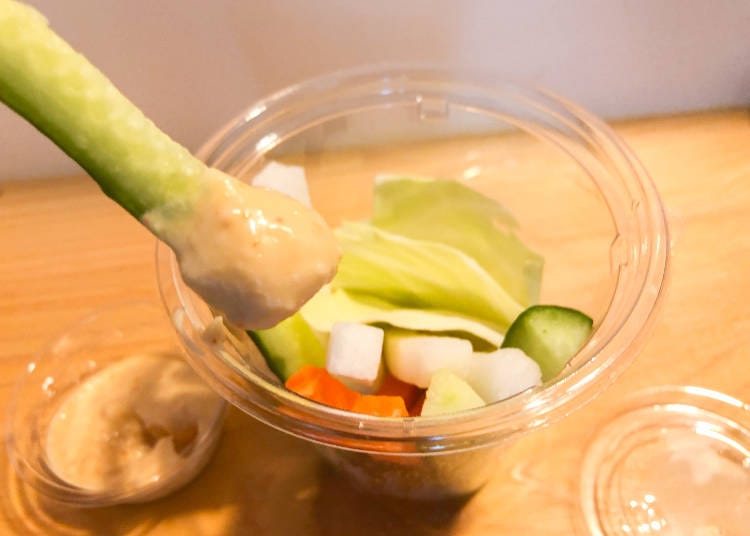 Miso sauce is a Japanese seasoning which is made from fermented soy beans which is used in miso soup. Originally, there was a custom in the Japanese countryside to eat cucumbers by dipping them in miso. Being from the countryside, I can recall my father eating them when he would drink. Miso by itself is salty so by mixing it with mayonnaise, it becomes a milder taste that children can also enjoy.
Miso is available in every country nowadays. If you see it in your supermarket, you should give it a try.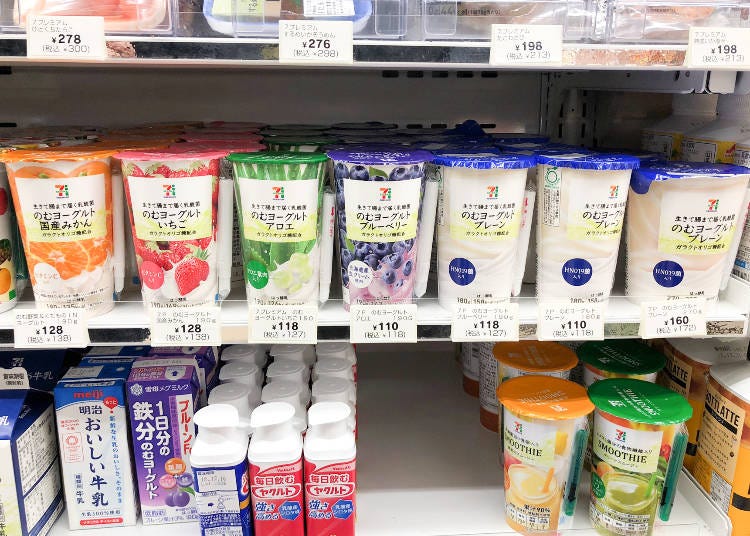 Enjoy drinkable yogurt with vegetable sticks. While yogurt is now a common food in most countries, be sure to drink it for dessert after you eat the vegetable sticks.
This is because the lactic acid bacterium will get to your stomach more easily when gastric acid is diluted with vegetables. 7-Eleven has many kinds of flavored yogurt as well: blueberry, aloe, strawberry, and orange.
All of them are delicious and smooth. Try them all to find your favorite.
■Enjoy a breakfast combo! / Western-style breakfast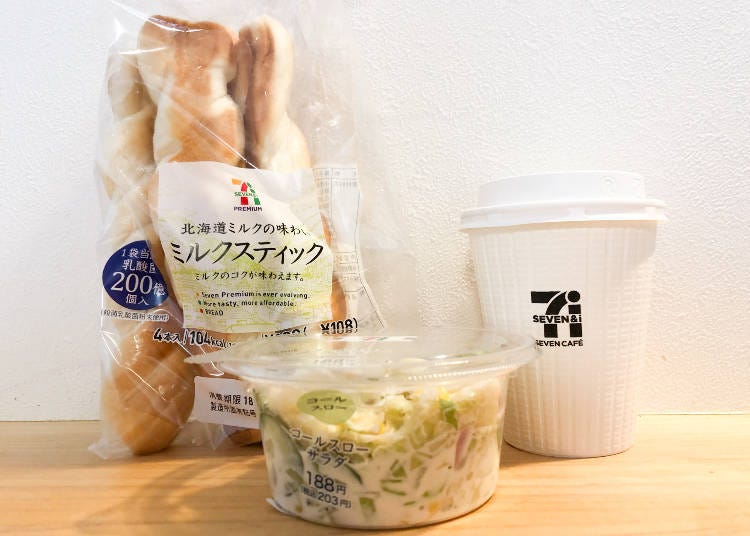 Japanese breakfast is changing with the times. Some people have bread and coffee for breakfast, while others drink a smoothie for their health and beauty. I recommend this western-style breakfast that uses bread as a staple.

Western-style breakfast
・Soft bread sticks 108 yen (tax included)
・Coleslaw 203 yen (tax included)
・Coffee (small size) 100 yen(tax included)
Total 411 yen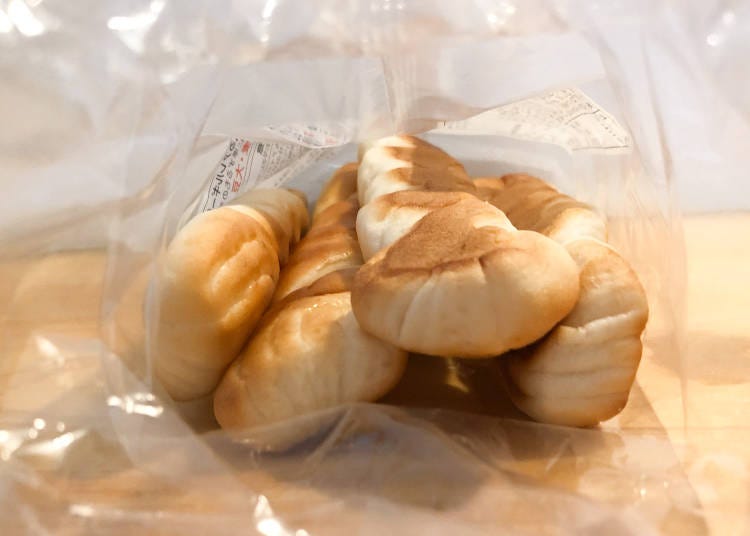 Soft bread sticks are popular. The selling point is the four pieces of bread in one bag. You can eat some of them for breakfast and can eat any leftover as a snack.
There are other kinds of 4 pieces bread bags, bite-sized croissants and dinner rolls are popular.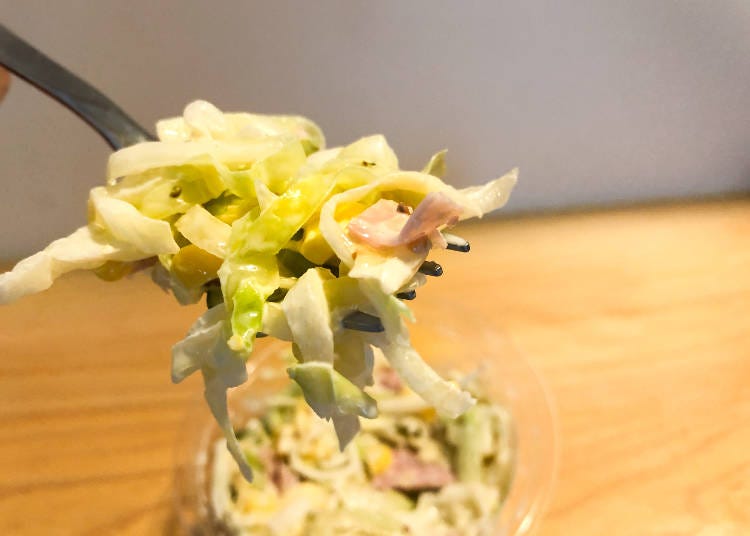 The familiarity of coleslaw is a great choice for salad. The crispy texture of cabbage is great. It's light and doesn't weigh you down if you eat it for breakfast.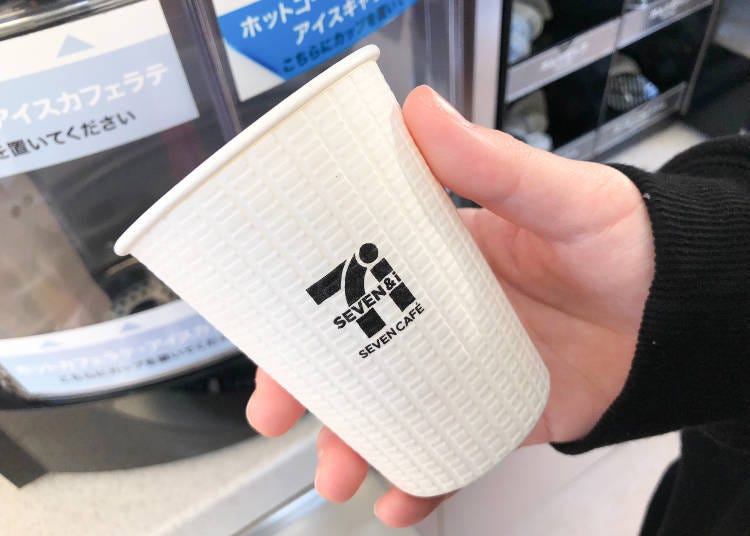 Speaking of coffee, freshly ground coffee is the best. Japanese convenience stores have coffee makers. The difference with Japanese convenience store coffee is that it is self-serve. At 7-Eleven and Family Mart, you need to buy a cup at the register and pour coffee into the cup by yourself. At Lawson, they serve coffee to you.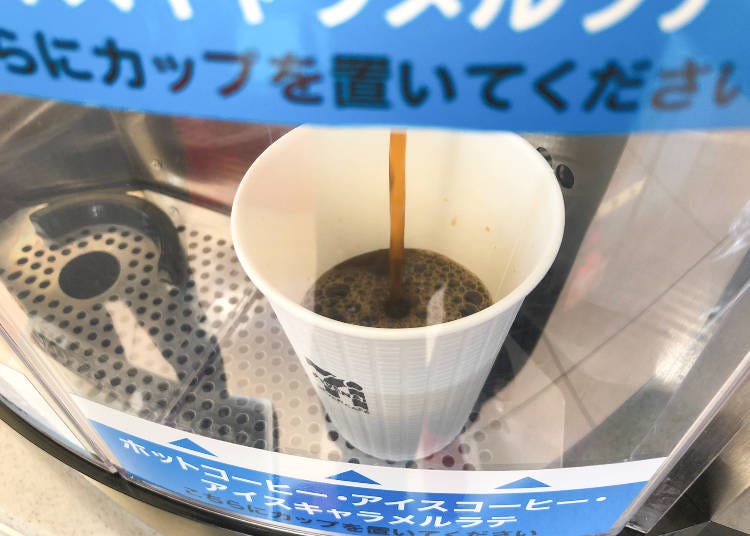 Usually, the coffee maker is next to cashier register.
Push the button that has written the size of coffee you bought. This time, I bought the regular size.
7-Eleven offers four different kinds of coffee beans. Beans which have a strong flavor are roasted, to give the coffee a nice aroma and a light taste.
The simple taste of coffee goes well with the main dish.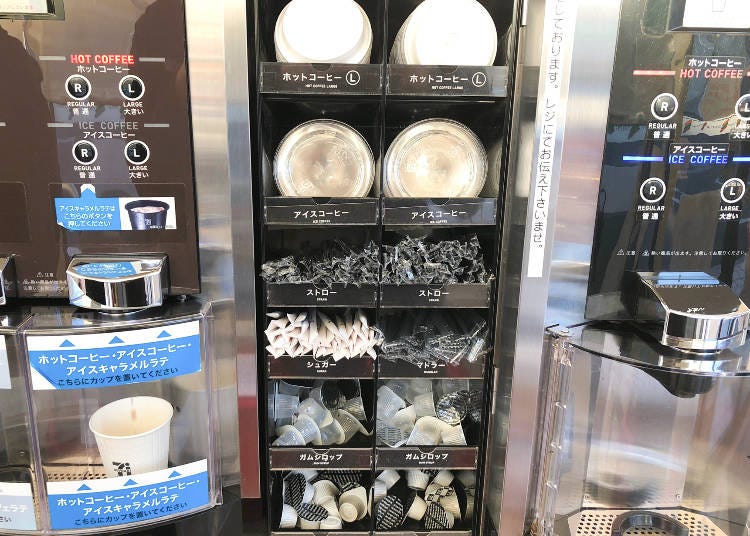 After the coffee is dispensed, find the lid that fits your cup, and add sugar and milk as you like.
Café latte, Iced coffee, and Iced café latte are also available.
Please enjoy authentic coffee that suits your needs.
■Delicious breakfast is only 500 yen! Enjoy Japanese convenience store meals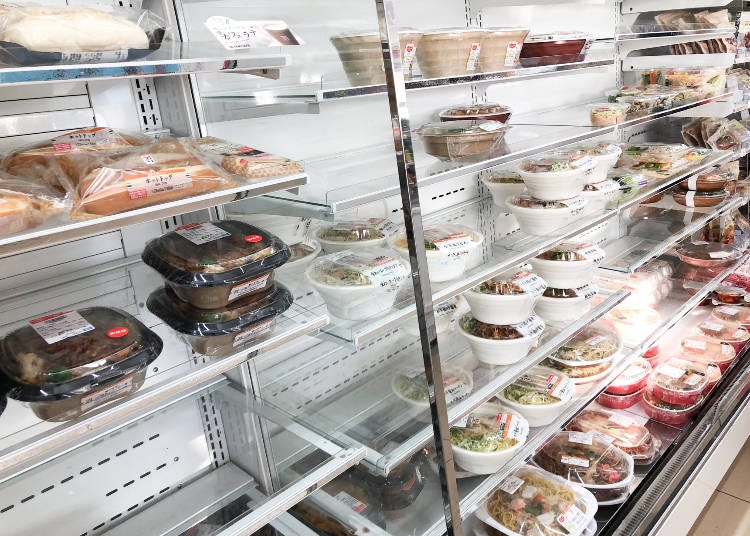 As 24-hour convenience store have become common, Japanese breakfast has changed. You can choose your meal from many kinds of foods based on how you are feeling. If you have 500 yen, then you can eat good meal. When you are in Japan, you should go to the convenience store in the morning. 7 to 8 a.m. is the best time to go since many products hit the shelves at this time.

While I have introduced you breakfast, lunch at Japanese convenience stores are also great. Don't miss it.
Convenient store lunch is introduced in another article, so please check it out if you are interested.

* Breakfast Survey 2014 (Pal System)
*This information is from the time of this article's publication.
*Prices and options mentioned are subject to change.
*Unless stated otherwise, all prices include tax.